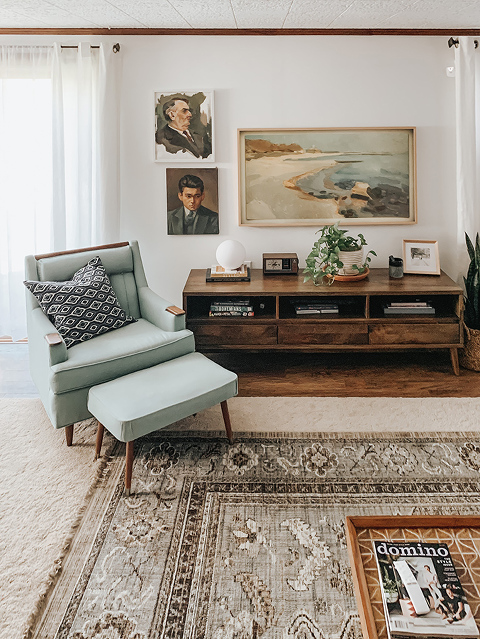 Three and a half years in, and we're still very much enjoying our pair of Samsung Frame TVs—so much so, in fact, that I'm considering a third one for our bedroom! They're just the best. A few favorite features? The fact that it mounts so seamlessly against the wall, that you can hide the minimal cords easily (using this trick), and our very favorite feature of all is the fact that the television turns into a piece of art when you're not watching shows or movies. No more big-black-box effect!
One of the most frequently asked questions I get on Instagram whenever I share about our Frame TV is how to upload art to the television's memory for display. The second most-asked question is where we actually got the art, so I'll share links to my favorite shops for digital art at the end of the post. In the meantime, keep scrolling for a step-by-step guide to uploading any digital art file that you've created or purchased to your Frame TV.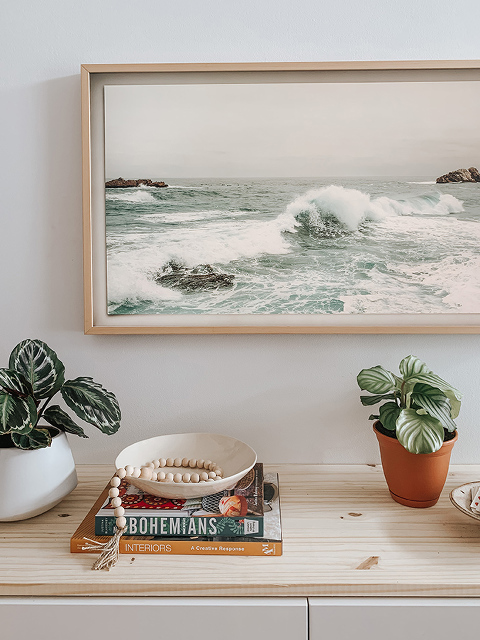 How To Upload Art To A Frame TV:
1. Find a shop that offers digital downloads of art prints (links to my go-to shops are at the end of this post!), and purchase your favorites. Note that horizontal art images are best for use on the Frame TV.
2. Save the digital art piece to your phone's camera roll, pull it up inside the camera roll app, and click "Edit." Tap the square crop tool at the bottom right of your screen, and then tap the square-within-a-rectangle-looking icon in the top righthand corner of the screen. This will pull up ratio options you can choose to auto-crop your image. Select the 16:9 option, adjust the crop of the image, if needed, and then click "Done."
3. Add the Samsung SmartThings app to your phone, if you don't already have it downloaded.
4. Turn your Frame TV on, and check the network settings. Your TV and phone must be connected to the same wifi network in order to sync properly.
5. Choose 'Add Your Photos' from the dropdown menu in the upper left corner on the TV and select your digital art piece.
6. I tend to think the 'no mat' option makes the art piece look more realistic, so choose that option if you agree, and then select 'set on frame.'
7. You're done! If you feel like you need to play with the tone/color, you can do that by using the 'art mode settings' on the TV or in the app.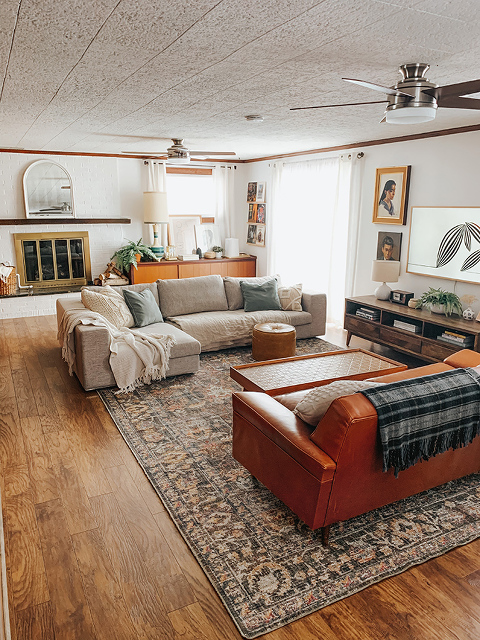 Have you invested in one of these TVs yet? If you're a stickler for design, like I am, then I think you'll love it. Oh, and I don't want to forget to share a few of my favorite digital art resources. Here are all of the shops I've purchased art from for our TVs: Figure Form, Juniper Print Shop, Doodl, Lou Lou Art Studio, A Beautiful Mess print shop, Hearts In Colors, Alameda Print Shop, Parima Studio, Willow Home & Co, and Prints Miuus Studio. Leave any questions you might have in the comments below, and I'll make sure to answer them!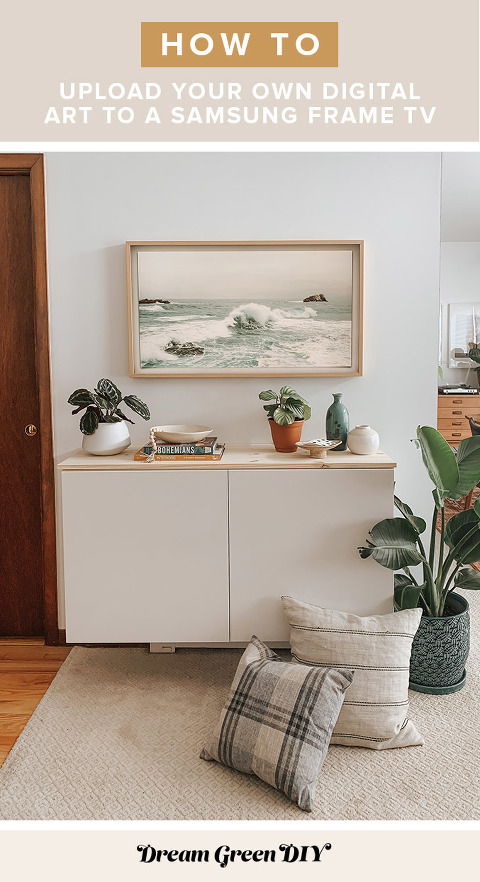 *I earn a small percentage from purchases made using the affiliate links above. Affiliate links are not sponsored. Rest assured that I never recommend products we wouldn't use or don't already love ourselves.