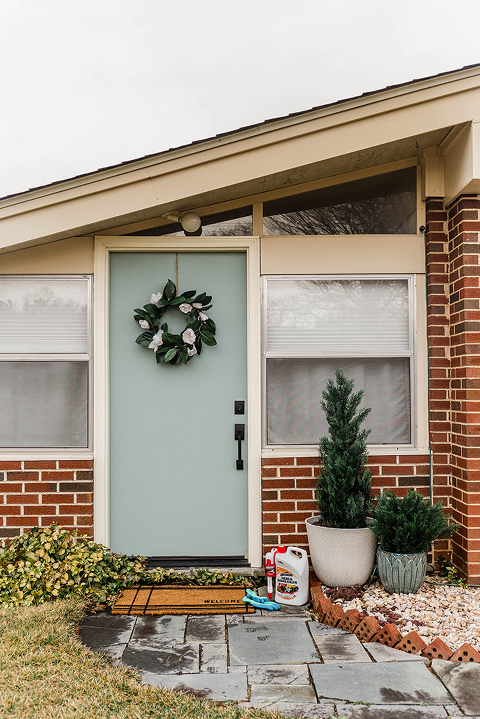 *This post has been sponsored by Spectracide® Brand. All thoughts and opinions are my own. Use as directed.
So, we just recently passed our 5-year anniversary of moving into our retro ranch. It's exciting to think about just how far we've come, but there's also still so much further to go. Up until this point, we've focused mainly on the interior spaces, but this spring we're feeling ready to start tackling more of the exterior of our home.
That's not to say we haven't done anything at all outside. We've worked hard to simplify our landscaping, and have gotten rid of multiple truck loads of overgrown trees and bushes that made our lot feel sort of closed in. We're aiming for minimalist Japanese-style landscaping, although we're very much figuring that theme out as we go.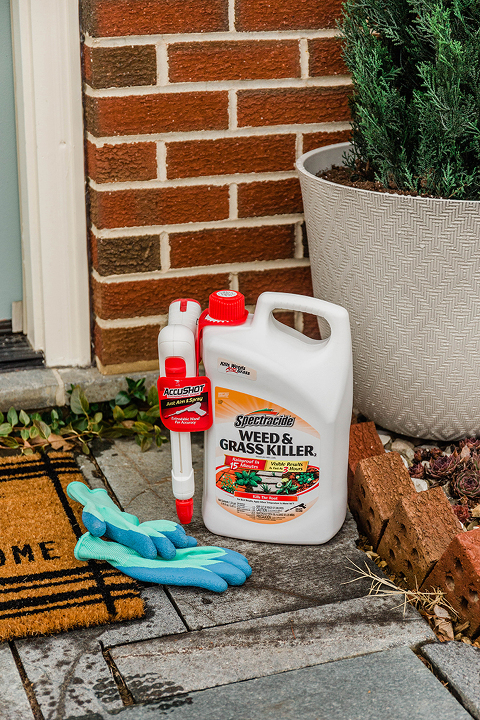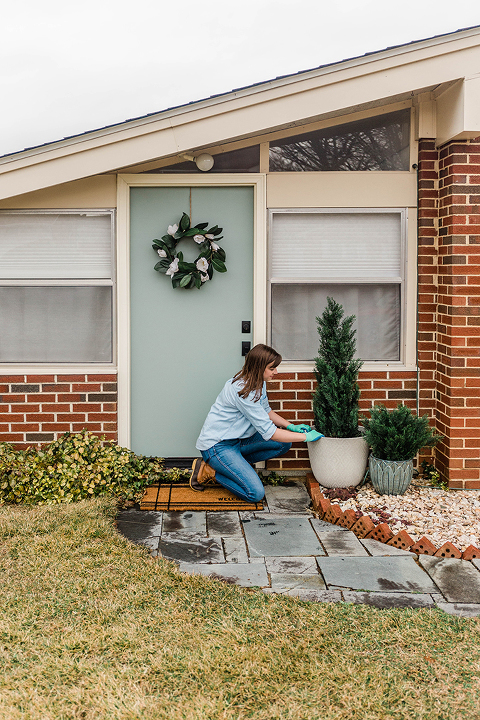 The main thing for us is simplifying. We regularly get out into the yard to cut back bushes in front of our house, and John spends lots of time on the grass to keep the lawn looking pristine and manicured. Things are still in a semi-dormant state right now as we transition to the warmer seasons, but there's still plenty to do—namely, with weed and grass control.
We've learned that staying on top of those details early on helps keep our landscaping looking cared-for, and our go-to tool is Spectracide® Weed & Grass Killer₂ with Accushot from Lowe's. I appreciate that I can order it for pickup (along with all of our other yard work tools) from the Lowe's app. I just wait for the notification email that lets me know the items are ready, and then I head to the customer service desk inside Lowe's to grab my supplies without having to wander through the store. Although sometimes I actually opt for that on the weekends when I have more time and feel like a stroll. Be sure to shop now!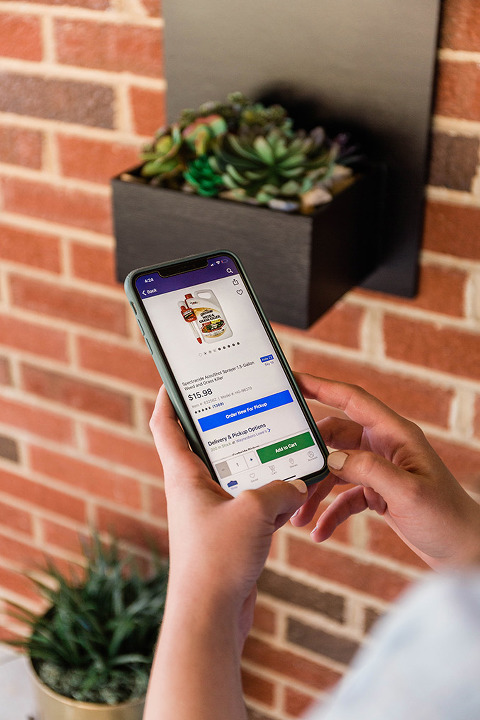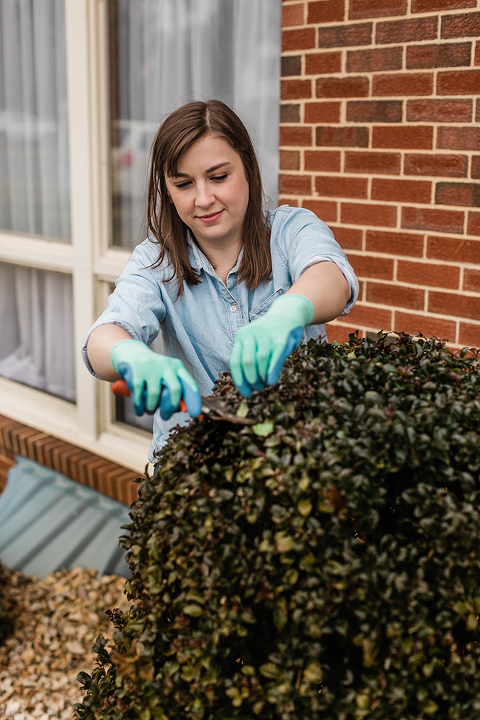 But back to Spectracide Weed & Grass Killer₂ with Accushot. We honestly feel like we've tried everything under the sun to get control of the weeds and stray grass that pop up between the seams of our slate walkway. No joke, nothing worked until we tried this weed and grass killer, and I'm so relieved we found something that we can trust because John was practically losing his mind over weeds! It wasn't a pretty picture.
But as you can see from today's post, now our front facade is a pretty picture because we've been able to say goodbye to those nasty weeds and unwanted grass patches. You can use Spectracide Weed & Grass Killer₂ with Accushot on driveways, walkways, and around fences, trees, flower beds, and shrubs. The visible results are fast, too. As in just three hours! Fifteen minutes after application you can start watering again since water won't wash away effectiveness, and you'll be back to replanting new bushes and flowers the same weekend. The ready-to-use aspect, though, is probably our favorite. It comes with an attached spray nozzle that you use to target vegetation. It's seriously so quick and easy.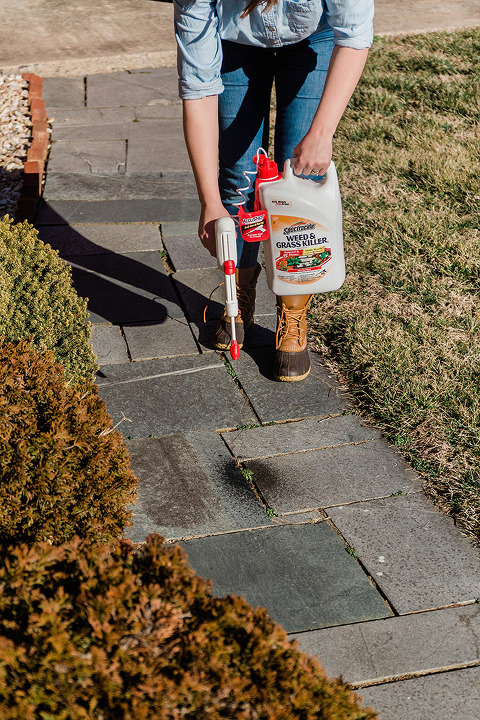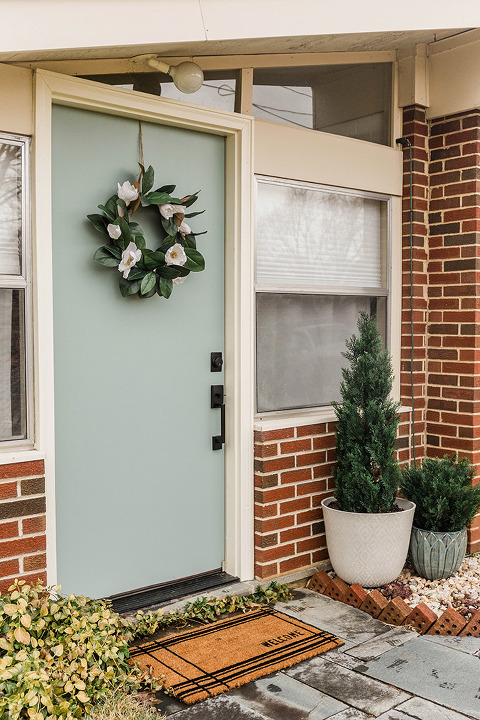 But, of course, weeds and creeping grass aren't all that we're focused on when it comes to curb appeal projects. I also really wanted to add some color and style back to our yard and front entry. Ripping things out over the last five years has really helped our lawn look so much better, but there is a point where minimalism can start to look too plain. We had definitely reached that point—and we're still at that point in lots of ways.
So, I decided to add a splash of style back to our curb with a new front door paint color, one that felt happy and inviting for spring and summer, and I also added some potted plants right by the door. This update didn't cost much at all, but made such a big difference in adding color and texture back to our entry. A new front door mat is another easy way to make your home feel welcoming. The one you see above was a gift from a friend.
The final piece to the puzzle is tool storage. We've been loading up on landscaping tools from Lowe's ever since we moved into our house, and we reach for them often. The problem is that our main tool storage shed is all the way around the back of the house. I'm often asking John to go grab my sheers from the shed so I can trim a few overgrown branches on the bush next to our driveway, and it's always a hassle for him. To fix the problem, we added a storage bench to our carport. It looks pretty, but also functions so nicely as landscaping tools storage. Lowe's has lots of similar options for this—just search "outdoor storage bench" or "deck box" on their website to find one that matches your aesthetic.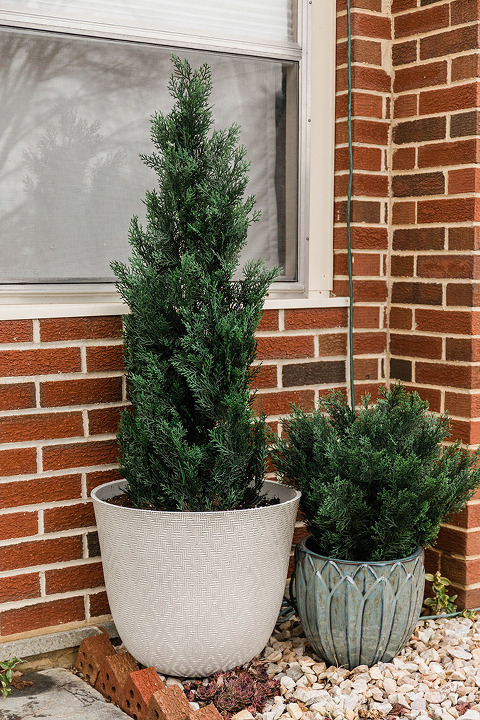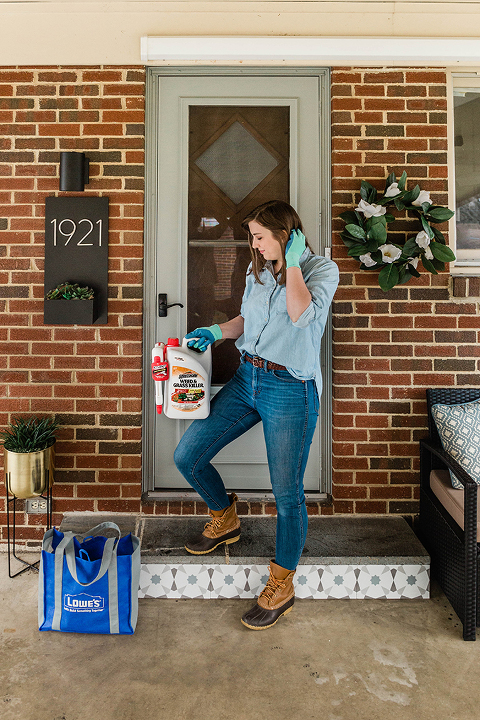 The main point I want to stress is this: you don't need to hire a professional landscaping crew to get your yard in shape! There's something so satisfying about sourcing the tools you need (that will last season after season), and then doing the work yourself. I absolutely love pulling back up to our house and seeing the fruits of our labor laid out across our manicured, colorful curb and front entry. It's about building something you're proud of, and I'm grateful to Lowe's and Spectracide for making our outdoor projects easier and better. Don't forget to grab your own Spectracide® Weed & Grass Killer₂ with Accushot from Lowe's today! What DIY lawn to-do's do you have on your list this season?