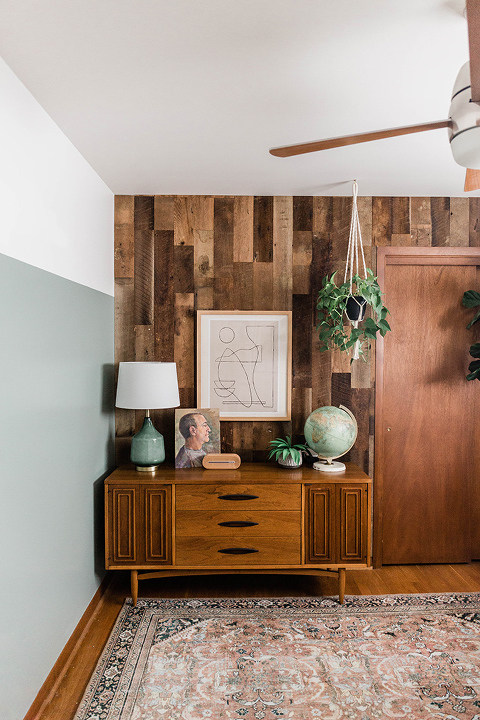 *This post was sponsored by Woodstock Walls. All opinions are my own.
Ever since launching Dream Green DIY 10 years ago (and long before that personally, too) my mission has been to reuse and recycle what already exists in the world to make our house beautiful. I'm far from perfect when it comes to that goal, but I do my best, and I think it has had such a big impact on our home. Our spaces feel really one-of-a-kind to us, and each room is filled with things that we've purchased secondhand or that we've made by reusing materials we already had.
I've been speeding my way through makeover after makeover this past year as my way of mentally and physically dealing with the fact that I've been stuck at home, but I can feel myself settling again. I'm planning room refreshes with more intention, and driving my decisions based on function as opposed to form alone. One big change I decided to make this month was in my office.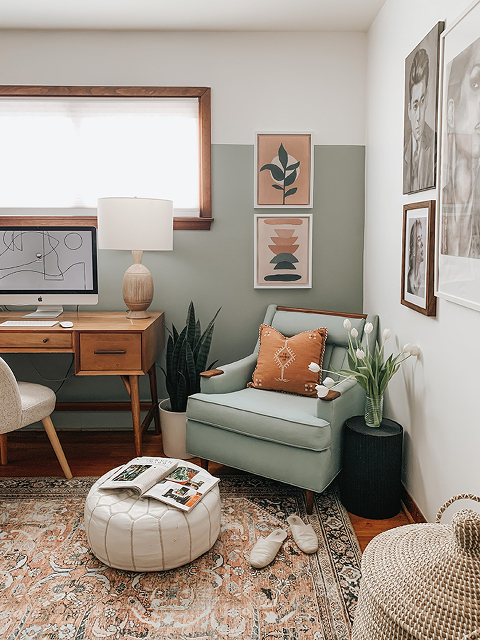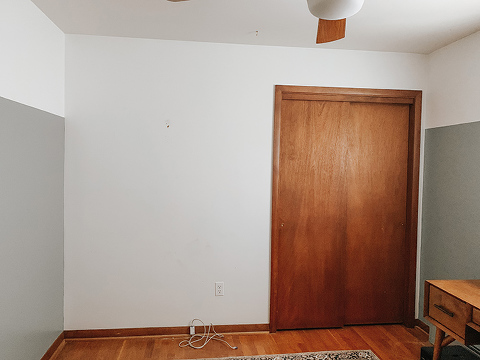 It might be hard to tell through a camera lens, but my home office is on the smaller side. It also gets barely any natural light (only for about an hour and a half right before sunset). I love the original stained wood trim throughout our home, but it does make the rooms feel a little closed-in, especially the rooms that have big stained wood closet doors in them—like my office.
Keeping in mind my mission this year to repurpose beautiful accents that are already available (not mass-produced), I decided to do a reclaimed wood feature wall in my office that would go up and around the big stained closet doors. That way, the wood texture would feel more thought-out and the closet would blend into the reclaimed wood panels. The wood panel treatment would also make this already-dark room feel intentionally moody and rich, traits that I've wanted this room to have but I haven't been able to figure out how to achieve it up until now.
For this project, I teamed up with Woodstock Walls, who ship 100 percent reclaimed wood panels to creative homeowners looking to add (sustainable!) character to their spaces. Keep scrolling to get the scoop, including before/after photos and a tutorial video.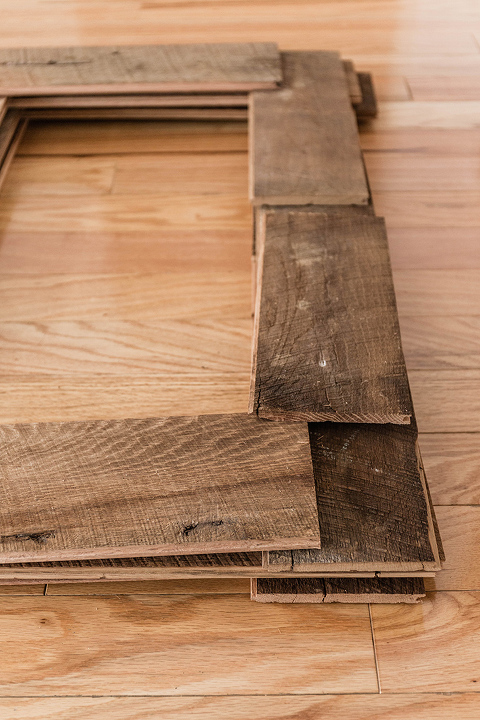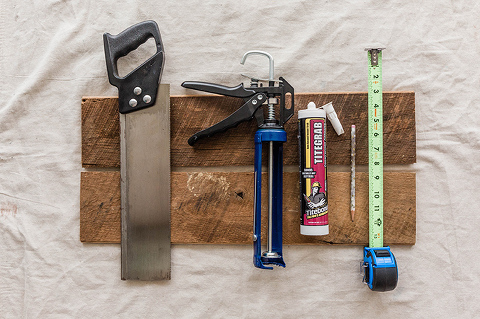 First of all, let's talk about the wood. I've always been a huge fan of wood texture in a home (probably because my dad is a professional woodworker), and we have a lot of it in our home. I'm of the opinion that all wood goes together, whether it's dark brown, red, orange, or whatever! Wood grain is a neutral in my opinion, so when I was thinking about sourcing material for the reclaimed wood feature wall in my office, I was pretty open-minded about it.
Woodstock Walls sends free samples, so I went ahead and started there. While I stick to my claim of being especially open-minded about this project, I did want to find a wood tone that was in the general family of the stained wood closet doors in my office so they would blend in. After checking over the samples and getting John's opinion, we landed on their Rustic Mill panels since those had a hint of warmth throughout that would complement the closet doors. The Rustic Mill panels are their authentic barn wood panels that come as a tongue-and-groove application.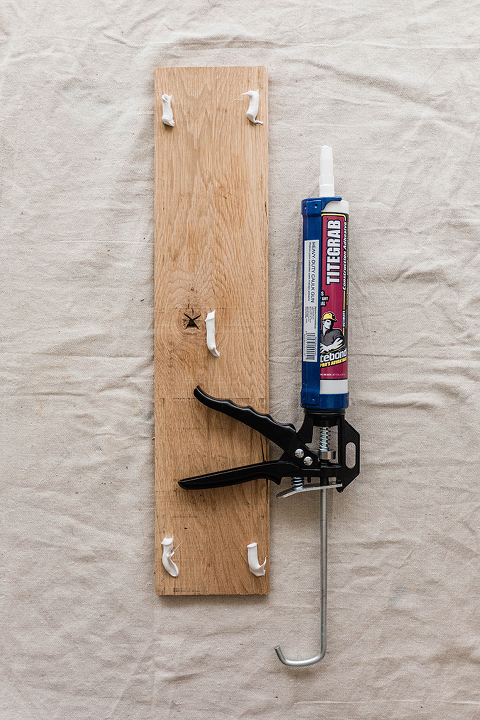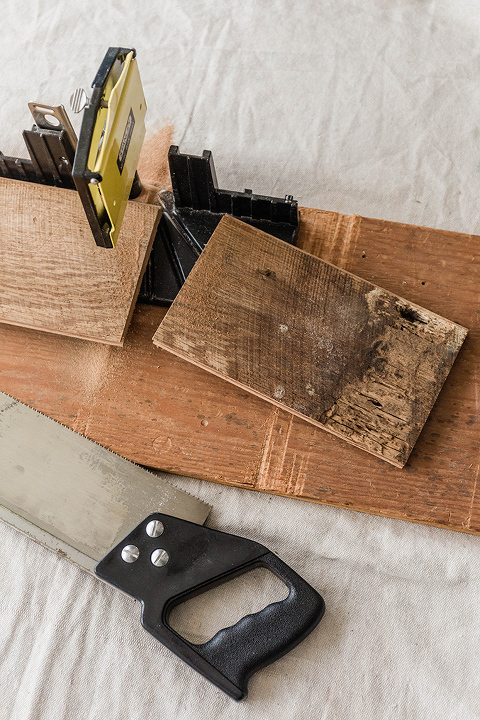 After making my final materials choice and placing the order, product arrived about 10 days later. I appreciate how fast their shipping is because when I set my mind on a project, I want to get it done now! Shipping is also always free (it's built into the price of the material), so that was a nice bonus, too.
Since I filmed an entire how-to video of the installation process, I thought I'd write just a quick bullet list of how to pull this project off. If you have questions, check out the video, or reach out to Woodstock Walls. Their customer service is really stellar, and they can help you through any roadblocks you might run into (although I doubt you will have any).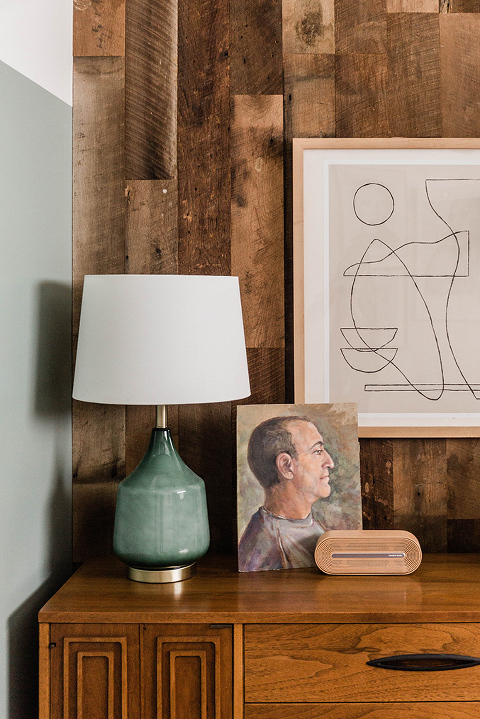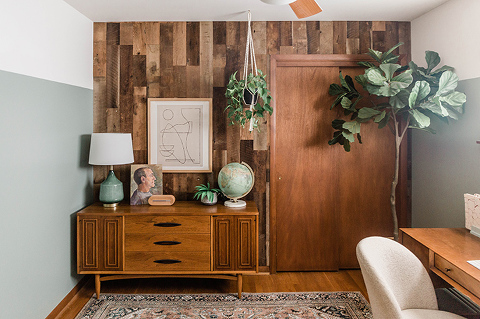 How To Install Reclaimed Woodstock Walls Panels:
1. Stack the wood panels in a square or rectangular shape on the floor with space between so that air can flow through. This allows the wood to acclimate to your home, and helps avoid shrinkage or expansion after installation. Allow the wood to acclimate for 72 hours before getting started.
2. Turn your first panel over and squeeze a 2-inch line of adhesive in all four corners and in the center of the panel. There are grooves in the back of the wood panel to make this easier. Just squeeze adhesive right into the grooves.
3. While the adhesive is still wet, press the panel up on the wall at baseboard height. You'll have 1-3 minutes before the adhesive starts to set, so you have time to adjust the board until it's just right on your wall. If the panel is a little on the longer side length-wise, you might need to hold the board in place for 30 seconds or so.
4. Continue the process across your entire wall, using a hand saw or compound miter saw to trim the panels as needed to fill up the space. Since all of the reclaimed wood panels from Woodstock Walls are real and sourced from all over America, you'll find lots of variation in color and texture with your boards. Mix different lengths next to each other and different colors, too, so that your wall has a well-balanced look overall. Step back often to see how things are looking, that way you know what type of board to pick next. If installing horizontally, it's also important to stagger your joint lines to achieve a sturdier wall.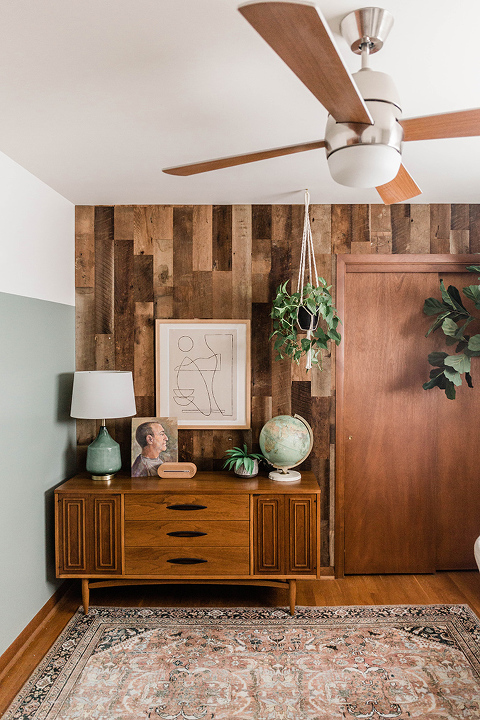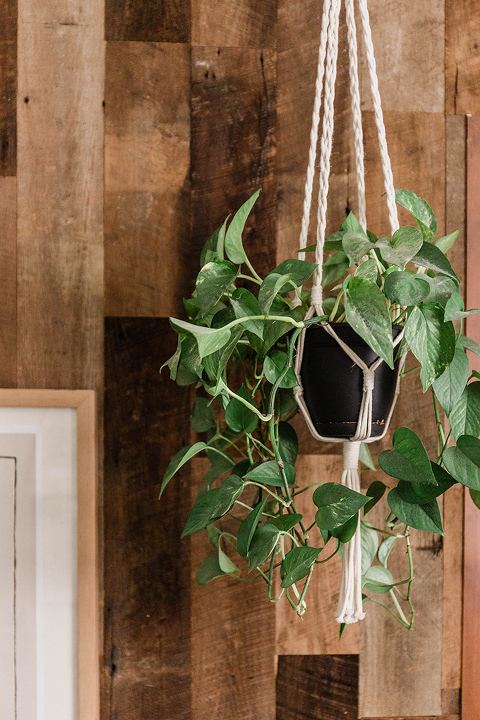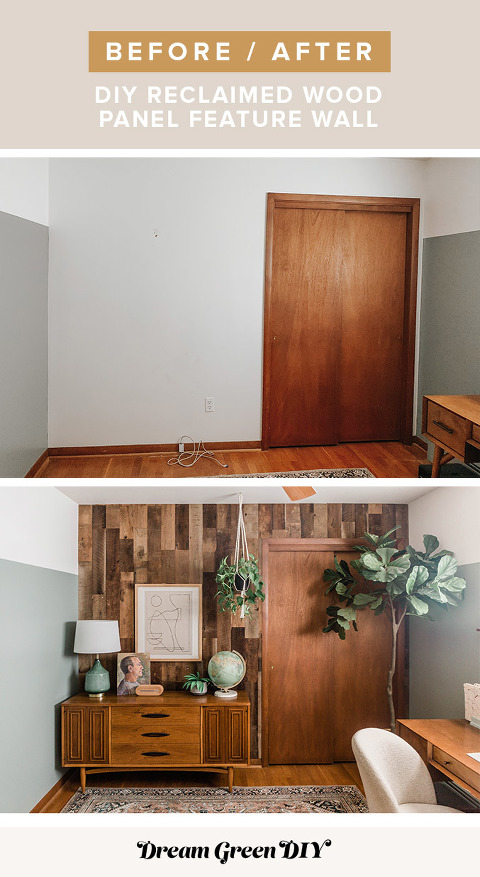 The Woodstock Walls Click & Stick method (that is, the pre-measured grooves on the back of the panels that take the perfect amount of adhesive for applying the wood to the wall) is what makes this process so straightforward. It's a pretty permanent application, but I don't see myself changing this feature wall any time soon, so I was very confident using the application process they recommended. By the way, they offer a full supply kit on their website for the Click & Stick method. If you want an alternative, though, you can use a nail gun.
Oh, and as a personal aside, I wanted to mention that I showed how to hand-saw the panels for application in the video, which you absolutely can do, but I would definitely recommend using a compound miter saw if you can. It depends on the size of your project, but I had to make dozens of cuts, and my power saw helped speed up the process significantly. I was able to complete my feature wall installation entirely on my own in about three hours.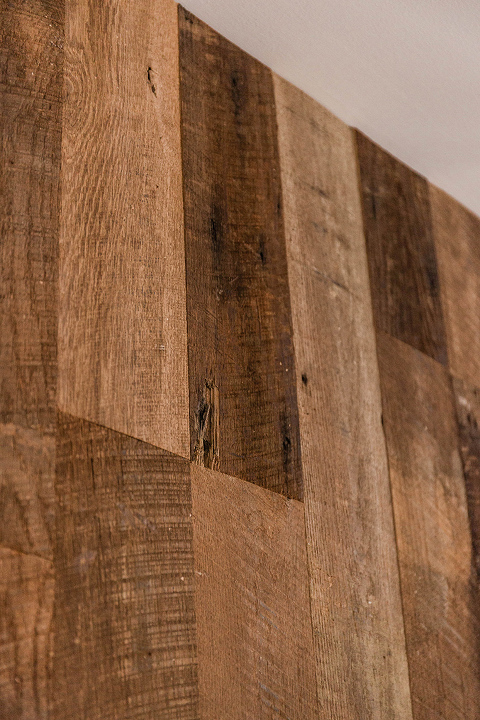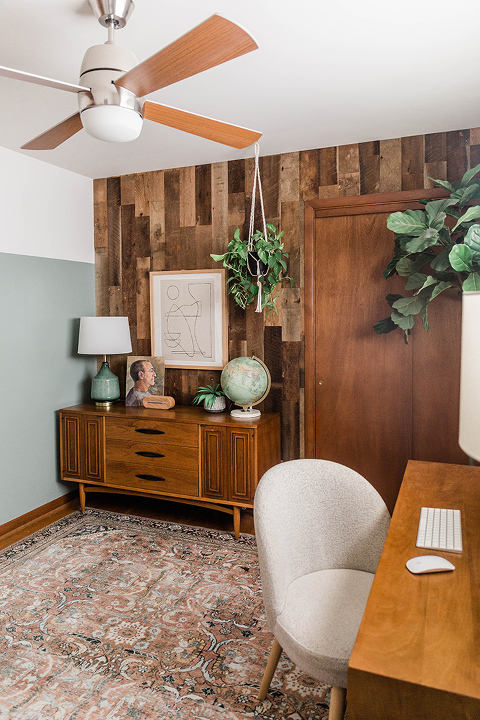 Click "Play" above to watch the video I recorded, that way you can see the process in action, and don't hesitate to let me know here in the comments if you have questions. I'm absolutely in love with how things turned out, and I'm excited to start making new memories with my wood wall as a backdrop. I feel like my whole office has been made over, from top to bottom, even though I just added the reclaimed barn wood to one small wall in the room.
I'm sitting here right now at my desk typing up this story and can't help but turn and look at the wall. How cool to think that the wood for this project came all the way from an American barn to end up in my office—it's like I'm reclaiming those memories to build new ones of my own. The wall is so striking (maybe even more so in person), and is the perfect way for me to celebrate my love for wood texture and reclaimed materials in a home. Click here to learn more about Woodstock Walls, and start planning your own DIY reclaimed wood décor project.