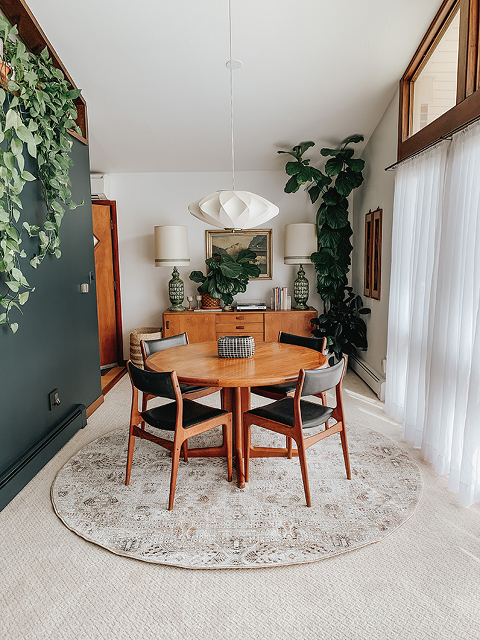 Believe it or not, I haven't been obsessed with rugs for very long. It was only within the last few years that I realized just how much of an impact they can have in a space, and also how wise of an investment they are since you can swap them from room to room to make a space feel brand new again without spending a dime. The subtext of that sentence is that I've ordered lots of rugs for our home over the past couple of years. It's pretty easy to find really affordable ones that fit any budget, and it's also easy to sell them to a new home (via Facebook Marketplace, of course) when you want to buy something totally new.
Keep scrolling for a list of nine rugs we've owned and loved, plus my full review of each one. I didn't get to all the rugs we've ever owned because this post would be super long if I did. For that reason, I wanted to say that, if you comment requesting a review for a rug not seen here today that you've spotted on my blog or Instagram in the past, I'll happily update and add to this post. Just say the word! For now, though, these are my top nine.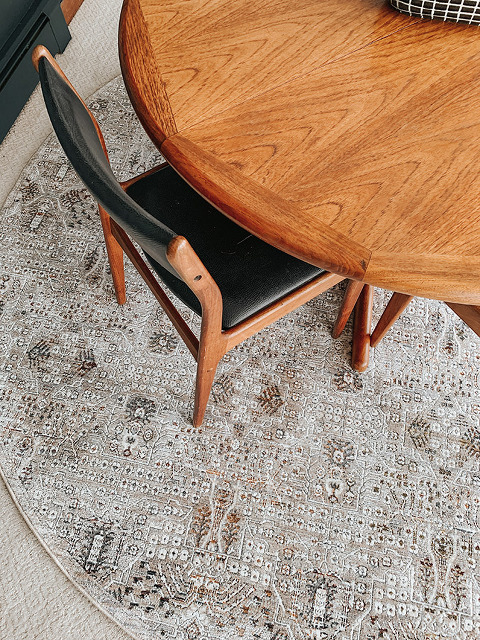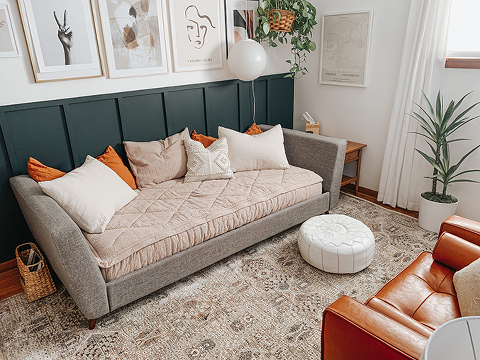 Loloi Theia Area Rug, 
Granite/Ivory
This is one of the newest rugs to join our collection (we have it in both our guest room lounge and dining room). It's also one of the priciest but, that said, it's honestly the nicest rug we've ever owned. I truly believe it's worth every penny. The Loloi Theia Area Rug is so silky soft to the touch, and practically begs for you to sit down right on top of it (which I do often). I love that it looks pretty neutral from far away, but the rich colors shine when you get up close.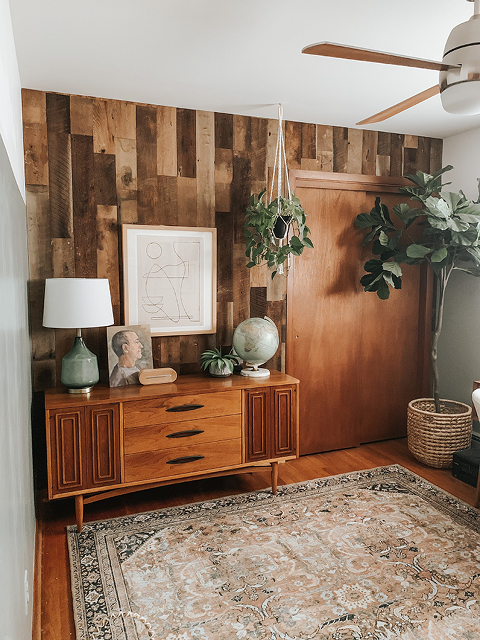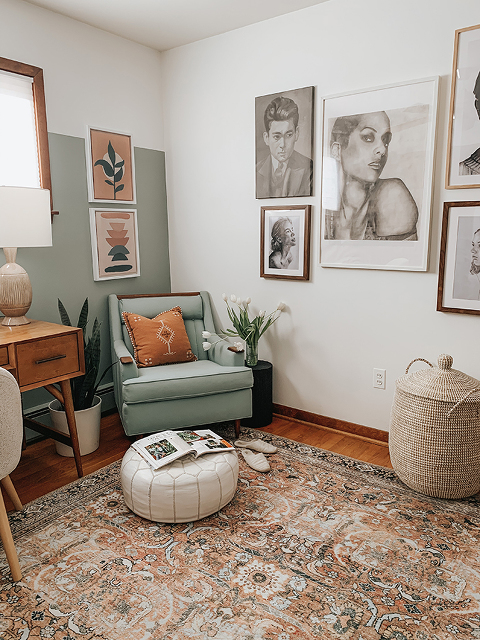 Loloi II Wynter Area Rug, Auburn/Multi
This printed rug is an absolute favorite for its color palette. It's the perfect blend of warm rust and orange, alongside cool blues and greens. I have it in my office, and actually just ordered an identical one for our living room because I love the colors and vintage-inspired pattern so much. The Loloi Wynter Area Rug is a printed style, which means that there's no pile to it, so it's much easier to clean than traditional thick area rugs. I'll explain that more in-depth below.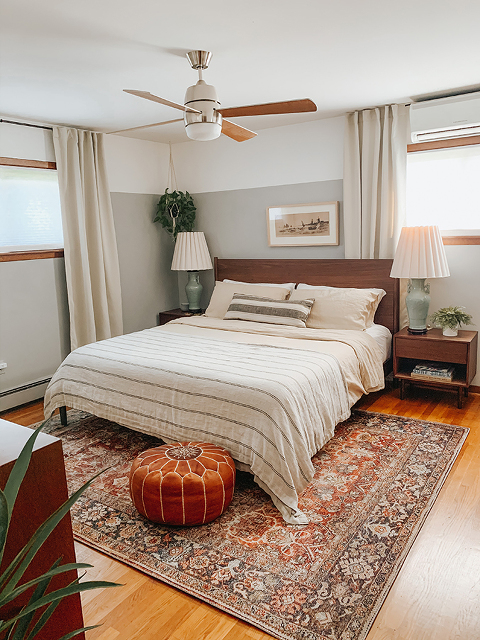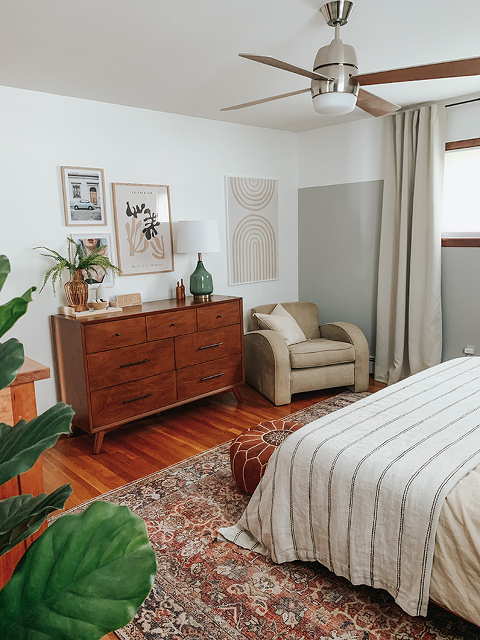 Loloi ll Layla Printed Persian Rug, Spice/Marine
Here's another amazing printed rug to love! The first time I unrolled a printed rug from Loloi, I'll admit that I was pretty confused. The rug is essentially just a thick cushy pad with a printed design on top. That might sound like a negative thing, and at first I was kind of put off, but now I absolutely loveeeeee Loloi's printed rugs. They're much more affordable than traditional woven rugs, and they're an absolute dream to vacuum and clean. We have more printed rugs now than traditional rugs with pile, I love them that much. The colors in this Loloi ll Layla Collection Printed Vintage Persian Area Rug are perfection. They're so rich! We have this rug in three different rooms of our house.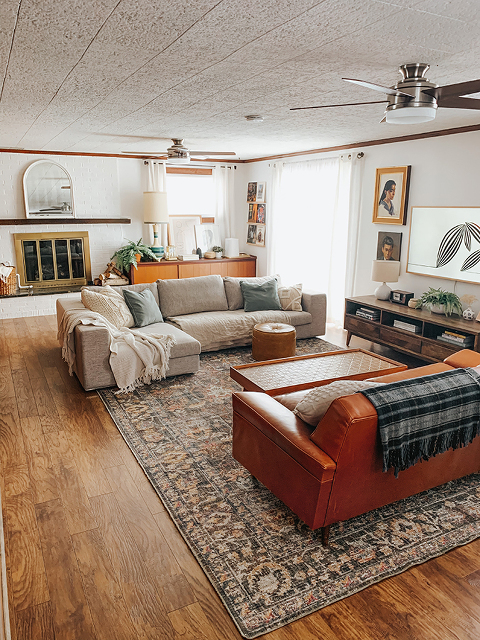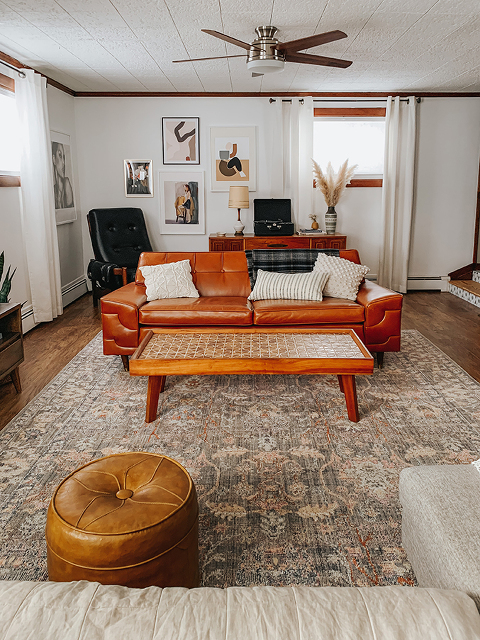 Chris Loves Julia x Loloi Rosemarie, Stone / Multi
You might be sensing a pattern here…I'm pretty much Loloi's biggest fan! The brand has been a wonderful supporter of my blog, meaning they have donated several rugs to our collection in exchange for coverage on my blog, but I've also purchased multiple rugs from them with my own money. I'm genuinely so in love with everything they do, including their latest collection with Chris Loves Julia. We have the Chris Loves Julia x Loloi Rosemarie Rug in our family room, and can't say enough good things about it. It's a traditional woven rug with a pile, but it's not so super thick that you can't easily clean it. The colors are really lovely up close. It's another one that I often sit down on cross-legged when I watch TV so I can appreciate the look and feel better.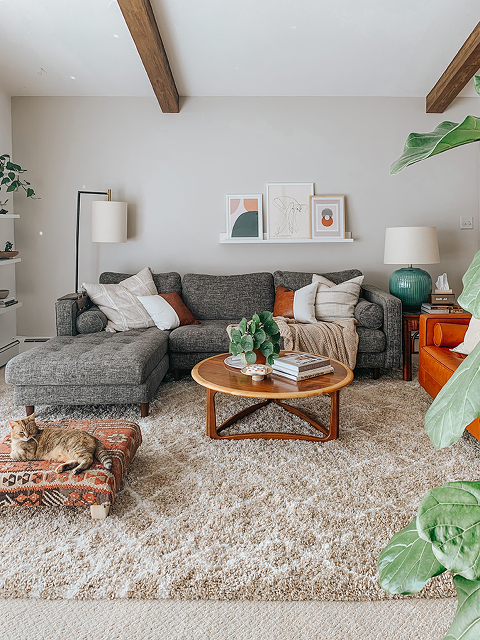 Unique Loom Rabat Shag Tribal Nomad Rug
Speaking of sitting down on the ground, this Unique Loom Rabat Shag Area Rug was one of my absolute favorites for floor lounging. I would sit everyday on this rug to watch TV during my lunch break. The ultra high pile is so luxuriously soft, and it's the type of rug you want to walk barefoot over. It was John's absolute favorite, and definitely ranked high on my own list, too. We ultimately decided to pass it along to another household, though, because it was on the harder side to clean, and it also refused to sit flat over the wall-to-wall carpet in our living room. If you have a pet-free home and solid surface flooring, do yourself a favor and order this rug immediately! It'll be a favorite, I'm sure. I miss it a lot.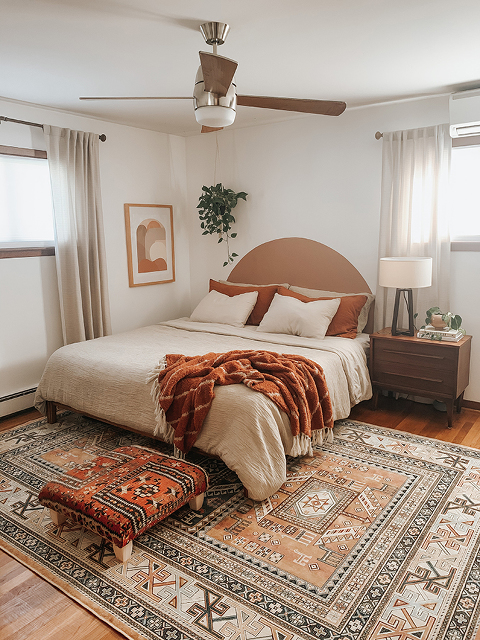 Ovid Oriental Tangerine Rust Area Rug
This rug is one of the most-asked-about items on my Instagram feed, and I can see why! The colors and pattern are so eye-catching and unique. It comes in a couple of other colors, but I can't help thinking that it really shines in this 'Rust' colorway. The one thing I was a little surprised about the Ovid Oriental Tangerine Rust Area Rug once I had it in person was the thickness. It's really, really thin—as in, almost a fabric mat. You'll definitely want to pair it with a rug pad, but once you do, it's just as luxurious and statement-making as a thicker, more high-end rug would be. The price point can't be beat either—under $250 for the large size pictured above!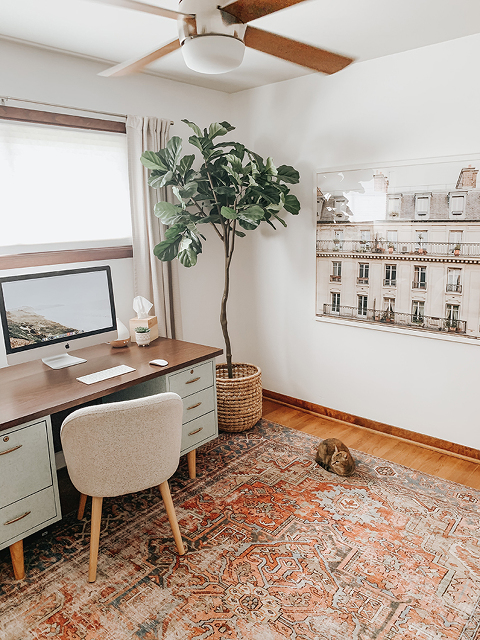 Loloi Loren Vintage Printed Persian Rug, Terracotta/Sky
Oh, how I love the Loloi Loren Printed Rug in 'Terracotta/Sky'. The colors are just as dreamy as they look in the photo you see above. I'm so drawn to that youthful combination of pink, mint green, red, and gray. I see this rug all over Instagram, and I love it every single time, no matter what style room I spot it in. It's another one of those printed styles I explained earlier, so this is perfect for a kids' room or a high-traffic area since it's super durable and easy to clean. I don't have this rug anymore because our color palette has evolved into something a little earthier, but I would absolutely rebuy this rug in the future if we changed up our interior style again.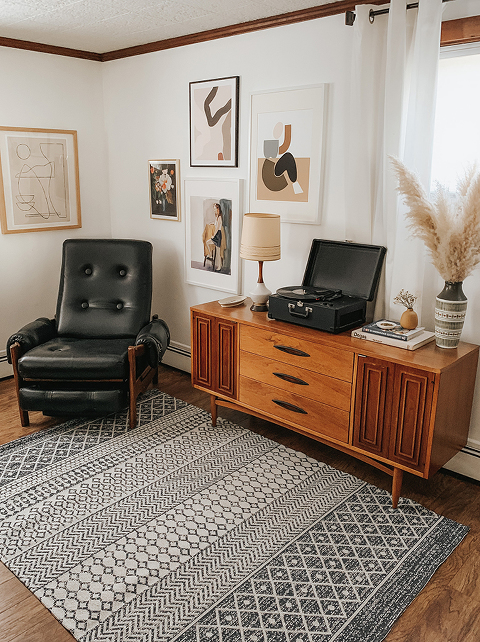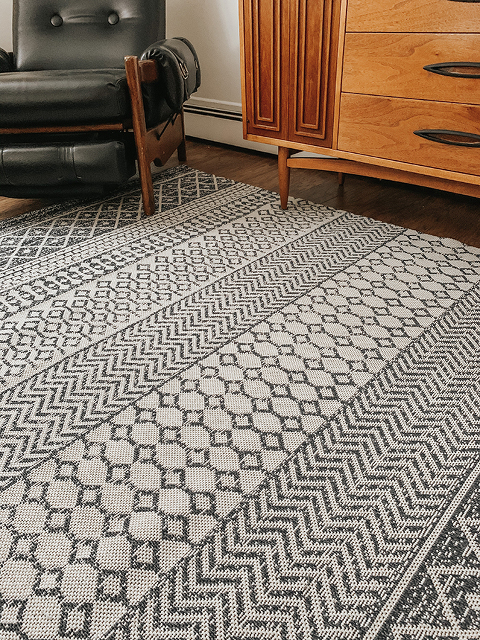 Boutique Rugs Flockton Area Rug
If you're looking for a rug that feels really "mid-century," I would highly recommend this Flockton Area Rug from Boutique Rugs. It's flatwoven, making it another easy-to-clean option, and can be used outside, so it's perfect for a living space on your deck or patio. I love the blue and white pattern because it really makes wooden furniture pop, like our vintage mid-century console. It's currently out of stock, but here's a similar option (that's also indoor/outdoor). Whatever you decide on, make sure you use my "DREAMGREEN60" discount code at checkout to get 60% off, which brings this rug down to under $70 in the size we got it in!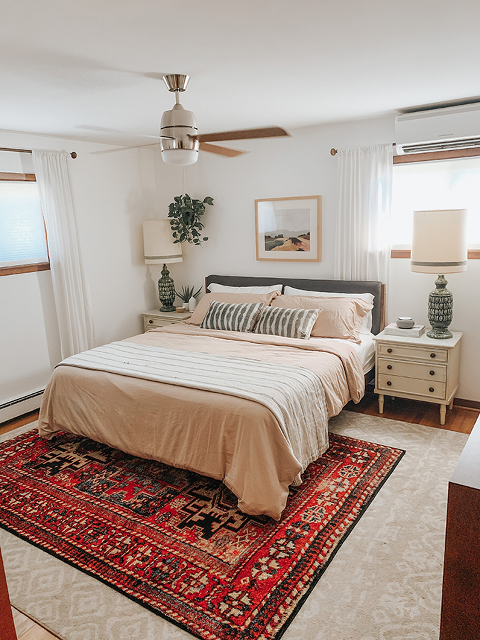 Safavieh Vintage Hamadan Red/Multi Area Rug
I'm pretty sure that this ultra bold, medium pile area rug is what started me on my rug craze. It was the first time I had laid a rug down in a space and felt like it unequivocally made the room. It was the perfect finishing touch, and I still have and love this style. It's the Safavieh Vintage Hamadan Area Rug, and even though it's no longer sold by Target (where I originally bought it), I found it available on Home Depot. It's really, really soft but at a reasonable price point for that high quality texture. The colors are beyond mesmerizing, and I just love it. It makes me smile every time I see it or walk over it. Get it before it's gone from Home Depot, too!
Pssst…Don't forget to leave your requests for other rug reviews not seen above in the comments below, and I'll be sure to update the post!