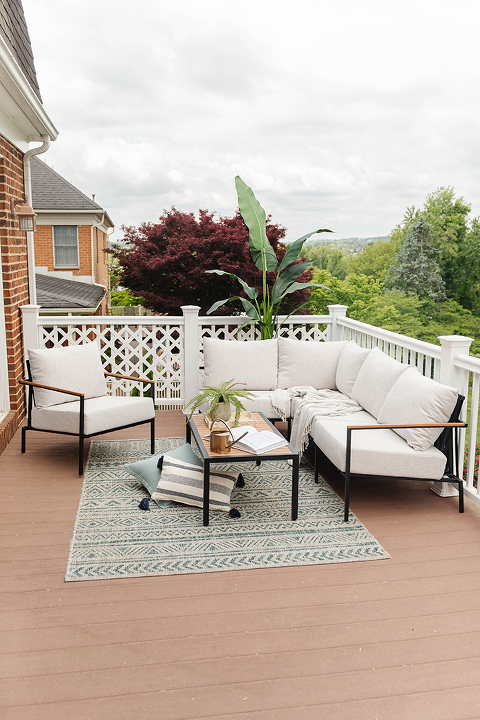 *This post was sponsored by Castlery. All opinions are my own.
If you're sensing a theme on the blog this year, it's all about outdoor living. John and I (and my dad, too!) have been working extra hard to get our backyard to a place where it's livable. Before, it was a space that went completely unused. I had spent the first five years of us living here focusing all of my creative energy inside, but this past year I've gotten inspired to try making our backyard a place for us to hang out in, too.
So far, we've planted a line of new trees to create a privacy screen between us and our neighbors, we've demoed our old shed, purchased a new shed, and next on our list is a DIY patio where we can lounge around with glasses of wine and a good book or two. Our plans for that patio were actually for next year, or possibly even the next, but a chance opportunity to work with the folks over at Castlery has jump-started those plans. I'm ready to build our patio right away so that we can start enjoying our new outdoor patio furniture.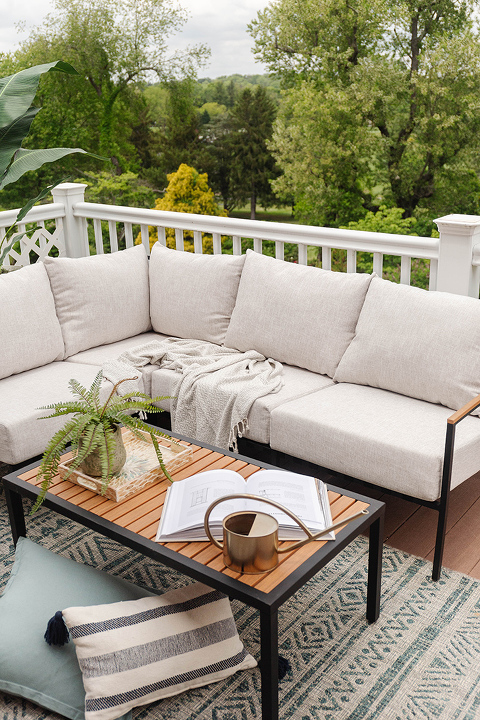 The set we were kindly gifted by the Castlery team to review is currently sitting pretty (oh, so pretty!) over at my parents' house on their back deck since our patio isn't ready yet. But now that I've had a chance to unbox and enjoy our new trio of pieces, I'm feeling ready to get our patio done ASAP.
Let me quickly talk you through our experience and the items in case you're looking to upgrade the seating and tabletop space on your own deck or patio. All three pieces came from the new Sorrento line at Castlery, and are just as dreamy as they look here (if I do say so myself, although I take zero credit for making these items look so good—that's all Castlery's doing).
To start, delivery was a synch. I was called about a week before the final furniture delivery happened to prepare me for its arrival, and then I got courtesy calls a couple of times the morning of so I knew when the team was on the way and when they were about 15 minutes out.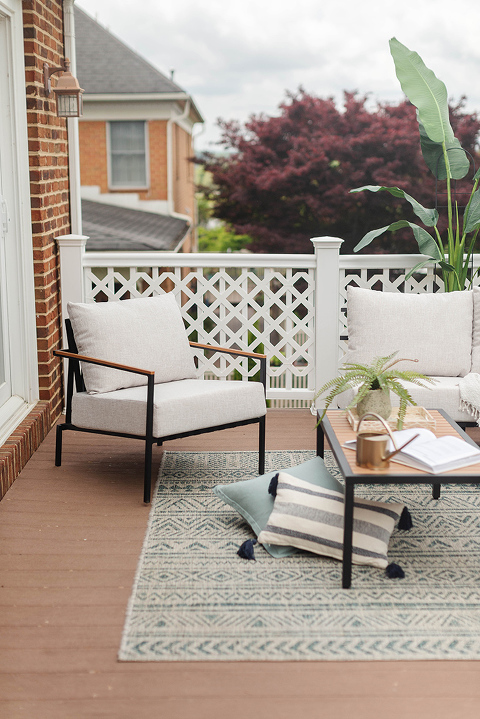 The friendly drivers had our five boxes unloaded to where we directed them in under 15 minutes, and Mom and I unboxed everything and had the pieces set up about an hour later. It was hard work to unbox everything because it was so well packaged, but (a) it was a fairly hot day, so we were almost immediately tired anyway, and (b) the good packaging meant that there was no damage to speak of, so we could enjoy the pieces right away.
I should mention that, while there was unboxing to do, there was no assembly required for the seating. I saw the boxes and almost had a panic attack envisioning us working for hours under the sun to get the pieces together. But, nope! You just lift everything out of the box, remove the packaging around the cushions, and you're good to go. There's a small amount of assembly required for the coffee table, but nowhere near what you're used to from most flatpack furniture companies. It took maybe 15 minutes, and the coffee table is super sturdy, as though it came solid from the start.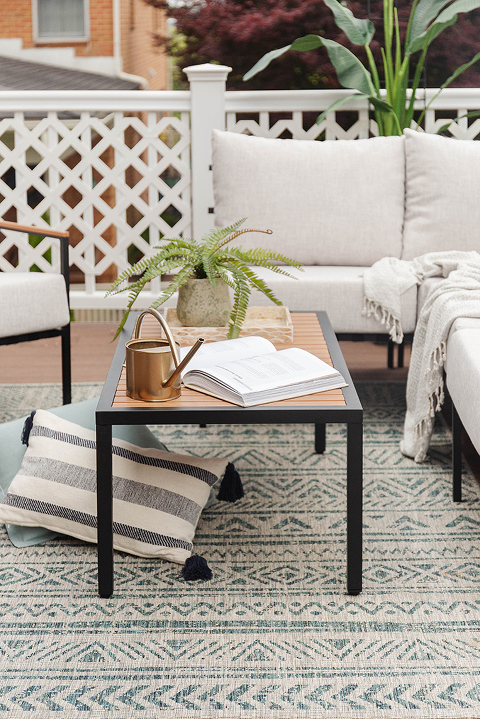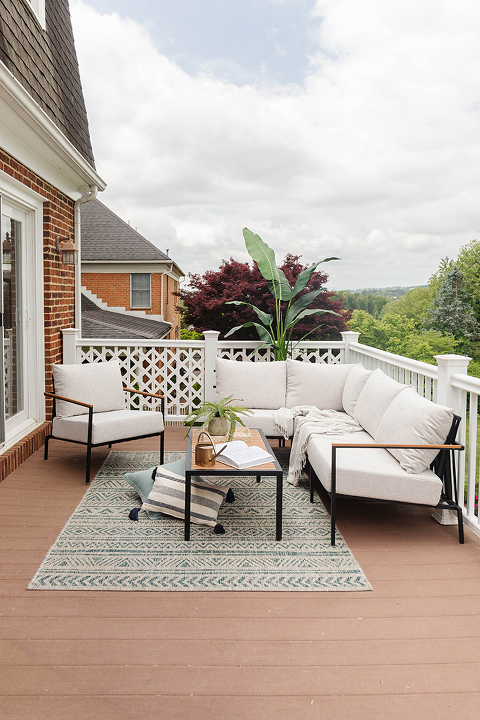 The Sorrento Outdoor Sectional Sofa is the perfect size for entertaining since it has that cozy corner section and a single seat off to the side. I love that there's an armrest on one end of the couch, but that the other end is open. It makes for very easy sprawling. The seat cushions are on the firmer side, while the back cushions allow you to really sink in. I think it's the perfect balance of support and softness.
The Sorrento Outdoor Lounge Chair might just be my favorite piece, though. Call me bratty, but I love having my very own seat, and, once we have the set moved over to our new backyard patio, I have a feeling that you'll often find me curled up in that chair with a book. I'm claiming it now as mine!
I do appreciate the Sorrento Outdoor Coffee Table as the final piece in this collection, too. Whenever we start entertaining again, I can picture it loaded down with cheese trays and wine bottles. Like the seating pieces, it has that same two-tone wood-and-black-metal finish on it, which is what made me fall in love with this entire collection in the first place. It's so modern and elegant, in my opinion.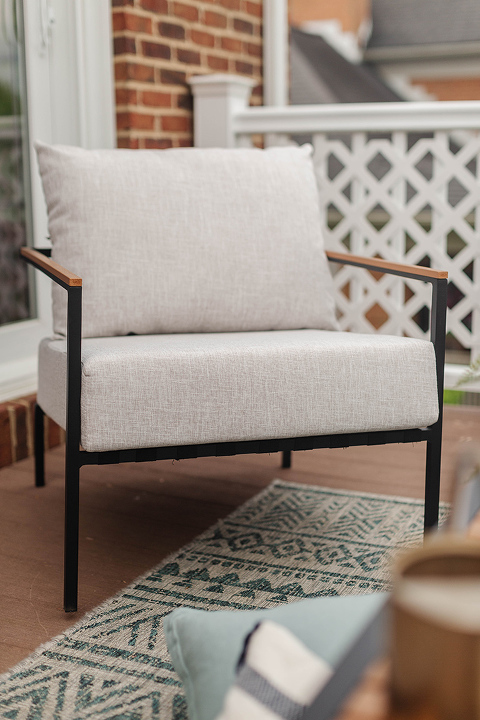 As for my tips for creating an outdoor oasis of your own, of course, you have to start with a great collection of furniture pieces built around how you picture yourself actually using the space. Even if you live in a small apartment with just a small balcony to your name, you might still be able to set up a couple of lounge chairs, and maybe keep a pile of outdoor throw pillows within reach so overflow guests have a place to plop down when they come to visit.
Lighting is also important. When we finish our patio, I plan to add tall wooden poles in each of the four corners so we can run string lights between them, that way we can see what we're doing and it will create a cozy vibe all around us. Speaking of cozy, don't forget an outdoor rug that can hold up to the elements! No one wants raw concrete pavers or gravel under-foot (at least I don't want that!).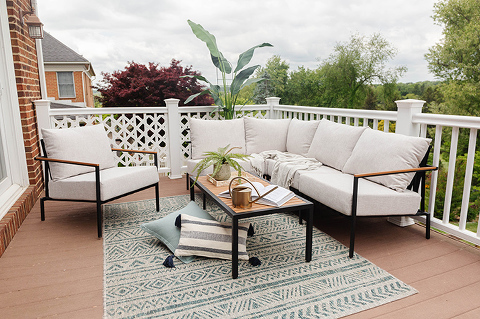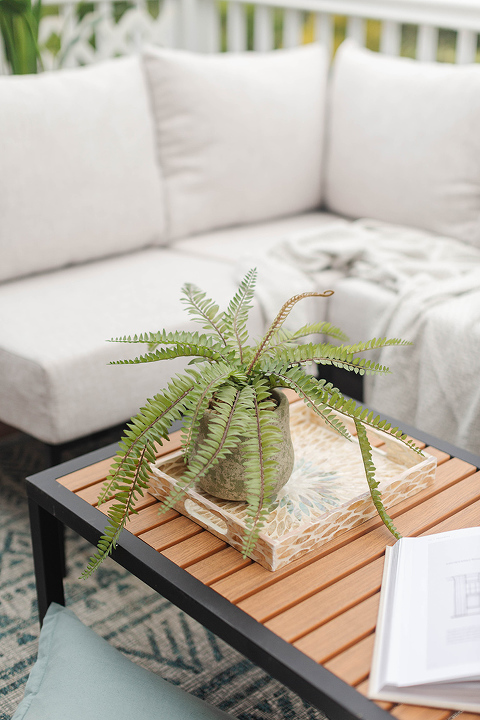 Plants are another great way to add an inviting feeling to your outdoor living room. A big tall tree or bush situated at the perimeter of your patio or deck will help screen the space from inquisitive neighbors, and add a big dose of color/texture, too. Just be careful not to pick plants that attract bees in case anyone's allergic.
Finally, always find a way to incorporate some cozy textiles like blankets and soft, cushy throw pillows made to be kept outside (store in a water-tight bin when not in use). Curling up under a blanket outside is one of my favorite things to do during the spring and summer. It makes me feel like I'm camping, even though I think my hardcore camping days are far behind me, haha.
What are your tips for creating a cozy outdoor living room? Leave your ideas in the comments below, and big thanks to Castlery for helping to bring our dreams of an inviting outdoor oasis to life. I'll be sure to share updates on our DIY patio soon!