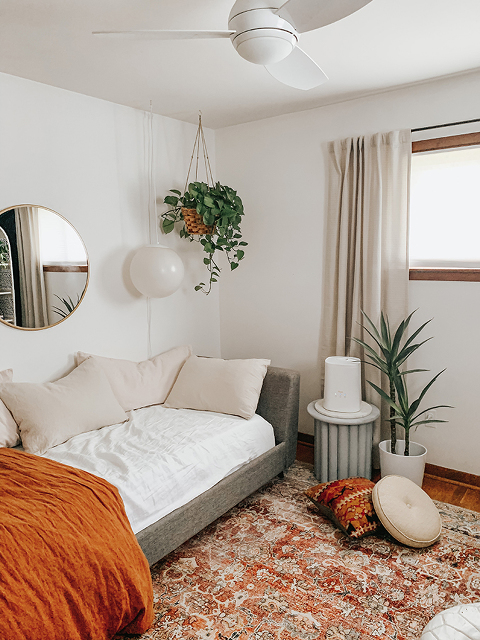 *This post features gifted product from Crane. All opinions below are genuine and my own.
It has generally been a struggle to get the air juuuuuuuust right inside our home. Almost everyone in our household suffers from allergies (yes, even the cats!), so we take air purification and moisture really seriously. We've tried all sorts of things over the years, and I know it might just be in our heads, but I truly believe that ever since we started running our Crane USA humidifiers year-round, our health has improved.
I'm obviously no doctor or professional when it comes to "curing" allergies and other body sensitivities, but I do know what has worked for us. We swear by the top fill humidifiers that we keep on each of the two levels of our home because they have helped our allergies feel more manageable, and neither one of us has had a bad cold or any respiratory issues since we started using them (knock on wood).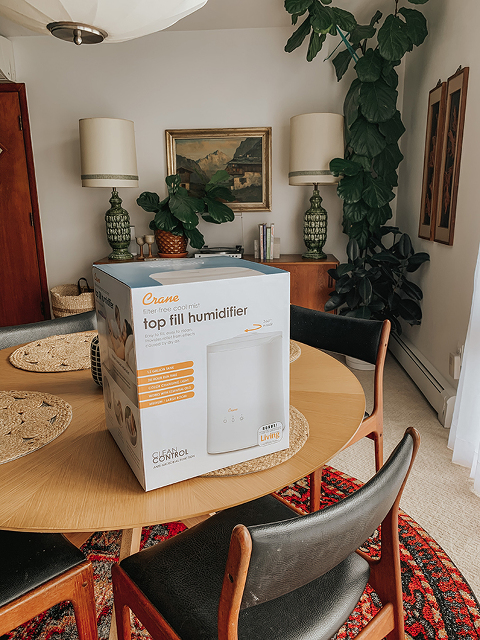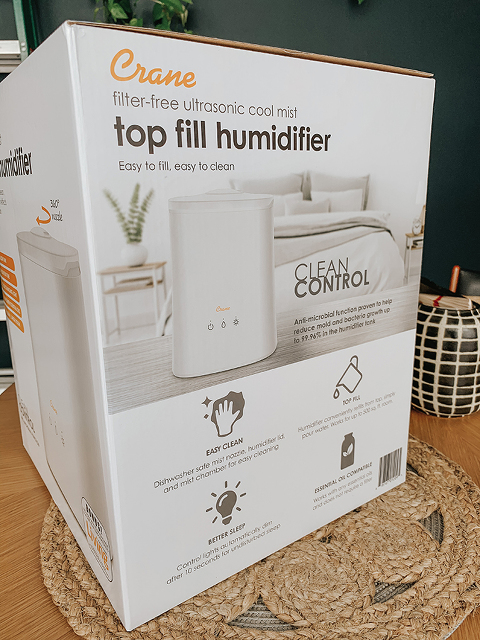 I absolutely know that it could all just be a coincidence, but this past year and half is the first time we started using humidifiers every night, so it definitely has me wondering if there's something magical about healthy humidity. I did a little bit of research to see if this was something that other people had experienced, too, and I found out that running year-round humidifiers is actually a thing!
We seem to be really lucky in that our house has never felt muggy or super humid, and our humidifiers haven't messed with that feeling at all. I think that's because they only hold 1.2 gallons per tank, and we never use up a whole tank of water in one day since we run them on their lowest setting. It's just a way for us to maintain a comfortable, healthy level of humidity inside.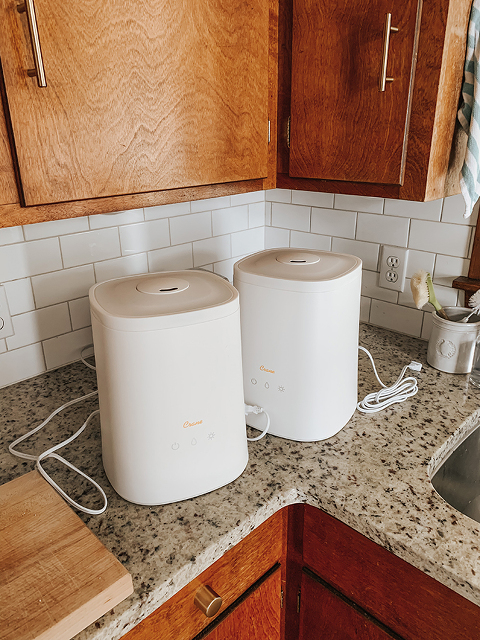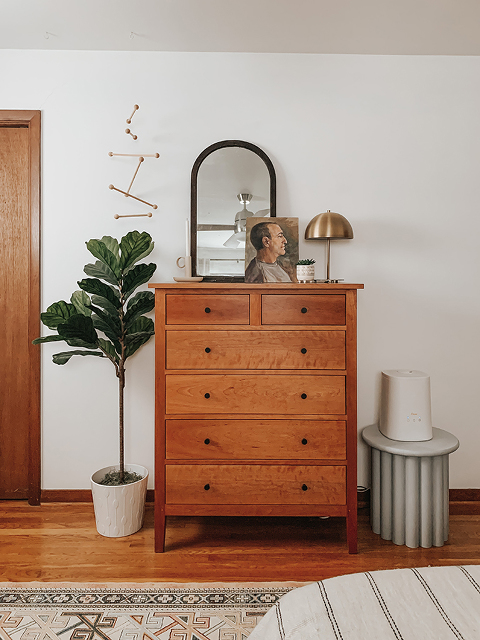 So, why should you consider running a humidifier every night, like we do? There are so many perks to taking up this habit! You've probably heard that dry air sucks the moisture out of your skin, which can lead to premature aging, flaking skin, etc. Well, it probably goes without saying, but a humidifier helps replace that lost moisture in the air so you can avoid dried-out skin.
More than that, though, dry air can give you that dreaded "dry throat" feeling, and the inflammation that comes from that can lead to illness. Humidifiers help alleviate those types of symptoms, including what you might suffer if you have seasonal allergies like we do. All of this is relevant no matter the season, by the way—winter, spring, summer, or fall.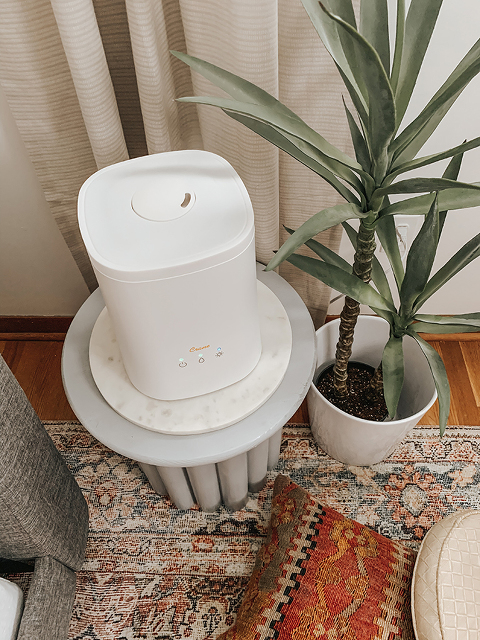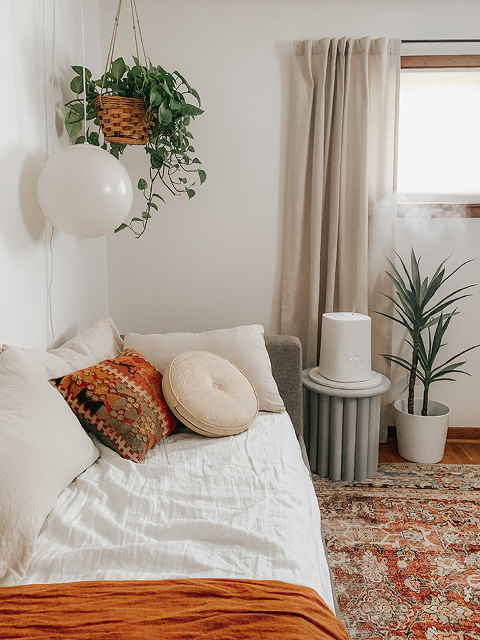 Obviously, there's a point when you can go too far. During my research I found out that you're supposed to aim for no more than 30% humidity inside a home, so keep an eye on that if you decide to run a humidifier regularly. You'll also really need to stay on top of cleaning your humidifier since nasty mold and bacteria can grown in the tank if left untreated.
I keep a reusable spray bottle under our kitchen sink that's filled with a water/vinegar solution, which I use to spray down and wipe out the inside of our humidifiers every few days. Just keep in mind that a year-round humidifier routine does require a regular cleaning step, but it only takes a couple of minutes. I appreciate that the particular Crane humidifier we use has an anti-microbial function to help reduce the growth of yucky stuff inside the tank.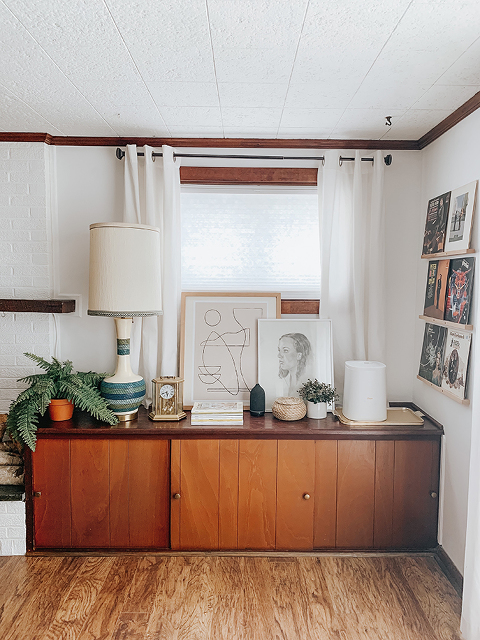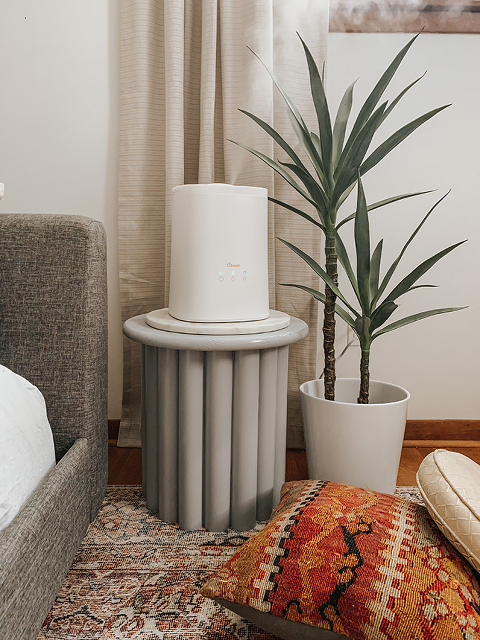 It might be worth mentioning that I'm not getting paid to write this post, and Crane USA actually has no idea I'm even sharing this story today. I just genuinely think that running a humidifier year-round has helped us feel healthier and kept our allergies more manageable. It took me years to find one that I thought had a cool enough design to leave out on display in our house, and the one I've linked to in today's post is my all-time favorite. There's a cool light-changing nightlight feature that we also love, and you can put a few drops of essential oils in the water, so you can use it to help lightly scent your room, too.
I could clearly go on and on, but I'll stop here since I want to make sure I don't come off as overexcited (too late for that?). Anyway, if you have any questions about why we started doing this or what we love about this particular Crane humidifier, leave a comment below or shoot me an email! I'm an open book, and happy to share everything we've experienced so far in our healthy humidity experiment.
Pssst…Hop to the Crane USA blog here to read my interview as part of their experts series!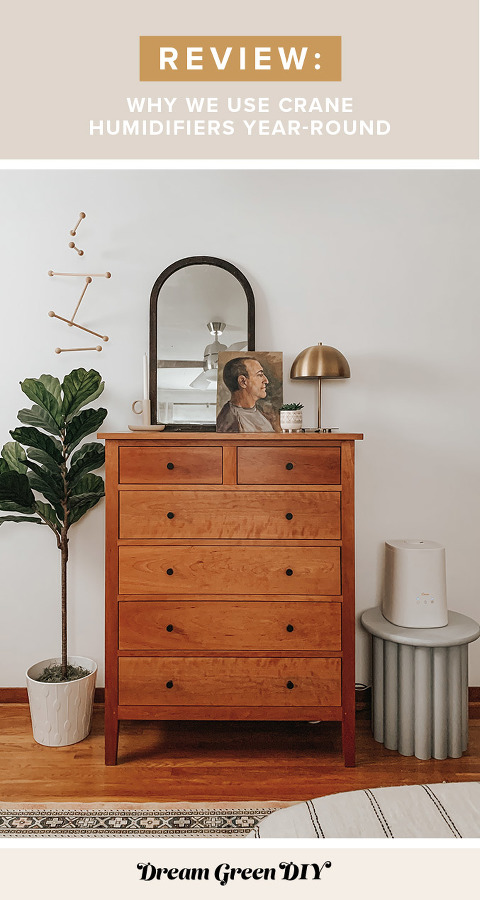 *I earn a small percentage from purchases made using the affiliate links above. Affiliate links are not sponsored. Rest assured that I never recommend products we wouldn't use or don't already love ourselves.