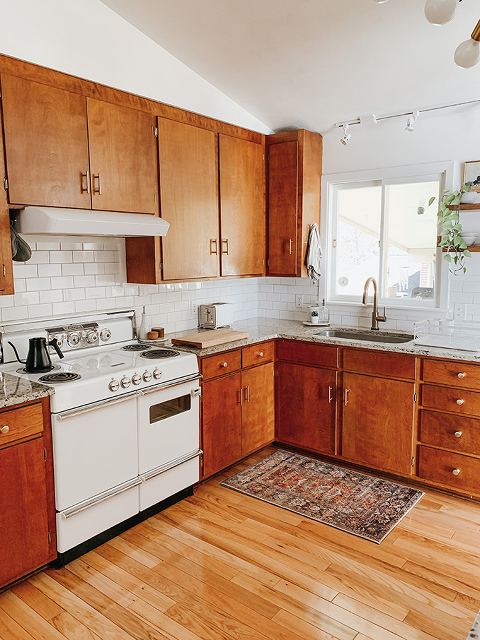 This project has been in the works for almost a year now. A year! And that's exactly why I was hesitant to even start it this time 12 months ago. The story all starts with our old microwave. According to the manufacturer label on the inside of the microwave, it was installed in the '90s. So, it was old. And it was definitely showing its age.
Sometimes my job is a little bit funny in that it gives me added motivation to make things "picture perfect" sooner rather than later. The microwave worked just fine, but I still cringed whenever I was forced to include it in pictures (like the two below). As a perfectionist wannabe interior designer, it just bothered me having that dingy 1990s appliance crop up in our beautiful, largely-made-over kitchen.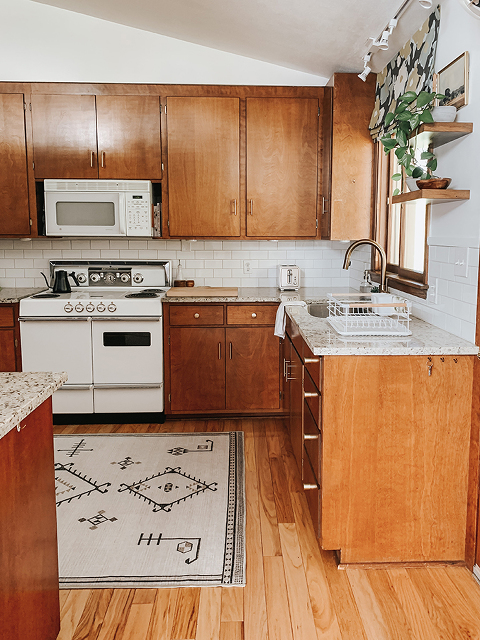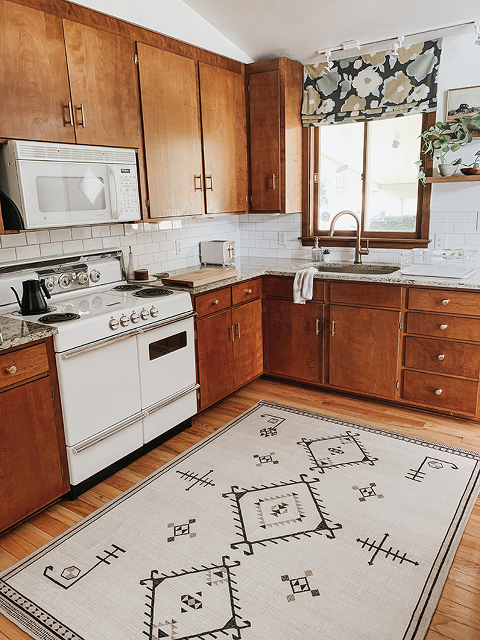 After talking it over with John, we decided that it was worth swapping out the old microwave to give our space a more updated, modern feel. I started by Photoshopping a couple of potential options together, one including a new bright white microwave and another option centered on a new stainless steel microwave. You can see both mockups below, along with a third option that came about when I asked you guys for your opinions on Instagram.
The number one vote was to ditch the microwave altogether in lieu of a range hood. I was pretty quick to nix that idea in the comments because I knew that swapping from an over-the-range microwave to a hood would require a lot more work, and we'd also need to find a spot on the countertop for a new microwave since we use one regularly. Even still, your suggestions got me thinking, and I went ahead and did a mockup of that look, too, complete with filled-in subway backsplash tile. As I said, you'll see that Photoshopped option a couple of images down.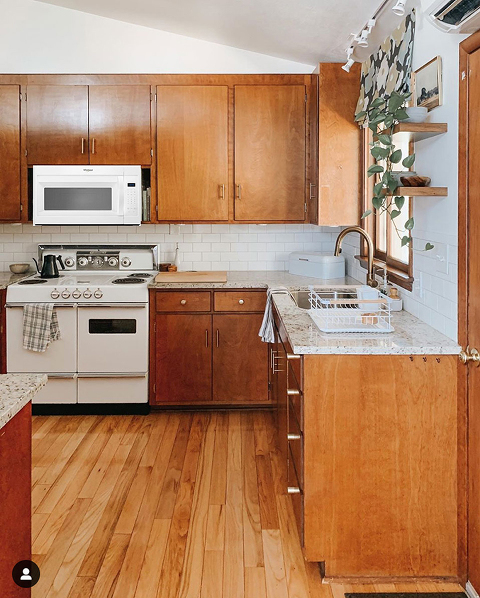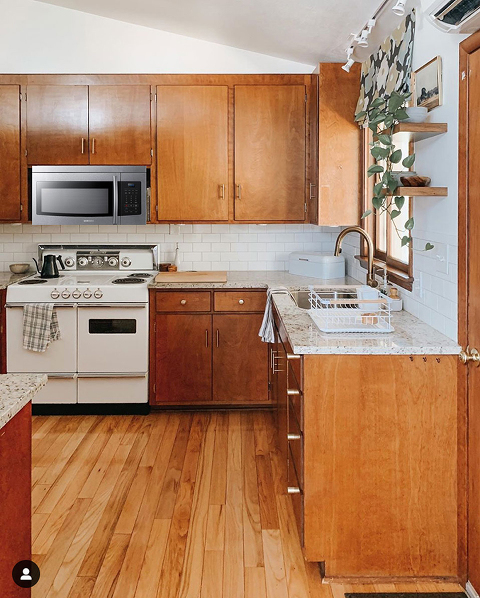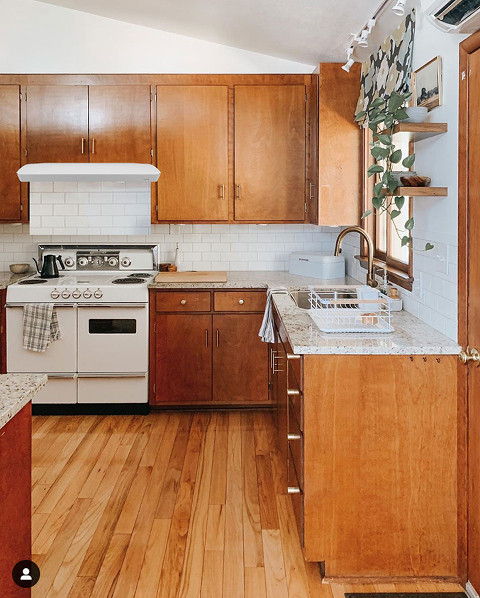 I sat on this project concept for a few weeks because I couldn't make up my mind. I definitely agreed with everyone that the range hood was the best plan visually, but I just wasn't sure that I wanted to go that extra mile since it would require so much extra work. We even went to the hardware store to price out some new over-the-range microwave options, but I think you know which way I ended up leaning…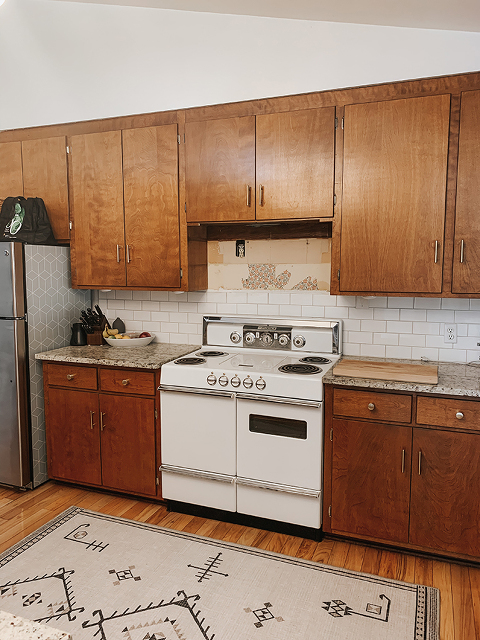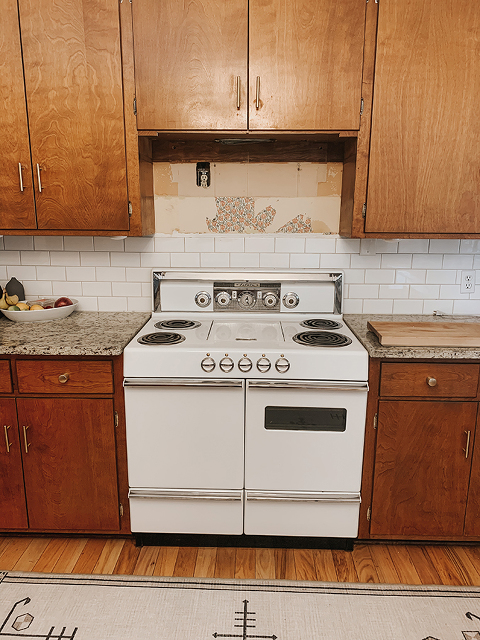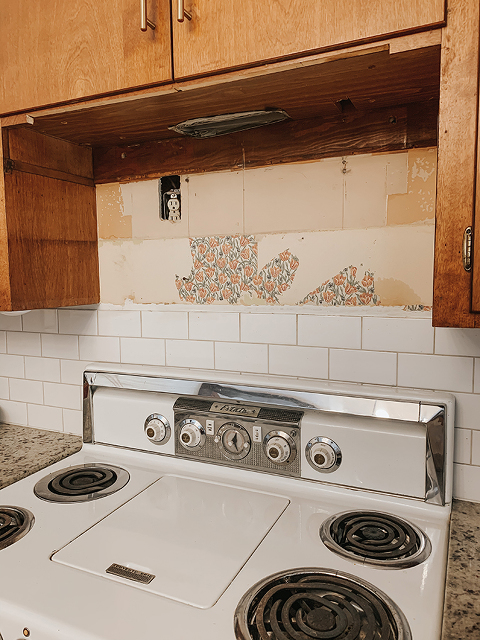 John and I ultimately decided to embark on the big job of changing out the microwave for a range hood. We knew it was going to function better for us since the slimmer profile of the hood would give us more head room over the stove while we cooked, and we ended up finding a good spot for a smaller scale countertop microwave (which I talk more in depth about here). So, down the old microwave came!
The main reason why this project ended up taking so long was (no surprise) because of COVID. We didn't really know what we were doing, and we couldn't hire it out because of my commitment to social distancing. At the time, I also didn't feel comfortable asking my dad to come over to help since John was still going out in public for his job, which opened our home up to potential germs. In the end, we just chipped away at the job ourselves whenever time allowed.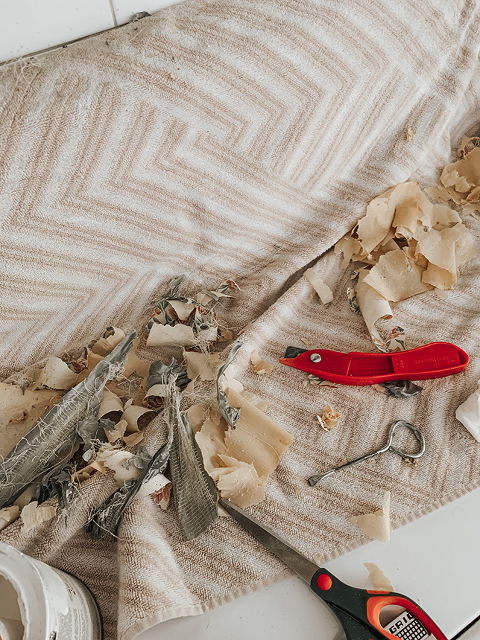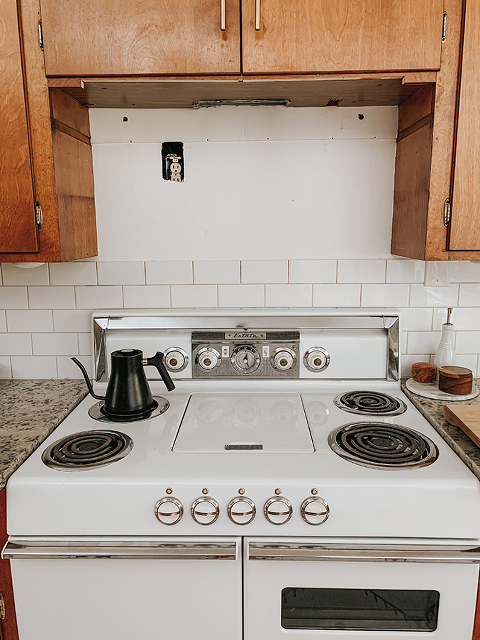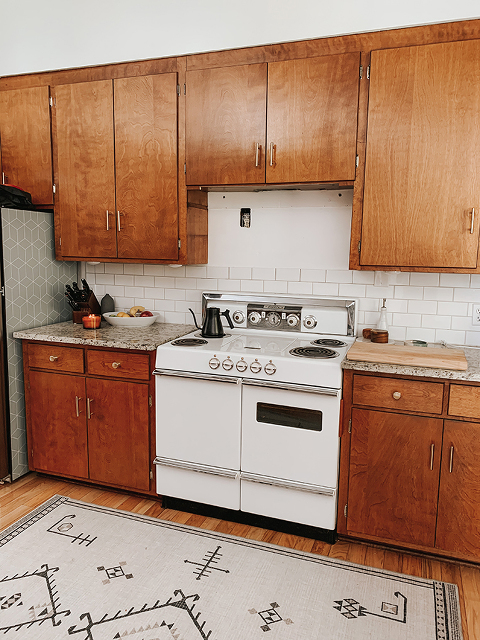 Another thing that slowed us down was my job. Our house has to look pretty pristine for my photography jobs, so I needed to clean the spot where the old microwave was in between tasks throughout the process. For example, you may have seen a few photos up how the removal of the microwave exposed a whole bunch of mismatched old wallpaper and drywall. At the time, we weren't really ready to tile or hang the new hood we bought, so instead I cleaned the wall up as best I could, and painted it white to help it blend in with the existing wall color in the kitchen and our subway tile backsplash.
The unfinished area above the stove ended up staying like this for months, but the good news is that we could sort of picture how the new setup was going to function for us, and we loved it. The added height over the stovetop was incredible, and if I squinted my eyes, I could pretend that the white painted exposed drywall was tile. I knew it was going to be amazing.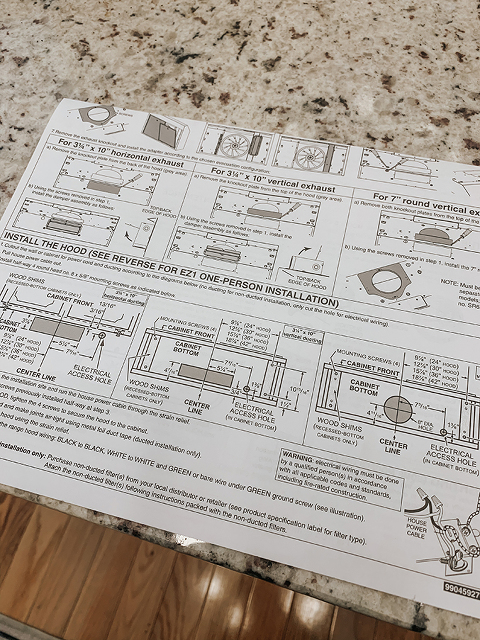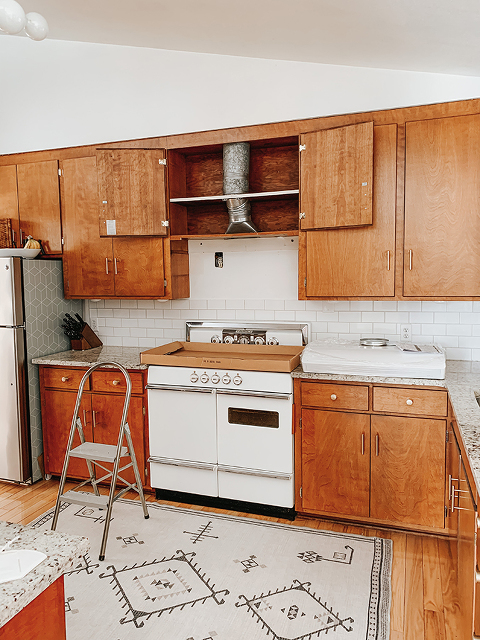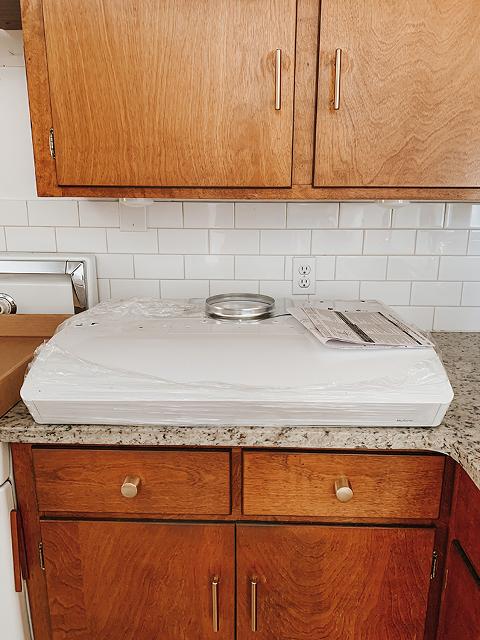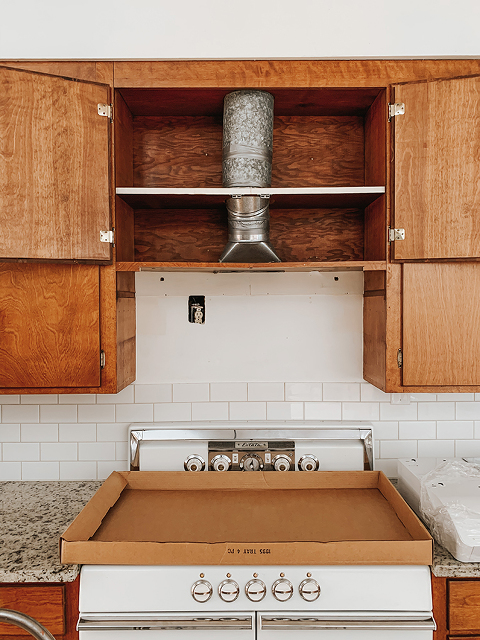 This brings us up to about fall 2020, I believe, and things were feeling a tiny bit safer in terms of COVID. I had started tentatively venturing out of the house myself to help with grocery shopping, so I figured it was as good a time as any to hire an electrician to come install the new hood (which had been sitting in our basement in storage since the spring), and to move that badly-placed outlet up into the cabinets above. Amazingly, it only took him about an hour to do. And with that big halfway point task out of the way, we had light and ventilation again!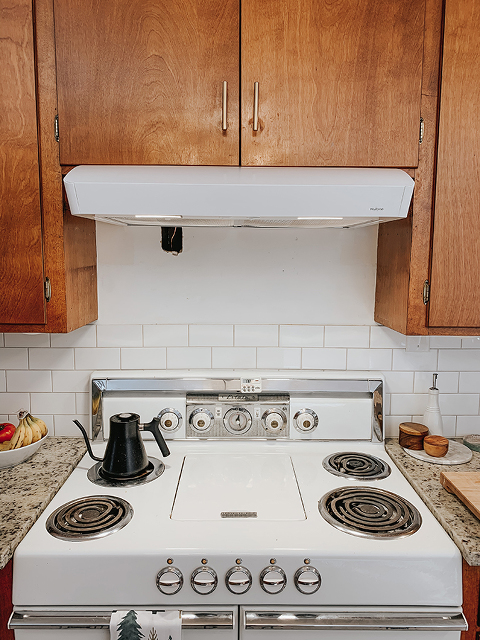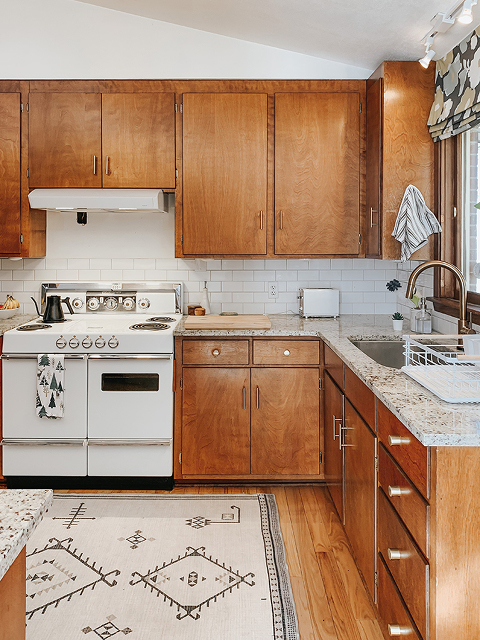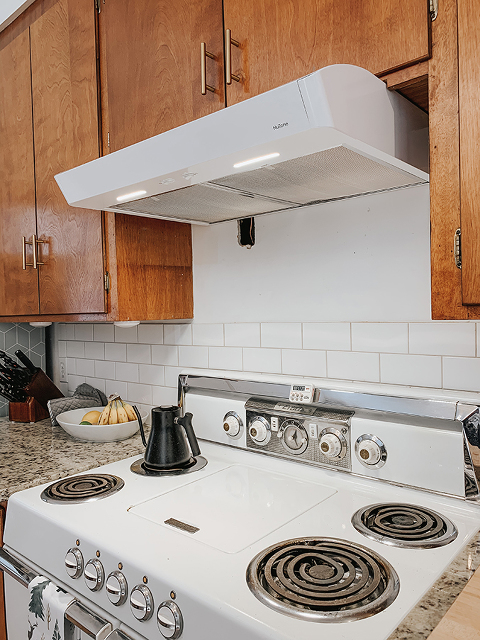 This felt like such a huge turning point for us, but, again, we sort of "sat" with the setup looking like this for weeks and weeks. I needed to gather up my mental and physical energy to retile and patch the hole left in the drywall from the old outlet. The good news was that I finally felt comfortable enough to ask my dad for help, so after I took care of patching the drywall (using this kit), he came over to help with the tiling.
Ultimately, though, he took on more of a supervisory role. Dad answered my questions as I went, and he used my manual tile cutter to trim the handful of tiles that needed to be cut to go along the edges, but otherwise, this step was all me! I was pretty darn proud of myself, and I think I'm generally feeling much more confident about DIY tiling. It's funny to think that the tiling part was what I was so afraid of from the outset of this project, but it ended up being one of the easiest phases.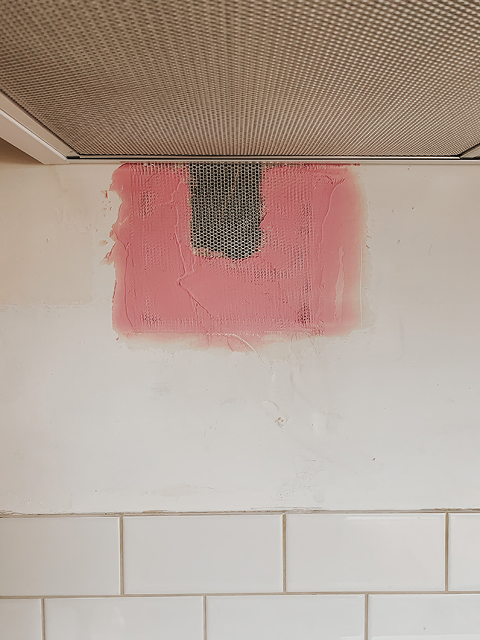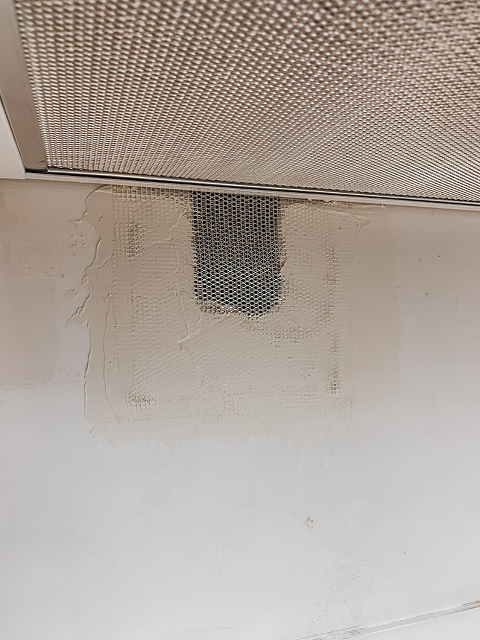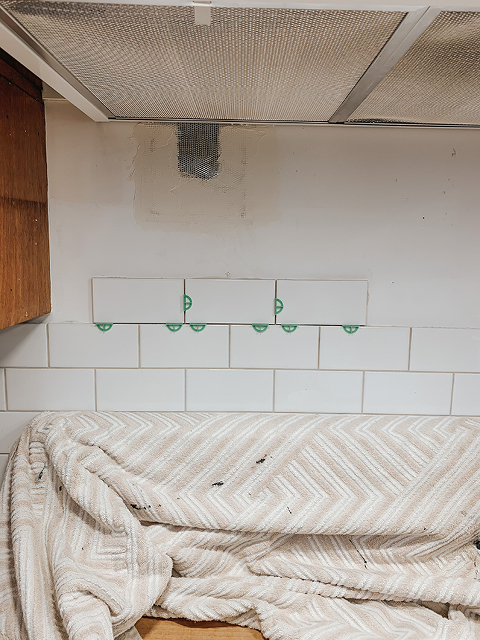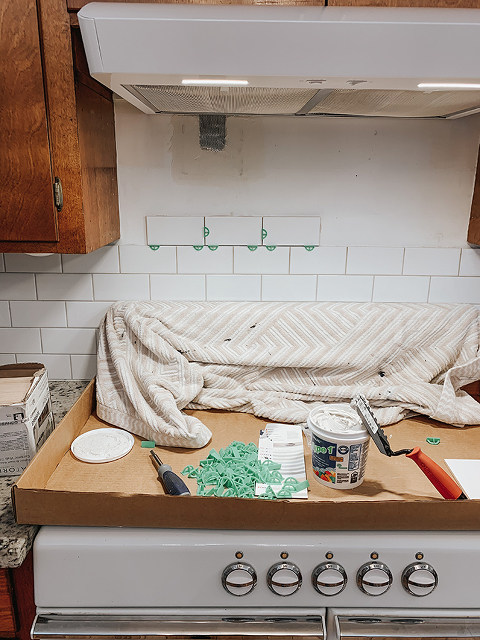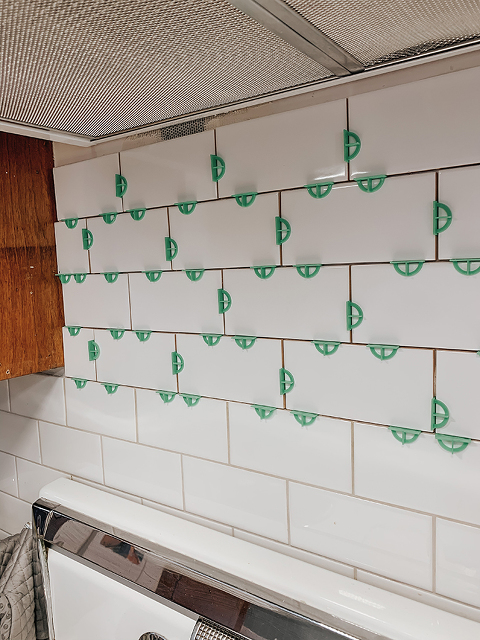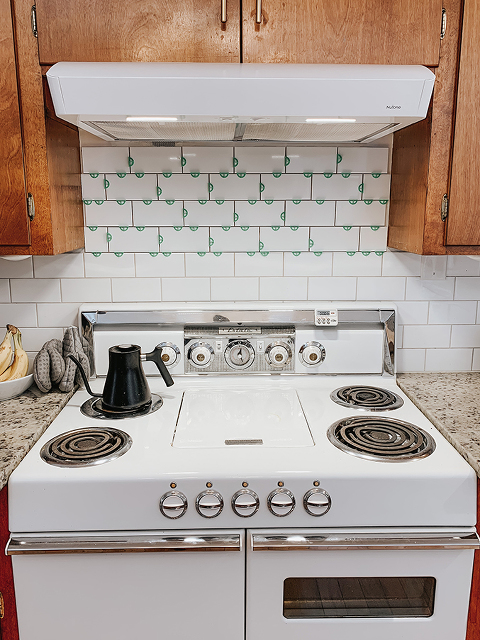 After grouting the tile and buffing it clean the following day, the final step in this extra-long process was adding trim work to create a seamless edge all the way around the kitchen. I had actually been putting this particular task off since we first installed the subway tile in the rest of the space, so this step felt especially good to get done.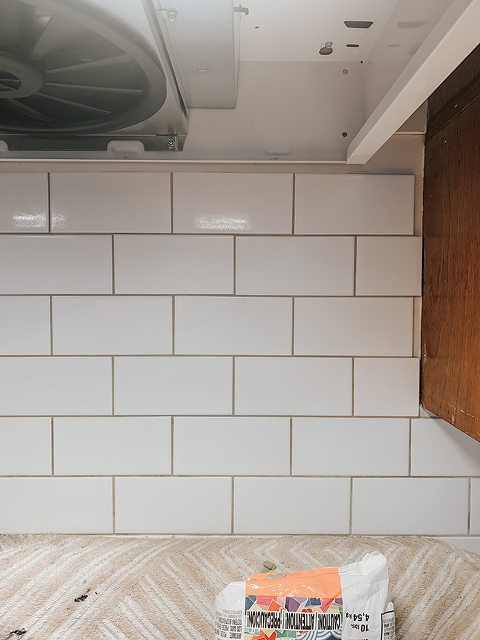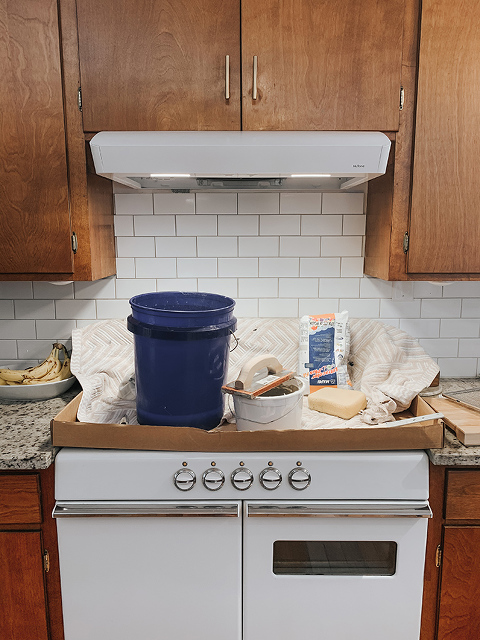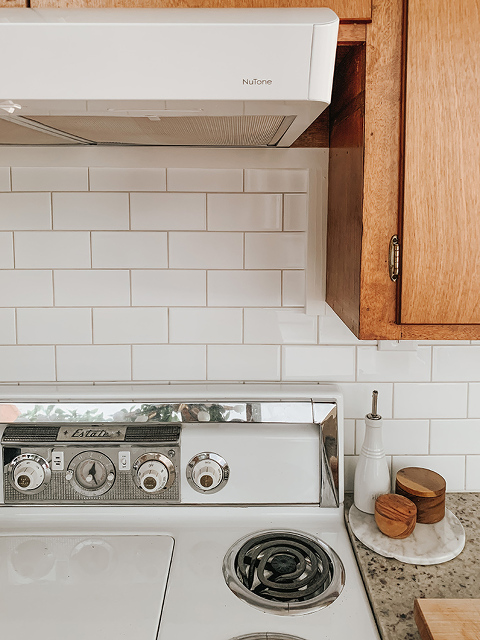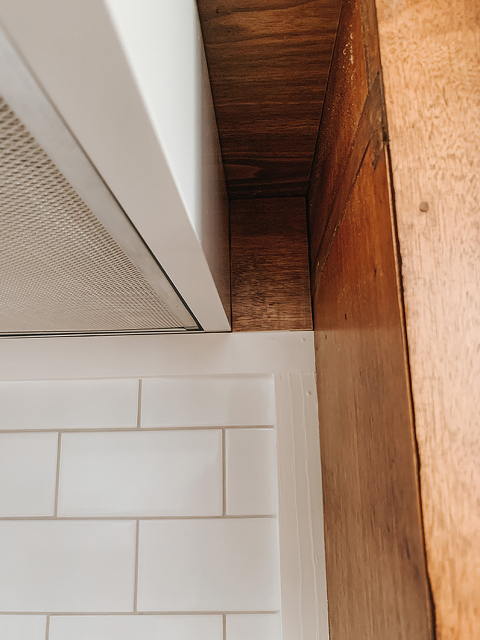 To do it, I bought long lengths of 1″x2″ boards from the hardware store, cut them down on my miter saw, and then used a nail gun to attach them along the edges of the tile—from one end of the kitchen to the other. The trim helped cover up all of the uneven edges of the tile, and gave the space a nice, crisp look all around.
You can see in the photo above that I also filled in on either side of the new range hood using some stained cabinetry scraps leftover from this project. Moral of the story: don't ever throw out wood whenever you happen to remove it from your kitchen! You never know when you might be able to use that stuff, and it will save you so much time trying to match the original wood grain and stain. I just nailed my cut-to-size, already-stained scraps in place, and was done!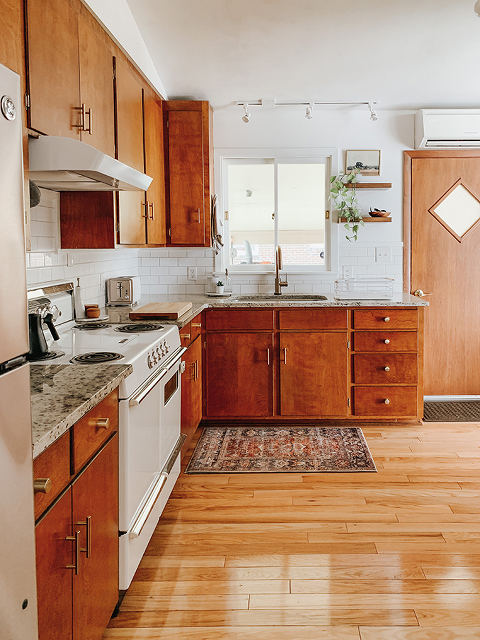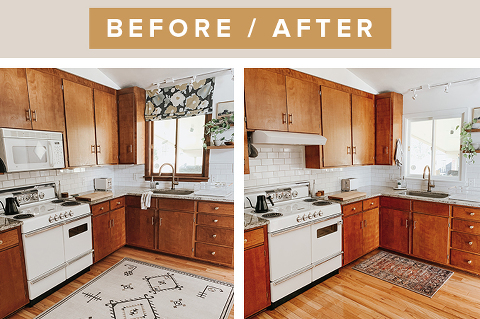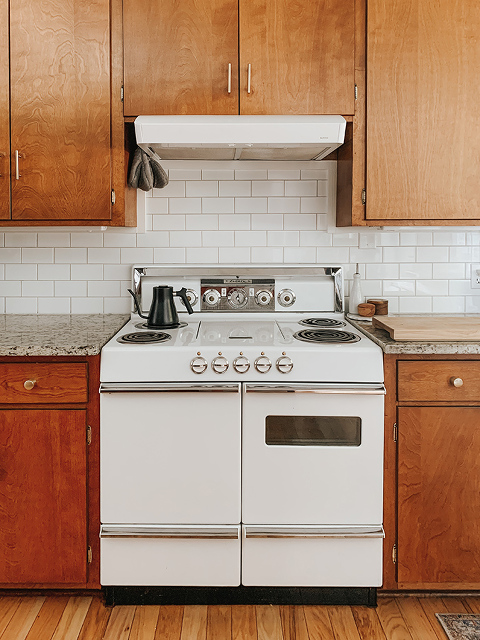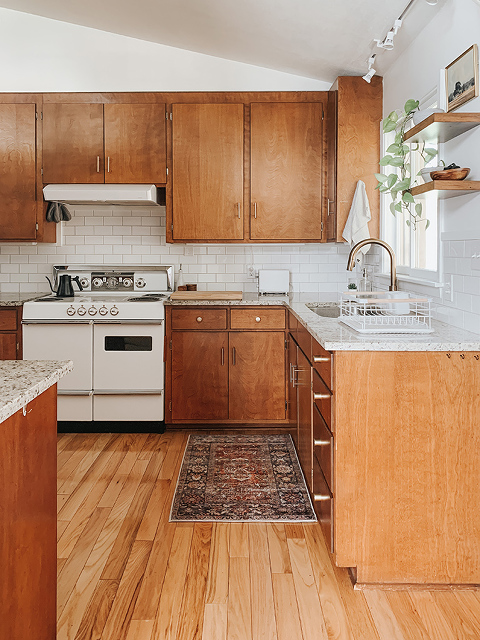 After putting a quick line of white caulk along the trim edges around the kitchen, we were finally finished. I couldn't love this change more, even though it ended up taking such a long time. I'm sure if we could have hired this project out it would have taken no more than a week, but it feels pretty amazing to be able to say that we did most of the work ourselves. It's projects like these that are the most satisfying to do, and it gives me so much more confidence for the next renovation project we tackle. I hope you'll stay tuned for what's coming up next (hint, hint: DIY patio!).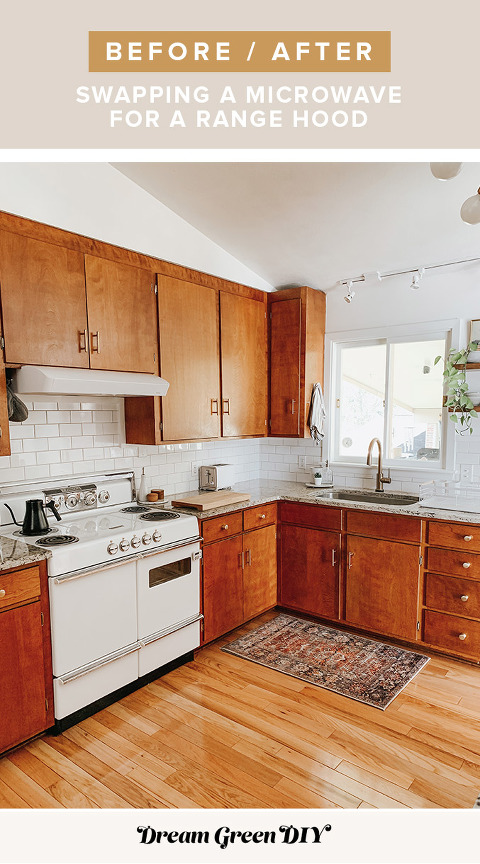 *I earn a small percentage from purchases made using the affiliate links above. Affiliate links are not sponsored. Rest assured that I never recommend products we wouldn't use or don't already love ourselves.