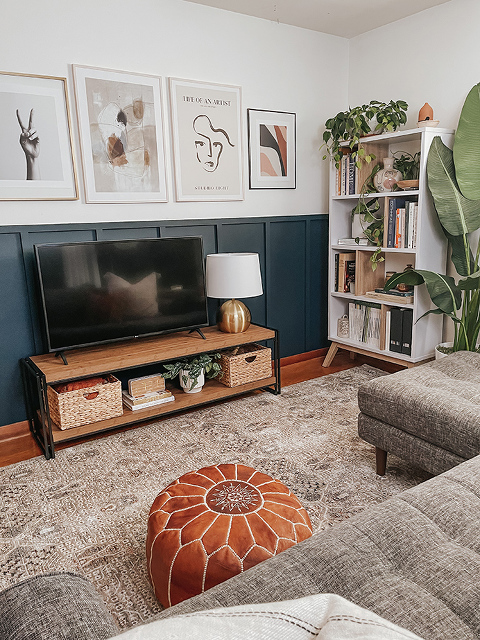 **This post was sponsored by South Shore Furniture. All opinions are my own.
Remember a few weeks ago when I had mentioned that we decided to turn our under-used (read: never-used) guest room into a lounge? Well, thanks to a new addition from South Shore Furniture, the transformation is officially complete! We had a chance to try out their Gimetri TV Stand and it has been the finishing touch this space needed. Well, that and the new TV we got to go on top of said media console…At any rate, we're in love with the updated space, and have already used it far more than we ever did when it was a guest room.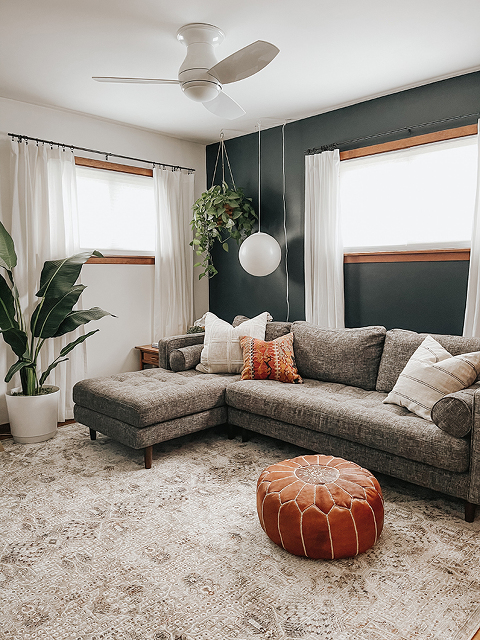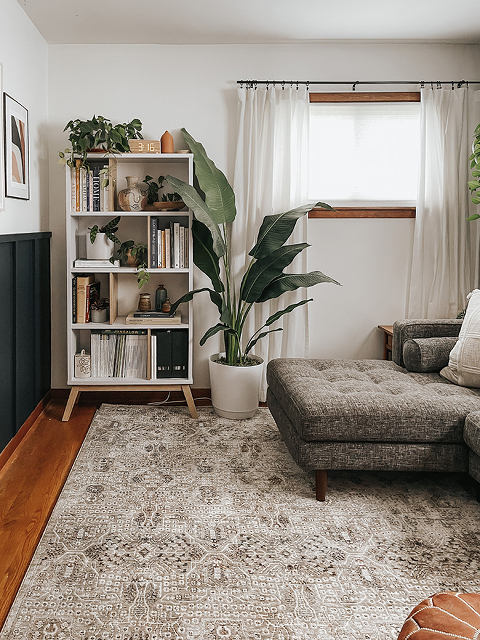 Those photos above show what the space looked like a few weeks ago when we started this process. We had sold our daybed and mattress, and then moved our old sectional sofa into the room as the new starting point. Before going any further with our harebrained idea of turning the guest room into a TV lounge, though, we wanted to "sit" with the concept for a bit (pun unintended).
In other words, John and I agreed to give it a little bit of time before going ahead and splurging on a third television for our house, but in the end we agreed that it was a "Why the heck not?!" type situation. As a child-free household, we have the freedom to use all of the bedrooms exactly as we want to, so why on earth shouldn't we turn the third bedroom into another living space?! We use our home most often to watch movies, read books, and hang out with each other and our pets, so it was the right decision for us. We haven't regretted it one bit.
But, anyway, as you can kind of see in the photo just above, the wall opposite the sofa (the dark blue board and batten wall) was completely empty. We thought it would be perfect for our hypothetical new TV, so once we were officially settled on the idea of turning the room into a TV lounge, we got to work researching media console options. The space is tight, so we couldn't get anything overly long or deep, and I was also set on finding something low to the ground because I didn't want the new TV to break the top edge of the board and batten behind it. I'll explain why a little later on.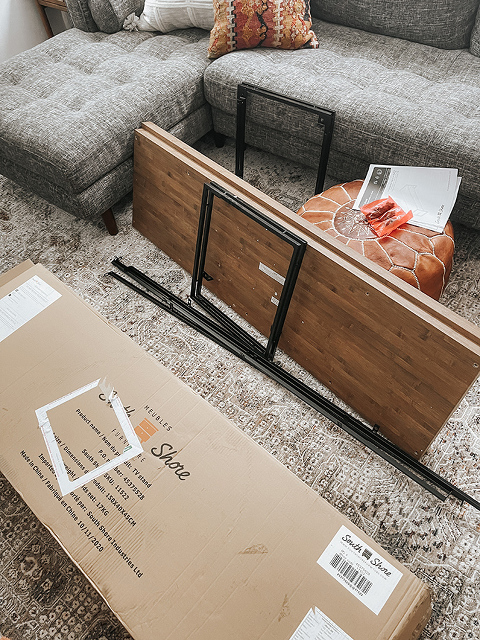 And that was serendipitously when the team at South Shore Furniture reached out to ask if I wanted to team up to help promote their line of cool affordable furniture. I absolutely believe in signs and leaning into the whole "If it's meant to be, it will be" mentality, so I agreed on the spot. The timing couldn't have been better, especially since they just happened to have the absolute perfect piece of furniture for our lounge.
As I mentioned at the beginning of this story, we ultimately chose their Gimetri TV Stand in 'Bamboo'. It accommodates TVs up to 65 inches in size (we bought a 43-inch television, so no issues there), and the back is completely open for easy cable organizing. In typical "Carrie" fashion, I had the piece set up by myself less than 30 minutes after it was delivered. It was really easy to put together, even without help, and the clear instructions made it a breeze. One of my favorite things about this particular media console is that it's really versatile. It's the same height as a standard coffee table, so we can use it for that purpose if the mood strikes. You know I love changing things around, so having that as an option thrills me.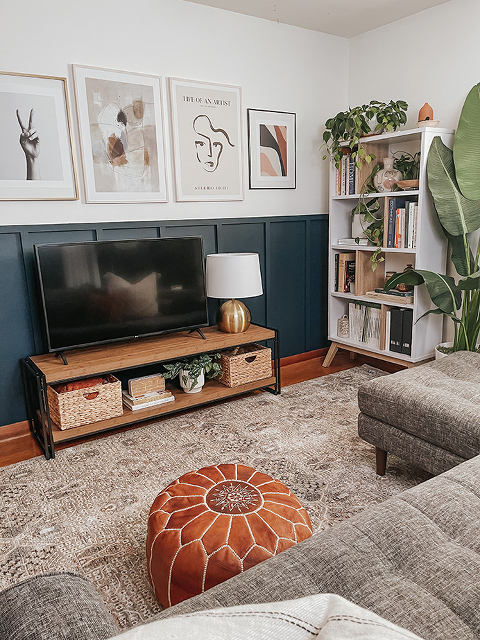 If you're curious about the construction, the sides are black metal, and the top and lower shelves are made of (water resistant!) MDF. It's super sturdy, which is a big pro for us since we have cats who like to climb on all the furniture in our house. I actually had to attach the TV to the wall with hooks and fishing line from behind because they kept wandering back and forth behind and in front of the television, and it was making me nervous. I'm happy to note that if we set a drink on the TV stand, and one of the animals knocks it over, we can get it cleaned up quickly without messing up the finish of the stand.
Another major selling feature for me was the shelf below. I was able to fit two baskets there to house things like magazines and an extra cozy throw blanket, and had plenty of room leftover for a clock and potted plant. I haven't done it yet, but I plan to move our DVD player to this room since it's so beyond perfect for movie night now, and I'm thinking it'll be a breeze to set up on that lower shelf. As you can see, I even had room for a little table lamp up top!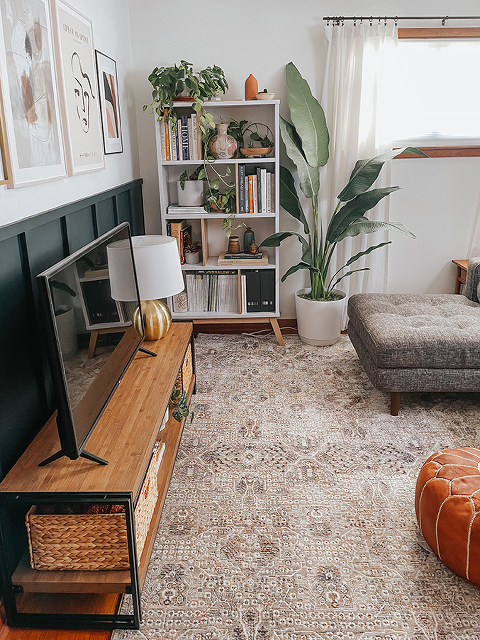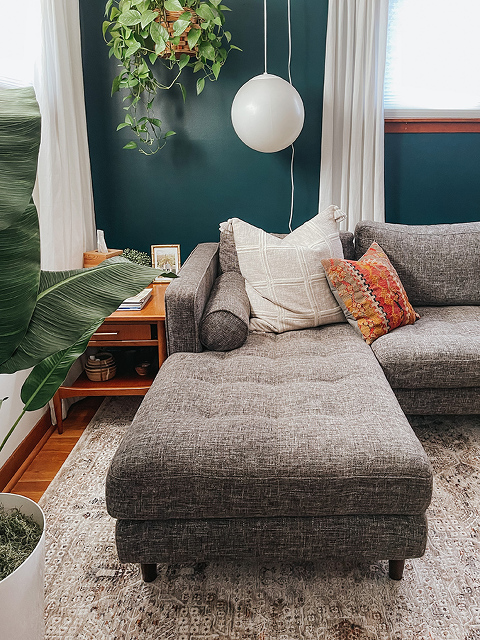 Before I leave you, I wanted to expand on why I wanted to make sure we found a media console that would allow our television to sit below the top line of our dark blue board and batten wall. Simply put, the black TV disappears when set against the dark paint color! The photos just below are probably the best examples to prove this trick, especially the one that's two images down.
As you may know, we have two specialty wall-mounted TVs in our house that look like real framed art when they aren't playing shows or movies. That has allowed us, up till now, to avoid the dreaded "black box on the wall" situation you get when you have a traditional TV on the wall that's powered off. We couldn't afford another one of those TVs, but we could splurge on a simple traditional TV. Our way of working around the "black box" situation was to make good use of the dark blue wall behind it, which is why our new TV stand checks every single one of the boxes on our wishlist: it puts our TV at the exact right height to not be an eyesore against the wall when it's off. You barely notice it! All you really see is the pretty metal and wood media console below, plus all of those functional and decorative accents I put in place.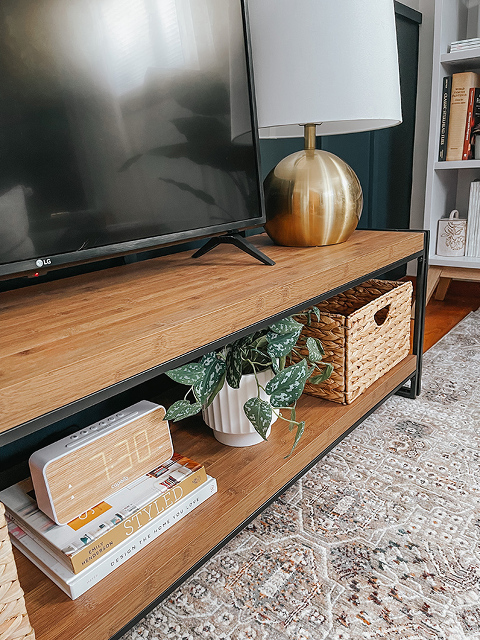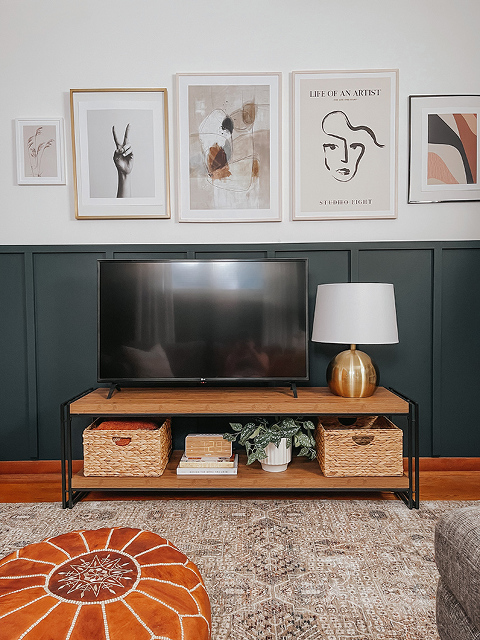 If you have a small living room, or maybe a rental studio apartment, this piece is one I would absolutely recommend. I haven't even told you the best part yet…It costs only $160!!!!! I hate to overuse exclamation points in anything I write, but, my goodness, that price warrants multiple exclamation points. Let me know if you have any questions in the comments below, and thanks for following along with our guest room transformation. It finally feels ready for all of the fall movie marathons we have planned and are already excited for later this year.