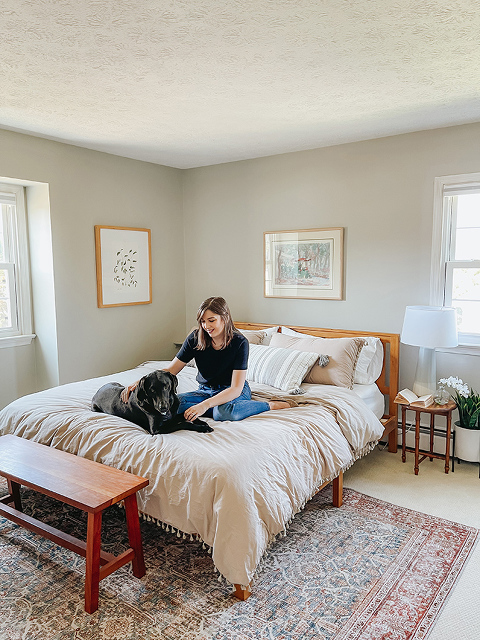 **This post is sponsored by BabbleBoxx. All opinions are my own.
Whether you've been following along for years, or you're new to this blog, you probably know that we're big animal lovers. Our personal home plays host to three felines, my parents have their puppy Sally and cat Winston, and my sister, Kat, has Rory, her three-year-old lab mix rescue.
If we were to count the number of pets my sister and I had growing up, it would be well over 20, and that love for pets has definitely been inherited because we just can't get enough of them. When John and I are driving through town, and I happen to spot a dog walking with its owner down the street, he knows I've seen a pet just by the pitch of my voice as I gasp and squeal out loud.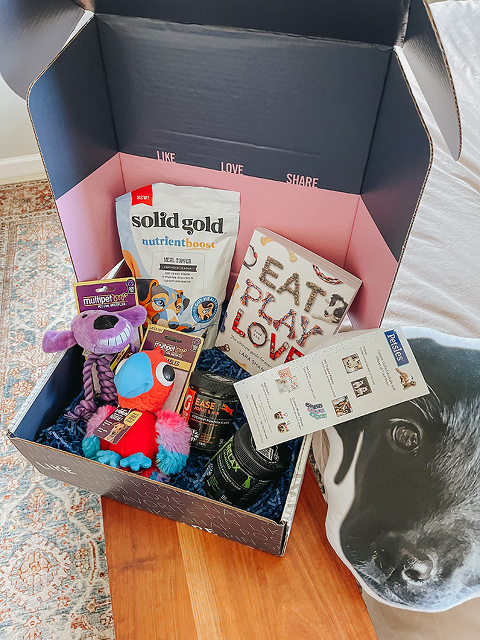 At any rate, my sister's birthday was this past weekend, and when it came time to brainstorm gift ideas for her, it wasn't long before my mind started swerving into pet-focused goodies. Even though dog toys and chews aren't exactly gifts for her specifically, I know that she'll get so much out of handing the pet gifts on to Rory. After making sure we included a few Kat-specific presents, we padded out the rest of the box with gifts that she can eventually pass along to Rory.
Kat has actually been galavanting out west for the past couple of weeks, so my parents got to babysit Rory while she was gone. The plan was for her to come back home to pick up her dog and also to celebrate her birthday, which just happened to fall on the same weekend of her return.
Before my sister got here, I had a chance to give Rory a sneak peek of his "secondhand" presents. I wanted to make sure he was going to love everything as much as I thought he would, and, happily, it was all a big hit. Keep scrolling to find out what I gifted Kat (ahem, Rory) and what you should consider if you're in need of pet lovers gift ideas this season. Did I mention there's a giveaway? Yeah, you're definitely going to want to keep reading…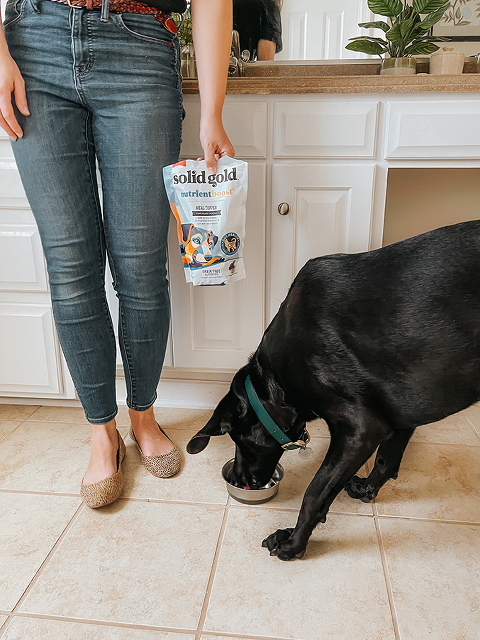 Holistic Pet Food Upgrade
I know it can be intimidating to fathom the idea of changing a pet's established food routine, but if you know that routine isn't working well, then maybe it's time for a change. Without going into too much detail, my sister's dog Rory has been known to suffer from an upset tummy from time to time. He's got a sensitive gut! There's no two ways about it!
So, that's why I'm including a portion of Solid Gold NutrientBoost™ Meal Topper for Dogs in her birthday box. I'm sure it'll give her peace of mind to know that this food is built to improve pet digestion, and also helps with dog nutrient adsorption. The other cool thing is that this meal topper can be added to any kibble, so she can start by adding this to his current diet, and if the dog plasma-driven formula ends up helping with his stomach issues, she can incorporate more of this 47-year-old brand of dog food into his routine.
Click here to shop Solid Gold Pet Food, and for coupons to help save you a bit of money, too!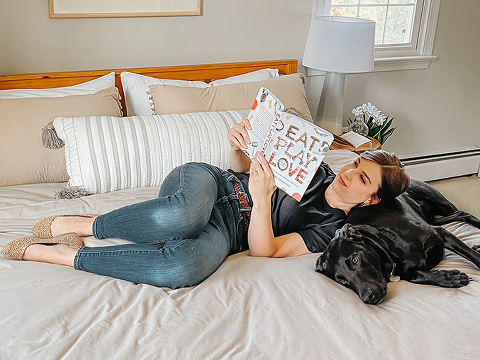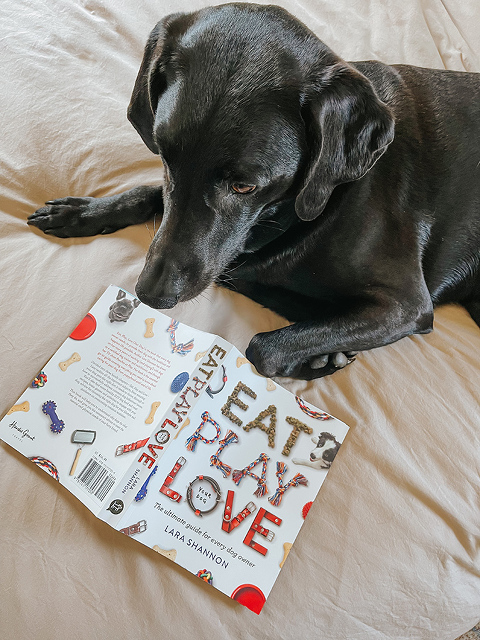 Give Them The 'It' Dog Training Book
Now, as I said, most of the goodies in this gift box are more for Rory than for my sister herself, but this particular item is definitely something I know she'll get lots of good use out of. It's a copy of Eat, Play, Love (Your Dog): The Ultimate Guide for Every Dog Owner, written by author and dog trainer Lara Shannon.
This dog training book is broken into three sections, which are (you guessed it!) 'Eat', 'Play', and then, finally, 'Love'. It covers everything from DIY healthy dog food recipes and learning tricks, to traveling with a pet, behavior management, and the dos and don'ts to follow before actually getting a dog. It's a great read for anyone who's looking to understand more about why their pet is the way they are, and how to work with them rather than against them so you both can enjoy a happy, full life together. If you have a dog (or want one) this is the book to read!
It's available wherever books are sold, including Amazon, Bookshop.org, or your favorite indie bookstore.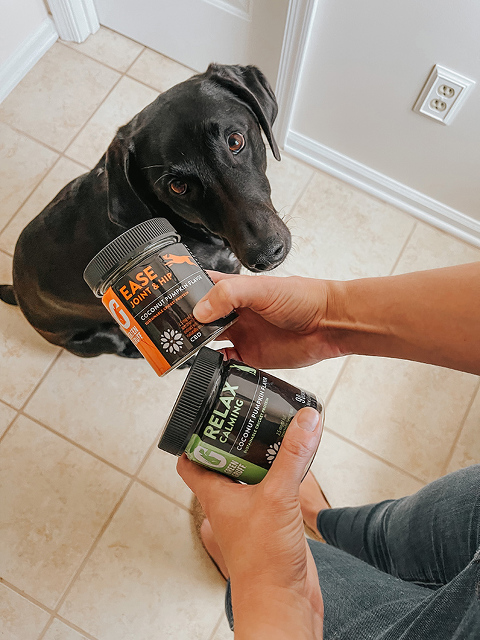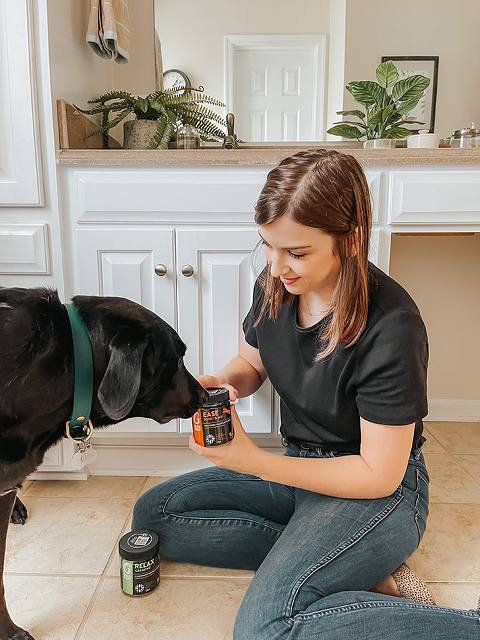 Personalized CBD Chews For Their Pet
I definitely wanted to include a couple of CBD chews for dogs in my sister's pet lover birthday gift box because I've heard they're good for high energy dogs like Rory, but I wanted to make sure I got some really good ones. I eventually came upon versions made by the Green Gruff brand, and really liked what I saw. They make their CBD Chews using the "best of the best" when it comes to ingredients, and their production methods are also ultra sustainable. The facility that produces their chews is 100% solar-powered!
The Green Gruff chews I gifted to my sister to give to Rory (daily for the most impact!) have nine essential amino acids, and include more iron than spinach. I went ahead and tucked two different kinds of chews into the box—EASE Joint and Hip Chews (formulated to target joint, hip, and connective tissue pain), and RELAX Calming Chews (these help dogs overcome shaking, nervousness, and anxiety). I think Rory will probably get the most use out of the dog anxiety/stress chews, but with all the hiking my sister has been doing lately, I figured the EASE version that offers hip pain support for dogs couldn't hurt to throw in, too!
Get 30% off either RELAX or EASE (90-count) Green Gruff supplements through 8/15 using discount code GGDD30.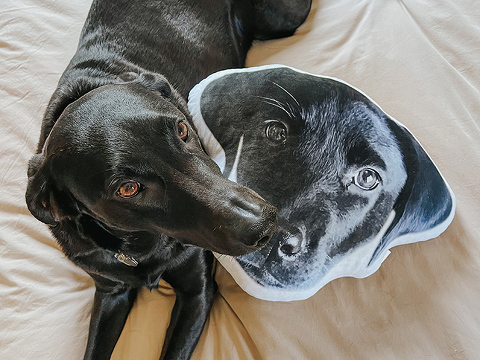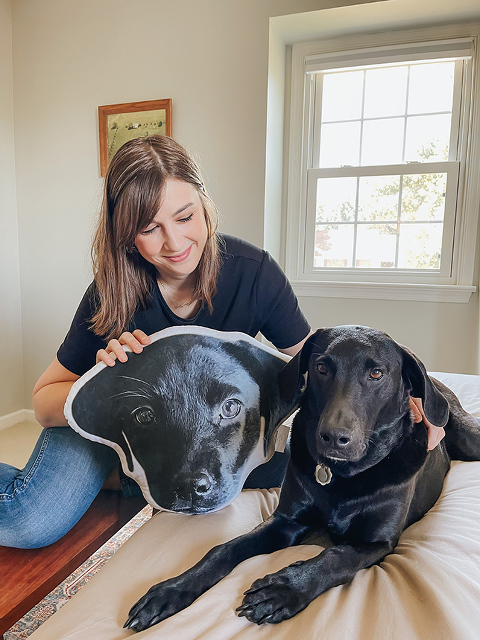 Huggable Custom Pet Portrait Pillow
For the extra sentimental pet lover in your life, I don't think you could possibly top a Custom Pillow from Petsies. There's just something so special about being able to cuddle up close to your beloved dog's face. Rory has to be in the right mood to cuddle, so my sister can now bypass his mood swings by cuddling up close to her new handmade personalized pillow.
I saved this one for next to last because I genuinely believe that it's the perfect "main event" when planning gifts for pet lovers. To make it, just upload a photo of your pet on the website (it can be one from your phone), and then choose your pillow design. I went with a classic black and white version of Rory's puppy face, but you can also get pillows with quotes and other elements added. As a design-obsessed homemaker, I don't think I'd use this pillow for decoration (unless in a kids' room—that would be cute!). I see it acting more like a stuffed animal version of your pet that you sleep with and love on as needed. Tuck it in a basket or on a shelf in your closet if you don't want it out on display, but I have a feeling that my sister's new custom dog pillow is going to see daily use.
Save 15% off personalized pillows from Petsies (they specialize in all pets, not just dogs!) from July 12 to July 31 using code DreamGreen.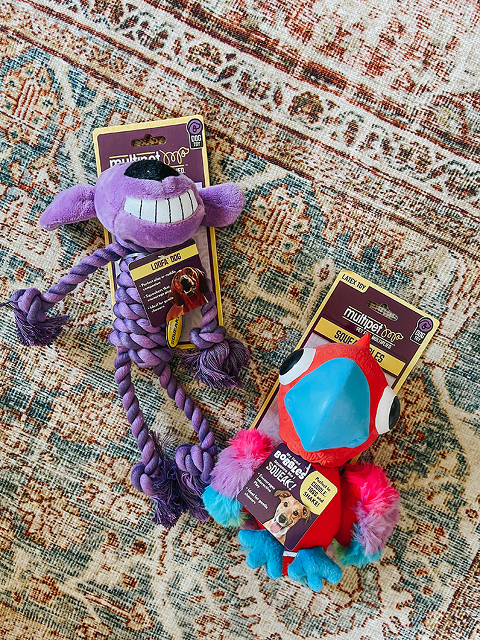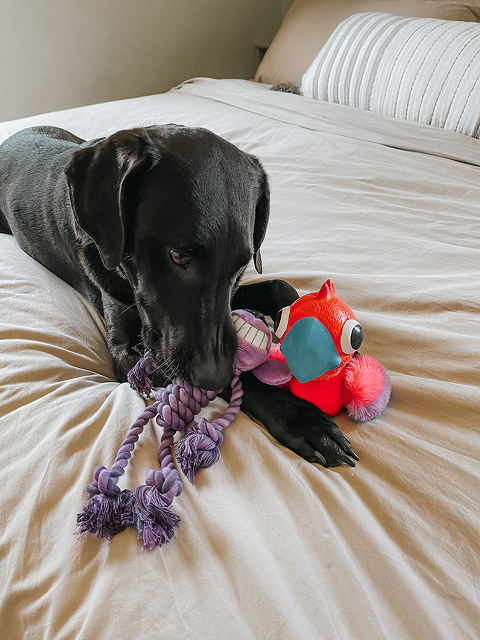 Dog Toys So They Can Play Together
Are you ready for the final goody?! This one is extra fun since the brand has offered to include a giveaway! But before I get to the contest, let me explain the gift. It's a couple of toys for dogs from Multipet International, Inc. They've been in business since 1995, and definitely do their homework when it comes to the best ideas, fabrics, and technologies that can be combined to make engaging toys for your pets.
As I mentioned at the beginning of this post, I took an afternoon to give Rory a little preview of the goodies before I wrapped them up for my sister's birthday. He was absolutely in love with his new Bobble Bird and Rope Body Loofa® from Multipet. He's always been very particular about the toys he plays with, but as soon as I removed the packaging on his pair of plush dog toys, he was all over them, giving them a thorough nuzzle and inspection. I can already tell that they're going to keep him engaged and active during playtime, not to mention he'll get lots of good exercise and mental stimulation while tossing them around under my sister's watchful eye.
You can enter the giveaway here (note that there's a delayed start to the contest, so make sure you check back toward the end of the week). The prize includes a Multipet Standing Lamb Chop®, Globlet (Polka-Dot Pig), and Rope Body Loofa®. There will be three winners, so you have a better chance of taking home the prize!
Warning: Always supervise your pet when playing with pet toys. This product should be inspected periodically for damages. Do not permit your pet to continue playing with a broken or damaged toy. Please discard when worn. No pet toy is indestructible. Intended for pet use only.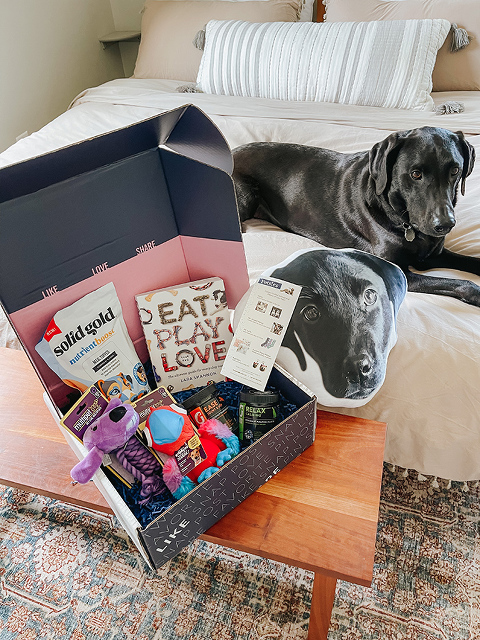 I hope that breakdown gives you some good ideas for what to give the pet lover in your life! If you didn't hear the sad news, John and I lost our dog Rocky last year, and we talk almost every day about adopting a new dog to help fill the void he left behind in our family. Thinking through this birthday gift for my sister (and Rory) has really lit the fire for me, and I want to figure out a way to make a new dog happen sooner rather than later!
Stay tuned for info on that life update as we make strides toward a new dog, but, in the meantime, I hope you'll be able to take advantage of some of those awesome offers (and the giveaway in a couple of days when that goes live). Oh, and please do take a second to let me know about your own beloved pet, if you have one, in the comments below.