**This post was sponsored by Winnie's Picks. All opinions are my own.
As many of you know, I went to school for art. I double-majored in studio art and art history in college, and took practically every single art course I could during my time there. I ended up focusing most of my studies on graphite drawing, but I also dabbled in things like printmaking, painting, ceramics, and woodworking. The point is that I have lived and breathed art for practically as long as I can remember.
I'm not in school anymore (haven't been for a long time, in fact), but I still prioritize art in my everyday life as a working adult. I draw portraits for friends and family just for fun, create my own DIY art pieces for the house whenever I need to fill a wall, and I've also been working at our local pottery studio for the past three years. I keep up with it because art brings me more joy than pretty much anything else in life, so when the team at Winnie's Picks reached out about testing their premium paint-by-number projects for adults, I was all in.
I haven't done many paint-by-numbers myself, but I love collecting vintage ones from antique stores, and I figured this was the perfect opportunity for me to try something new—and I could add a new piece of art to our house in the process. The other bonus is that, throughout the process of doing the painting, I realized that it's the perfect gift idea, too! Keep scrolling for my tips and more information about the particular painting I chose from Winnie's Picks.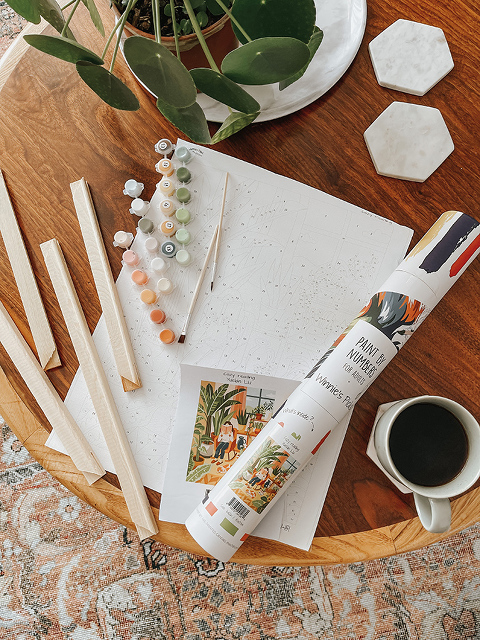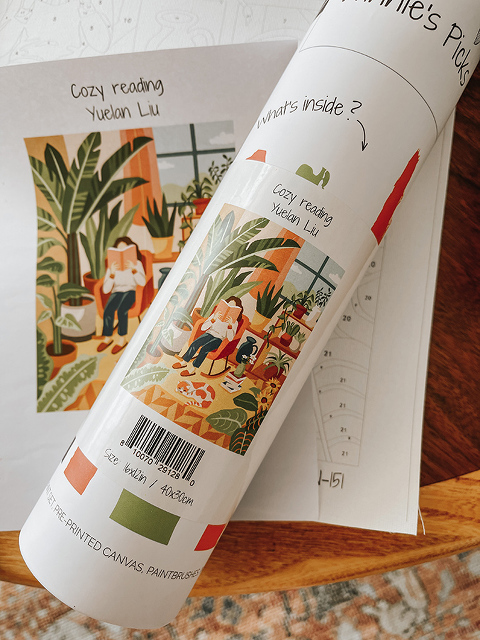 So, first, the paint-by-number design I ended up deciding on. It's called Cosy Reading and pretty much sums up all of my greatest loves in life: plants, reading, and cats. I'm a simple gal! That said, if that design isn't for you, there are so many gorgeous paint-by-number projects to choose from in their collection (see all of them here), and you can also create your own custom paint-by-number project using a photograph. I love the idea of ordering a pet portrait paint-by-number project for my sister!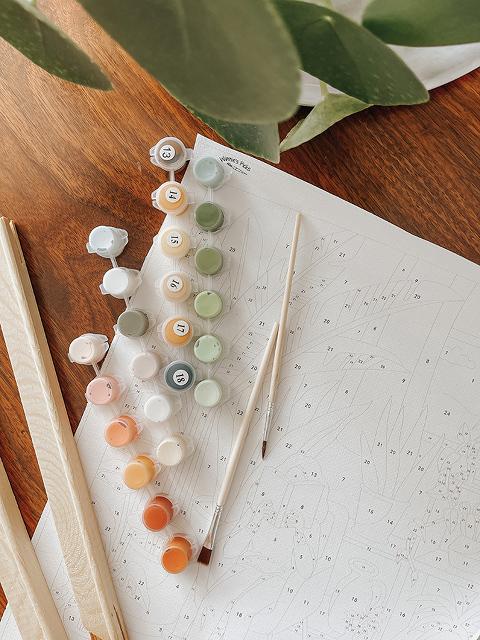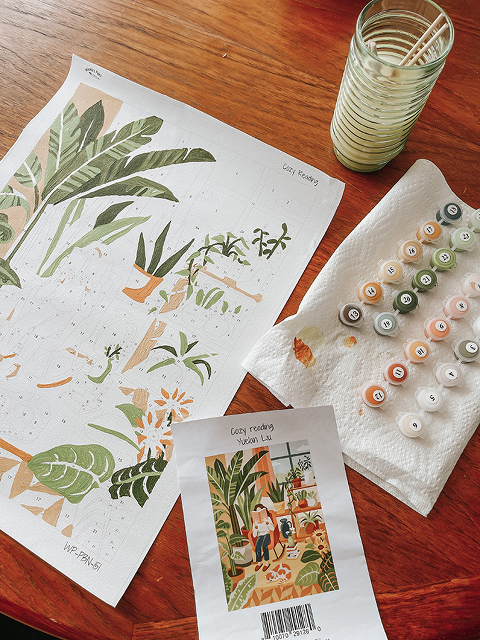 It took me about seven sittings in all to get the painting done. I would tuck the unfinished canvas away on my desk along with the paints and brushes (all of which come in the package, by the way) when I wasn't working on it, but as soon as the mood struck throughout the week or weekend, I would grab up my supplies, head to the dining room table, and get to work. It took a while to complete, but I never really thought too much about the timing (other than trying to meet my deadline for this blog post!). Instead, I just enjoyed the process and used it as a meditative self-care activity. It was so relaxing.
My favorite thing to do since the weather is still so nice outside was open the window and paint in the early morning hours while the birds were chirping and the summer breeze came in through the house. It really was such a nice experience for me, and I'm already contemplating which painting to get next.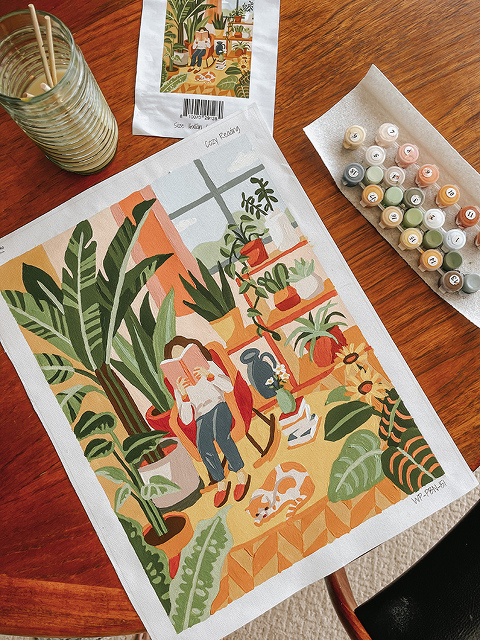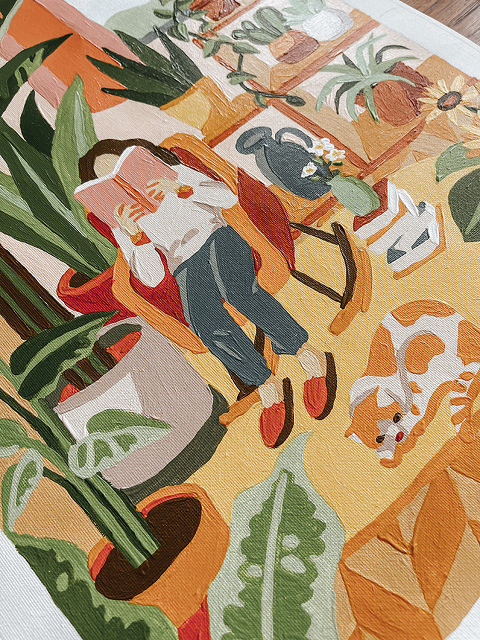 My best tips for completing this kind of paint-by-number is, of course, not to rush it, and also to water down your paint a little bit so that it's smoother and easier to work with. This is especially helpful if you have extra tiny spots to color in, like I did. I added about eight drops of water to each paint color, and that made it really easy to work with. I had to paint multiple coats of some of the more transparent colors to completely cover those areas, but that wasn't hard at all. I would also suggest working your way across the canvas based on your handedness. I'm right-handed, so I always started on the left side of the canvas so that my wrist didn't end up in wet paint.
One of the cool things that Winnie's Picks offers with their paintings is a DIY frame kit. I decided to add that to my order so I could ultimately give my finished paint-by-number piece a little more of a finished look. You can see it below post-framing (the framing goes on the underside to create more of a traditional canvas silhouette) where I leaned it up in my office. I love the pop of color is gives the space, and it's so gratifying to know that I did it myself.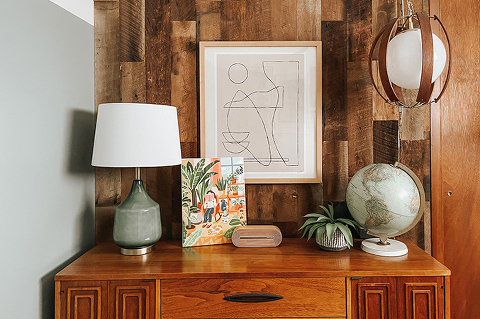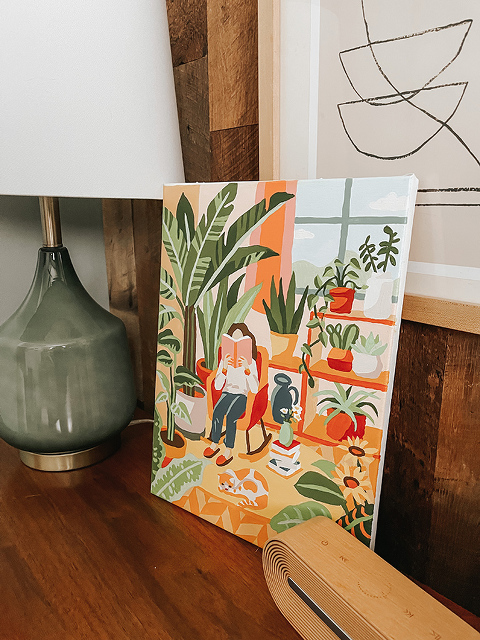 Shop the full collection of ready-made paint-by-number projects on the Winnie's Picks website, and make sure you hop over to their custom painting listing, too, since they would seriously make such great gifts! I know it's only August, but John and I are already working on Christmas shopping so that we're well ahead of the game come the holiday season. I'm definitely brainstorming all of the family members who I think would get a kick out of a paint-by-number gift.
Have you ever done a paint-by-number project before? Would you go for one of the designs that they have ready to go on the website, or would you prefer doing something custom, like a family portrait or maybe a house you really loved? Let me know in the comments below, and then hop over to my Instagram here to watch the quick time-lapse I recorded of my own painting coming to life!