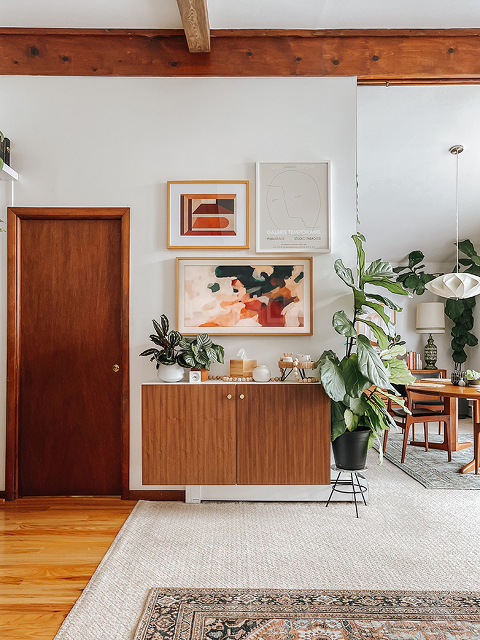 **This post was sponsored by Norse Interiors. As always, all opinions are my own!
One thing that's really important to me when it comes to home décor is versatility. I have to be able to swap things around easily because I'm never satisfied with one look forever. I live for change when it comes to the décor of our home, so I try really hard not to back myself into a corner. For example, you will never see me install hardwired sconces on either side of the bed because I could never stand having the bed frame on one single specific wall for eternity. I need to be able to rearrange, repaint, and rethink everything in our house as my creative inspiration strikes.
Possibly the only exception to this rule of mine is where our two wall-mounted TVs are concerned. Yes, I could move them if I really wanted to, but I don't anticipate that happening—mostly because it would be a you-know-what to move the TV mounts to different spots on the drywall. So, with that in mind, our two television consoles are pretty much stuck in place. They aren't going anywhere!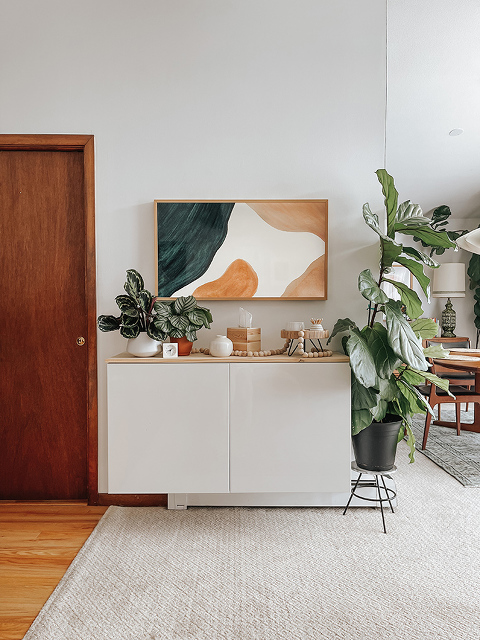 When it came time for me to pick a console to go under the TV upstairs, you might remember that I ultimately went with a wall-mounted IKEA Besta unit. The simple white surround blended in with our white walls, and I knew that if I ever got the urge to change things up with the doors, I could do so easily using ready-made options from other brands that matched the hinges of the Besta perfectly.
Well, it has been about a year and a half since we installed our Besta unit, and I started feeling the bug to change things up. Today, I'm working with Norse Interiors who helped me give the TV cabinet a whole new look using their recently released walnut doors. Keep scrolling for my full review in case you're looking to makeover your own IKEA Besta unit!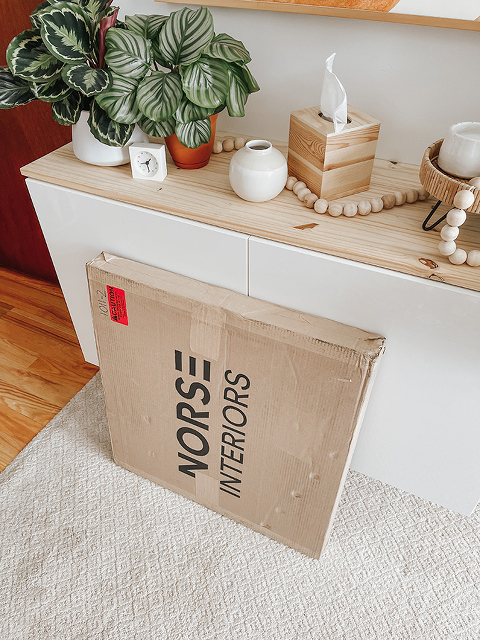 First of all, I just have to give a shout out to the actual team of humans behind Norse Interiors. I had a chance to correspond directly with the company's CEO and founder for this partnership, and she was an absolute dream to work with. The pride that Lotta feels toward her collection of American-made furniture elements is palpable, even just through email, and I'm genuinely so excited to help spread the word about her brand.
Essentially, Norse Interiors offers a range of high-end, custom-made replacement pieces for off-the-shelf IKEA furniture so that you can turn them into really special pieces for your home. You can customize the color and design of their cabinet doors, side and top panels, and dresser drawer fronts, and then fit them right over existing IKEA sideboards, media consoles, dressers, and nightstands. It's a DIY decorator's dream come true, and I especially love that their product line gives you the chance to up-cycle what you already have to create personalized furniture that fits your aesthetic. You don't get much more sustainable than that!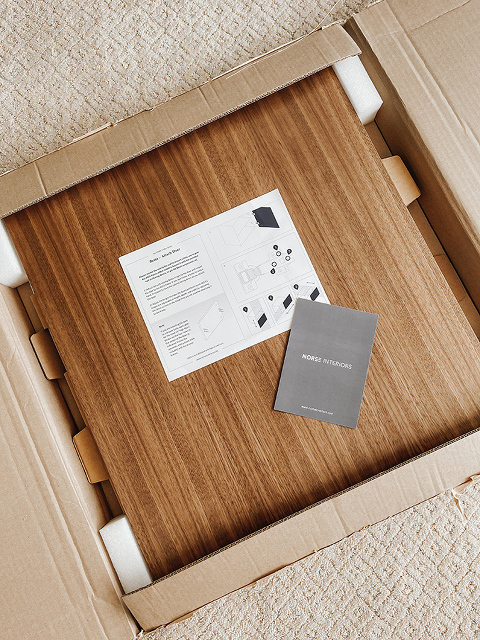 The company just recently released a line of new walnut doors, and we had the chance to try them out ahead of the mid-August launch on our TV cabinet. It's probably pretty clear that I love wood texture in interior design, and I had a feeling that something as simple as swapping our all-white cabinet doors for a beautiful custom wood texture was going to be a game-changer. And I was right…
It took just a couple of minutes for me to swap out the doors since Norse Interiors carefully matches the hinge style of what comes directly from IKEA. I didn't time it, but I was definitely done in less than 10 minutes, and I did it all on my own, too. These are the exact doors we now have: the walnut triple doors in the 25″ style.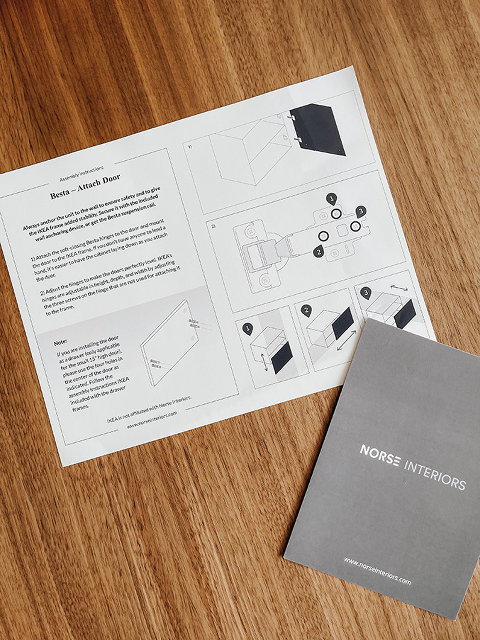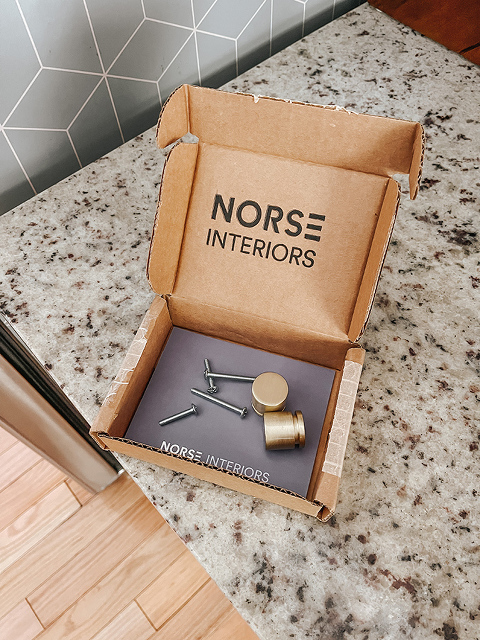 I also decided to add a pair of Elizabeth Brass Knobs to help give the cabinet even more presence in the space. I'm so glad I went this extra step because the change really sets this look apart from the old all-white look.
As soon as I stepped back to assess the new setup, I knew it was absolutely perfect. The walnut wood grain feels so elegant in the space, and I love the fact that it's floating above the floor. It feels contemporary but also fits in with the aesthetic of our mid-century ranch home.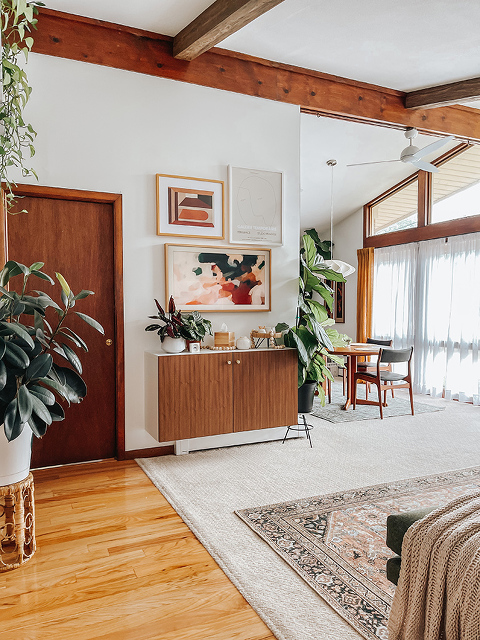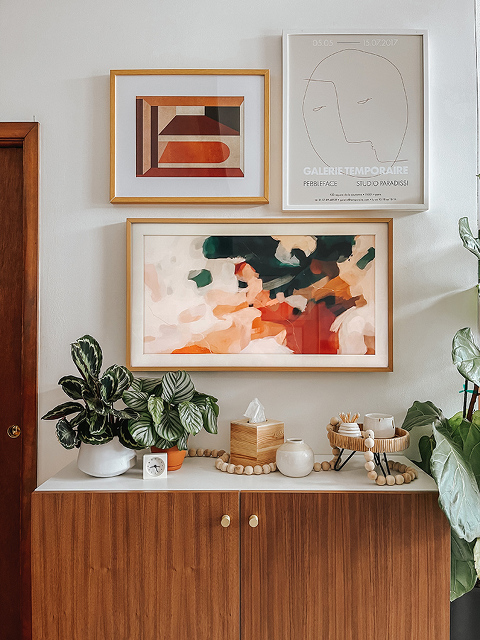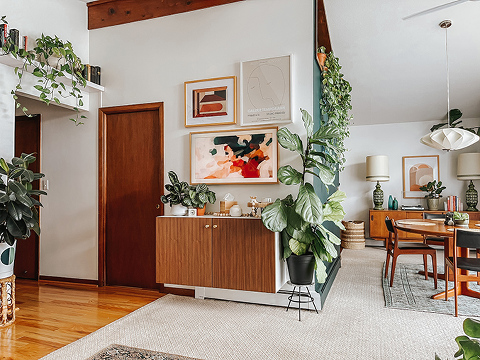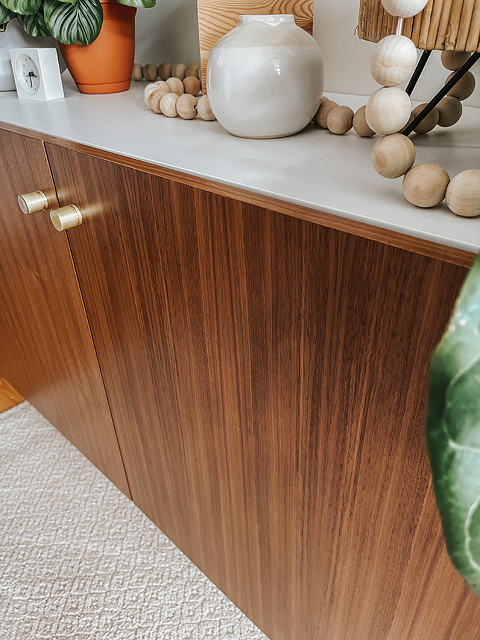 This change has been so much fun to play around with, and I'm grateful to Norse Interiors for the chance to try out their gorgeous new line of walnut doors. I feel like I've won the lottery, and not just because of the unique opportunity we've been given with the furniture pieces themselves. I've also discovered a brand that makes me feel creatively empowered. It's really something special to feel valued by a brand and Lotta definitely gave me that impression. I feel like I've made a like-minded friend throughout this whole process, and that means just as much, if not more, to me as a dreamy made-over TV console cabinet. Thanks for believing in me, Lotta!