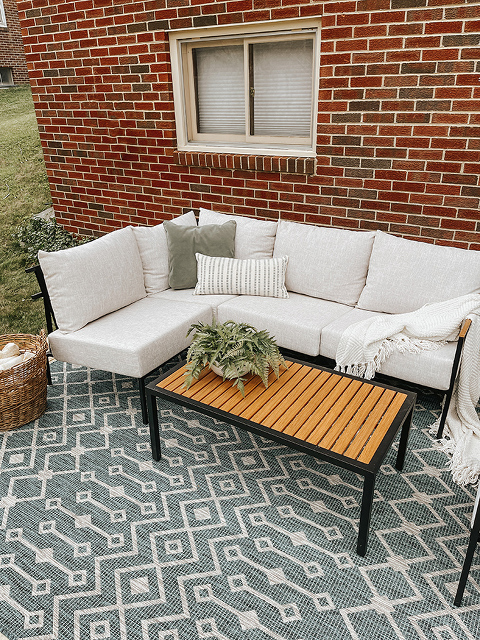 **This post was made possible by Unique Loom. All opinions are my own, and just a reminder that I only work with brands I trust and who genuinely support me and my core mission.
I can hardly believe I'm able to say these next words, but our DIY platform deck is done! I knew it was going to be hard work, but I didn't anticipate the magnitude of patience that was going to be required to get through this project. The build itself only took two days and was fairly straightforward, but we have been prepping for this project since March, so it has taken us quite a while to get to the finish line. I'm planning to share the full story next week, complete with a deck build drawing and step-by-step tutorial, so this week you'll just have to be satisfied with a few (pretty major) sneak peeks. I hope you don't mind!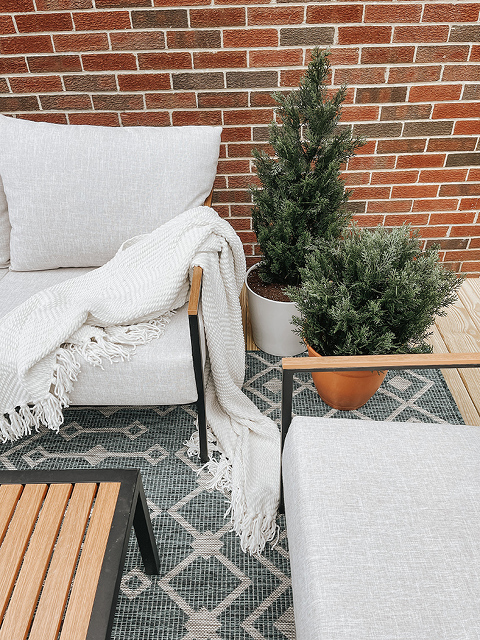 Do you remember earlier this summer when I revealed our new outdoor living room furniture? Well, first, the set lived out on my parents' porch for a while (since we didn't have a deck to speak of at that time), and then they ended up in storage in our basement for a few months. But now they're finally in their forever home, and it feels so, so good.
I love how our sectional and chair fill the deck, and they offer such a cozy spot for me to land in the afternoon with a good book and glass of wine. That was the daydream that got me through this project, so it's incredibly satisfying to be able to actually live that dream now. I know these sneak peeks don't give you a true sense of how the furniture actually fills our new platform deck since I'm only giving you a small look at the setup, but come next week once the "official" reveal is live, and you'll see what I mean.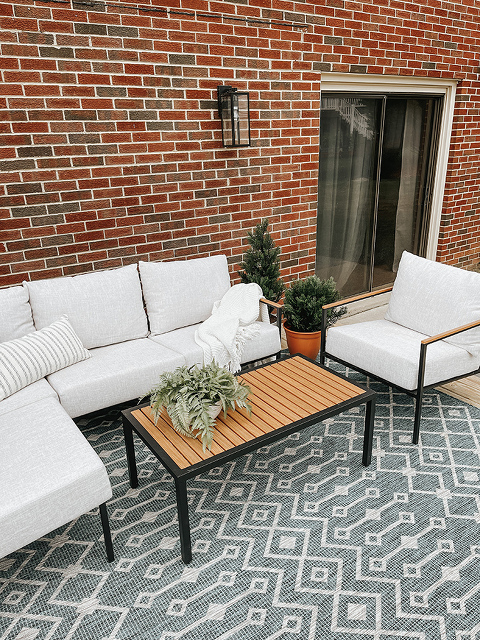 The rug is another favorite detail, of course. We chose the Tribal Geometric Indoor/Outdoor Flatweave Rug from Unique Loom's Trellis Collection, and appreciate that it feels like the perfect finishing touch. The rug makes the deck look like a natural extension of our indoor décor, and it's really comfortable under bare feet, too (no yucky plastic-y feeling at all). The color is even better in person, by the way! I rolled the rug up and put it in storage after snapping these photos just so the new deck boards have a chance to properly dry out before we stain it later this fall, but the rug will definitely be back out as soon as that task is crossed off the list.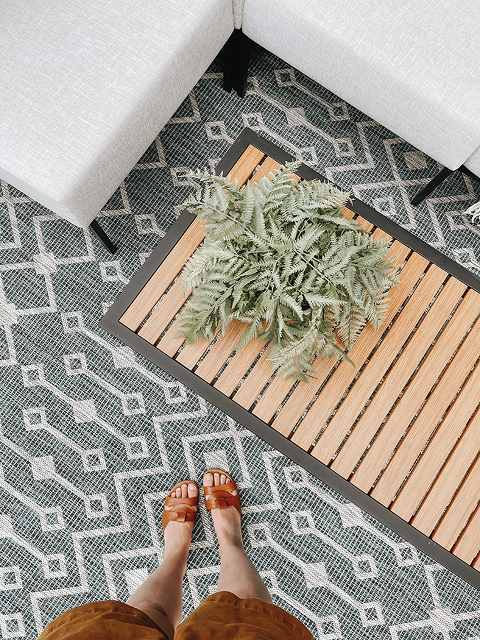 Resources: Outdoor rug, sectional sofa, basket (similar), faux bush, white planter pot, faux tree, terracotta-colored planter pot (similar), blue throw pillow (similar), striped lumbar pillow (similar), coffee table, accent armchair, faux fern (similar), throw blanket (similar), outdoor sconce light fixture
So sorry to only be able to share the tiniest of sneak peeks, but next week's story ended up being so long, that I didn't want to try to cram everything into one post. Check back bright and early next Tuesday for the full scoop, and let me know in the comments here if you've been dreaming of a platform deck to call your own. If so, next week's tutorial may just be perfect for you! See you then.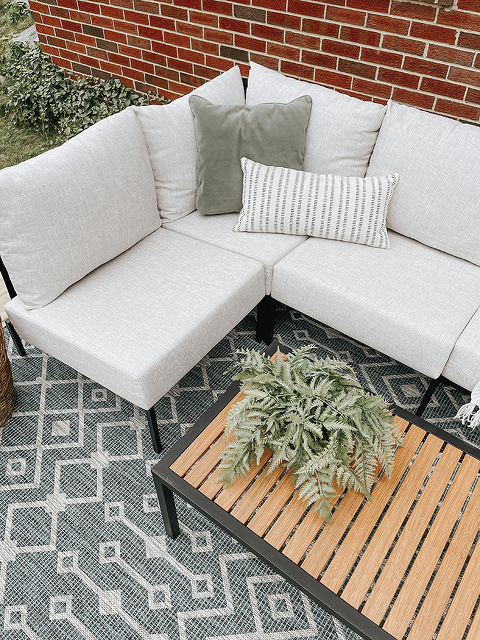 *I earn a small percentage from purchases made using the affiliate links above. Affiliate links are not sponsored. Rest assured that I never recommend products we wouldn't use or don't already love ourselves.