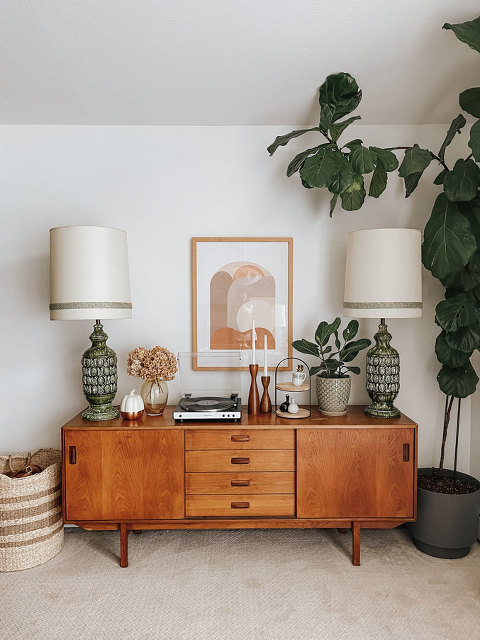 This might not be an opinion that many people relate to, but I think it's very difficult to decorate for fall without the overall look reading sort of farmhouse. I adore autumn and everything that comes with it, but the main décor options available for nailing that seasonal vibe just seem to look very rustic by nature to me. You know what I'm talking about, right? Think about it. What reads "fall" to you? Plaid throw pillows, shades of barnyard red and amber, faux pumpkins, leafy branches, reclaimed wood, woven blankets. I adore all of those things, but the combination can go "farmhouse" very quickly, in my opinion.
So, over the years I've learned to decorate for fall very subtly, that way it doesn't overwhelm our retro modern space. It's my way of getting that telltale fall tone across (it is my favorite season, after all!) without making it look too forced or disjointed alongside the rest of our mid-century modern décor. Today, I'm breaking down four of my best tips just in case you're able to relate to anything that I explained above.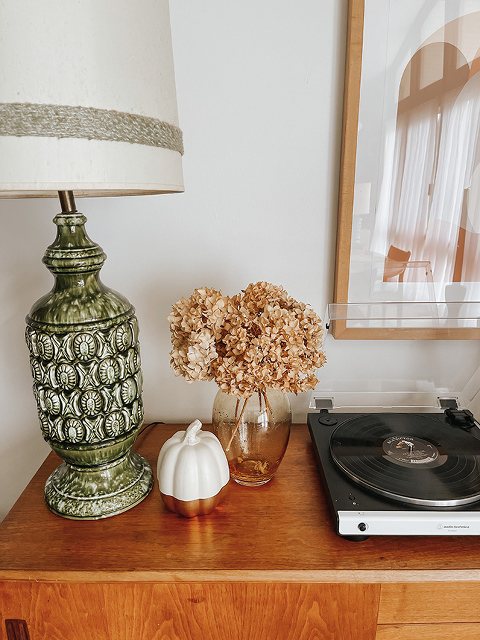 1. Incorporate Serving Pieces As Everyday Décor
One of my favorite things about the fall/winter season is that it means family will be in town to visit, and entertaining is more of a regular activity. Things will still look different this year because of COVID in terms of hosting big groups, but I know my sister and her boyfriend will at least come visit, so I'll be prepared to host.
If you're planning on doing even a little bit of hosting this year, especially around food, incorporate things like serving pieces into your fall décor, that way it's handy for when people drop by and you want to prepare a buffet. I bought a secondhand tiered tray at an antique store the other day and am currently using to it display salt and pepper shakers and some serving spoons every normal day, but when family comes in for the holidays, I know I can quickly turn it into a dessert or cheese serving tray. Multipurpose fall and winter décor is my favorite!
Another thought that follows that same train of thought is to style your everyday dining room cabinet with centerpiece candles. You can use them on the buffet most days, but then easily pull them to your main dining table when entertaining family during the holidays.
2. Follow A (Loose!) Fall Color Scheme
Instead of using physical mascots of fall (think: orange pumpkins, speckled yellow gourds, dark stained rustic wood, red silk leaves, etc.) to establish a fall vibe in your dining room, just use the colors of those typical fall characters as your foundation. You can hang some art that has shades of orange in it, pull in your favorite dark wood candle holders, and maybe one pumpkin to give the feeling of fall without going overboard.
I know it might sound really understated (and it is!), but I promise that using pure fall color in your décor will make the space look seasonally appropriate without limiting you to styling just with pumpkins and fall leaves. Color will get the point across in a subtle way that feels inviting and warm, which is the best part about fall.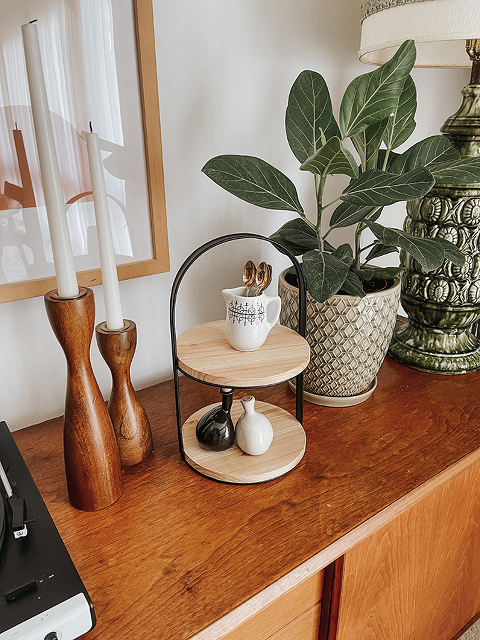 3. Include One Or Two Fall "Characters"
I know I sound really anti-pumpkin, but I'm not! I love a good mod ceramic pumpkin, and have quite a few in my cabinet to pull out when fall takes over for summer in September. It's still hands down the fastest way to make your dining room look "fall-ified", so I'm definitely still a big proponent of using things like pumpkins, gourds, and leaves. I just use them in very, very minimal ways so they don't become the focus of my fall décor. This helps sort of put an exclamation point on the more pared-back fall décor I really like to use, like autumn-colored art and sprinkling fall-time colors throughout.
I was specifically on the hunt for some fall-themed décor while secondhand shopping last month, and happened to find a brass bowl that had pairs of brass leaves on either end. This is the perfect illustration of what I explained above because the leafy bowl fits with the aesthetic of our mid-mod home, but it also brings in that fall-time character that we all know and love. I set the bowl on our dining room table and filled it with napkins for everyday use, and, afterward, our table instantly felt like it had a cozier vibe.
4. Use Texture To Add Fall-time Flair
I feel like every season has a texture story that really speaks to that particular time of the year. Summer, for example is all about light linen fabrics, whereas thick woven wool almost instantly brings winter to mind. For fall, I like to incorporate some of those signature textures in my décor to help it feel like a natural complement to the season.
When I think of fall, I picture burlap texture, crunchy leaves, and knits. I don't necessarily want to incorporate those exact textures into our decidedly modern home, though. So, instead, I use woven jute placemats on the table because it feels similar to burlap without falling into the farmhouse category, and I set a bunch of dried flowers in a vintage amber-colored vase (the vase follows tip number two, by the way!) on the console to speak to the idea of crunchy fall leaves without actually using them. Dried flowers are sculptural, so they add a lot of interest and texture to a room, plus there's just something about dried flowers that screams "fall."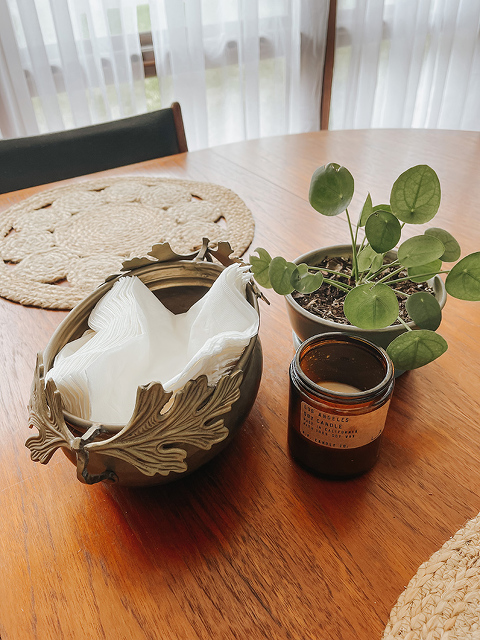 I hope that provides some inspiration, and I also hope you know I wholeheartedly believe you should do whatever feels right for you. If plaid throw pillows, autumn quotes painted on reclaimed barn wood, and pumpkins galore are your thing, then, by all means, lean hard into that beautiful aesthetic of yours! Celebrate this season however you want. That's what makes fall décor so much fun to play with. Get creative, and trust your gut. It won't ever steer you wrong.