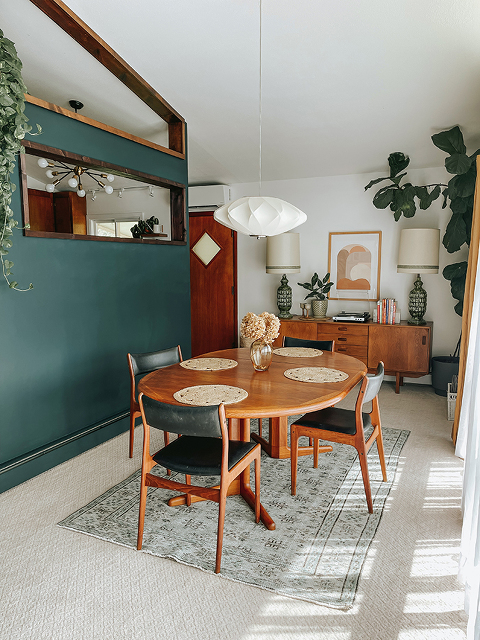 I know this is the tackiest, most over-done introduction to a blog post ever, but it's the truth: I'm so excited to finally be able to share this project with you! We've been enjoying the new cutout between our kitchen and dining room for the last few weeks, but I couldn't share it yet because I wrote an exclusive tutorial for the project for Hunker, so I had to wait until they published their side of the story. Today is finally the day, and I've got nothing but glowing things to say about this update to our retro home.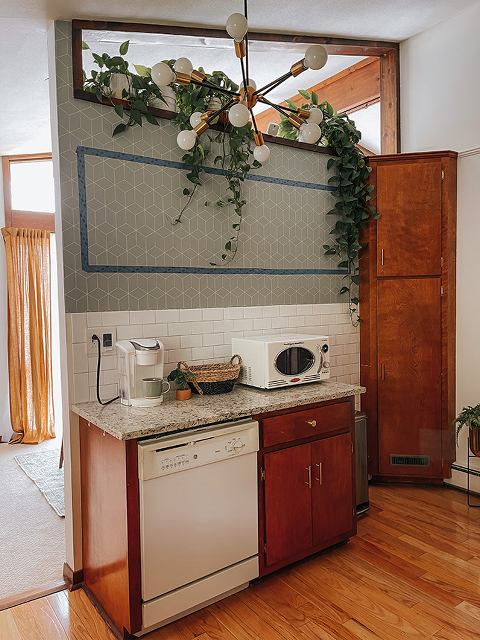 As with most home renovation projects, I went into this naively thinking that it would be a piece of cake. Yes, it was very straightforward, and we managed to knock it out in just one weekend, but it was tough! The worst part for me was the clean-up. I had never done drywall modification before, and even though I'd heard over and over how messy it is, I wasn't fully prepared.
The best method we came up with during the process was having a second person on hand to vacuum the dust (here's a link to the shop vac we have and love) as the first person was sawing through the drywall. That helped contain most of the dust, but I still felt the need to do multiple deep cleans between steps. So, just be aware of that!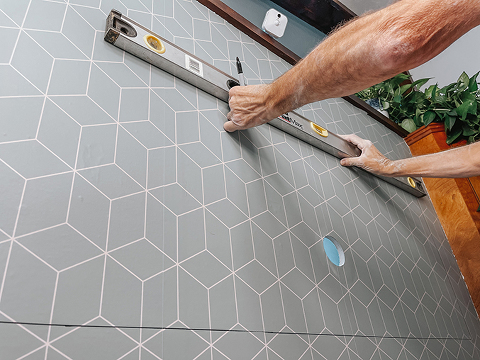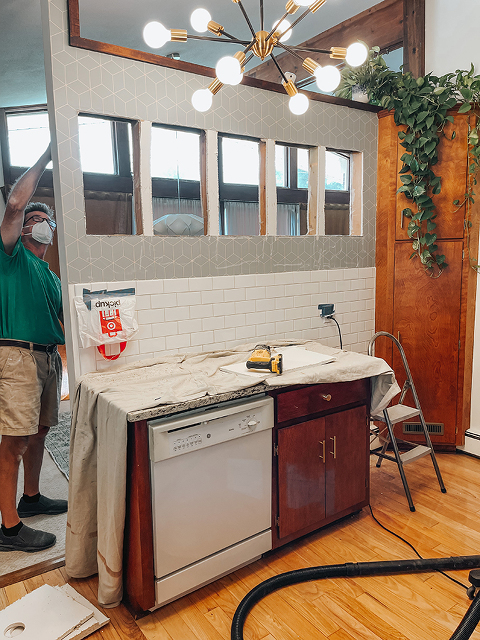 By the final day, I was really worried that we had bitten off more than we could chew, and that the results were going to fall short (maybe we should have waited until we could afford to remove the entire wall?!). The very, very good news is that, now that it's done, we couldn't possibly love it more, and have zero intention of ripping out the whole wall. We really love and appreciate the separation, after all, and our new cutout allows the perfect amount of light into the kitchen without sacrificing room privacy.
If today's blog post is your first time hearing about our cutout project (i.e. you haven't been following along on Instagram), it's probably time for me to do some explaining! Our kitchen gets very little natural light because there's only one window in the space, and it looks out onto a covered carport. I'd love to put a skylight in, but John is very against it (something to do with a leaky skylight in his childhood home, I think). After years of trying to wear him down without success, I realized I'd need to come up with a compromise.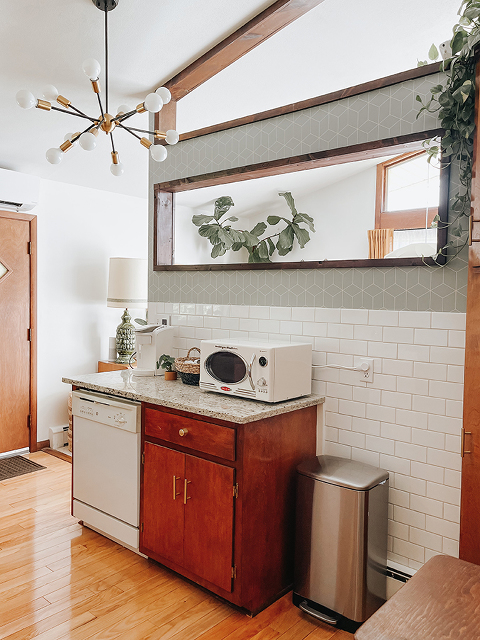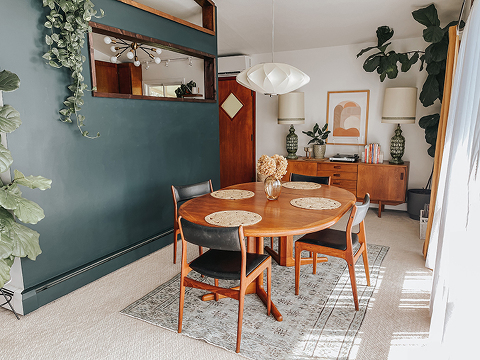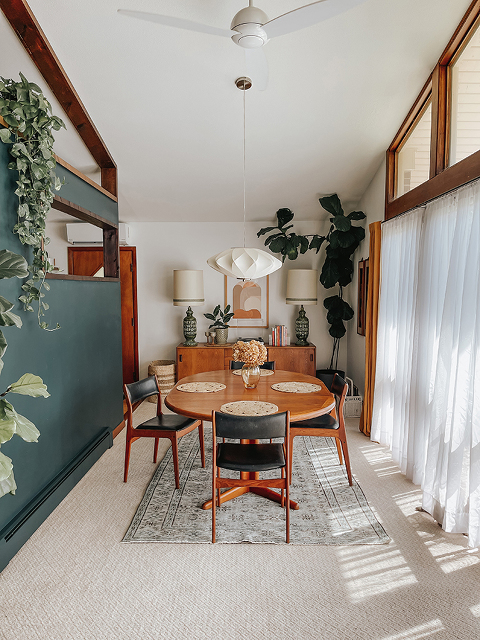 That's when the cutout idea came up. We get tons of natural light from the floor-to-ceiling windows in our dining room, so if we could just add another cutout in the wall that separates the dining room from the kitchen (inspired by the angular one that already existed up high), then maybe we'd get the light we needed to make the kitchen feel brighter!
I know I'm going against the trends here, but I really dislike open concept homes. That type of layout doesn't feel entirely authentic to our 1960s home, and I also don't want to see into my kitchen from all angles of our living and dining spaces. So, when I was planning the cutout, I intentionally wanted to make sure it wasn't anywhere close to bar height, which might make it prone to being mis-identified as a pass-through. Its only true function is to allow light to pass through, and to add architectural interest to the space.
We trimmed it out to match the '60s-era cutout toward the ceiling, and even though the stain color I tested and ultimately used on the new cutout isn't quite the right match to our existing trim (something I'll have to fix later on), I still think it's a great fit for our retro home. It looks original to me, which was the goal from the minute this idea started taking shape. Mission accomplished!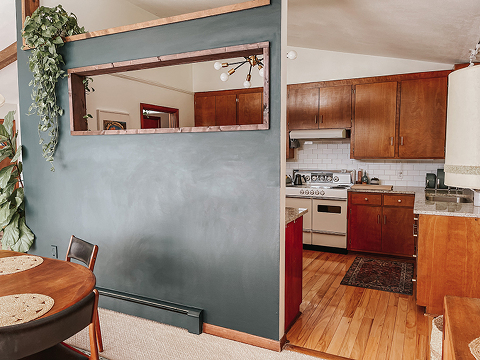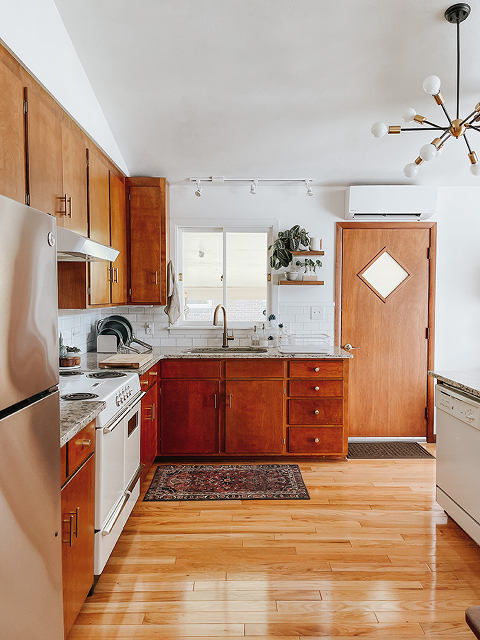 The kitchen is now so much brighter (the oven is seeing sunlight for the first time in almost 60 years!), and one thing I didn't anticipate was how much bigger it was going to make the kitchen feel when you're in the space. It's not something that translates well in photos, unfortunately, but take my word for it—this pint-sized kitchen suddenly feels gargantuan!
I'm so glad we decided to go for it, and hope you love the finished results as much as we do. If you'd like to learn how to do this project in your own home without hiring a contractor, hop to Hunker here for the story I wrote, complete with a linked supply list. It was hard work physically, but not that hard mentally. I would definitely classify this project as requiring intermediate level skill, so if you've been doing smaller scale home projects regularly up until now, I have full confidence that you can take it to the next level with a DIY drywall cutout. Would you try this at home? Let me know in the comments below!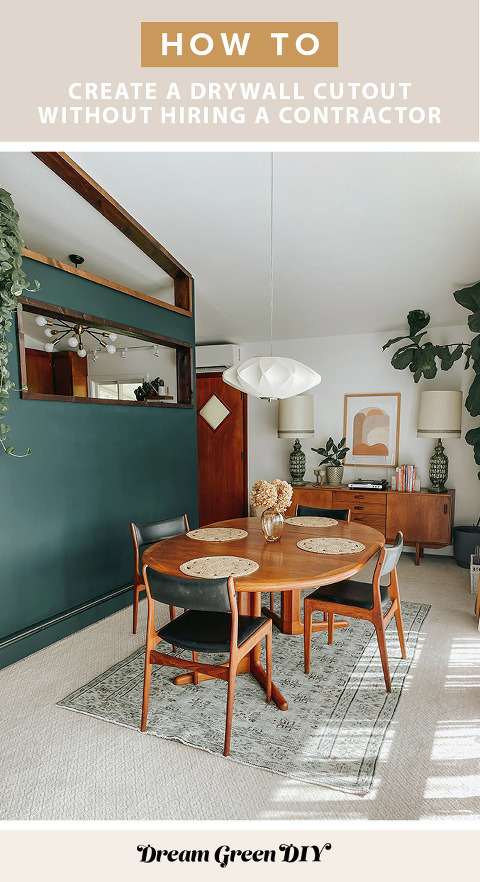 *I earn a small percentage from purchases made using the affiliate links above. Affiliate links are not sponsored. Rest assured that I never recommend products we wouldn't use or don't already love ourselves.