As you may have noticed, I haven't been doing very much secondhand shopping as of late. I used to post near-weekly updates on all the thrifted finds I bought! But our home is nicely settled right now, and I feel like we have the perfect collection of pieces to love, so there hasn't been as much motivation for me to go out shopping for new (or, rather, "new to me") thrifted treasures. Whenever I do go out to the antique stores now, it's usually because I've rearranged a space and ended up with a blank corner to be filled, but every now and then I stumble upon something I just plain want while on the hunt for something we actually need.
Of course the title of today's post gives away the point I'm leading to, but I just so happened upon one of those pure "want" items last month, and I absolutely, positively couldn't leave the item in question behind even though we didn't really have room for it in our house. Fellas, allow me to introduce you to the vintage lounge chair of my dreams!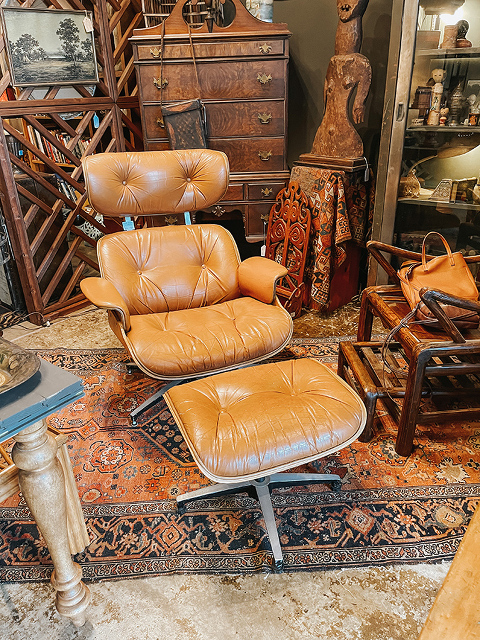 I had been on the hunt for an Eames tufted lounge chair and ottoman for the past decade. If you know anything about this particular chair and its iconic design, you know that the price tag tends to range between $5,000 and $6,000. As much as I pined for a true Eames lounge chair, there was no way I could justify that price tag, so over the years I've been hunting for a reproduction version within the $500 to $800 price range.
I know there are plenty of brand new reproduction versions of this chair on the market at that price point, but something in the back of my head has always told me to hold out for a vintage reproduction. And I finally found it at Heyday Antiques & Vintage in Charlottesville. This chair was listed for just over $500 and was upholstered in my very favorite amber color leather. We didn't have a spot for it in our house, but I knew I could make space (I ended up selling an extra chair we already had, and did some rearranging to make room for it). The price, unique upholstery color, and condition of the chair were all just too good to be true, so I packed it up and brought it home with me.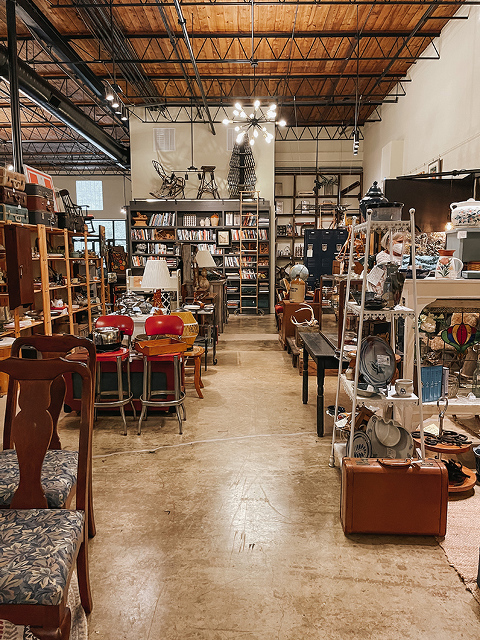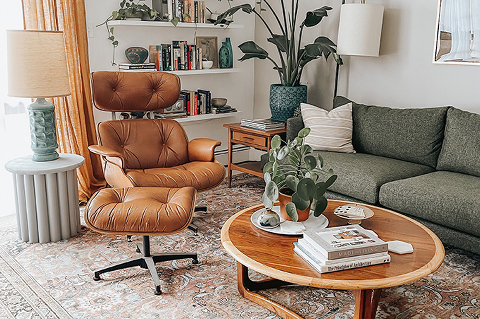 So, speaking of the condition of the chair…It's definitely not perfect, which, I assume, is why it was priced so inexpensively. The rod under the lounge chair has a bit of wobble to it, so when you lean back, you lean back fast and far. You do eventually hit a solid "stop" point, though, and all of the metal parts are solid otherwise. My engineer dad and I have plans to shore up the rod underneath the chair to hopefully get it feeling more solid and tight. The good news is that the ottoman has zero issues, and the leather upholstery, while creased up from age, is still in great shape with only one tiny hole to speak of in the ottoman.
I know it's silly, but I don't think I'll ever forget the moment when I found my own vintage Eames-style lounge chair. It's that iconic of a design for me, and, as I've discovered over the past decade, is really like finding a needle in a haystack. I did some researching online when I got home to try to identify the particular model of chair I had purchased, and I think it's a Plycraft chair from the seventies. Feel free to share your own guesses in the comments if you know anything more about these chairs!
At any rate, I'm so glad I held out until I found "the one." Who knows. Maybe someday I'll be able to afford a true Eames lounge, but for the foreseeable future, you'll find me loving my current 1970s reproduction with every fiber of my being.