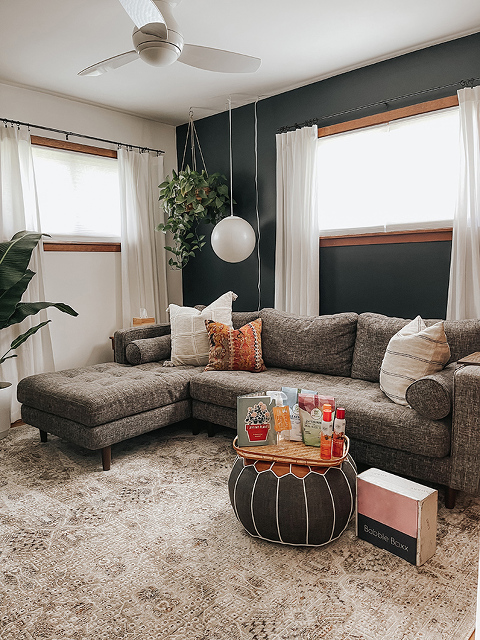 **This post is sponsored by BabbleBoxx.
Fall is easily my favorite time of the year. I love layering up in a cozy sweater, sweat pants and big giant fluffy socks. That lineup becomes my "work from home" uniform the second things cool off outside and the leaves begin to change. I don't drink caffeinated coffee, but it's around this time of year that I ramp up my afternoon routine of brewing a cup of decaf just to have something warm in my hands since our house gets so chilly during fall. I love every minute of it!
This season is also my chance to get extra organized and on top of chores at home. I'm not heading out to the winery or enjoying outdoor dining at restaurants as often as I did during the spring and summer, which means I'm spending lots more time at home. All of those extra hours wandering through our spaces has me noticing the things I've been putting off during the warmer months of the year, so this is my time to get things done.
Spring cleaning? Nah, I'm all for fall cleaning, so I thought today I'd detail a few of the things on my annual fall home refresh checklist inspired by the eco-friendly brands I've been using lately. Some of my advice below is specific to cleaning, but not all of it! I love to generally refresh and renew our spaces (and the collection of plants that also live in it) during fall, so I hope these tips inspire you if you're feeling the same urges right now.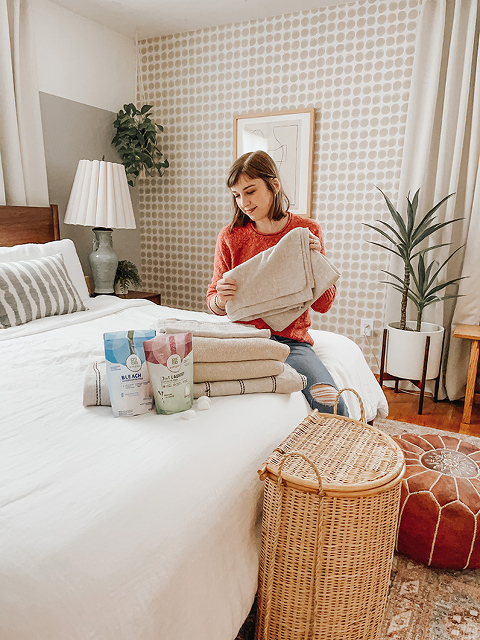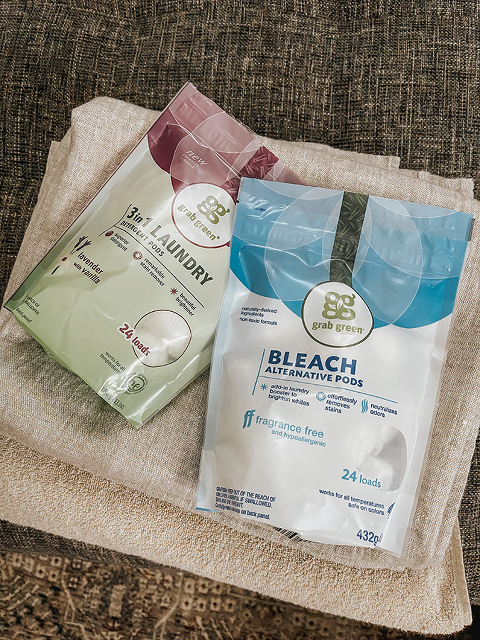 Step 1: Wash Fall Bedding And Blankets
Listen. Laundry isn't exactly my favorite chore. I put it off as long as I can since the task sort of chains me to the house while the washer and dryer are running. Luckily, the cold fall weather outside is also chaining me to the house, so I've got more time on my hands to cross this to-do off my list.
Lately, I've been testing out Grab Green Laundry Detergent Pods and their Fragrance-Free Bleach Alternative Pods. The non-toxic formula makes me feel good about what we use to clean our favorite fall blankets, especially since our pets end up cuddling up in the blankets this time of year, too. The 3-in-1 Laundry Detergent Powder Pods are pre-measured using plant and mineral ingredients and use 99% less plastic than a jug. Their Bleach Alternative Powder Pods are fragrance-free, brighten whites and colors safely, and are made with minerals. Those use less than 99% less plastic than a jug, too! 
I think it's worth mentioning that this is a female-founded and -operated company. That really means something to me as a female entrepreneur myself! Get 15% off the entire Grab Green website with code "EcoGG15." Valid for one use, and the offer ends November 30.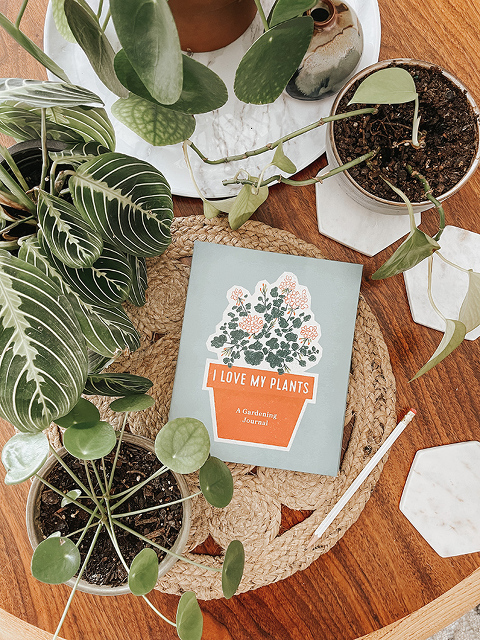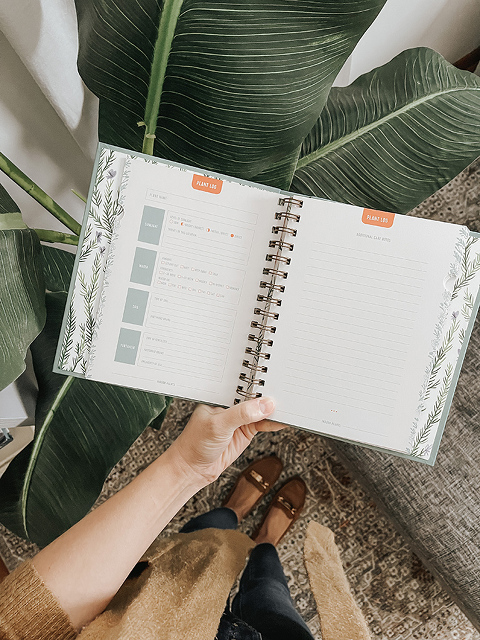 Step 2: Track And Prep Plants For Cold Months
You can probably tell how much I love my plants. Our home is absolutely filled with them! I adore having live greenery in all of our spaces, but I'm learning this year that too much really is too much. I guess I went a little "plant crazy" last year, like lots of socially distant folks stuck at home, and I've actually sold off quite a few so I had more mental and physical energy to dedicate to my most beloved potted plants. Now that I've gotten my collection down to a reasonable level, I'm getting really serious about making them last.
I just started using this book, I Love My Plants: A Gardening Journal, from Running Press Studio, and it has been a game-changer already. You can use the pages to track your gardening progress and plot dreams for new ones (although I'll probably hold off on adding more to my collection—at least for now!). There are informational sidebars to look through in this plant book, plus guided growth charts and recommended varietals. You can use it to track indoor and outdoor house plants, which has me wondering if I should branch out (pun unintended) and try growing more plants outside.
At any rate, it's around fall that I try to get my plants in tip top shape so that they can get through winter. I work on fertilizing, checking them thoroughly for pests, and remove any dying or unhealthy foliage. I try to do this seasonally, and I really appreciate the idea of having this guided journal handy so that I can see what worked or didn't work the previous season. I know it's too soon for a lot of you to want to think about Christmas, but I think this book would be an awesome holiday gift!
Step 3: Wipe Down Every Surface—Seriously!
I'm more of the straightener in our family, whereas John is the deep-cleaner. I wish it wasn't so, but I definitely care more about the way things look versus their actual cleanliness. Just being honest here! All this to say that I often overlook crumbs, spots, and messes for days on end, and possibly even an entire season if we're talking about things like baseboards, painted drywall, and ceiling fan blades. It's not a habit I'm proud of, but it is what it is! John does his best to clean regularly, but he's gone so often because of his day job, that things tend to wait a while before getting a thorough wipe-down.
The fall season is generally when I start feeling more motivated to really get in there with cleaners and cloths. I've been using eco-friendly cleaning products from Boulder Clean for a while now, but this year I decided to try their All-Purpose Refill Cleaning Tablets. To use them, you fill a reusable spray bottle halfway with warm water, drop the two tablets in, and watch them fizz. Once they're fully dissolved, you fill the bottle up the rest of the way with water, and then get to cleaning!
Their Refill Cleaning Tablets and Reusable Cleaning Bottle combined makes 28-32 ounces of All-Purpose Cleaner that we've been using to wipe up greasy, grimy, sticky messes all over our house this fall. I love that the reusable aspect eliminates plastic waste, and that the formula is non-toxic and plant-based so I feel okay using it around our pets. Score 10% off your Boulder Clean order with the code "babbleboxx" now through November 30!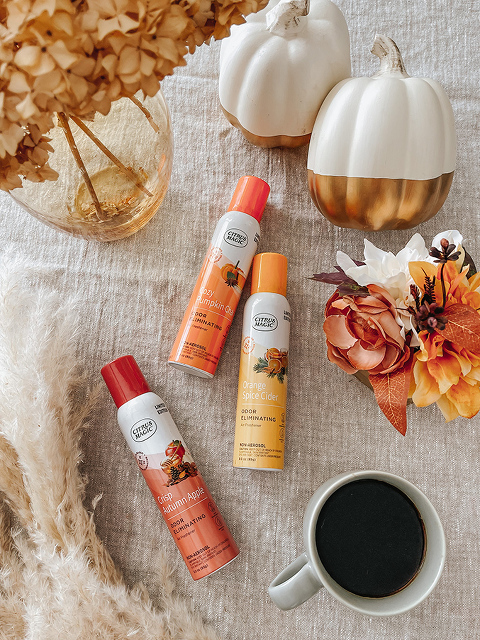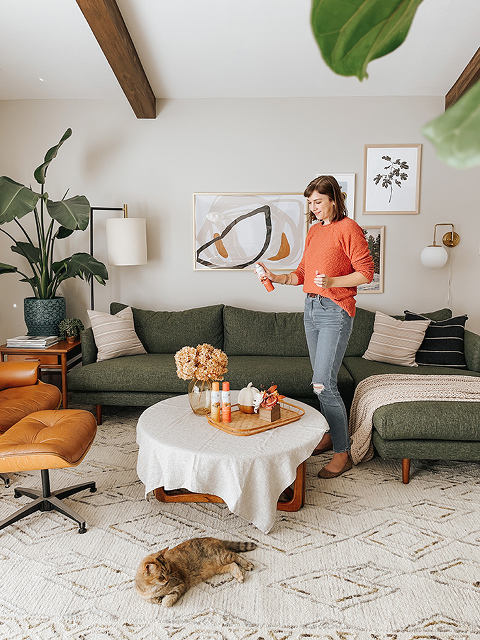 Step 4: Finish With Cozy, Crisp Scents
Scent is a big deal in our house (we have three cats, after all!), but we're really, really particular about how we actually make our house smell good. One of our pets is super sensitive and deals with serious respiratory issues, which means we're constantly researching ways to enjoy our favorite scents in a subtle way that won't aggravate her sinuses. Fall fragrances are our all-time favorite, so I'm really excited that we discovered Citrus Magic® this season!
They've been dedicated to creating natural, safe air care solutions for 30 years, and all products are made to be as natural as possible and safe to use. They don't include harsh chemicals, but most of their products do use nature's best odor eliminator: citrus! The brand is cruelty-free, too, which is very important to me, and they also use sustainable packaging and manufacturing practices.
My favorite from the limited edition Citrus Magic Spray Air Freshener Collection is the Citrus Magic Crisp Autumn Apple. It's got hints of wild clover honey and crisp, fresh apples, sun-ripened berry, and pure vanilla. I use just one spray or two on our couch during my cleaning routine, and the room smells good for days! The scent immediately makes me think of apple orchard adventures and Thanksgiving pie. You can grab the full collection (which includes the other two scents, Cozy Pumpkin Chai and Orange Spice Cider) while supplies last from Walmart this way.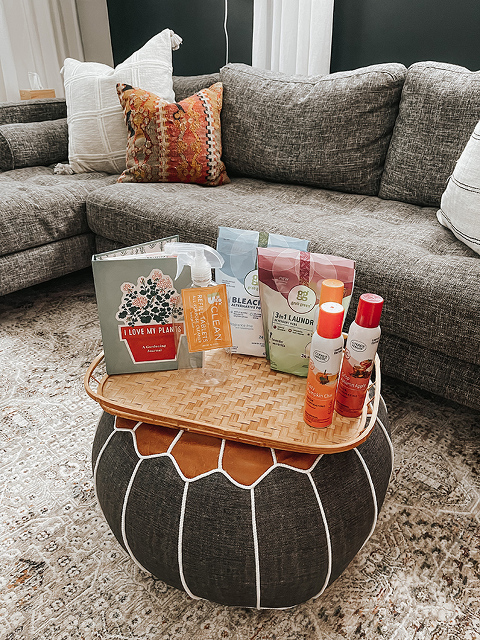 I hope this post has been helpful! To recap, my fall home refresh checklist looks like this: wash all of our favorite fall blankets (and guest towels for all the holiday overnight visitors coming soon!), prep and catalog plants for their dormant fall/winter stage, wipe down the spots that often get overlooked the rest of the year, and get rid of stale household odors with natural fragrance.
I tend to break up my routine over the course of the first week or two of the new season so it's not so overwhelming. It has actually gotten to the point that I actually enjoy going through my checklist now! It just feels so good to have it done. What's on your fall home refresh checklist?