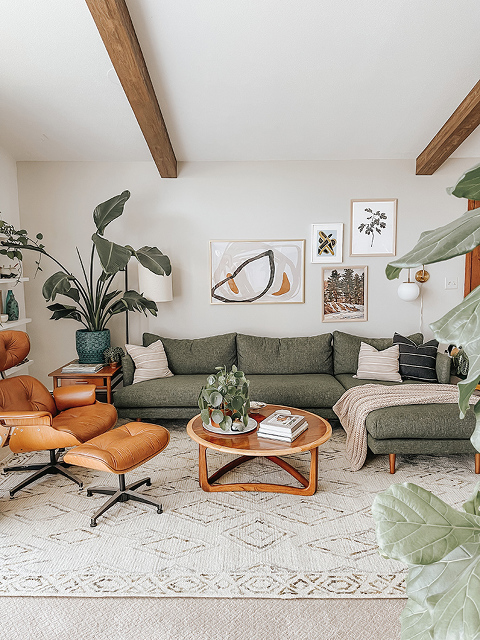 *This post was made possible by the generous support of Loloi, and features gifted product for testing purposes. All opinions are my own.
Well, we can't deny the change in seasons any longer! At least not here in Virginia where it's getting into freezing temperatures at night on a fairly consistent basis. It's cold inside our house right now, and I've caved under the pressure. The heat has officially been turned on, which means that I'm also feeling motivated to shift some of our décor over to more fall- and winter-themed accents. First up in this annual seasonal shift of mine is the living room.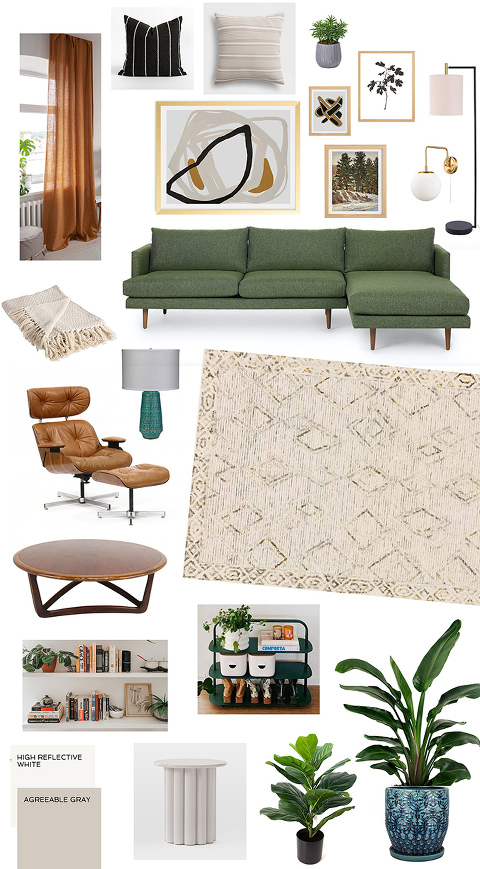 I always like to make at least a few décor swaps each quarter throughout the year. This helps our home look fresh and also gives me an opportunity to make the rooms feel more natural alongside the inevitable changes in weather. This time for fall (and winter), I focused on adding extra cozy layers that double as décor, and I put a huge emphasis on texture this go-around, too.
The mood board you see above—which I made in PhotoShop since I know you'll ask—is the manifestation of those ideas. I made sure to incorporate lots of earthy colors that literally look like fall, plus plenty of rich woven textures that beg for cozy fall-time lounging as the evenings get darker and the weather gets colder. Keep scrolling for a breakdown of what I did throughout the room in case you're looking to transition your own space to suit fall and/or winter.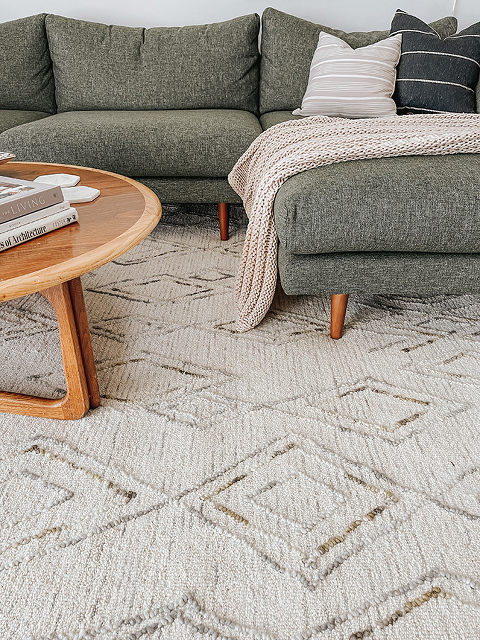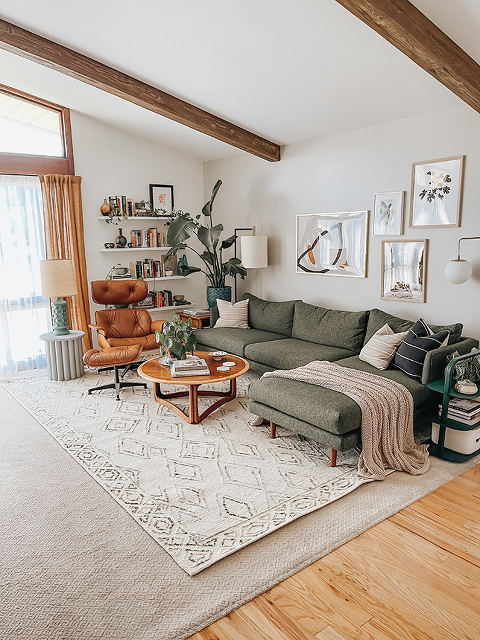 1. Lay Down A Wool Rug
The centerpiece of this room makeover was, of course, the rug. I worked with Loloi to test out their Leela Geometric Handmade Tufted Wool Ivory Area Rug, which is part of a collaboration they did with designer Justina Blakeney. I love how the green/gray/cream/mustard color palette of the rug isn't overly bold, but still speaks to our evergreen couch in the perfect understated way. I can't help picturing this rug in a cozy mountain cabin, and that's exactly the vibe I wanted to create in our living room for fall.
The texture is really what makes this rug such a great fit for a living room during autumn. It has a raised geometric design in the wool fibers that compresses so luxuriously under bare (or socked) feet. If you're in the market for a rug swap this season, I would highly suggest looking for one in wool. Yes, wool rugs are typically pricier than cotton or synthetic rugs, but they really are durable and can last forever. I see this one being a lifetime keeper in our household, especially since it has been so easy to keep clean thus far. Even with all that our cats "throw" at it (operative word in quotes, if you know what I mean), it has been really easy to spot clean. I'm a true convert to wool rugs now!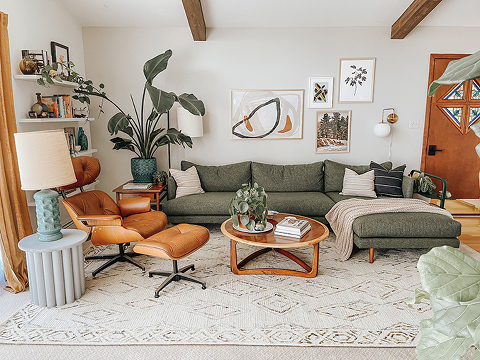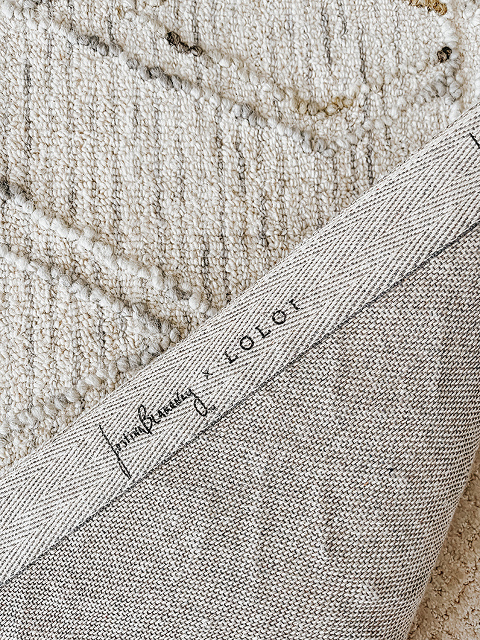 2. Replace Art With Wintery Scenes
This is such an easy swap to make for the season if your budget doesn't quite stretch all the way to a new rug: just change your art to match a fall and winter theme! I ordered a couple of new prints from Juniper Print Shop for this room update, and my favorite has to be that snowy evergreen painting.
The rich green in the trees is the perfect complement to our sectional sofa, and I made sure to build the gallery wall around it with more black- and amber-colored accents to match the palette in the tree art. See how the orange flecks in the two abstracts mimic the brown color of the tree trunks in the landscape print? That was intentional, as was the black and white botanical print, which ties back into the late autumn plant/tree theme. It all works together in a way to bring that fall theme home without being too in-your-face. At least I think so!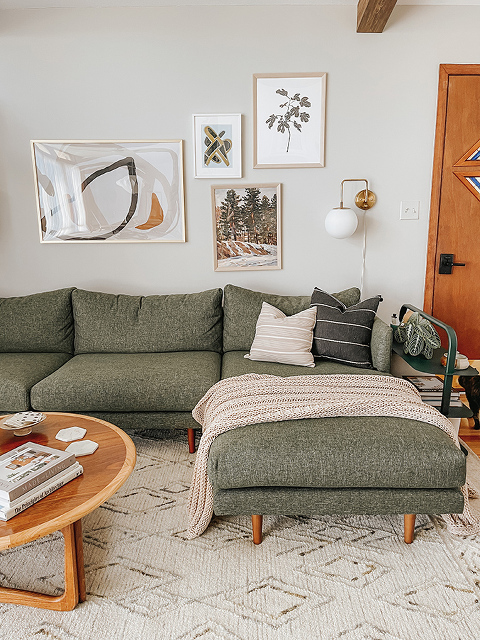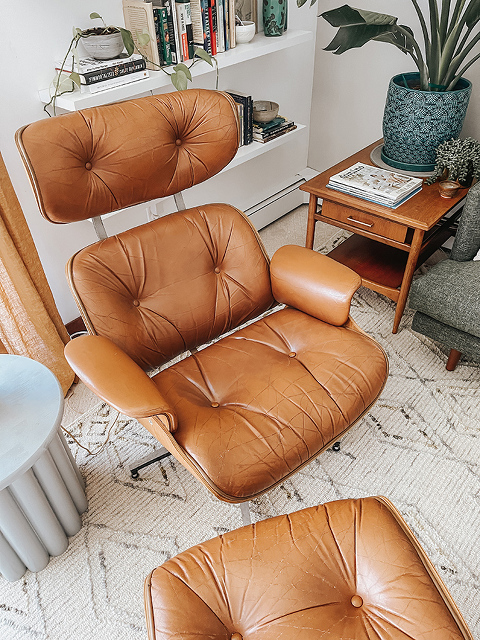 3. Use Blankets As Décor
I like to keep our house pretty cold, whether it's fall or summer, but I don't really have a choice in the matter come autumn. It's extra chilly inside our retro ranch during the coldest months of the year because we still have the original single-pane windows to contend with. So, I usually keep blankets out year-round.
What I can't stand is having blankets balled up in the corners of our sofa, or flopped onto the floor. It needs to feel intentional for me to be okay with blankets out in plain sight amongst our other décor, so I lay them in neat lines across the foot of our sectional, or folded across the backs of chairs. This makes the addition functional, but it also looks pretty, which satisfies my (genuinely) OCD tendencies.
If you don't care about neatness as much as I do, then, by all means, toss your favorite throw blankets willy nilly around the room or keep baskets nearby to stuff them into when not in use! Another way to make your fall and winter throw blankets look more intentional and like décor is to purchase them in colors that match your room. I tend to steer clear of overly patterned blankets since those stick out so much visually. Instead, I pick out neutral-colored blankets that have a thick woven texture to them so they give the space style without drawing too much attention away from our "real" décor.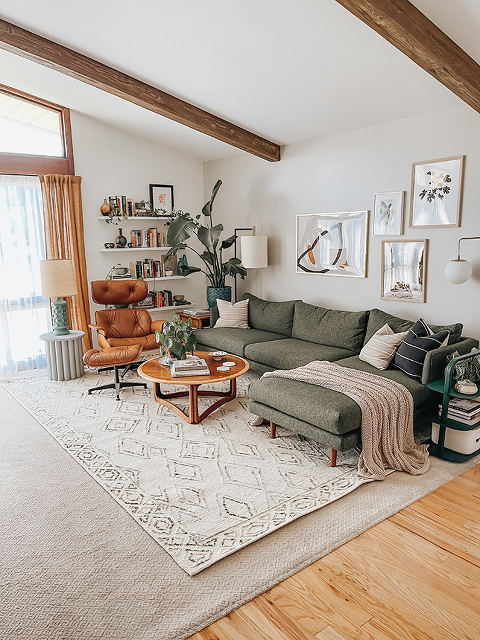 4. Incorporate Warming Colors
Here's another easy and inexpensive one: try reworking the current color palette in your space to look more fall. Tuck light blue or blush pink throw pillows away in storage, and pull in amber- or orange-colored velvet and evergreen accent pillows. Or, better yet, invest in just the pillow cases that are done in fall colors to go right over your spring/summer pillows, that way you don't have to store anything bulky, like extra accent pillows.
We're lucky that our living room is already centered around earth tones, like the mustard orange of our lounge chair and dark green sectional, but you can try creating a similar vibe by rearranging some pieces you already have, or purchasing a few new pieces in earth tones that speak to the fall season. If you see the color in traditional autumn leaves (think: orange, yellow, red, brown, green, etc.), then it's a safe bet to use that shade in your décor throughout fall and winter.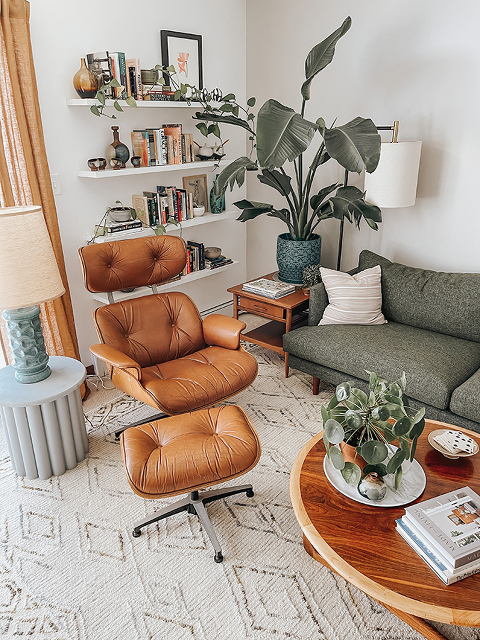 5. Find Places For Low Lighting
Now that the time has changed, we're putting our ambient artificial lighting to work more often. There's just something so warm and cozy about the glow of a lamp during dark fall and winter evenings, so think about that when arranging the finishing touches in your living room. We don't have any overhead lighting in our living room. Instead, we focus on arranging lamps along the whole perimeter of the space. We mix things up by using wall sconces, low floor lamps, and table lamps so it doesn't feel too repetitive, but the effect at night of all that golden light is pretty magical. I couldn't recommend it more!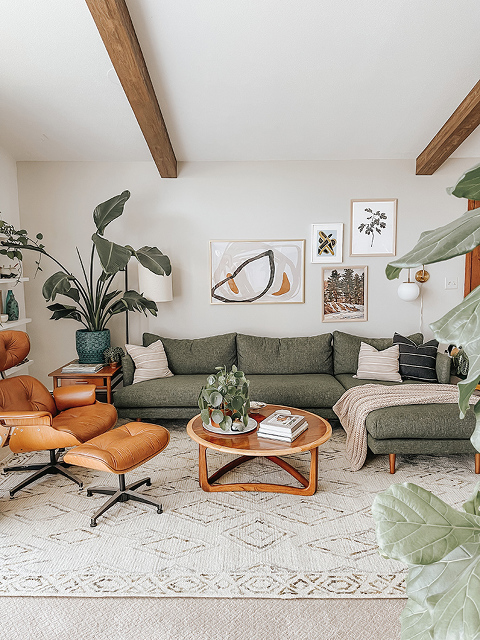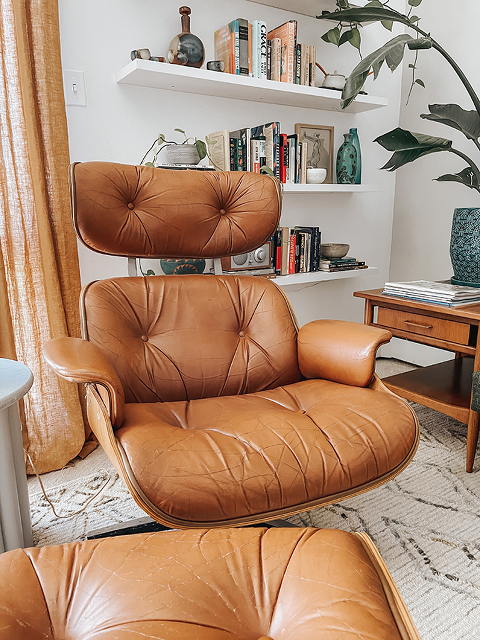 I want to send a big "thank you!" to Loloi for inspiring this fall living room makeover! I hope my tips above were helpful. It doesn't take a lot of work or money to transition your space to fall, but I promise that it will feel so satisfying if you take the time to do it. Autumn is hands-down my favorite season, so I love leaning wholeheartedly into it with my décor. What's your favorite season?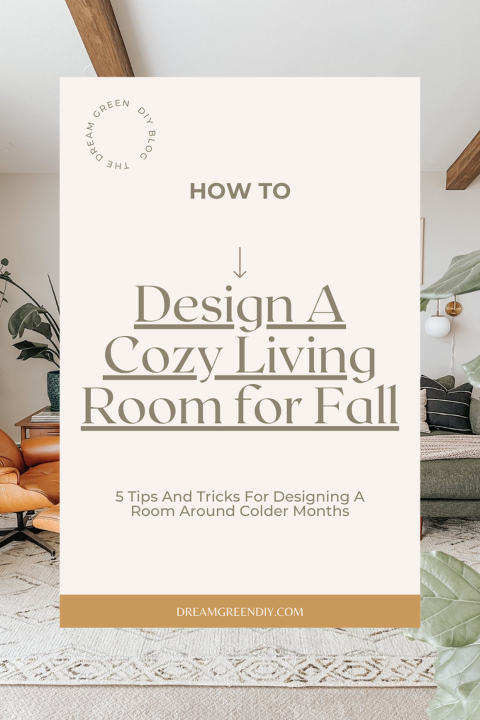 *I earn a small percentage from purchases made using the affiliate links above. Affiliate links are not sponsored. Rest assured that I never recommend products we wouldn't use or don't already love ourselves.