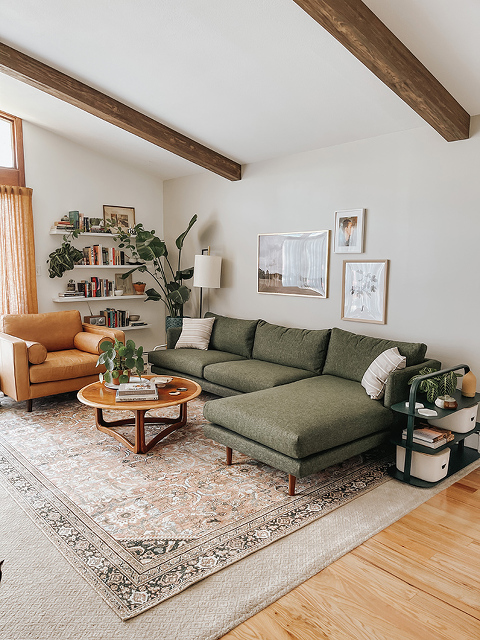 I get asked pretty regularly here on the blog and on social media for my thoughts and honest opinions on Article furniture—specifically the Burrard and Sven sectionals, which we've now had for more than a year. It seemed like now was the right time to build a permanent post to contain my thoughts so that I had somewhere to direct folks looking to read a thorough review.
I personally rarely make any purchases without reading a bunch of reviews beforehand, so this is my way of helping you invest with confidence. The short answer (if you're a skimmer) is that the two Article sofas I'm about to review are very much worth your money! Keep scrolling for all of my candid thoughts on both the Burrard and Sven sectionals from Article, and feel free to leave your own experiences and tips in the comments section if you have them and I left something out.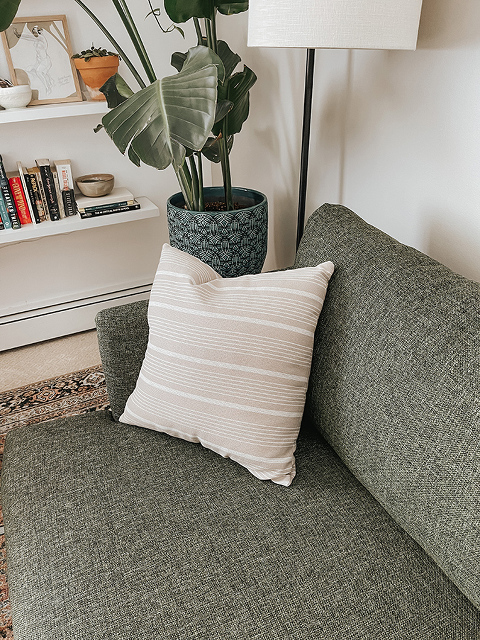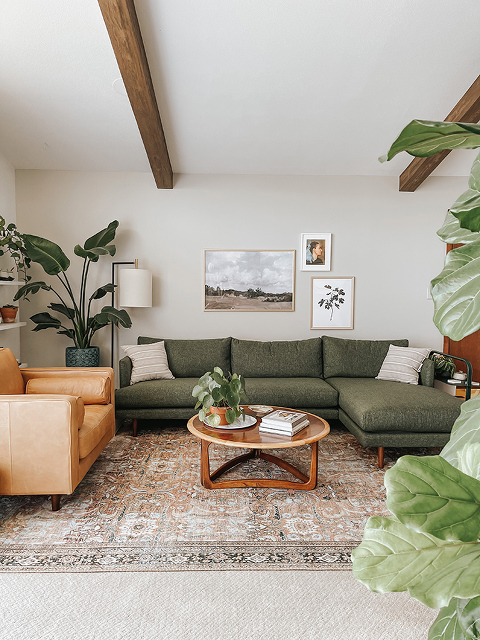 The Burrard Sectional from Article:
It has been six months since we added Article's Burrard Sectional to our living room, and I truly have nothing but good things to say about it. I lounge on it every morning when I eat my breakfast, the cats lay around on it all day every day, and it hasn't shown even a bit of wear. Now, of course, six months isn't all that long for a piece of furniture to show much wear, but I feel fairly confident in my ability to judge the longevity of a piece of furniture, and this one is holding up better than all the rest.
Our 12-pound cat curls up on top of the back pillow cushions everyday, creating little dents in the tops of the cushions, but it's nothing a little punching and fluffing can't fix as needed. I've heard that you can stuff cheap bed pillows into the cushion covers of Article sofas in order to keep the pillows from sagging, so we'll do that if the need ever arises. So far, though, I haven't noticed any long-lasting damage to the shape of the pillows—and that goes for both the back pillows and the seat cushions.
The fabric has held up really well to regular lounging, too. I haven't had to break out my sweater shaver even once. In other words, there's no pilling to be seen. The fabric also cleans up like a dream. I had to steam-clean one area recently because of our cat and her reemerging breakfast (tmi, sorry), and it was a quick and easy job. The fact that the fabric is so smooth and tightly woven means that stains don't seem to soak in quickly, so it's easy to clean as needed.
Of course, I love the look and design of this sofa so much. It's sleeker and the lines are much cleaner in comparison to the Article Sven sofa, which we used to have in this space. I like that it keeps the room looking a little more formal since it's our main living space for gathering with company. The sofa is comfortable enough that it doesn't feel too formal, though.
The cushions on our Burrard Sectional are definitely firmer than our Sven Sectional, but not too firm. I happily lay for hours on the couch watching movies and television, so there's nothing uncomfortable about the firmness. You sink in, but you don't feel swallowed whole by the cushions, if that makes sense. I truly couldn't recommend this sofa more!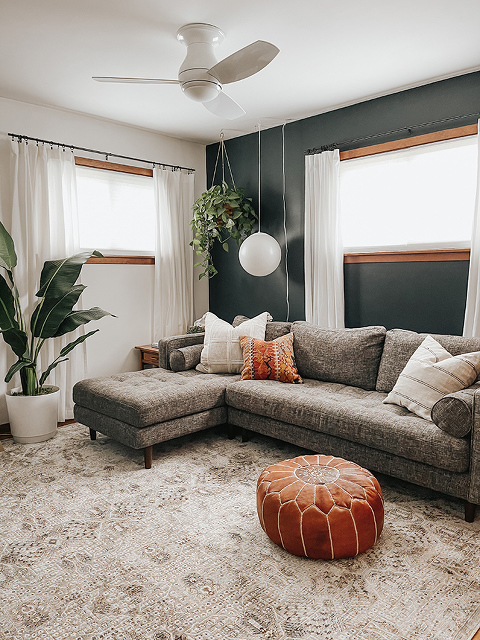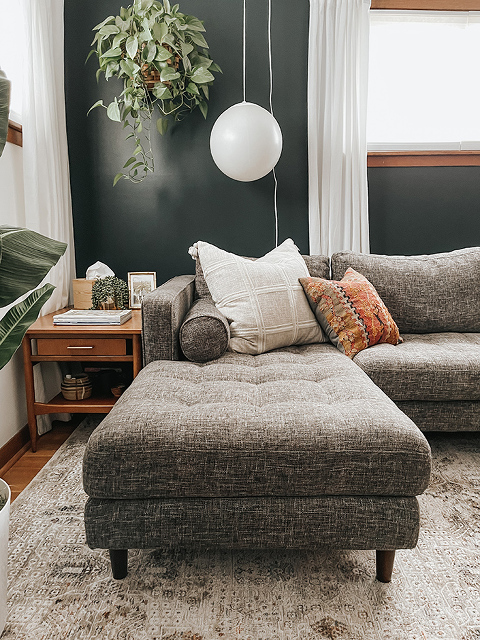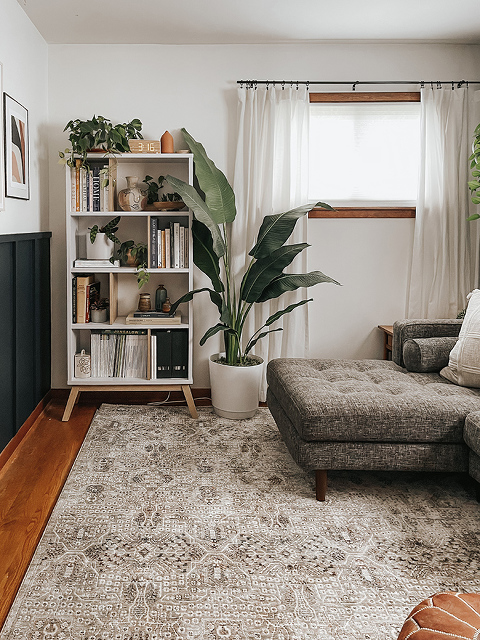 The Sven Sectional from Article:
Now, let's chat about the Sven Sectional from Article! Again, I highly recommend this sofa to everyone I know. It's incredibly comfortable and has held up really well under our constant use for the past year and a half. When we decided to redecorate our formal living room and get a new couch, I initially made the sad decision to sell our Sven Sectional.
I spent more than an hour cleaning every single piece to prep for selling it—I ran the back pillow covers through the wash, steam-cleaned the seat cushions, and gave the entire frame a good vacuum. But when it came time to actually list the couch on Facebook Marketplace, I just couldn't do it! We've really loved this sofa so much, and we figured out how to keep it in the house by replacing our never-used guest room daybed with the couch to create a secondary living room lounge.
It's one of those couches that I see us keeping for the long haul because it's genuinely so comfortable. It probably is the softest couch we own, and has served us well for many-a movie marathon and afternoon reading session. The back and seat cushions are incredibly plush, and you sink right down into them the second you sit or lay down. Again, like I said before, we plan to add inexpensive bed pillows in with the original couch cushions whenever we feel like they start to look saggy, but that moment hasn't come up yet. Maybe it's just that we actually like the casual, relaxed vibes of this couch, but either way, we haven't needed to modify a single thing.
The only thing that has been a little more high maintenance in comparison to the Burrard Sectional is the fabric. Because it's a more textural, nubby-type fabric, it has shown pilling over the last year and a half of heavy use. Happily, the dark gray fabric color we chose hides this entirely from view. The only time we ever noticed the pilling was when we were sitting directly on the sofa and could feel it. The other happy piece of news is that a fabric shaver takes care of the worst of the pilling texture. I also love using this cordless fabric refresher to get rid of loose threads and pet hair.
All in all, this couch remains a permanent favorite in our household. We love the mid-century style of the frame, and the causal look of the fabric and tufting make it the perfect fit for our home. I'm so glad we managed to figure out a way to keep it.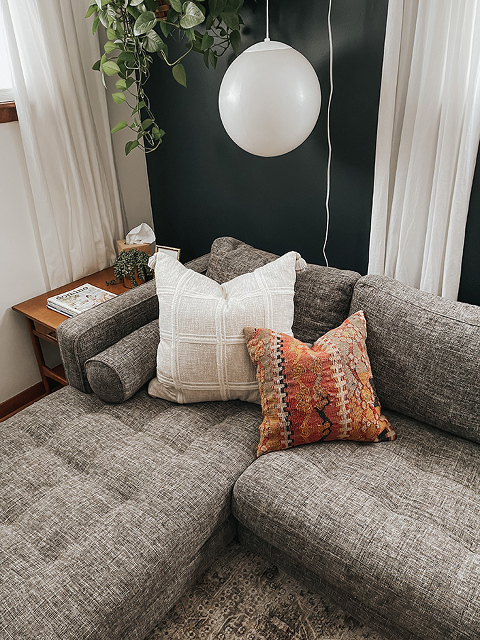 And there you have it! I hope those reviews were helpful if you've been considering either of these Article sectional sofas. I honestly recommend both of them to everyone who asks. It just depends on your style preference and also your particular taste when it comes to softness. If you want a softer cushion, go with the Sven. If you like a more supportive (but still cushy!) couch, then go with the Burrard.
Oh, and as a little bonus review since you might have noticed that we also have the leather Sven Charme Tan Chair, we love that piece, too! It feels super cushy when you curl up into it, and the leather is buttery soft straight out of the box. That's another piece that I think we'll have for years and years, and one that I couldn't possibly recommend more.
Leave your questions in the comments section if you have them! If I forgot an important point, just let me know and I'll update this post to suit.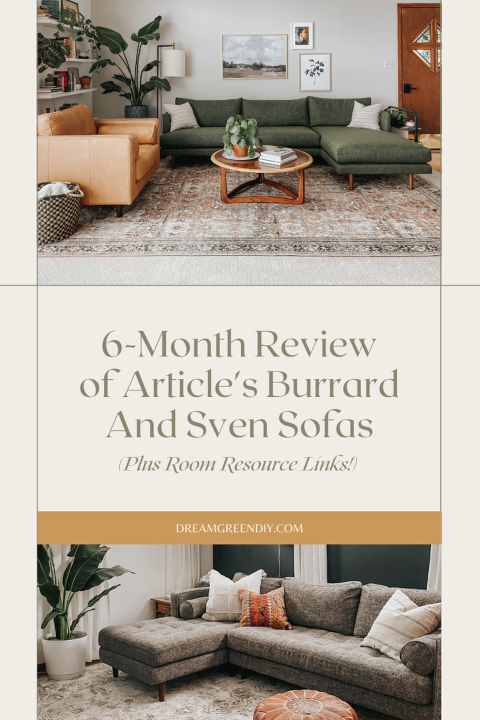 *I earn a small percentage from purchases made using the affiliate links above. Affiliate links are not sponsored. Rest assured that I never recommend products we wouldn't use or don't already love ourselves.