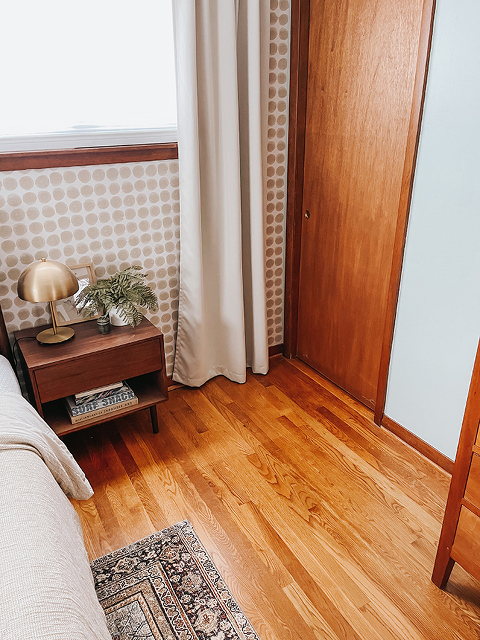 I've often wondered about the wood floors and trim in our house—and apparently you guys have, too, because I get asked pretty regularly for details over on Instagram! Unfortunately, I have no way of knowing the actual truth about our wood accents because they were installed by the previous homeowners well before we moved in.
That said, I feel like we can all put our heads together and make an educated guess as to the type of wood we have and the finish. I'm going to share a bunch of photos in today's post, and will also share my own personal hypothesis, but please feel free to weigh in down in the comments if you're able to identify this type of thing through photos.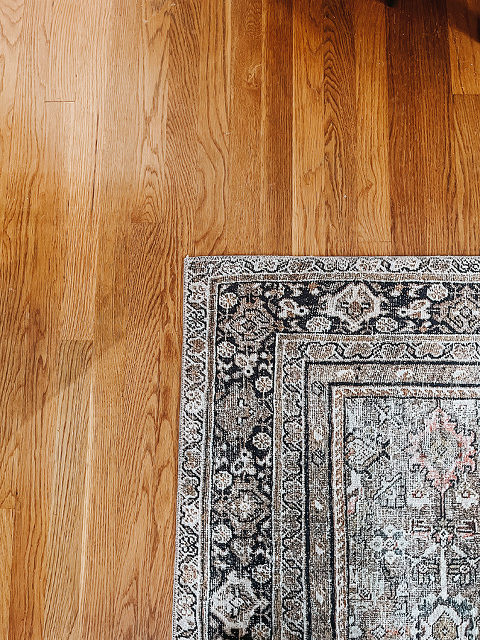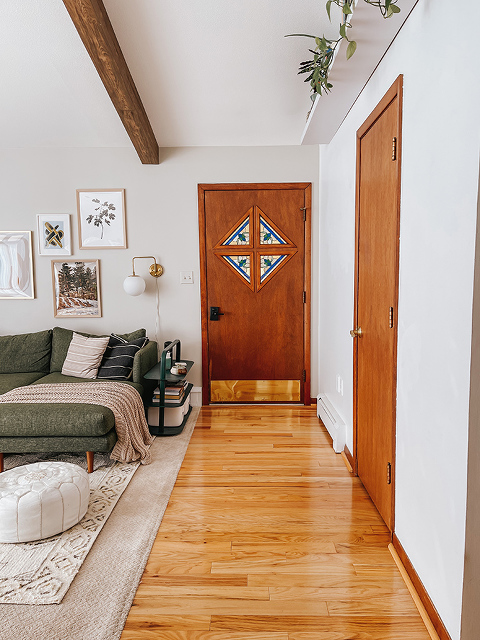 First, a quick breakdown of what we've got. The previous homeowners put in newer hardwood flooring throughout the main floor entryway (pictured above), hallway, and kitchen, and there is original 1960s hardwood flooring in the bedrooms. You can tell the latter is original because of the patina, and also because of the staple/nail holes throughout the surface of the wood (there was probably carpet installed overtop back in the day). The trim is all the same throughout our house—a combination of light wood quarter round, and a darker stained wood base moulding.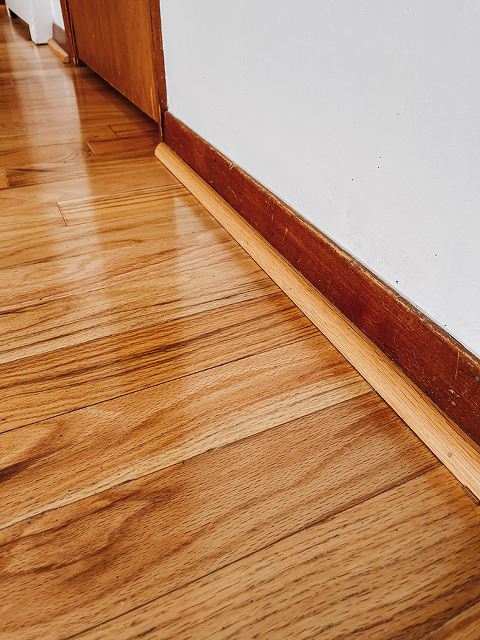 Now, let's get into more specific details. The quarter round trim throughout the house is a light honey-stained oak trim, and the base moulding next to it is just 3-1/4-inch high. That moulding is super simple in shape, with just a slight rounded top on it, like this. Our base moulding is probably the most damaged amongst all of the wood accents in our home, so I'm guessing it's not quite as hard of a wood (not oak). Maybe pine? It's done in a very reddish stain, similar to this "English Chestnut." The hollow core doors and door trim are also done in this same type of wood and stain.
If we decide to ever paint or replace any of the wood accents in our mid-century house, it'll be the base moulding and door trim. It's in pretty rough shape, and I also don't love the red undertones. Don't worry if you're a wood purist, though. I don't actually plan to change it. It just isn't what I would have personally picked. I would have gone with a thicker, straighter silhouette base moulding, stained in something a little more like "Special Walnut."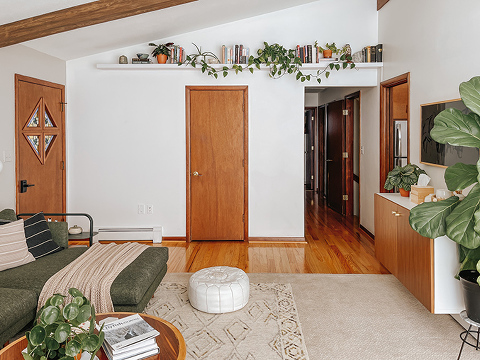 Let's move on to the flooring. I'm guessing the original hardwood in the back bedrooms is oak, and it measures 2-1/4-inch wide. It's stained in a medium-tone finish, something close to "Early American." You can analyze this particular area of flooring best in the first two photos of today's blog post.
As to the newer hardwood toward the front of the house (pictured above and below), I think it's pretty darn close to this Natural Red Oak flooring, although ours actually measures 3-1/4-inch wide. As for cleaning, we just mop it once a month or so with this mop and this floor cleaner. We follow the same method for mopping the hardwood at the back of the house, although, admittedly, we don't mop back there as often as we do the kitchen and hallways.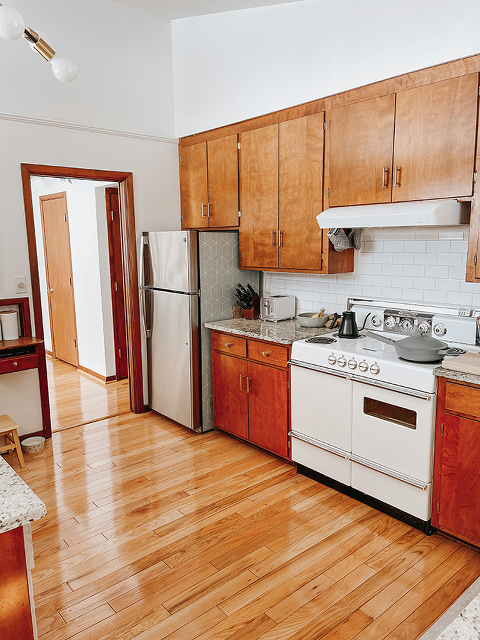 Just in case you were wondering, we haven't touched either floor type in this house—in other words, we haven't refinished them—and they have both held up great. I get asked regularly how we keep the hardwoods in our kitchen so shiny, and all I can do is shrug! I guess the previous homeowners had a really high quality floor installed because we haven't done anything to it to keep it in such great shape. In fact, I've really kind of put it through the wringer dragging all sorts of heavy shipping boxes and furniture across it. Luckily, it's made of sturdy stuff, and the high gloss finish is simply that durable.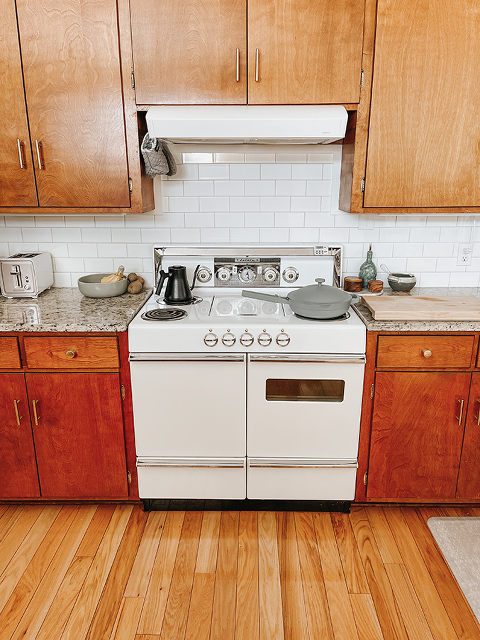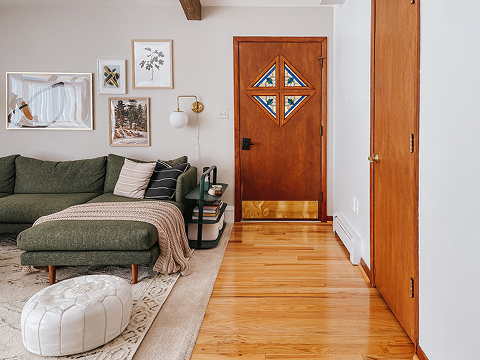 I hope that answers some of your questions about our mid-century (and newer) hardwood floors and trim! We absolutely love all of it, and even though I sometimes wish the base moulding were a little different, I have no plans to touch the beautiful original wood throughout our retro ranch. Let me know in the comments if you think I missed the mark on any of my wood/stain guesses!
*I earn a small percentage from purchases made using the affiliate links above. Affiliate links are not sponsored. Rest assured that I never recommend products we wouldn't use or don't already love ourselves.