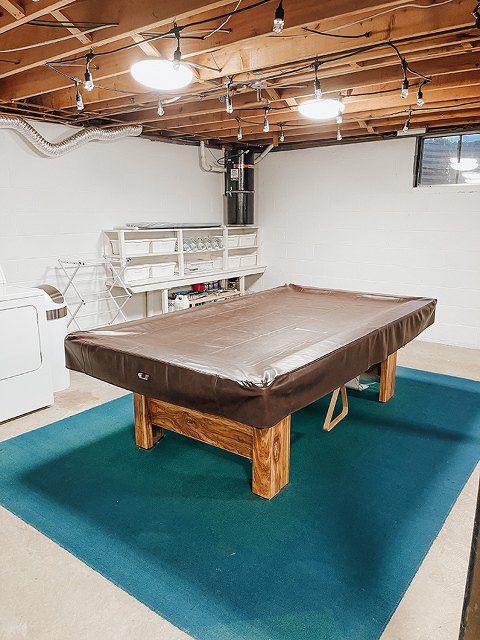 I try my hardest to only feature the prettiest and nicest-looking rooms in our house, but the most functional one is, honestly, our unfinished basement—and there isn't anything "pretty" about it. For that reason, I don't talk about it often here on the blog, but we recently crossed a room makeover to-do off our list that has been lingering for years, and it made such a difference that I just had to share it.
You can compare the "before" photo below with the "after" image above to see just how far we've come in the last few years. Yes, we've managed to downsize quite a bit of the stuff and have done a fair amount of general organization, too, but what I wanted to talk to you about today was painting our raw cinderblock walls bright white.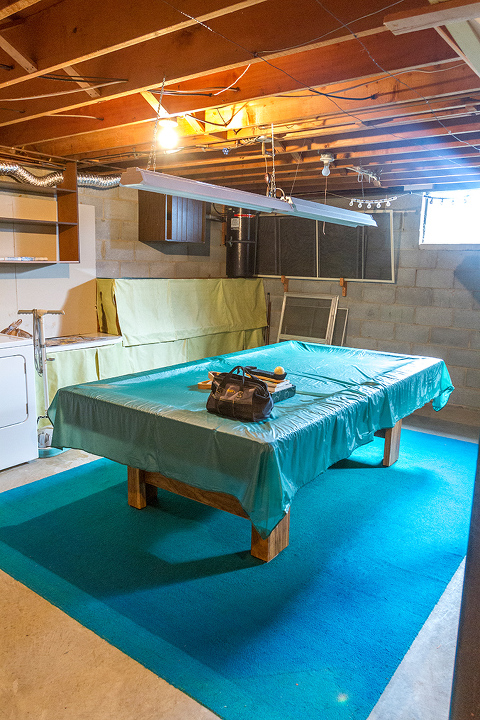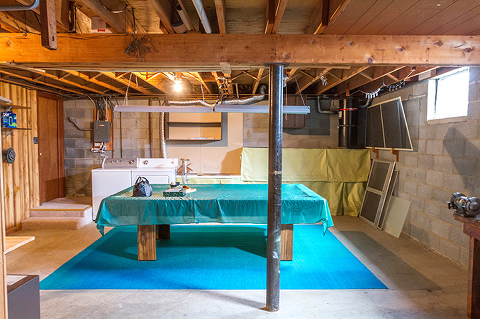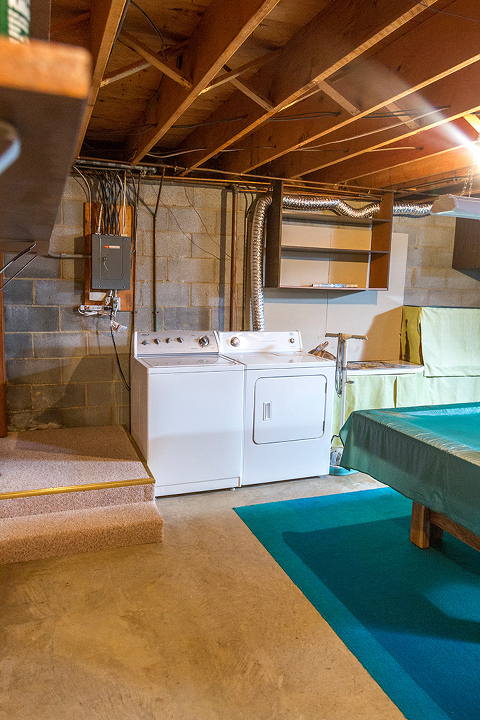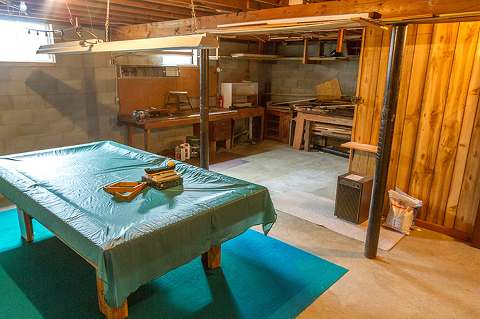 Those photos above were all taken before we moved into the house on our pre-purchase inspection day. As you can see, the previous homeowners had left behind lots of extra stuff. We were happy to inherit the pool table, but almost all of the rest of it ultimately went to recycling or the dump.
One thing I did keep from the old setup was the workbench the homeowners had left behind. It was well-loved, and continues to be one of my go-to spots when I'm working on a project. The images below show you how I managed to simplify the storage around the workbench, and I also added my own personality by painting the base of the unit a cheerful light blue color.
If you continue scrolling past that photo, you'll see what we had done to the rest of the room in an attempt to make it more relaxing to be in. We added more functional shelving units for seasonal storage, and we tried really hard to get rid of anything we didn't genuinely need. It looked like this for some years before we finally mustered the courage (and physical energy) to paint the walls white, which had always sort of been the last thing on our mental list of things to do.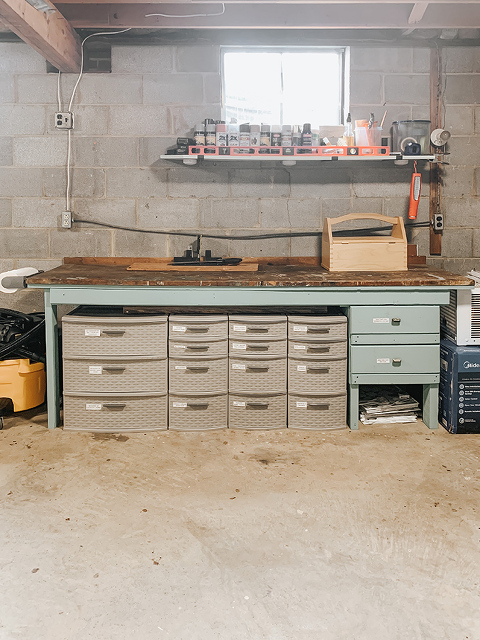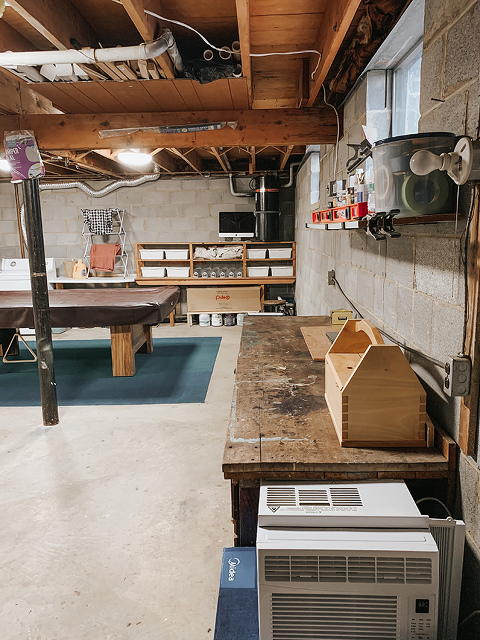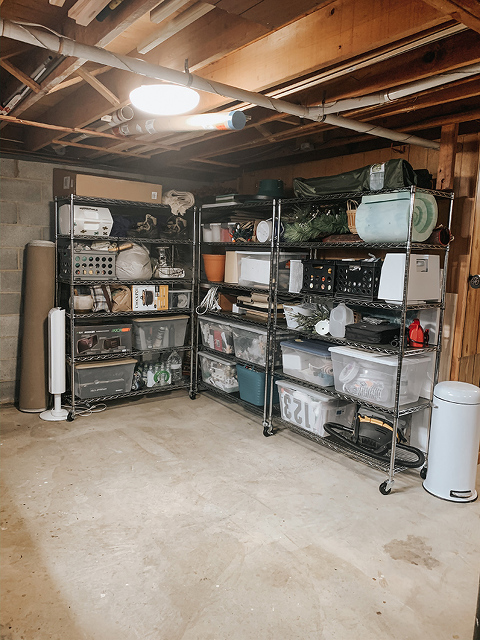 This year was finally the year that John and I decided to get the project done, once and for all. We knew that painting the raw cinderblock walls would help the room look cleaner and brighter, and that dreamy vision in both of our minds was enough to make it a high priority on our list of New Year's plans. The process took a pretty substantial amount of time, so the details are fuzzy, but if my memory serves me, I think we started with one part of the big wall the first week of 2022, and then tackled it one additional section of wall from there over the course of a month.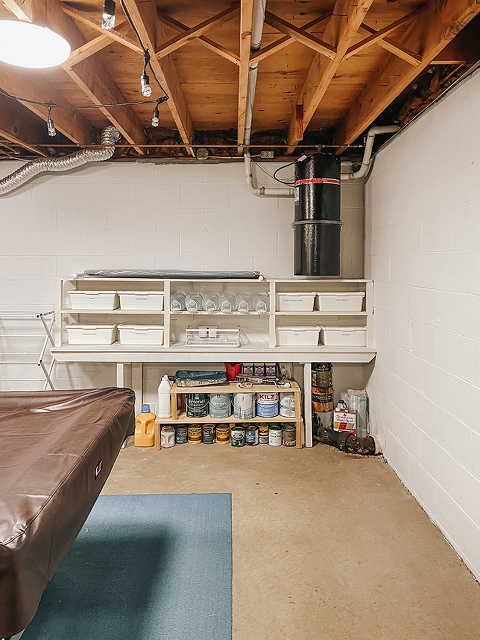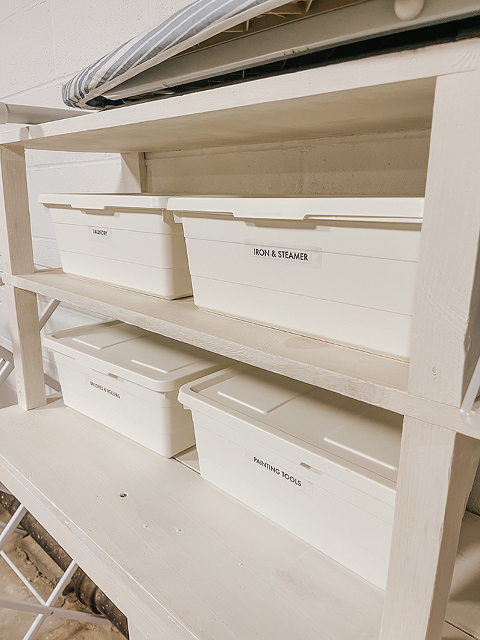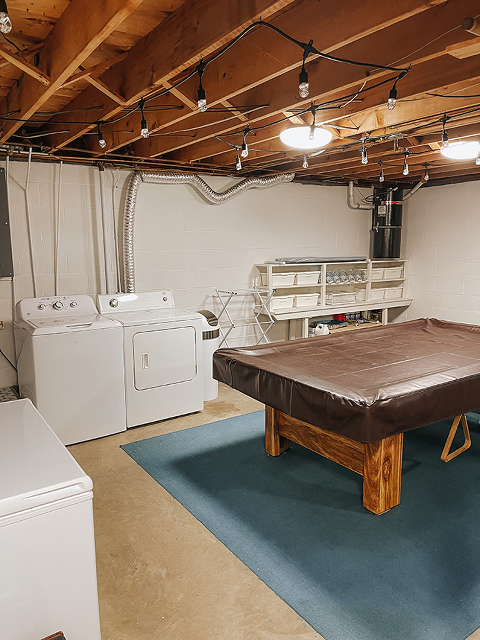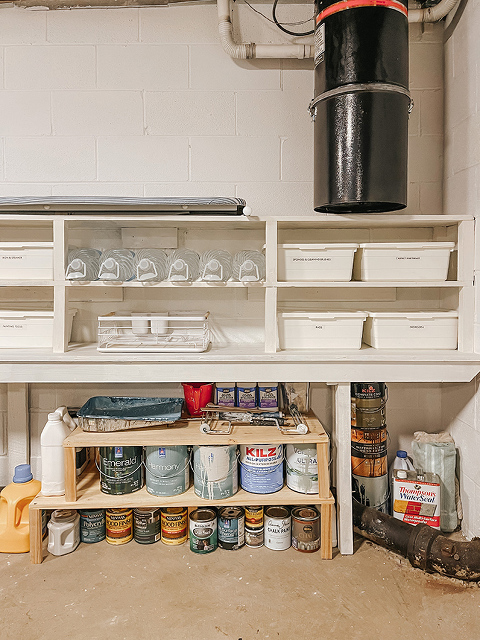 While that method of "a little bit at a time" definitely dragged the project out, it made the whole thing so much more manageable. As you can imagine, painting raw cinderblock brick isn't very much fun. The brick soaks up paint so fast, and requires multiple coats for an even finish. It also requires a lot of paint for that very reason, so there was tons of repetitive crouching and stretching up high to paint the wall from top to bottom. Breaking the process up over the course of several weeks was the only way to do it and still maintain both our sanity and back muscles.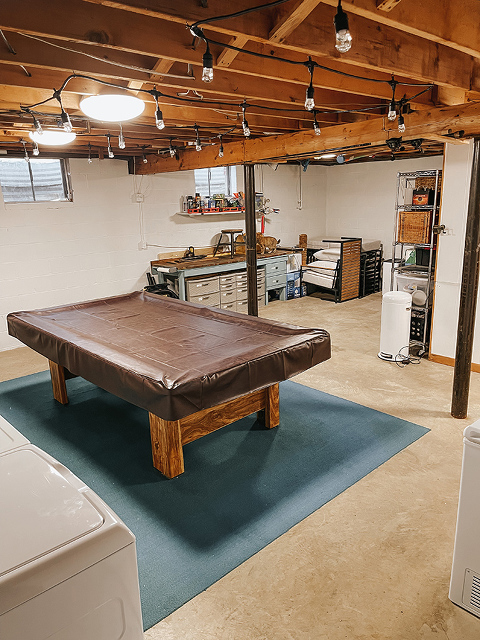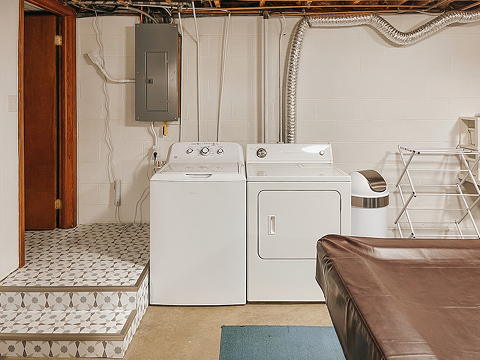 Although we had every intention of using a topcoat white-colored paint, we ended up just using this off-the-shelf primer for the entire project. There's no downplaying the fact that this is an unfinished basement storage room (and occasional pool table party space). We didn't need it to look super professional, so after seeing just how well the primer went on, we decided to stop there and be happy with our updated white walls. It's a matte finish since we only used primer, but that's okay with us.
If you want to go the full mile, be my guest! For us, though, we didn't have any interest in spending more money than we needed to. We used six gallons of primer paint, so, at $18 a can, we invested roughly $120 on the whole project. We were just fine calling it quits, especially considering nice top-coat white paint is much more expensive. It would have more than doubled the cost of the project, and we were very happy with the results we got from primer alone.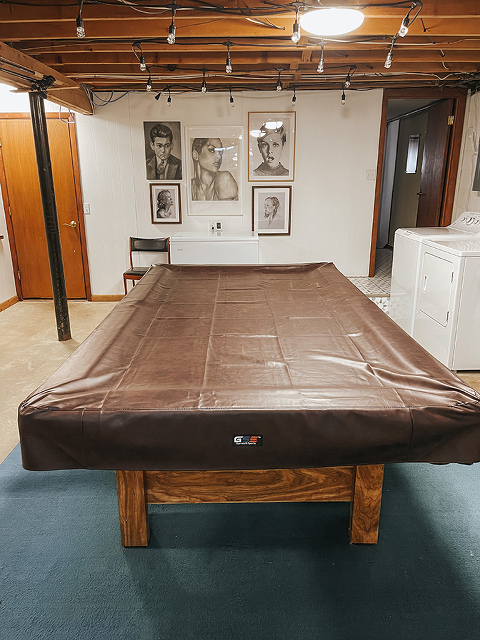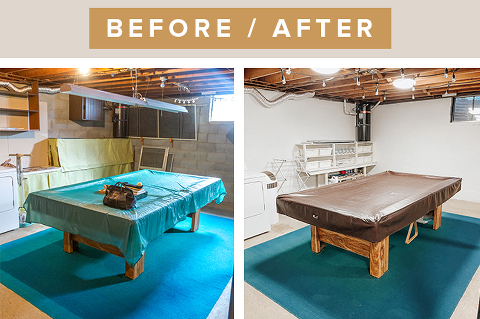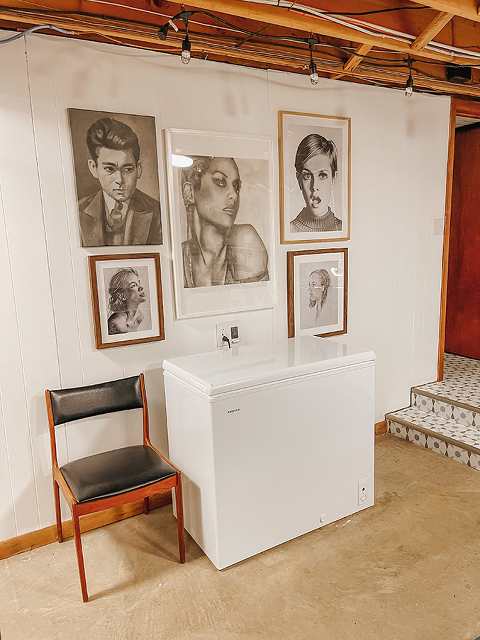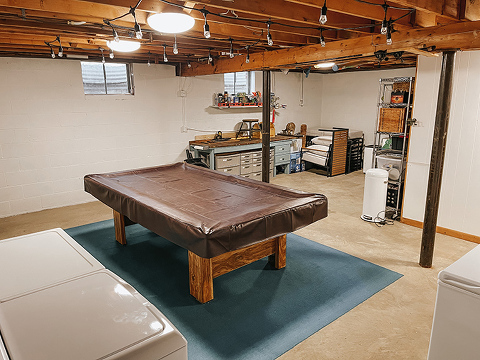 The photos in this post make me almost giddy to look back through. I am so proud of how far we've come with this space, and the new white walls make playing pool far more enjoyable for me, too. Before we painted the walls, I would spend all of my downtime between game shots fussing with stuff to try to make the room look nicer, but nothing I ever did really helped. What did help, it turns out, was half a dozen cans of primer paint. Who knew?! Try it at your house if you've been feeling less-than-thrilled with your raw cinderblock basement walls.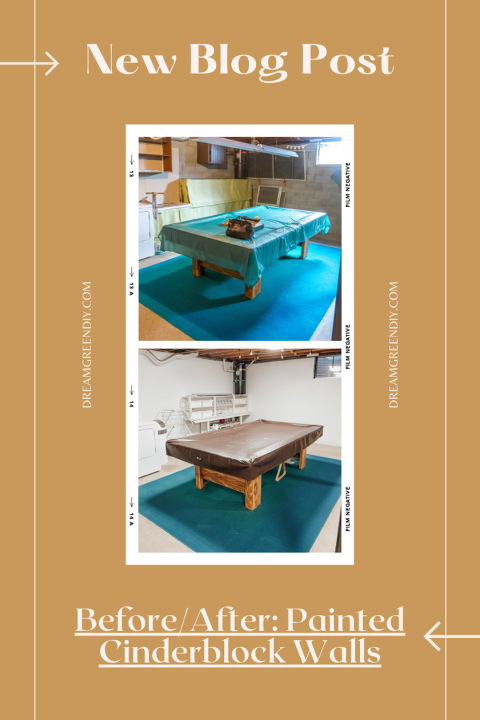 *I earn a small percentage from purchases made using the affiliate links above. Affiliate links are not sponsored. Rest assured that I never recommend products we wouldn't use or don't already love ourselves.