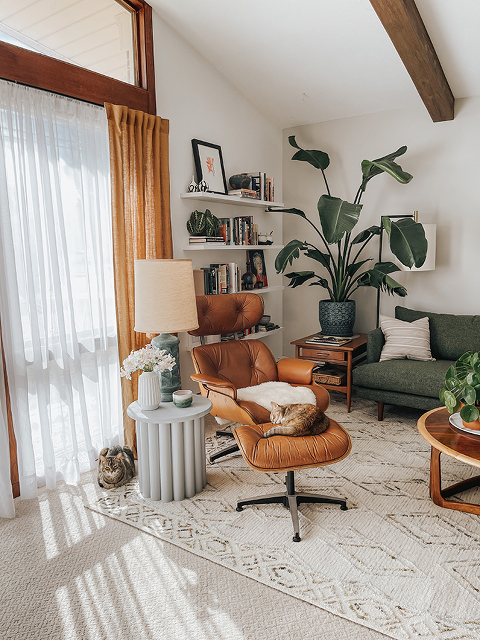 We have always been a multi-pet family (always will be!), and are definitely "those" pet parents who let their animals up on the furniture. Dogs, cats, humans—the couches, side chairs, and beds in our home are all fair game to anyone in our household. It's worth the extra cleaning and strategizing to have our pets nearby at all times.
Today, I thought I'd tackle another one of the most frequently asked questions I get here on the blog and over on Instagram: How do you keep your cats from scratching up all of your furniture?! The answer is actually pretty simple for us, although I do believe that our felines are generally really good girls who don't target furniture as much as some other cats do. We lucked out in that sense, but we definitely still have to do a handful of things to make sure they stay on their best behavior around our upholstered furniture. Keep scrolling for my top five tips.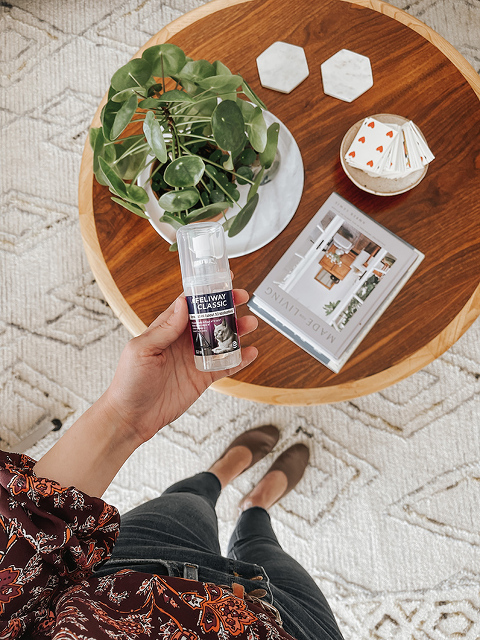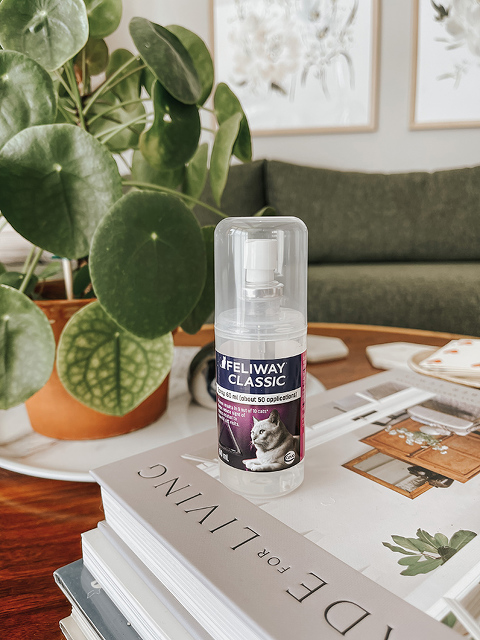 1. Use Feliway Pheromone Spray On New Items
We have been using this drug-free calming spray on our furniture and rugs for years, and I swear it works. Way back when, we started to notice that our cats fixated on new furniture and rugs, so now every time we get something new, I make sure to spray it down with this Feliway Pheromone Spray. It's kinda pricey, so I don't go overboard with it, but I like to make sure I hit new-in home stuff to help deter the cats from scratching it all up. I think there's something about the formula that resembles their own natural facial scent, so they feel like the new furniture is part of their own personal collection. Who knows, but I really do think it works. By the way, it doesn't smell bad at all! It has a certain non-offensive fragrance at first, but that goes away within minutes as it dries.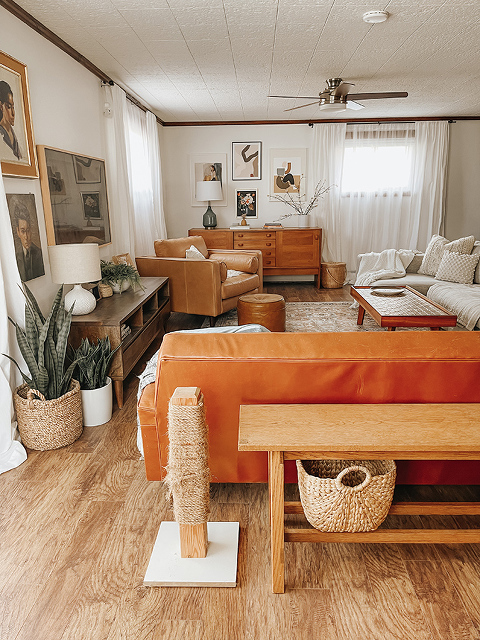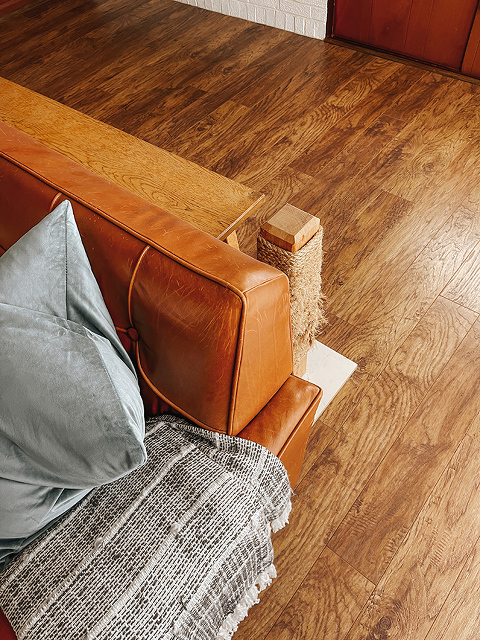 2. Keep Scratching Posts Nearby
It's certainly not a ground-breaking tip, but scratching posts are a great tool for keeping your cats' claws off nice fabrics. We have two posts (that we handmade using a wood post, wood board, and long piece of rope), one on each floor of our house, and we try to keep them near the furniture that our cats might, otherwise, go for with their claws. You can probably see in that photo above all of the little scratch marks on our leather sofa in the family room. After we noticed those, we put a scratching post right behind the sofa. You can't even see the scratching post when you're standing in the middle of the room, so it doesn't take away from the design of the space, but it's enough to distract our felines from the leather couch.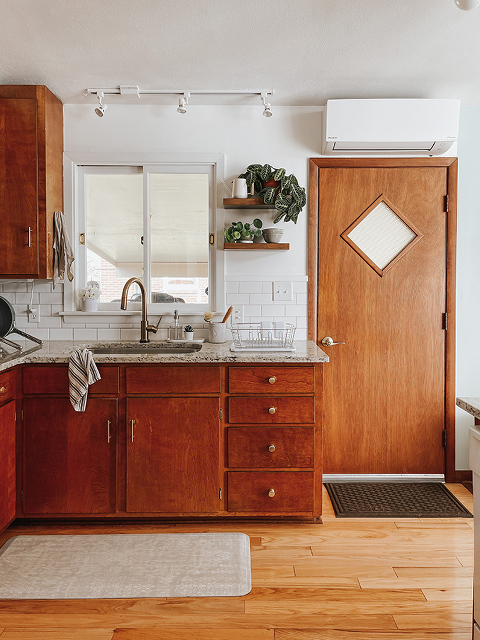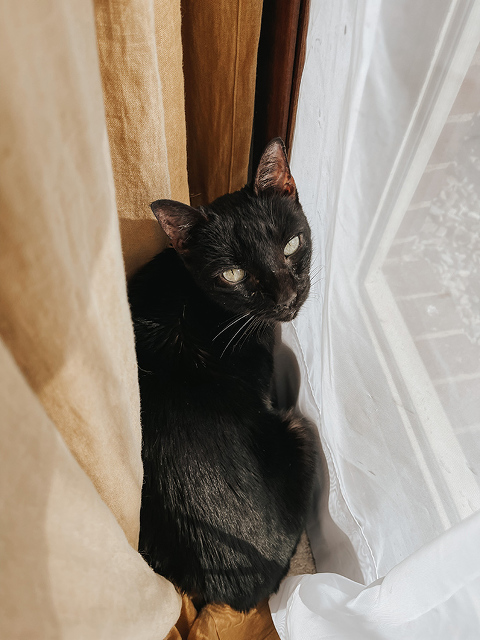 3. Try Textured Floor Mats To Focus Scratching Habits
Not all cats like scratching posts, though! Our cat, Luna, preferred scratching on cheap floor mats from Target, so that's what we got her. I think there was something about the rough texture and the fact that she could get her claws into the high pile that attracted her. At any rate, it might be worth laying one of these $10 mats down in your house to see if your cat gets into it.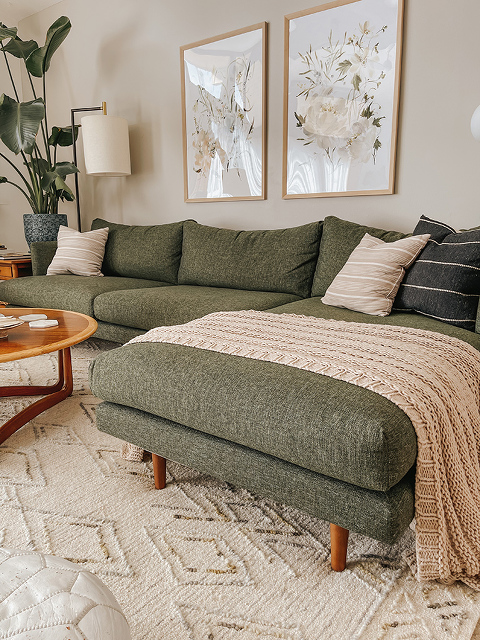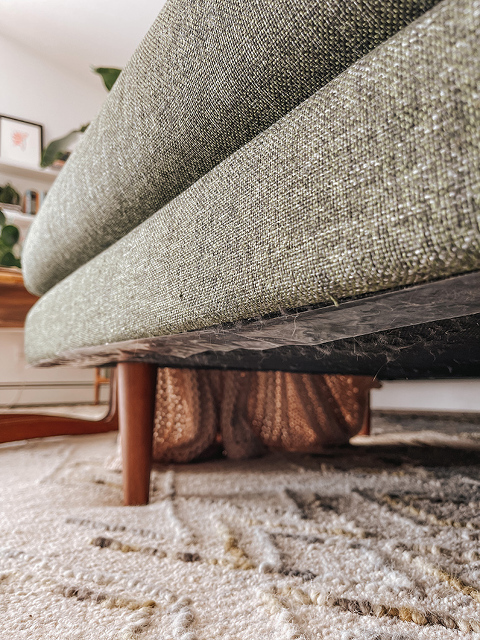 4. Use Packing Tape or Double-Sided Tape
Our other cat, Tonks, is definitely a bit of a pill around our furniture, and we really have to stay on top of shooing her away from our green couch in the living room. We noticed recently that she really liked to claw on the underside of the chaise section, so I stuck some clear packing tape to the fabric there. We lucked out because you can't see it from the front of the sofa from above, but the tape has stopped Tonks from scratching that part of the couch. I've heard that double-sided tape also works well.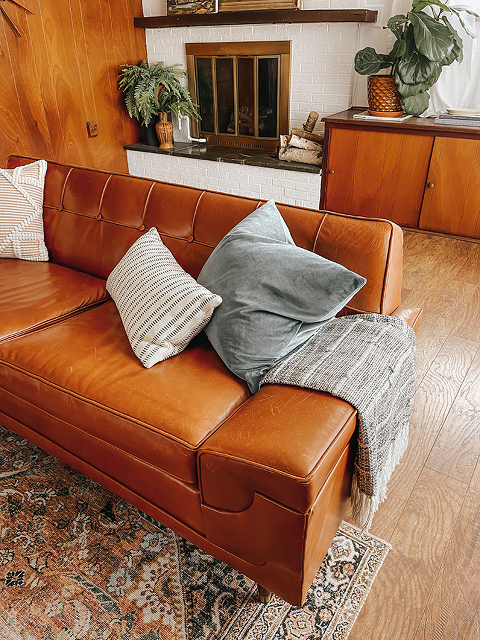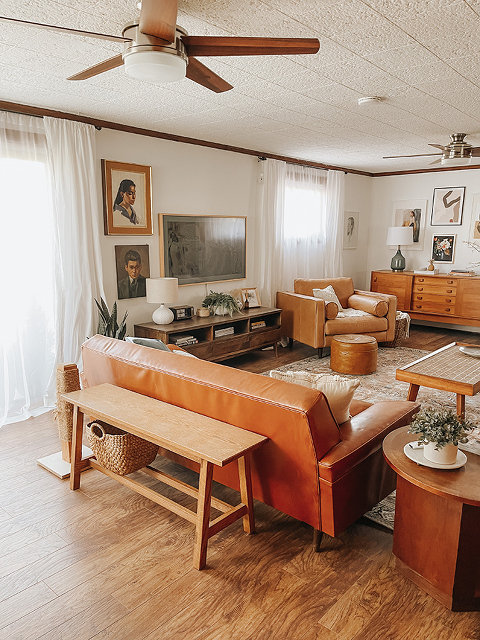 5. Drape Blankets Over Furniture Arms And Cushions
As you can see, we have quite a bit of leather furniture in our house. I just love the texture and classic look of leather! Of course, in order to enjoy said leather, we have to do a couple of things to keep the cats from ruining it since it's more delicate. The best thing we've come up with is draping throw blankets over the areas they target most, like the arms and seat cushions. We use nice-looking faux sheepskin rugs on the seat cushions of both our leather chairs, and have draped a pretty folded throw blanket over the arm of our leather sofa. It's not fool-proof, but definitely helps avoid the bulk of unwanted claw marks on our leather items.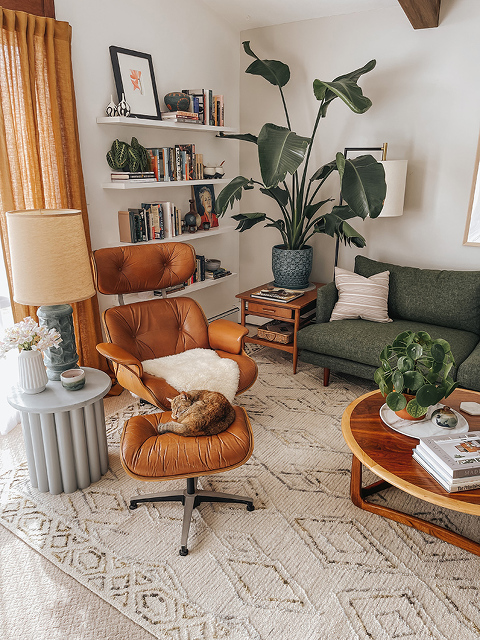 It's worth mentioning that our furniture absolutely still shows evidence of our cats. There are light trails of scratches on our leather furniture pieces, and some sofa arms are showing a bit of what I like to call "love." We are totally okay with a little bit of wear and tear on our furniture because we adore our pets. It comes with the territory of caring for pets, and that's a-okay with us. Those little marks are fond memories of our fur babies, both here and gone, and I wouldn't have it any other way. That said, those tips I mentioned above help keep unwanted marks to a minimum. Share your own tips, if you have them, in the comments below!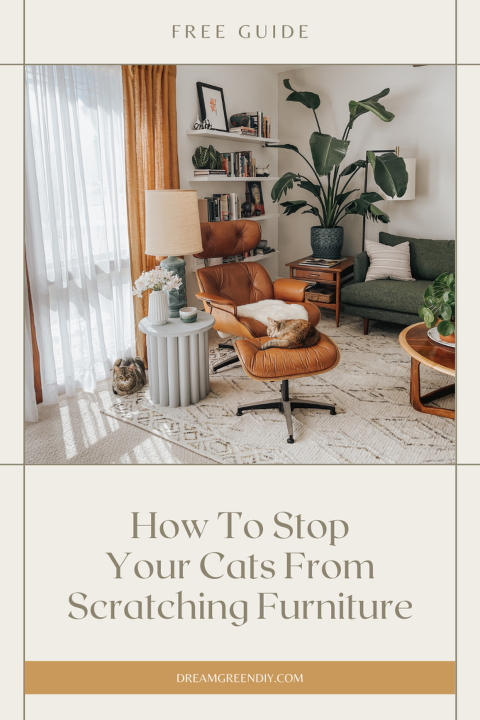 *I earn a small percentage from purchases made using the affiliate links above. Affiliate links are not sponsored. Rest assured that I never recommend products we wouldn't use or don't already love ourselves.