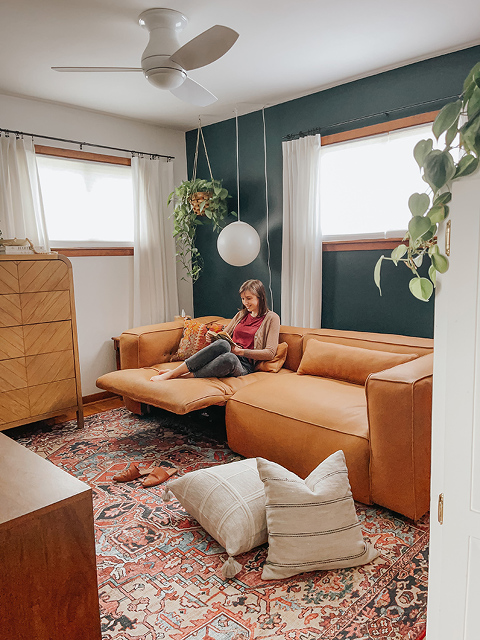 *This post was made possible by the generous support of Joybird, and features gifted product for testing purposes. All opinions are my own.
One of the best decisions we made last year was shifting our more traditional guest room to an everyday lounge-type living space. We got rid of the old mattress and bed frame, and decided to lean 100 percent into the idea of a third living room, complete with a television and sofa. I definitely did worry that we would regret getting rid of the bed in case of overnight guests, but, as predicted, we have had none since then, so it hasn't been even a tiny bit of an issue. If you remember, my parents live just a couple of miles away, and all of our family members end up staying with them in their extra large dutch colonial home when they come to town for a visit—in other words, we rarely host.
Now that we have the room that once was our guest room set up as a lounge, we use the space so much more often. I head in that direction whenever I feel like reading, or watching my favorite shows/movies. I get asked pretty regularly on social media if I actually use all three of our living rooms, and the answer is a hearty, "Absolutely!" I wouldn't have spent as much time and money designing this room around a living room concept if I didn't think we'd use it, and, happily, all of that energy has paid off ten-fold. You can see what the room looked like up until a few weeks ago in the three photos below.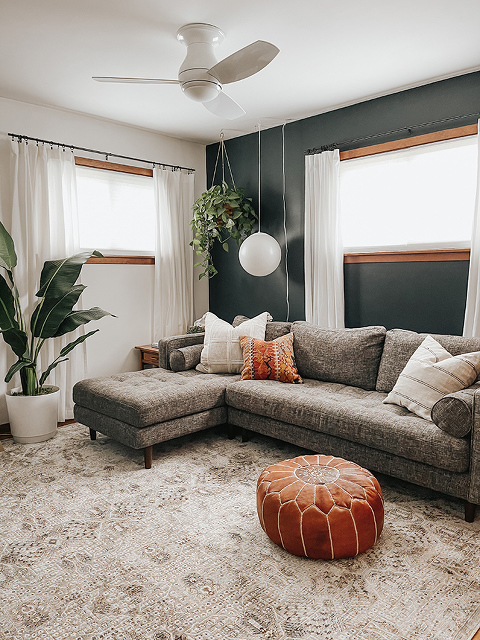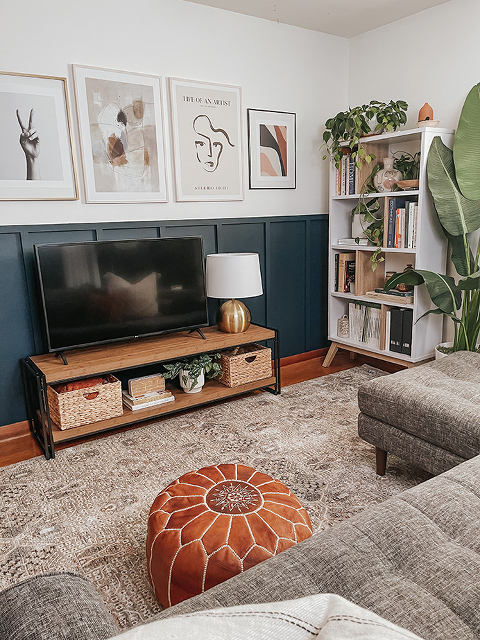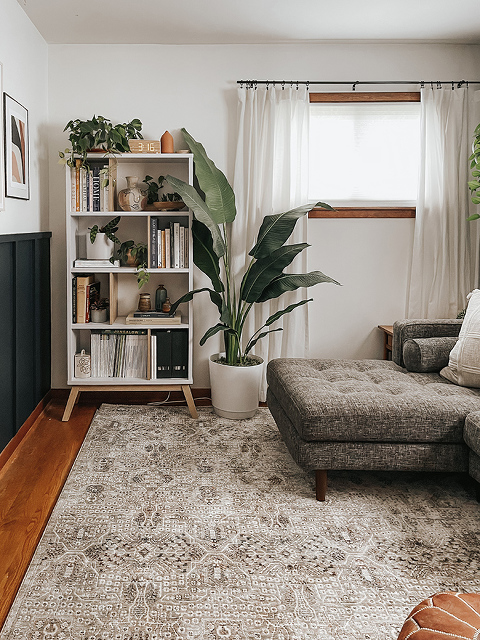 As you may have noticed if you've been following along for any length of time, I adore change. I love mixing things up in our home, and I'm positive that I'd redecorate rooms at the same rapid pace I do now whether I had my blog as an excuse to do so or not. There's just something so thrilling about a new collection of furniture or a fresh paint color, and I've learned over the years that instigating change doesn't cost much money if you sell off your old items to pad your budget for new pieces.
For this makeover, though, I had a chance to team up with the folks at Joybird. This blog post isn't sponsored by the brand (they paid just for social media coverage, which you can check out here). But I wanted to take things one step further with a blog post detailing the entire story, especially for those of you who aren't on Instagram.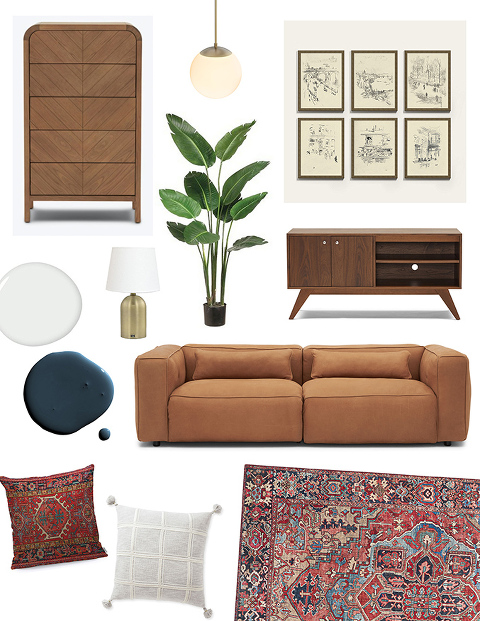 The mood board above offers a direct line into my psyche for this makeover. I loved the soft gray accents and cool blue paint colors of the old space, but I had been craving a warmer-toned look for the past few months. Joybird's invitation to team up offered the perfect opportunity to bring those dreams to life.
You can probably see in my mood board above how much more red and orange I was proposing to interject into the space. I wanted to center the space around a new rich red and blue rug as well as a bold leather couch. A cool mid-century-inspired wood console and curved wood dresser were the perfect complements to my red/orange-centered palette, so I placed the order and waited (im)patiently for everything to arrive.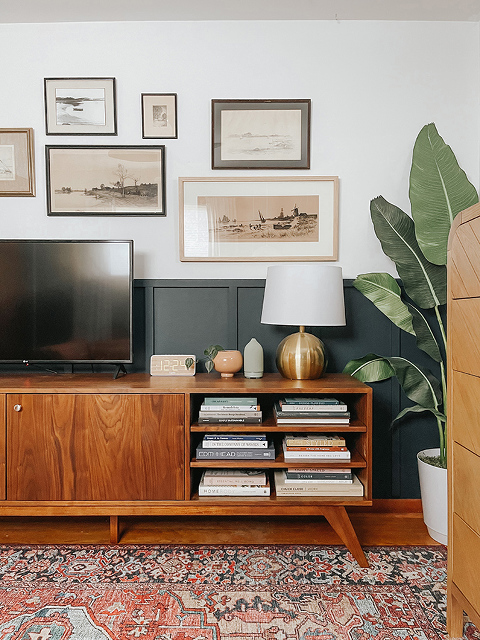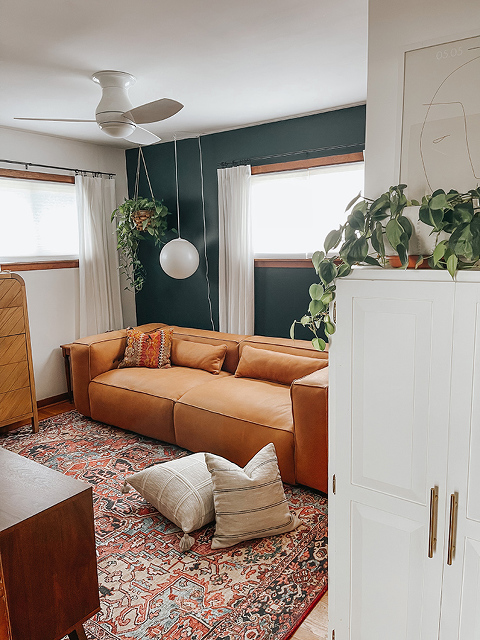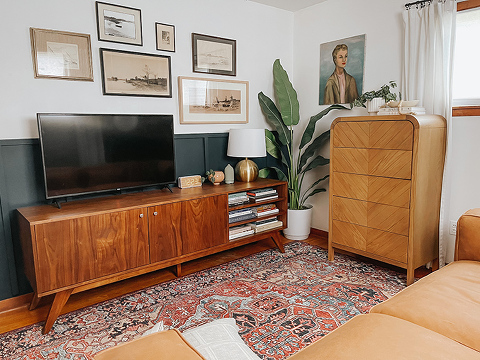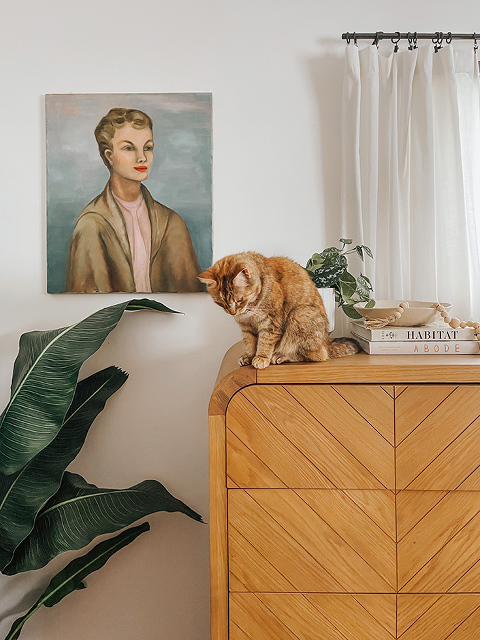 As you can see, the new collection of furniture and the rug went together like a dream on delivery day. While the walls are lined entirely by furniture now, it doesn't feel cramped, and we have pretty much tripled our concealed storage space. Yes, we plan to use this room as an everyday lounge living space just for us most of the time, but because of all the added storage space we added, it could work well for the occasional overnight guest.
We now have all of our extra guest linens and pillows stored in the dresser and behind the doors of the media console, and you can see in the photo below that our new leather couch has electrically extending footrests, so it turns into a cozy twin-size daybed literally at the touch of a button.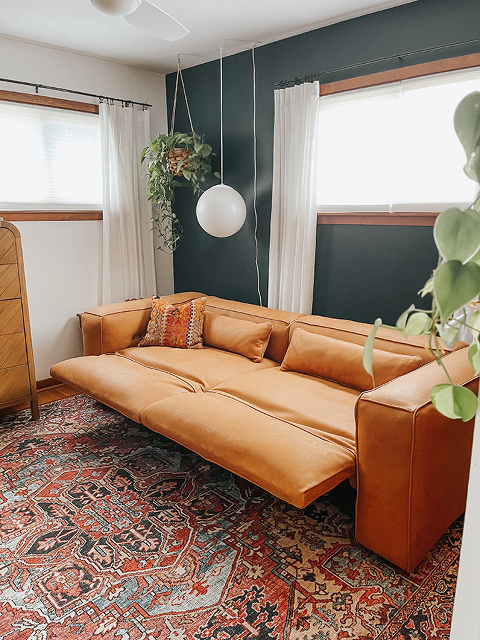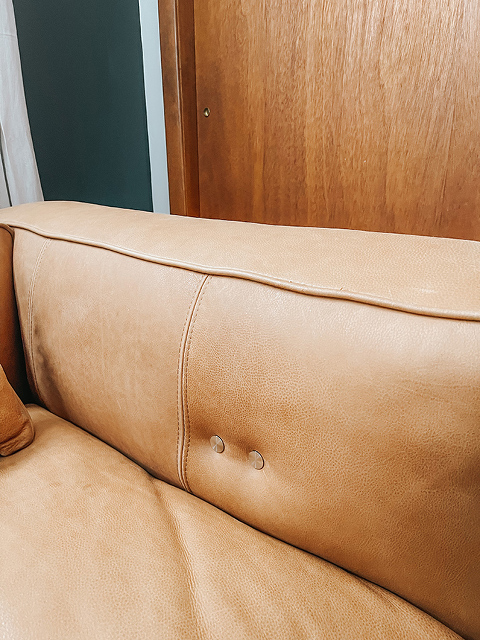 The photo above shows a detail of the buttons for this couch. You hold the forward button down to extend the footrest (you can stop at any angle that's most comfortable for you), and the back button makes the footrest fold back down into the sofa. I am so impressed by the functionality of this sofa, and everyone love a good catnap on it any given afternoon—even the pets.
I know this post isn't sponsored by Joybird, but I wanted to give them a quick shoutout anyway because this was my first experience with them and I was genuinely very impressed. We had a small issue with the dresser, and the team was quick to send us a replacement to make sure we didn't have anything to stress over. Gotta love good customer service and good furniture designs!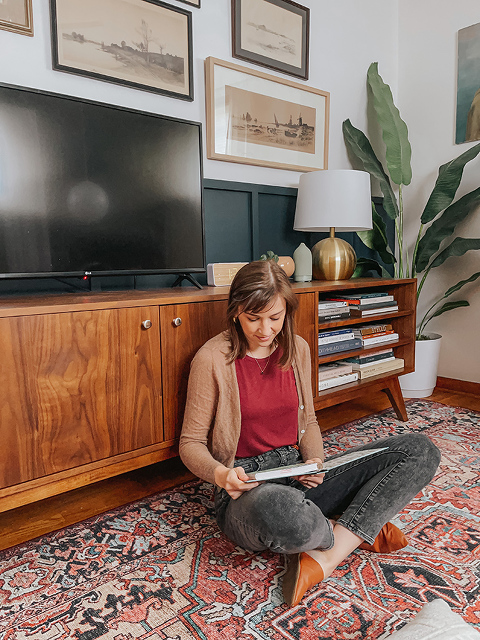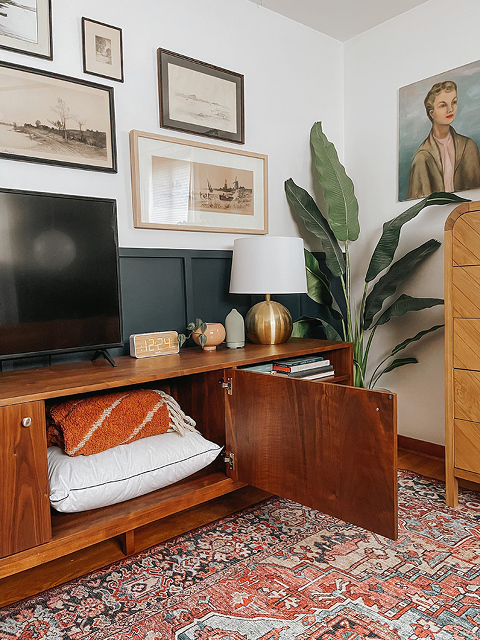 While we have yet to host any overnight guests in this space, it has already proven to be a favorite among us in our immediate family. And isn't that more important than the occasional once-a-year (maybe) visitor? I want to encourage all of you to rethink your guest rooms and make that space the type of room that fills a need that you, yourself, might have. Unless you host guests every other month, I say it's time to turn that barely-used room into a space that makes you smile every time you walk past it. That's how I feel about this room now, and I can't help but think that there's more value in that.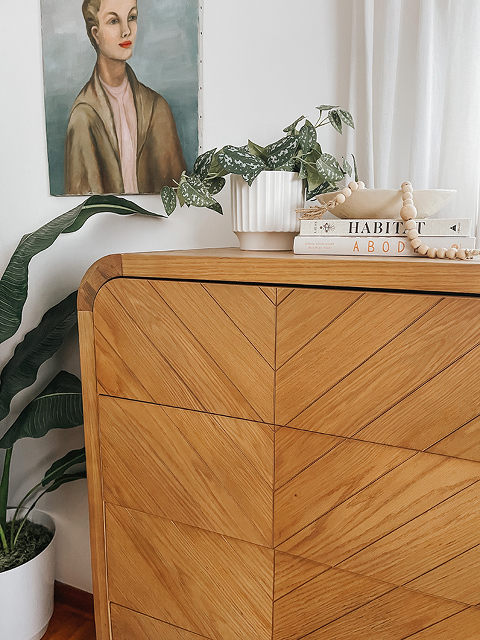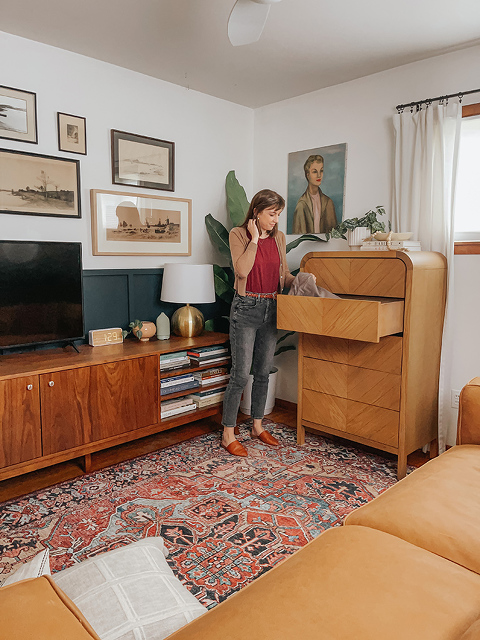 Resources: couch, dresser, console, rug, fan (similar), art/hanging planter/pendant light all vintage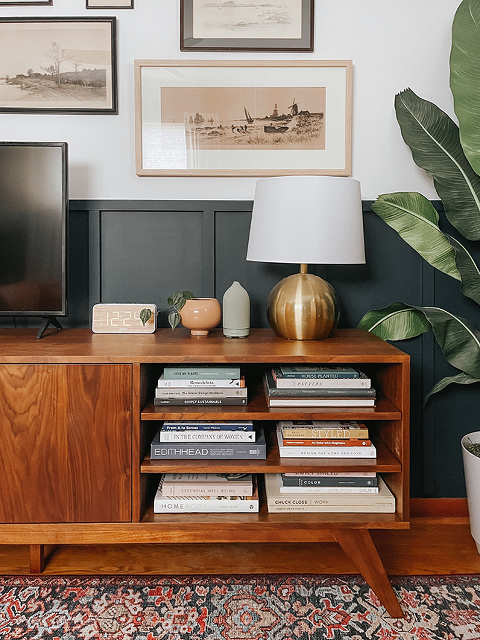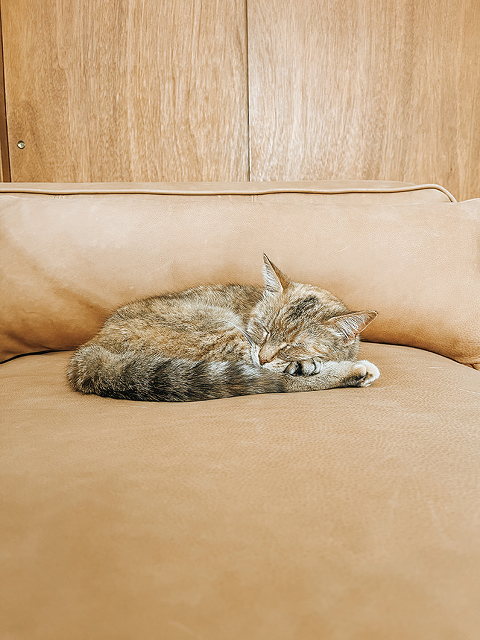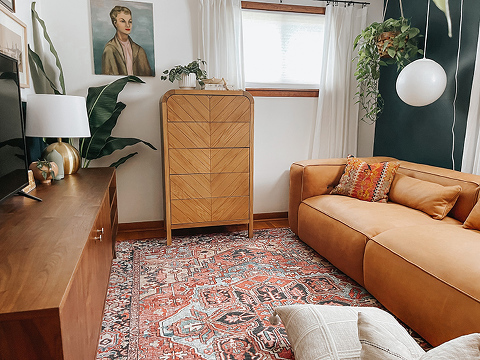 Let me know what you think in the comments section! I'd love to hear your thoughts, especially on the topic of turning a guest room into more of an everyday lounge and an occasional overnight space for visitors. I know this is very much dependent on your specific lifestyle, so I'm curious if a lot of you relate to us in that way. I'd also love to know if you change your décor as often as I do! I feel like I'm so isolated having this particular personality trait, but then I hear from lots of you who do the exact same thing. Please tell me I'm not alone (or crazy…)!