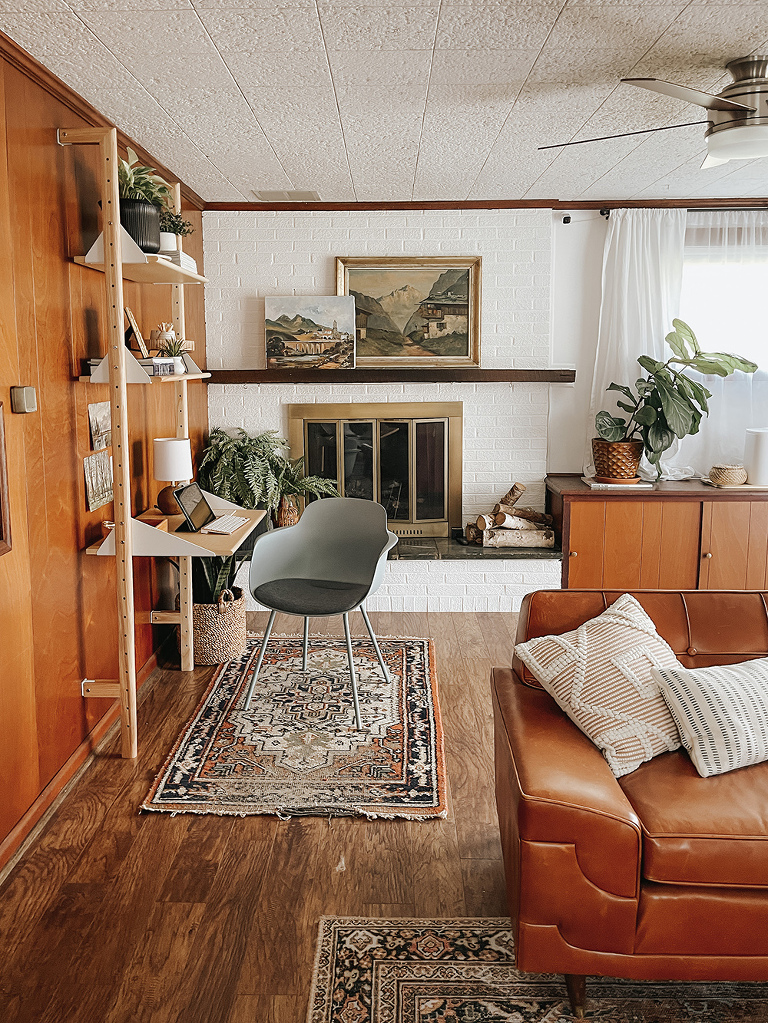 *This post was made possible by the generous support of Teknion, and features gifted product for testing purposes. All opinions are my own.
I don't know about you, but I like to enjoy variety when it comes to my work station. I tend to seek out all sorts of different spots to work from in our house, and, luckily, my work-from-home freelancer lifestyle affords me that benefit. I know lots of other folks are now newly (or maybe not so newly) settled into the work-from-home routine thanks to shifting pandemic norms, so I wanted to offer a bit of inspiration to those of you who also crave desk flexibility. With that said, I'd like to introduce you to my new wall-mounted office nook.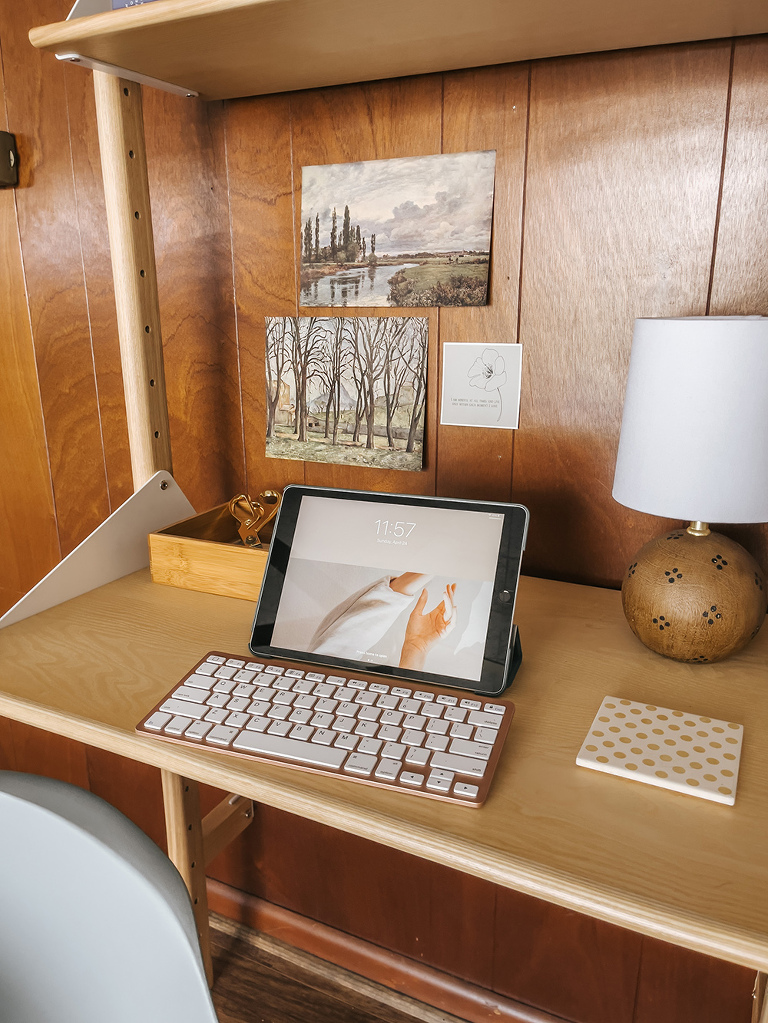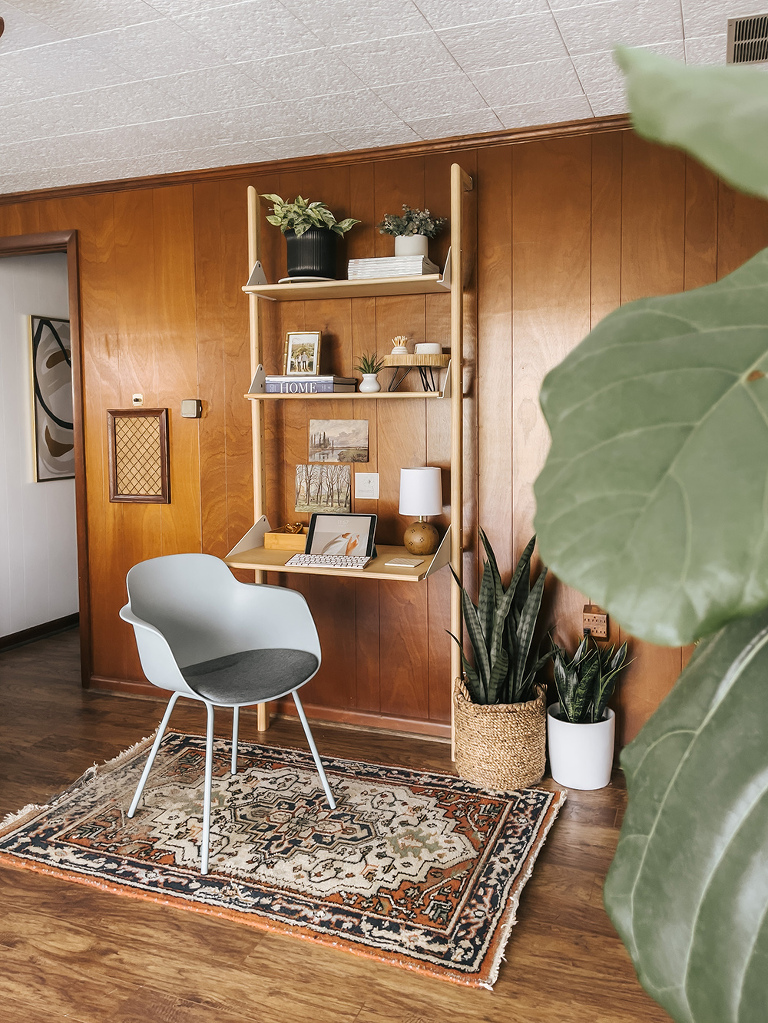 I partnered with the brand Teknion to put these photos together for a sponsored Instagram-only spotlight, but I wanted to add a blog post to the deal as a bonus so that you guys could get the benefit of a more thorough review. The brand sent us the desk and chair to try out, and we've been loving them so much ever since we got them set up in our family room.
The concept of this campaign was built around the idea of creating a flex office area that could serve multiple functions—a working desk as needed, of course, but also a place to jot down your grocery list, maybe an indoor potting station for you gardeners out there, a gaming or craft area, etc. As you may know, I have a fully functioning home office on the main floor of our home, but I really do love moving around the house to work. Having a fresh perspective keeps my mind active, and I'm more easily able to overcome writer's block when I shift to, say, the dining room instead of my everyday office to write.
And now I have my new wall-mounted desk on the lower level to jump-start my creativity. This desk is made by the brand Gus* Modern, and what can I say—it is just so beautiful. In all honesty, I wouldn't say that it was the easiest piece of furniture to put together, but I think that was mostly due to the fact that we were installing it on 60-year-old wood panelling that isn't straight, and because John and I are terrible at math/measuring. It took us a little over an hour to get the desk mounted to the wall, but once it was done, we stepped back and fell immediately in love with the look. It's amazing how quickly frustration fades when you're faced with such a gorgeous end result.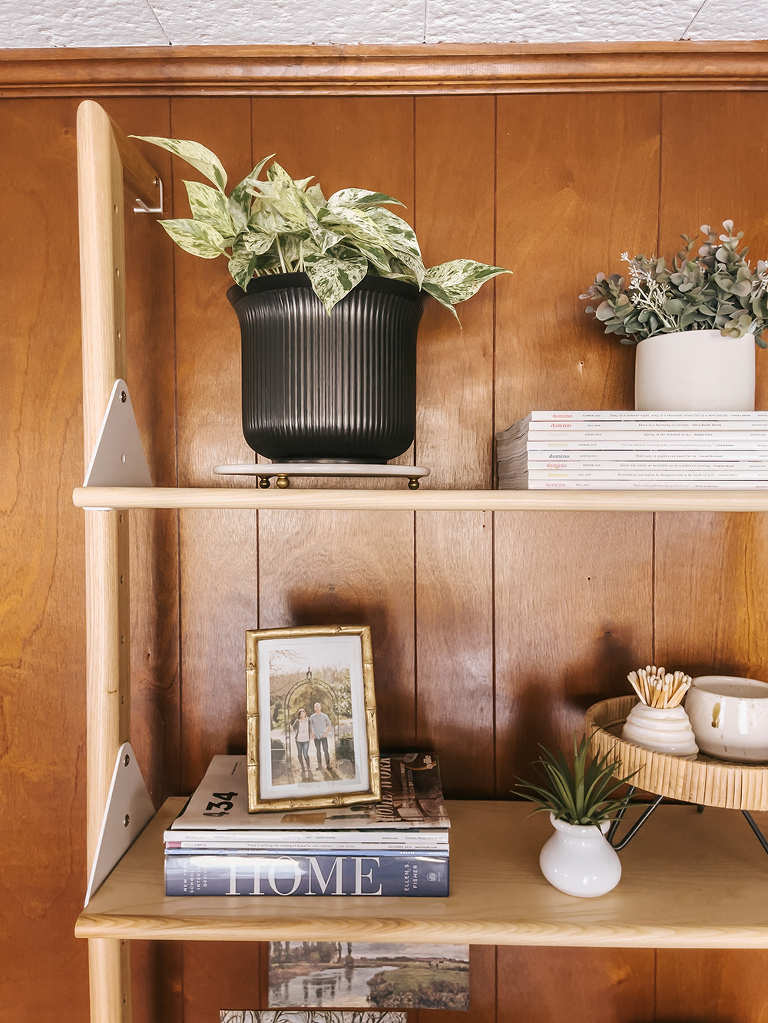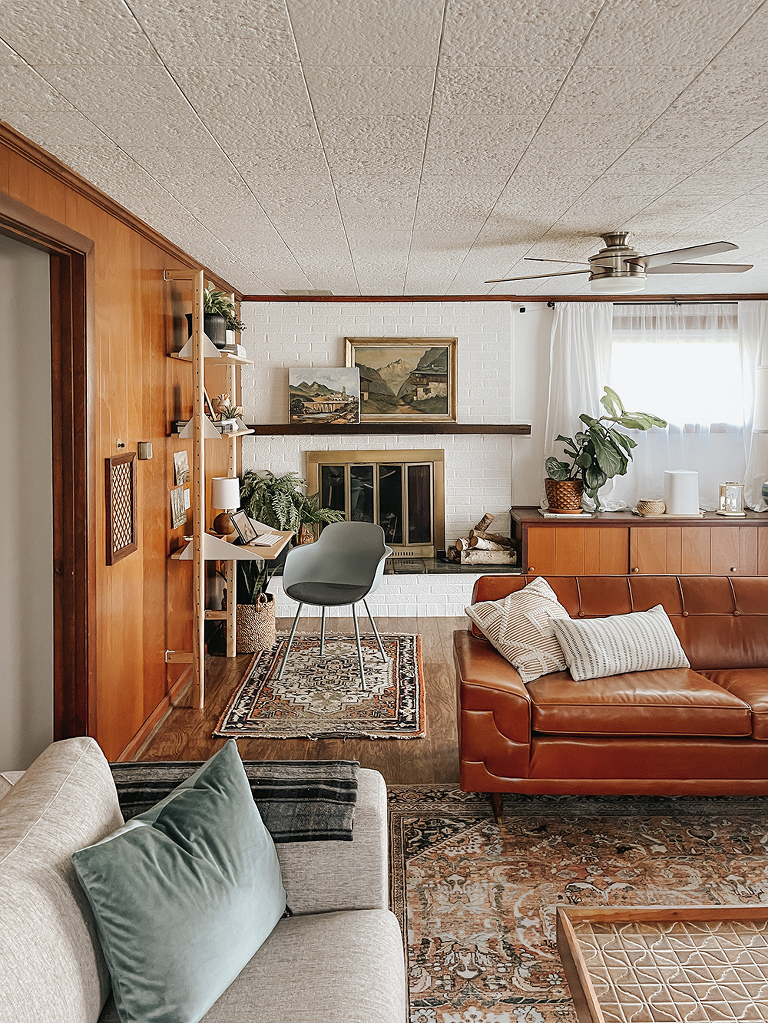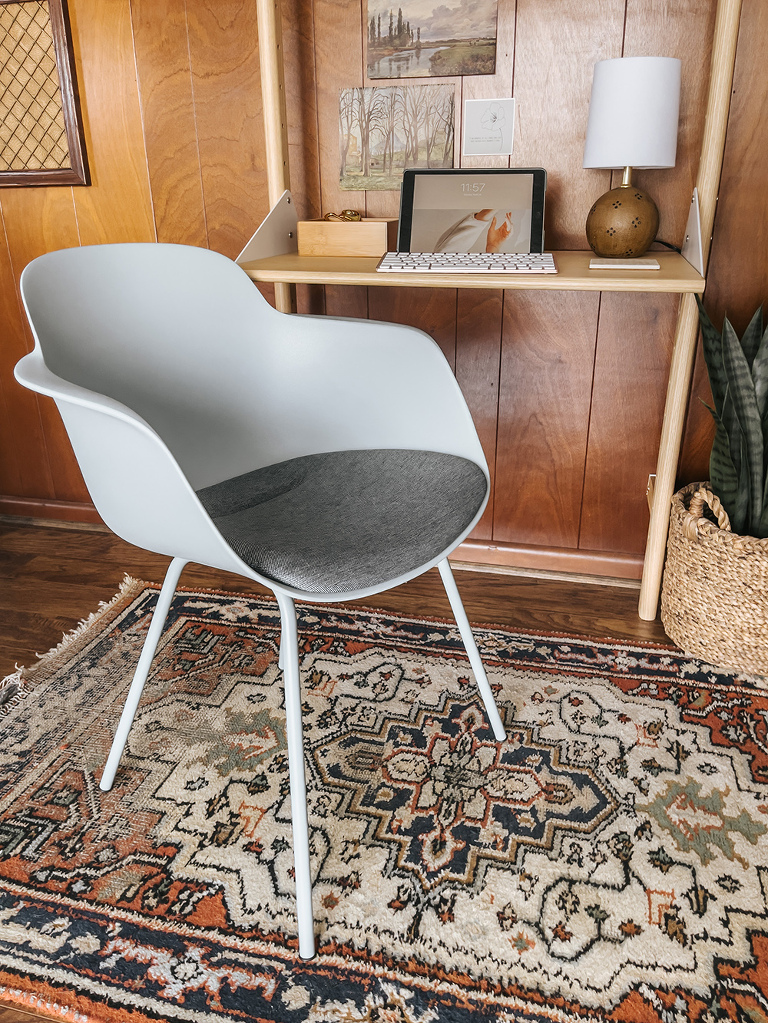 I wanted to mention that one cool thing in terms of installation is that the desk comes with paper templates so you know exactly where to drill the holes that allow you to mount your desk to the wall. I don't know how we managed to screw it up with a template, but we did. Don't let that put you off, though. We really are that bad at hanging stuff on a wall, haha…You'll do better than we did because the desk comes with everything you need to make the process as easy as possible.
Anyway, the shelves of the desk are fully adjustable, which is great for my décor-hoarding ways. I filled them with books, plants, a stack of my favorite home décor magazines for inspiration-gathering, and a couple other odds and ends. I appreciate that the shelves can be adjusted up or down whenever we want without much trouble at all. The desk shelf is also adjustable, which I just now realized means that we can turn it into a standing desk!
The desk is very comfortable to sit at, which is probably due in large part to our new Sicla Chair. This chair is definitely a splurge, but it's worth every penny. It's heavy and molded to form around your back and hips. I've already spent long hours working from this chair, and it's the best I've ever had. No exaggeration! If you think you'll be spending hours on your Sicla Chair, then I would highly recommend splurging for the upholstered seat upgrade. It makes a big difference, and isn't that much more expensive.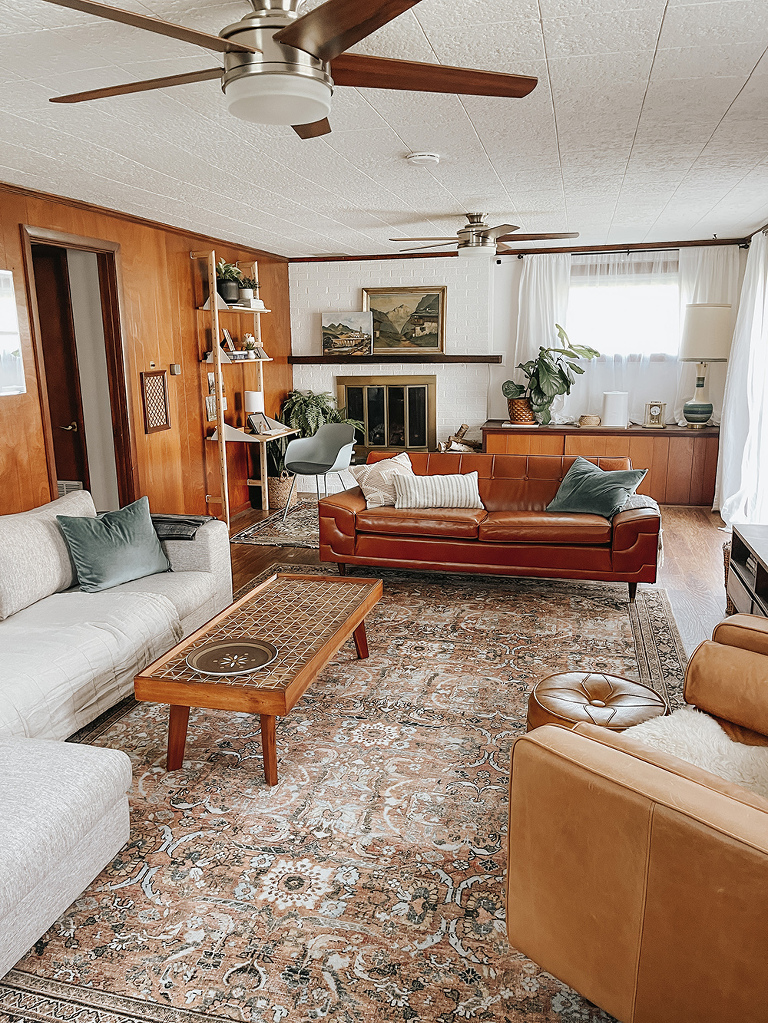 As you can see in the photo above, the desk is really slim, meaning you can slot it into a pretty small space without disrupting the rest of your furniture or the flow of the room in general. We didn't have anything on this wall before, so it was entirely wasted space. I was a little worried about installing a fairly permanent piece of furniture right in front of the fireplace, but the sleek profile of the desk doesn't block that focal point in the room at all. It has turned out to be the perfect usage of space, and I love that I have a new place from which to work when I'm feeling uninspired in my home office. Can't you just imagine me writing from my laptop by the fire come winter?! I'm looking forward to that.
Big thanks to Teknion for trusting me to give my honest review of their amazing office furniture, and please do leave any questions you might have in the comments of today's post. As always, I'm an open book and happy to spill my genuine reactions to anything at all.