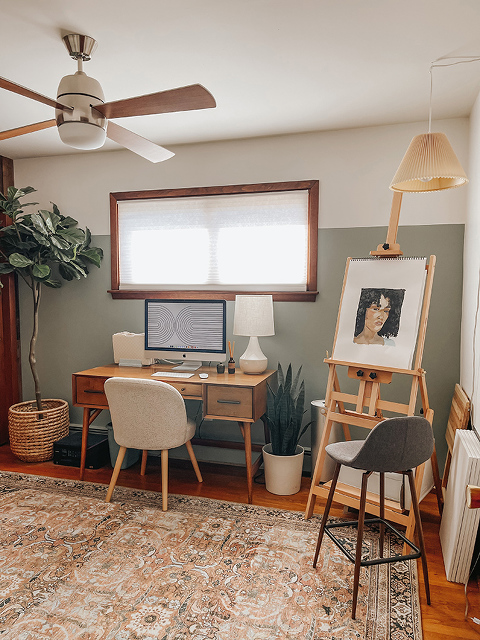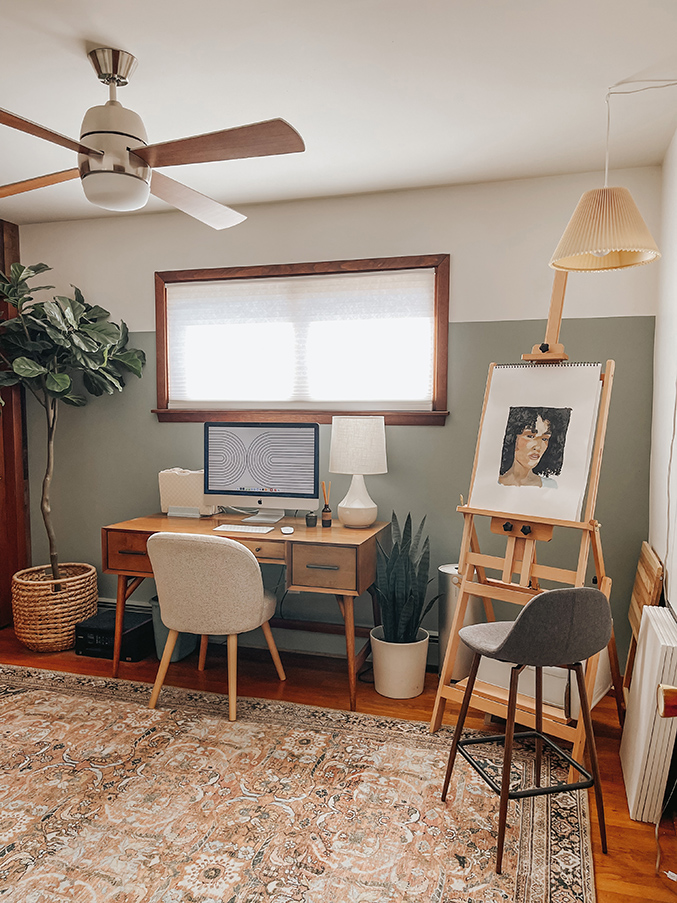 Welcome to my updated home-office-turned-art-studio! You might recall how I was planning to focus more on art this new year (see my NYE resolution post here if you missed it at the start of 2022). Well, I'm doing my very best to make good on that promise to myself by setting up a space that fosters lots and lots of creativity. Keep scrolling for photos of the updated room, plus tips for creating a multi-functional space and all of the linked resources I could find so you can achieve the look in your house.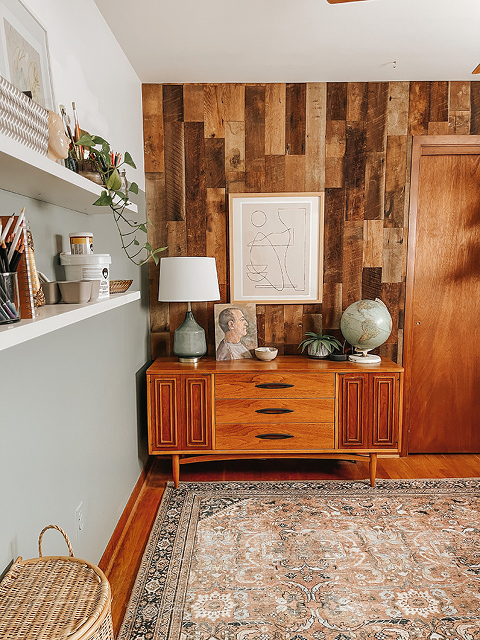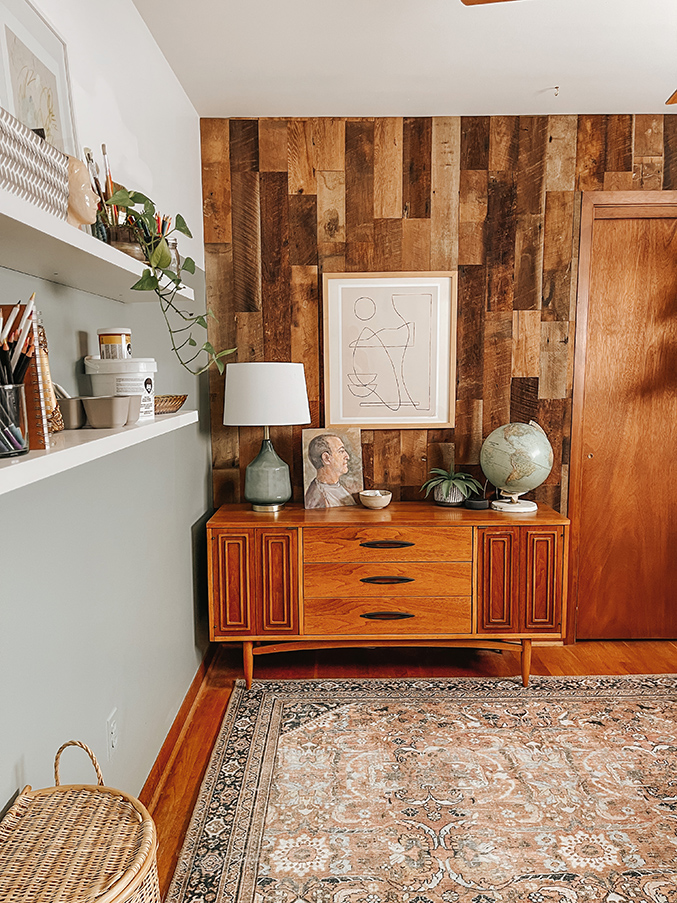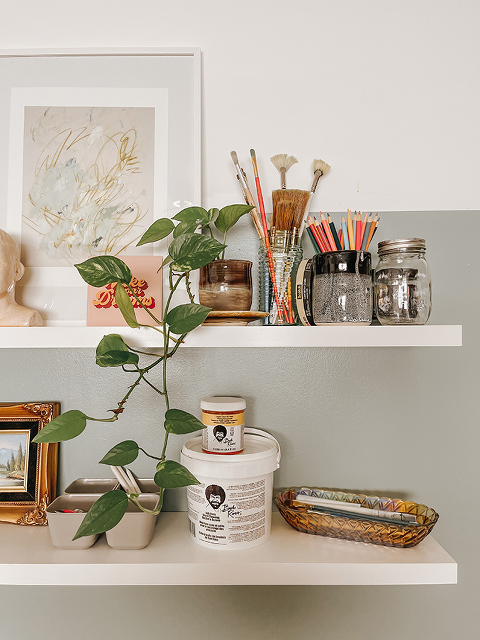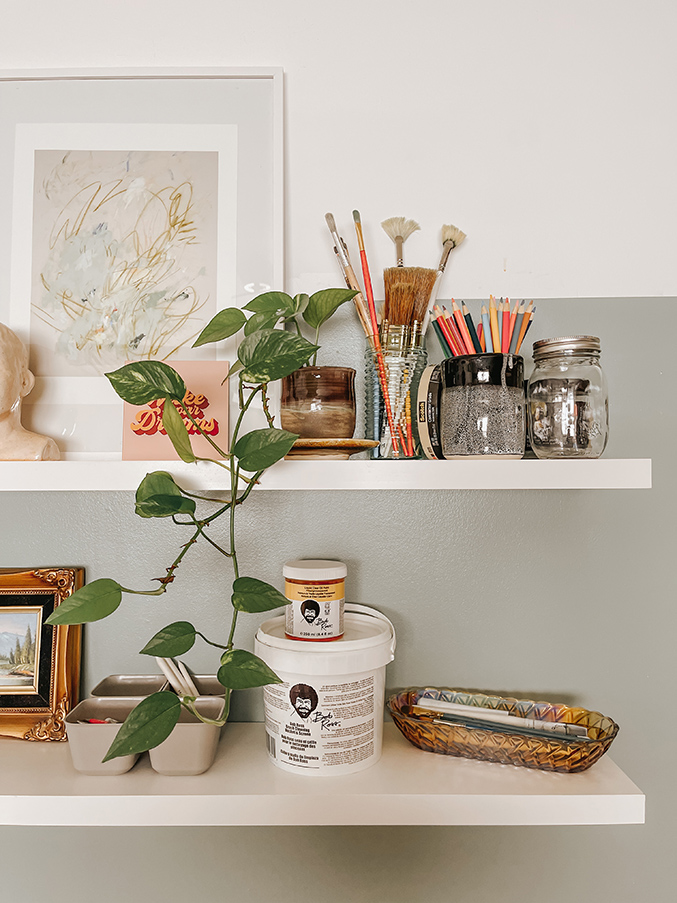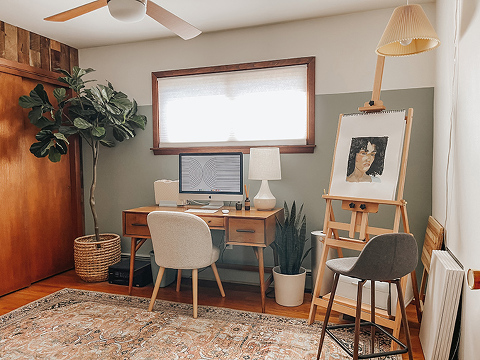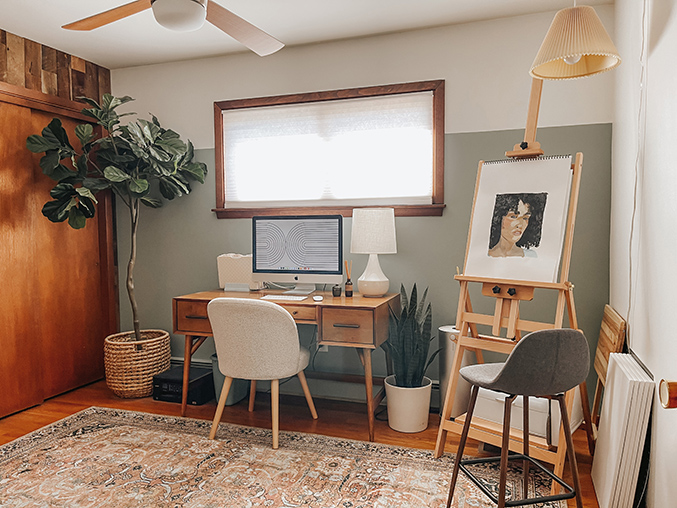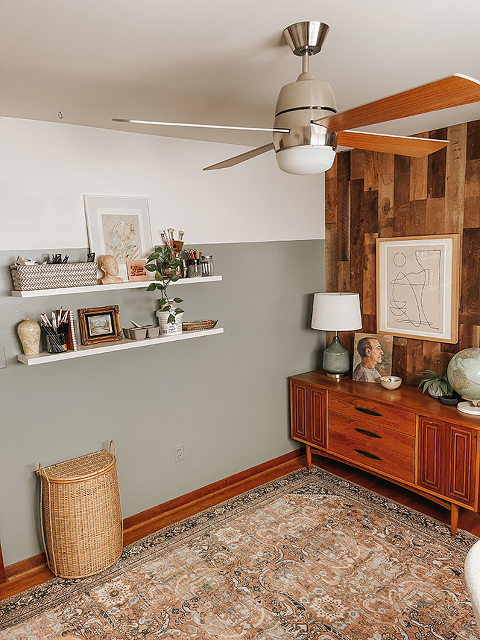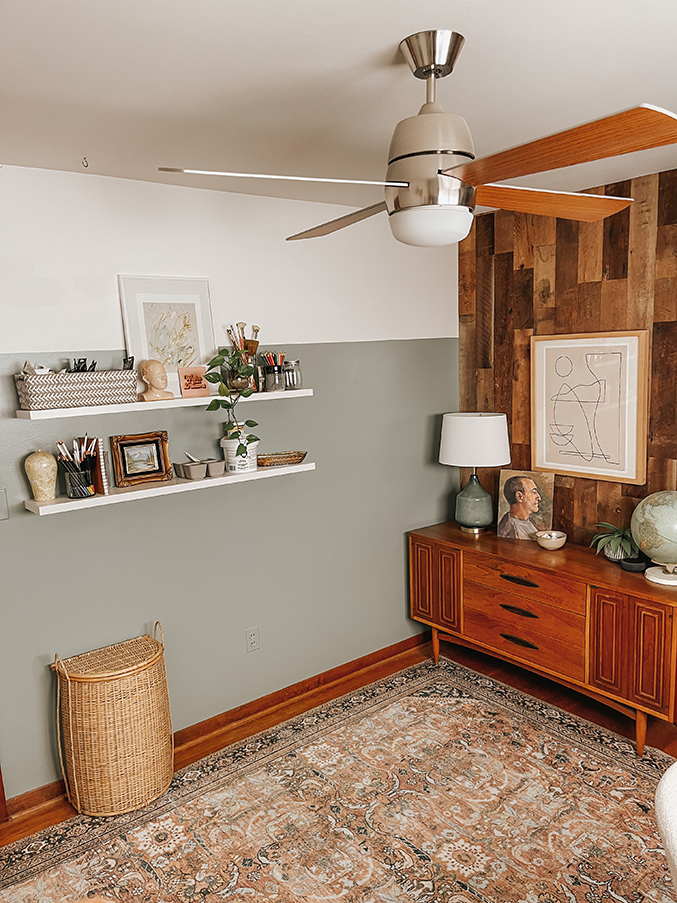 Resources: Area rug, DIY wood wall, Desk, Desk chair, Easel, Stool, Floating shelves, Abstract art print over console, Abstract art print on shelves, My handmade pottery
There were really only two main things that I needed to add/change about the room to turn it into a functioning art studio. First, I swapped out the upholstered side chair that I used to have in the far corner for an easel, and I also hung two new floating shelves so I had easy access to my art supplies on a daily basis.
The upholstered chair I mentioned was pretty much just for looks. John would occasionally take a seat there when he'd visit me during my work day, but otherwise, it was there to be pretty. That's just plain silly, so swapping it out for an easel that I'll actually use made a whole lot more sense. It's not quite as photogenic as the chair was, but it feels far more authentic now with the art easel in place.
The shelves are the same floating shelves that we hung in our living room a year ago. I think they're currently sold out, but keep an eye on the Target website for a restock. They're so awesome and only cost about $25 a pop when on sale. These shelves hold a ton (I have them loaded up with even heavier stuff in the living room), and are very easy to install. I really hope they come back in stock for you.
As for what I actually put on the shelves, it's a mix of things that inspire me or make me smile, like cool vintage art, ceramics, and glassware, and also lots of practical art supplies, too. I bought some inexpensive cups and bins to hold my paints and drawing supplies, and also used some of my own handmade pottery to keep pencils and paint brushes organized. My favorite thing on the shelf might be the abstract painting you see pictured below. It's by artist Anna Núñez via Inglenook Studio.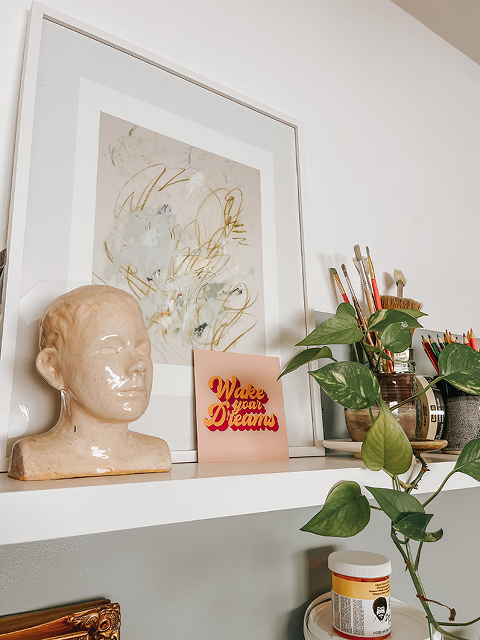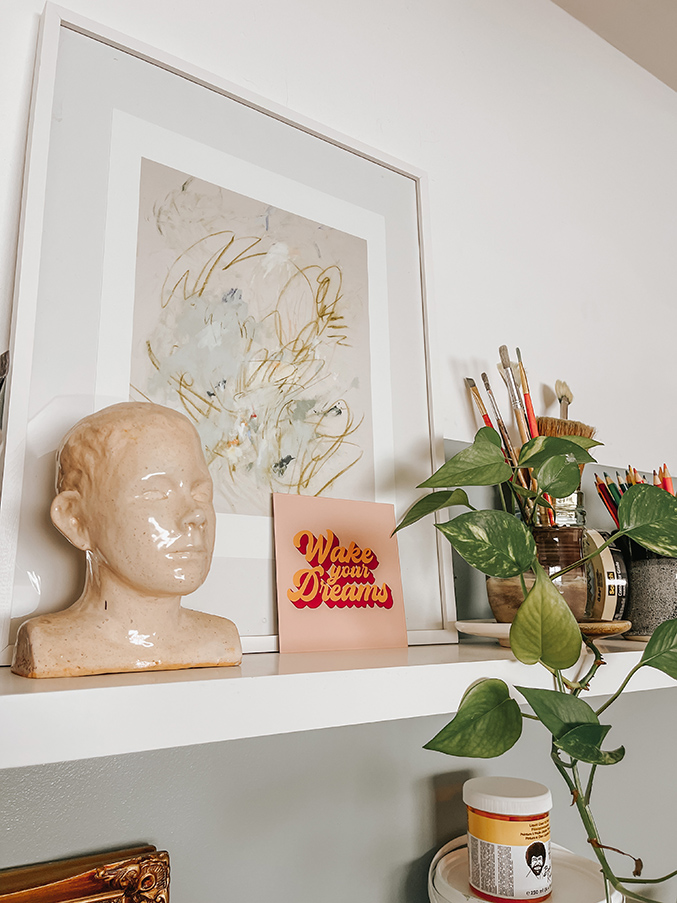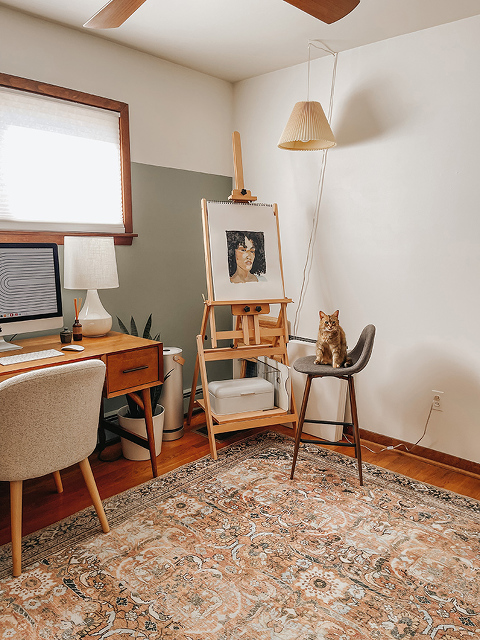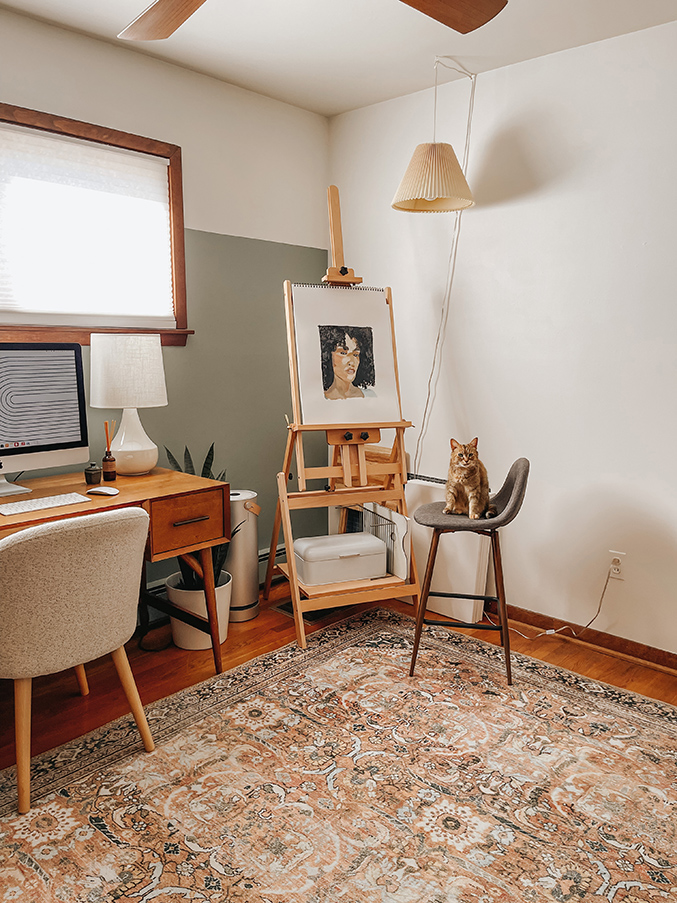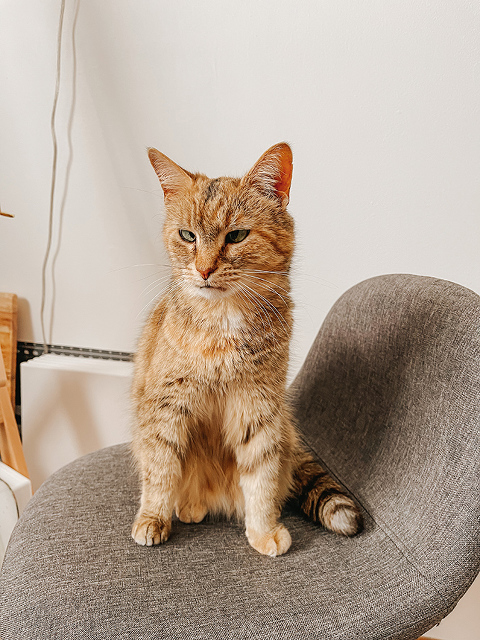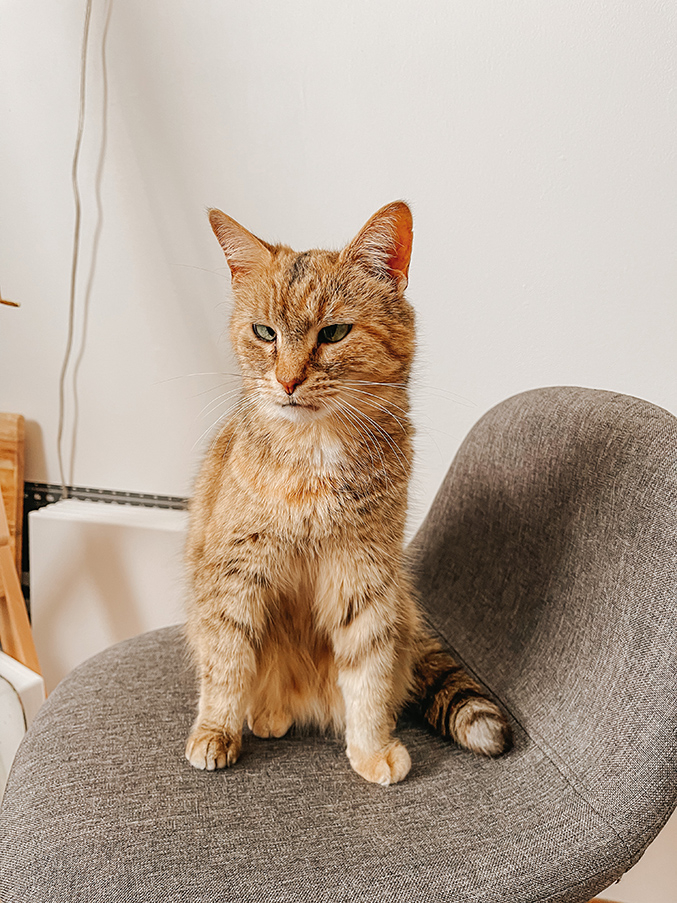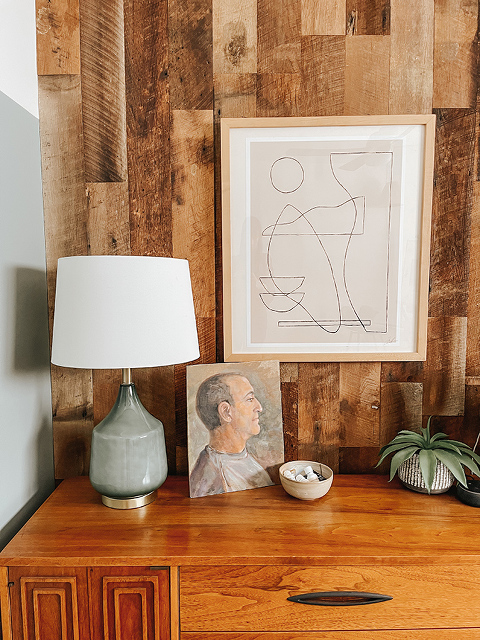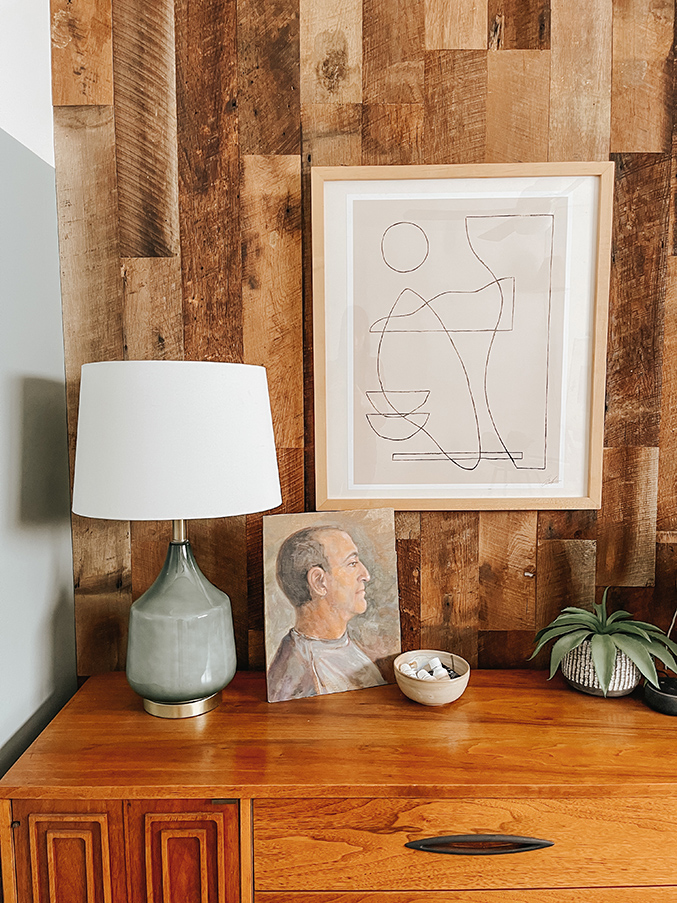 Resources: Desk table lamp, Reed diffuser, Faux fiddle leaf fig tree, Console table lamp, Faux snake plant, Cellular shades, Air purifier
I really needed this room to be organized and clean, and the vintage console cabinet I situated in front of my DIY reclaimed wood wall has been the best solution I could come up with to hide all of my office junk. It's filled with all sorts of random things, like packing supplies for DGD Pottery Etsy shop orders, printer ink cartridges, extra printer paper, more art supplies, and also cat food since this room is where I feed the cats. Fun fact: their litter boxes are actually hidden away in that closet! We usually keep one door cracked open for them to walk through as needed.
So, yes, you're reading that right. This is an office, an art studio, and also a high traffic pet room, too. I'm proud to say that I've made the most of absolutely every square inch, but I don't think it really looks like I did. It's not packed to the gills with furniture, and there's still plenty of room to move around. I think the key to having an uncluttered organized work space is good hidden storage, and also making the most of vertical space by hanging storage shelves up high.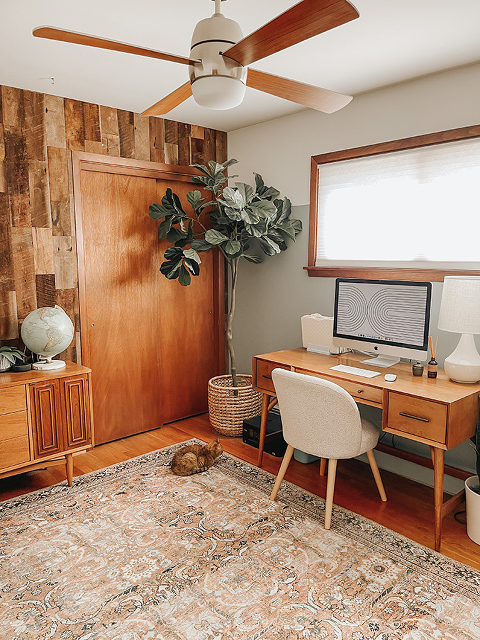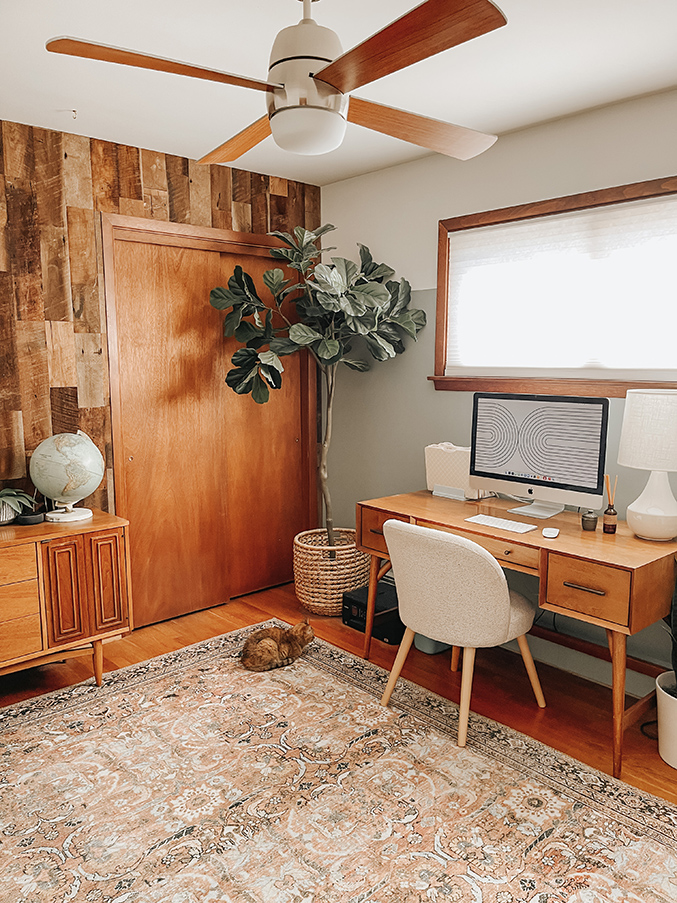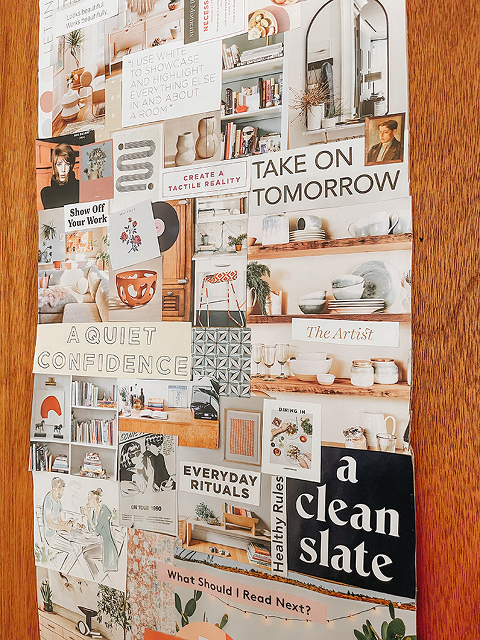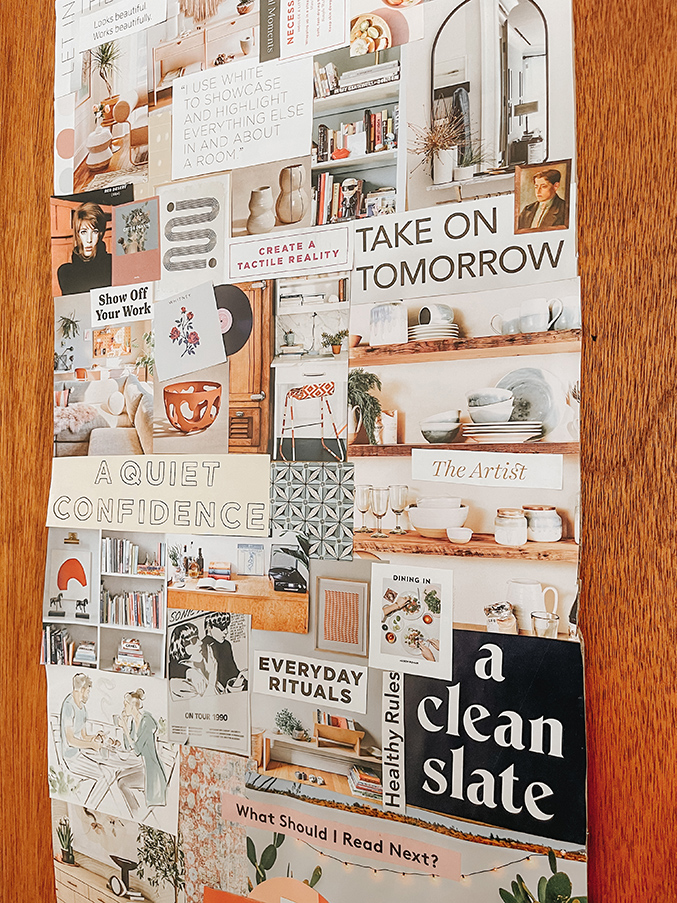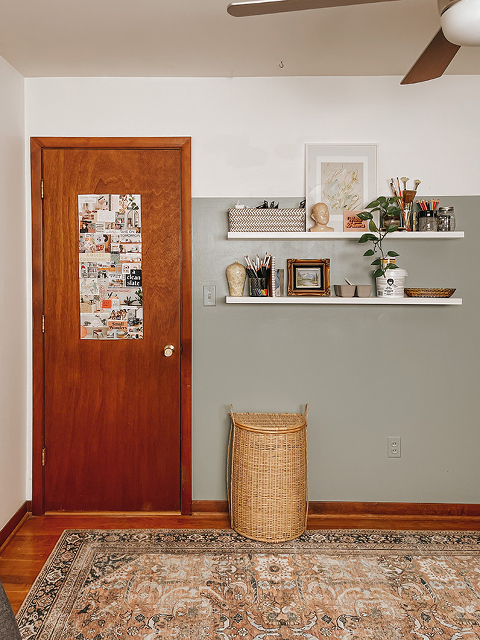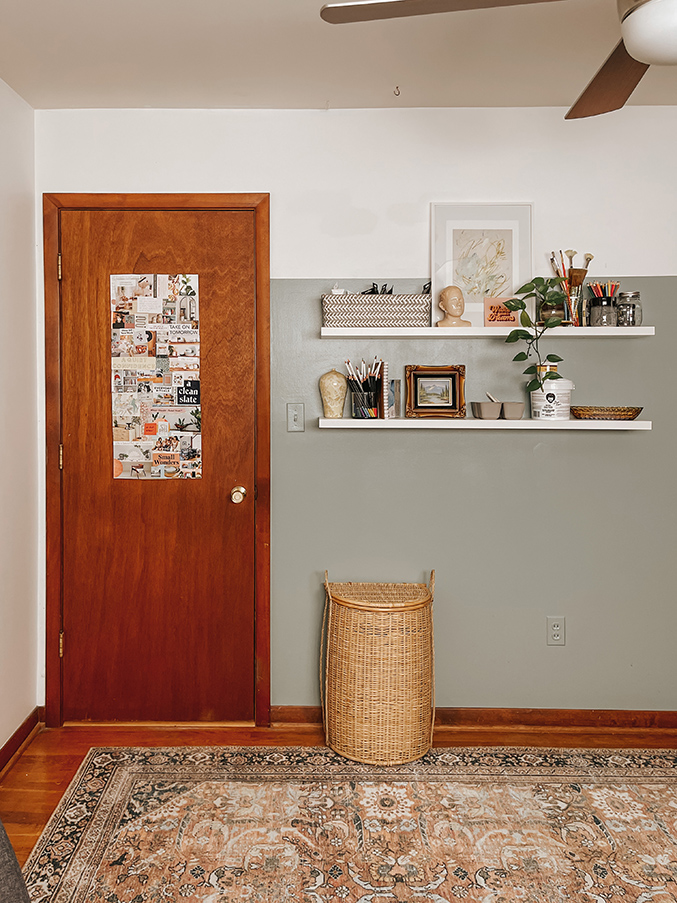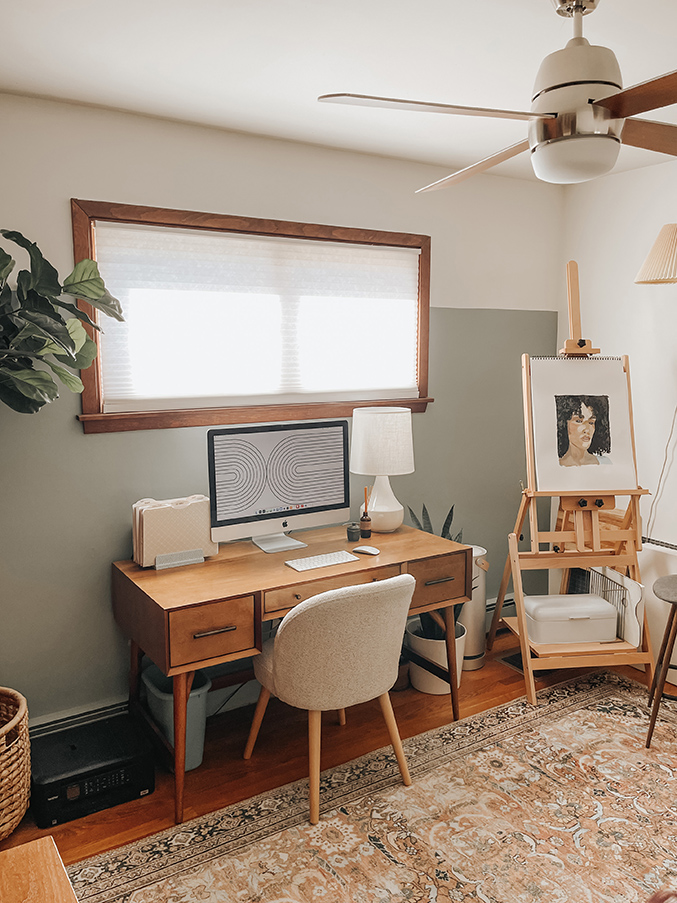 Resources: White paint color, Blue/green paint color, Small storage cups, Paint tube organizer, Computer desktop art, Ceiling fan (similar), My DIY vision board, Vintage items: console cabinet, hanging lamp, globe, portrait art, floor basket, landscape painting, ceramics
Oh, I meant to ask you not to judge my half-finished painting too harshly. It has been many, many years since I painted art, and this is my first portrait since, I think, high school. So, we're talking 17+ years! Portraiture is what I studied and focused on in college, but I did it all in graphite pencil—not paint. This is something I've wanted to try my hand at for a long time, so I'm excited to start cultivating those skills. That said, this first attempt has been really humbling. It's not nearly as easy as it looks, even if you do have years of experience drawing faces. I've got a long way to go.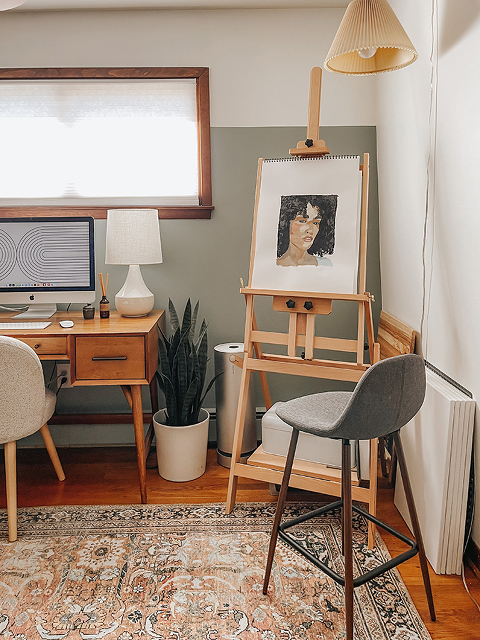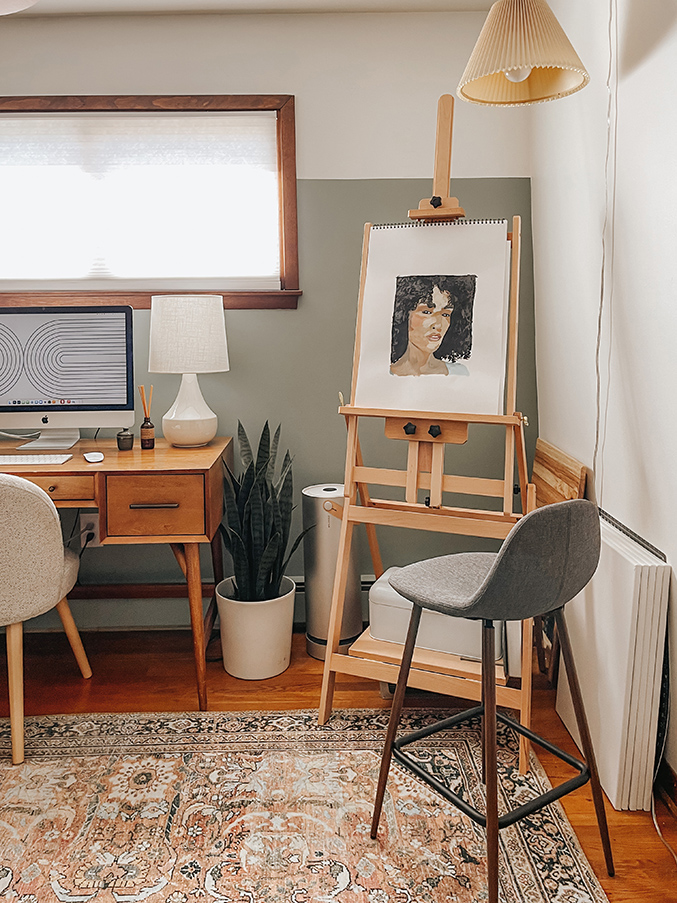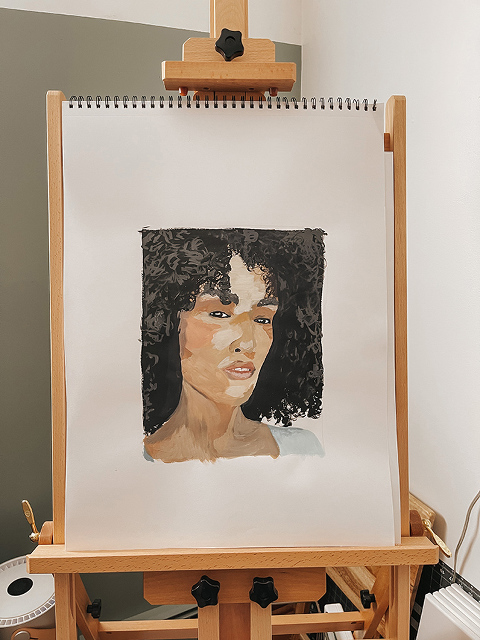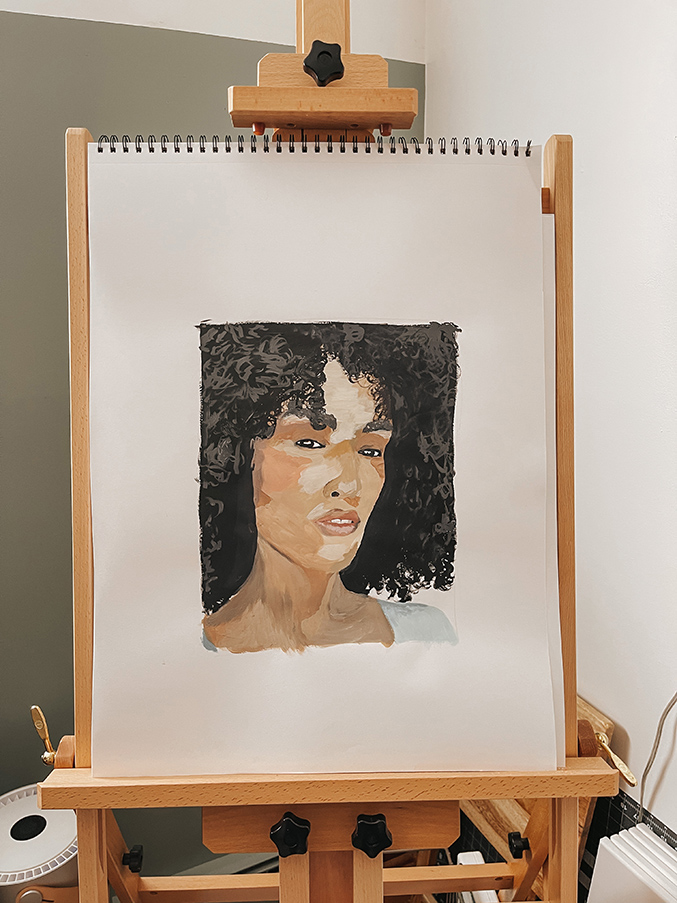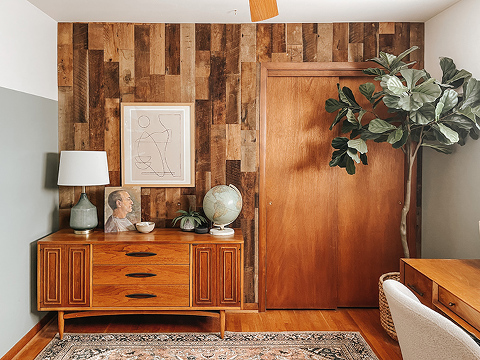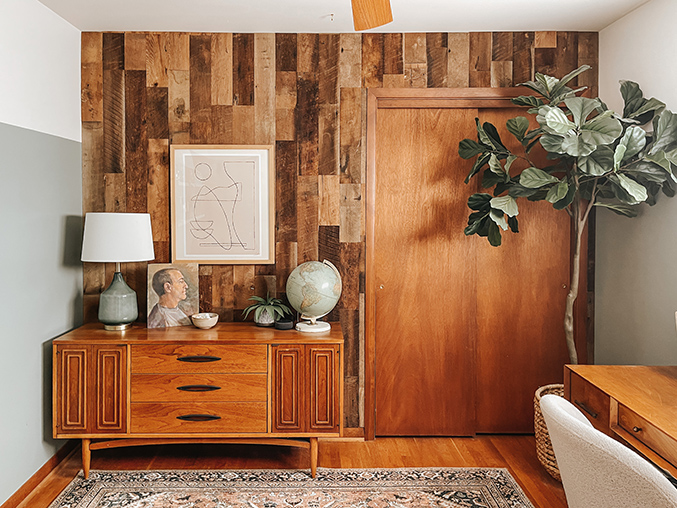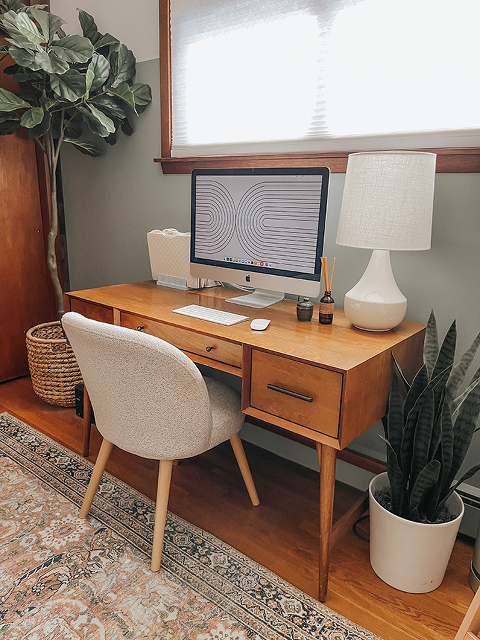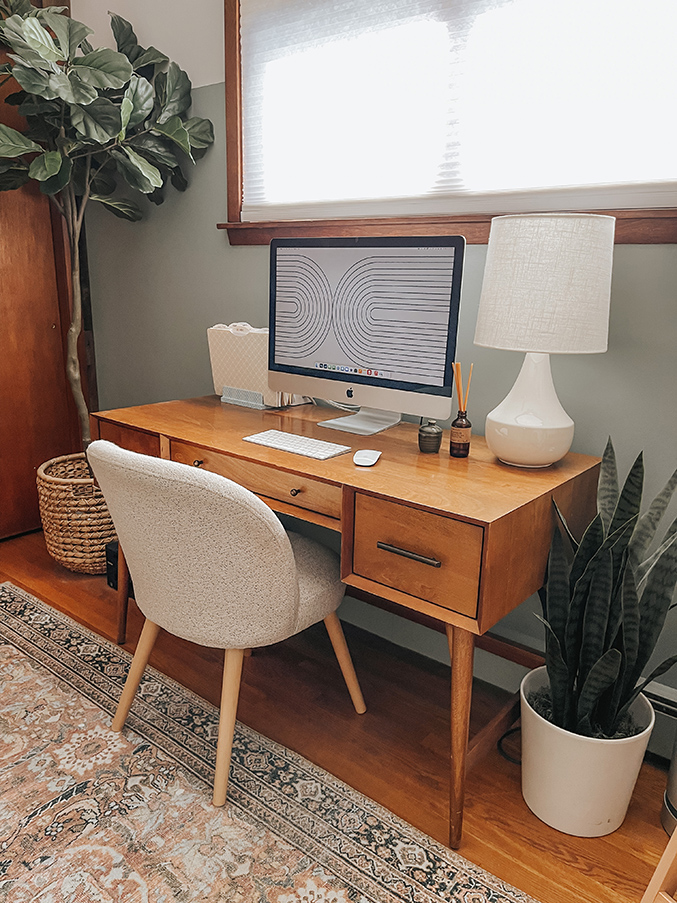 If you want to take an "in motion" tour of my combination home office art studio, just click "Play" on that video above, or hop over to YouTube here. I put together a new video that literally walks you through the entire space, and allows you to see lots more detail than you might be able to pick up on here in this post full of static photos. I think the video also gives you a much better sense of just how small the room is, too. It's not much, but it's very hard-working, and that's all I care about. Comment below and tell me what you love (or maybe what you don't love!) about the room. I'm all ears.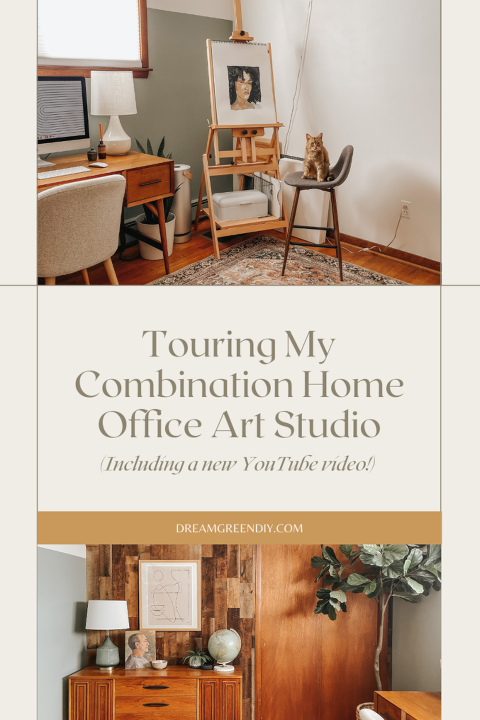 *I earn a small percentage from purchases made using the affiliate links above. Affiliate links are not sponsored. Rest assured that I never recommend products we wouldn't use or don't already love ourselves.