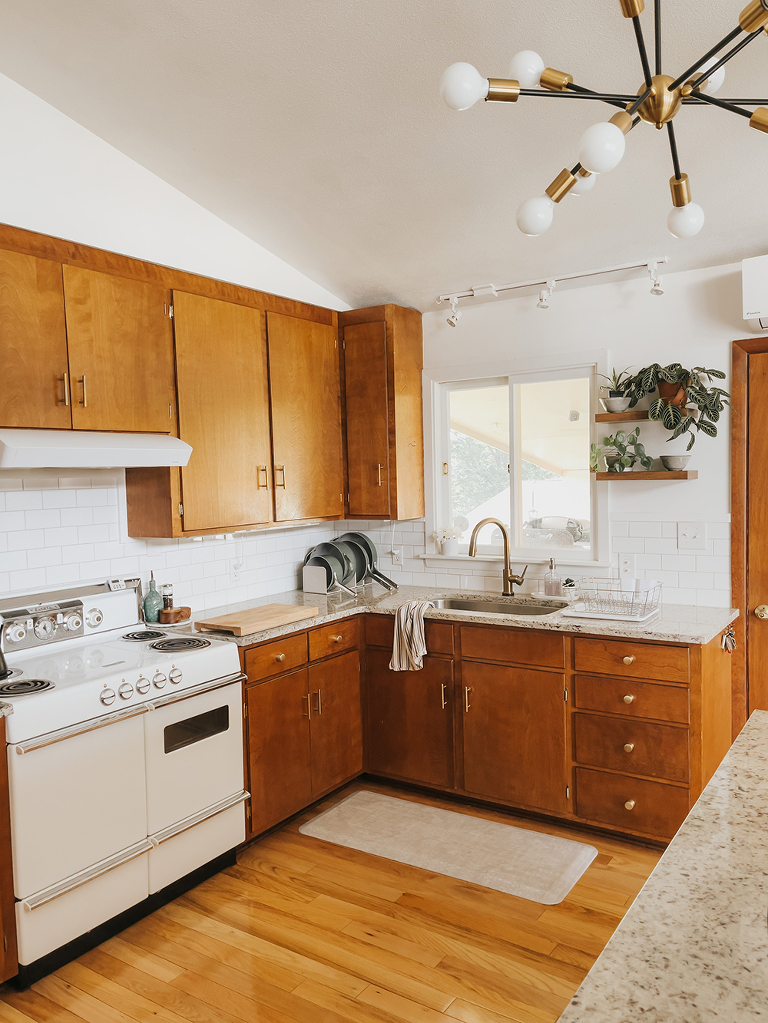 *This post was made possible by the generous support of House of Noa, and features gifted product for testing purposes. All opinions are my own.
I've been getting lots of questions on social media lately about the standing mat we use in our kitchen, and I thought it would be a good idea to consolidate my review into one blog post. We were actually gifted this particular mat last fall by the brand House of Noa, and have absolutely loved it since its arrival. Keep scrolling for my full uncensored review, and if you like what you see and/or read, you can still use my code "DGD10" to get 10% off your own standing mat!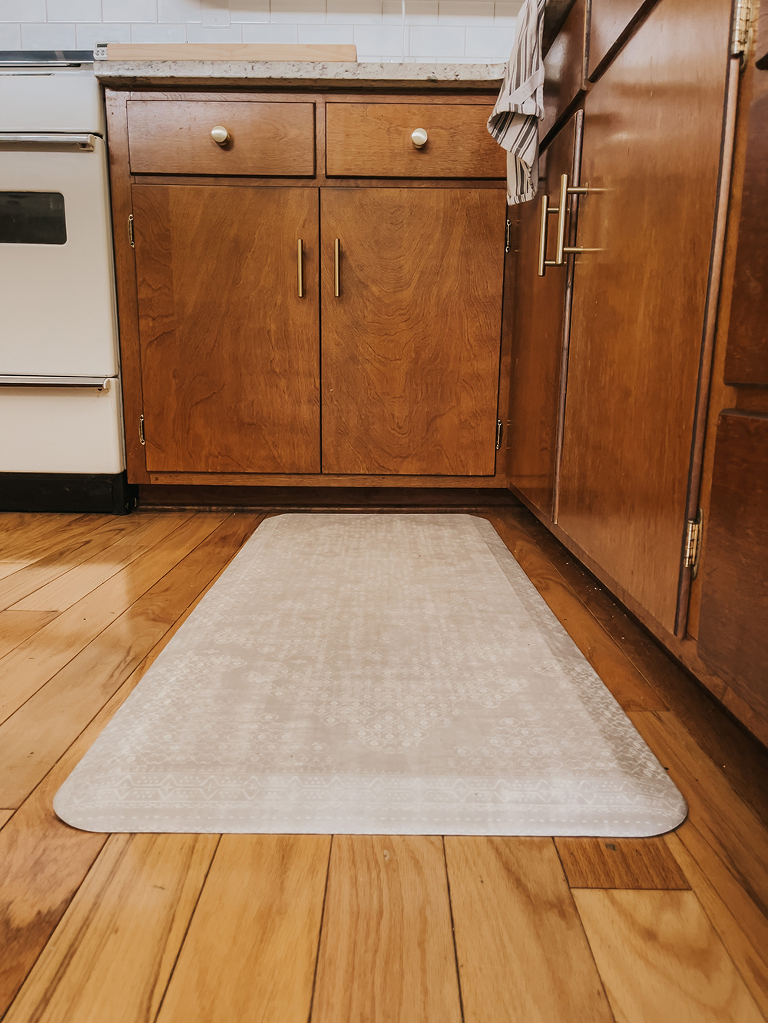 The mat design that we opted for looks like it's no longer available on the website, but the pattern is very similar to this one. That said, just in case you want the original info, ours is called the Heritage and we got it in the color "Dove." Our standing mat measures 20 inches by 48 inches, and is the perfect size to situate in front of our kitchen sink.
The coolest thing about this mat is that it blends form with function so beautifully. It looks like a vintage pattered area rug, but is so much easier to clean and is incredibly comfortable to stand on for long periods of time while cleaning in the kitchen. Before, I really struggled with my dueling needs for comfort and style in this corner of our space. I wanted to have something cozy underfoot, but I also really craved a punch of color and design. I remember at one point putting an ugly cushy standing mat underneath a pretty vintage rug to try to get the best of both worlds, but the vintage rug never really stayed in place over the standing mat, so I gave up.
This standing mat is kind of my dream come true in the sense that it combines both style and comfort. It's 3/4 of an inch thick, and you really do sink right down into it. Every single square inch is a cushiony cloud-like texture, which makes my time at the kitchen sink much more pleasant than it used to be. I don't think about it anymore, and my hips and back are much happier since making this shift last October.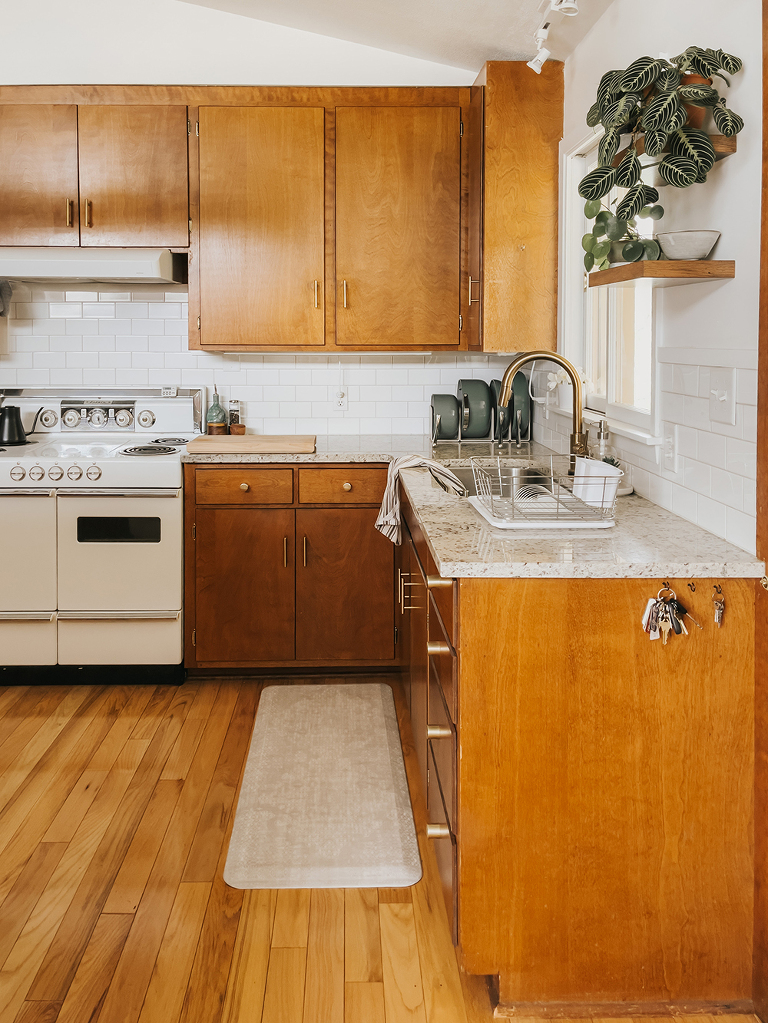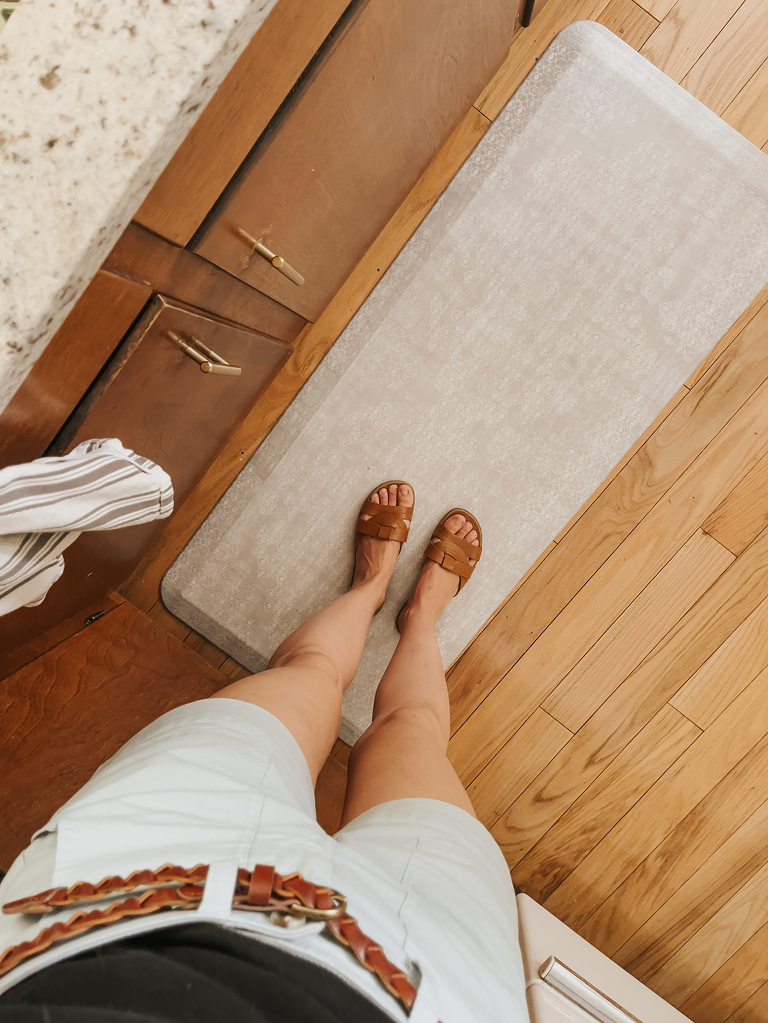 I appreciate that the brand doesn't use toxic dyes and inks in their manufacturing process, and that they're free from PVC, formaldehyde, and latex, too. The mat is super easy to wipe down and clean when spills happen, and it has held up well to all sorts of sticky, wet, and even hot things in our kitchen.
Are there any drawbacks? Just one thing maybe, but it's nothing that would stop me from purchasing a second mat. The website mentions that it has a non-slip bottom surface, and while it did definitely feel stuck when we first laid the mat down, it started sliding just a little bit within a week. Now, who knows…This could have been something to do with our floors, but we ultimately decided to tape it down using my favorite double-sided rug tape. It hasn't budged since I made that addition, so I'm very pleased.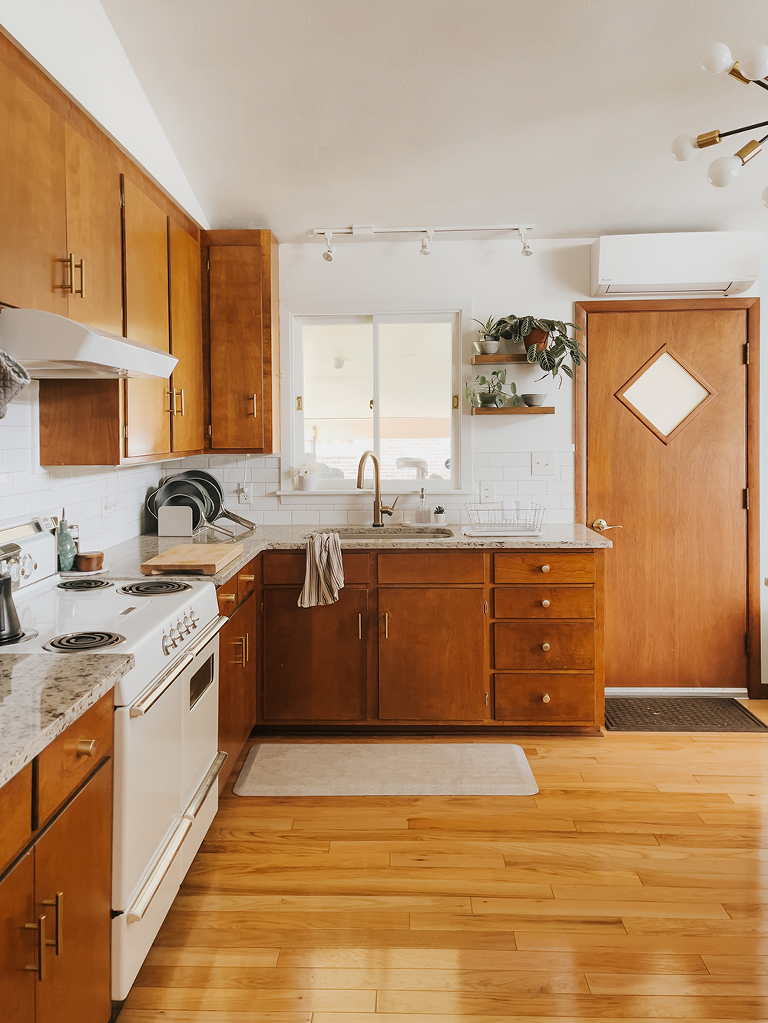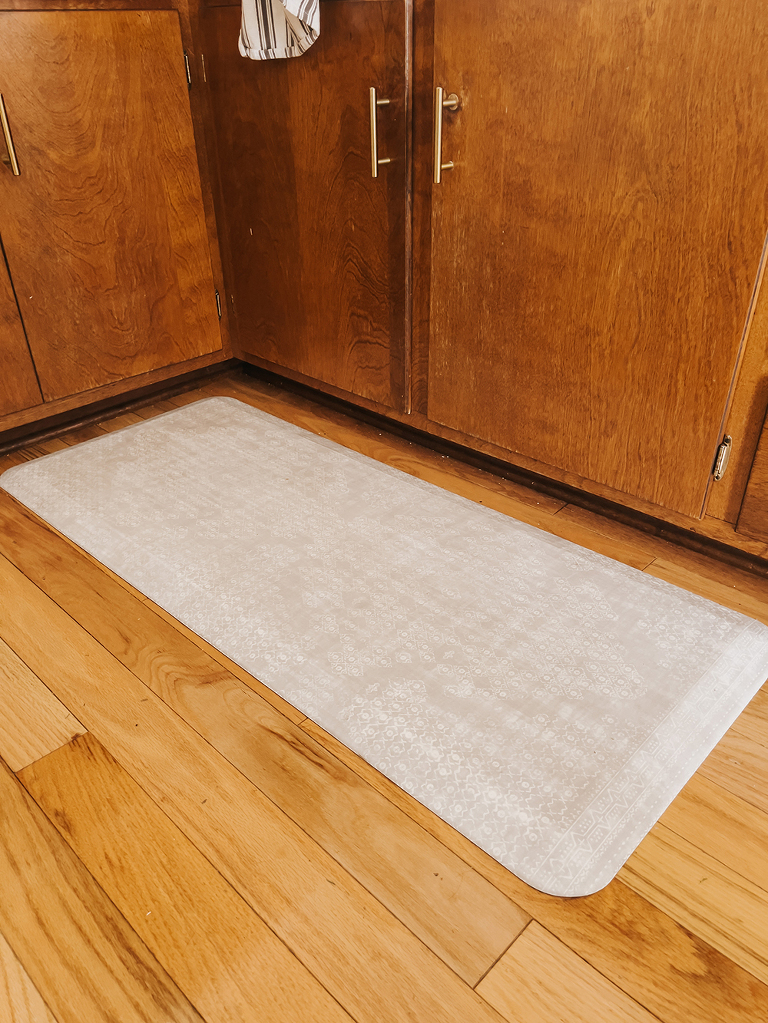 Ultimately, we're absolutely in love with this standing mat, and think it's worth every single penny. Truly! I'm seriously thinking of ordering a second one for our bathroom because we could stand to add a little comfort to that sink area, too. I've got my eye on this pattern or this pattern. Which one do you like better? Let me know if you have any questions, and don't forget to use my code "DGD10" to get 10% off at House of Noa.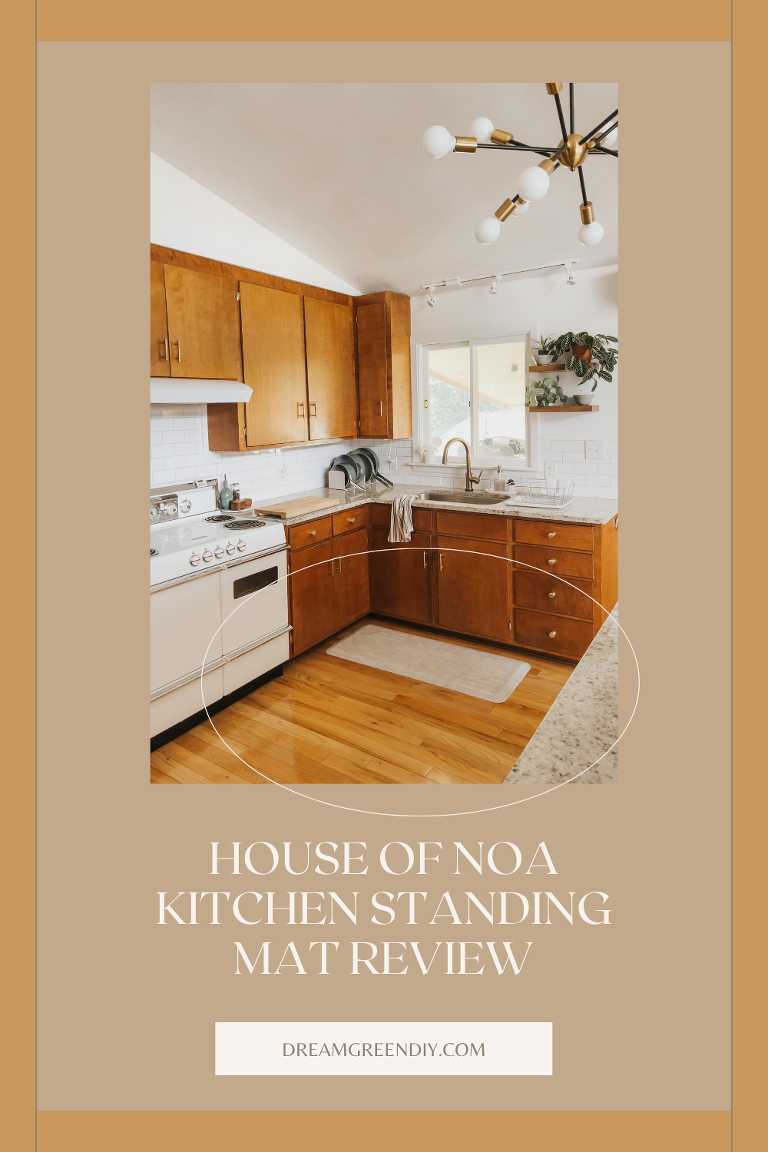 *I earn a small percentage from purchases made using the affiliate links above. Affiliate links are not sponsored. Rest assured that I never recommend products we wouldn't use or don't already love ourselves.