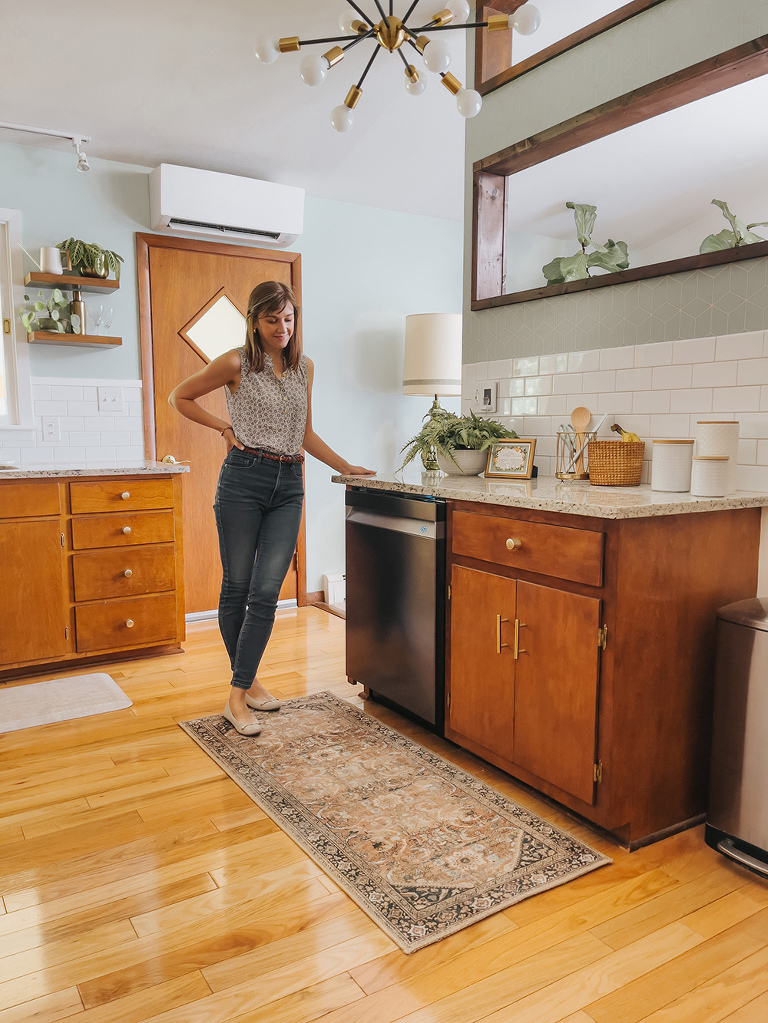 *This post was made possible by the generous support of Samsung, and features gifted product for testing purposes. All opinions are my own.
I can't remember if I mentioned it here on the blog yet, but I've been working behind the scenes with Samsung again! This time the focus has been on their new Bespoke smart dishwasher, and I partnered with the brand on a number of sponsored Pinterest pins that, I hope, offer tons of value to anyone looking to upgrade this specific type of appliance.
It recently occurred to me that it might be even more helpful and inspiring if I started sharing all of the original imagery and stories that I created for those Pinterest pins here on the blog. I know a bunch of you also follow me over on Pinterest and may have seen the pins go live over the course of the past month, but I have so much more to say than could fit in those quick social media posts, so I'm shifting my energies to longer form blog posts now.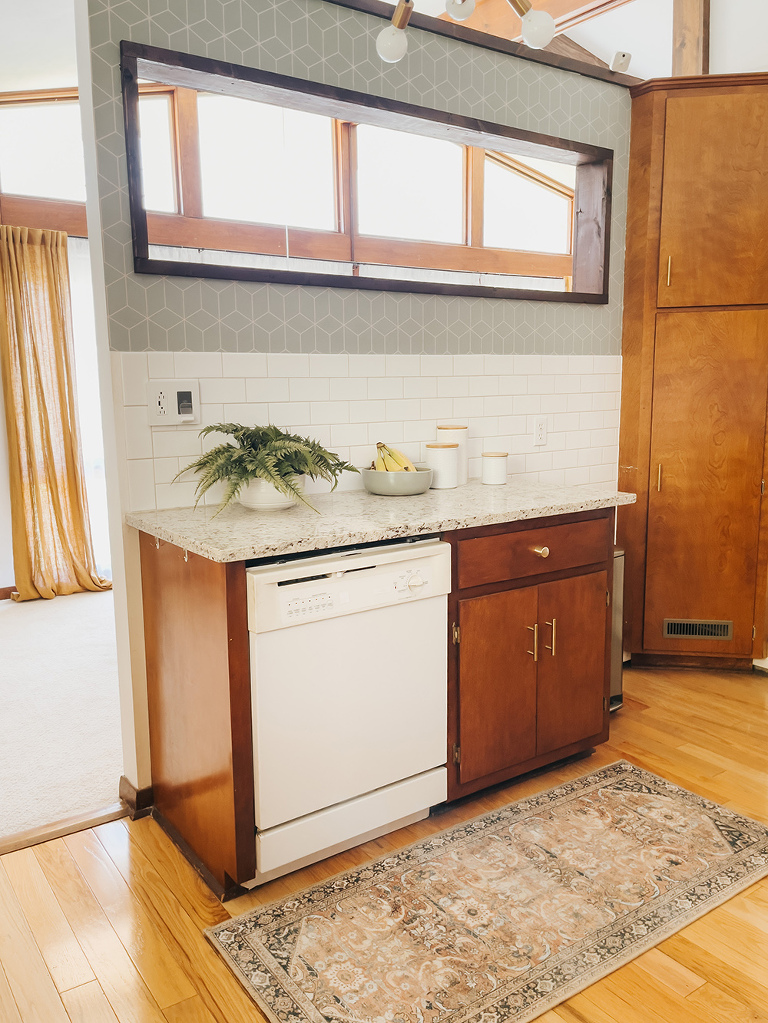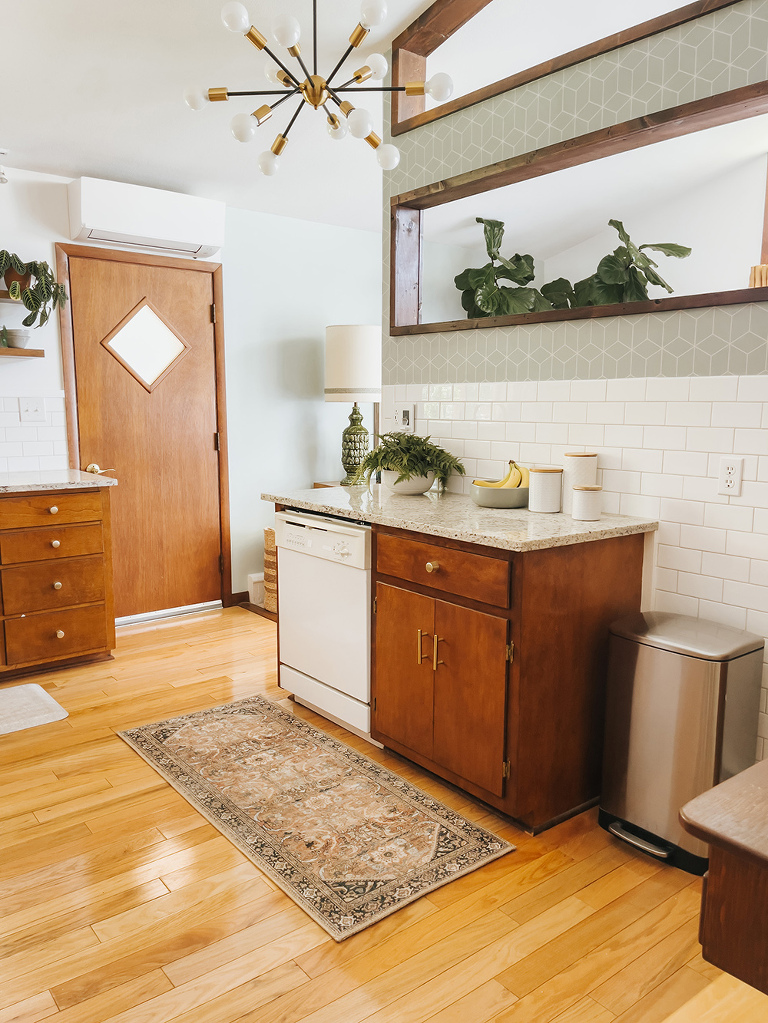 In full disclosure, Samsung isn't paying me for these extra posts. I've always had such a pleasant experience with both their team and the products we've had the opportunity to test, so I'm happy to give them a freebie—and to give you guys some bonus info, too. First up? A review, of course!
Above, you'll see our ancient white dishwasher. It's the one we inherited from the previous homeowners. Keep in mind that it actually looks a lot better in these photos than it did in person. Despite several deep cleans, we never could get it looking bright white or even just generally clean, for that matter. It worked okay, but definitely required more maintenance over the years, and I cannot even convey to you how loud it was. I couldn't watch TV in the room that was 15 feet away from it because the dishwasher was so loud while running. It was time for an upgrade.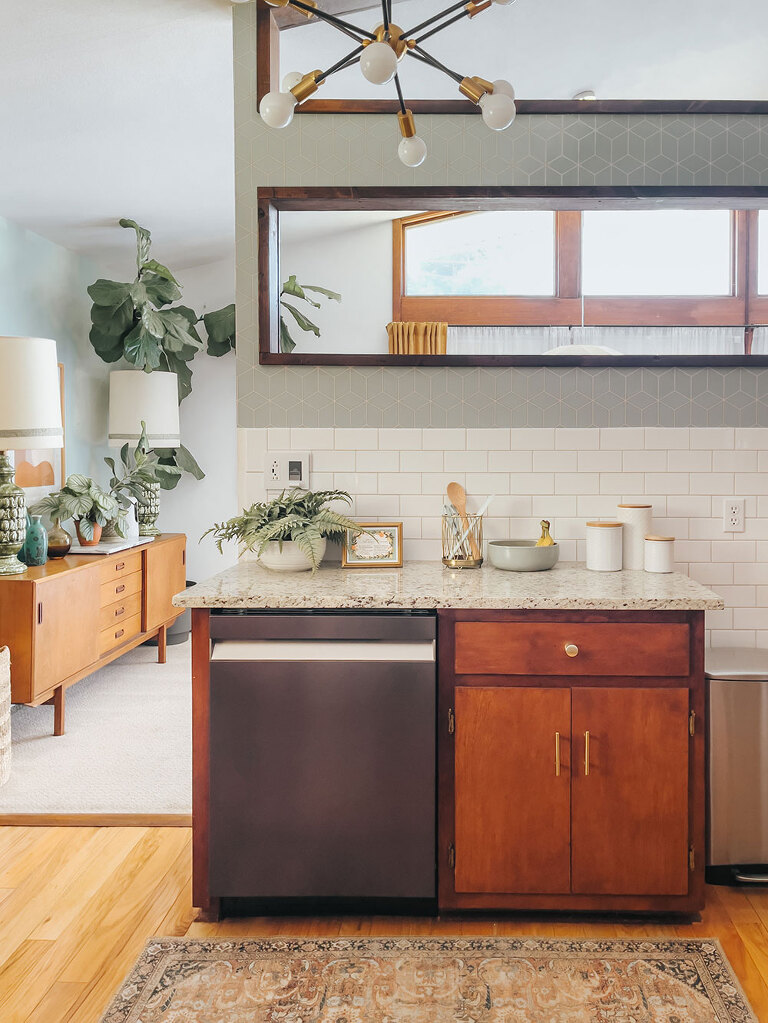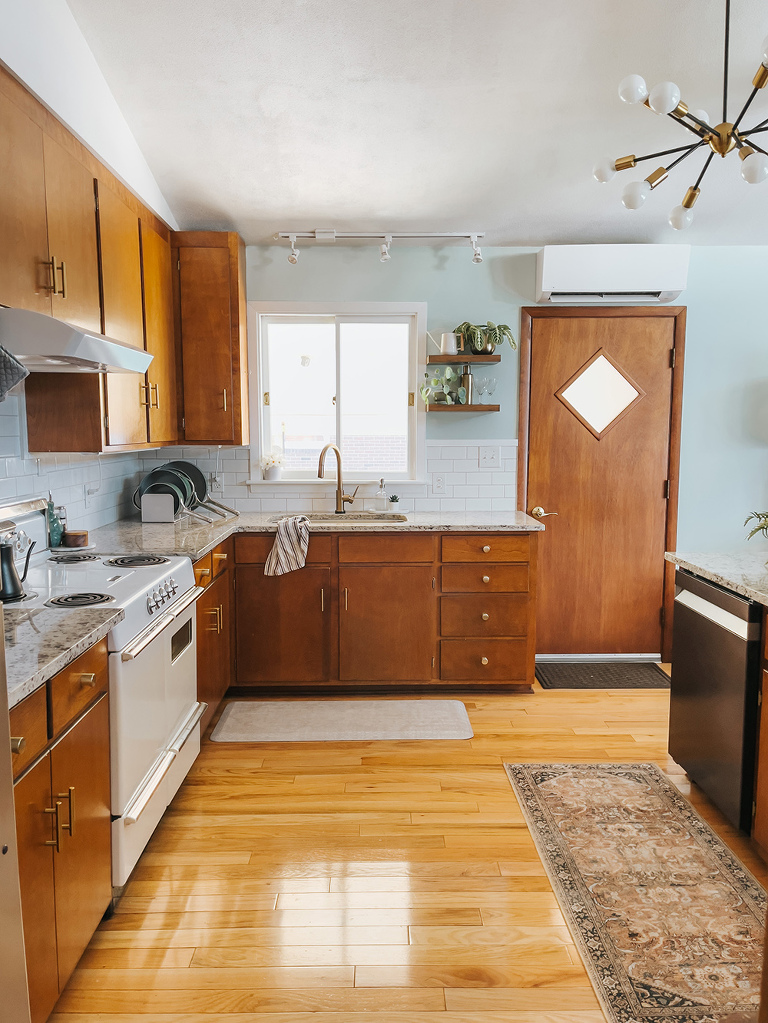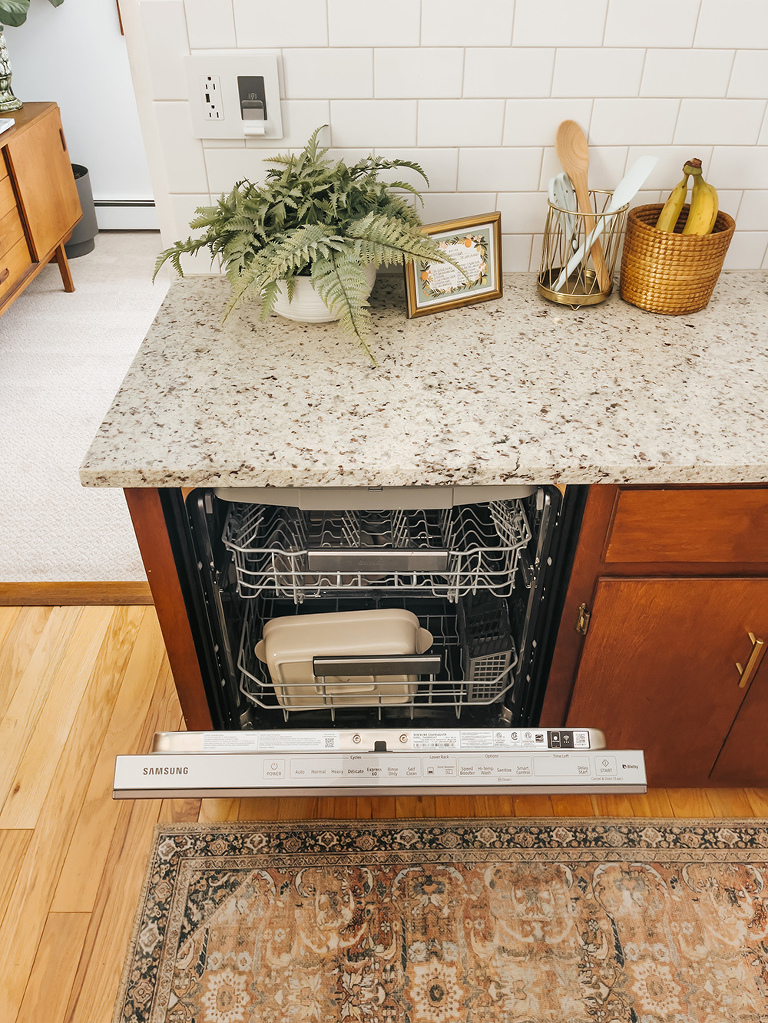 John and I had actually been talking about replacing the dishwasher for a few months when I happened to get the invitation to partner with Samsung. It was perfect timing, and felt meant to be (do you believe in fate?). As you can imagine, I couldn't say "Yes!" fast enough, and shortly afterward, our new Bespoke appliance was delivered.
Since our home was built in the 1960s and we weren't quite sure what we'd find with the plumbing and cabinet surround, we decided to hire out the installation of our new dishwasher. I'm so grateful that we did because it ended up being a very complicated process. Thankfully, we hired a great team to tackle it for us, and they had it done within a few hours in one day. I should mention that the delay was mostly to do with our cabinet, and not the new dishwasher. As I understand, it's a fairly simple appliance to install and comes with great instructions. If you're not experienced, though, I would suggest hiring your hook-up out to the pros.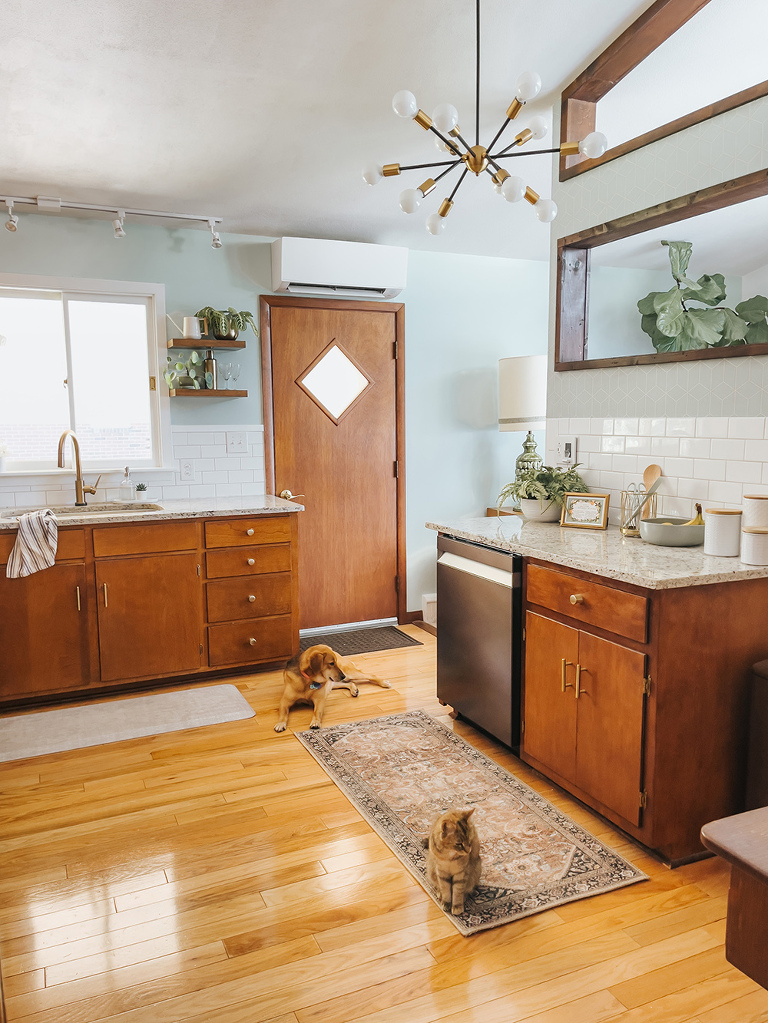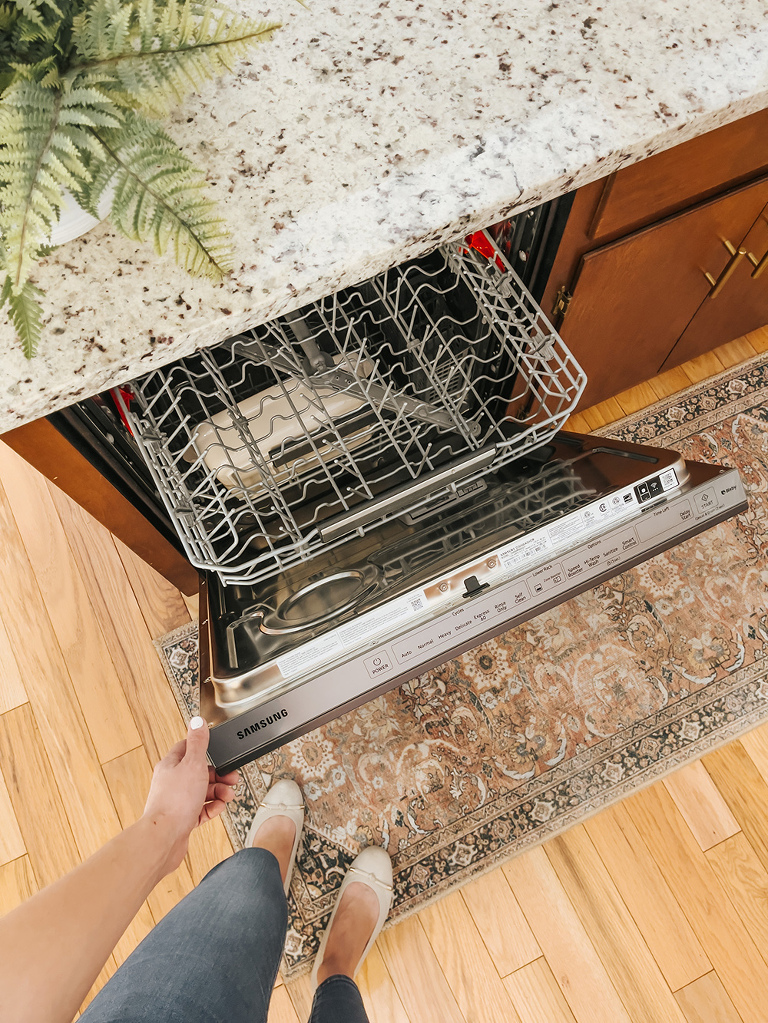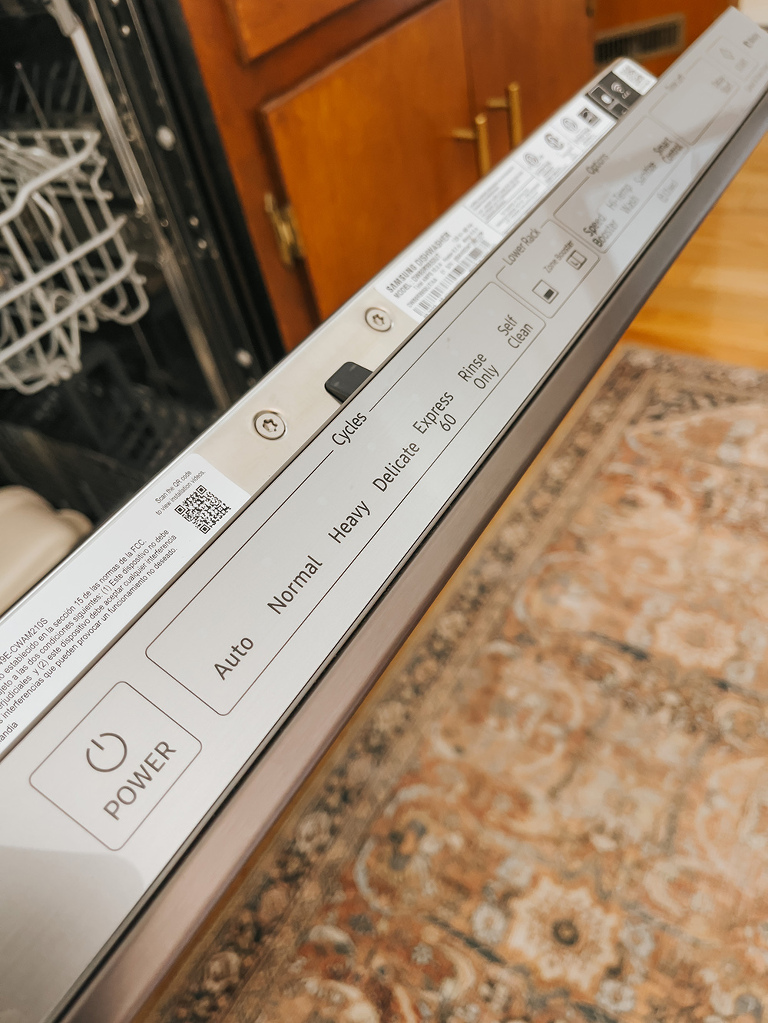 To be completely honest, we're smitten with this appliance. And I'm not just saying that! We have zero complaints. The machine is so whisper quiet that we often forget it's running. We chose the Tuscan Steel finish because we thought the warm-toned stainless steel might complement our original stained wood cabinets nicely, and, happily, it exceeded those expectations. It blends right in, especially in comparison to our old white dishwasher, which stuck out like a sore thumb. The warm color of this new Samsung Bespoke dishwasher helps our small kitchen feel a lot larger since it makes the bank of cabinets on that wall look more seamless. I highly recommend this color if you have stained wood cabinetry.
A couple of other favorite features? We've never had a smart dishwasher before, so it has been kind of thrilling to be able to keep track of the wash cycle using the app on our phones. We also love that all of the controls are hidden discreetly on top of the dishwasher, the bonus third rack within the dishwasher for extra bulky utensils and overflow cutlery, the special zone booster area for especially dirty items, and the pop-open AutoRelease™ Door feature at the end of the cycle to help items dry faster.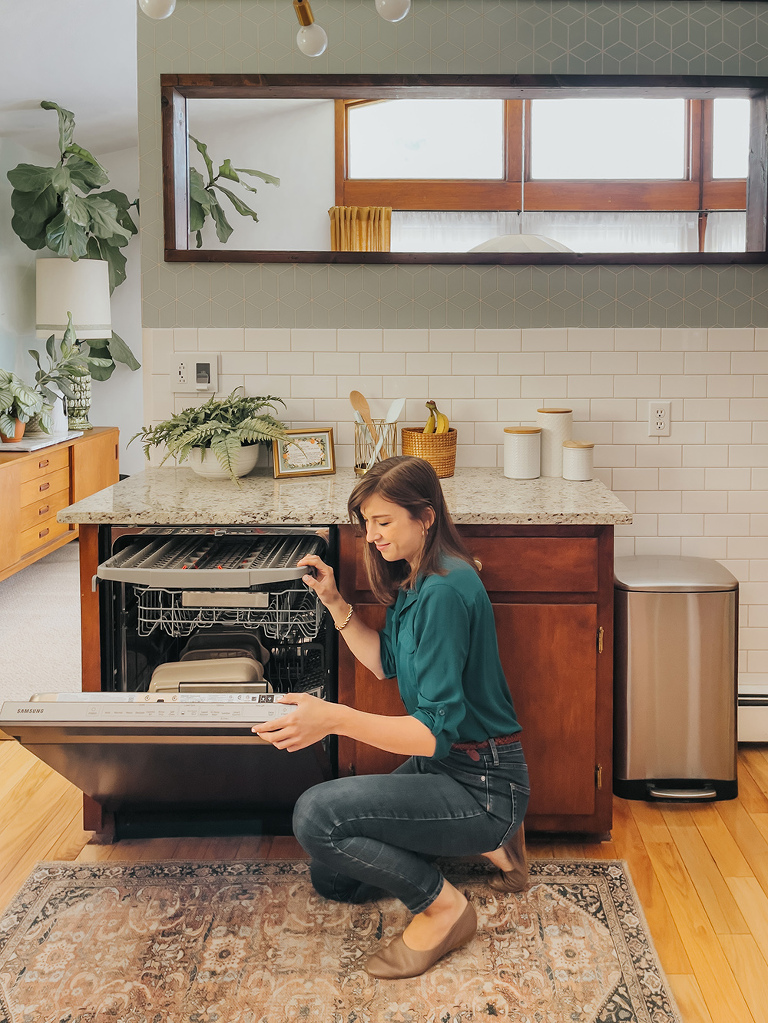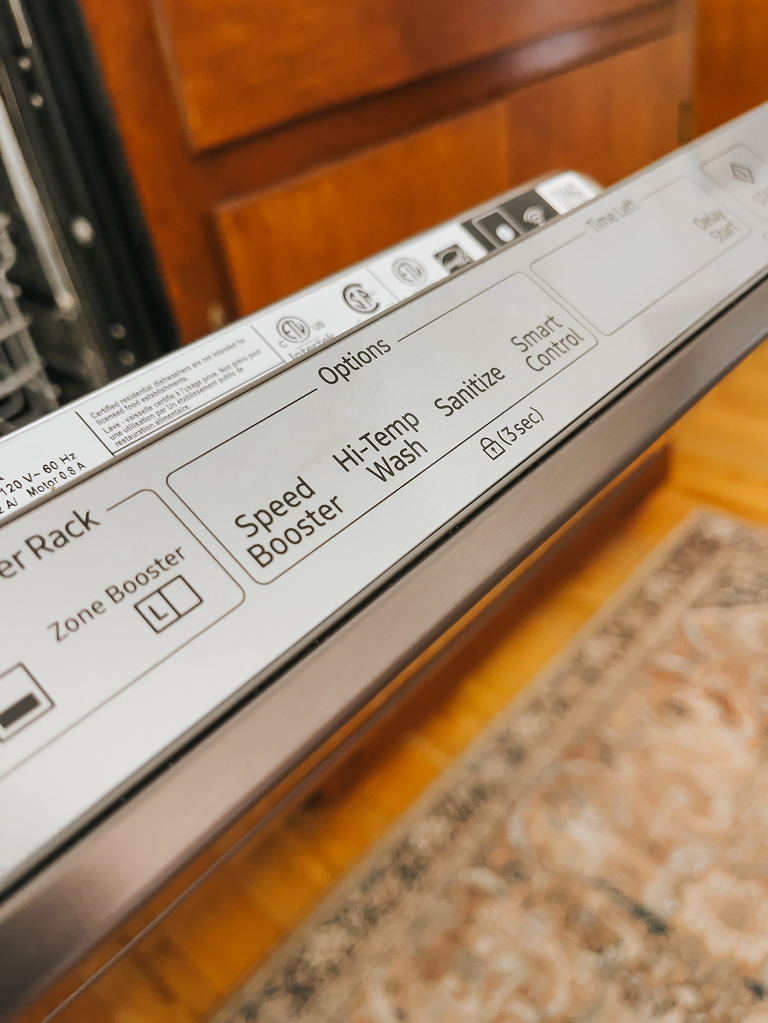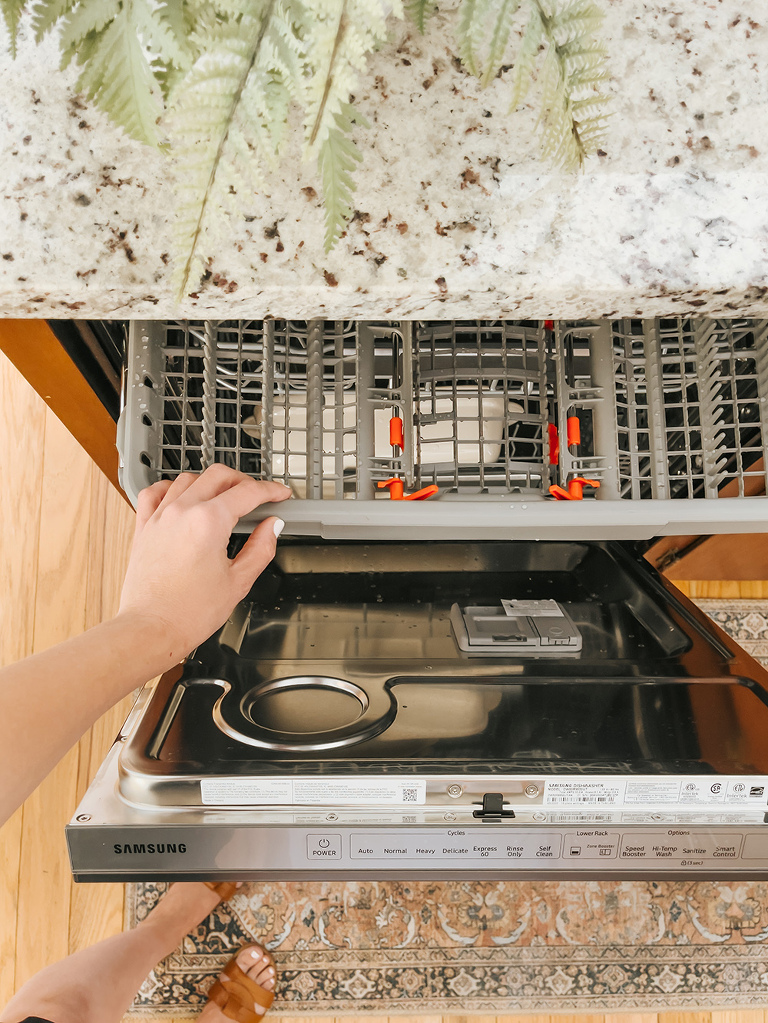 I've got so many more stories to share where this dishwasher in concerned, including a detailed guide on how to load your dishwasher properly, a dishwasher-friendly charcuterie cheese board idea, and tips for styling your counters around a new appliance. Stay tuned over the next few weeks for those stories and more, and please don't hesitate to comment and let me know if you have any questions. As with all of my reviews, I will be sure to update this post if any concerns come up, but if you don't see those added at the bottom of the post right now, then you'll know that we're still loving our new Samsung Bespoke smart dishwasher!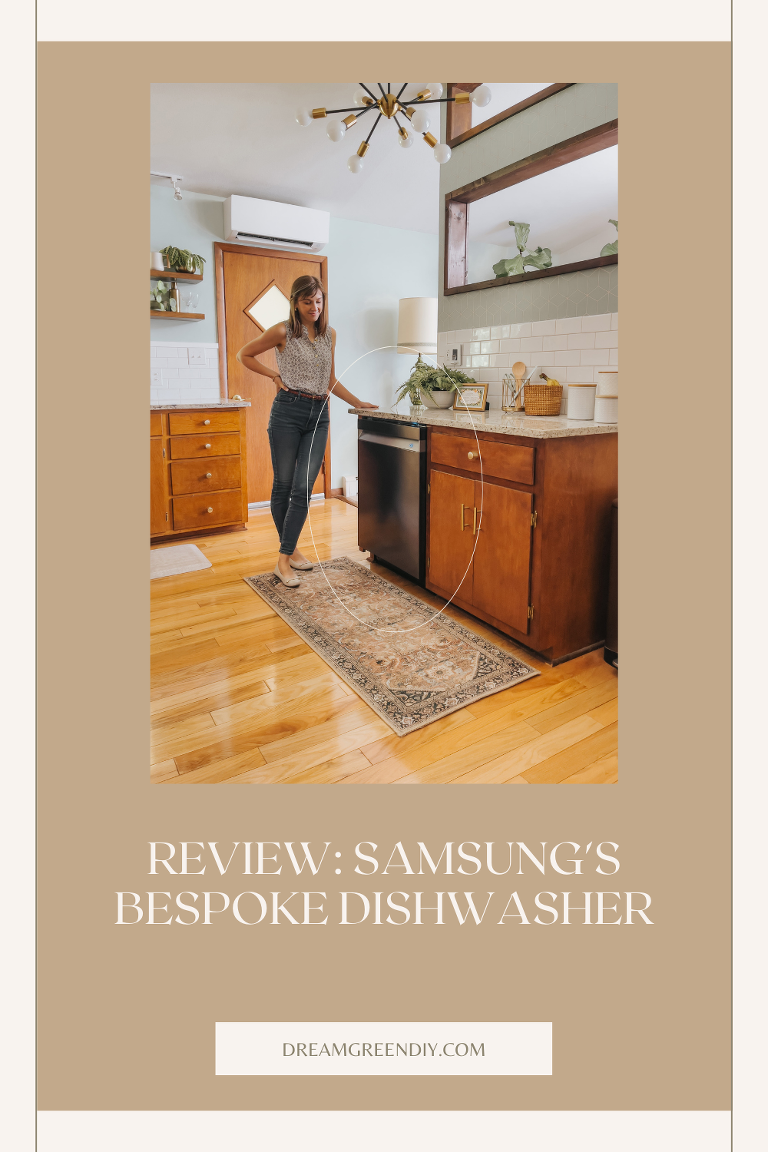 *I earn a small percentage from purchases made using the affiliate links above. Affiliate links are not sponsored. Rest assured that I never recommend products we wouldn't use or don't already love ourselves.