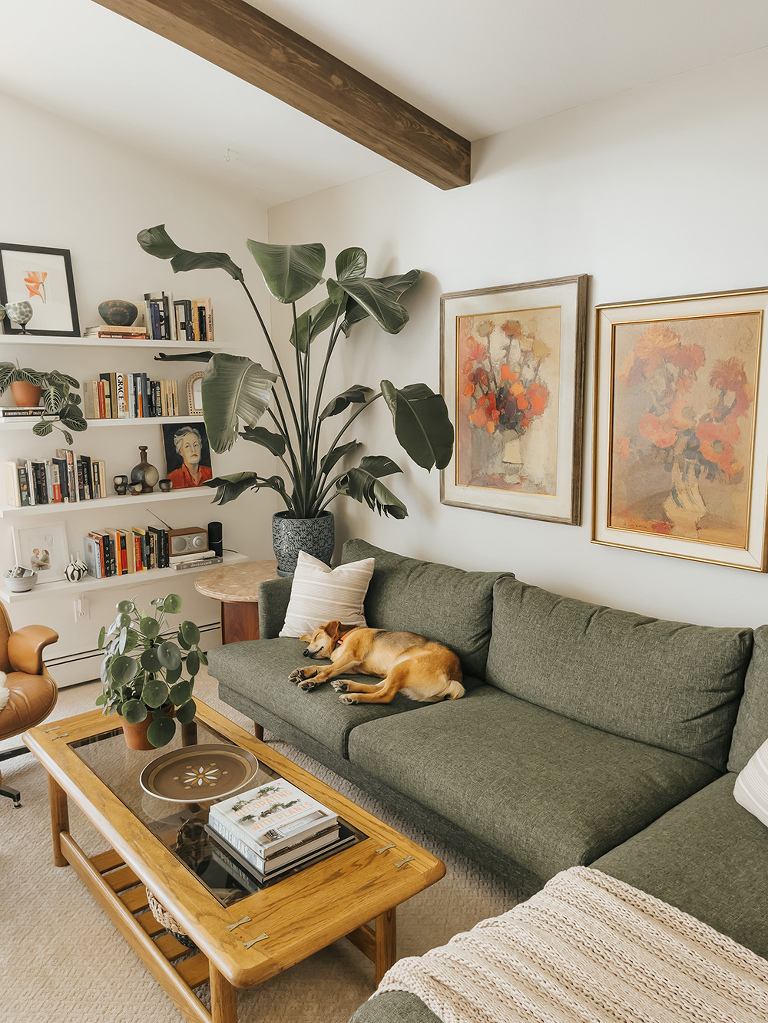 Did we need a new coffee table? No, we definitely didn't. But did I want a new coffee? Well, sure I did! Although we absolutely adored our vintage round coffee table (a Lane Furniture find from a local antique center), we had had it for two or three years, and I was just ready for something different.
It was actually one of the most-asked-about pieces of furniture on my Instagram feed, and I know exactly why. The cool two-tone wood finish was an instant eye-catcher, and the round shape was perfect with our Article sectional couch. Even still, I rarely hold onto furniture for longer than three years (with a few exceptions, of course). It was time for something new.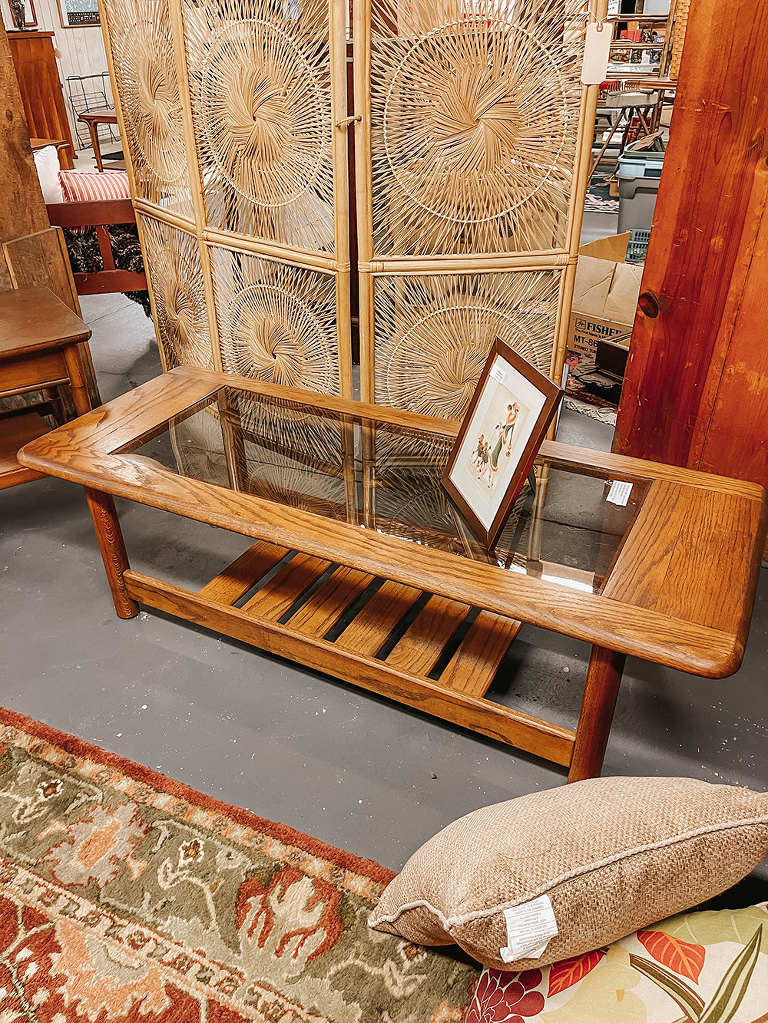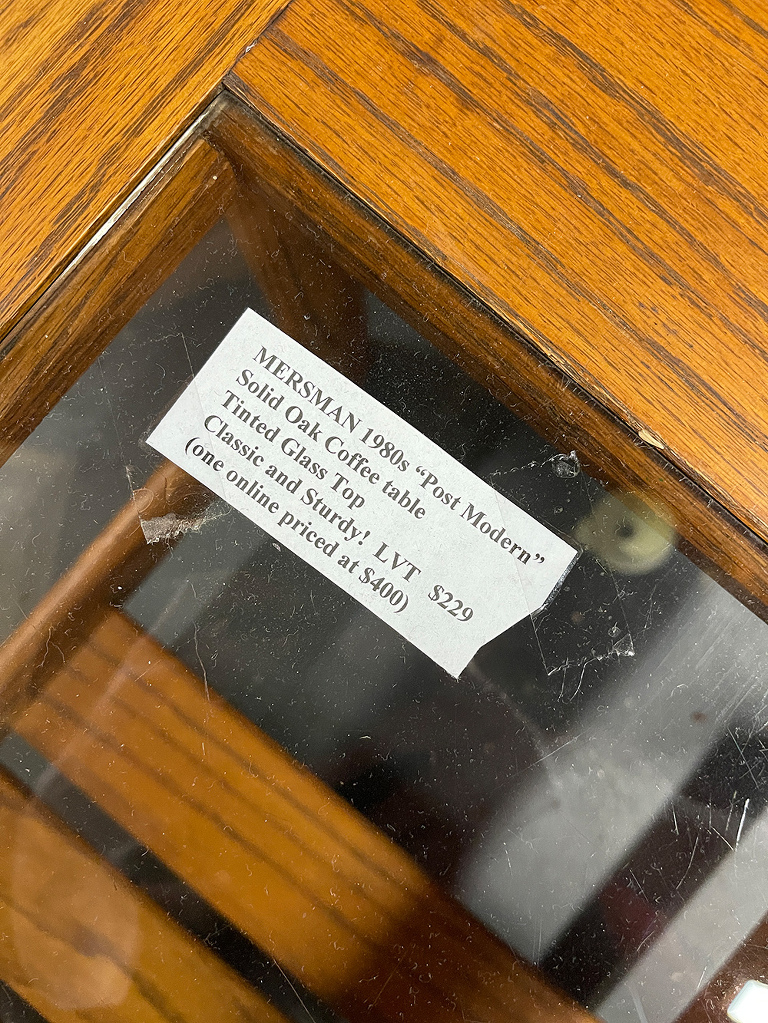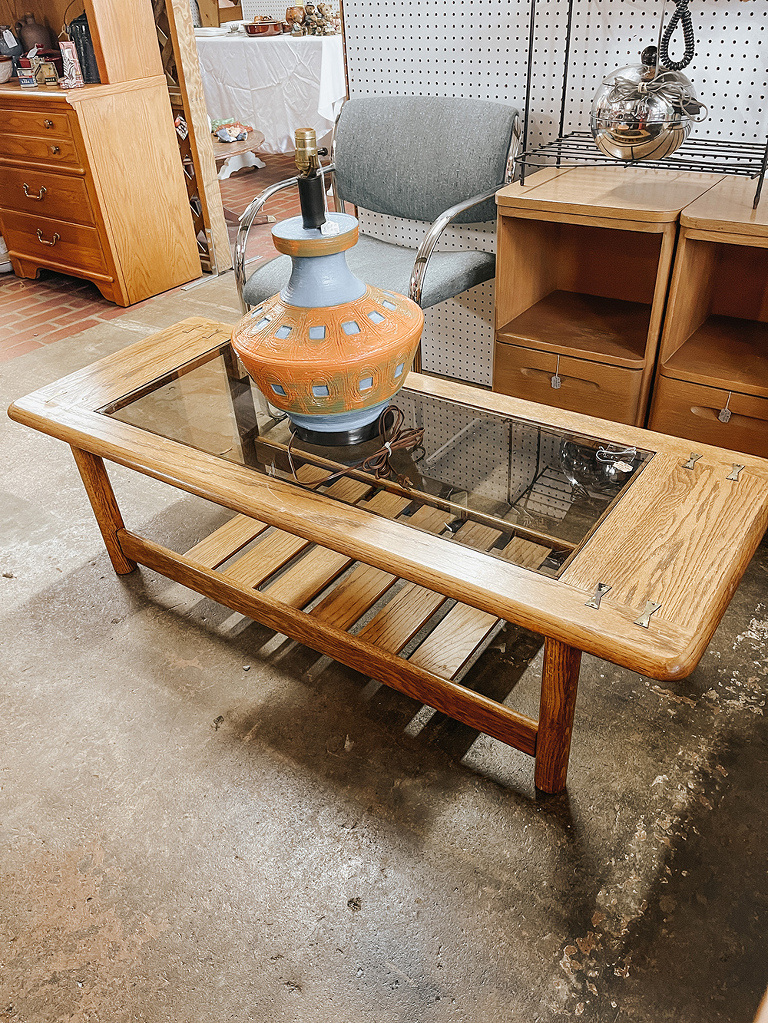 I grabbed my most passionate fellow vintage hunter (my Mom), and the two of us headed out on a whirlwind antiquing spree to all of our favorite secondhand stores in search of a replacement vintage coffee table. The goal was to find something very different from our old Lane piece. John and I were open to repeating the same round shape, but we were really interested in trying something with glass and were hoping to find something a little more contemporary, too—maybe in the 1970s or '80s era.
The three photos above show two coffee tables that Mom and I happened upon while shopping that day. The first one caught my eye because of the large piece of glass in the center, which checked off one of our key wishlist details. We were actually hoping to find something with a chrome base to lean a little more contemporary, but wood is something that I will always gravitate toward. The oak wood surround was absolutely gorgeous, and I appreciated the slatted wood shelf below that I could use for baskets and books. The $229 price tag was a bit outside my budget, though, so I snapped a few pictures and then left it behind to give me time to ponder.
The next store we went to was a little closer to home. It's an antique store that we go to almost weekly, so I'm generally pretty familiar with the inventory. But we happened to turn a corner, and that's when I spotted a coffee table that I had never seen there before. I hustled over for a closer look, and it was almost identical to the $229 coffee table we had seen at the other store, but this one was listed for only $85. This cheaper table also had a fun brass bowtie detail on the ends that the other one lacked. I will say that the wood stain was a little lighter and not quite as gorgeously golden as the more expensive table, but I could live with that concession for the $144 difference.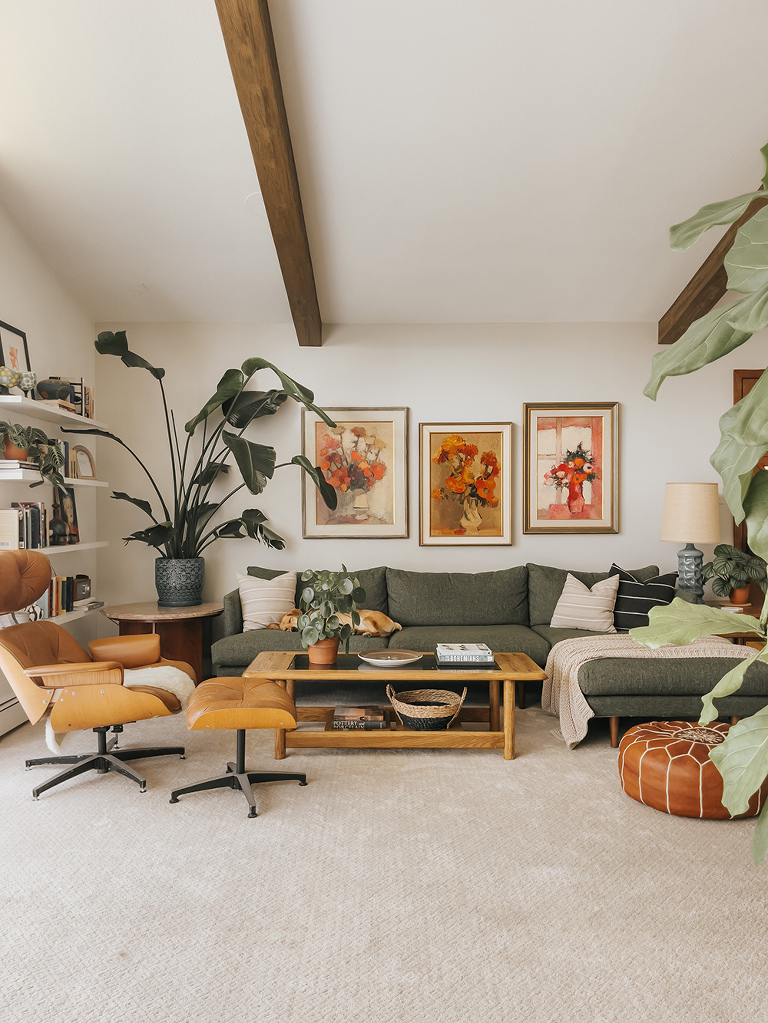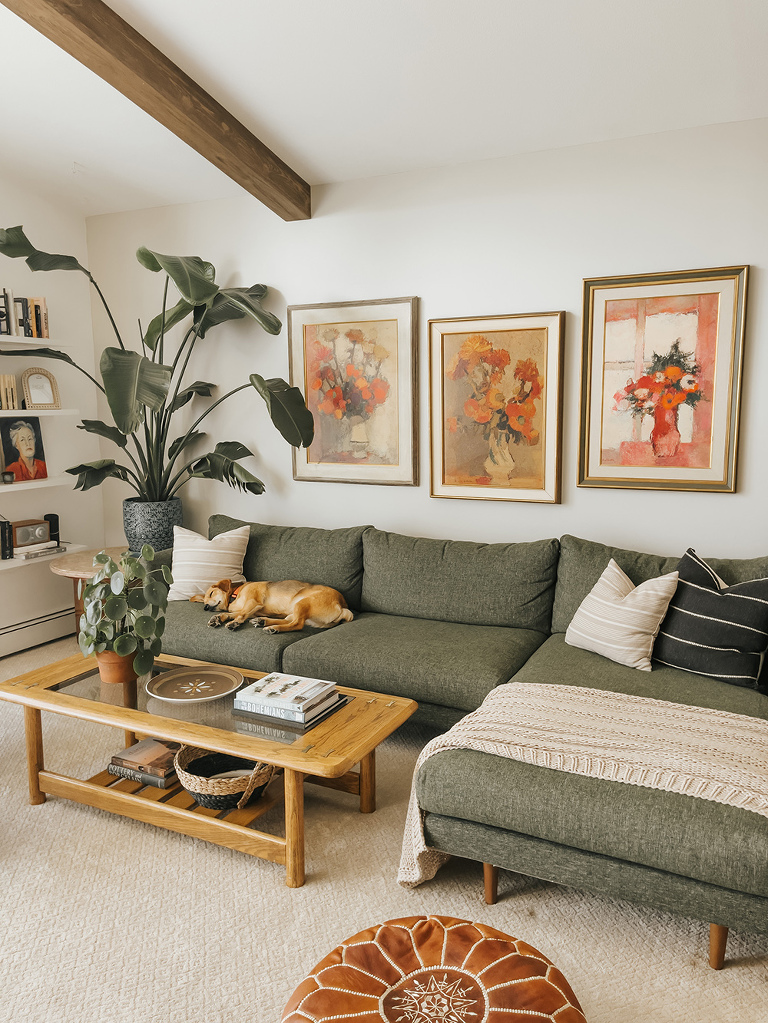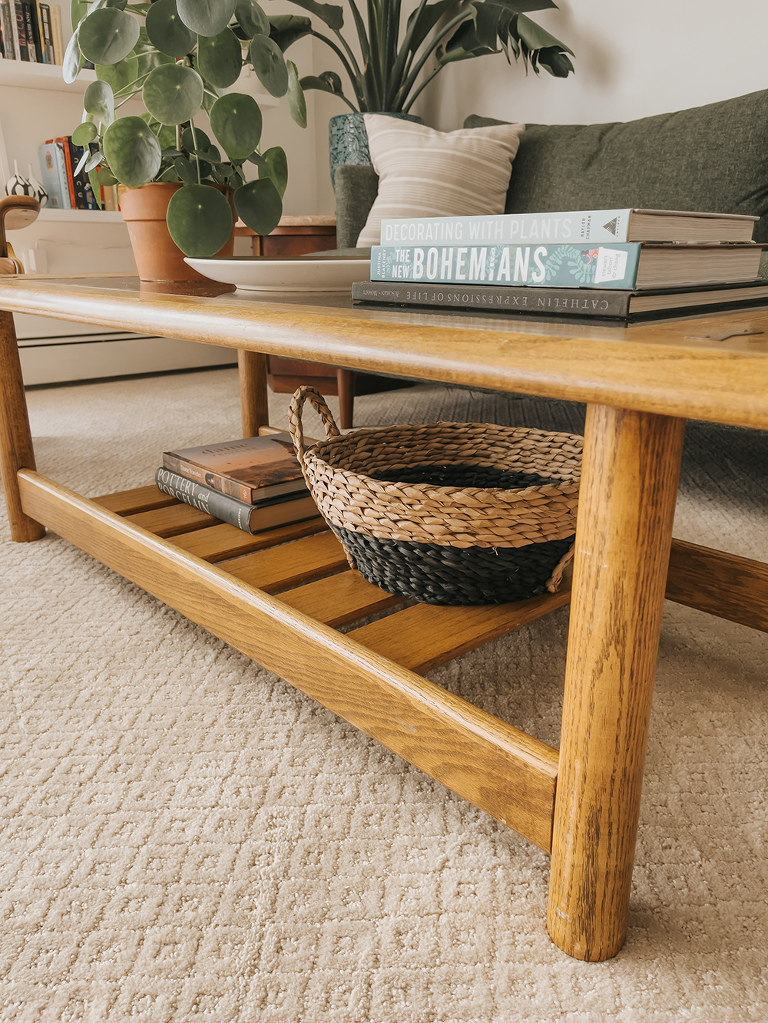 As excited as I was to find this "duplicate" table for less money, I still decided to leave it behind for the time being. It was a pretty far cry from what John and I had discussed wanting (remember, we had been intent on finding a coffee table with a chrome base), so I needed to think it over and discuss it with him. That evening I showed him pictures of the table and found out that he was open to the idea of going with this style over the one we had originally been picturing, so I went back the next day and snagged it. By that point, the table was on a weekend sale, so I managed to get it for about $65!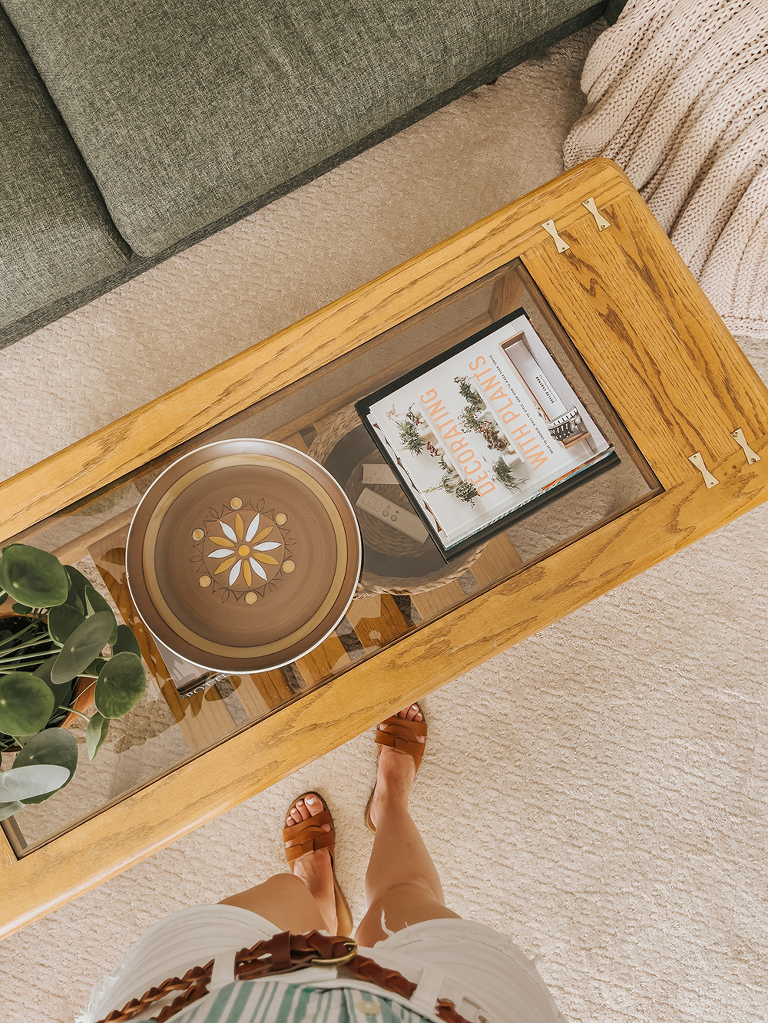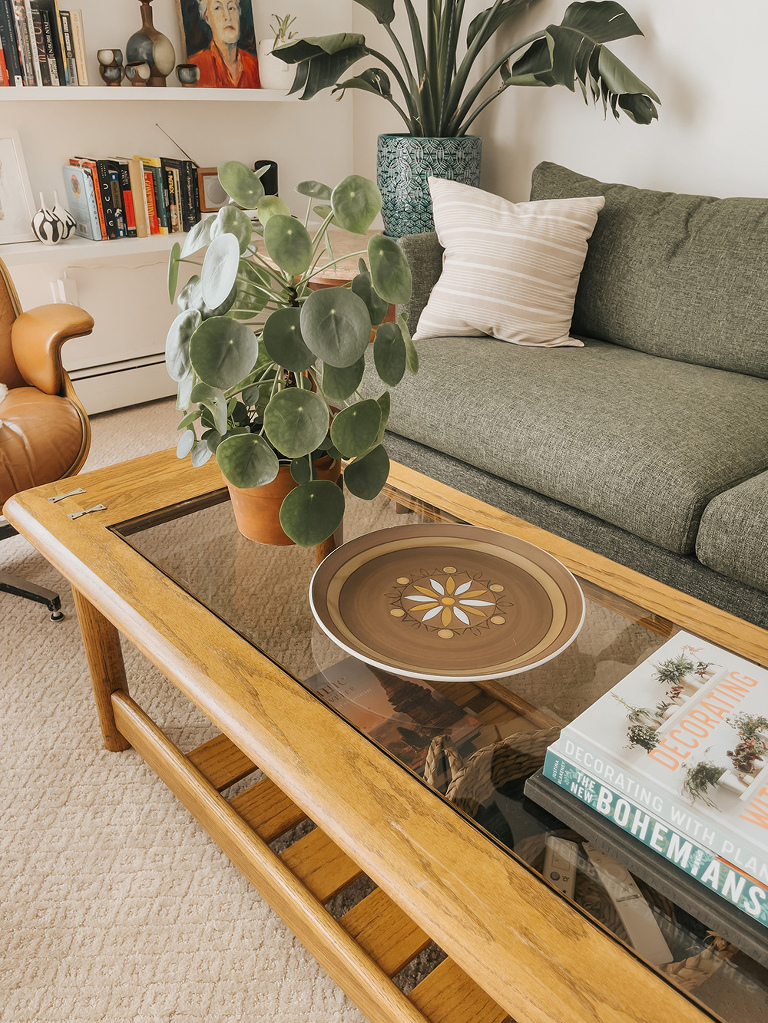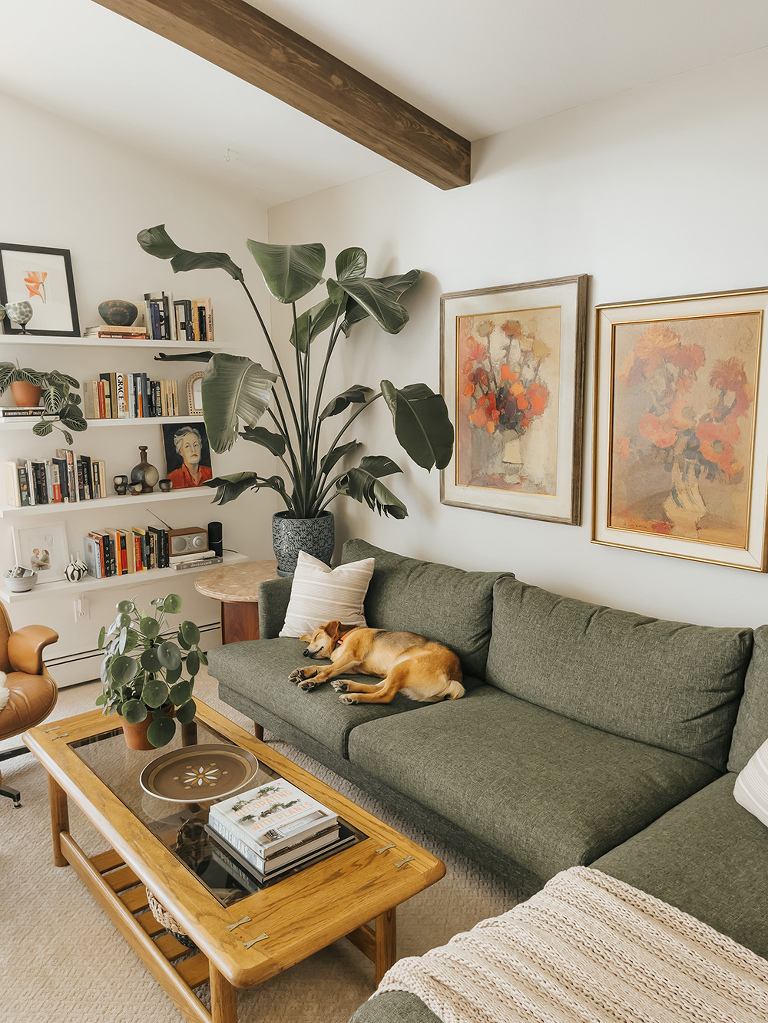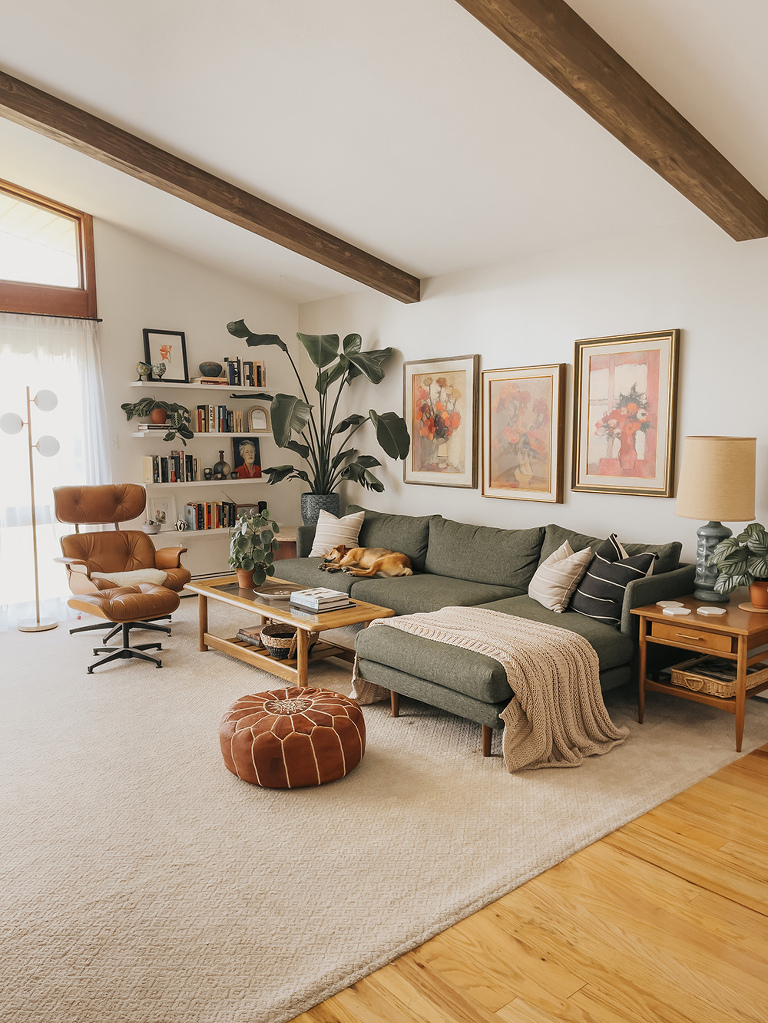 This table is definitely larger than our old one, and has been a bit of an adjustment to flow around, but we managed to make it work (more on those changes next week). Ultimately, though, we're so glad we decided to shift our expectations to make room for this post-modern beauty. The tinted glass top is the perfect contemporary upgrade for our 1960s space, and I love how the oak finish looks alongside our wood floors, beams, and other wood furniture. As with almost all of our spontaneous secondhand finds, it was definitely meant to be. I hope you love it as much as we do!