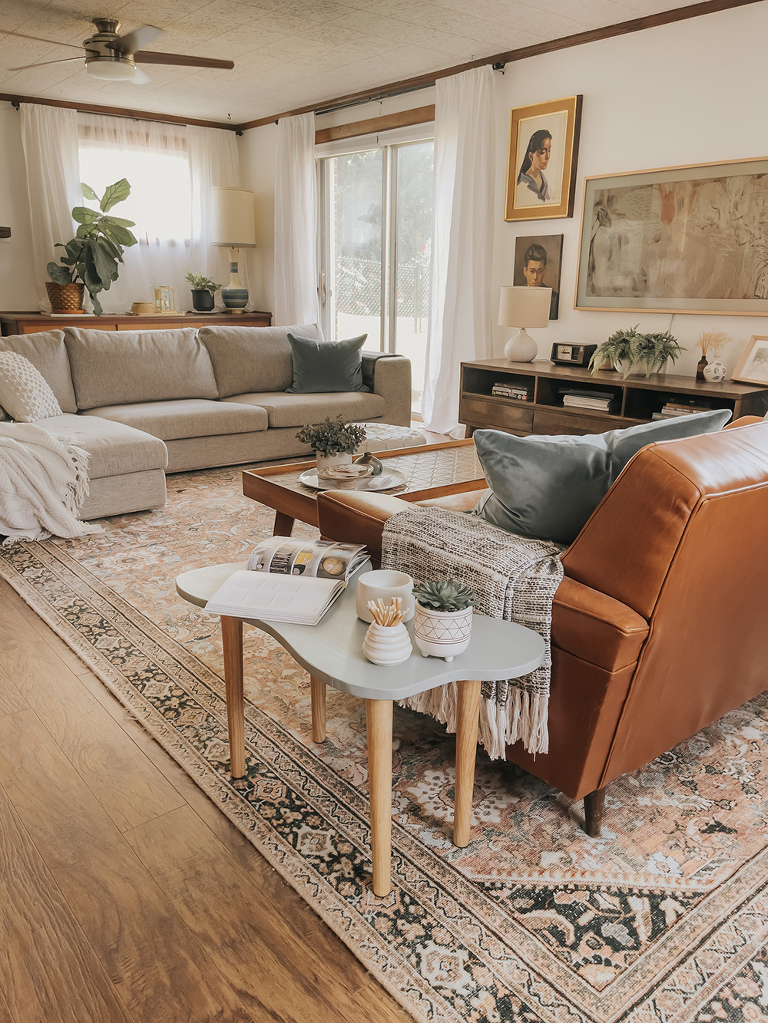 I'm usually pretty picky when it comes to "buying into" trends in the home décor world, but when I saw curvy, abstract shapes gaining momentum, I've gotta tell ya…I was into it! I love adding things to a space that sport organic lines—something without much rhyme or reason to the shape. This helps give a room so much more personality and a unique character all its own. Randomly wavy lines are downright weird, and I'm all for it in interior design.
Unfortunately, trendy things generally draw a big crowd (that's the nature of the beast, after all), which means that the price tags on such items are usually high thanks to demand. Take this cool curvy, wavy side table as an example. I loved the idea of incorporating those organic lines into our family room as a side table by our leather couch, but I didn't love the £275.00 price tag. So, instead, I decided to make my own—for just $68. Keep scrolling to learn how!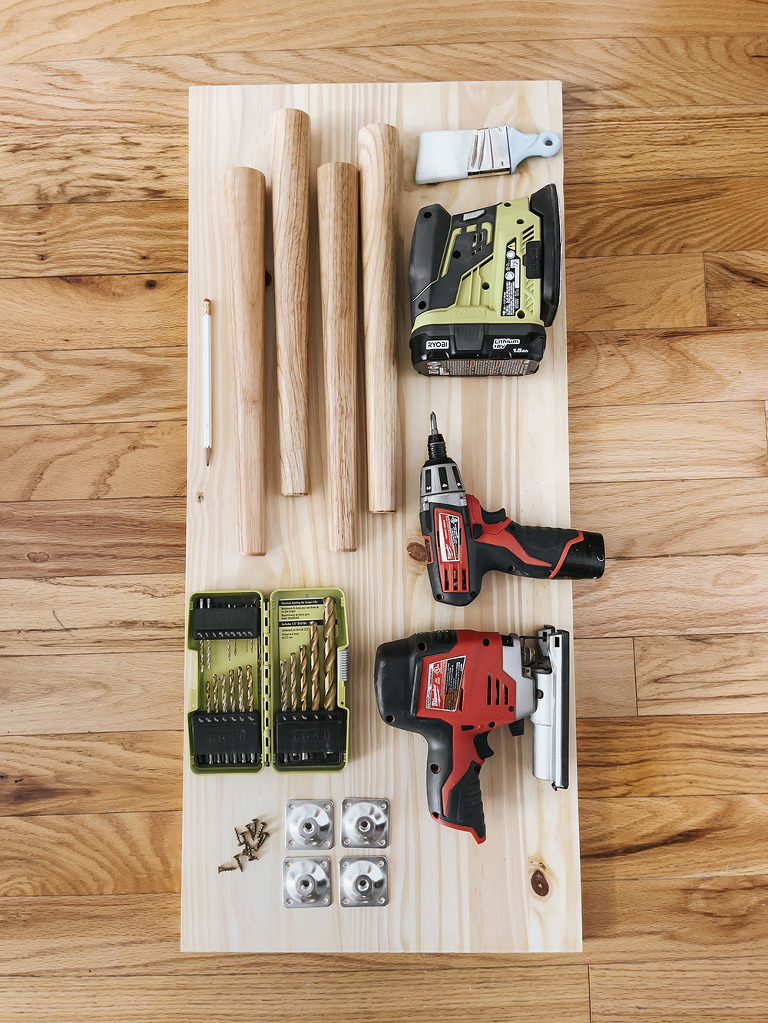 Here's what you'll need:
1. 3/4-inch-by-16-inch-by-36-inch wooden project panel
2. Pencil
3. Jig saw with wood blade
4. Cordless sander and sand paper
6. Set of 4 16-inch tapered furniture legs with mounting plates (we used the flat plates)
7. Paint and paint brush (we used "Halcyon Green" paint from Sherwin-Williams)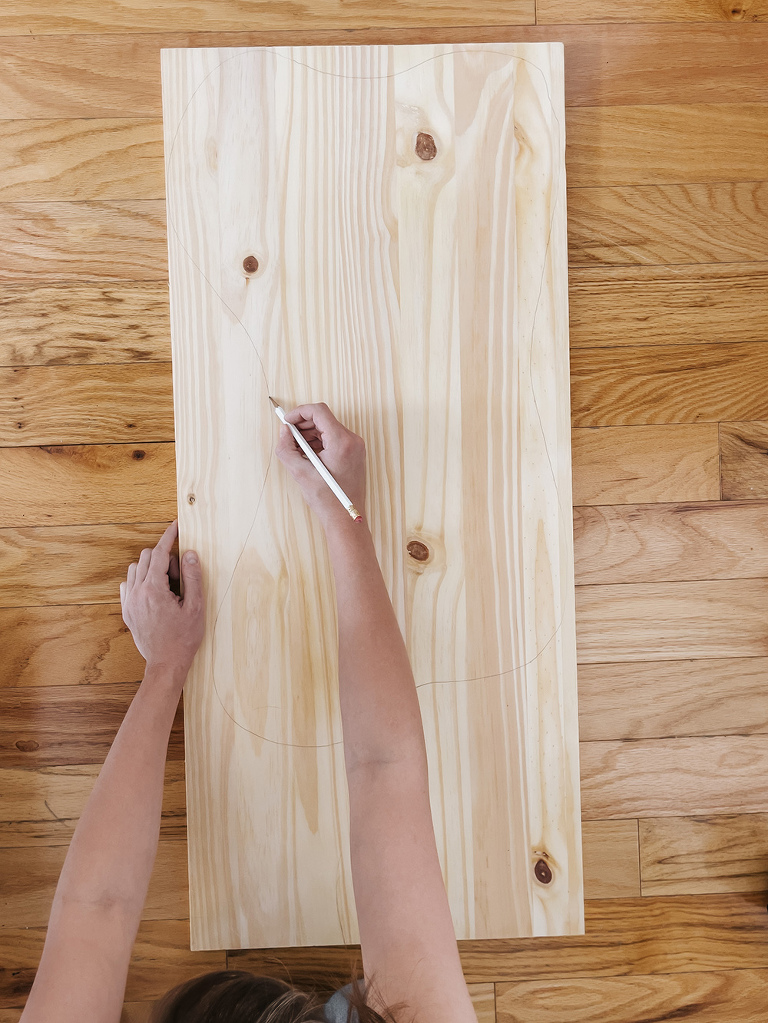 Step One
Start by drawing your organic shape onto the wooden project panel using a pencil. I didn't think much about my shape at all beforehand. I let it be as free-flowing as possible. If you decide to paint your tabletop like we did, your pencil lines will be invisible in the end, so if you decide to scrap your first shape and draw something different, that's okay! The old lines won't show in the finished table. Just make sure you lightly scribble over the rejected shape so you know which lines to follow with your saw in the next step. The only thing you do need to keep in mind is the fact that your table will need to stand, so having four vague "corners" will ensure that your table legs have spots to screw into.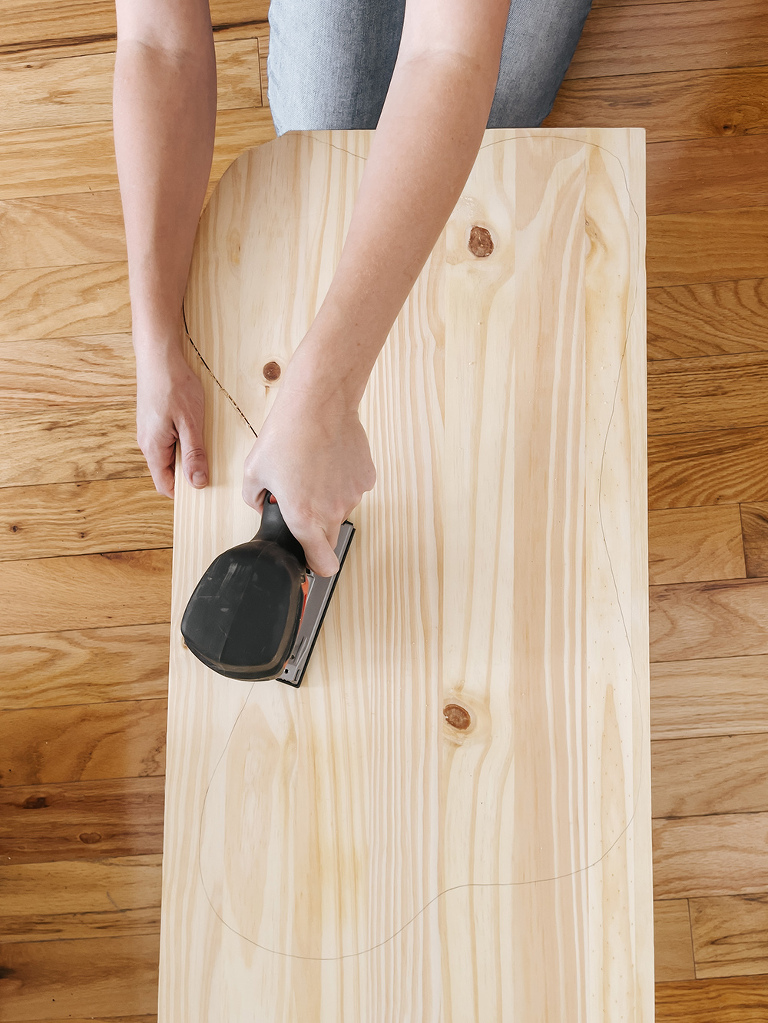 Step Two
Outfit your jig saw with a wood blade meant for cutting fine, crisp lines in soft wood, then go to town slowly and carefully cutting your traced shape out of the project panel. Make sure you elevate your project panel somehow so your blade doesn't knick your work surface. I set my wood board on three cans of paint to get it up off the ground, and this worked great. Make sure you stop often to peek underneath to ensure your blade is nowhere near whatever elevated base you use.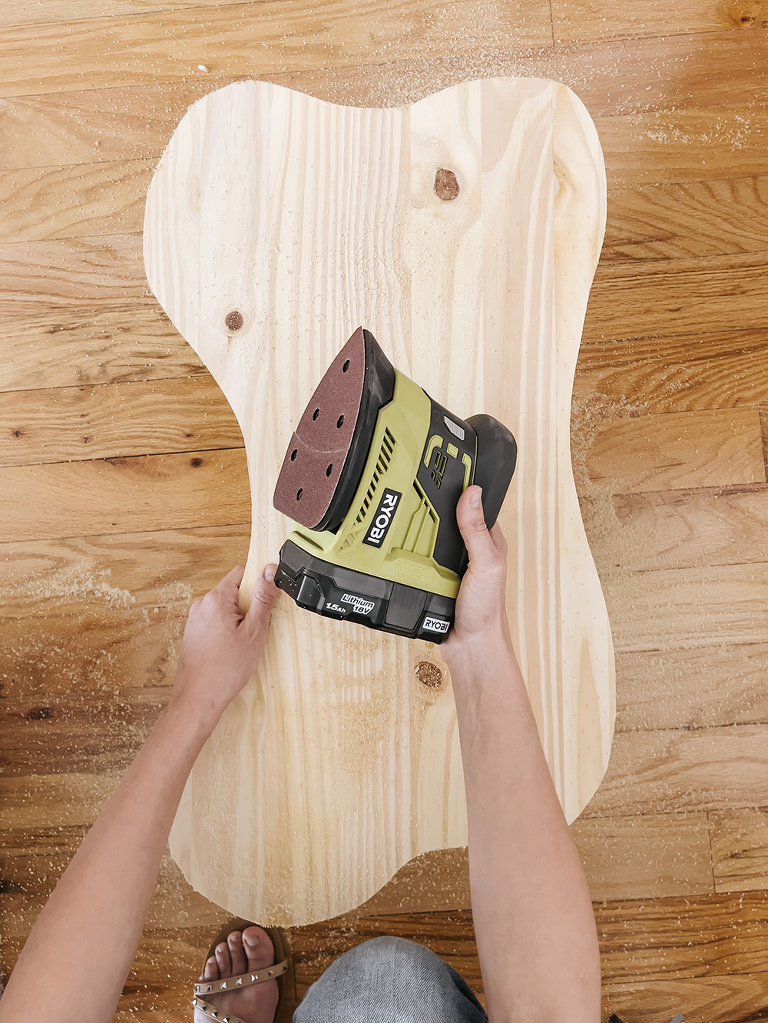 Step Three
Use a cordless sander and sand paper to sand the edges of your project panel smooth. Do not skip this step! Spend a decent amount of time smoothing over all of your cut edges to give them a nicely rounded feel, and don't forget to sand the top-most surface and underside of your tabletop, too. This will create a better surface for your paint to adhere to, and will also make your finished table look more professionally done.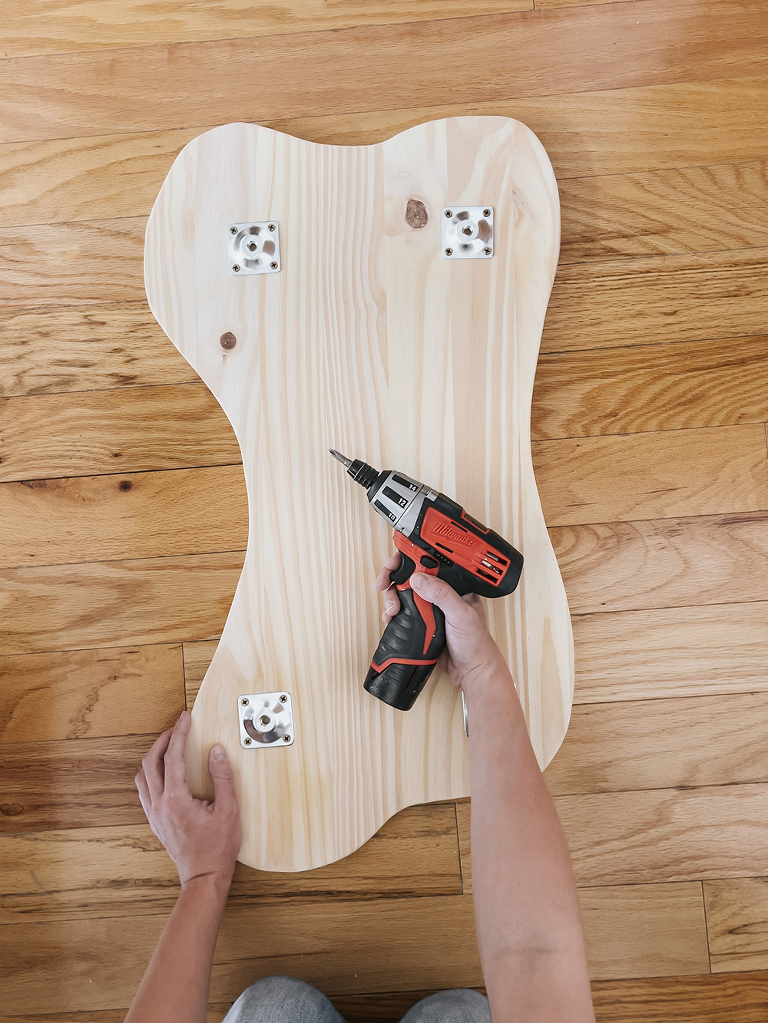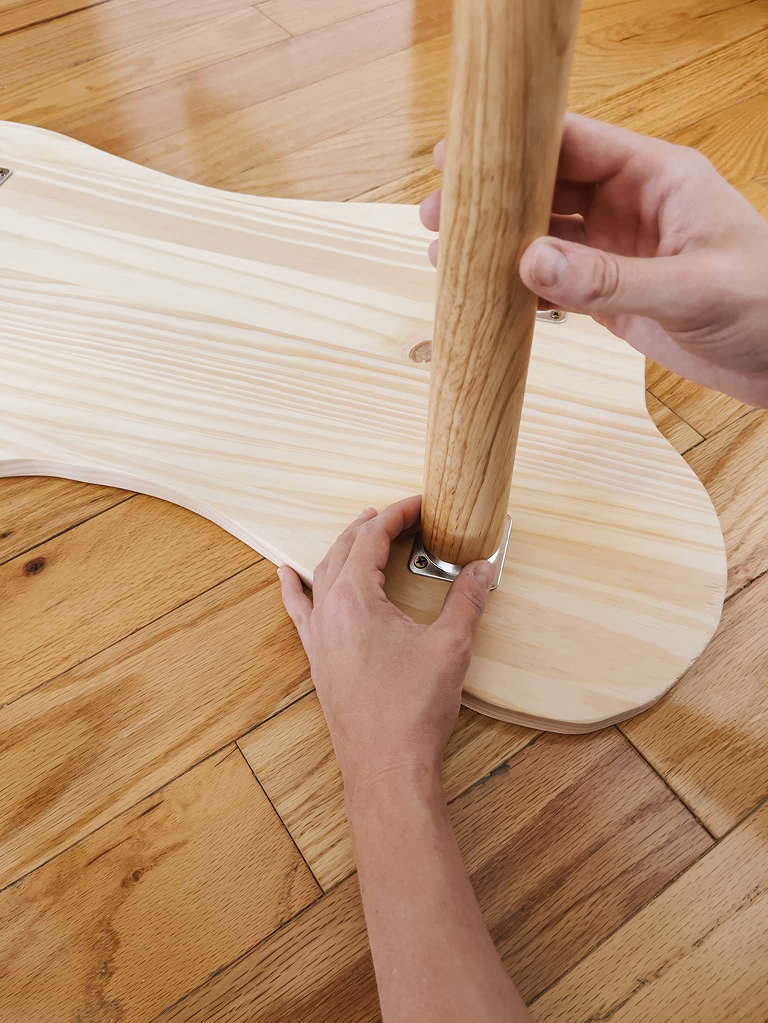 Step Four
Now to turn that tabletop into a real table! To do so, use a drill and drill bits to attach your mounting plates to the underside of your tabletop using the screws that came with the plates. Since this table is meant to be asymmetrical and organic, you don't need to space your table legs exactly equidistance apart from one another. I just eye-balled it, making sure to space the legs out into those rough four corners to ensure a steady, balanced piece. Once the mounting plates are in place, simply screw your four tapered furniture legs into the plates.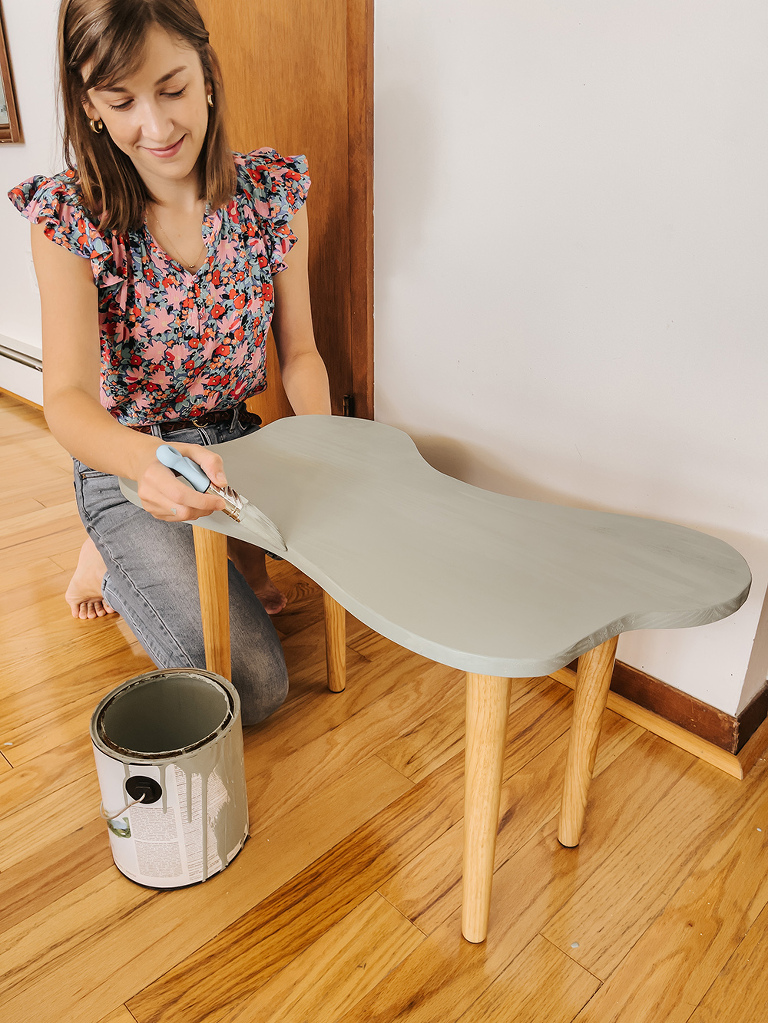 Step Five
The final step in this process is to paint your tabletop. I decided to do so because I wanted to make the pretty blonde wood grain of my pre-made furniture legs really pop. A painted tabletop also makes your homemade table look just a little more professionally built. If you like the color we used, it's called "Halcyon Green" from Sherwin-Williams, and was leftover from a different project. Try using a paint color you have leftover in your stash to save money and to make the piece fit the existing color palette of your home. This is my favorite paint brush, by the way.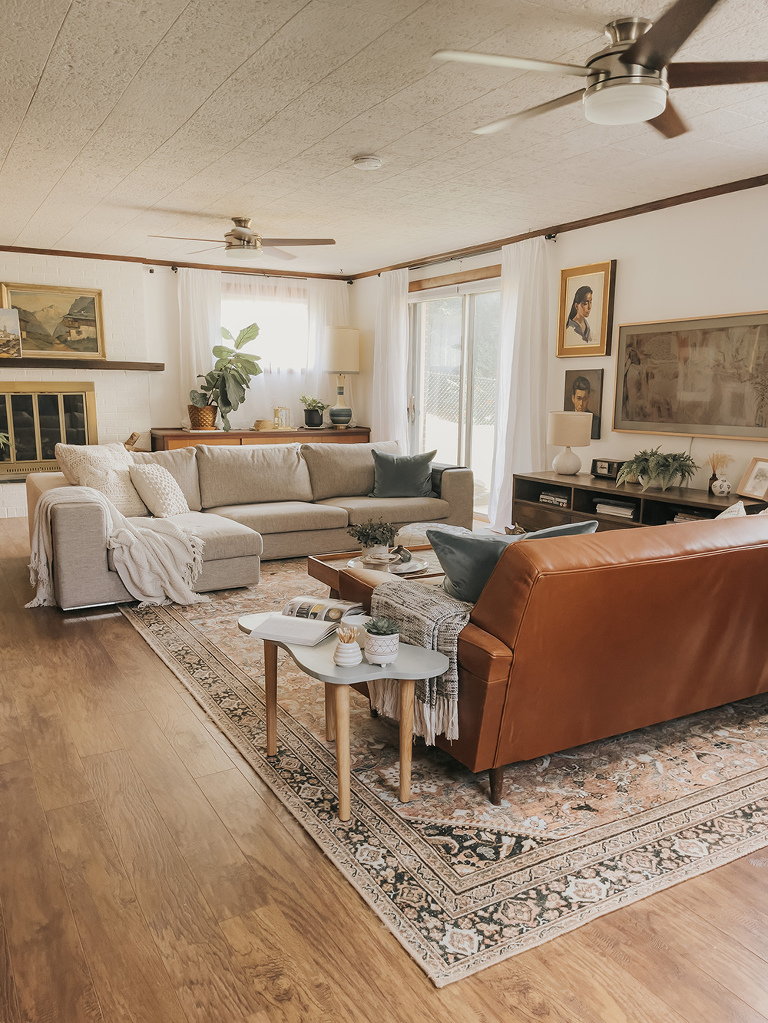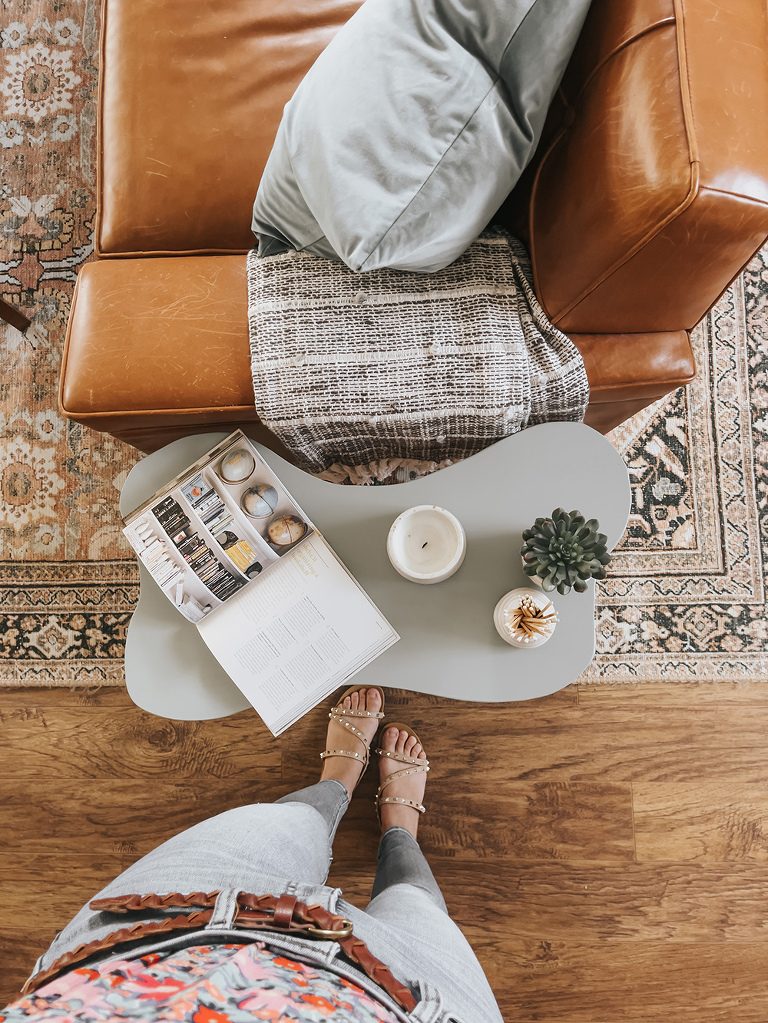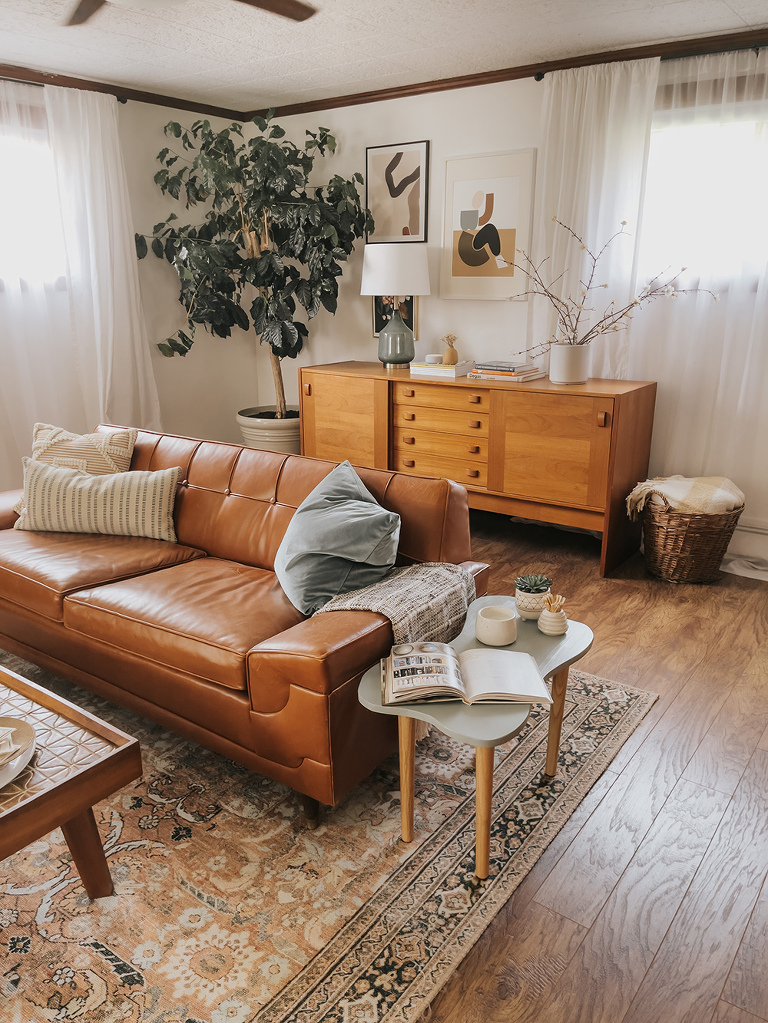 And that's it! When I put this table by the leather couch in our family room, I didn't expect to get such an enthusiastic reaction from John, but he loves it. I guess he's just as into the concept of wavy, curvy shapes in furniture as I am, so that works out perfectly. Would you give this project a try? Comment and let me know what kind of shape you would do, and the paint color you'd use.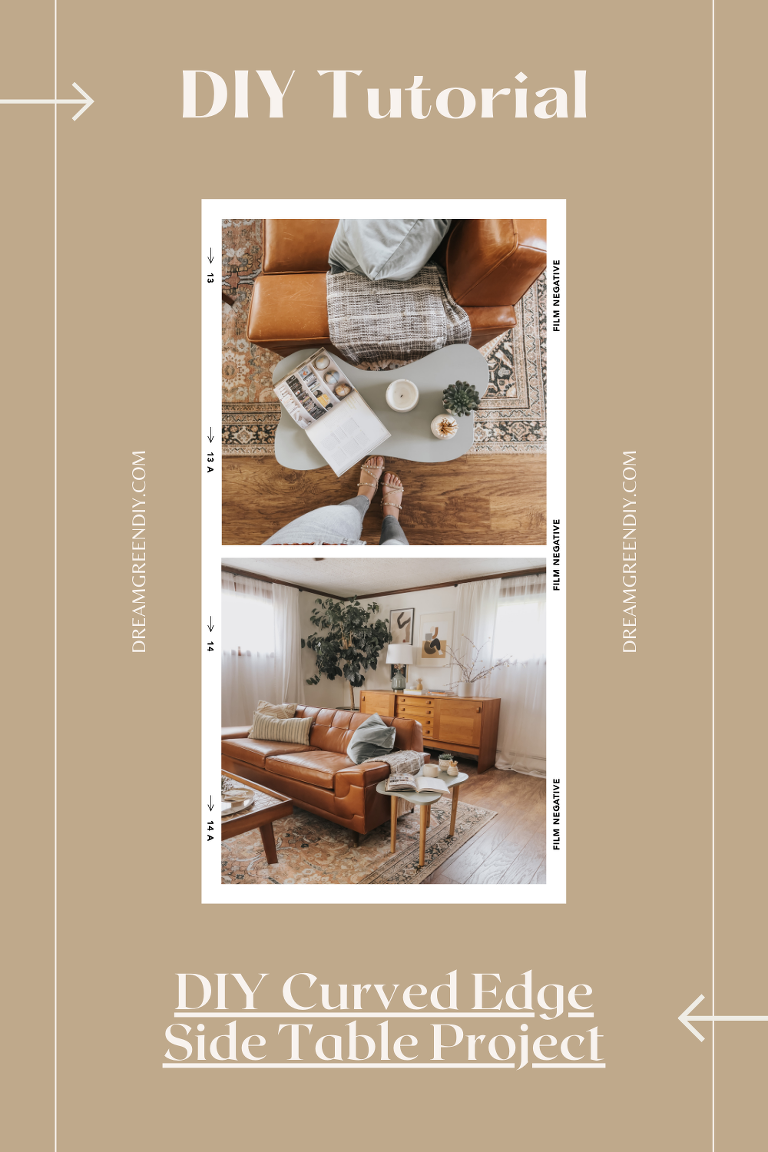 *I earn a small percentage from purchases made using the affiliate links above. Affiliate links are not sponsored. Rest assured that I never recommend products we wouldn't use or don't already love ourselves.