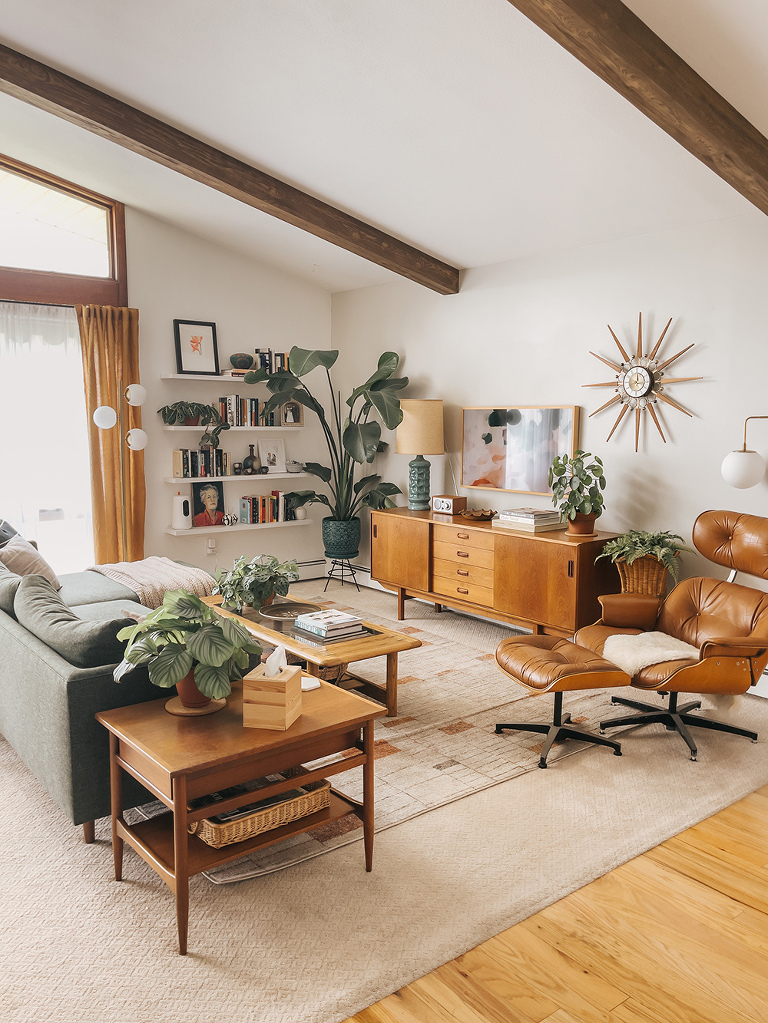 *Today's post was made possible by Loloi, and features gifted product for the purposes of a candid review. All opinions are my own.
Well, the absolute wildest thing happened recently. One room in our home went viral over on Instagram! It was just a simple before/after transition that I posted of the new layout in our living room, but for whatever reason it was a big, big hit, and the video managed to reach over 3.2 million views.
Trust me: no one's more surprised than I am. I'm so grateful for the kind support this space received, and I may be even more grateful that the room somehow managed to avoid attracting many of the nasty commenters who so often prey upon viral Instagram videos. The worst critics were those who claimed not-to-sweetly that they preferred the room before, but, happily, I consider that a compliment since I designed that version of the room, too.
Half-joking retorts aside, I'm still speechless over the attention this room received on social media, but I thought I'd take a deep dive into the thought process that went into designing this room (namely a new area rug from Loloi), plus our motivation for swapping the layout so drastically in the first place. Keep scrolling for lots more photos, and if you want to see the viral video, just click here!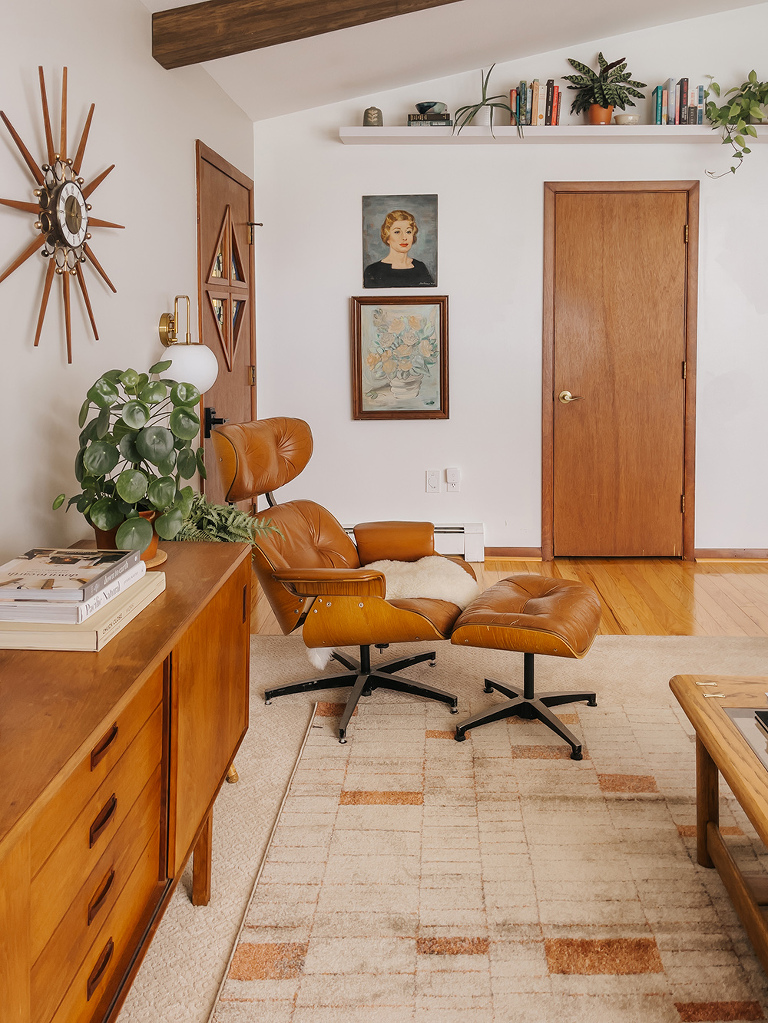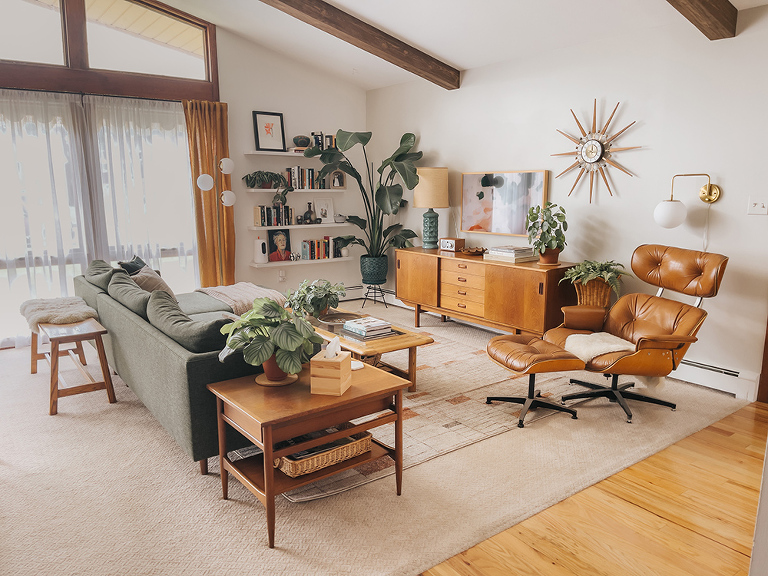 First of all, let's talk about the furniture rearrange. We have lived in our 1960s ranch now for seven years, and for the past six of those, we've had the same exact layout in our living room. You can get a sense of what the room looked like before in this post, but the sofa has almost always lived right up against the large window-less wall in our living room. That seemed like the best spot for it because our giant sectional sofa sat so nicely along that expansive wall, but it did make TV-watching a little difficult. Although it wasn't ideal, we made it work by hanging our TV on the wall next to our kitchen entry (seen in the photo below, but now we have art hung on that wall). I explain a lot more about that situation in this post if you want more of an in-depth version of this story.
Anyway, there actually was a veryyyyyy brief moment in time when we had our old (smaller) sofa floating in the center of the room. You can see that look here in our home tour from the first year we lived in the house. That arrangement ultimately didn't last, but recently I've been wondering why. If we could float the sectional out in the center of the room, we could move the TV to our big living room wall for a much more comfortable viewing experience, and the bonus would be that we could see the television from the dining room. We're hardly ever the type of people to watch TV during dinner, but, listen…football season is upon us, and I'm a not-so-closeted football fanatic, so that realization was all the motivation we needed to try the arrangement out again.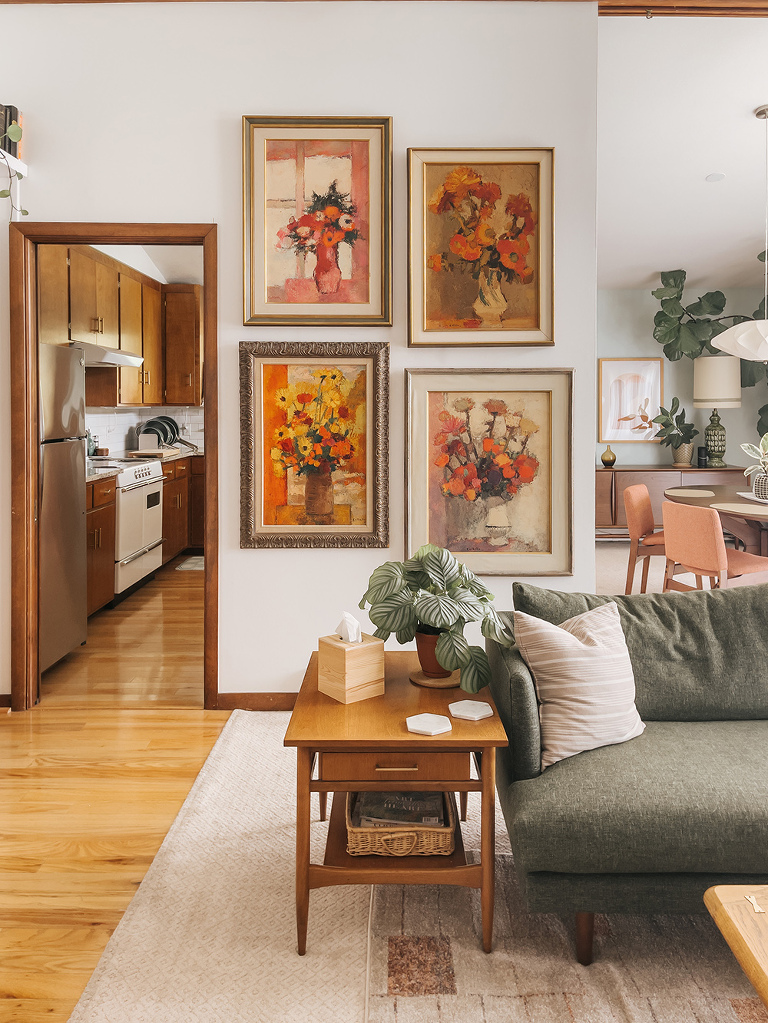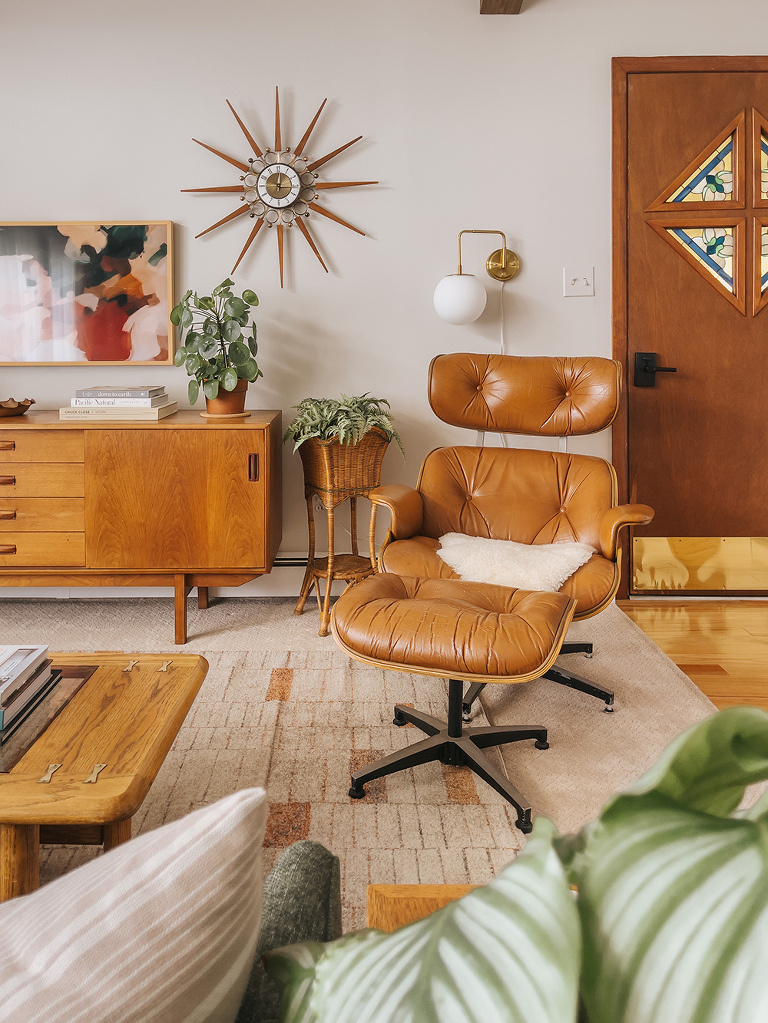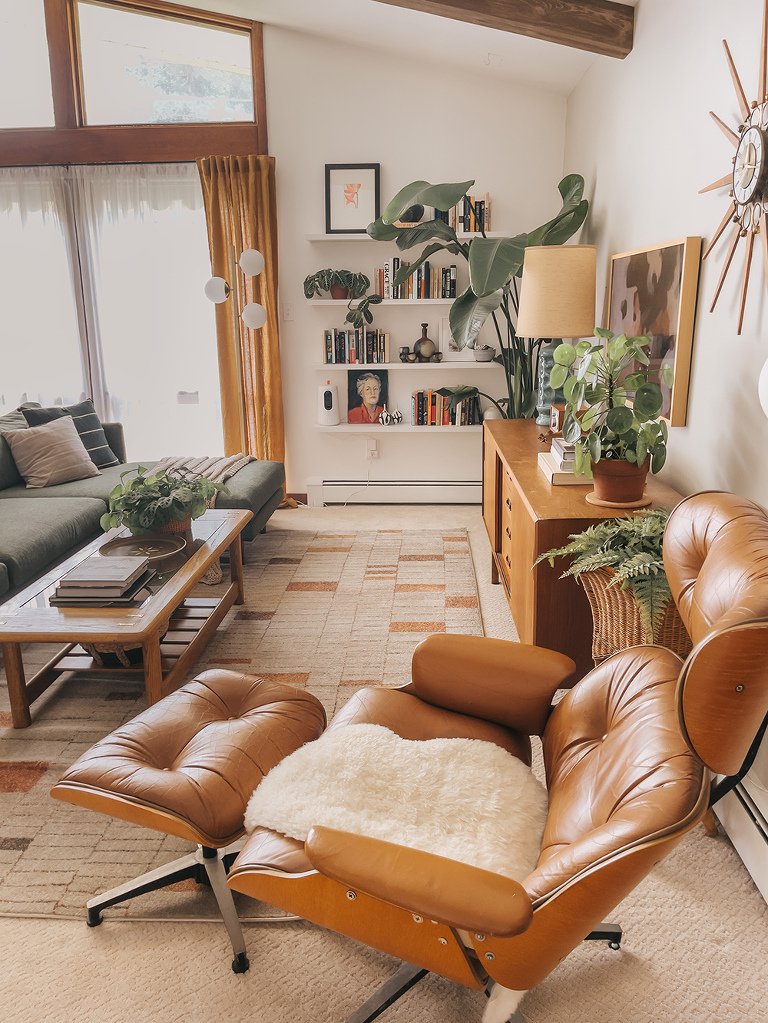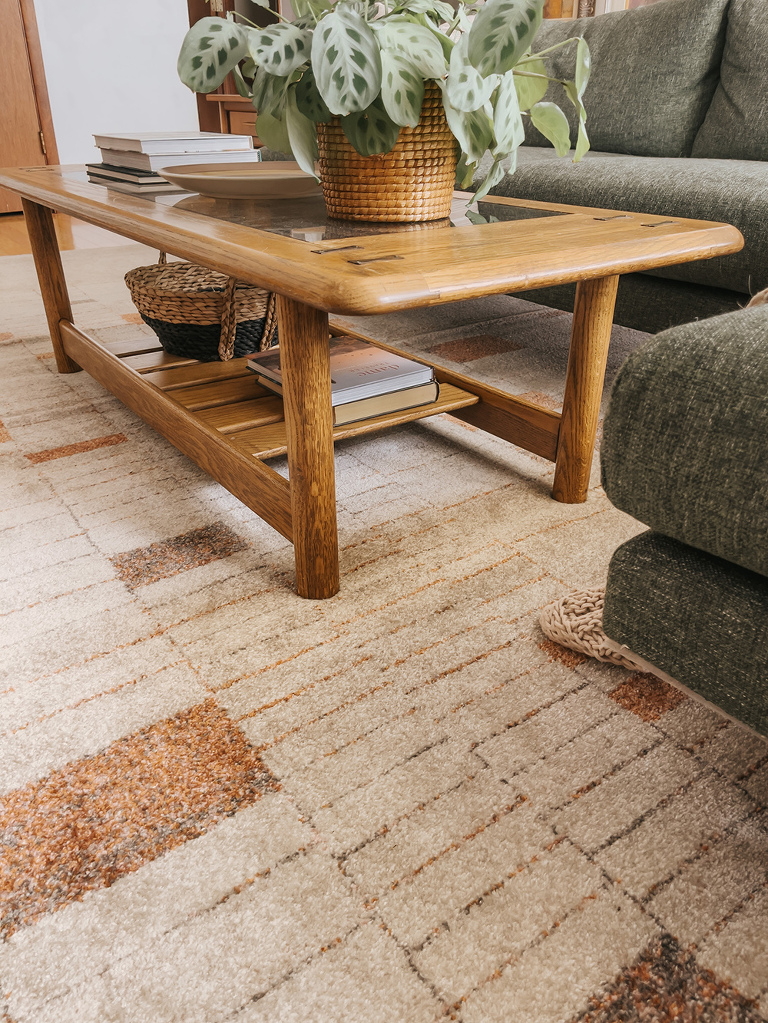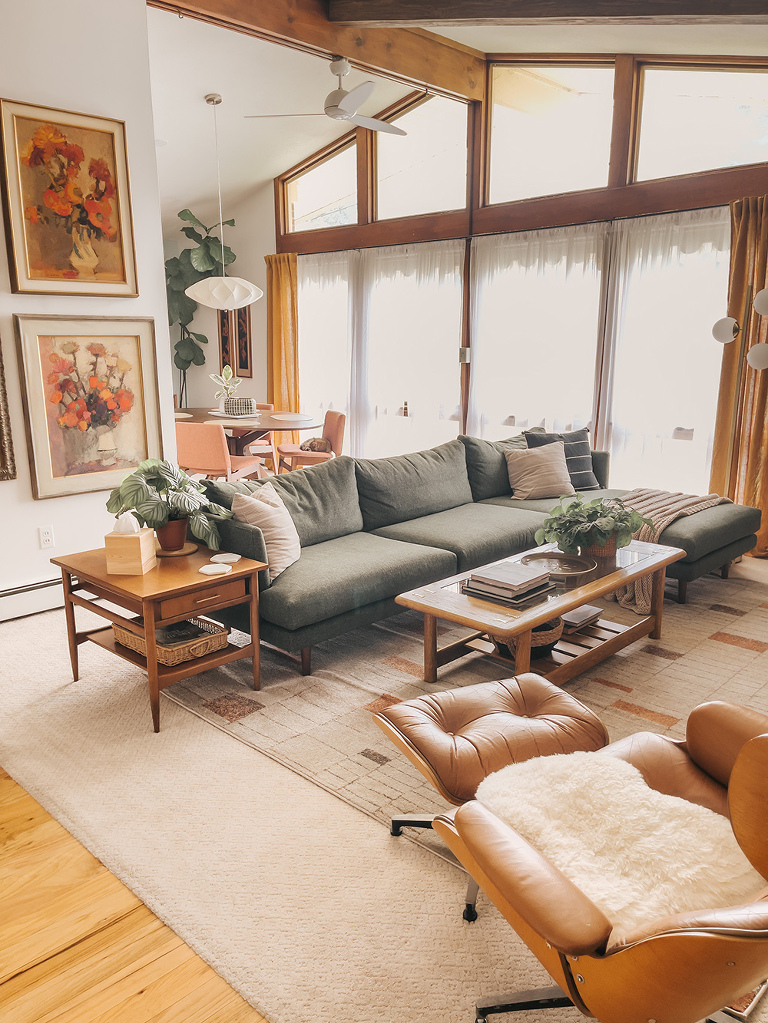 So, late one Saturday morning last month, John and I had nothing to do, and I suggested the idea of trying out the new arrangement. He was sweet to agree to try it, although he was very skeptical that it would work. I was more excited, but definitely willing to just experiment. If he really did hate it, we'd move it all back and just consider the furniture moving our exercise for the day.
Funnily enough, after we finished dragging the furniture into their new positions, it was John who actually loved the new layout whereas I was very unsure. He was so excited about it, though! He immediately flopped down onto the couch, and pretended to watch TV, saying it was so much cozier and inviting.
I stood back in all sorts of different vantage points of the space to take it all in. I snapped photos of the room with my phone (a tactic I always try when I'm unsure of how something looks because it's much easier to look at a space with an unbiased eye when seeing it through a photo). I tried laying on the couch. I reclined back in our lounge chair to see how that perspective felt. I tried it all for about an hour, and only after that did I slowly start to share his enthusiasm.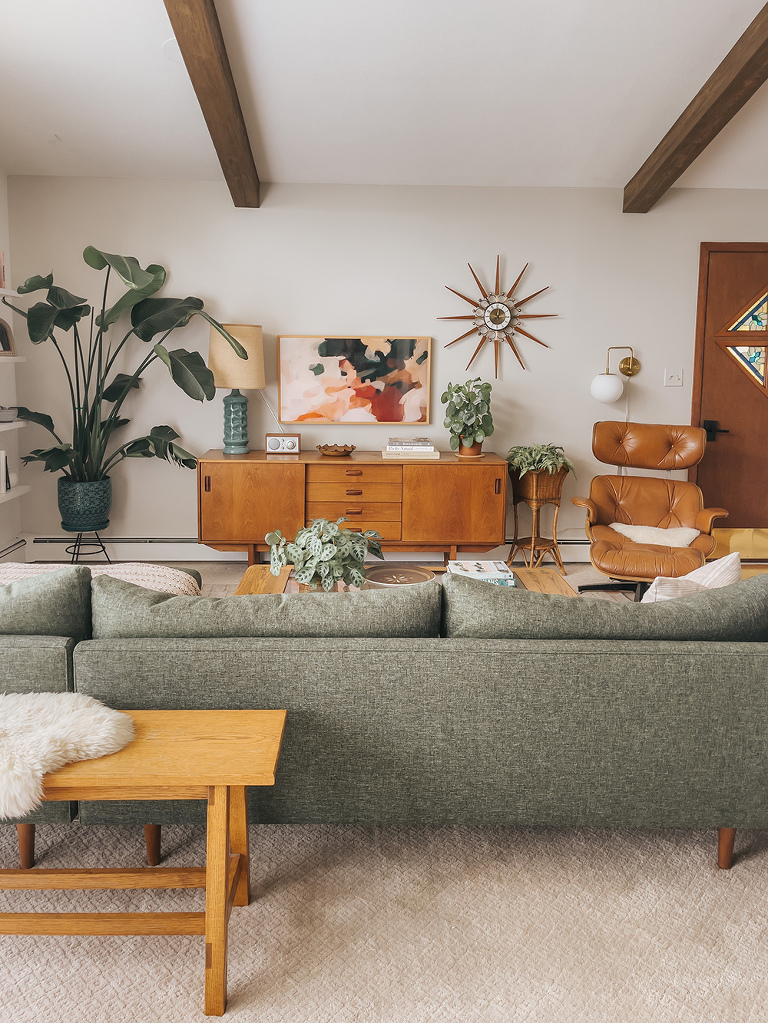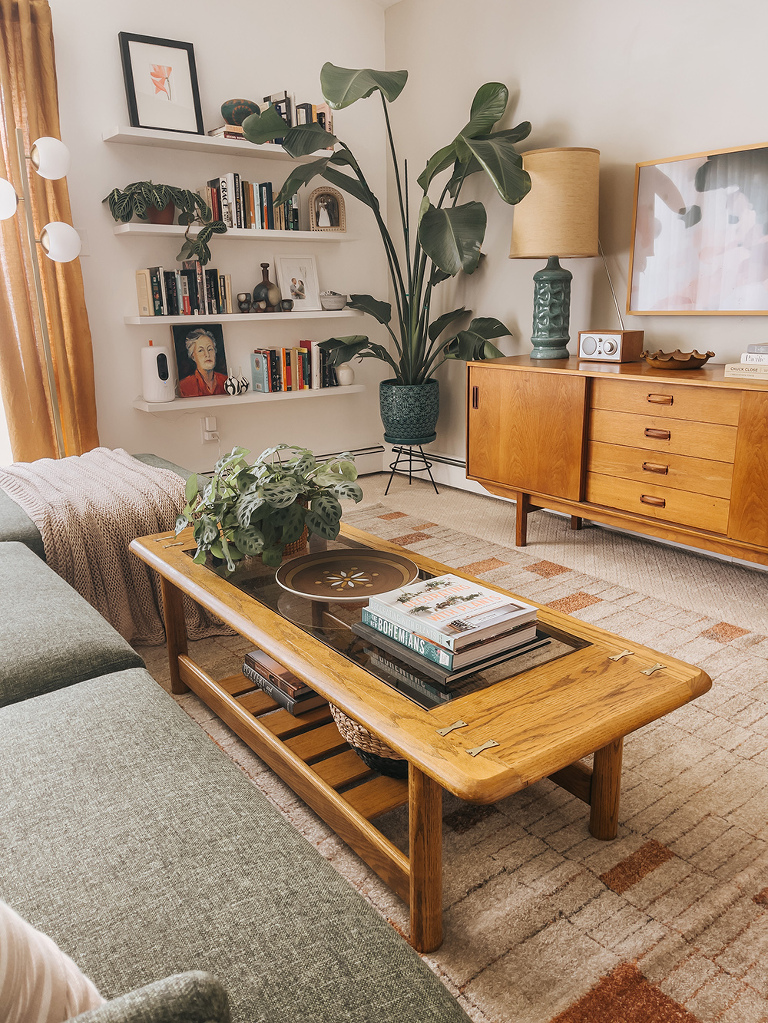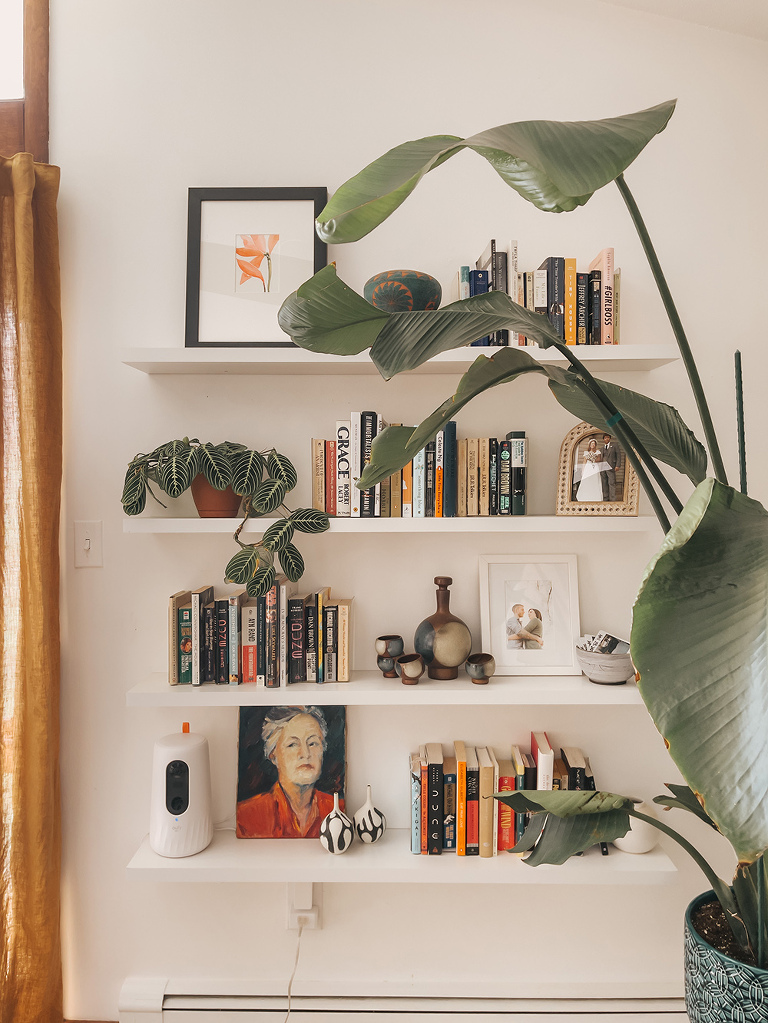 It definitely wasn't immediate, but now I love the new layout. It genuinely does feel much cozier than the original arrangement with the couch against the long wall, plus now we can enjoy our lovely Frame TV from the dining room. Is this new layout ideal for interior photography? Not really, but I have to keep reminding myself that our home isn't just for blog content—it's a real-life house that we need to feel extra comfortable in, and this new look definitely ups the comfort factor ten-fold.
Long story very long, that's how we're enjoying the space today, and also how one of my most random Instagram Reels went viral. The new living room layout inspired the need for a new area rug, too, which was kindly gifted to us by our friends at Loloi Rugs. We picked this rug because it felt like the perfect complement to our retro ranch. If you remember, I have been toying with the idea of going a little more "1970s" with our spaces, and I felt like the cream and burnt orange geometric pattern of Loloi's Bowery BOW-02 rug suited that aesthetic perfectly. Don't you?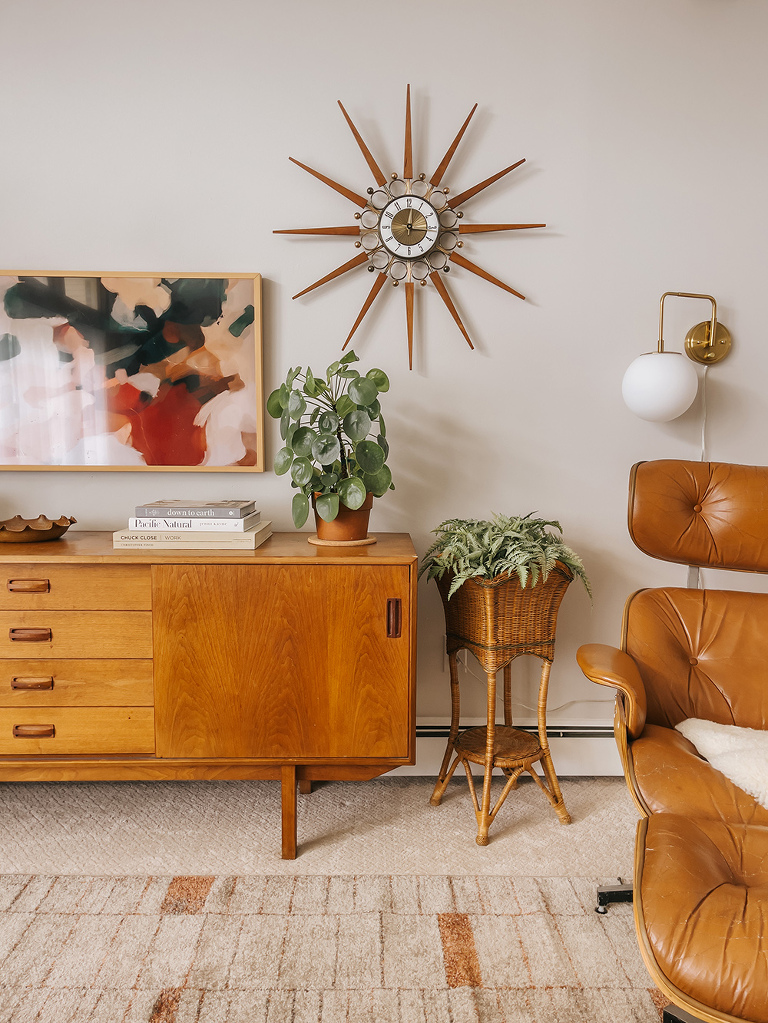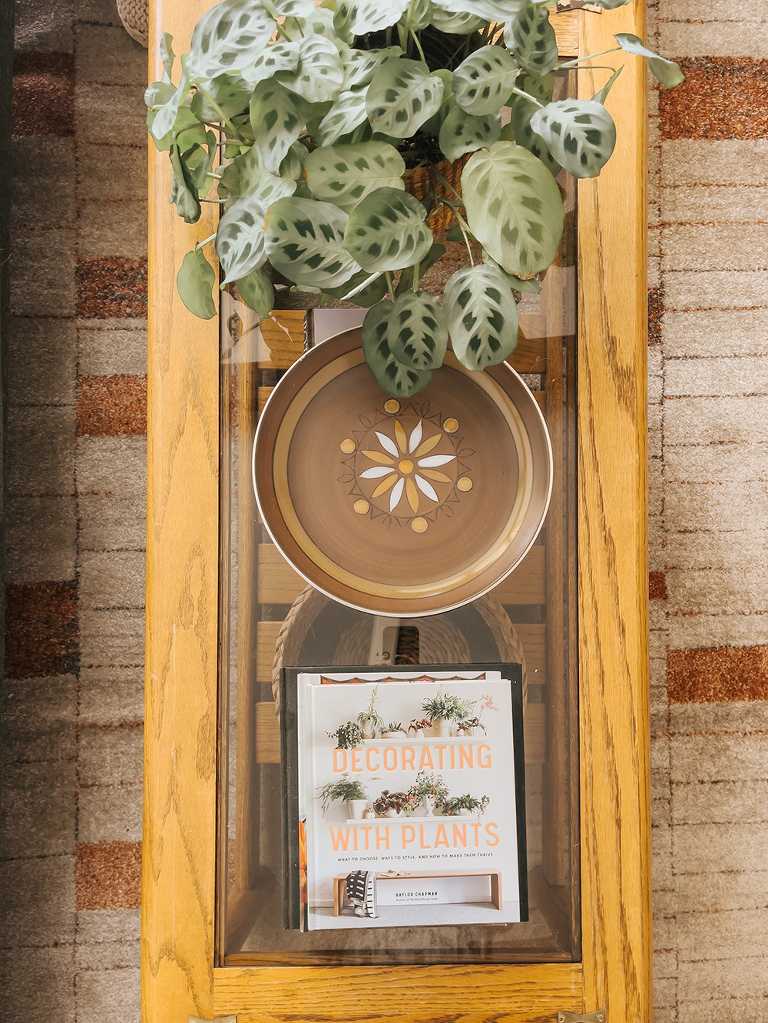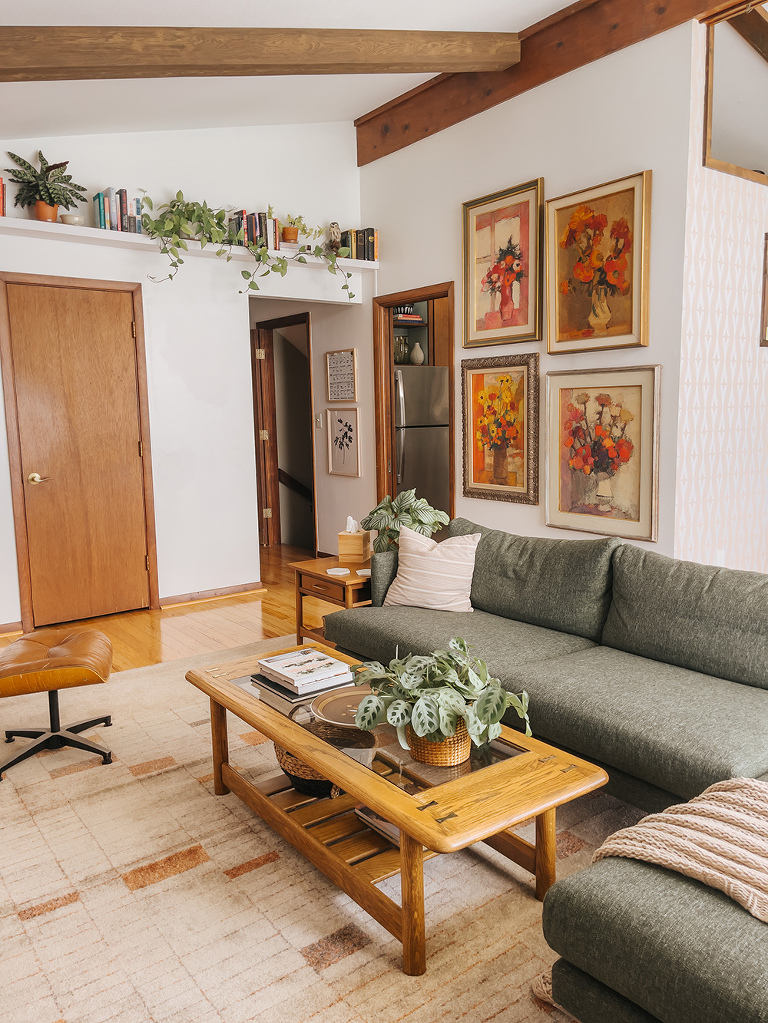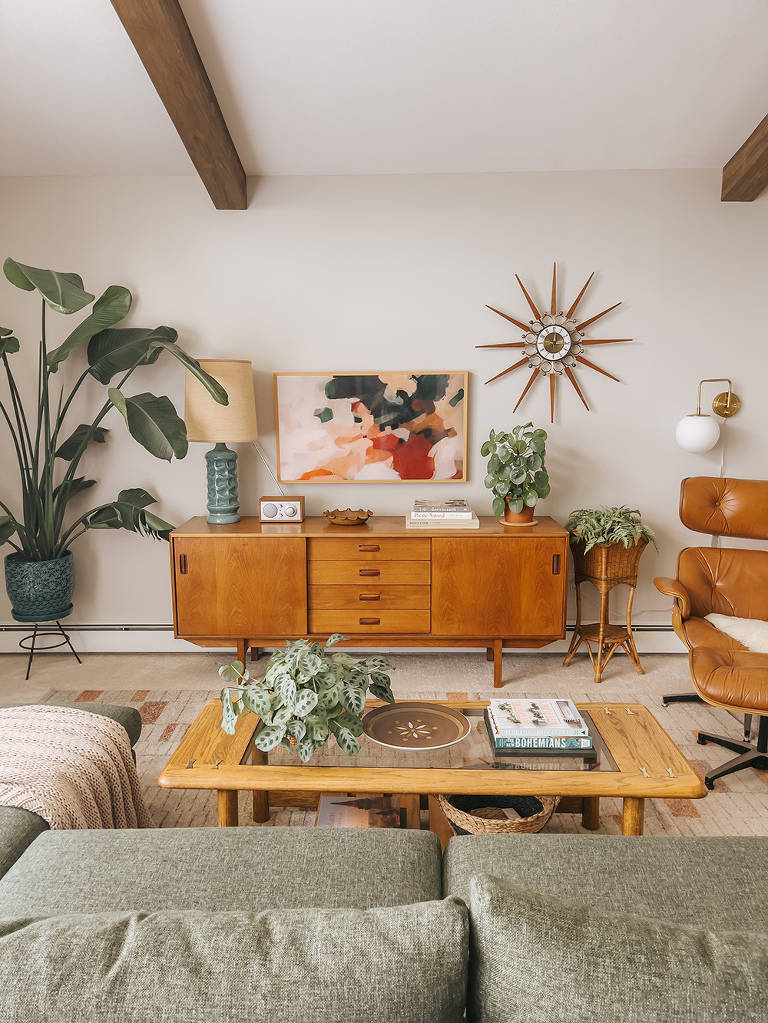 See how the rug picks up those orange tones from our mid-century antique furniture and the stained wood trim throughout the space? It really has felt like the perfect finishing touch for our living room update, and we love sinking our toes into it every day as we cozy up on the couch with our pets.
Big thanks to Loloi for helping to complete this spontaneous room redesign, and let me know in the comments what you think about the new furniture layout. Would you have tried this look if you were in our position? Oh, and since I know I'll probably get asked, here's a post all about how we hide our TV cables inside the wall using a very simple DIY method and one tool. This is the third time that John and I have done this with a television in our home, and it really is so much easier than you probably think it will be. Message me if you have questions about the process, though!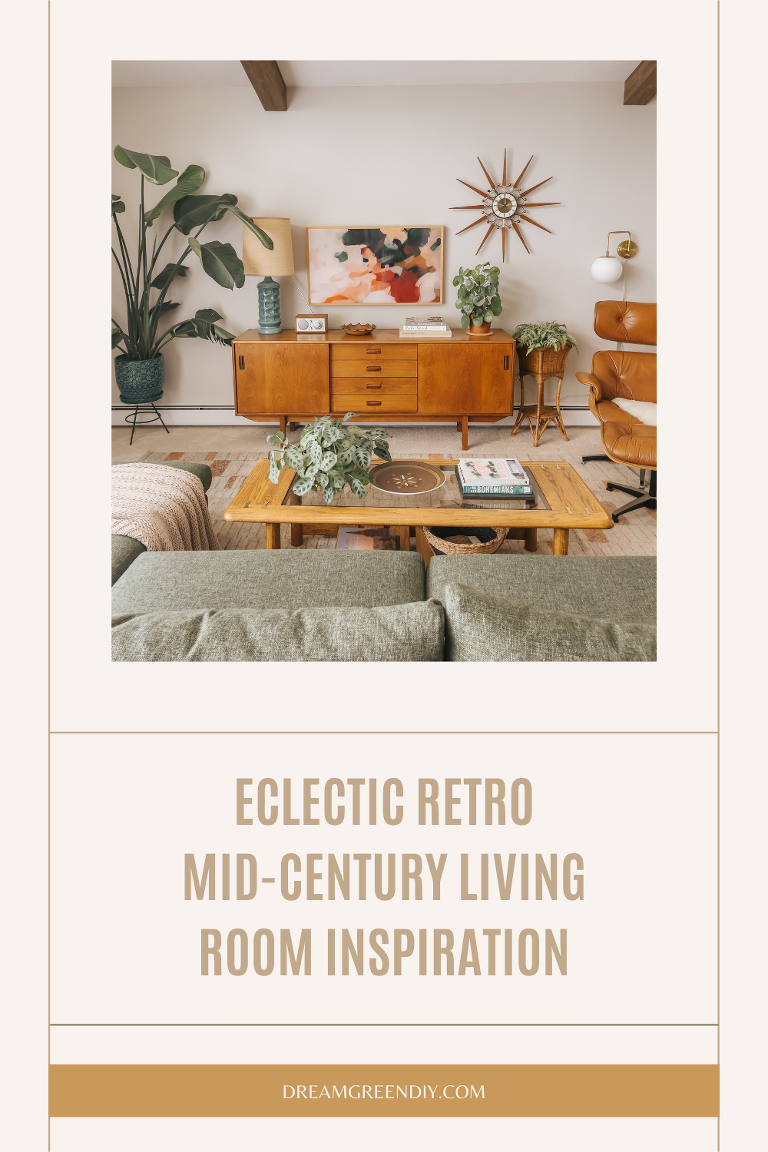 *I earn a small percentage from purchases made using the affiliate links above. Affiliate links are not sponsored. Rest assured that I never recommend products we wouldn't use or don't already love ourselves.