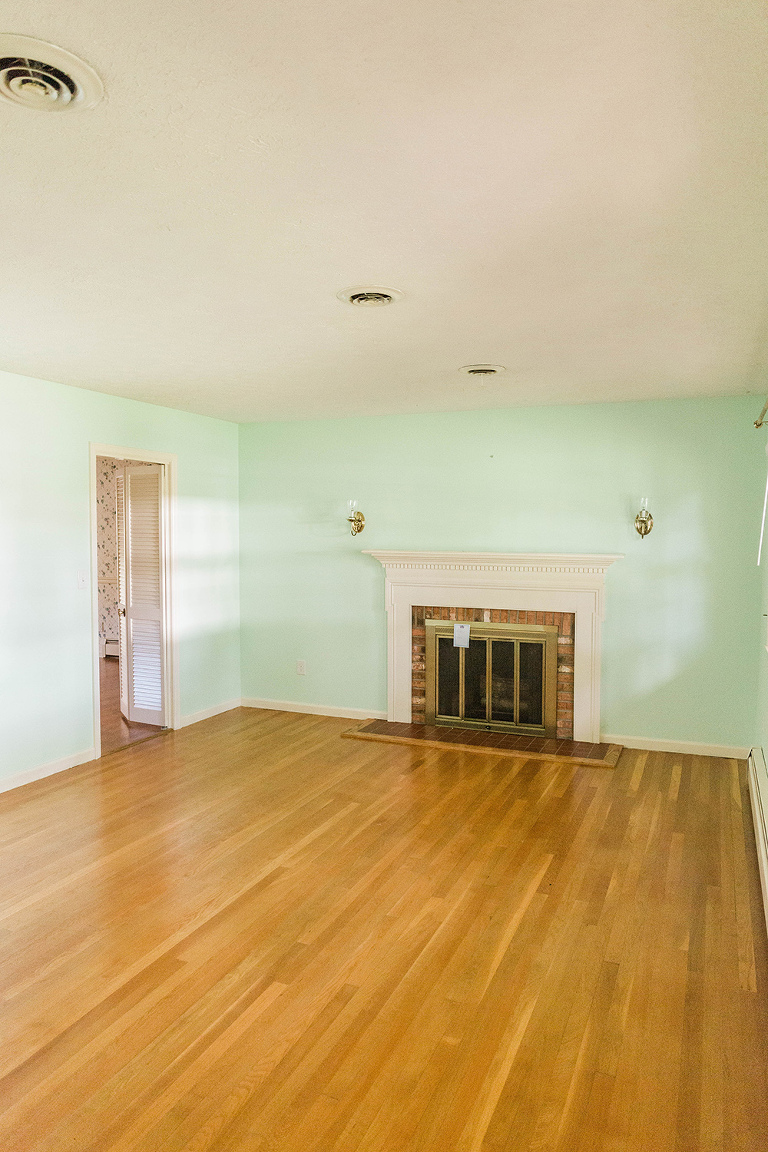 Last week I shared a quick sneak peek of our new brick ranch home, and today I'm back with the full home tour. I'm going to show you each room, and even talk through a handful of our broad design plans. Stay tuned over the next several weeks if you want even more design talk because I will break things down room by room and offer a peek at my mood board for each space, too. For now, though, let's dive into the full tour.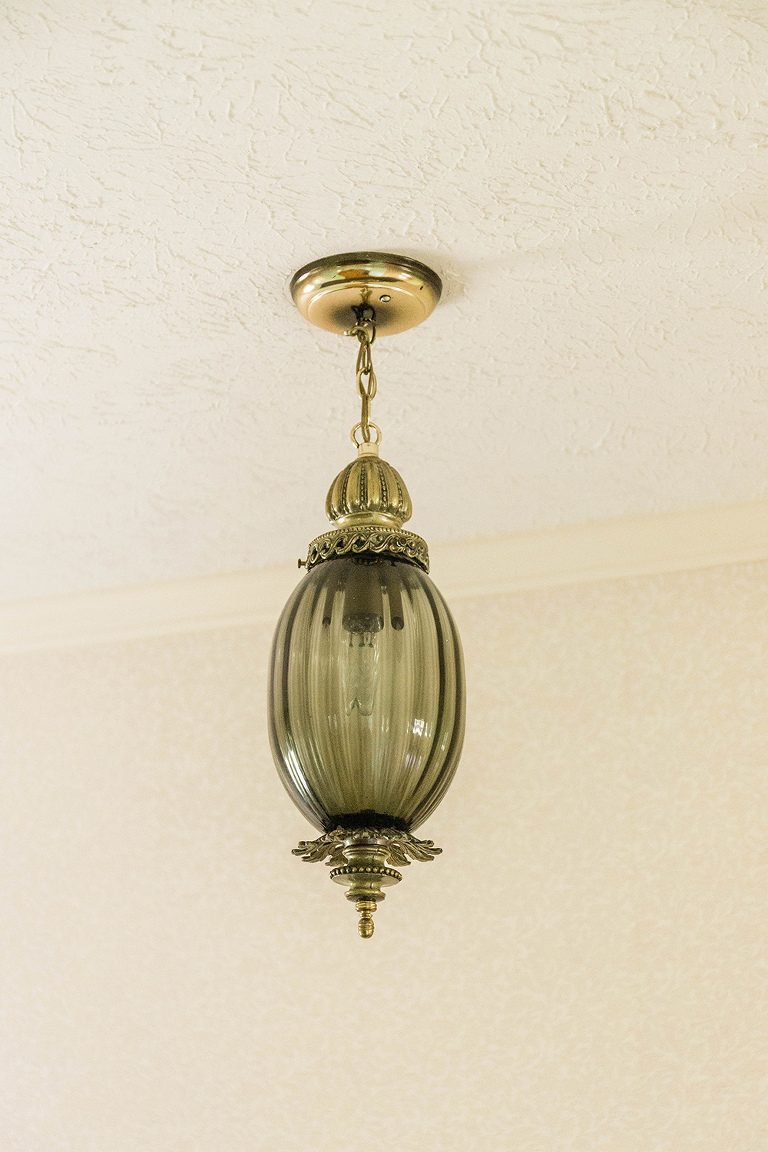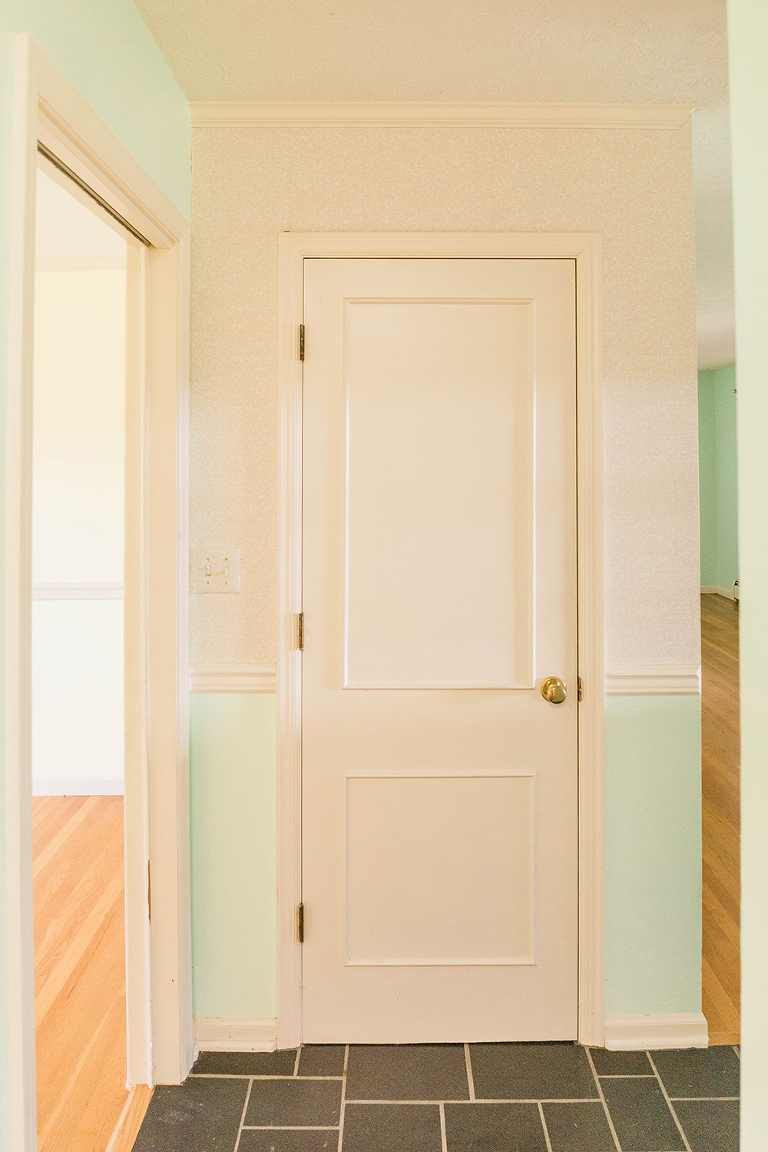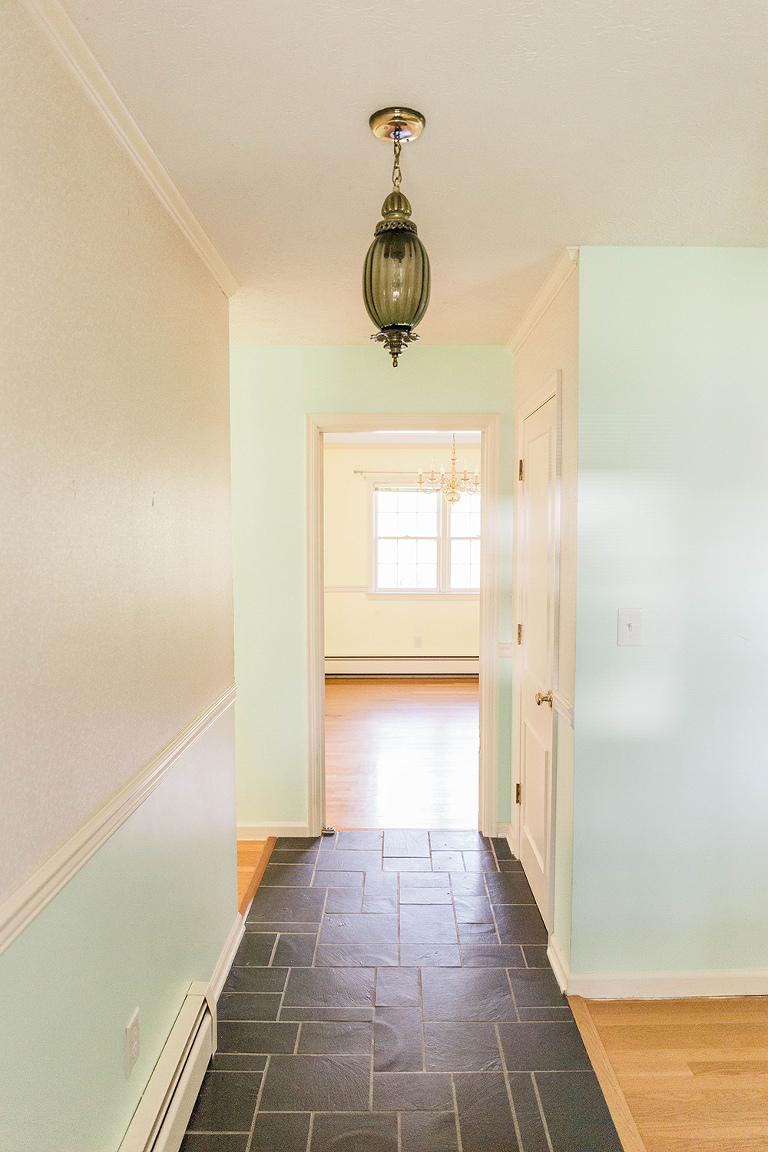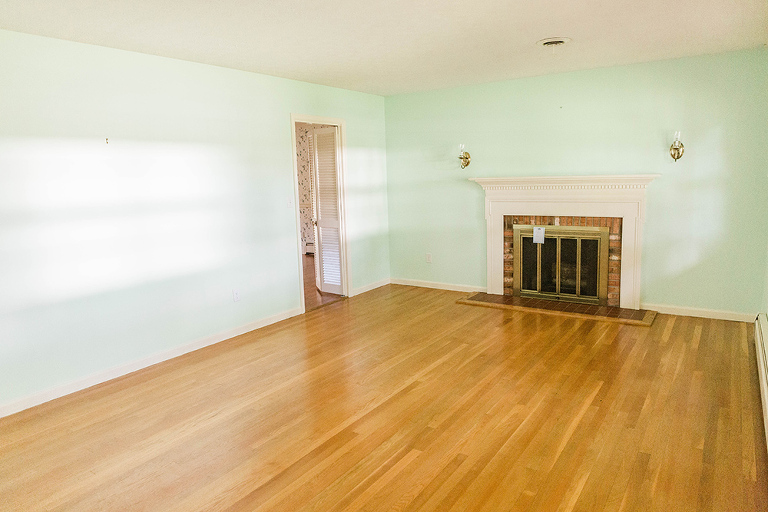 The entryway and living room are some of our favorite spaces in the house. The original slate floor is in great condition, and will stand up well to muddy boots and doggie paws this winter. How about that cool original smoked glass light fixture, too?! We definitely don't plan to change that.
One thing we originally had been planning to change was the pistachio green wall color in the living room (the room with the fireplace that you see pictured above). I think we'll update it to a more neutral color in the entryway since it doesn't complement the wallpaper there, which we plan to keep, but it somehow looks great with our furniture in the living room. As soon as we set our green couch and other furniture down in the pistachio-colored room, it somehow worked. You can see the room furnished on my Instagram here.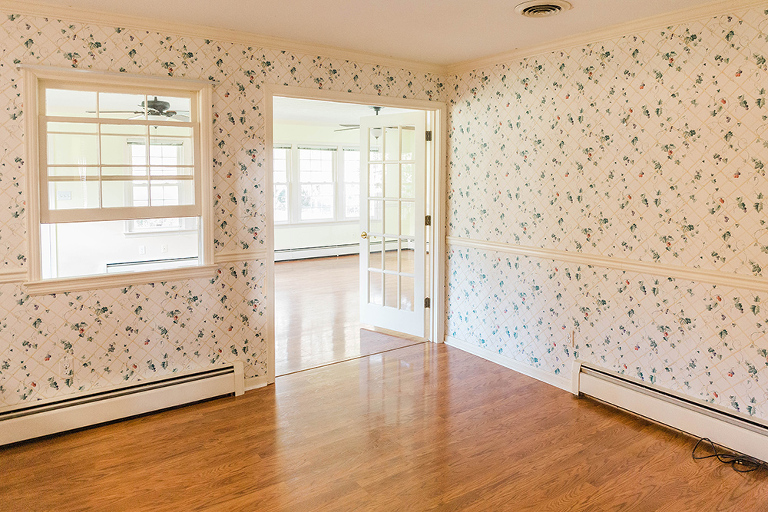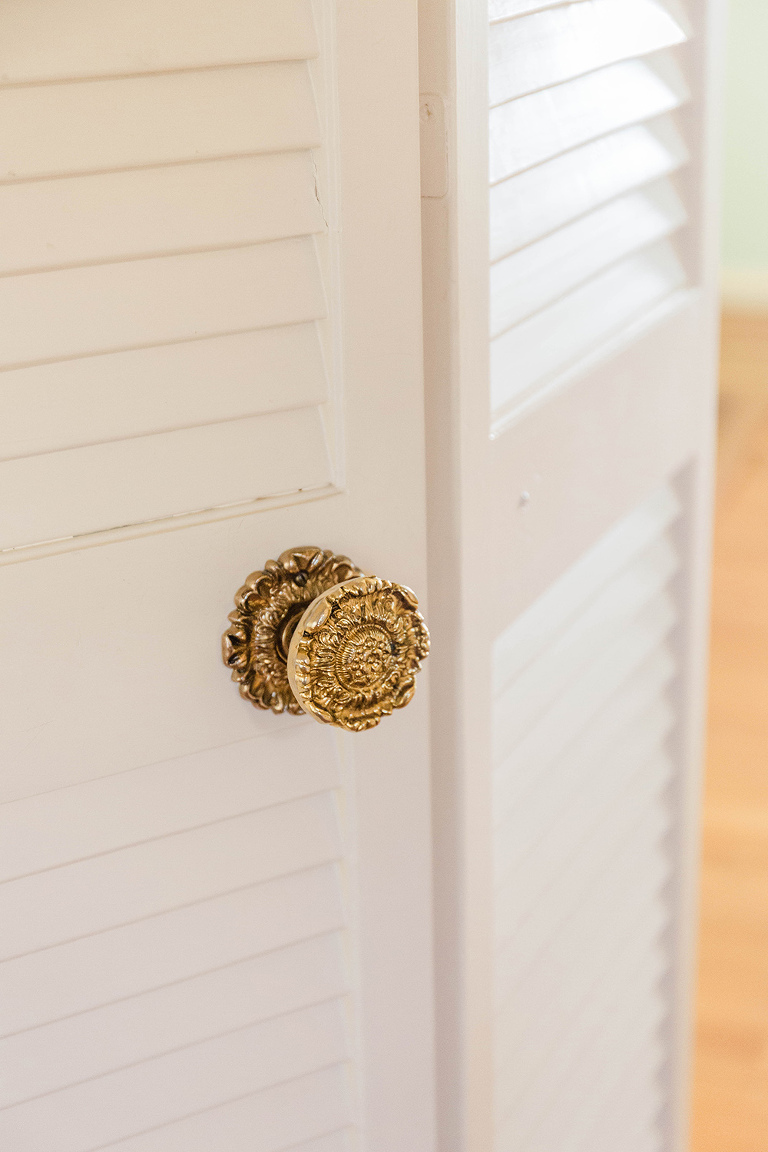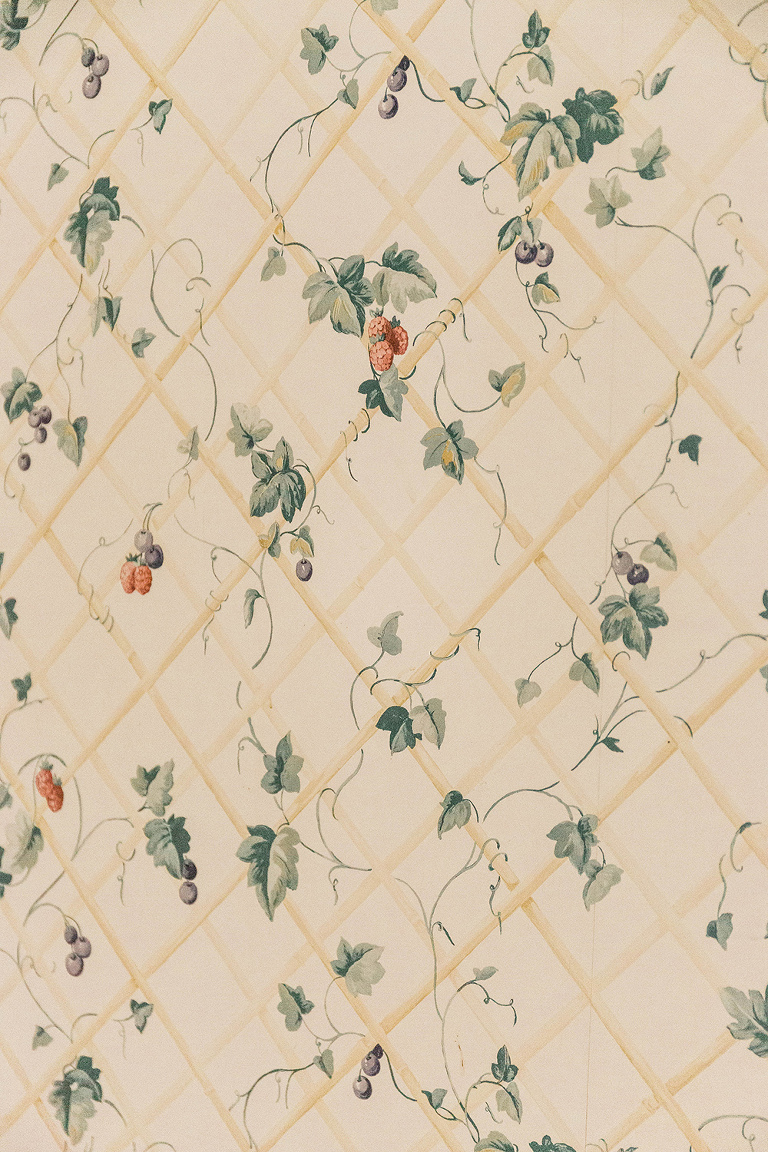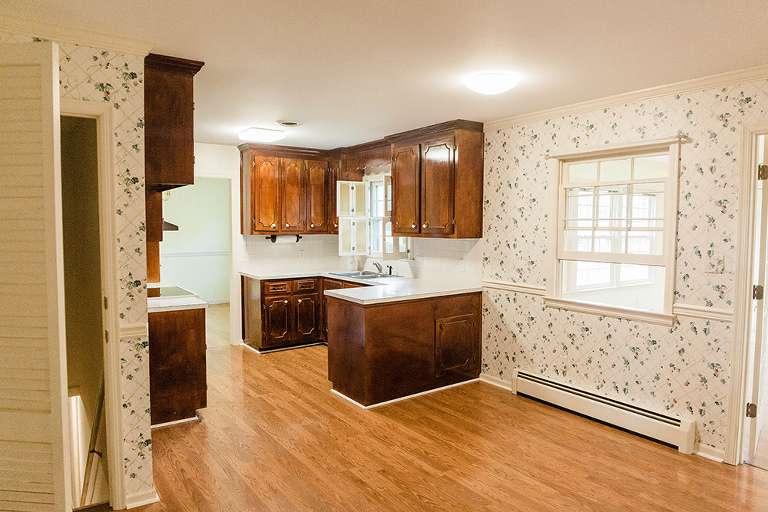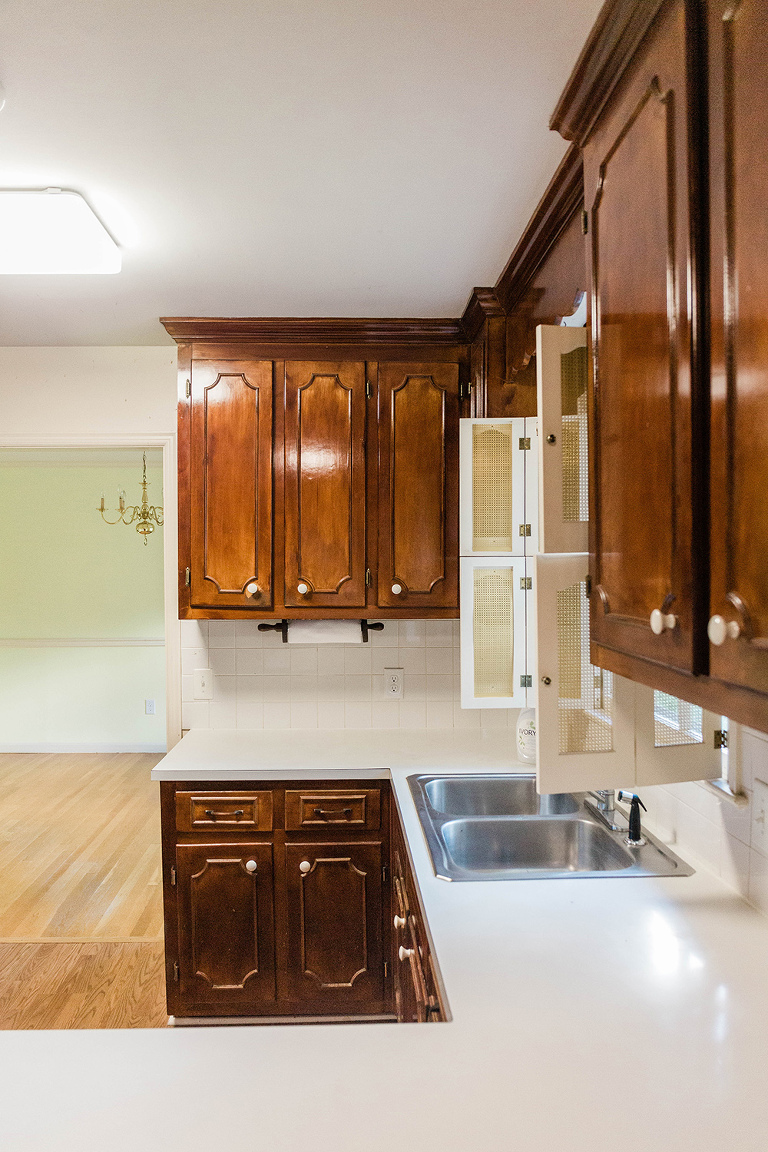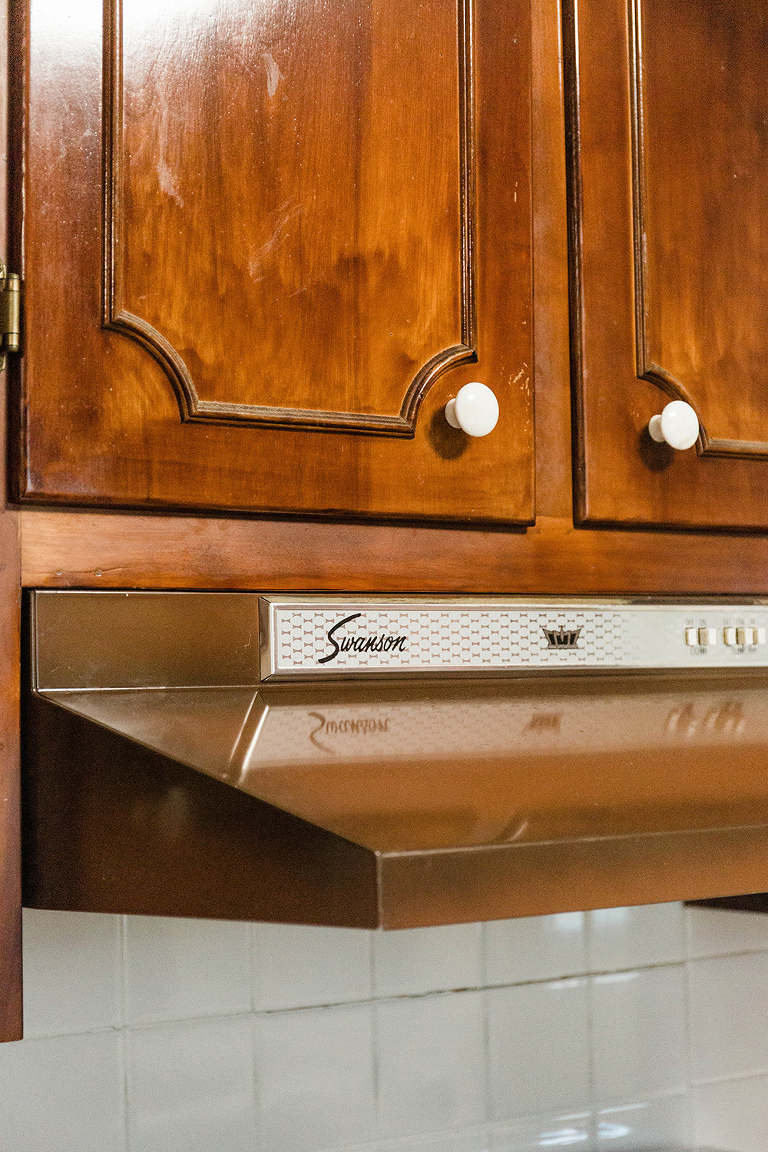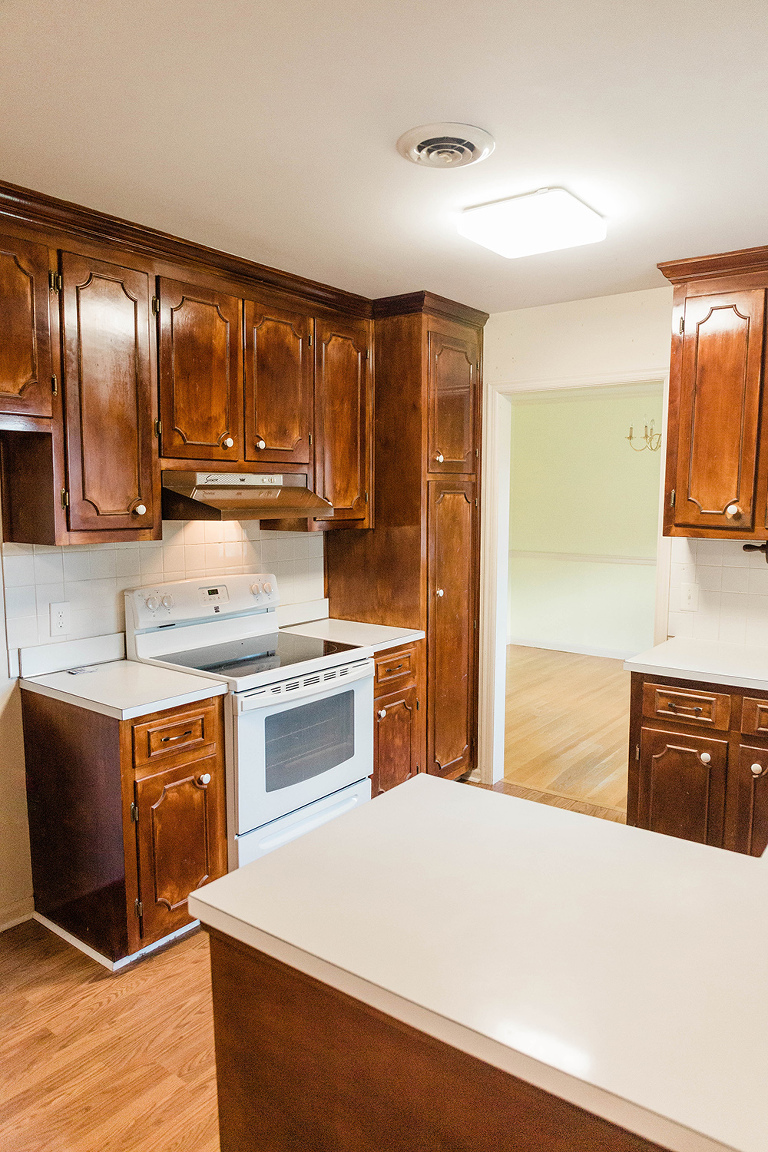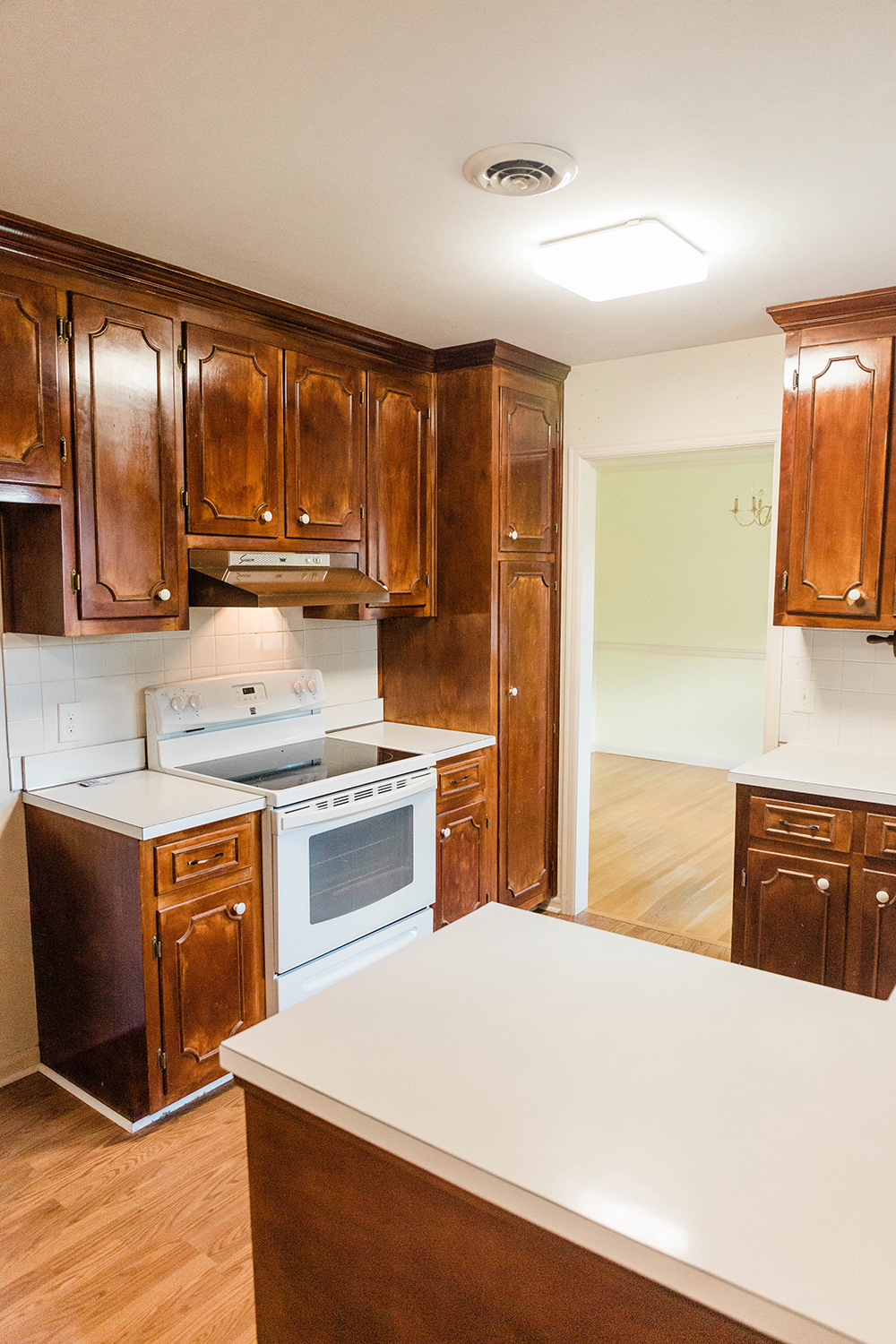 The kitchen and eat-in area, on the other hand, will definitely be seeing some major changes over the next year or so. In fact, we've already made lots of progress since these photos were taken. My sister and her boyfriend came to visit our first weekend in the new house (November 4), and they proceeded to tag-team wallpaper removal all over the house, much to our relief and joy. All of the frilly wallpaper you see in the eat-in area pictured above is gone, as well as in the hall bathroom, and my art studio. There's still the under layers of paper to remove and the glue, but they made huge progress in those two days, which we're so grateful for.
Anyway, the eat-in area will be painted white, at least to start, and we also plan to paint the kitchen cabinets some shade of white or off-white. The current dark wood stain isn't very even, and there's a slightly offensive (to my eyes, at least) high gloss varnish over top. The stain and varnish have worn away in many areas, and it's time to start over.
I'm not usually one to paint wood, but I'm willing to accept when a certain wood finish has exhausted its lifetime, and this one is shot. I'm really excited to see how white paint will make the cool door trim pop! It's worth noting that we also plan to replace the countertops, the cabinet hardware, and we also have installed a new white refrigerator since these photos were taken. The lighting will also be updated. I can't wait to dive into those projects.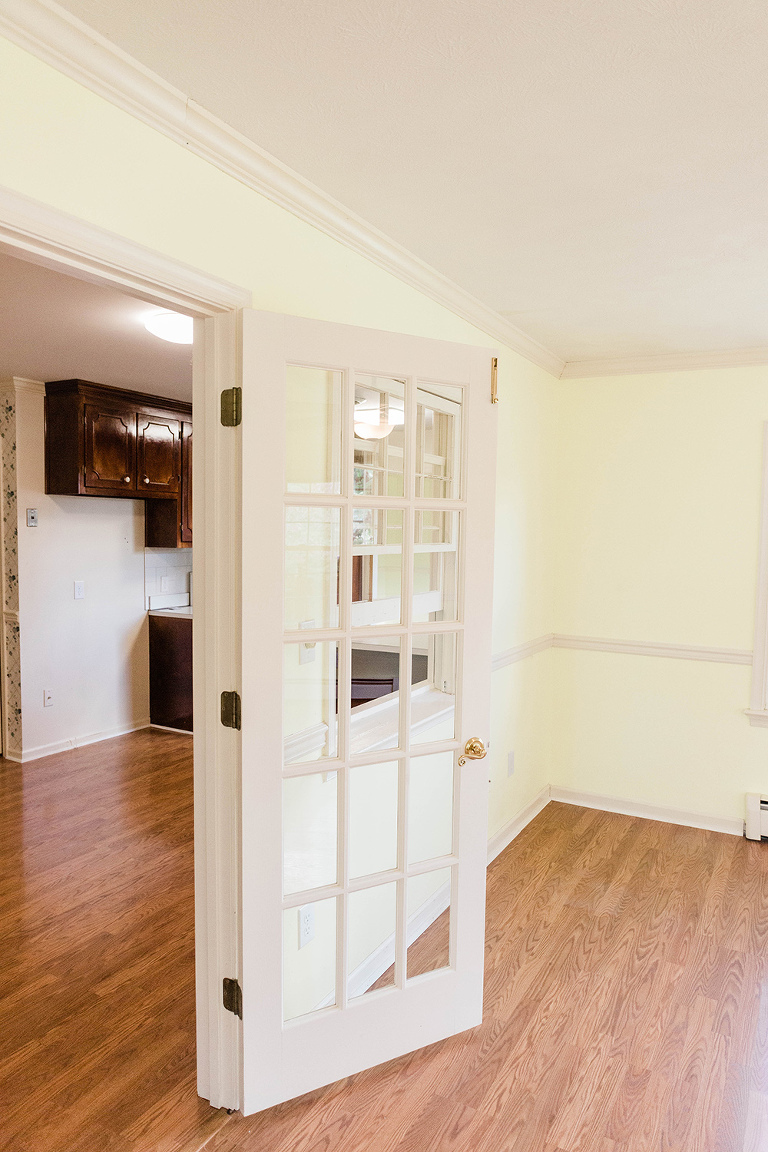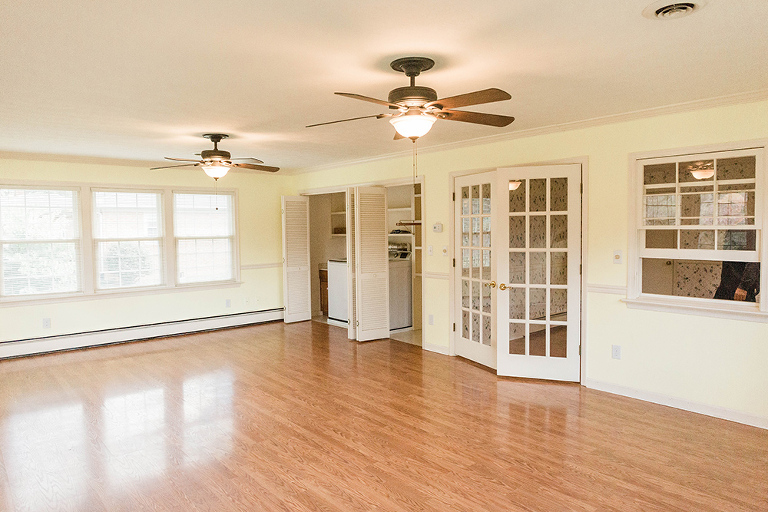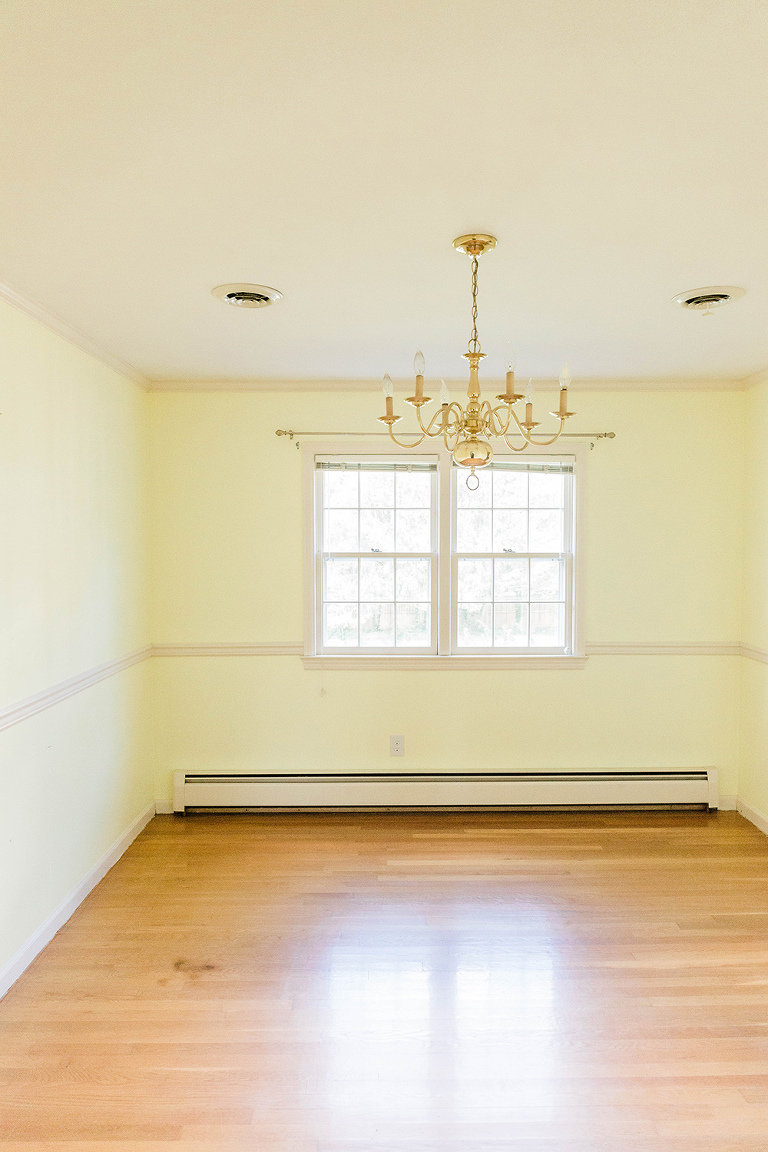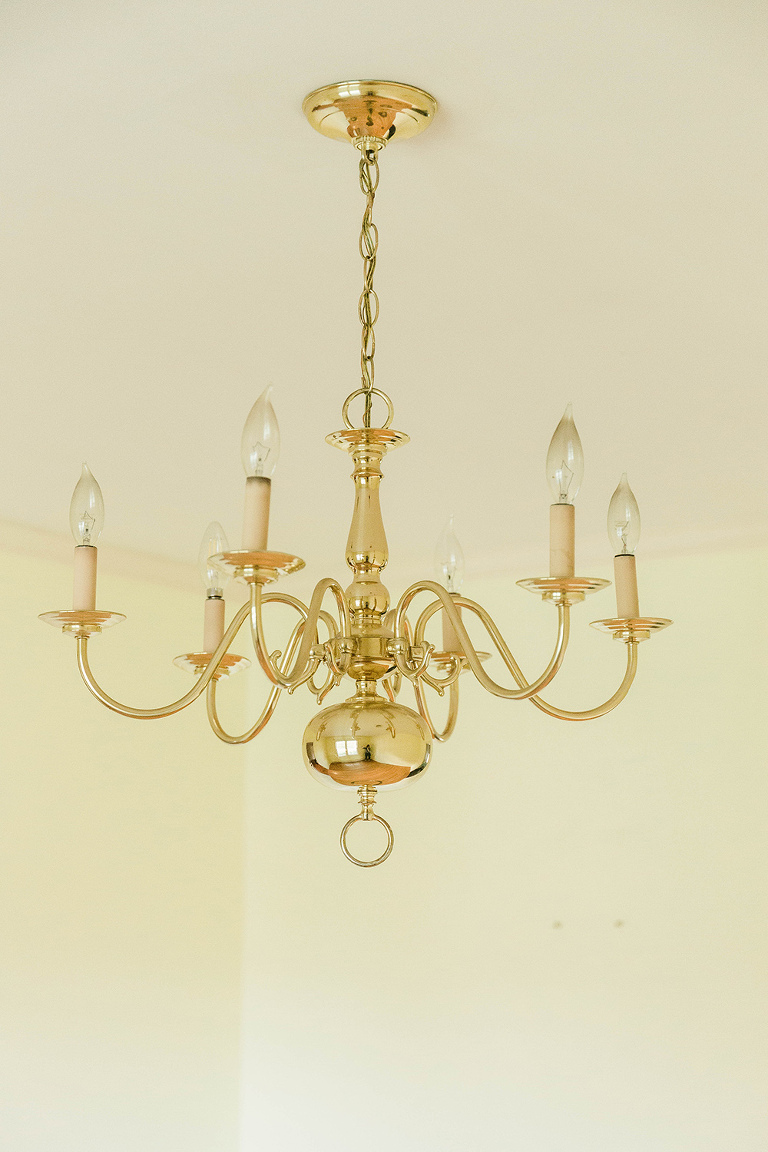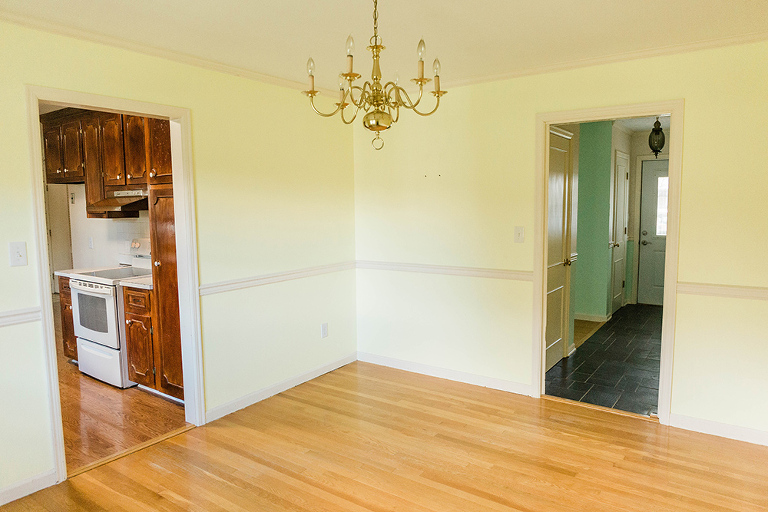 The sunroom and dining room are the two yellow-painted rooms you see above. We're actually painting the sunroom white today, and plan to do the same in the dining room. I don't usually decorate with the color yellow, and, while I actually am open to using that color in this house, I wouldn't have chosen the particular shade of yellow that you see above. We will also be changing out the light fixture in the dining room and the fans in our new sunroom.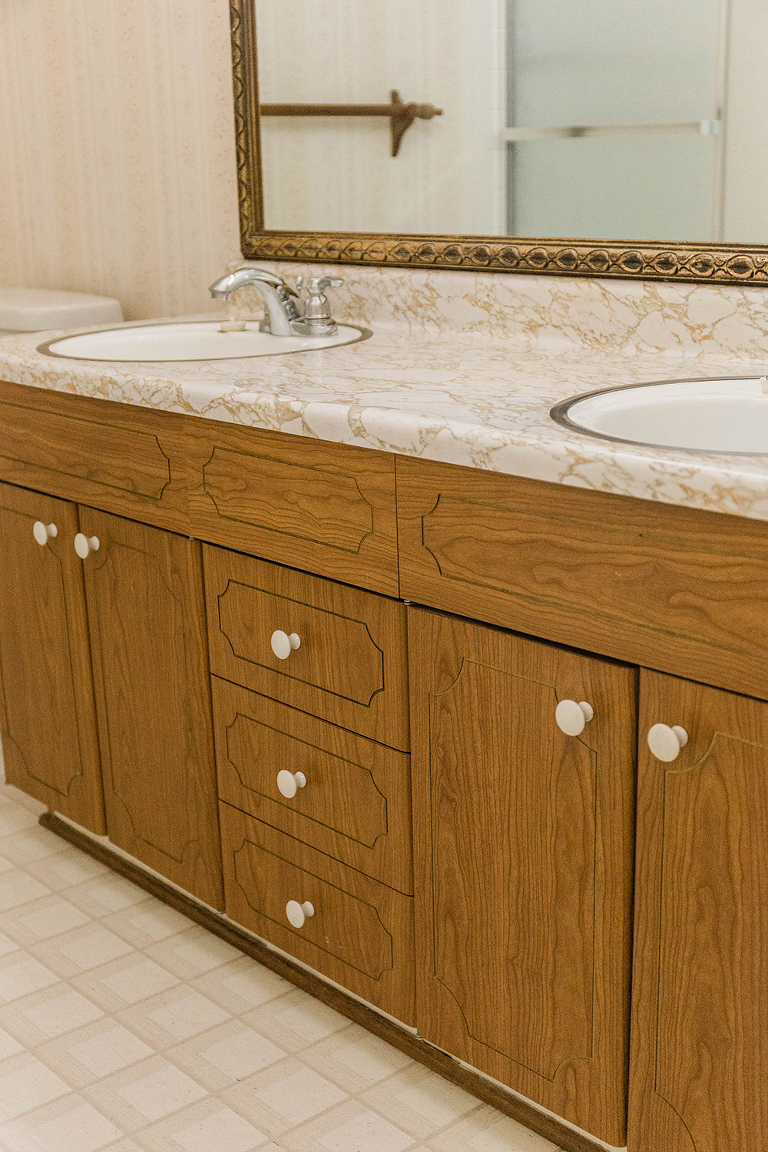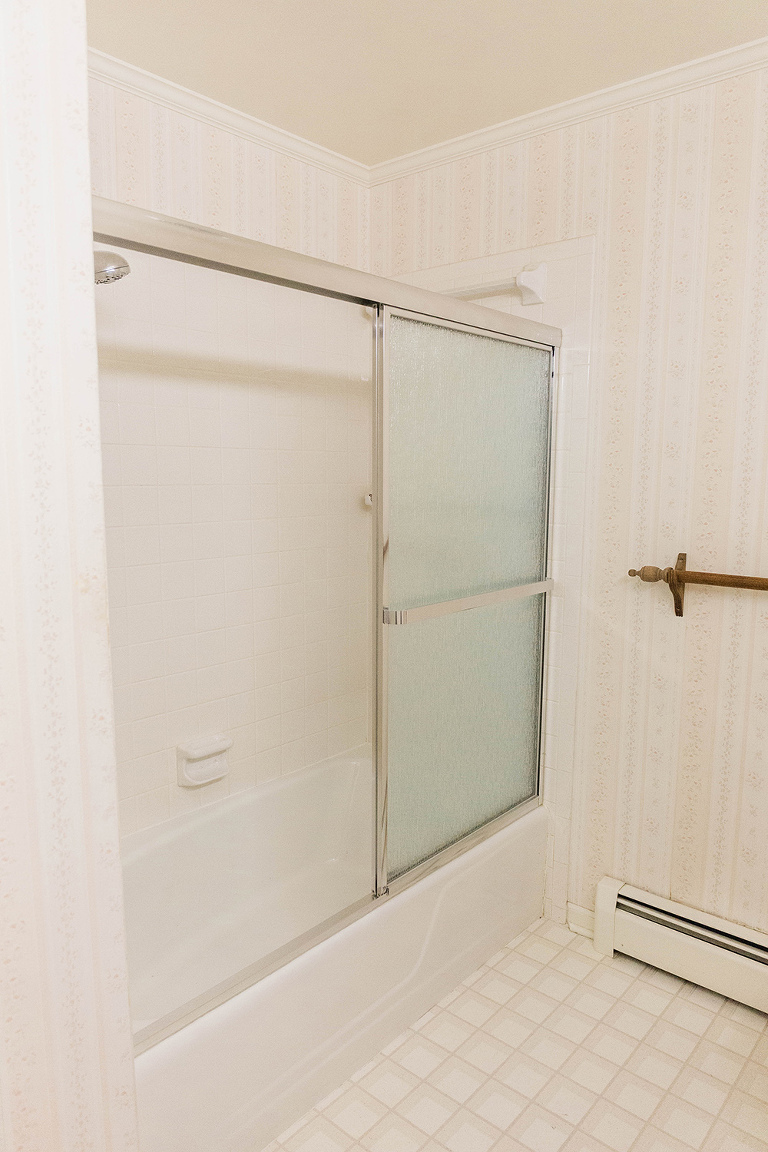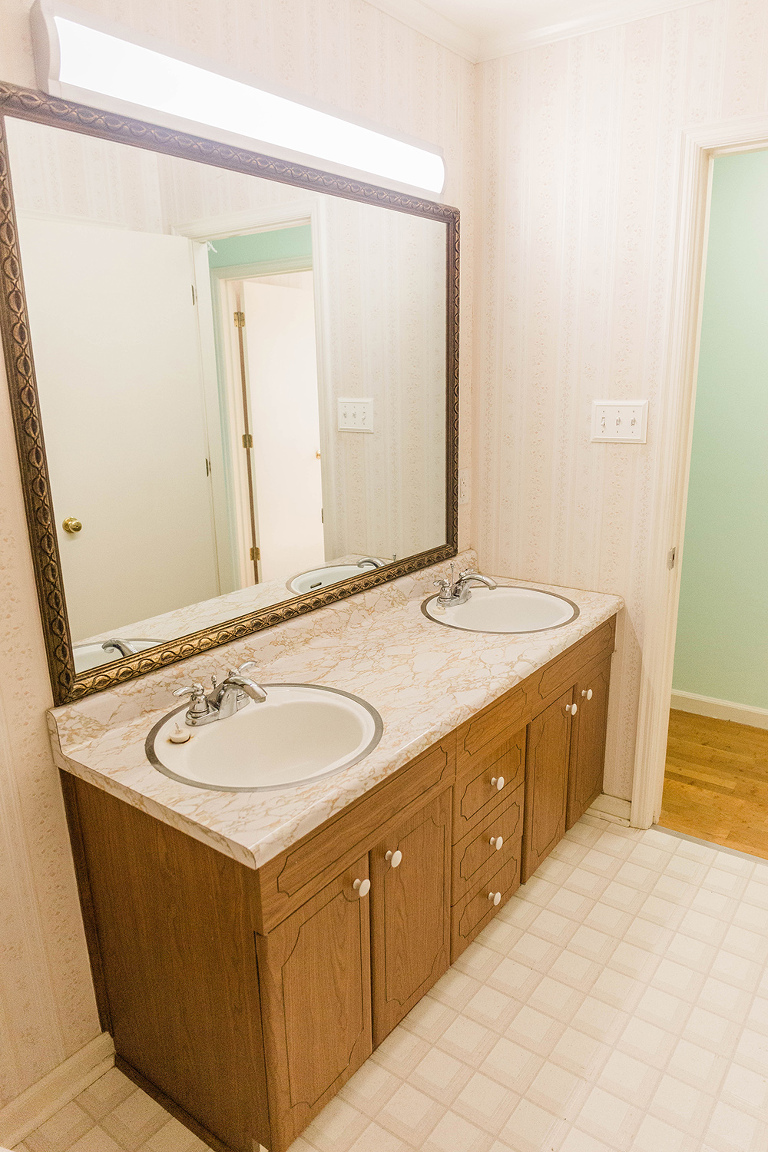 The hall bathroom is a fantastic size, but most of the details will eventually need to be replaced. I actually don't mind the retro vanity or even the faux marble formica countertop, but the original sinks have big rust holes in them, and I think it's time to modernize the space a bit so that it lasts for the next 60 years. Oh, and, as I said, the wallpaper has already been removed. We'll probably leave the vanity and floors alone for a few years, but we will replace the counters and sink, mirror, light fixtures, and the walls will be painted as soon as possible—probably over Thanksgiving when my sister comes back to visit.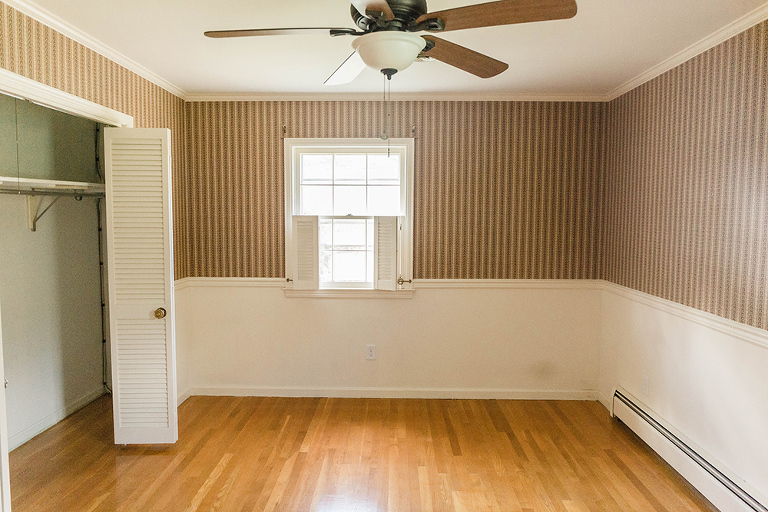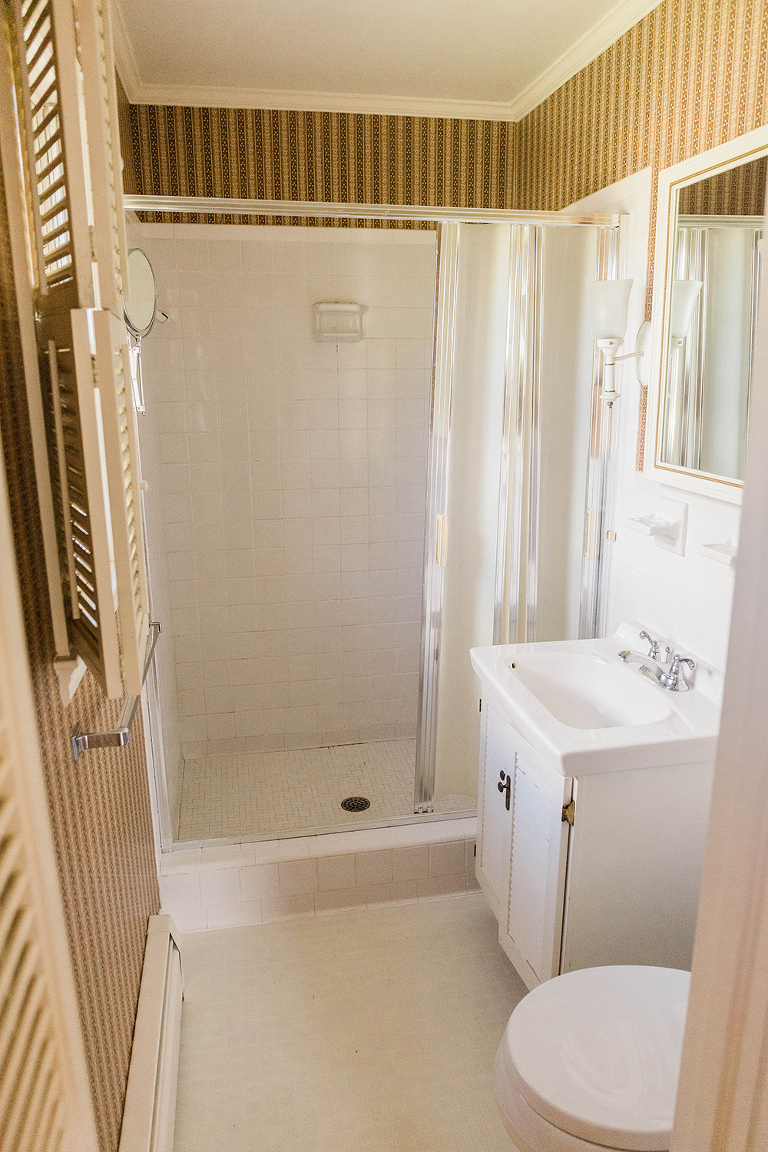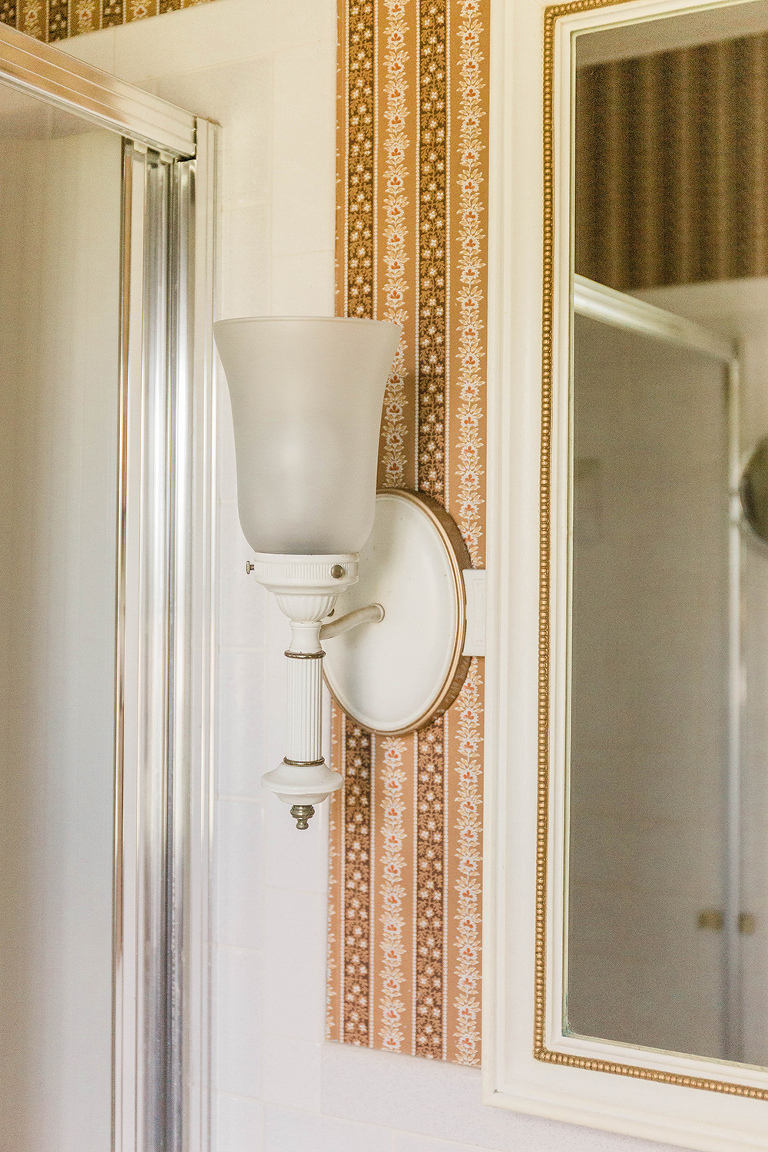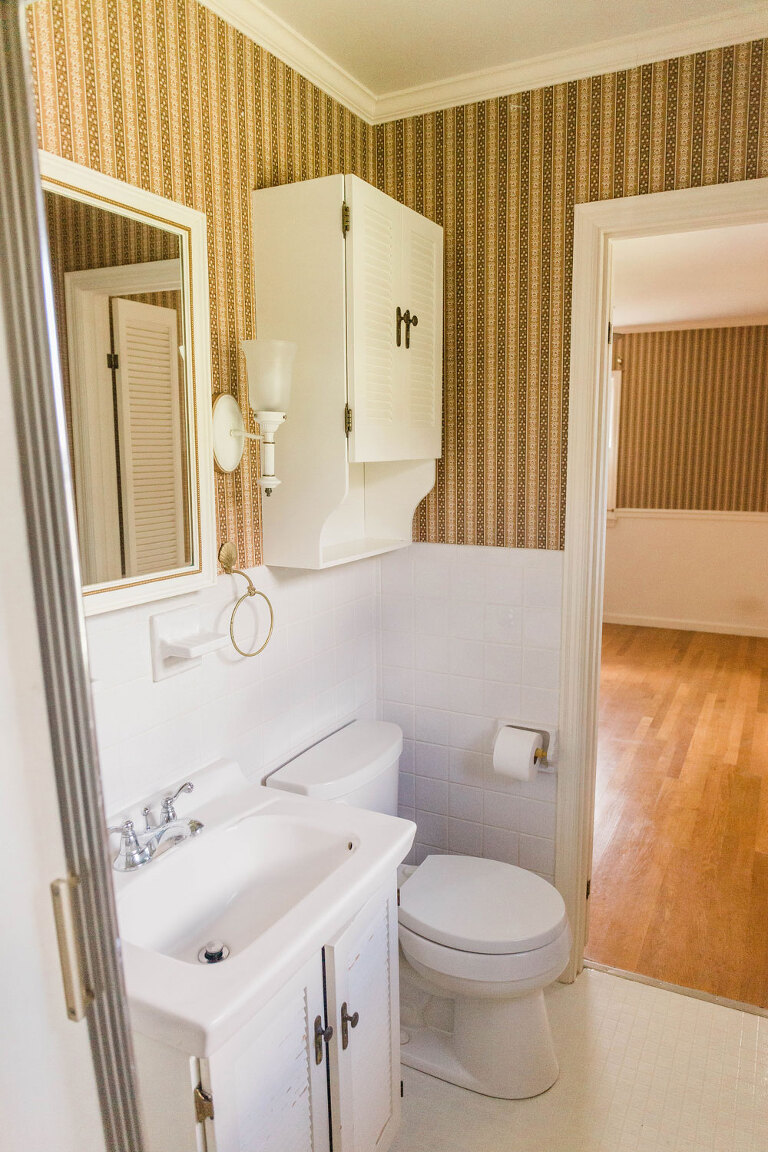 The photos you see above show our new main bedroom suite. We haven't had an attached main bathroom in our bedroom since we lived in our townhouse seven years ago, so it has been really nice to enjoy that perk again since moving into our new home. I was initially planning on removing the wallpaper in the bedroom over the chair rail, but when we put our furniture in the room, it somehow worked! We might get sick of it, but for now, it's staying. The matching paper in the small main bathroom has got to go, though (it's just a little too much for that small space), and the old light fixtures, too. Lots to do in that room, but we're planning on taking our time with it.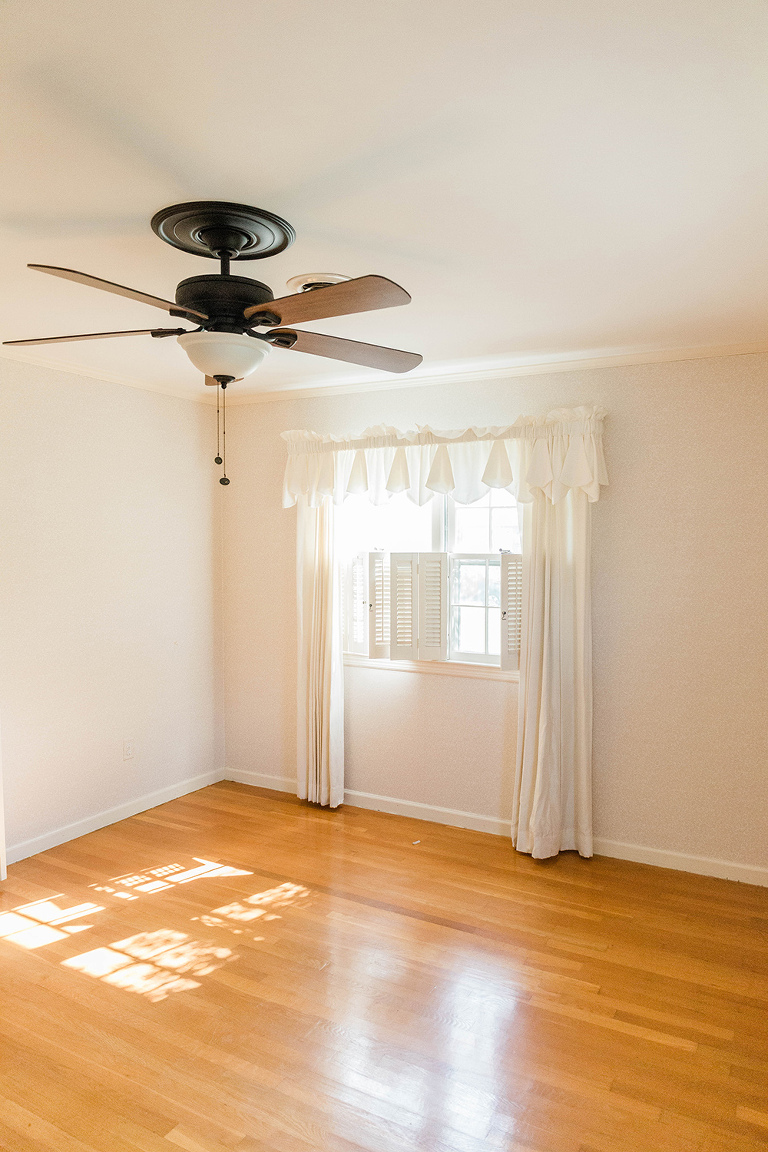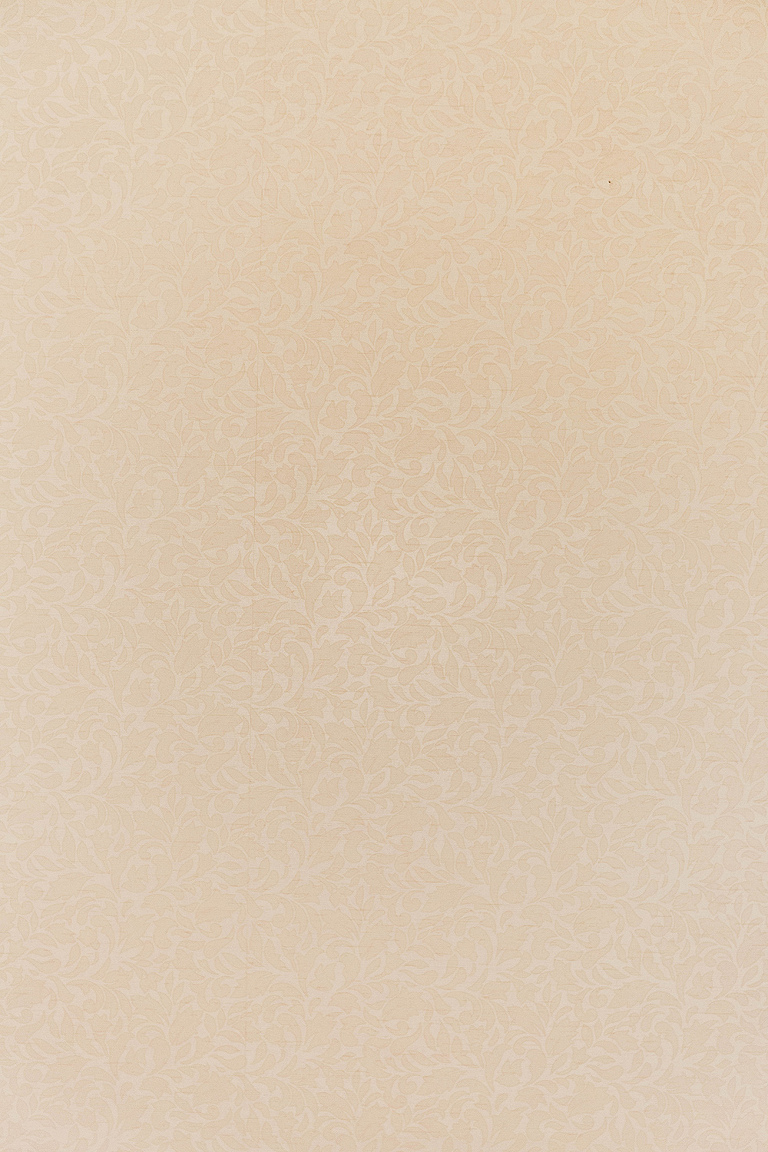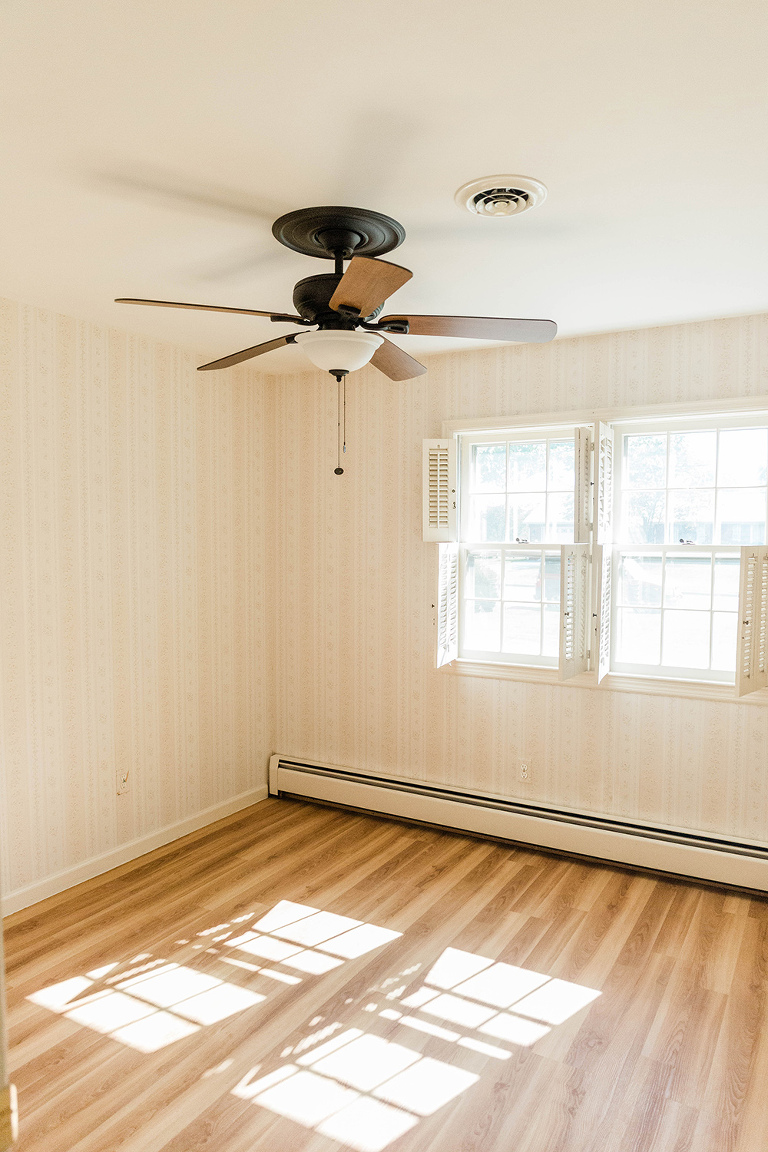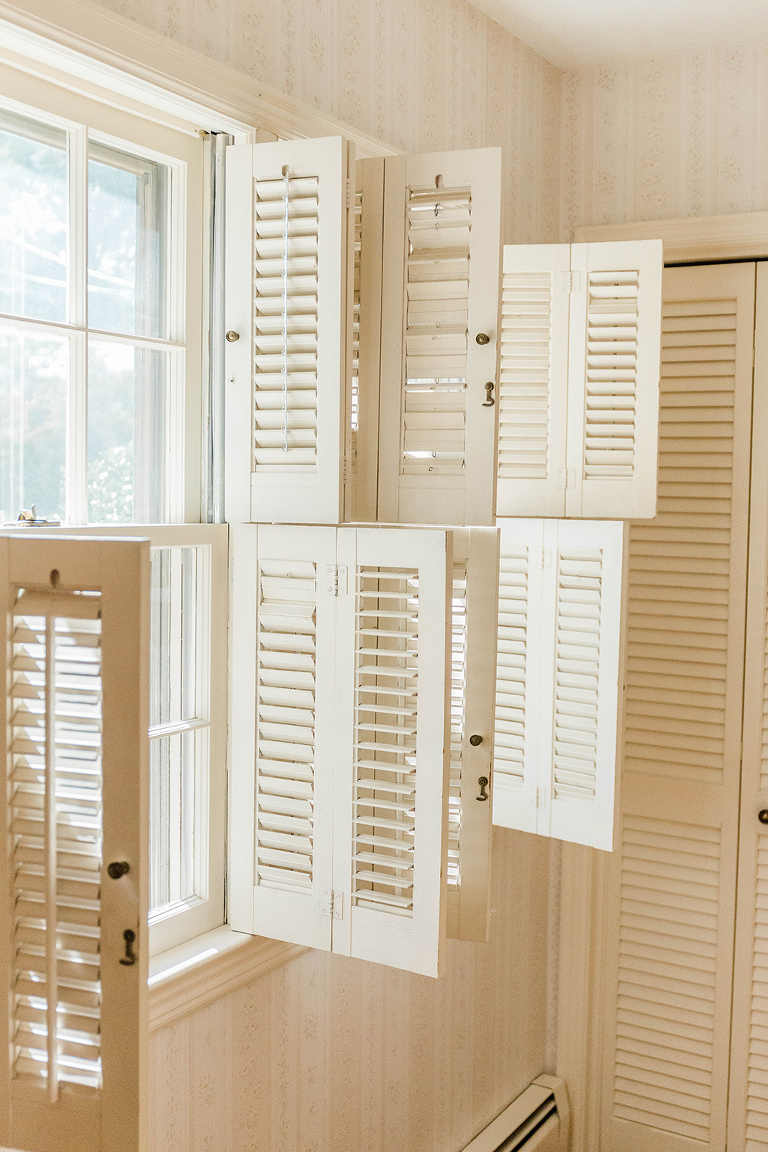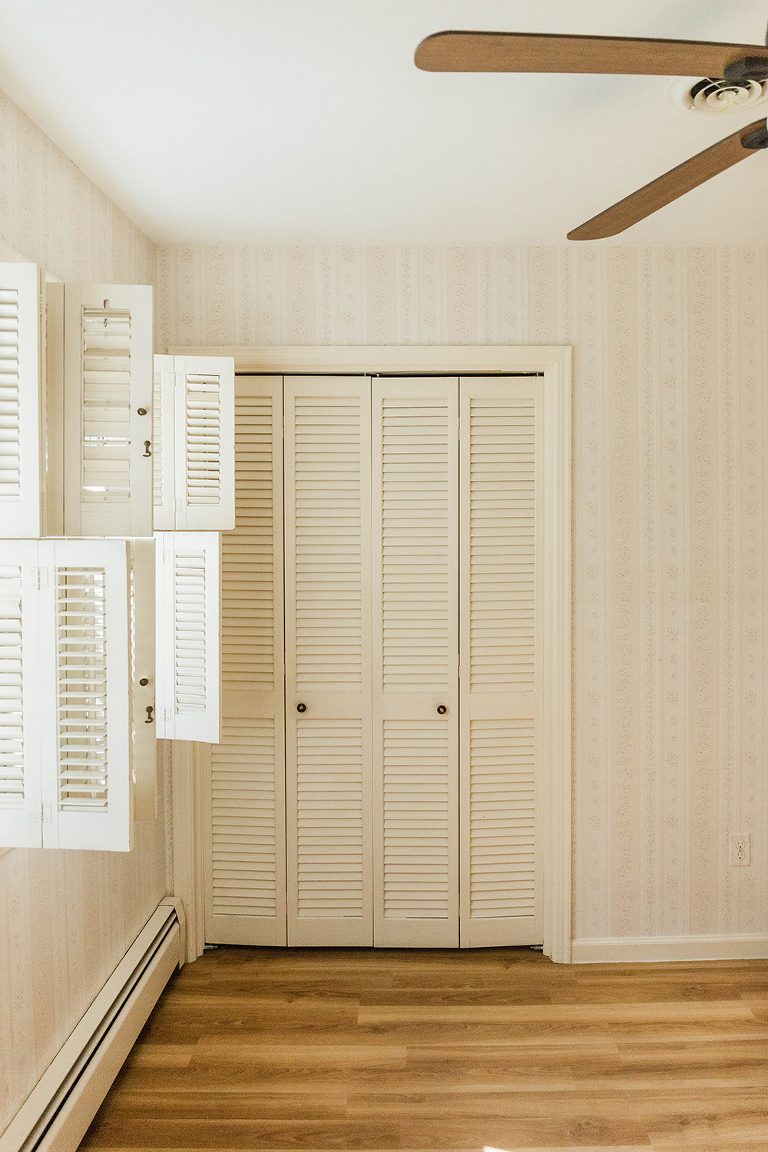 I managed to claim the two extra bedrooms for my own use—one as my home office and the other as my art studio. Don't worry. John has a giant semi-finished space in the basement that he's excited to make over to his heart's content! He also has the new garage to enjoy all to himself (pictured below). At any rate, I'm giddy about the possibilities for my new office and studio. Some of the original details will be staying (the wallpaper in the office, louvered closet doors in both rooms, sweet custom drapes), but some have got to go (the window shutters, striped wallpaper in my studio, the fans in both rooms). Again, we're going to take it slow so we don't get overwhelmed, but I hope to be able to share some progress in these spaces soon.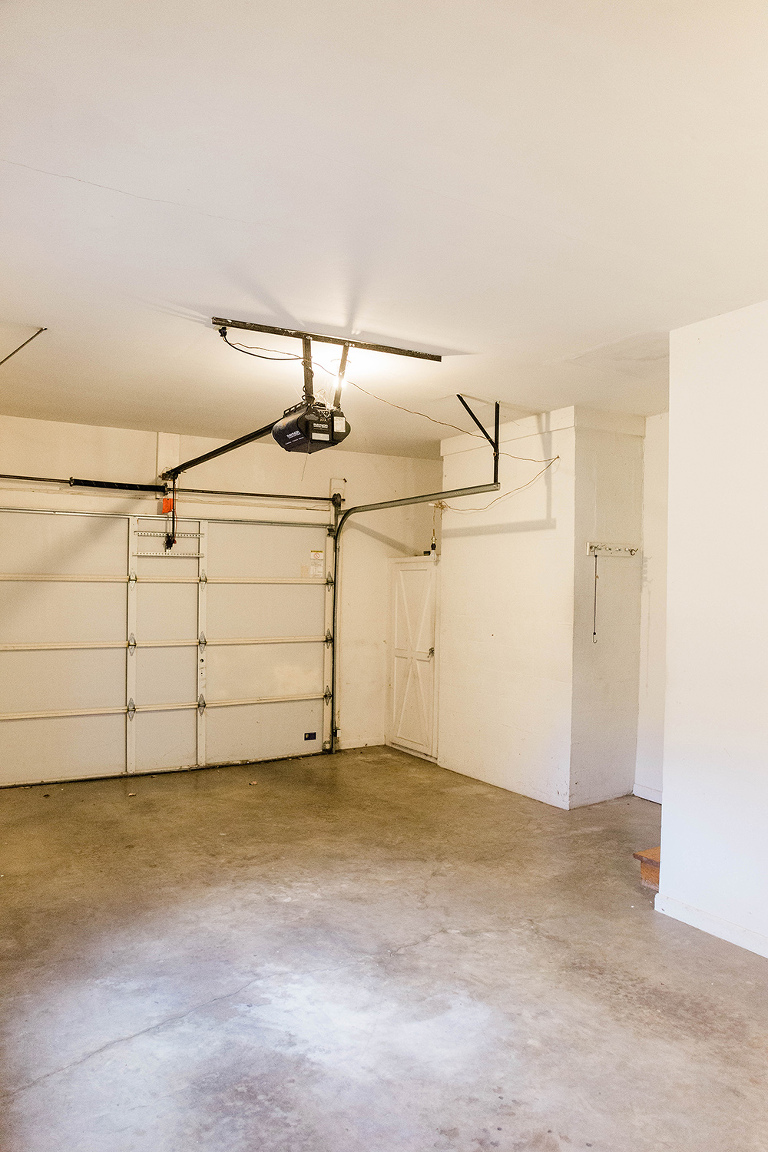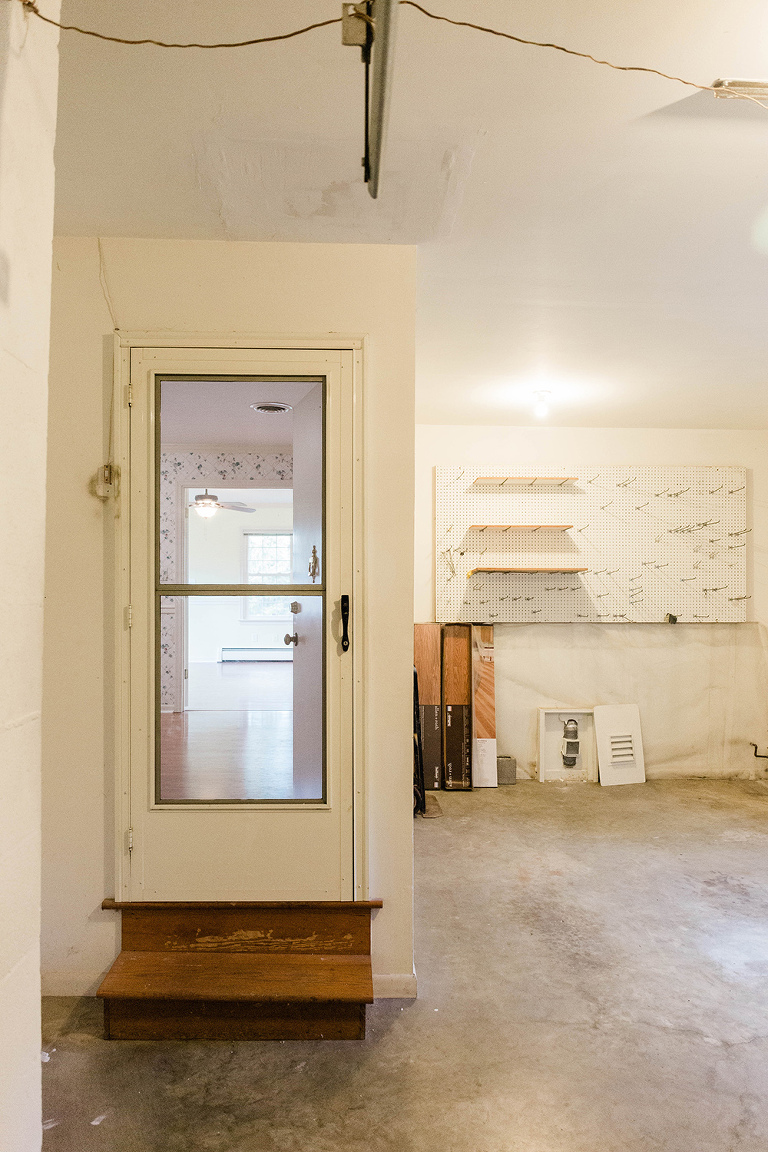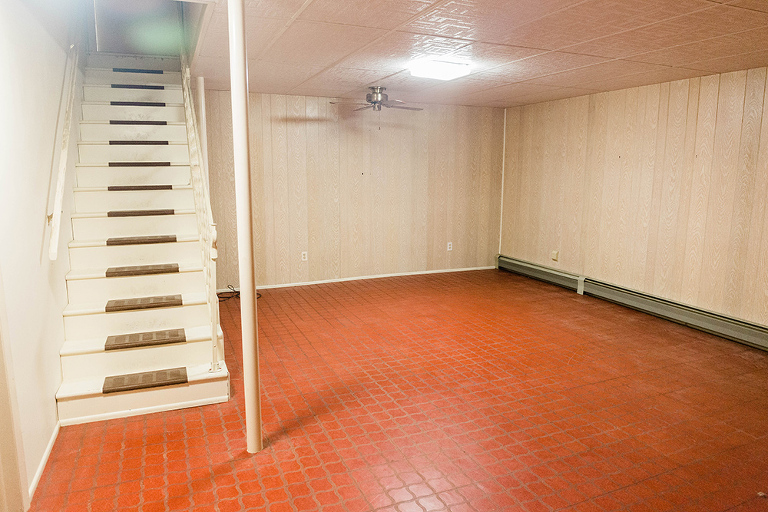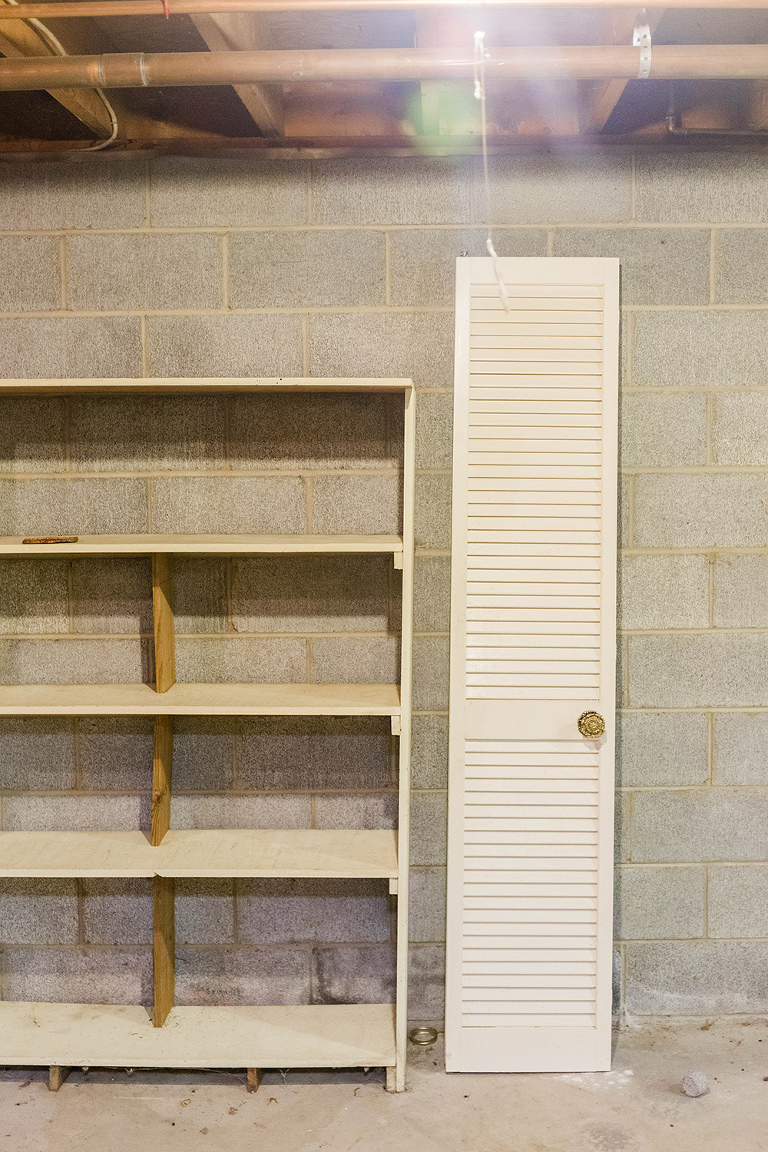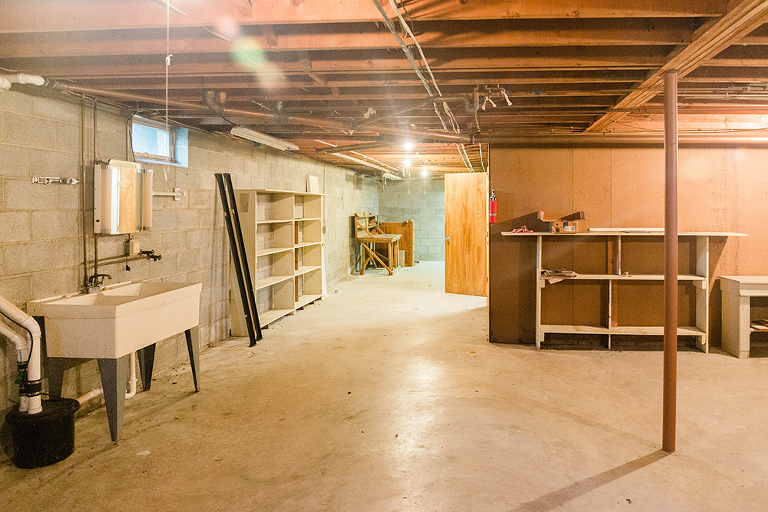 And how about that enormous unfinished basement?! Good thing we have that space because the closets are a little smaller in this house compared to our old ranch. So, now that you've seen the entire tour, I'm curious…Which details and accents would you keep? Which would you get rid of? Are you excited about our renovation now that you know some of our design plans? As I said, I'll be sharing all of our makeover plans for each individual room over the next several weeks, so keep an eye on the blog for those details if you're curious. In the meantime, leave a comment with your own thoughts and ideas for our renovation!