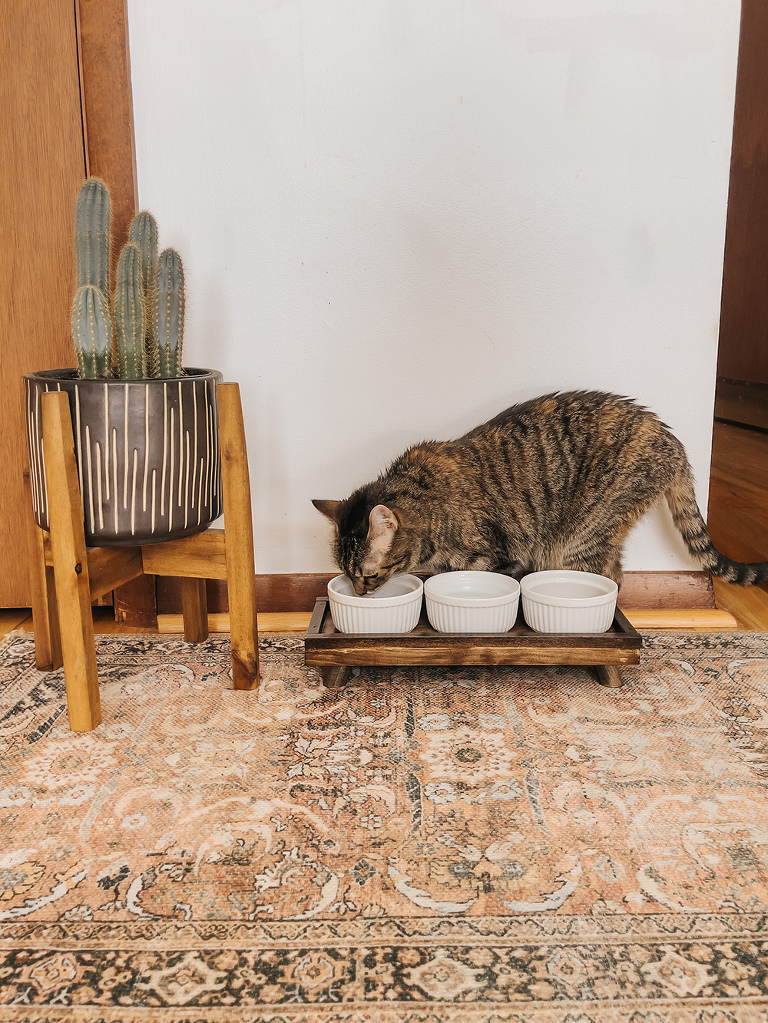 Happy new year, and welcome back to the blog! I'm still getting my bearings now that I've made my office return after a long 2-week winter break, but I'm feeling extra creative and motivated now that I'm fully rested. I have so many DIY and décor plans for 2023, and I thought I'd kick things off with a new project dedicated to our fur babes. Keep scrolling to learn how to make your own version of my DIY Wooden Pet Food Bowl Stand, and you can watch the entire craft come together in motion over on the Hunker Instagram feed here.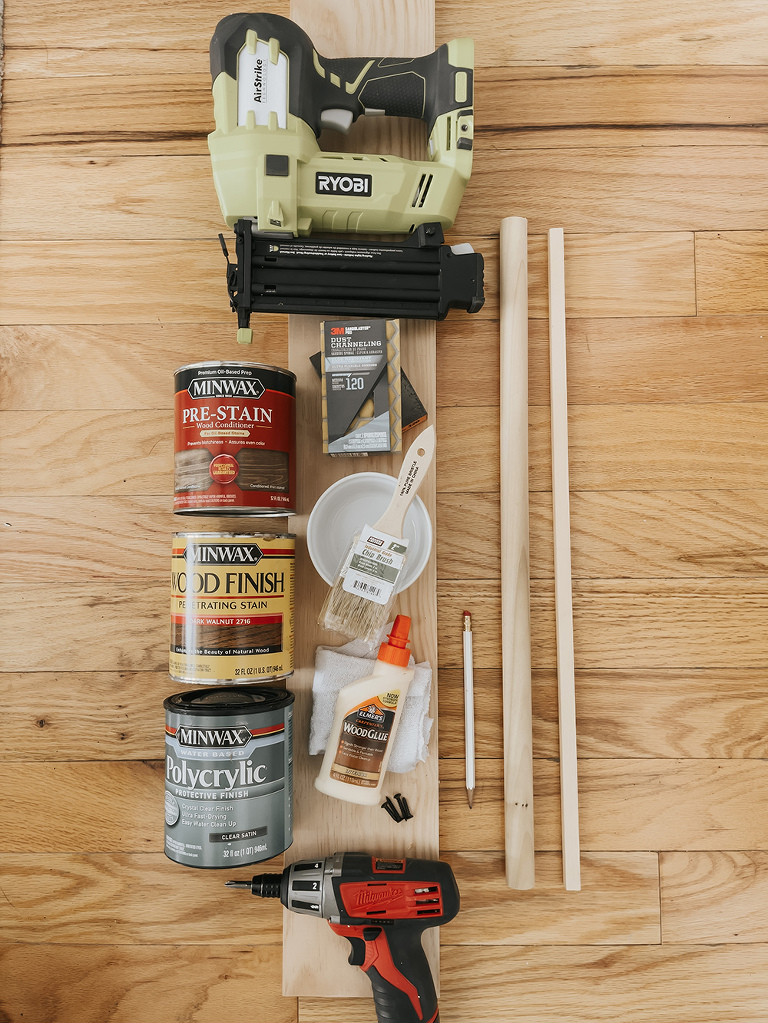 Here's What You'll Need:
1. Wooden board (the overall measurements will depend on the size of your pet food bowls)
2. .5-inch square wooden dowel rod (the length needed will, again, depend on the size of your pet food bowls)
3. 2-inch-thick round dowel rod
4. Pencil
5. Compound miter saw or clamping miter box and saw
6. Brad nailer
7. Drill and drill bits
8. Wood screws
9. Wood glue
10. Pre-stain wood conditioner
12. Polycrylic protective finish
13. Paint brush
14. Rags
15. Sanding block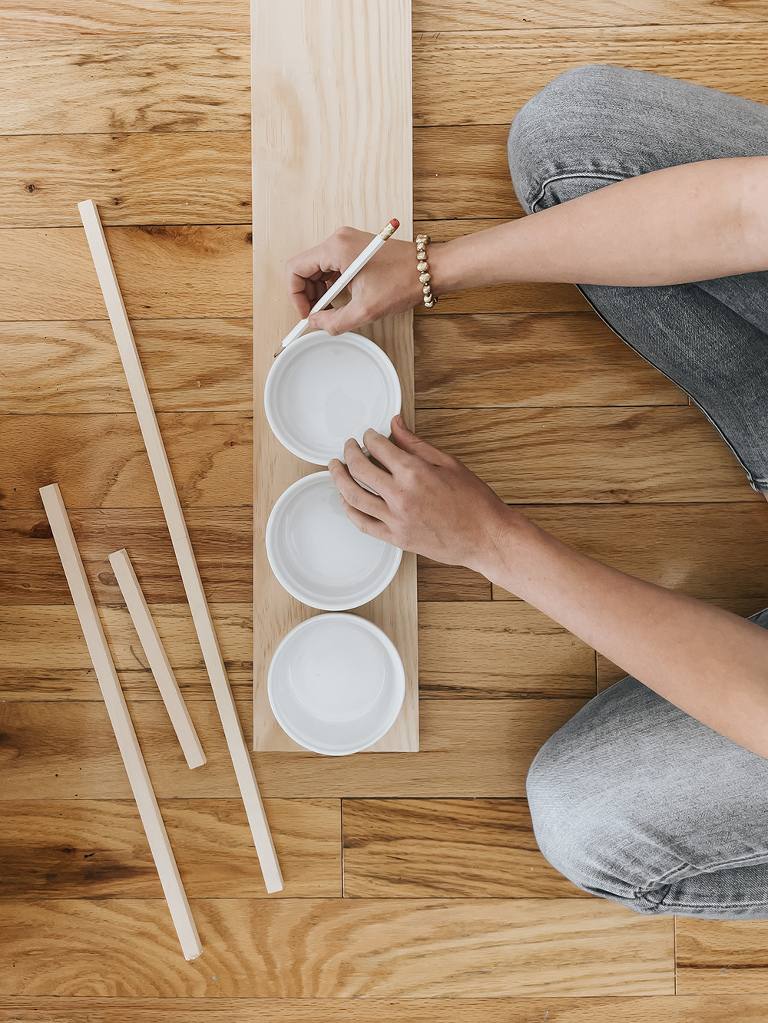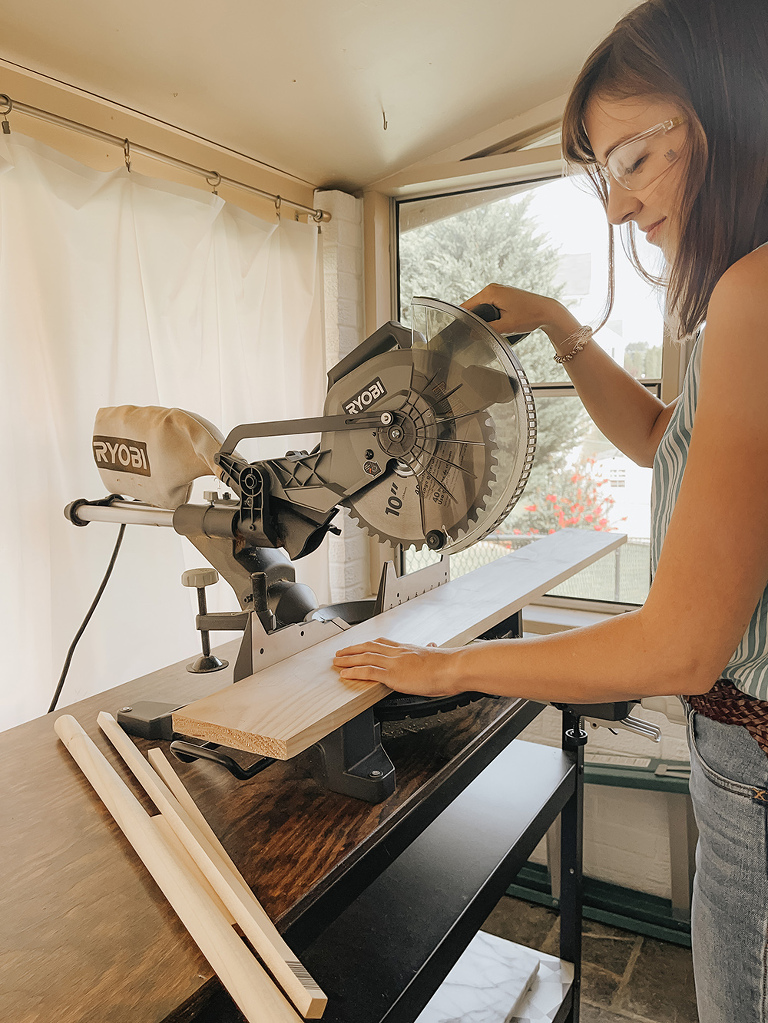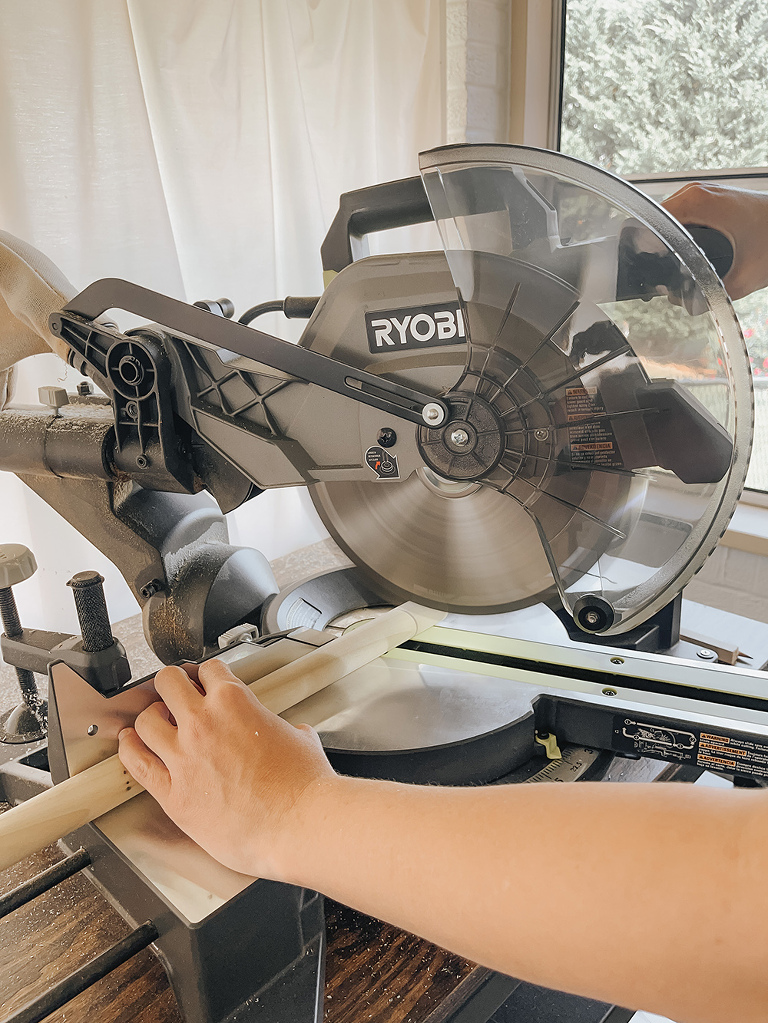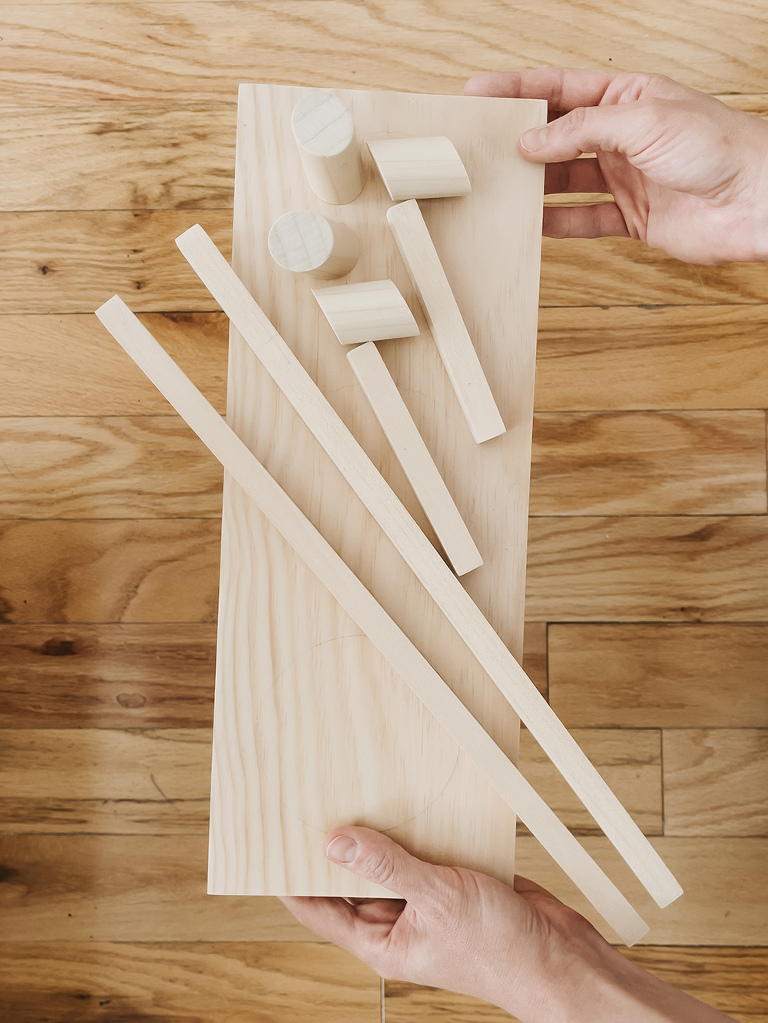 The first thing I needed to do was determine how big my stand needed to be. To do that, I placed our cats' food bowls on the main wood board, and moved them around until I felt like I got the placement correct, keeping in mind that the edges would have a half inch piece of trim going all the way around. Once I had it just right, I traced the bowls onto the board so I could be extra sure I wasn't making the stand too small, and then I took the board outside to cut it.
I used my compound miter saw to make my cuts, but a clamping miter box and saw would work instead if that's what you have. While I had the saw out, I also cut my pieces of trim to fit the shape of the cut base board, and I also turned a 2-inch-thick round dowel rod into four equal sized angled legs. Before bringing all of my cut pieces inside, I sanded down the rough edges until they were smooth.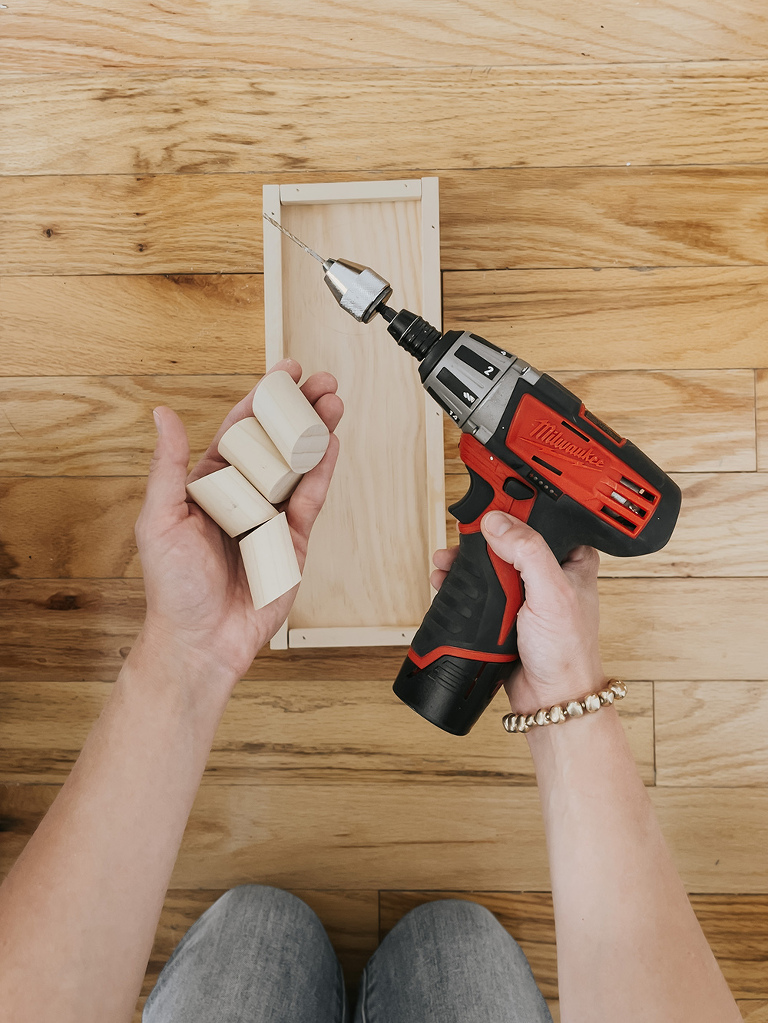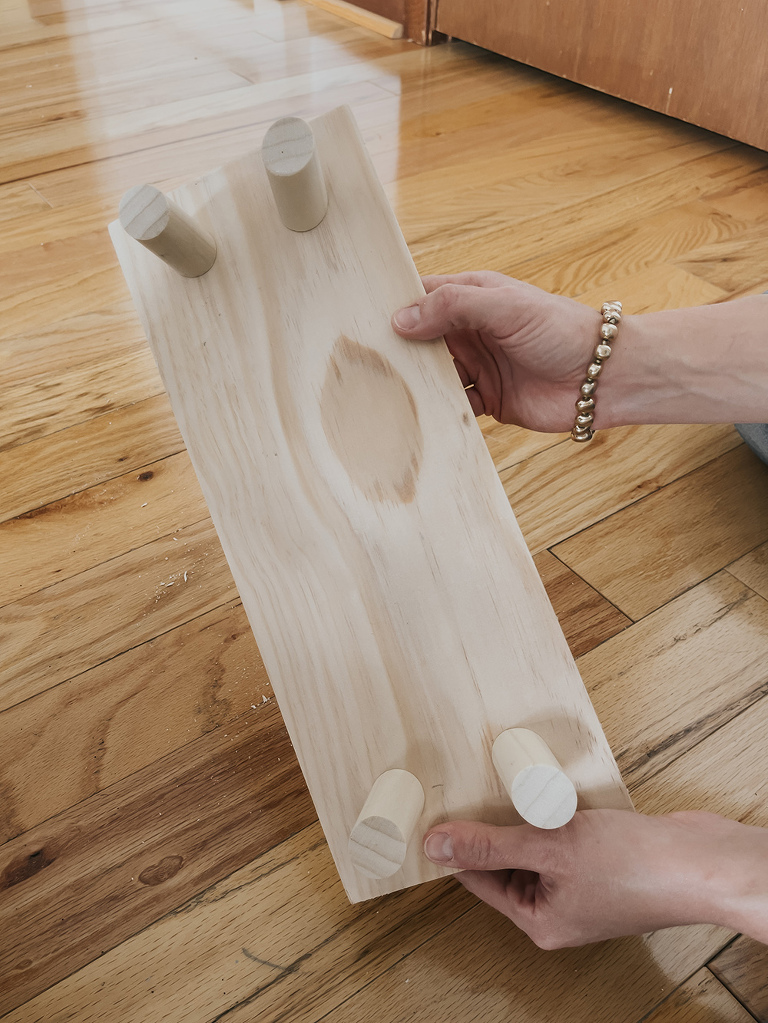 To assemble the stand, I ran a thin line of wood glue on the undersides of all four cut pieces of trim, then pressed them in place along the edges of the stand. Then, I used my brad nailer to finish securing them to the base board. For the legs, I predrilled small holes in the top center point of each leg, added a dot or two of wood glue over the pre-drilled screw holes, and then I pre-drilled holes through each of the four top corners of the base board. Finally, I ran a screw through each corner in the board, down into a leg. I twisted the legs one by one to make them angle outward for a more modern finish (as you see pictured above), and then let the glue set for about an hour before I started staining the finished stand.
By the way, I used black wood screws to attach the legs to the stand (as you can see in the photo below) because I knew they'd be less noticeable once the dark stain went on. If you'd rather hide the screws completely, just drill them deep into the wood and cover the screw heads with wood filler and sand until it's flush with the surface of the board. I didn't do this because it's a pet food bowl stand—nothing super fancy! I didn't mind it being a little "rustic" and "imperfect."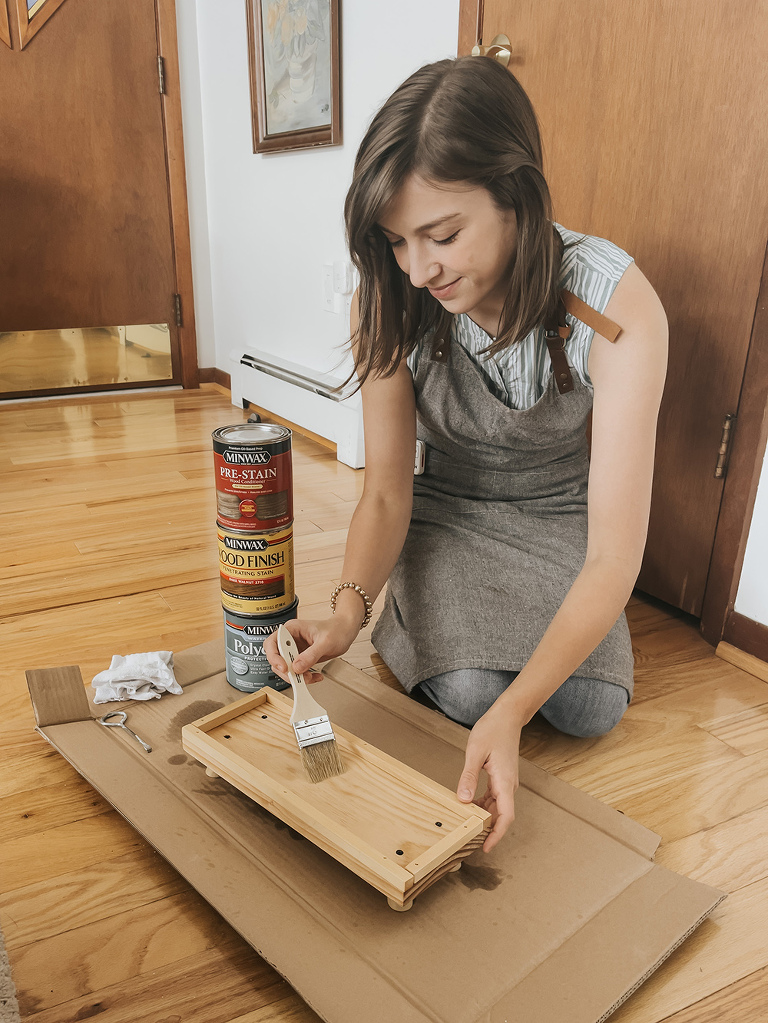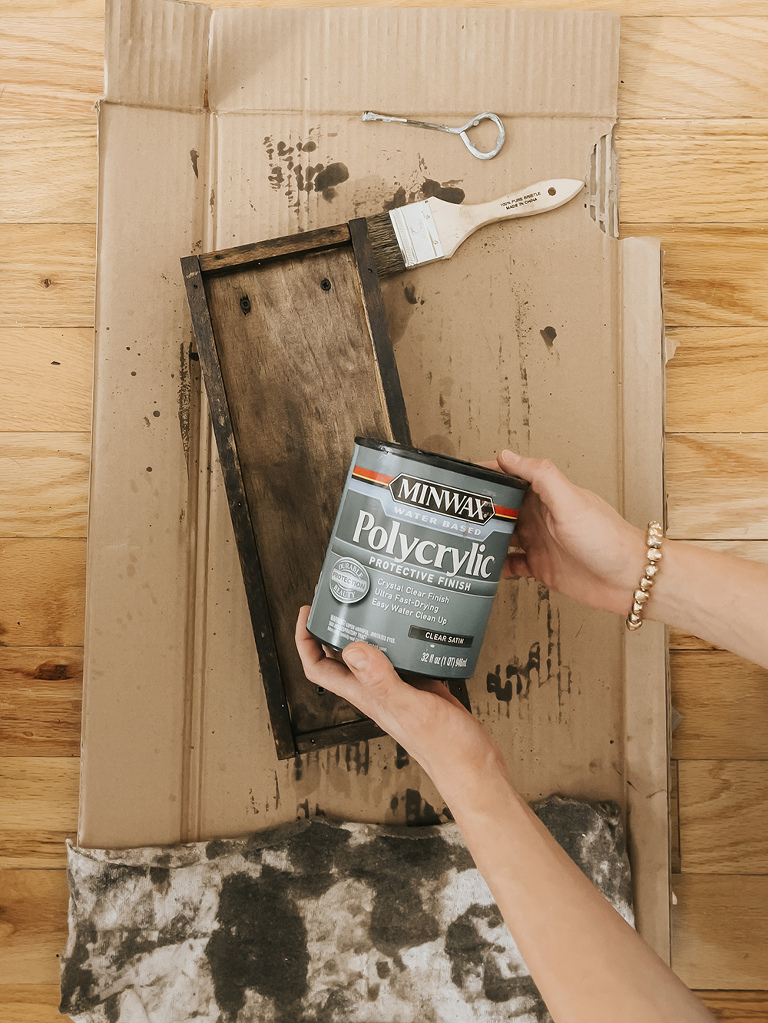 For the staining phase of this project, I decided to go the extra mile by using a pre-stain wood conditioner first across the entire surface of the stand. I had heard that this helps the stain go on a little more evenly. I honestly didn't notice that much of a difference, though, so I might skip it next time.
For the top coat, I used my go-to "Dark Walnut" stain, and then I added two coats of Polycrylic protective finish over top of that, sanding lightly between coats to get a super smooth finish. It's important to use the protective finish since this stand is going to be in contact with liquids and wet pet food. It needs to be water-proof and the Polycrylic will create that finish for you.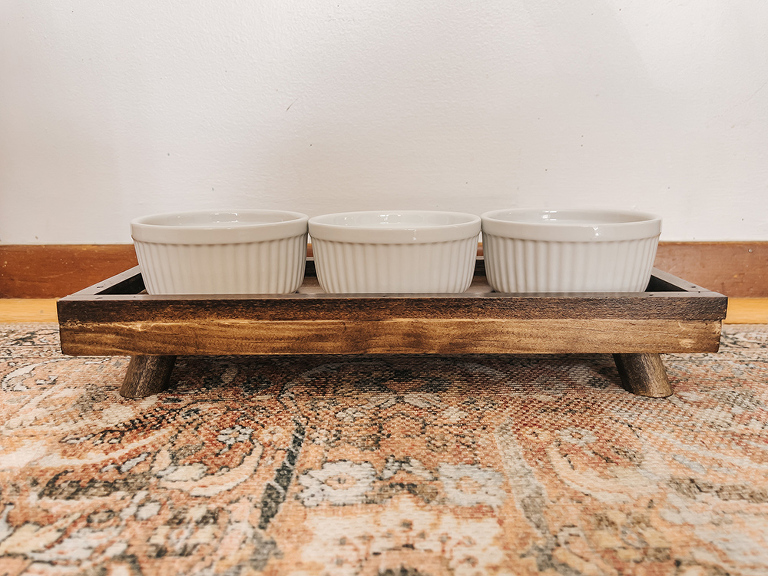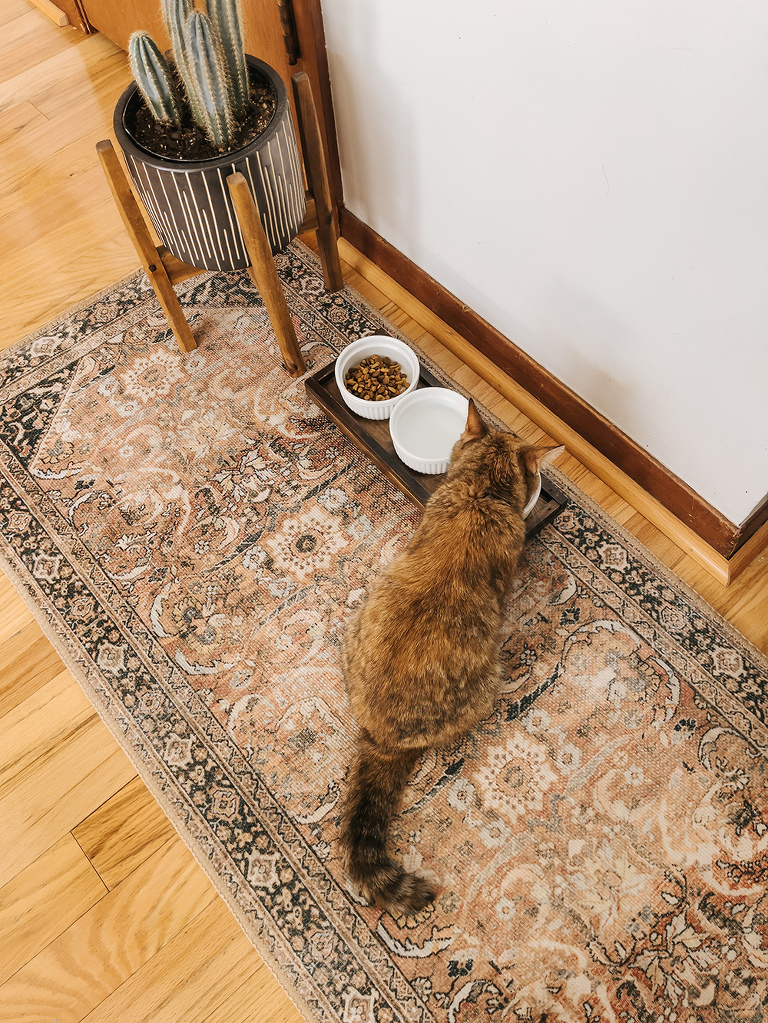 I was a little worried that our cats wouldn't use the stand, but they took to it right away! As soon as I set it down and began filling their bowls with food, the pair of them came running. Even Ginny stepped in front of the camera for this mini DIY photoshoot, which almost never happens. Oh, and in case you're wondering about the food bowls we use, I have a set of white ramekins from Target that our cats love. The ramekins are super inexpensive, dishwasher-safe, and I love the simple look of them, too.
Before I go, I wanted to mention that this stand can be used for lots of different things beyond just an elevated pet food station! I actually styled it as a perfume tray during house showings before we moved, and it worked out great. How would you use this DIY wooden stand? Let me know in the comments below.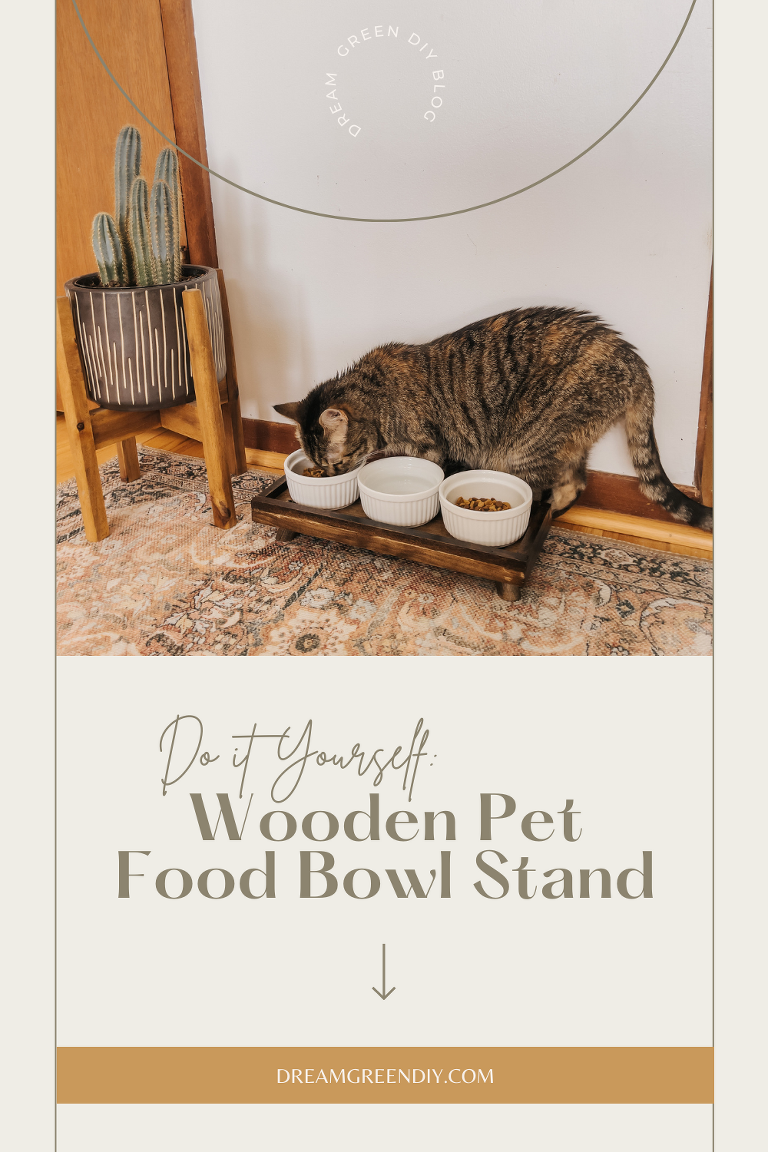 *I earn a small percentage from purchases made using the affiliate links above. Affiliate links are not sponsored. Rest assured that I never recommend products we wouldn't use or don't already love ourselves.