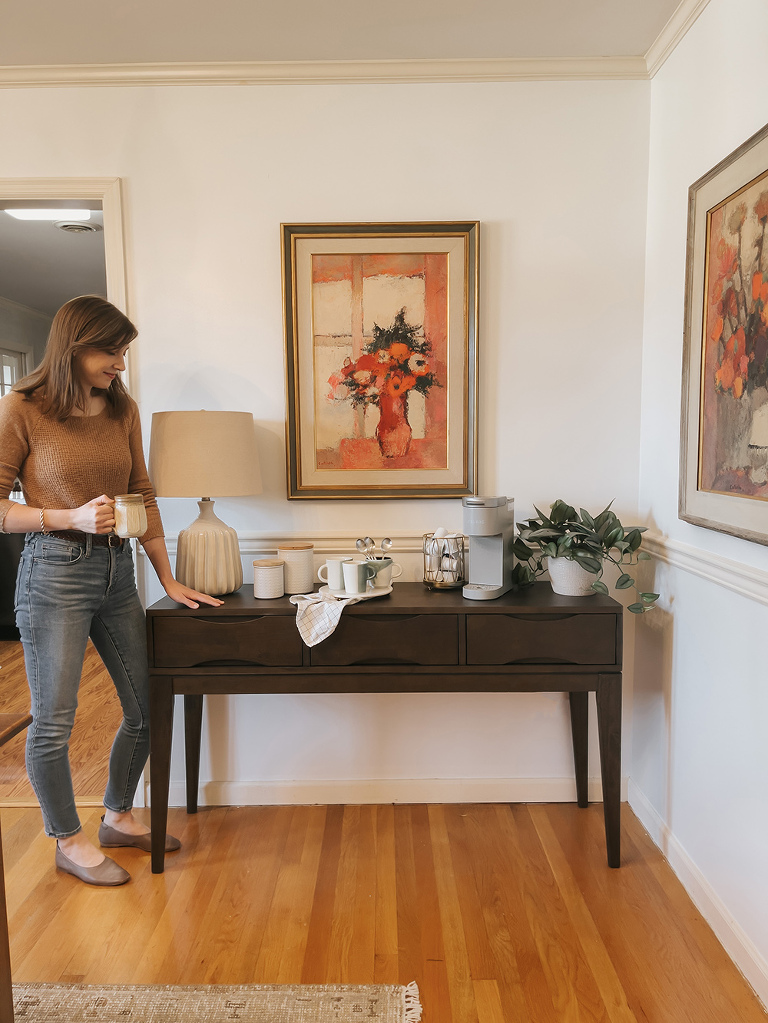 *This post was made possible by the generous support of Simpli Home, and features gifted product for testing purposes. All opinions are my own.
Now that we're nearing the two-month-mark of living in our new house, we're finally starting to feel settled. Our routines are familiar again, and we're also getting a handle on what we want and need out of our new spaces. One thing John and I realized pretty quickly that we needed was more counter space in our kitchen. We do have plans to extend the counters, but we really needed more than the existing footprint of our kitchen could offer, so we got creative.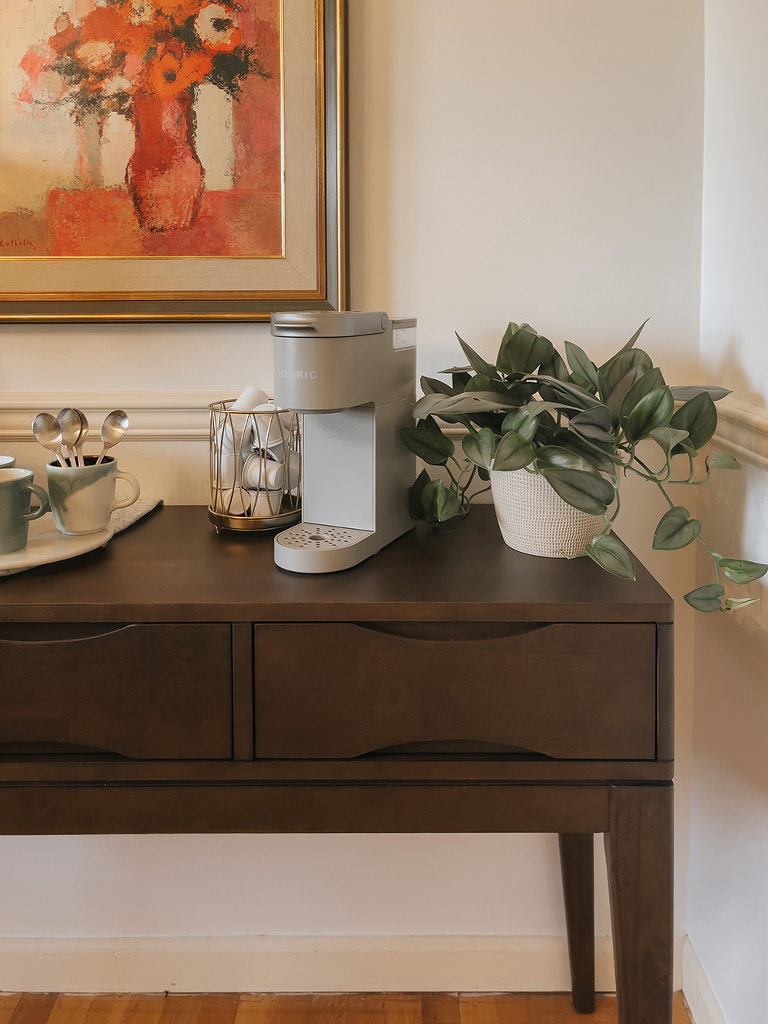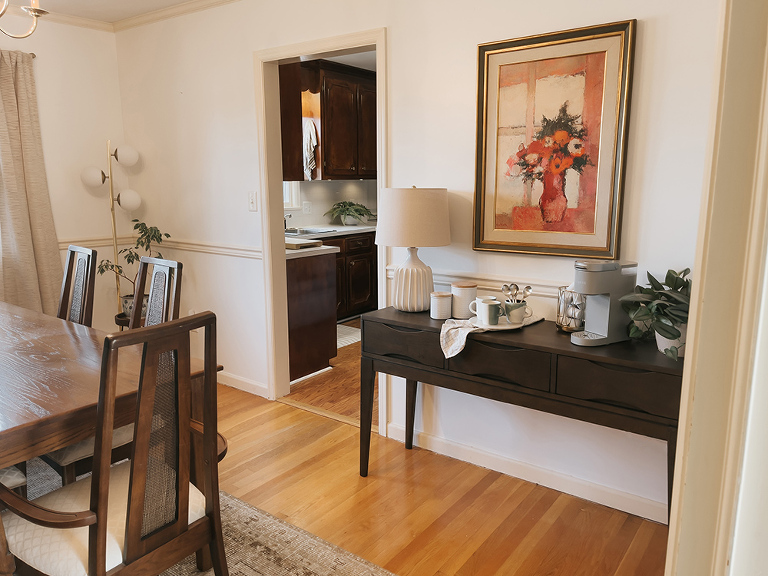 We decided to put a console in our dining room to act as an extension of our kitchen work area! You can see in the photo above just how close this spot in our dining room is to the kitchen. It's maybe two steps from our main countertops, so it really doesn't feel like we're going to a separate room when we step over to our new console.
Speaking of, isn't she a beaut? This is the Harper Wide Console Table from Simpli Home, and we've been using it as our DIY coffee bar station for about three weeks now. It's functioning like a dream, and looks great doing it, too, I should add. I wanted this console to have a similar mid-century look to our 1960s dining room furniture so that it suited the space nicely, and that's exactly what we got with our Harper table. The tapered legs, sleek silhouette, and mod cutout detail on the drawer fronts makes it a natural fit for our retro ranch.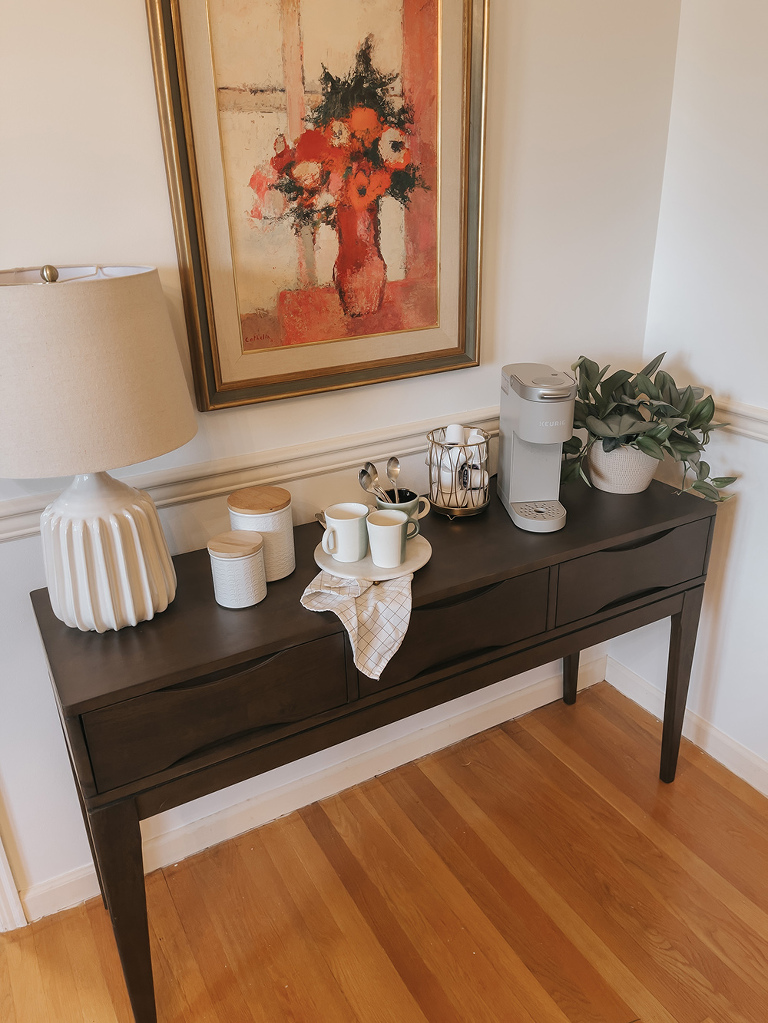 One question I get asked often by followers and blog readers whenever I share about online furniture we've ordered is if it's hard to assemble. I was a little worried about this piece because it's on the larger side and has three drawers, but I'm happy to report that it took no more than 20 minutes to unpack and put together. You just have to attach the legs. You don't have to assemble the drawers—phew!
Beyond that, I love how versatile this console table is. We're currently using it as a coffee bar so that we have more room on our kitchen countertops for meal prep, but we could easily turn it into a buffet when we entertain. I can also see myself getting the whim to pull it into our entryway just to change things up. Point being, it can serve lots of functions, and I'm excited to see how it evolves with us in our new home over the years.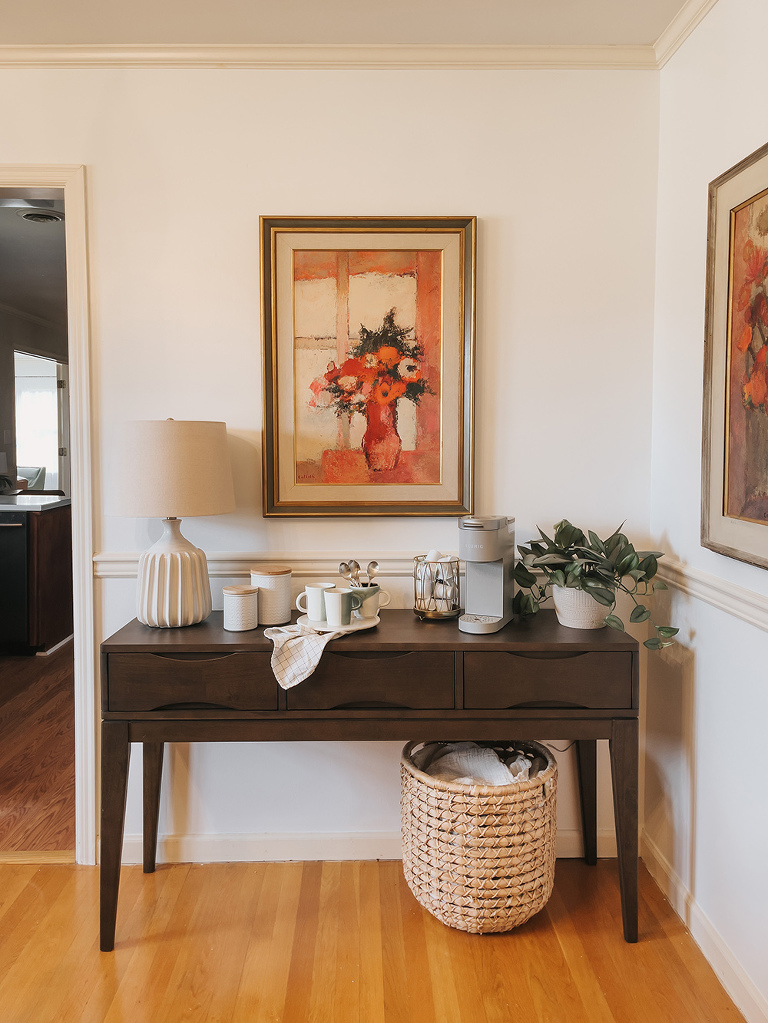 Before I wrap this review up, I wanted to tell you a little more about the components of our coffee bar in case you're curious. We have our coffee maker there, of course, as well as a little marble tray where I keep a few of our favorite mugs and spoons. I also included an open metal canister where we keep coffee pods, and two closed airtight containers that hold sugar and little individually wrapped milk chocolates (one of my favorite treats to have with a cup of decaf coffee).
Big thanks to the folks at Simpli Home for giving our dining room (and kitchen!) so much extra style and function. Doesn't it look like this piece was meant for our space? I couldn't love this console more, and definitely recommend adding it to your collection if you're in need of more tabletop square footage in your home.