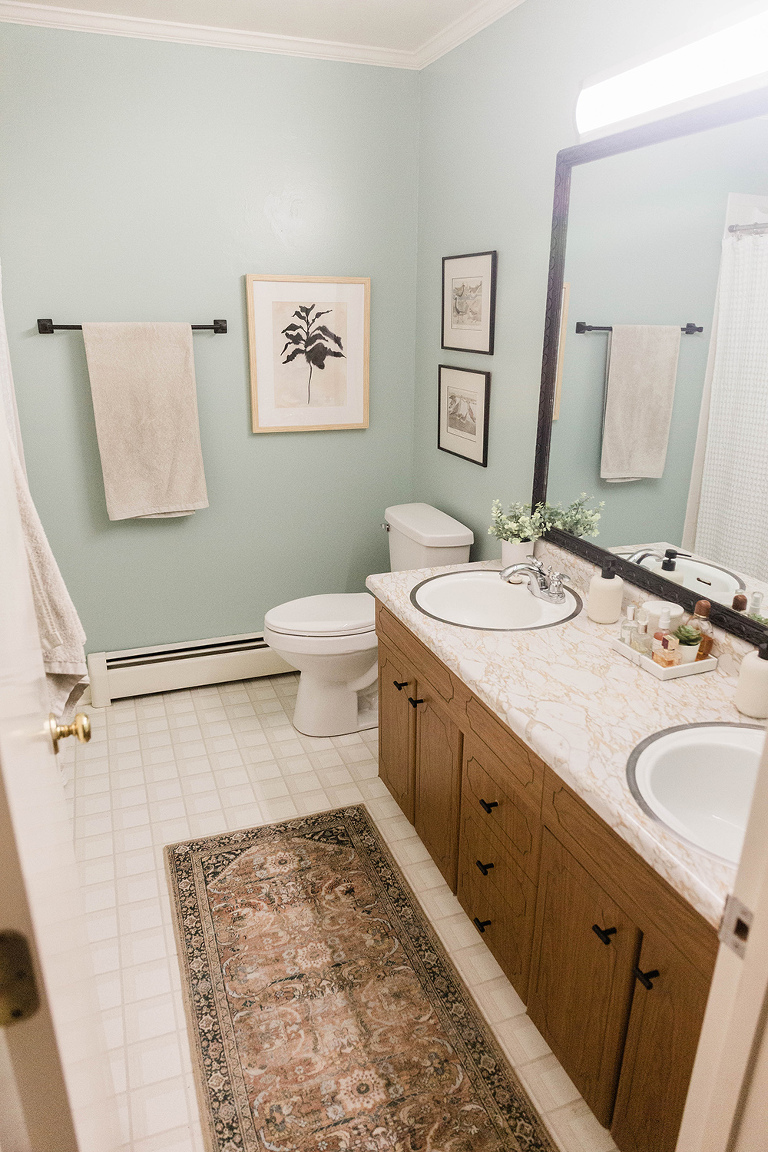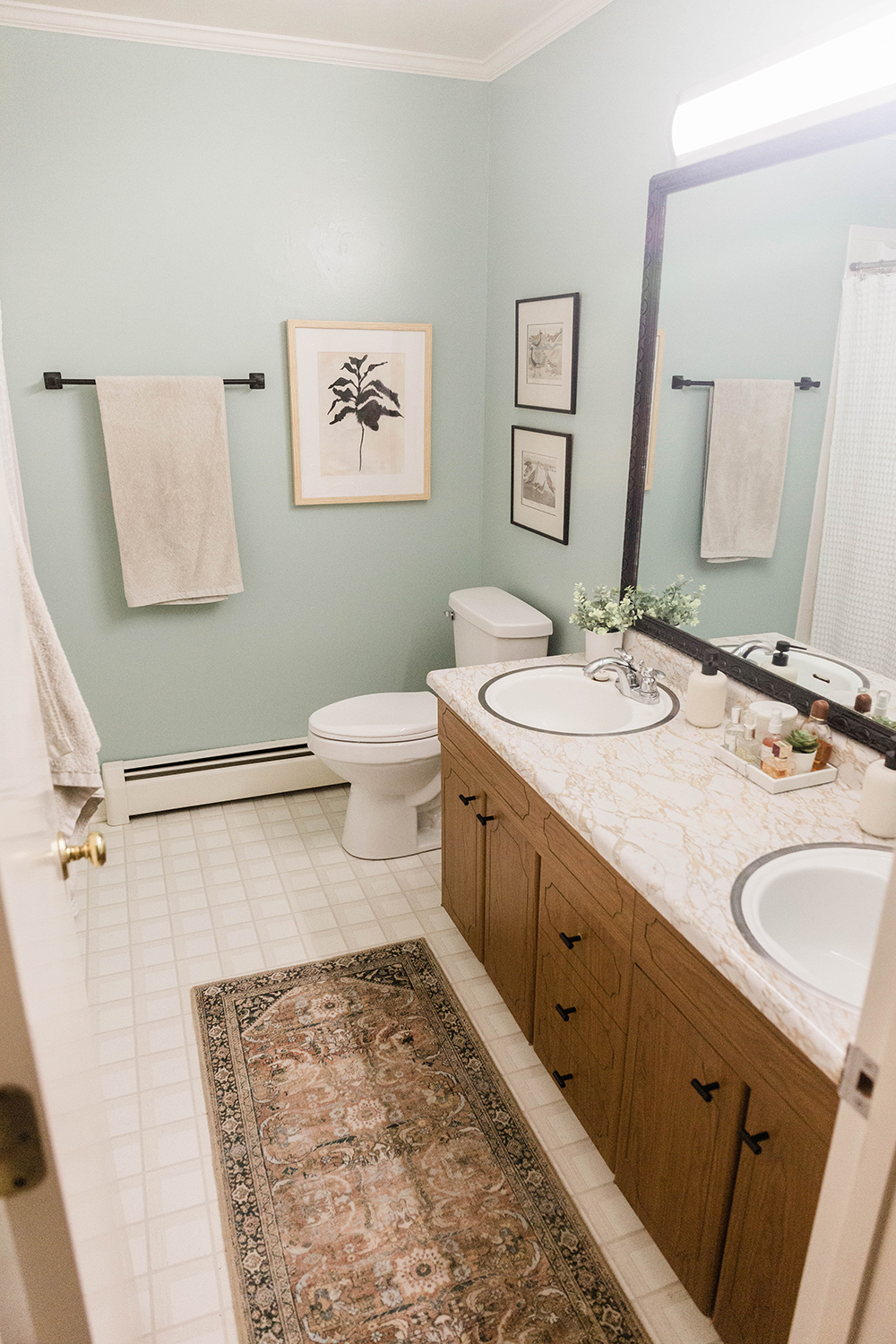 *This post was made possible by the generous support of Better Homes and Gardens, and features gifted product. All opinions are my own.
I'm not going to lie. The last couple of months have been hard. I knew that I was taking on a whole new renovation project when we moved into another retro fixer upper, but I don't think I fully grasped all that that entailed. Especially when my job essentially is to showcase beautifully finished spaces. I've been working my tail off trying to get the rooms in our new home to a state where I feel comfortable sharing them on the Internet. I'm not rushing, per se. I really do want to take my time with this house. But I need to get these rooms to a "Phase One" type of "finished" so that I can continue my job as a content creator. I don't think anyone wants to gaze for very long at the type of horribly outdated room that you see pictured below.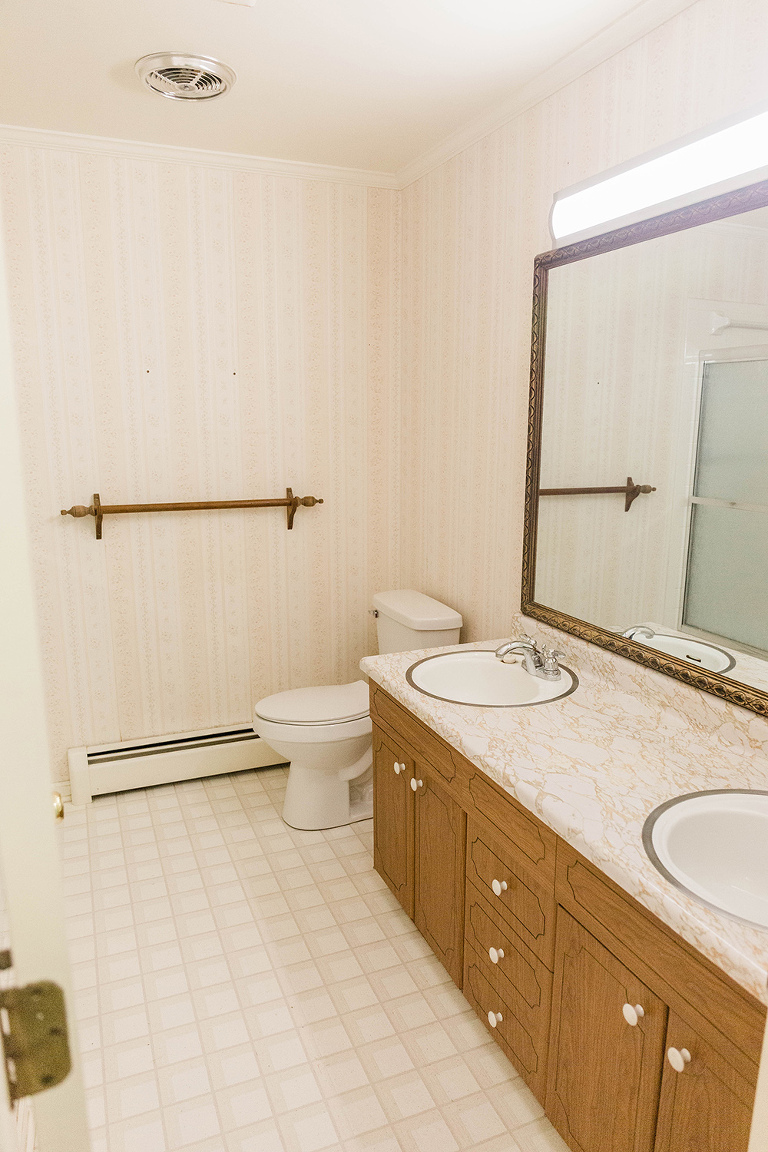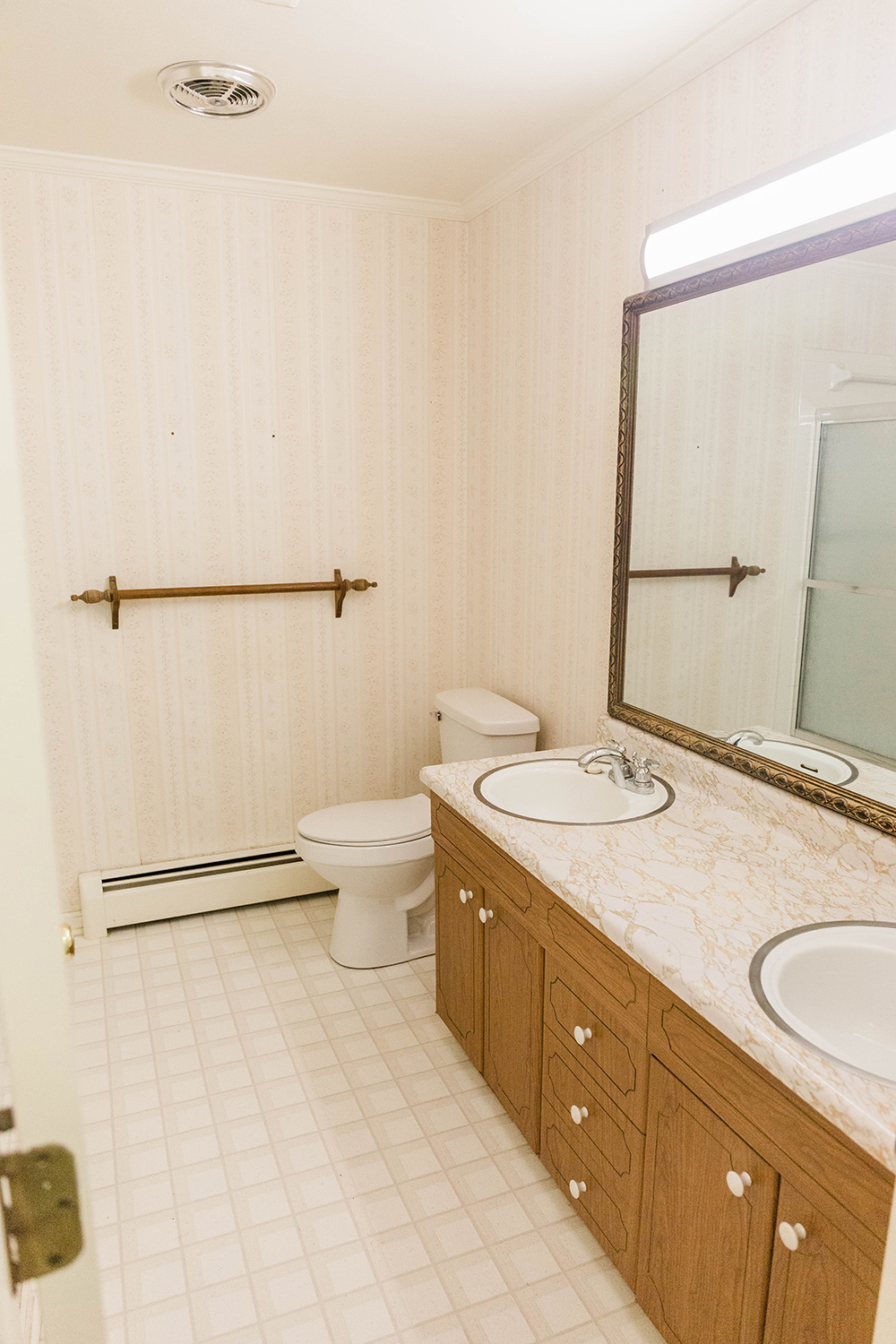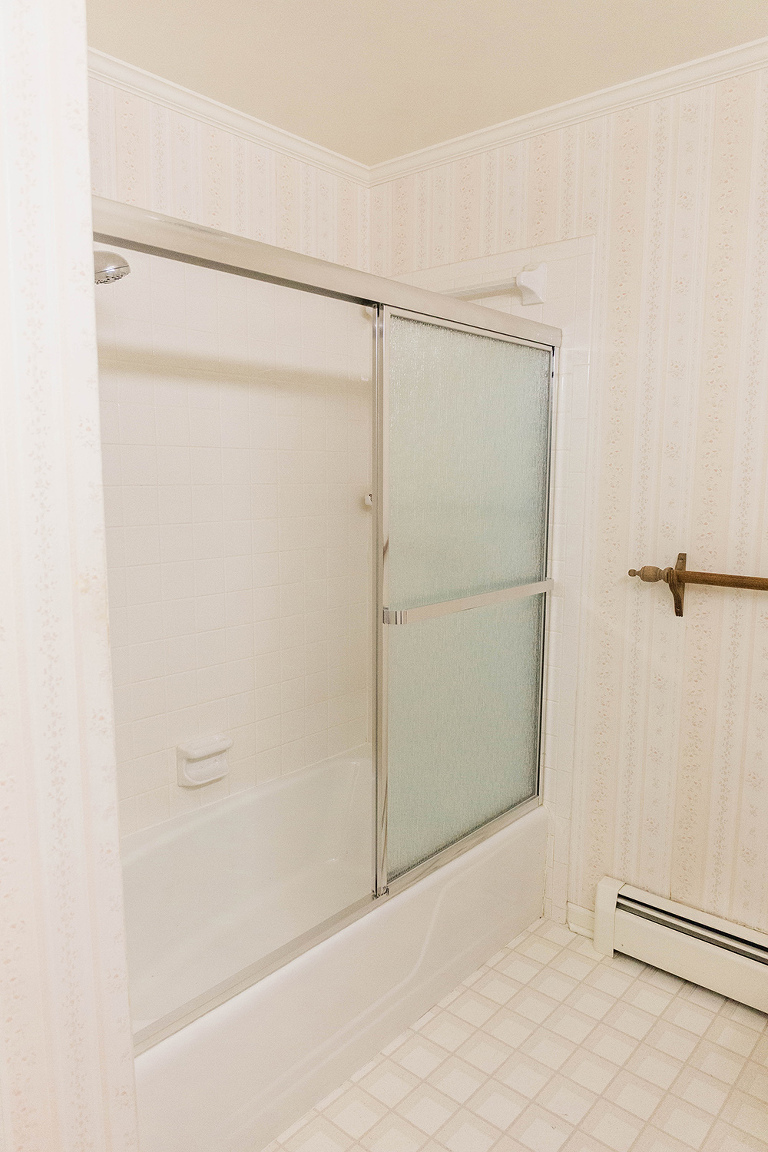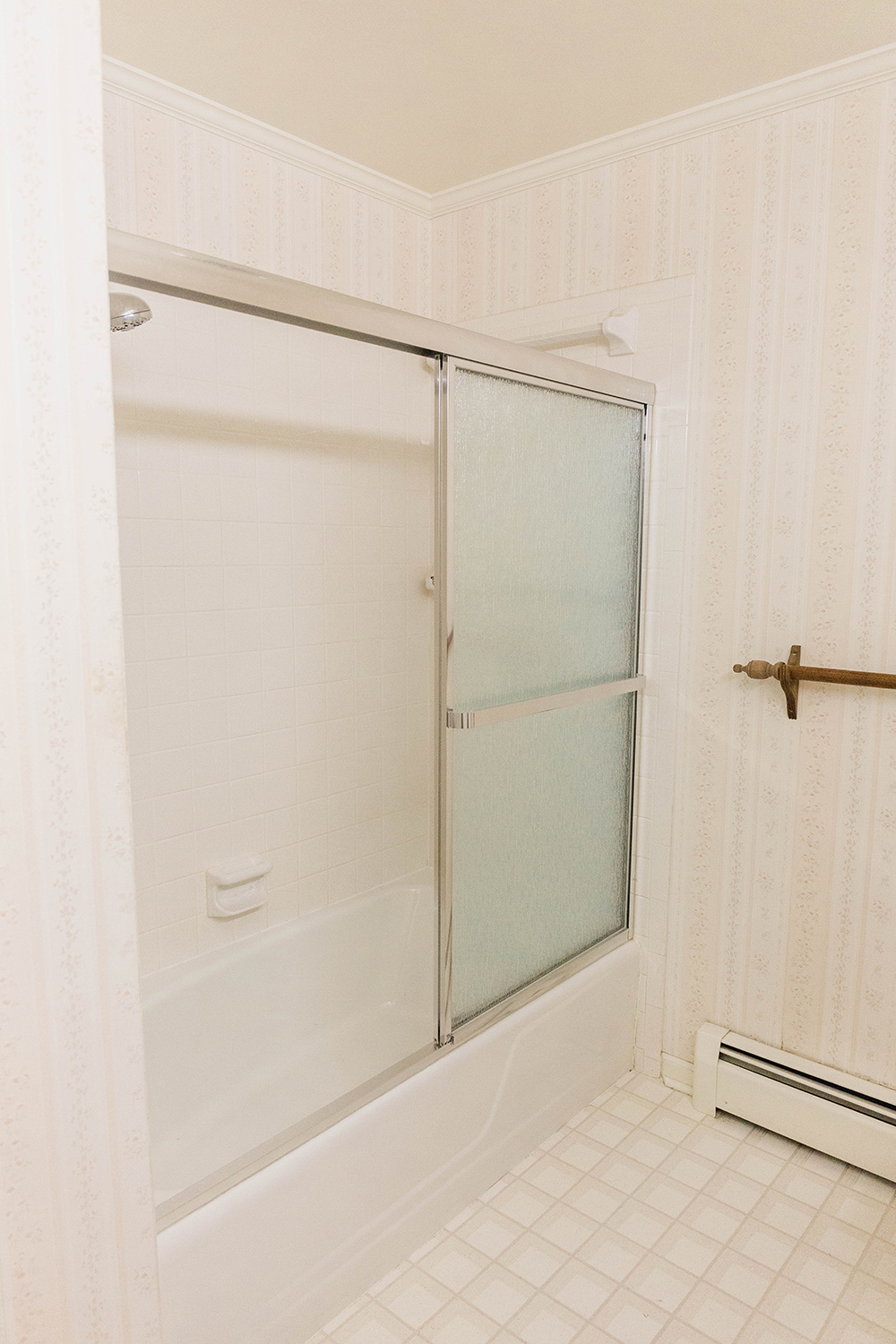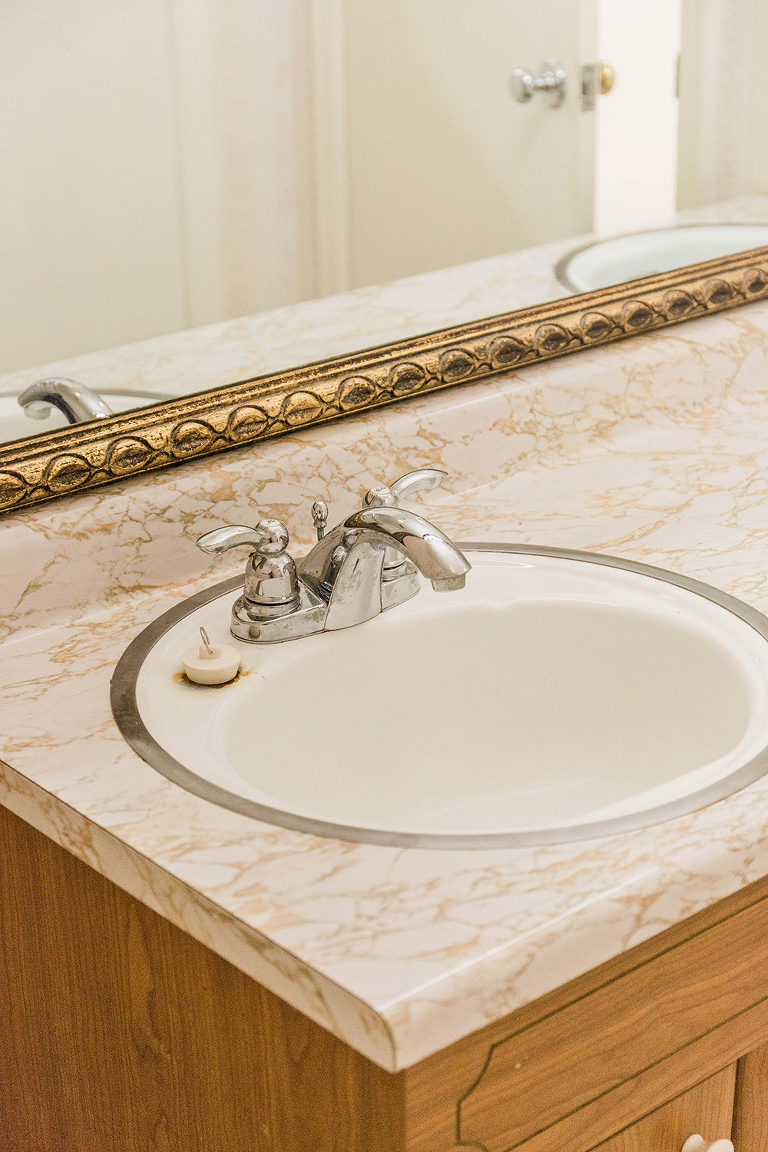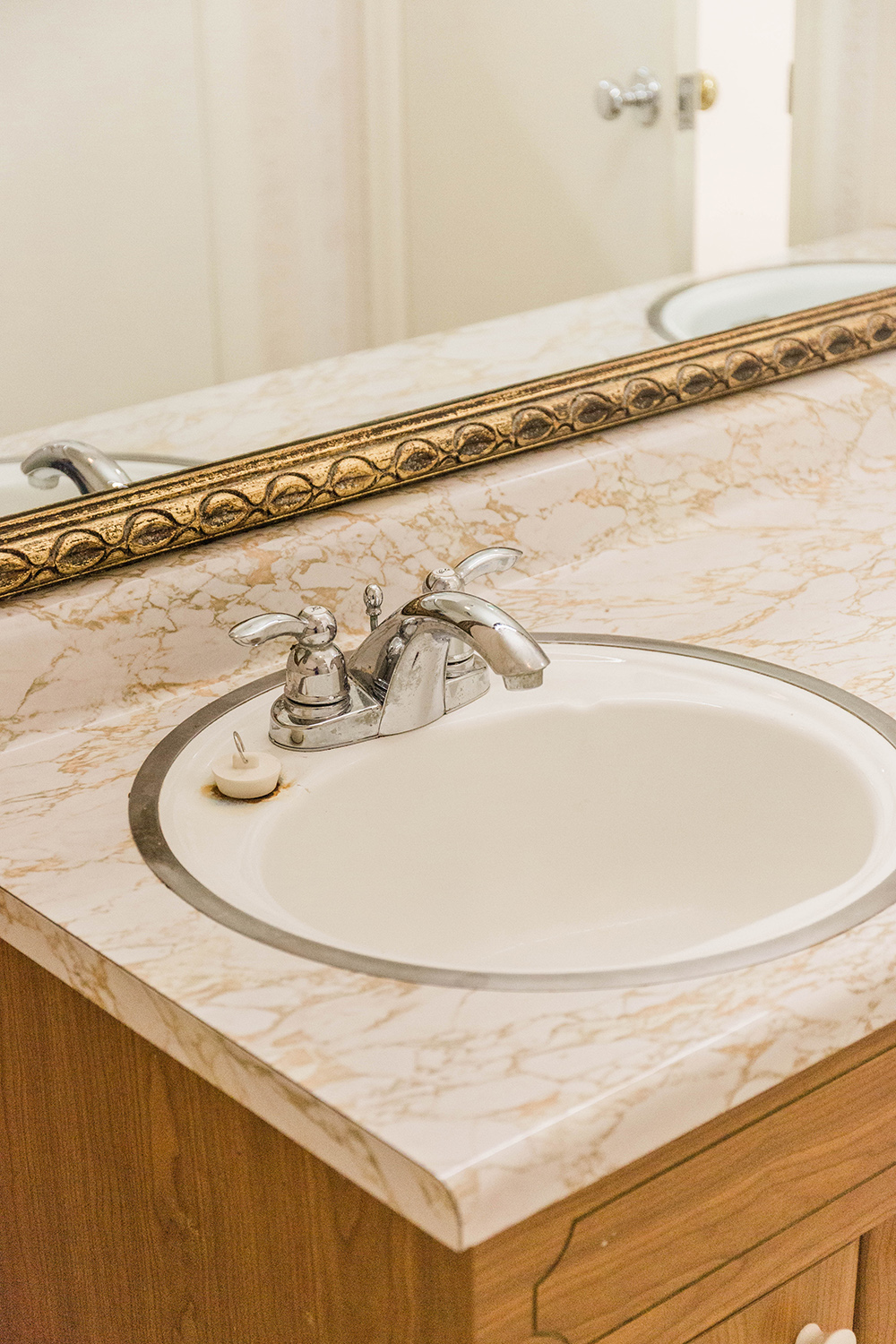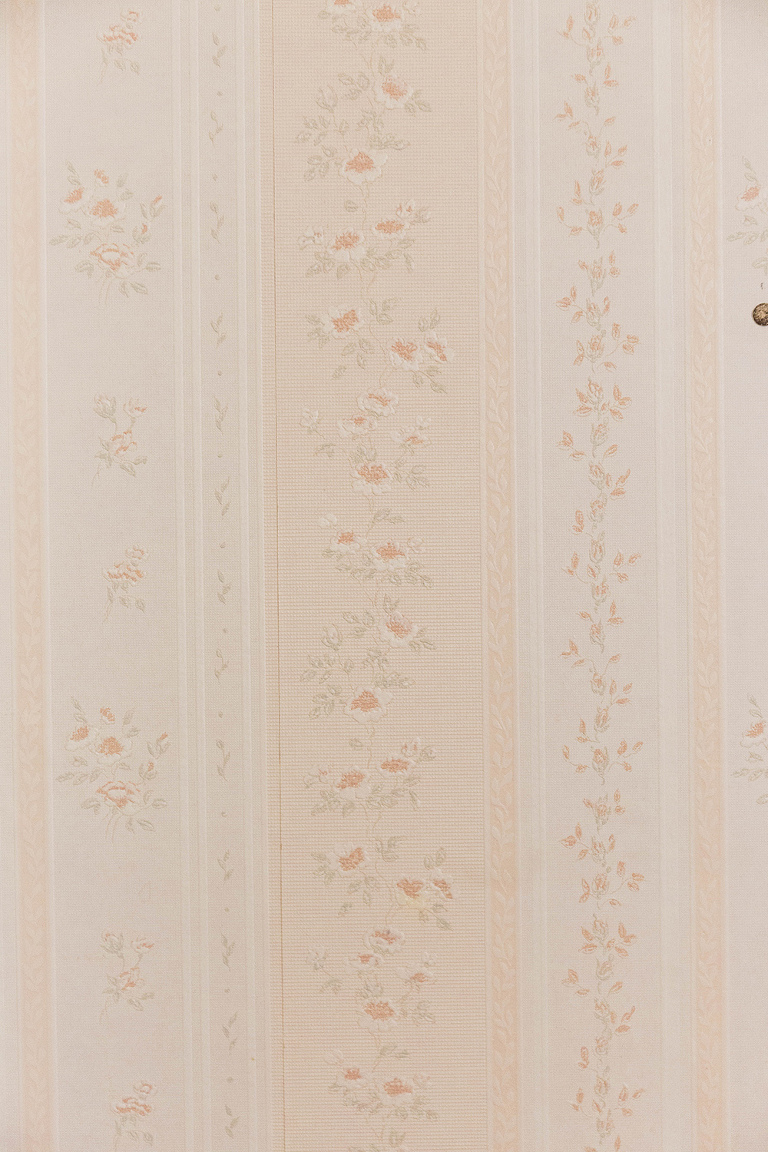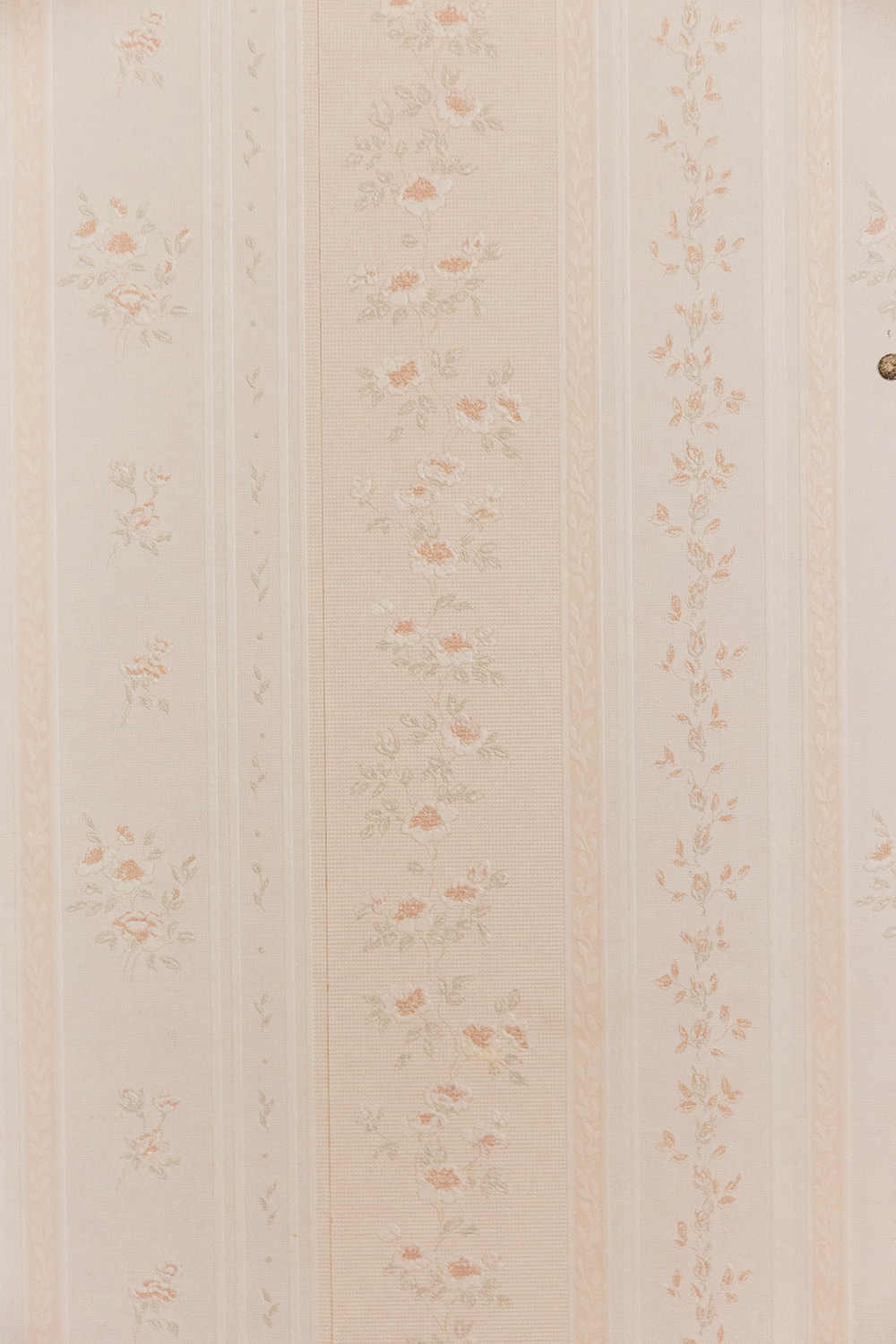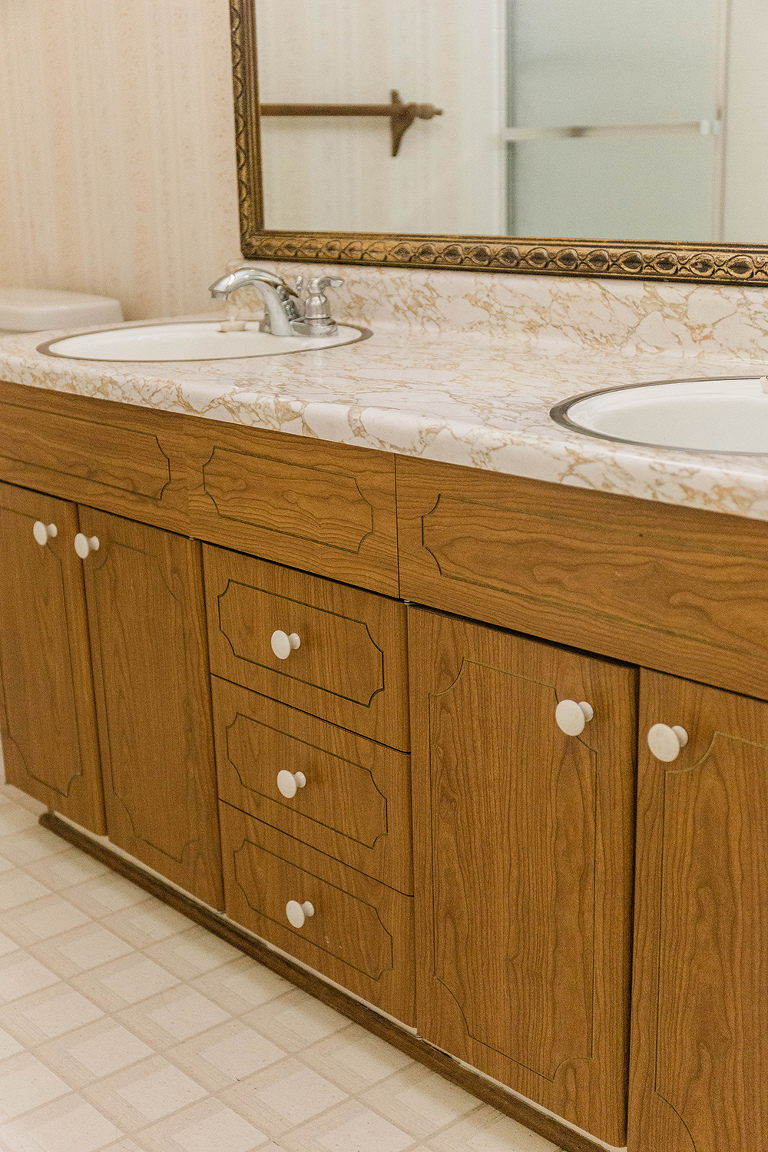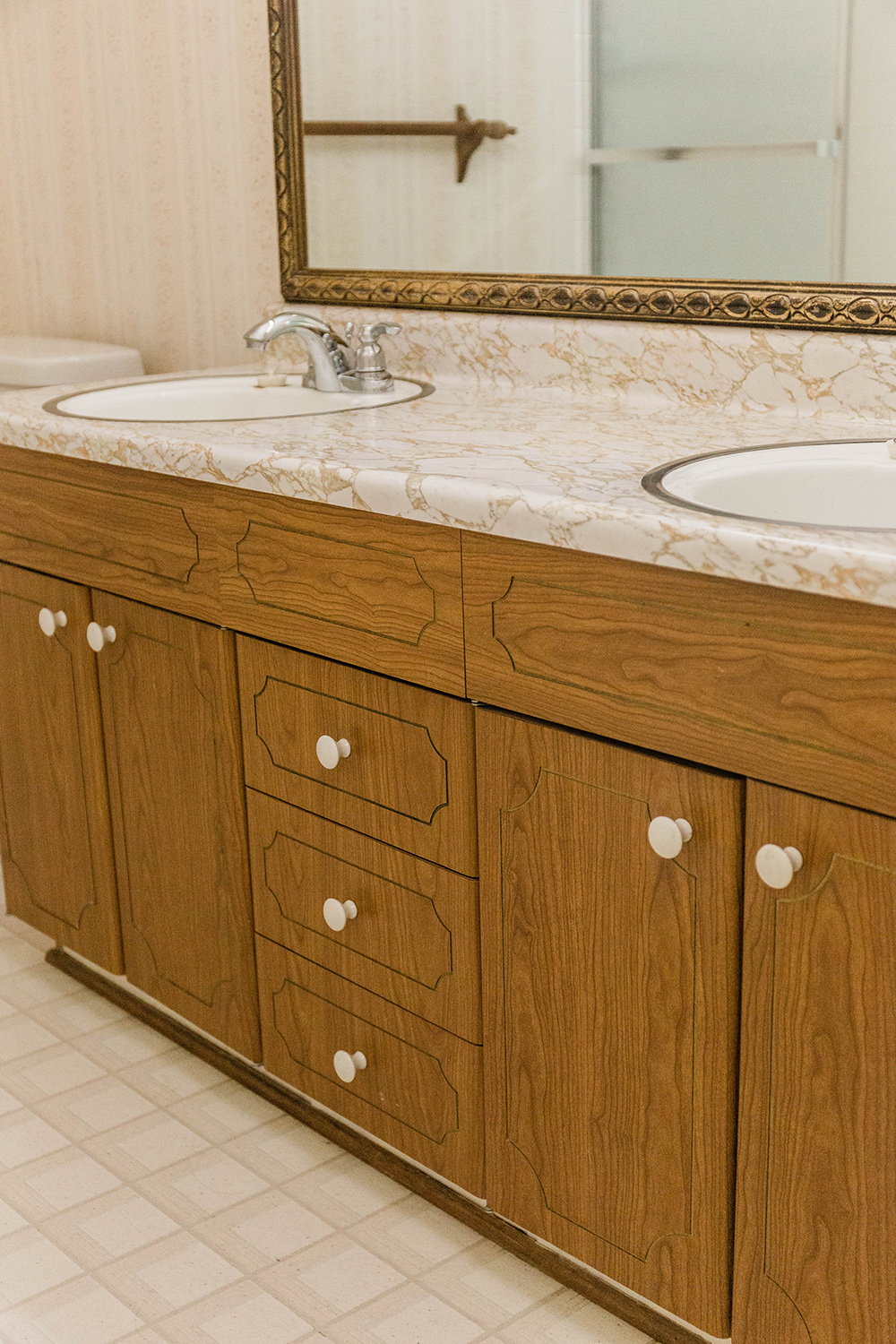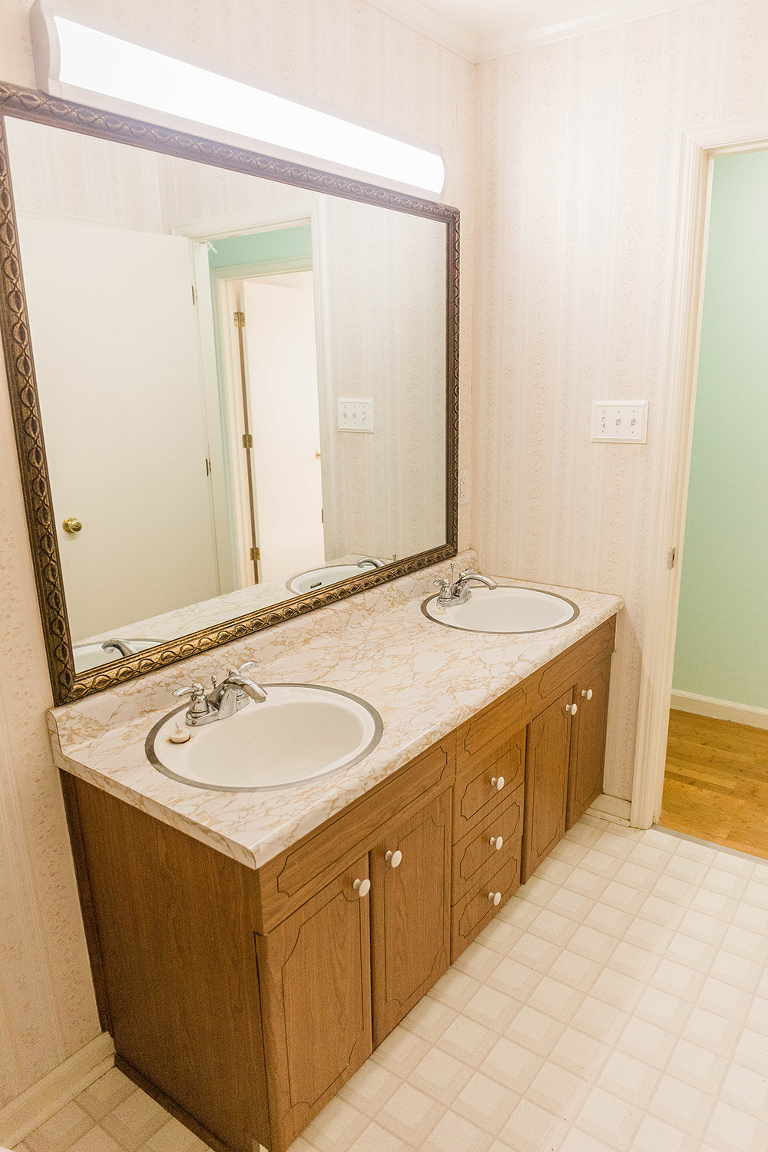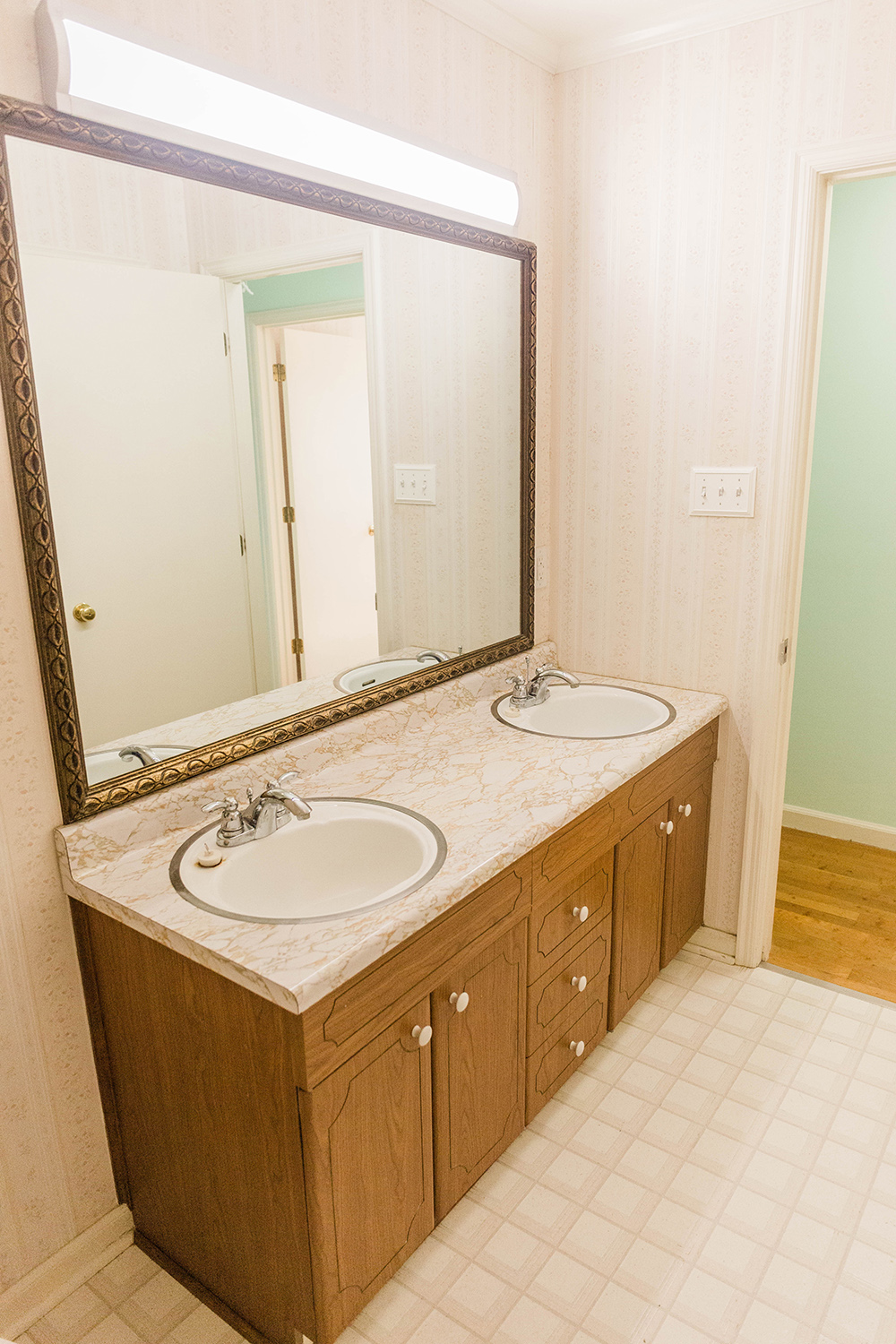 Point being, our hall bathroom needed a lot of work. Frankly, it needed (and still needs) more than our current budget allows, so, like I said, we're focusing our time and money on a "Phase One" update. During that first month of living here, we removed the wallpaper, painted, and added accessories to make it feel more modern and more "us," but it definitely still has a long way to go. It looks so much better than it did, though, and we're excited to have a few more upgrade plans in the works that will keep us satisfied until we can afford a gut renovation.
First, let's talk about the wallpaper. It was definitely a doozy to remove, and was, easily, the worst part of this project. I recruited everyone in my family to help, and I couldn't have gotten it done without them. My sister and her boyfriend took off the first layer of wallpaper in one afternoon shortly after we moved in. Then, my mom and I worked to get the under-layer of paper off. Not-so-happily, we ended up finding a second wallpaper pattern (possibly a third) under the top wallpaper, and that hidden wallpaper just wasn't coming off. I actually really like the retro pattern we unearthed (pictured below), but it had been chipped away too much already and wasn't salvageable. We think the previous homeowners had initially tried to take it down, but were unsuccessful, which is why they wallpapered over top.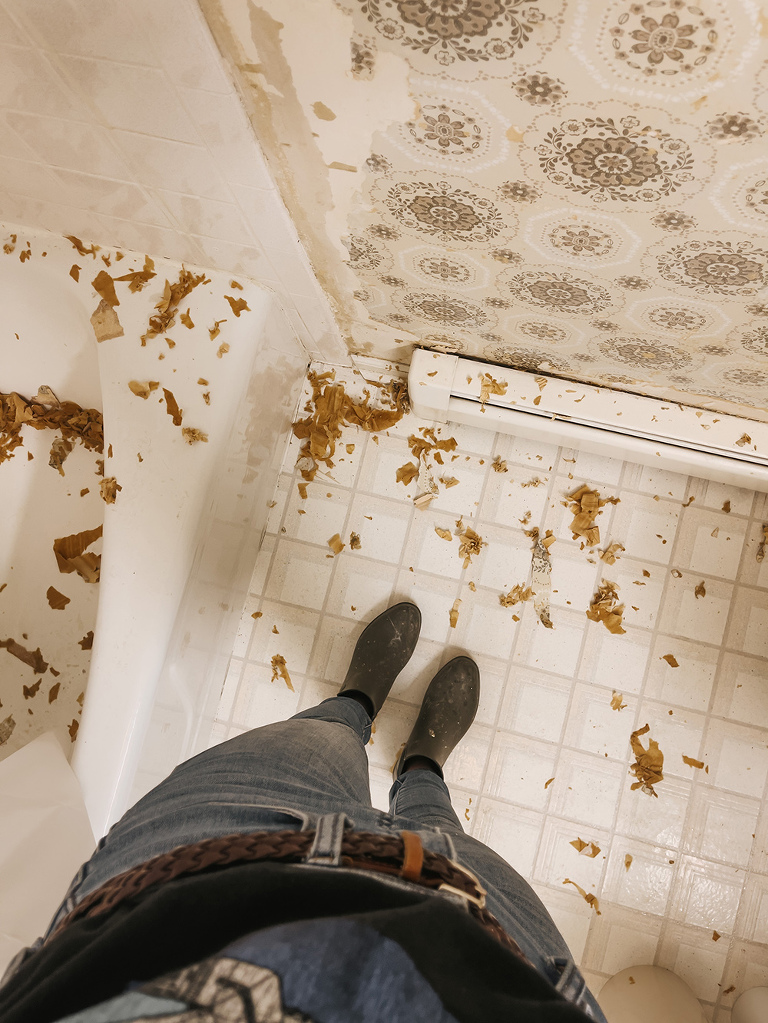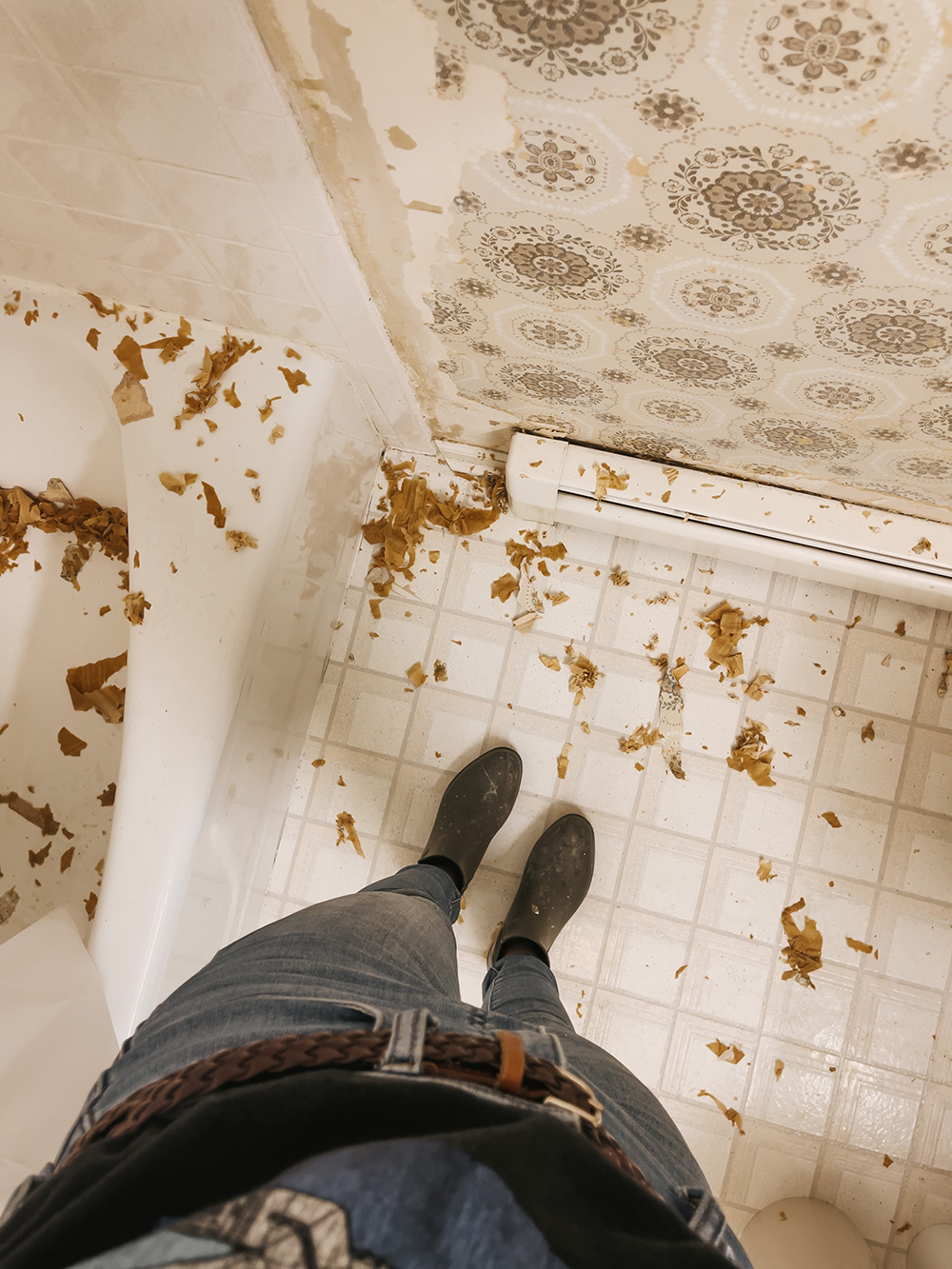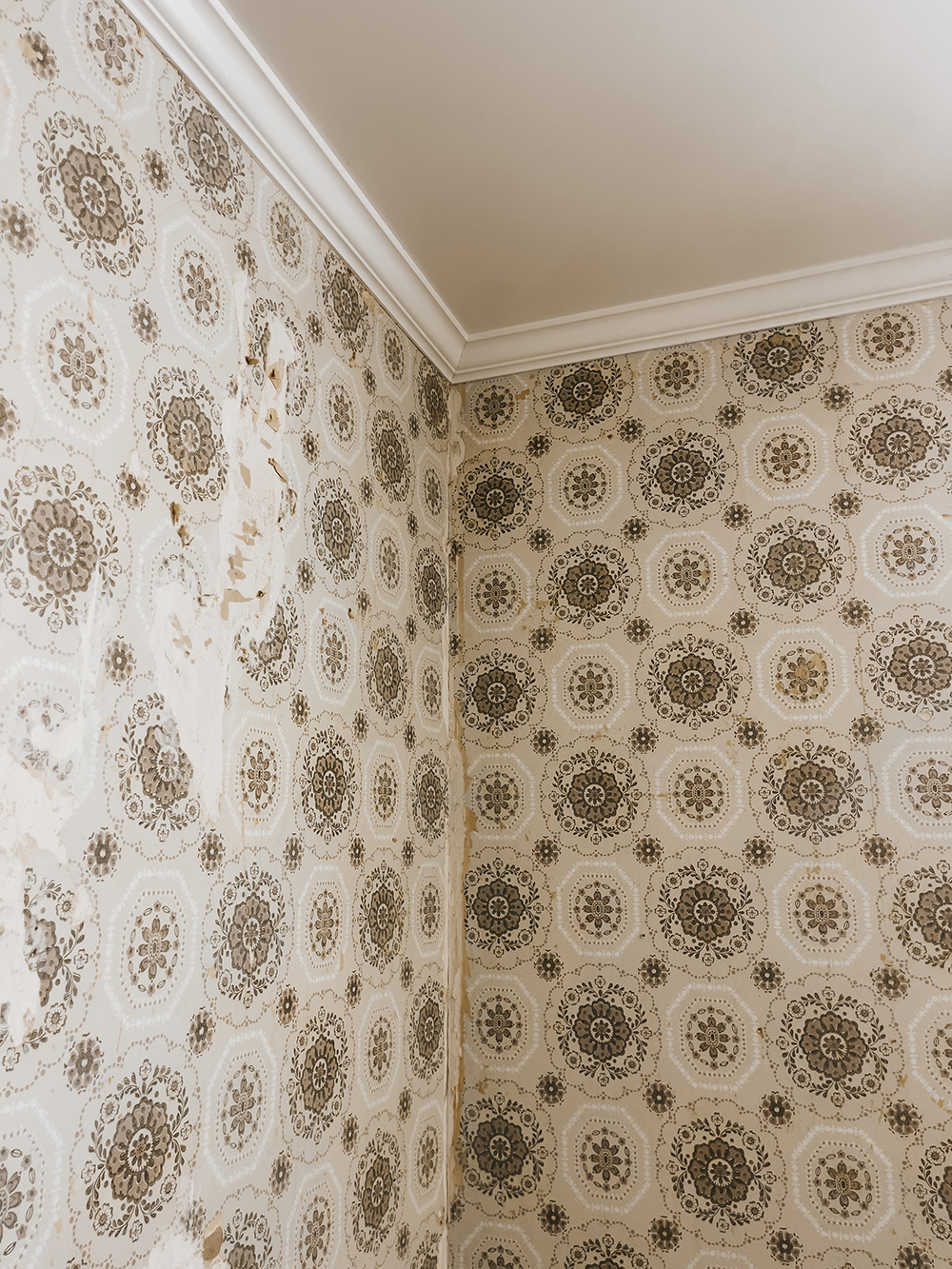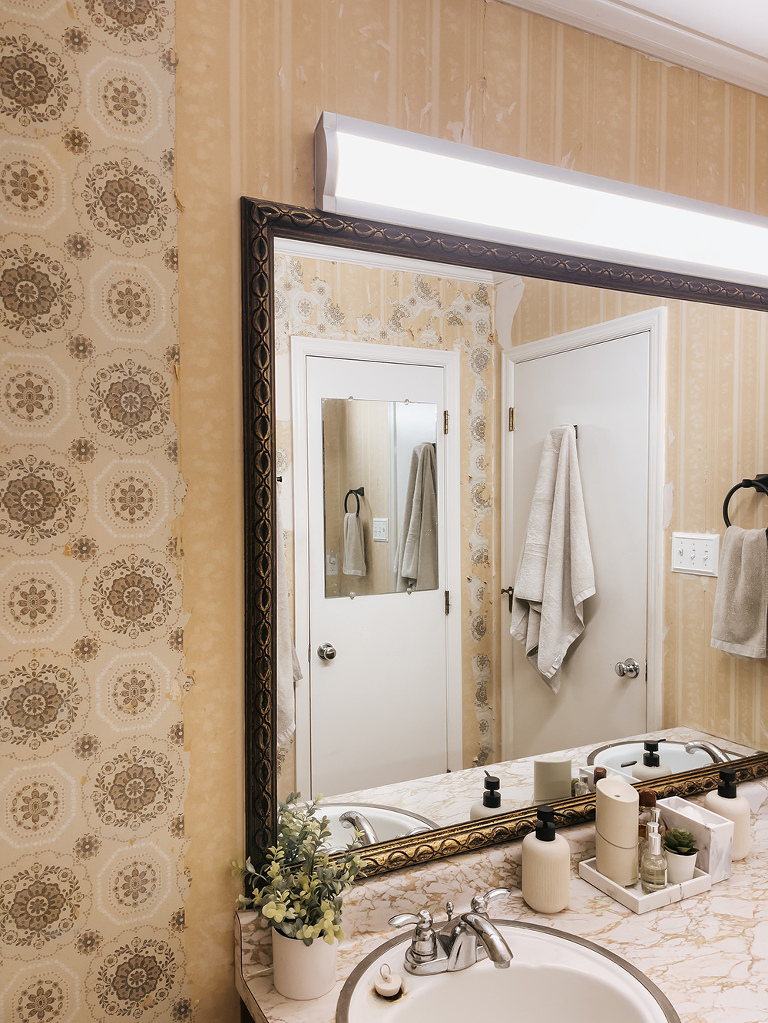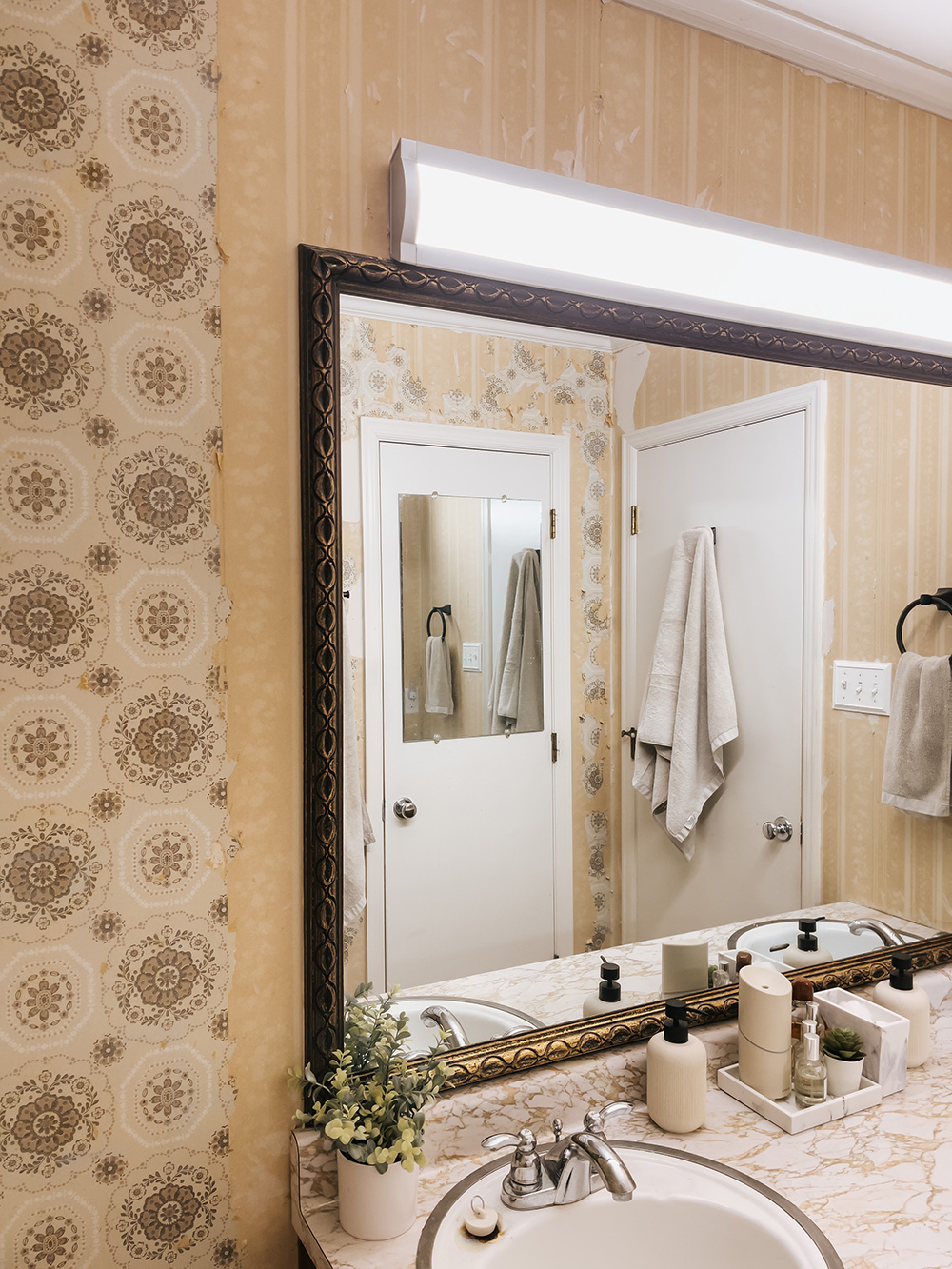 Well, as much as it pains me to admit it, we didn't have any other choice but to go over top of the old wallpaper ourselves. It was coming off in tiny little scraps about the size of postage stamps, so we ultimately decided to get as much of the top wallpaper off as we could, and then we spackled over all of the roughest areas, sanded, primed, and then painted over everything.
Honestly, I wouldn't recommend doing this if you can avoid it because you can definitely still see the uneven texture of our walls under the paint, but I just didn't have it in me to keep chipping away at the old wallpaper. I'd rather put a band-aid on the situation for now, and then, when we have more of a budget in place, we can do a full room makeover with new paneling to clean up the walls, an updated vanity, etc. For now, though, we're really happy to have a nice clean bathroom—uneven walls and all!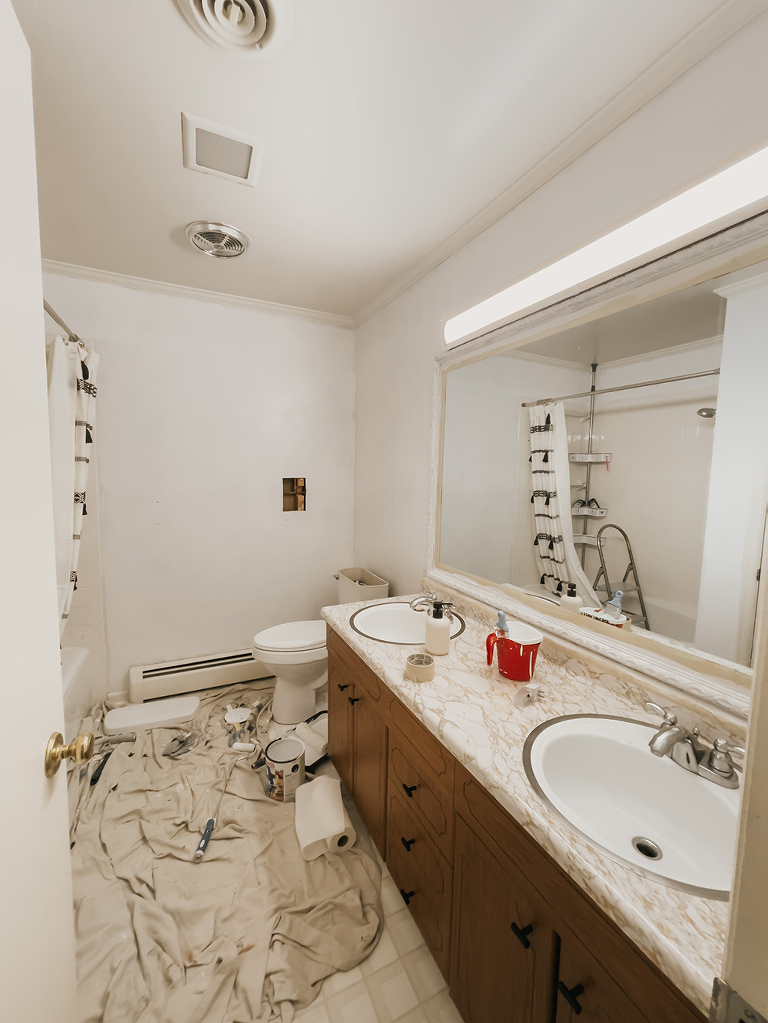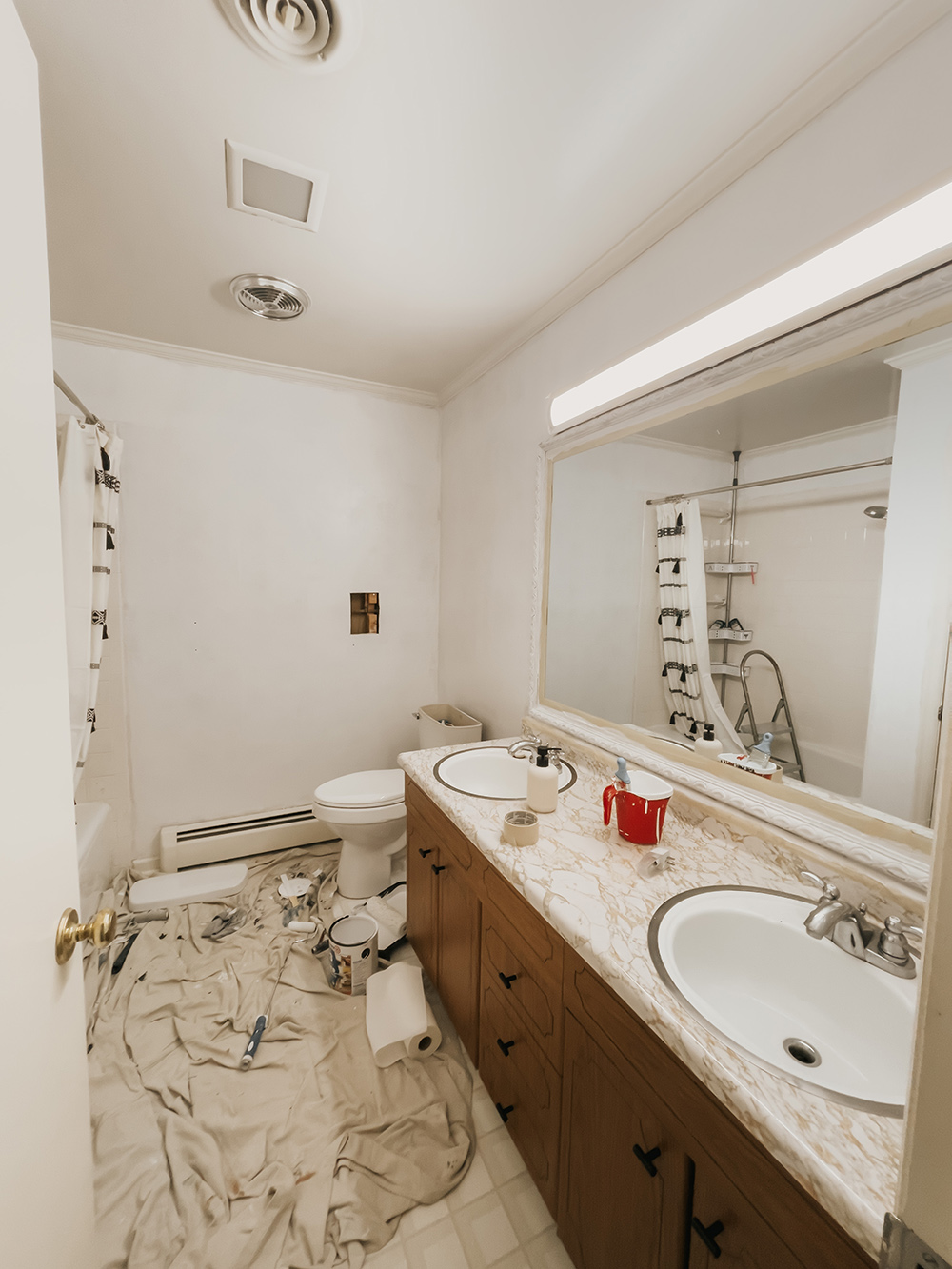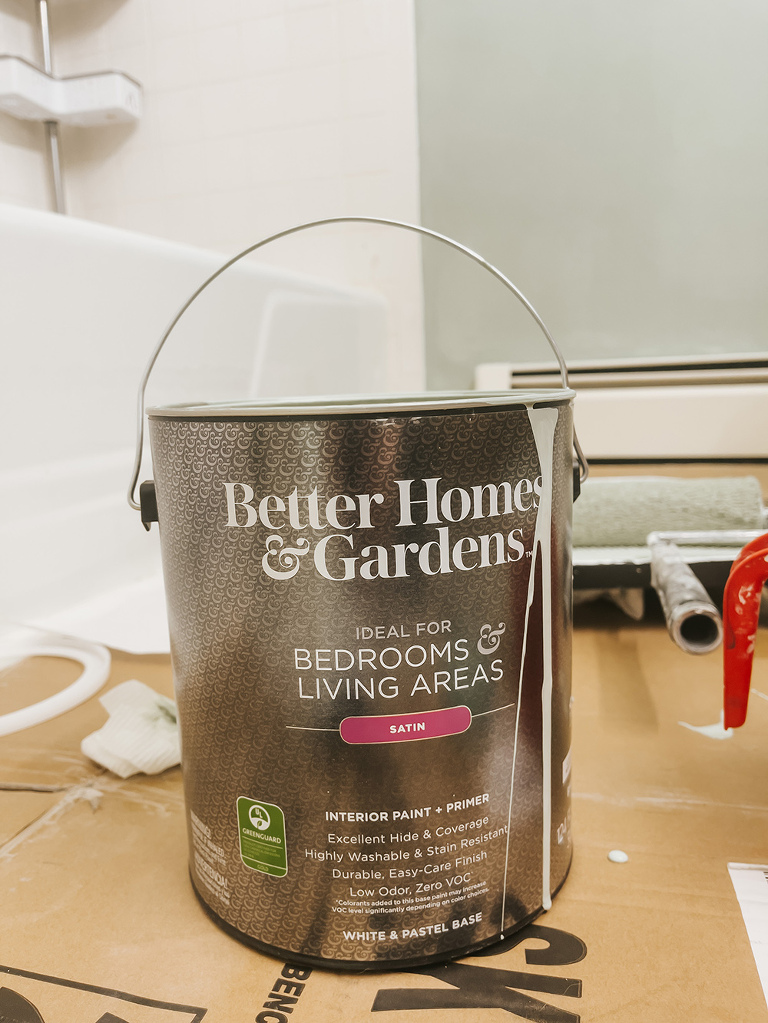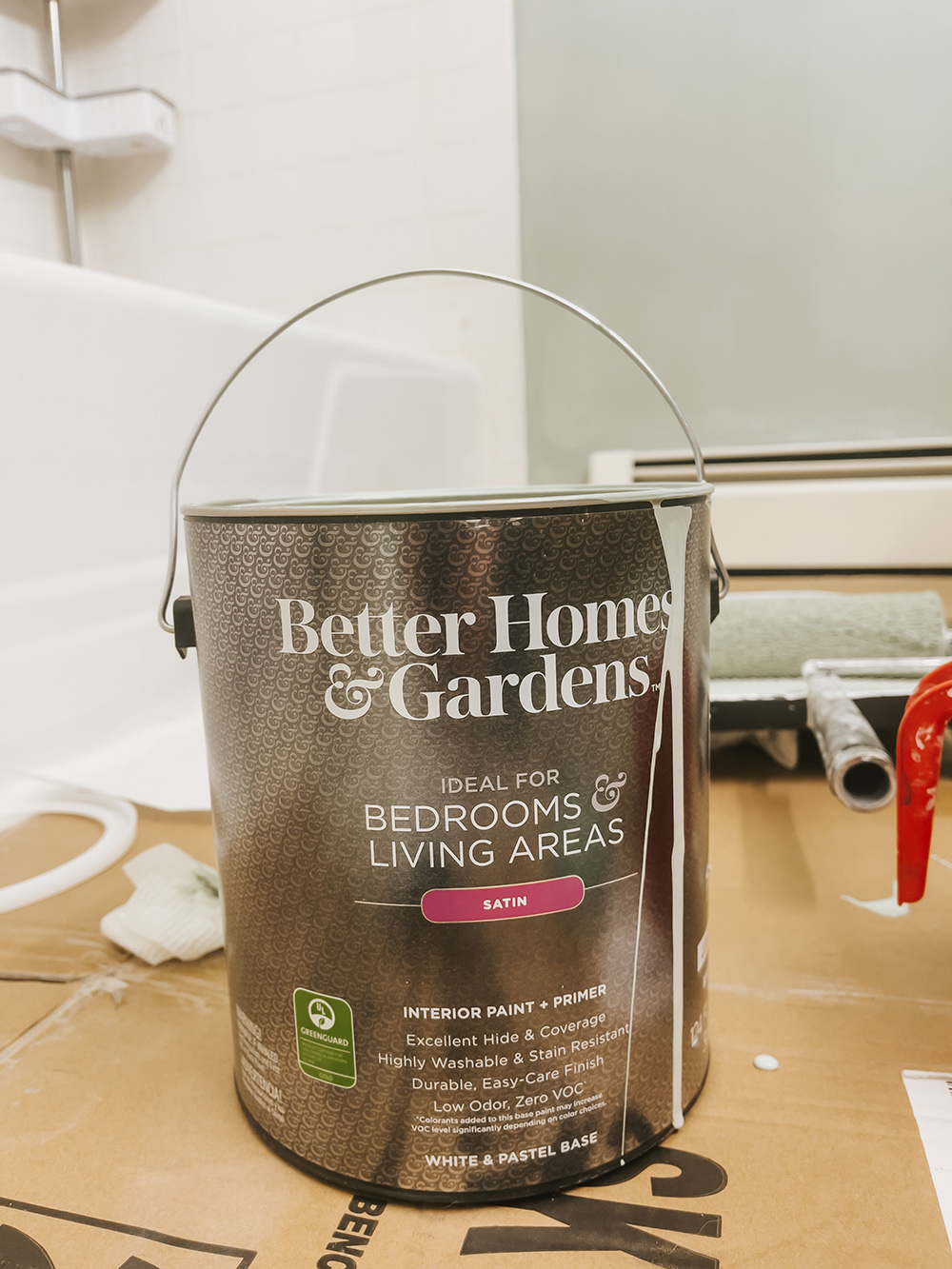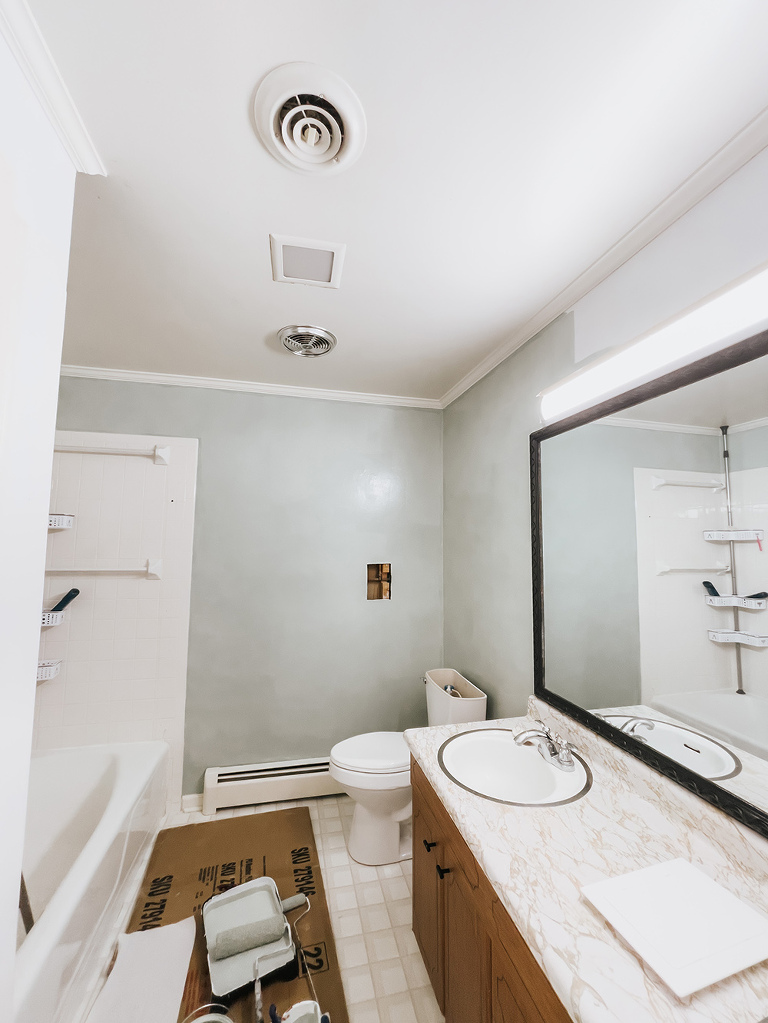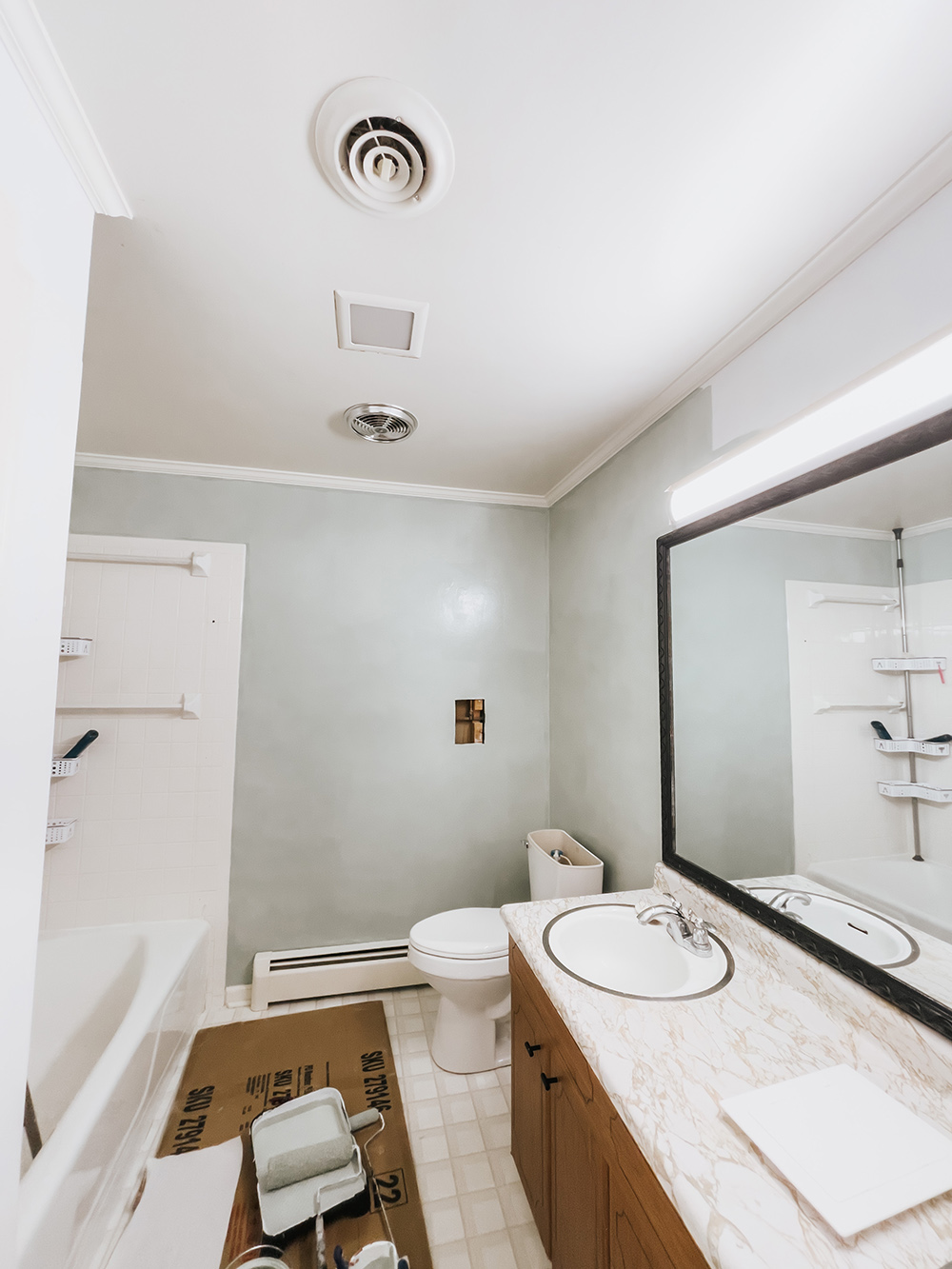 By the way, I did want to explain our method for removing wallpaper. The top layer wasn't hard to take down because it had been properly applied to the wall. We used these types of scrapers to peel up corners of the top layer of wallpaper, then peeled those off in as big of strips as we could. For the under paper, we used this wallpaper and paste concentrate mixed with hot water and the same scrapers we used before. Finally, to get off the last bits of wallpaper paste left on the wall, we used more of this concentrate mixed with hot water and these scrubbers. After letting that dry, I primed over everything twice, and then painted on my final topcoat color. It took hours, days, weeks, and sooooo much elbow grease, but we eventually got it done.
One of the reasons I was sort of under the gun for this project and pushed it through so hard was that I had it down as a work deadline. I had pitched the project before we moved to my editor at Better Homes and Gardens, thinking it would make for a pretty cool before and after video. It came together just in time. I don't think I would have gotten it done so soon without that deadline acting as motivation, so I'm grateful to the BHG team for their support. You can see iPhone photos below of what the room looked like styled with all of their products, and I've included linked resources if you scroll down a bit, too.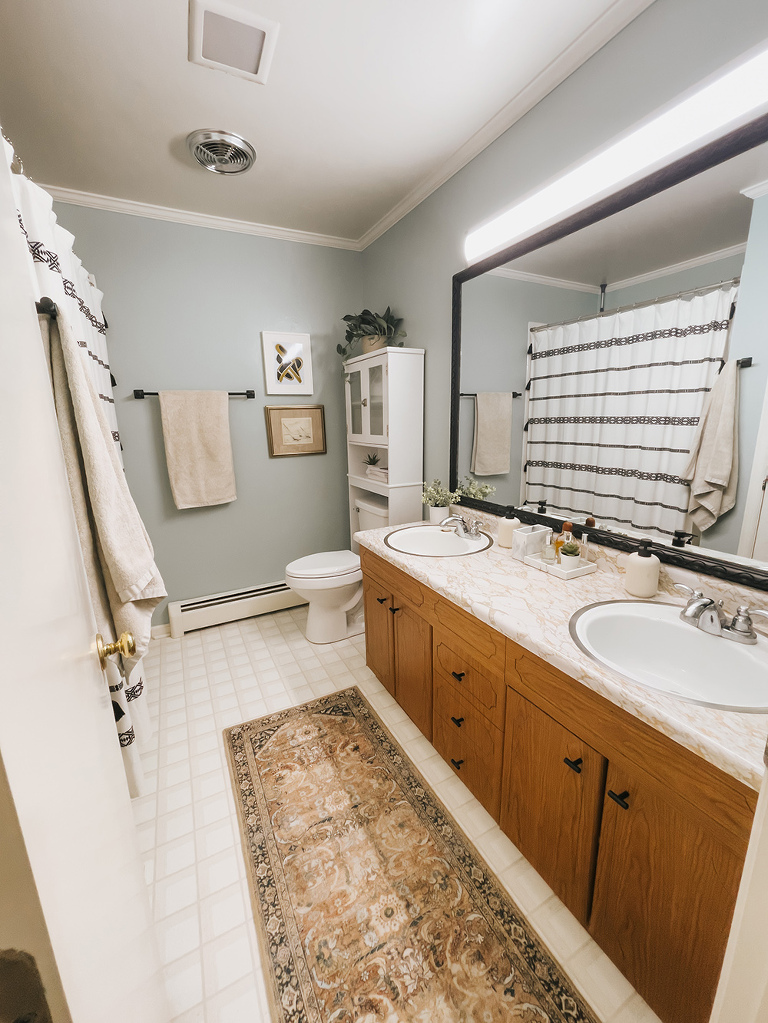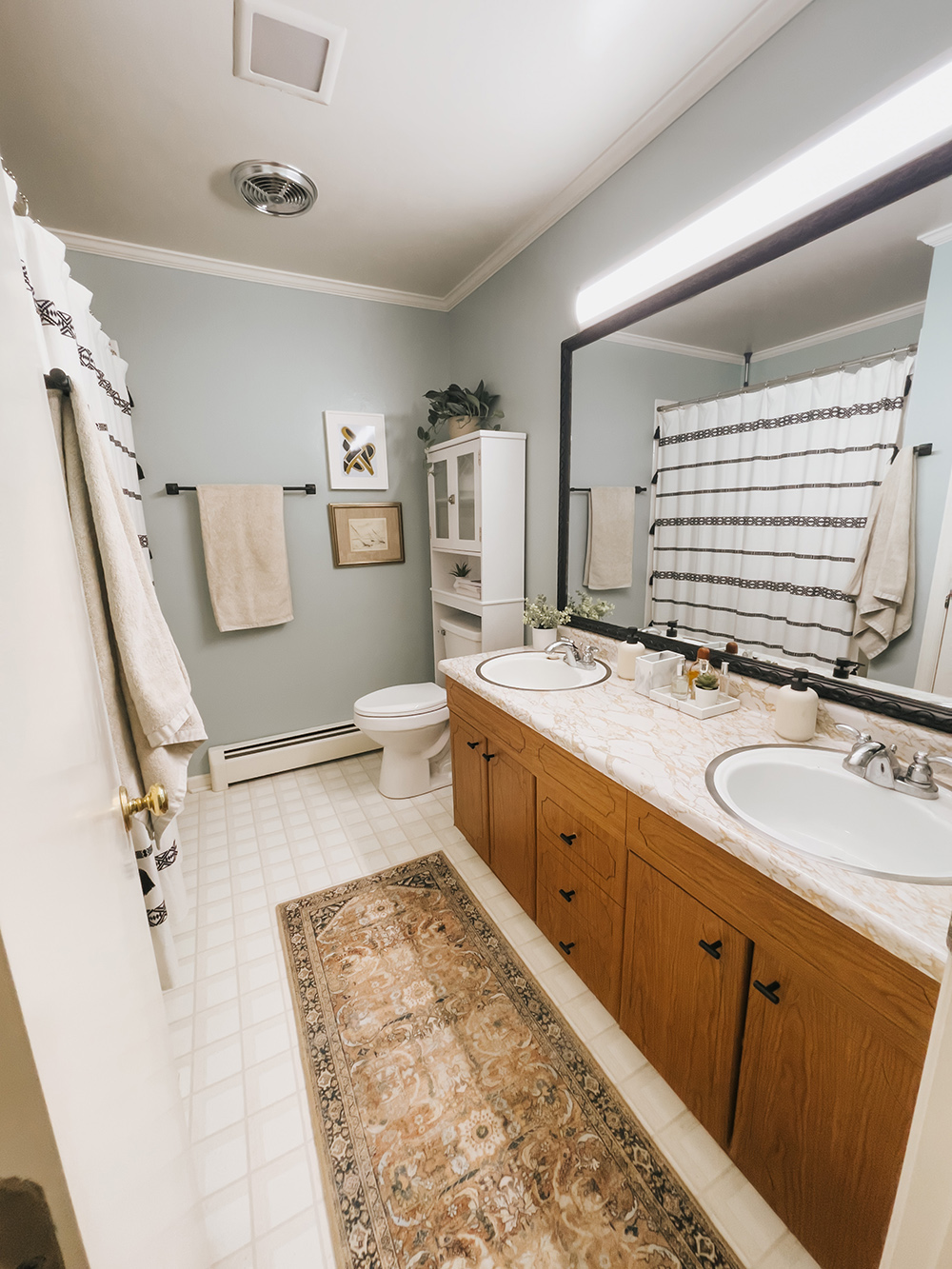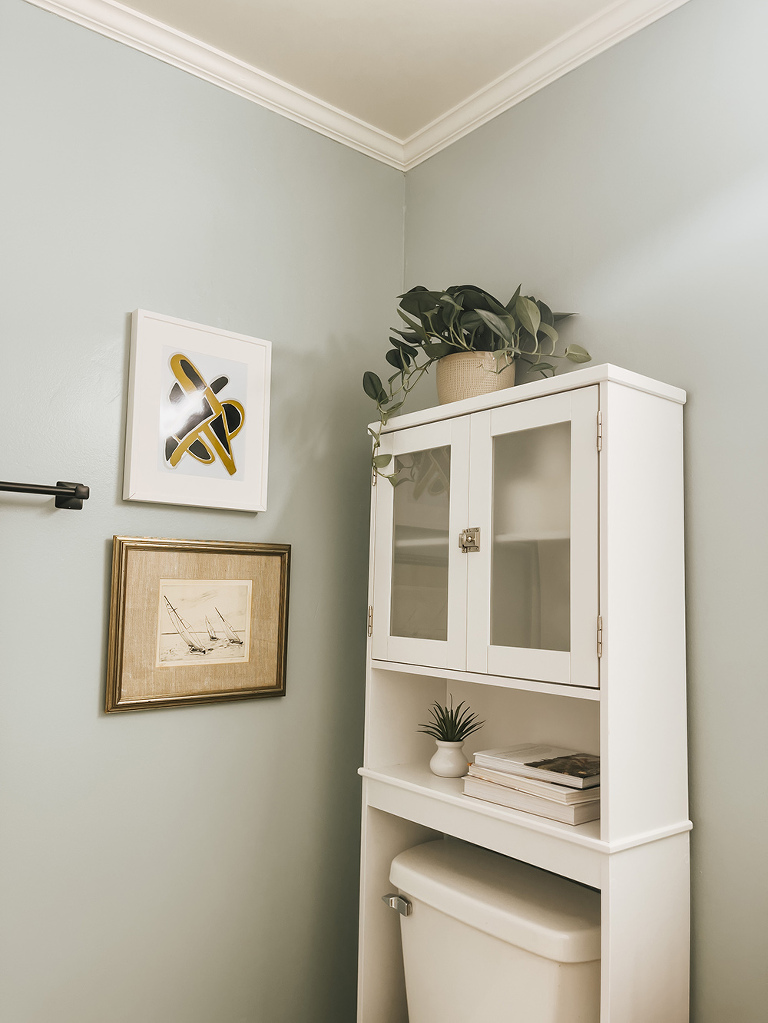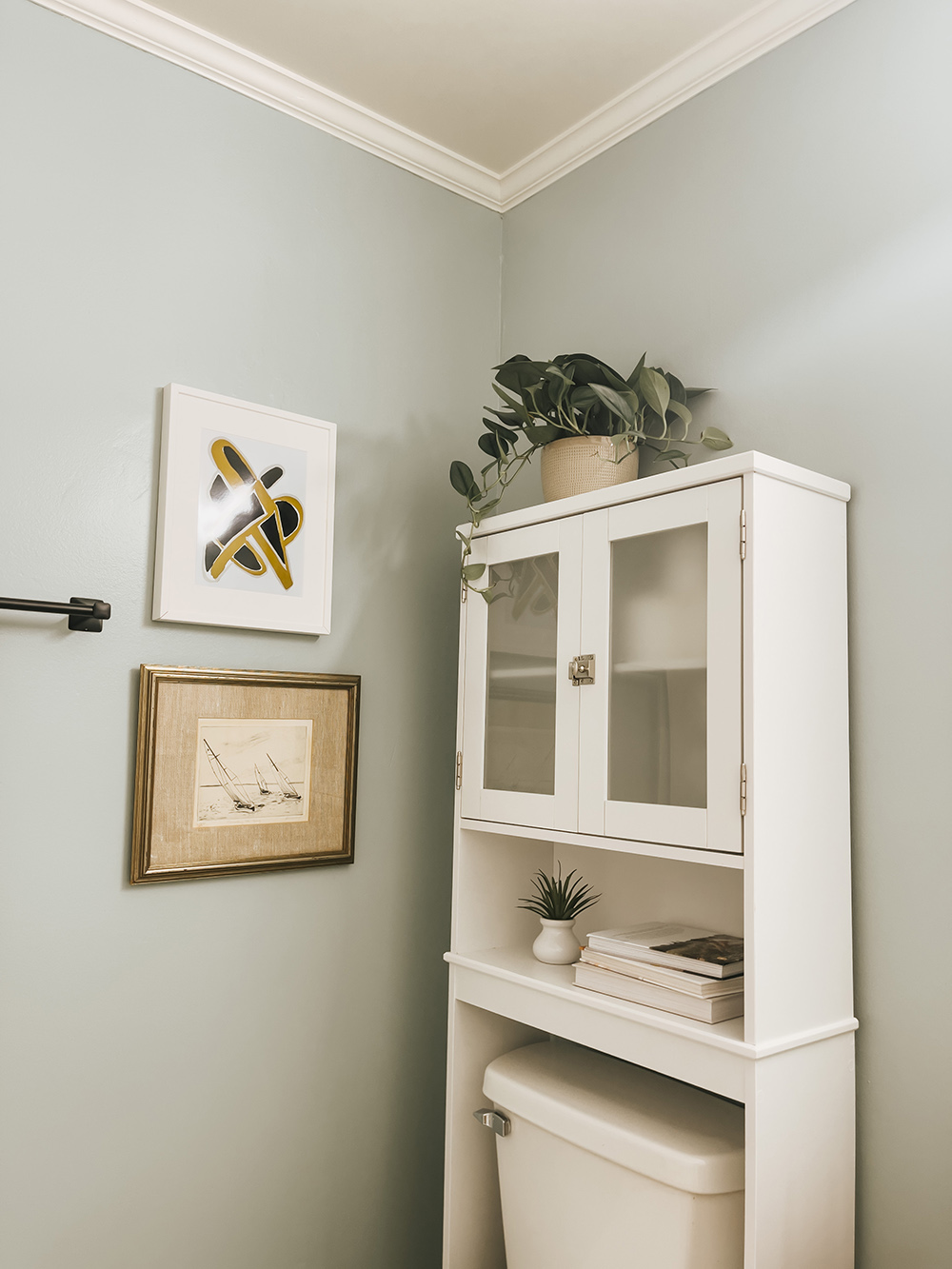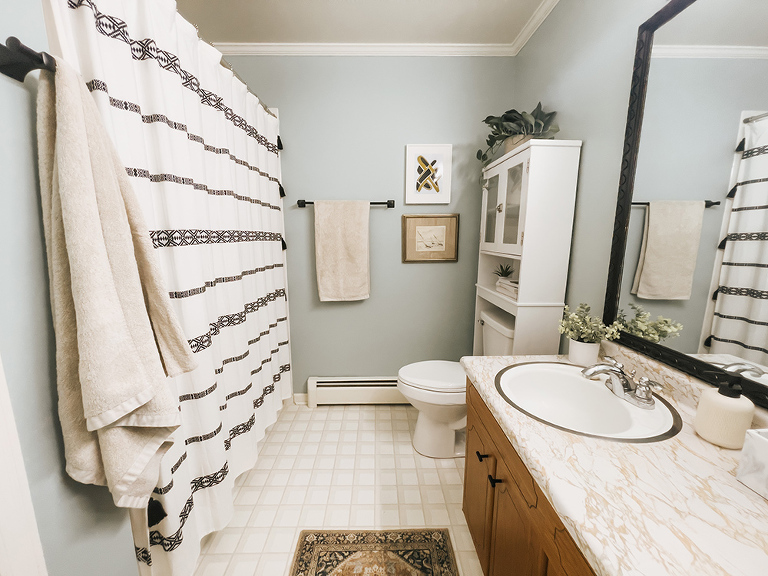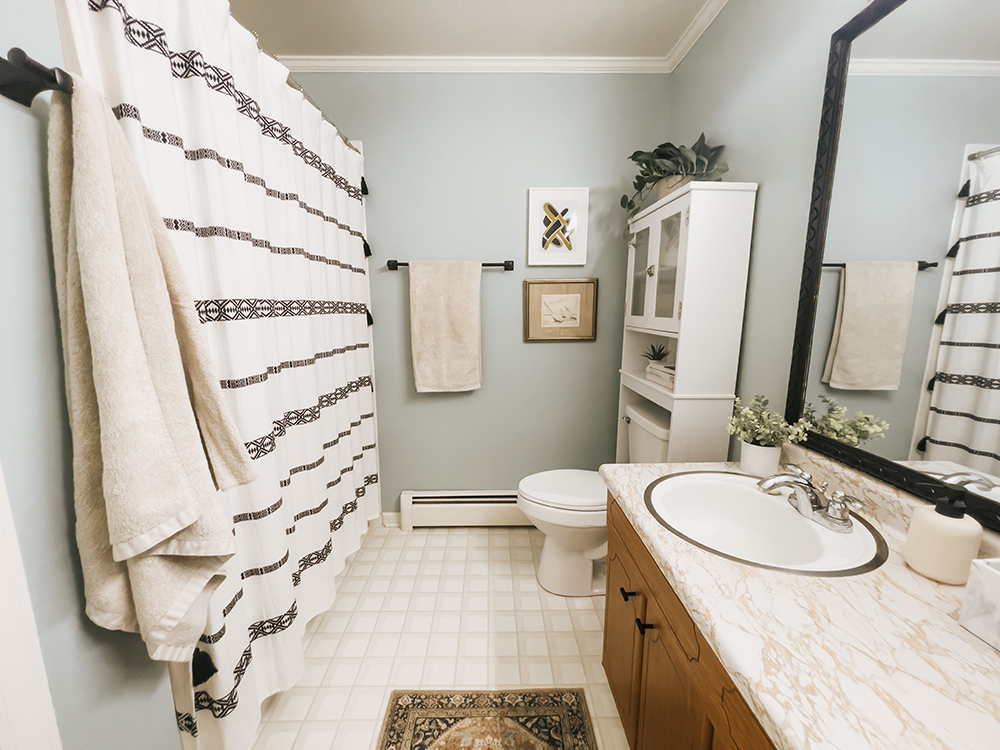 Resources: Over-the-toilet storage cabinet, shower curtain, shower curtain hooks, towel rod and hooks set, faux marble vanity organizer, vanity knobs, blue/green paint, area rug
The video of our completed bathroom makeover went live on the Better Homes and Gardens feed just last week, but this room has actually been done for over a month. In that time, I've made a handful of tweaks to the space to make it feel even more like "us." I simplified some things, edited out a few accents that we ended up not needing, and also added in a few vintage finds. The photos below show our hall bathroom exactly as it looks right this very minute.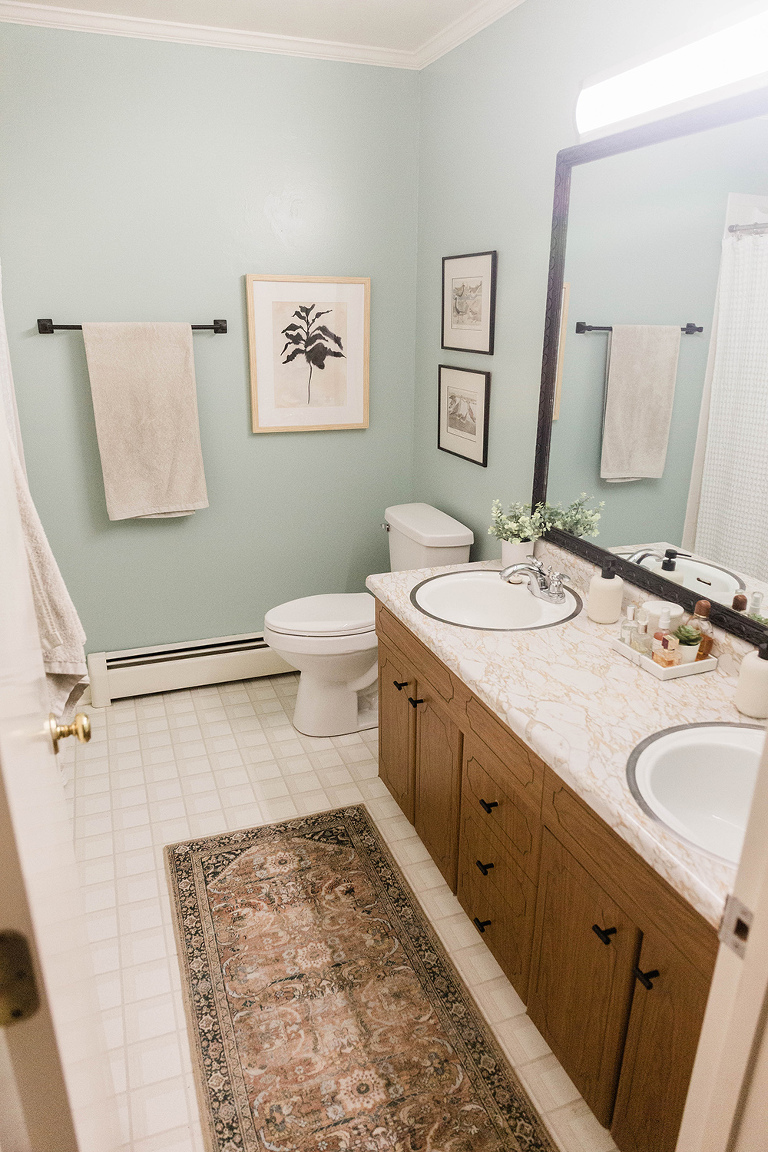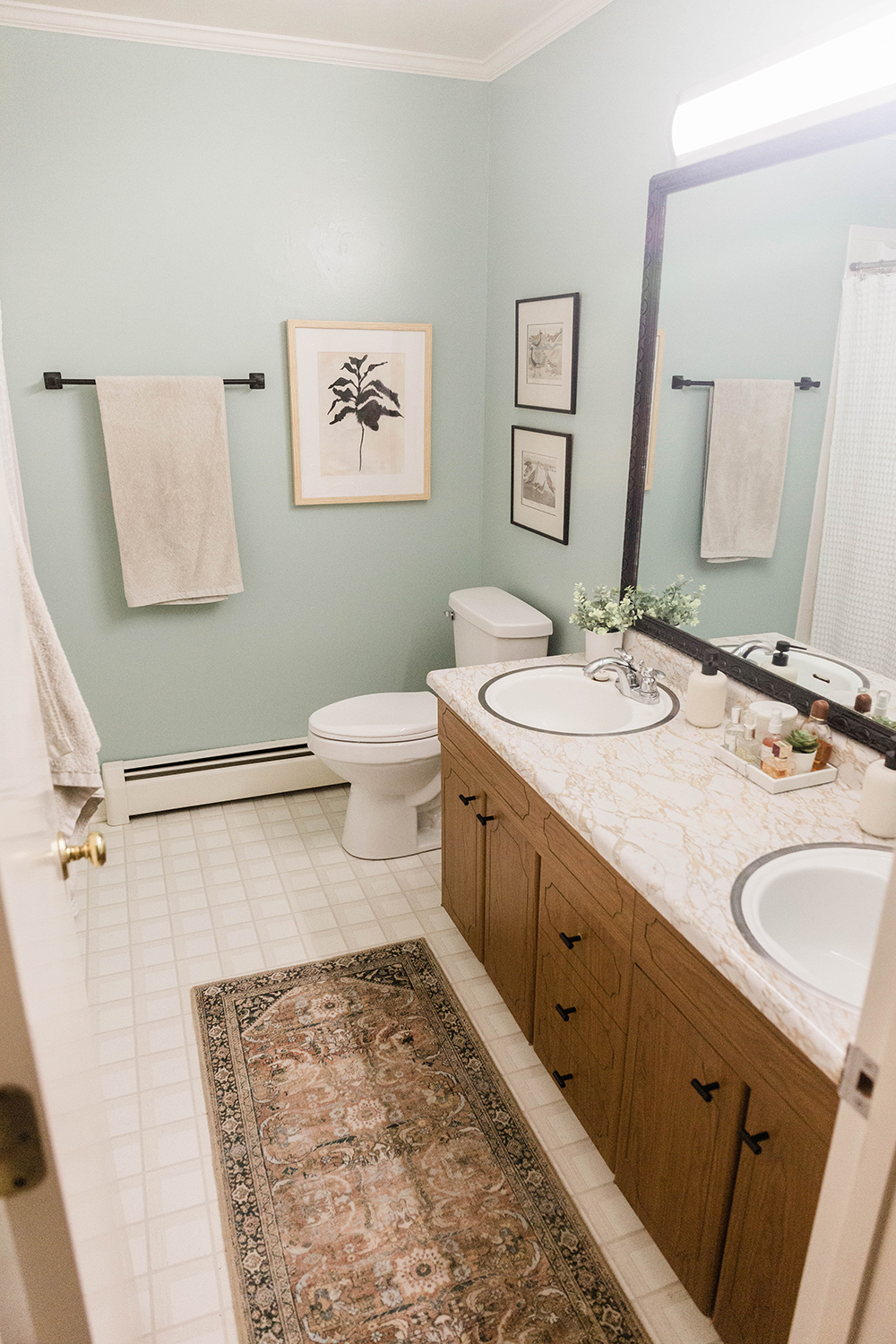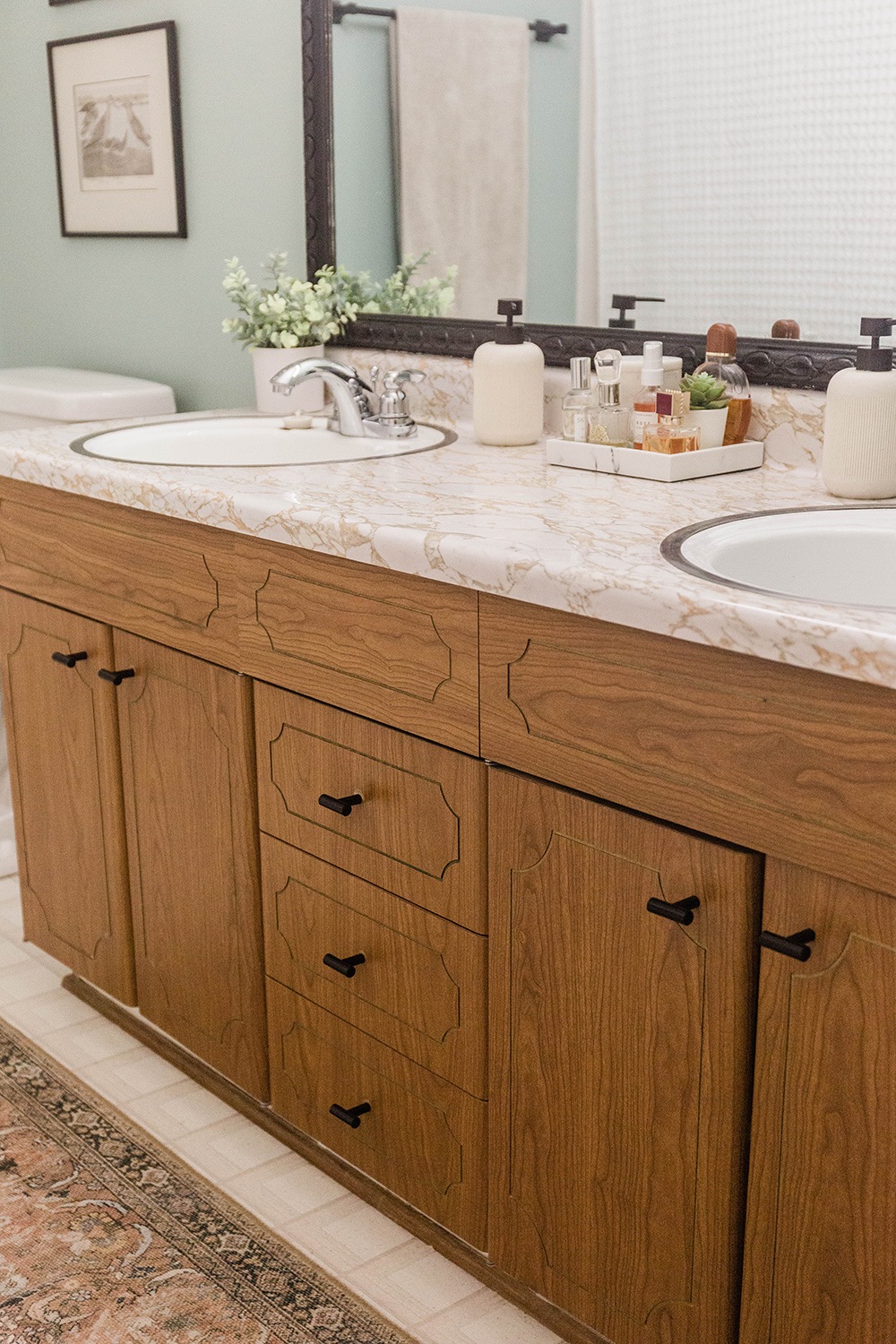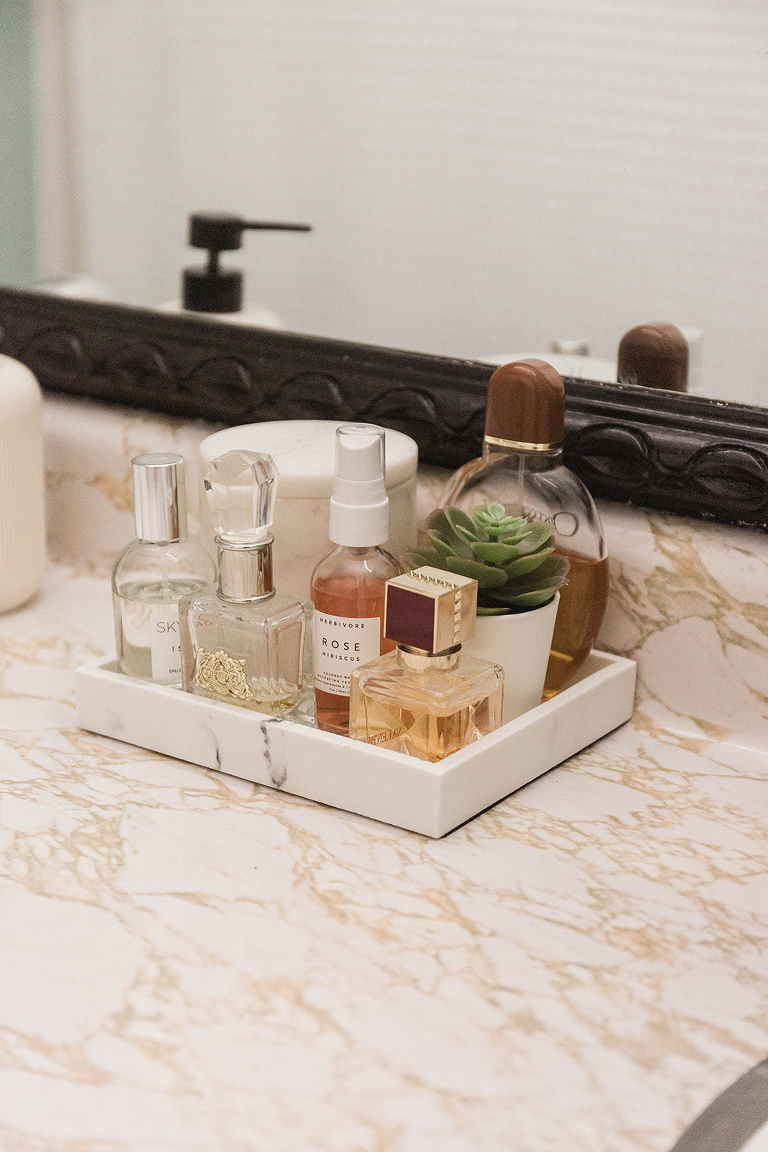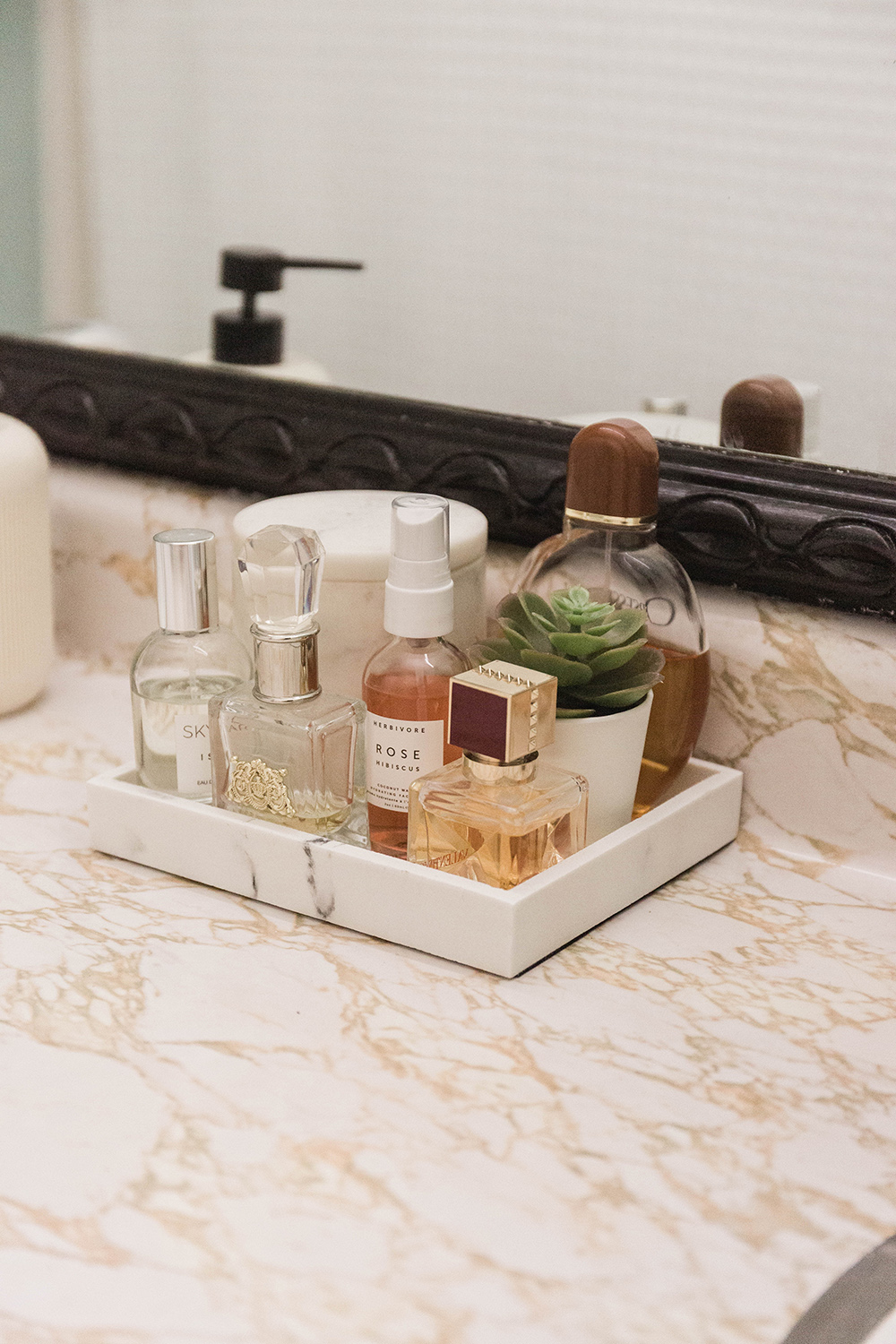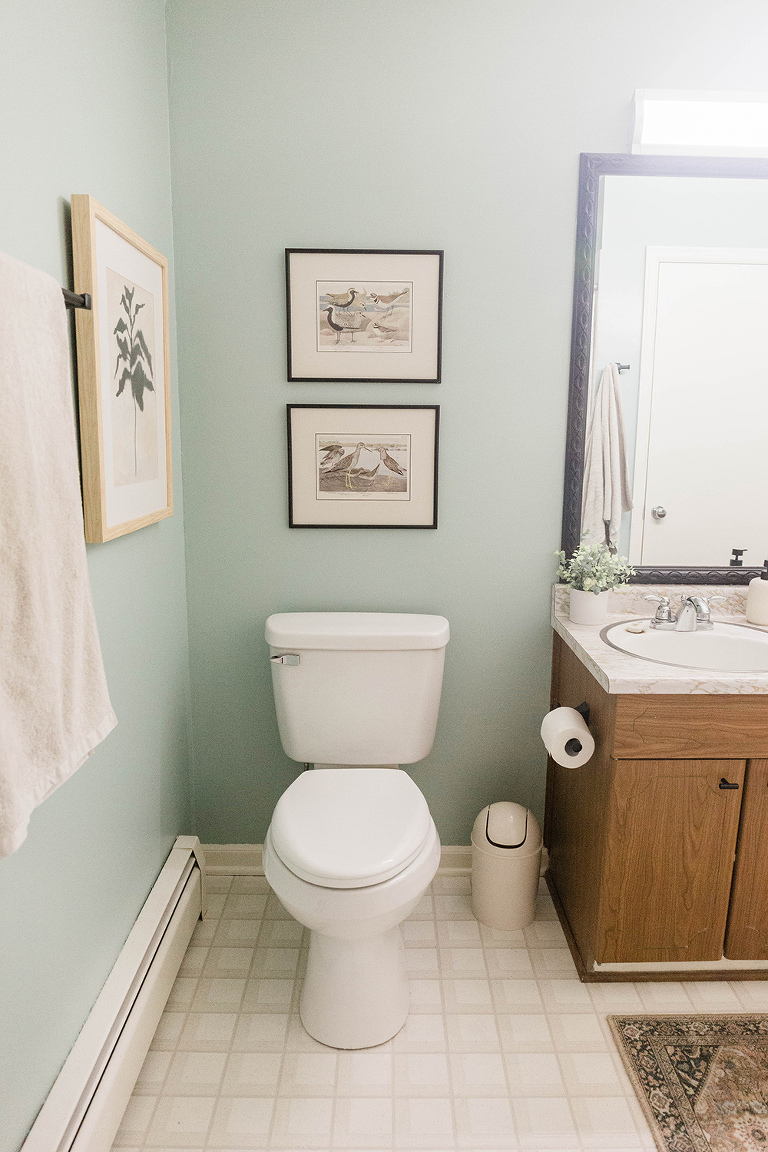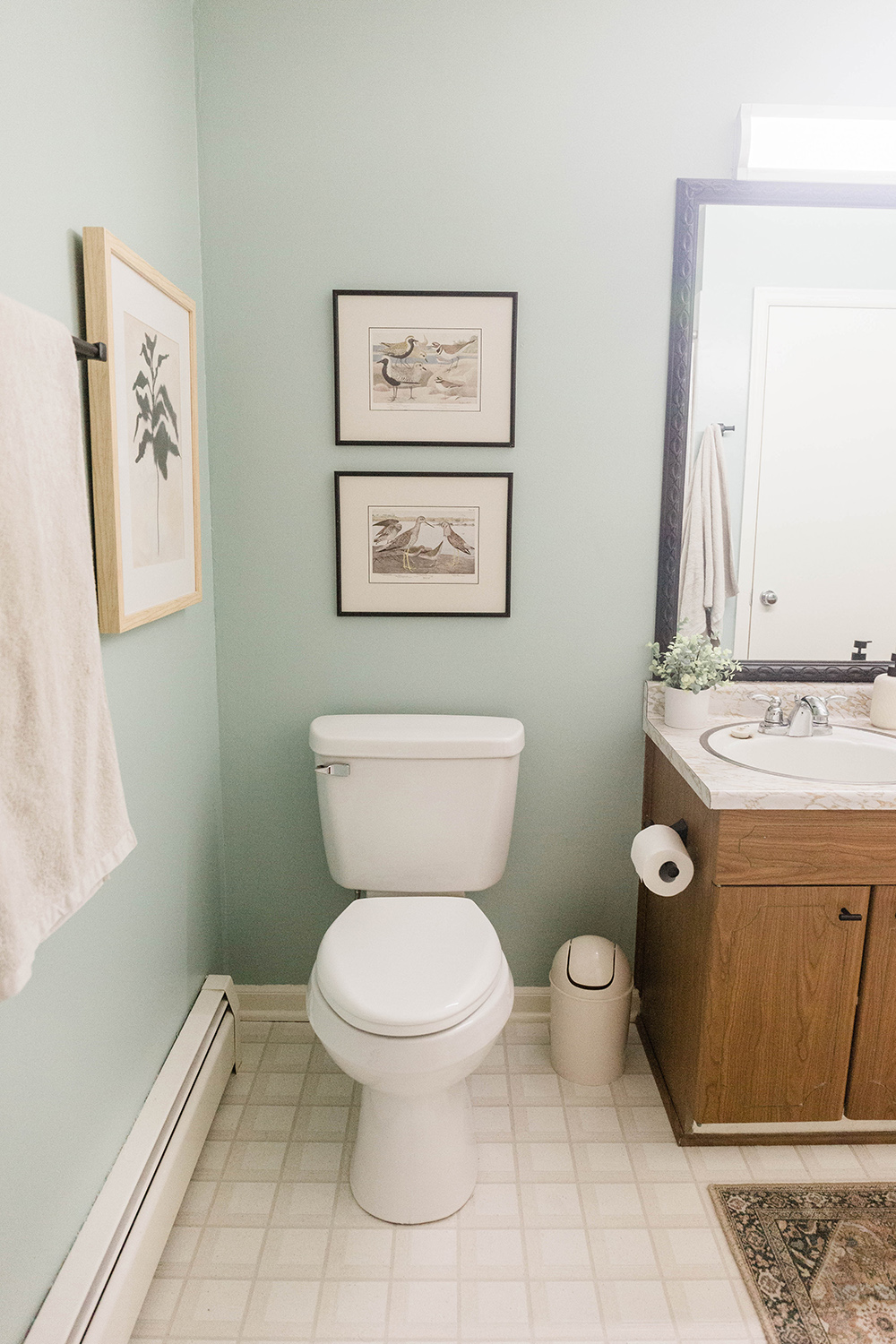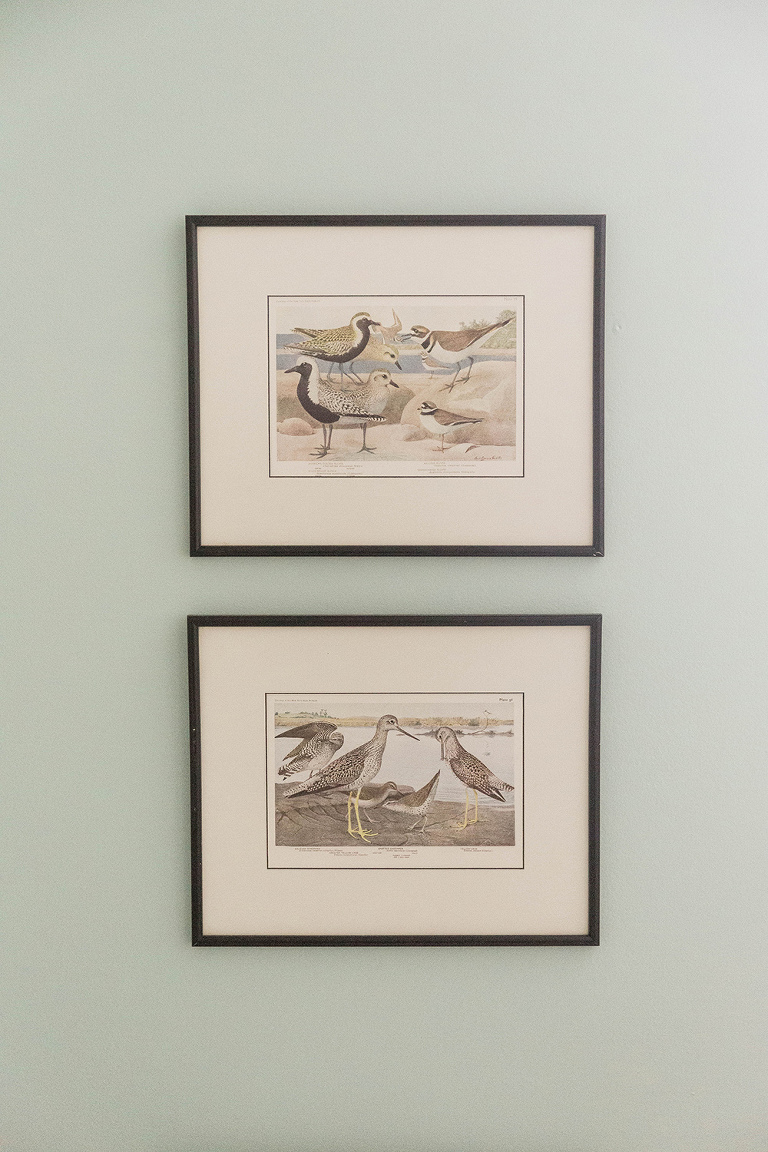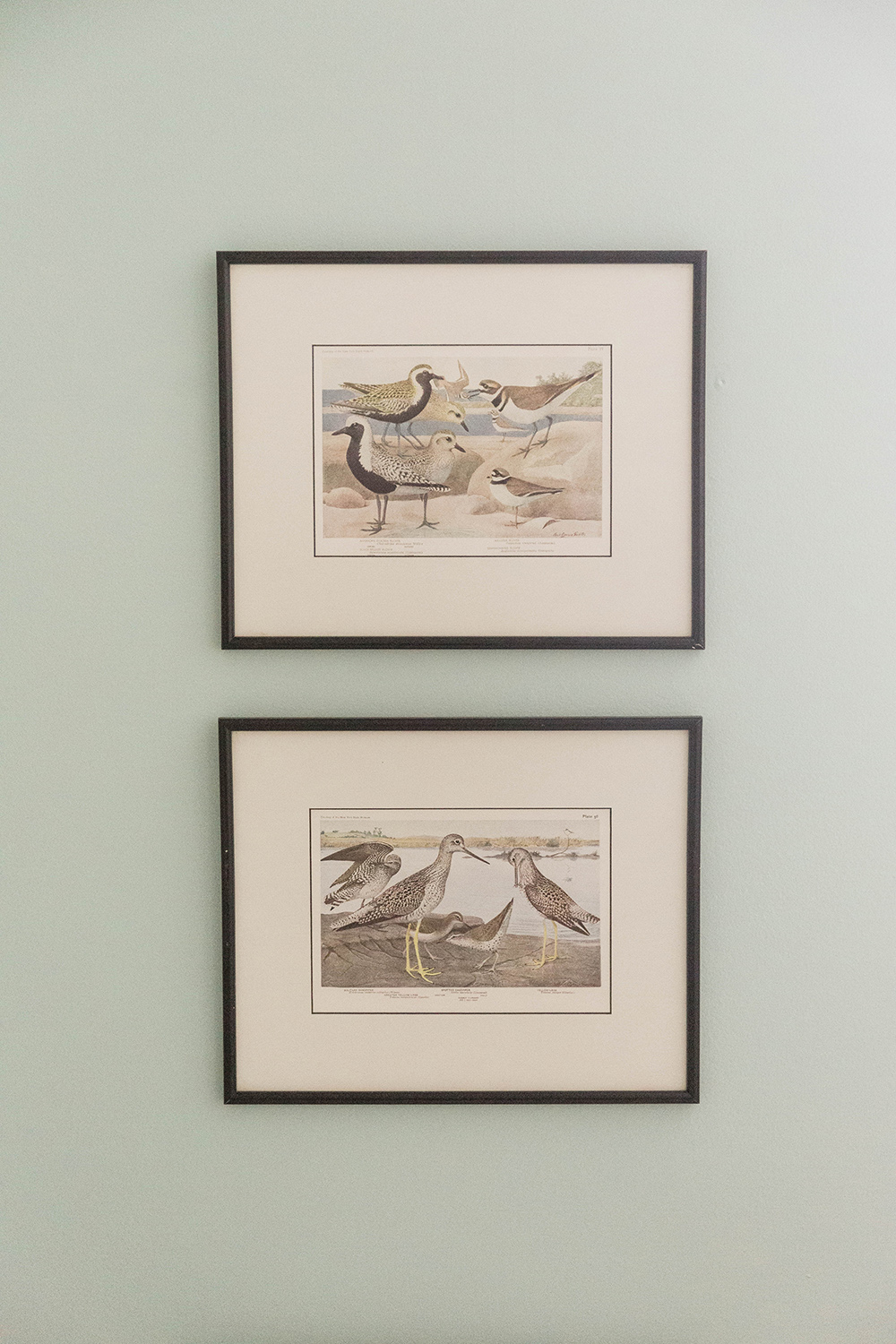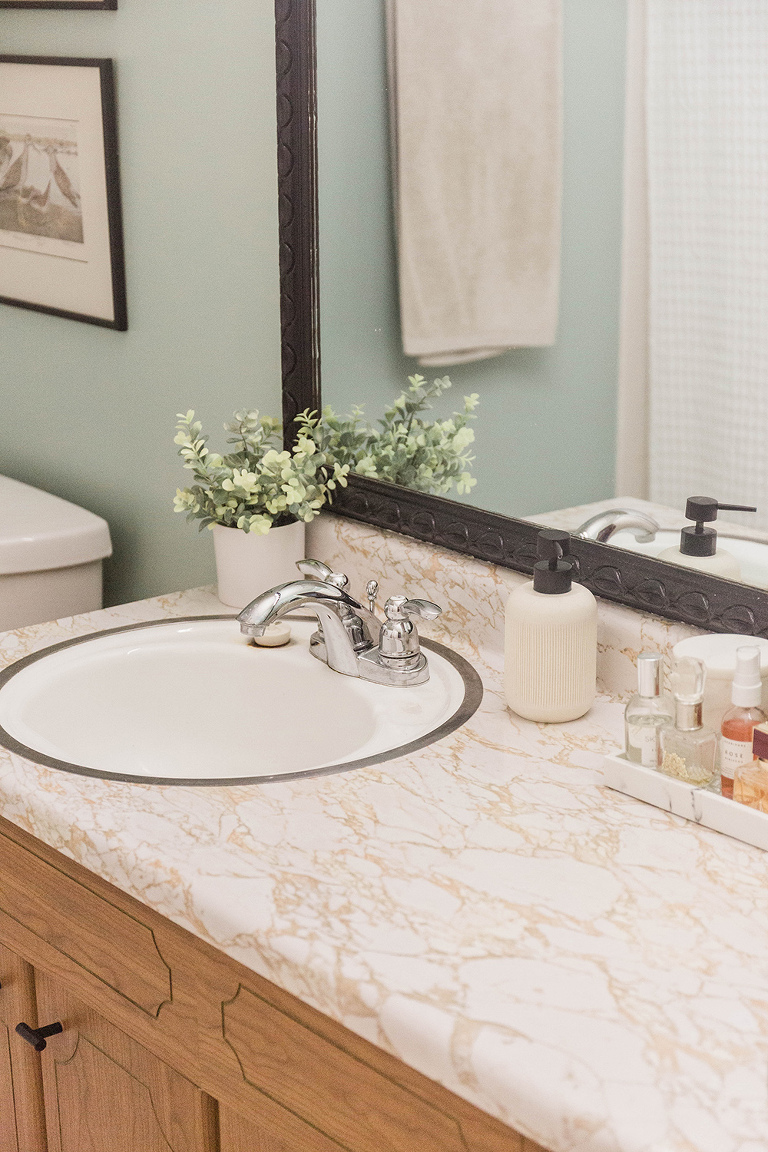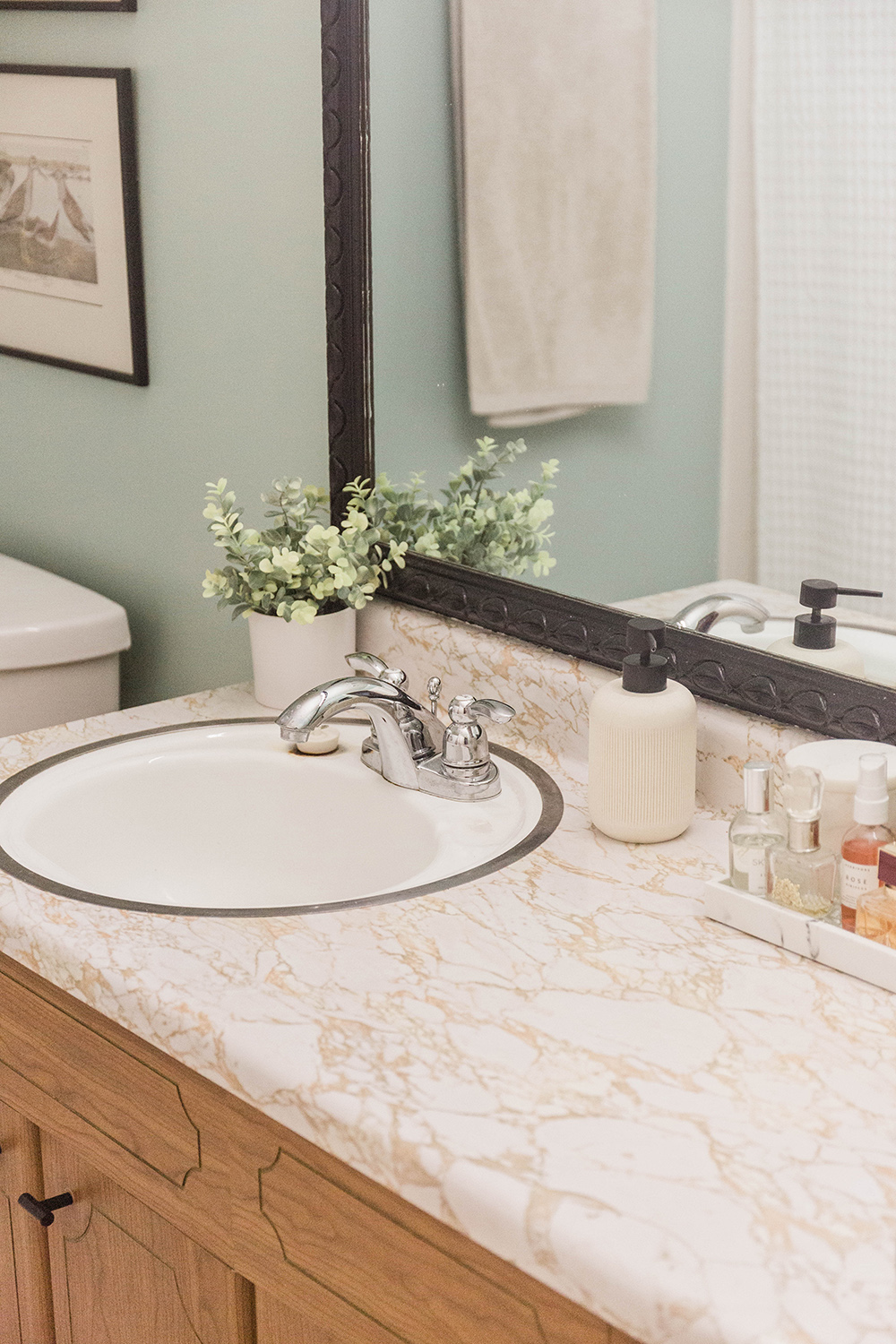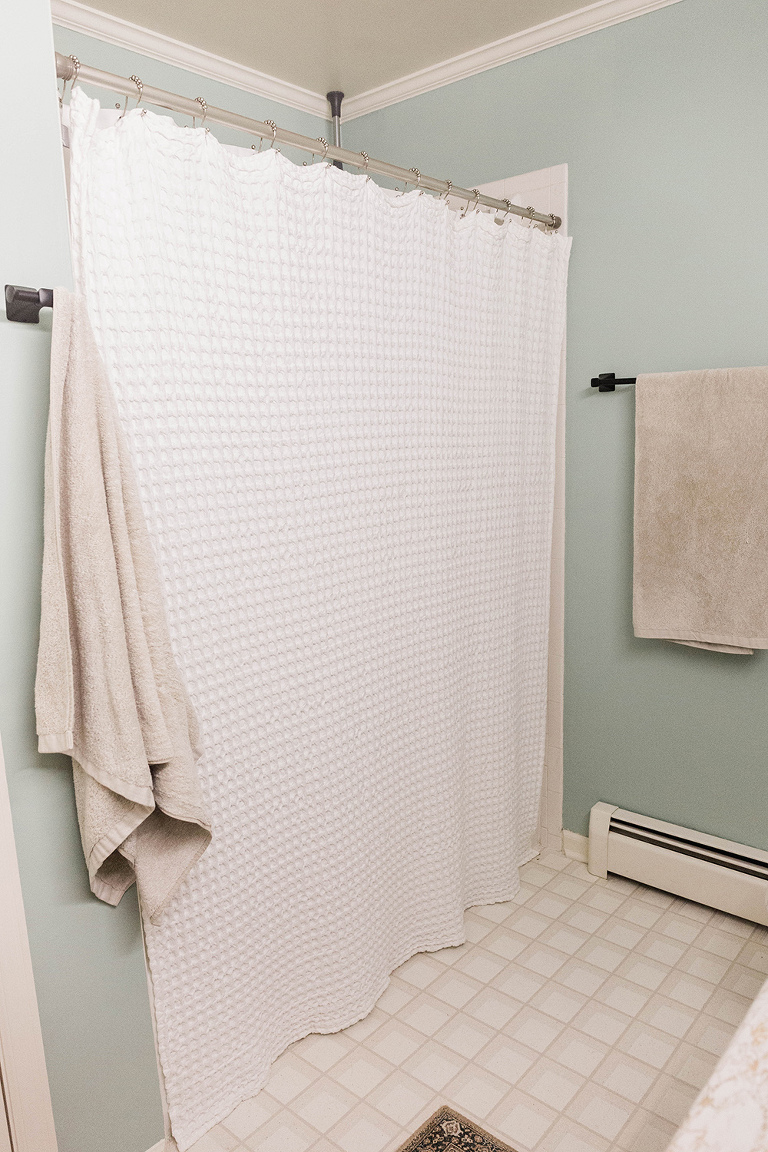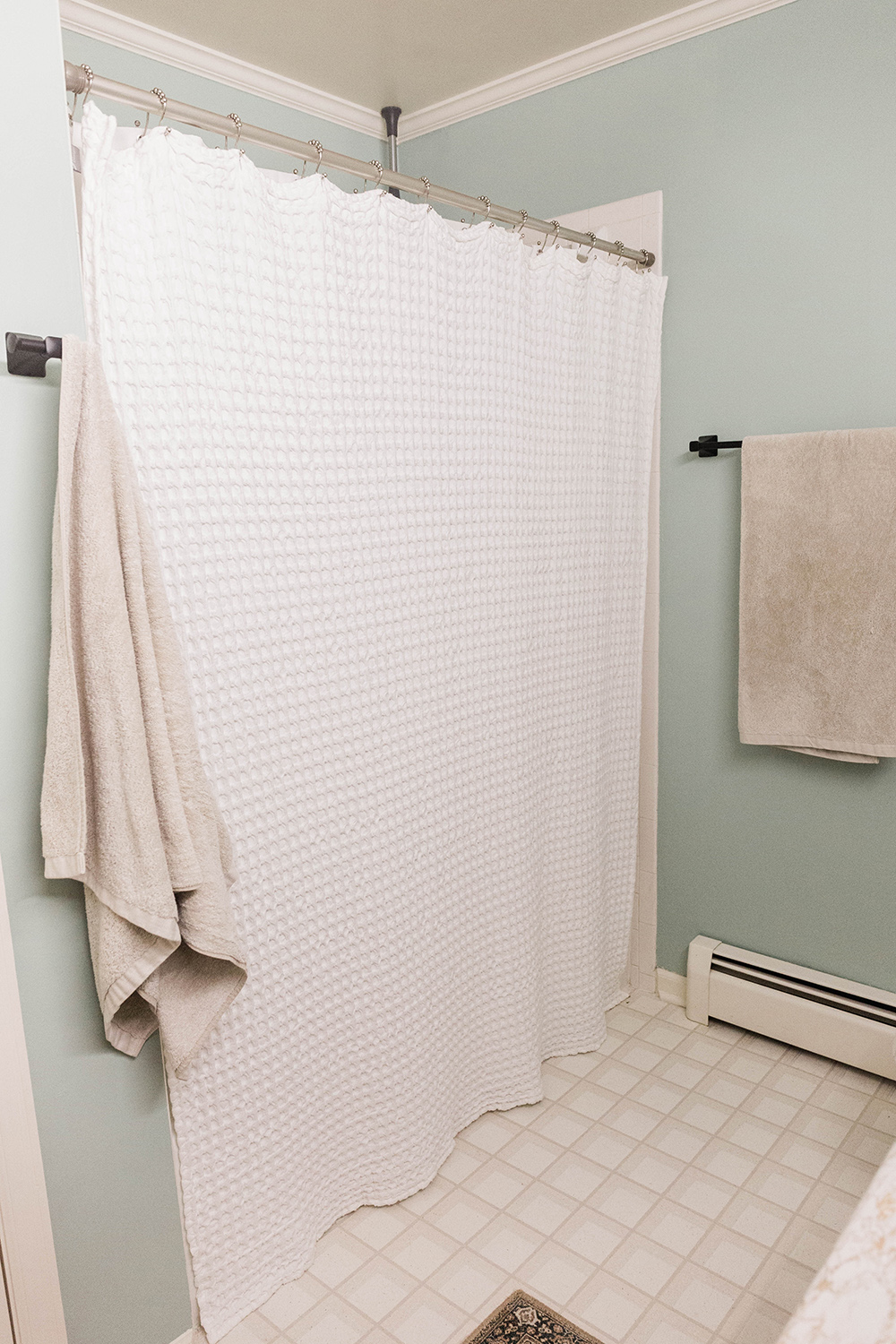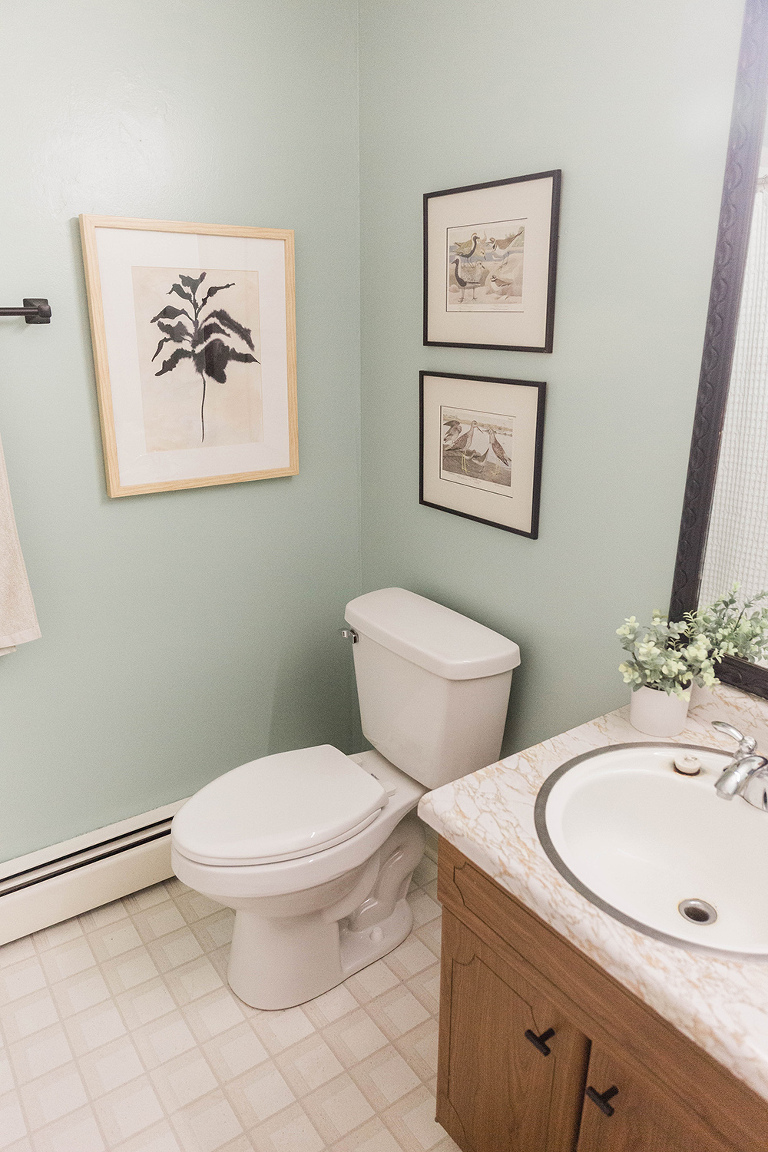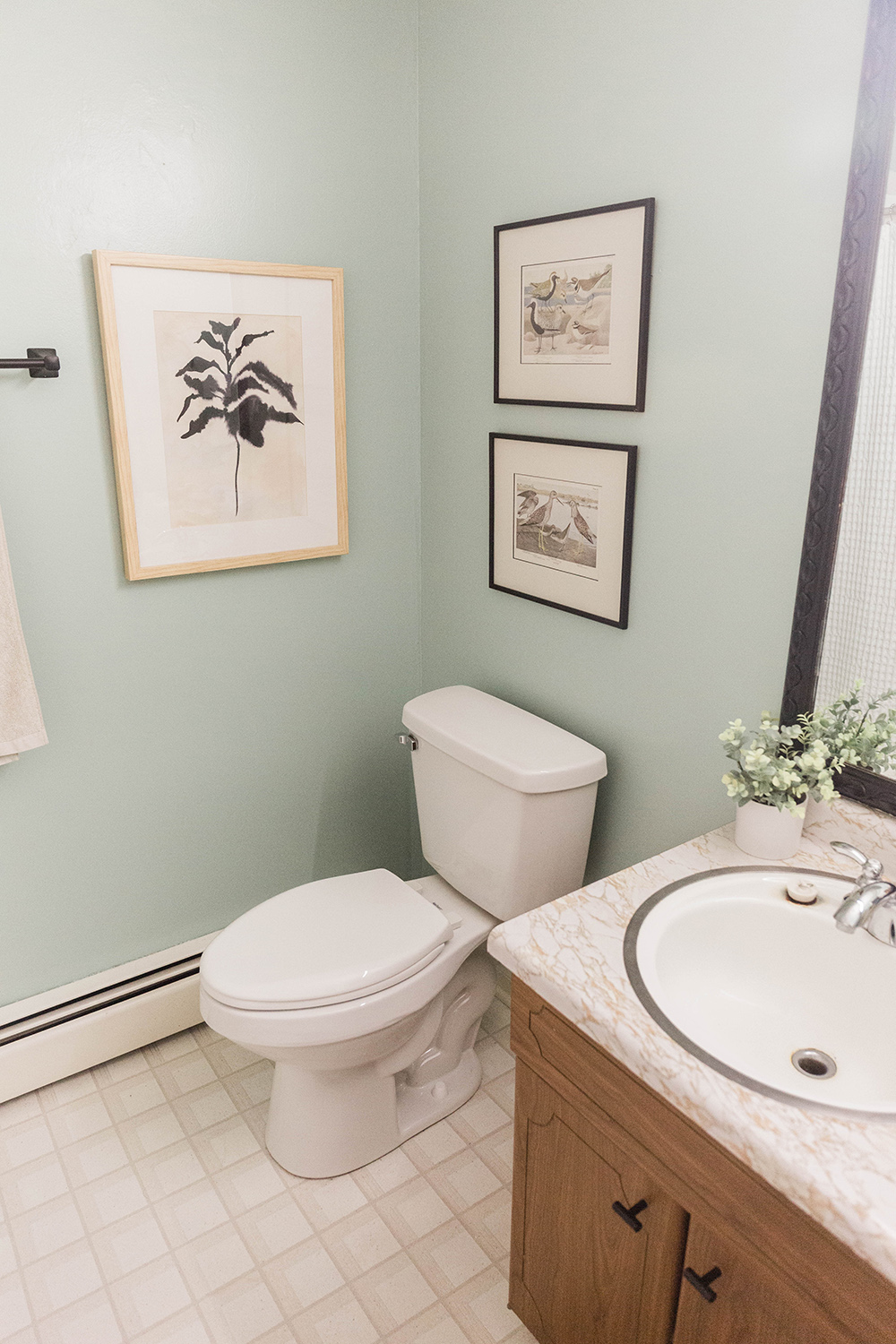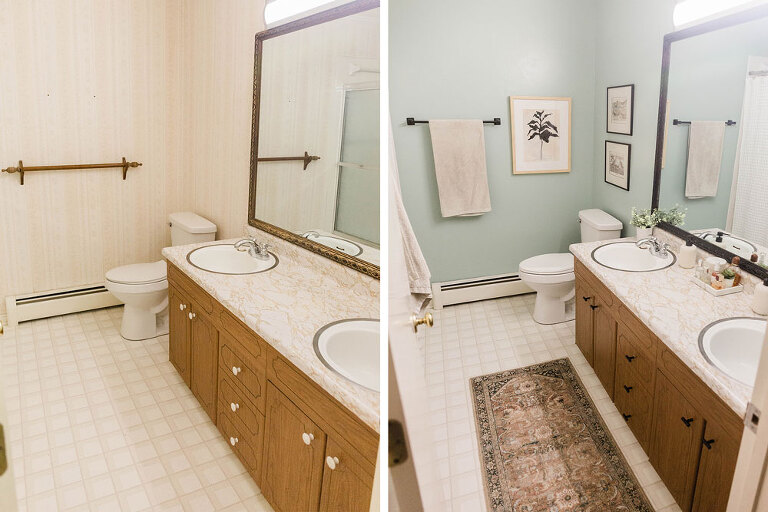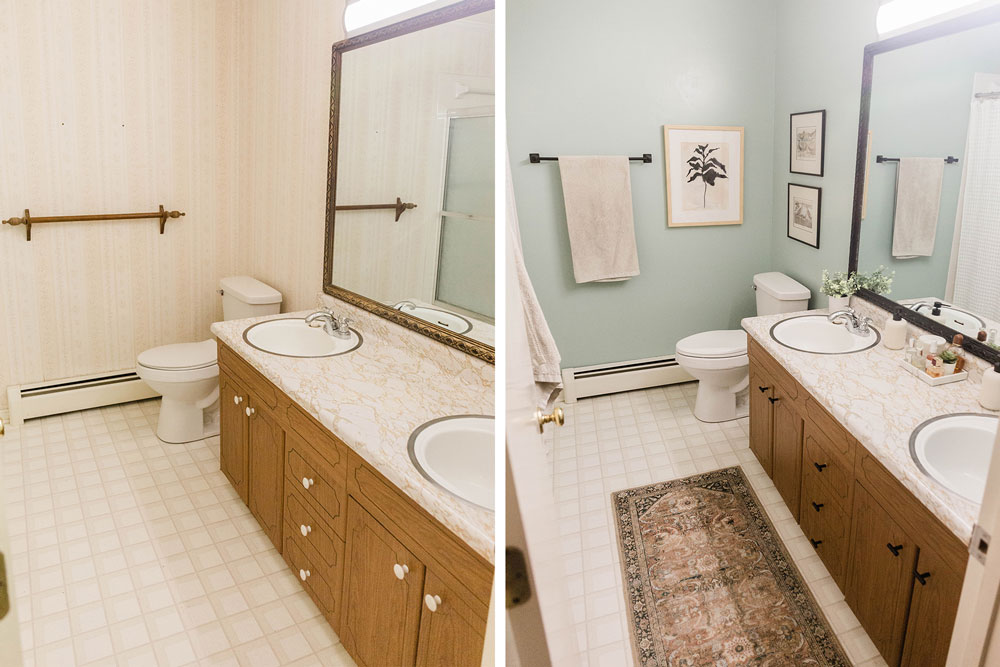 As for changes I foresee over the next few months? Well, there are actually quite a few in the works! We had been planning on prioritizing our new kitchen countertops just after New Years, and have those scheduled to be installed next week. After talking it over with the countertop team we hired, it turned out to be in our best interests budget-wise to go ahead and use the remnant quartz from our kitchen in the bathroom, so we are getting a new counter and faucets installed in the bath next week, too! I can't wait to see how this transforms the space. I promise to share another update sooner rather than later. In the meantime, let me know what you think of our progress so far in the comments!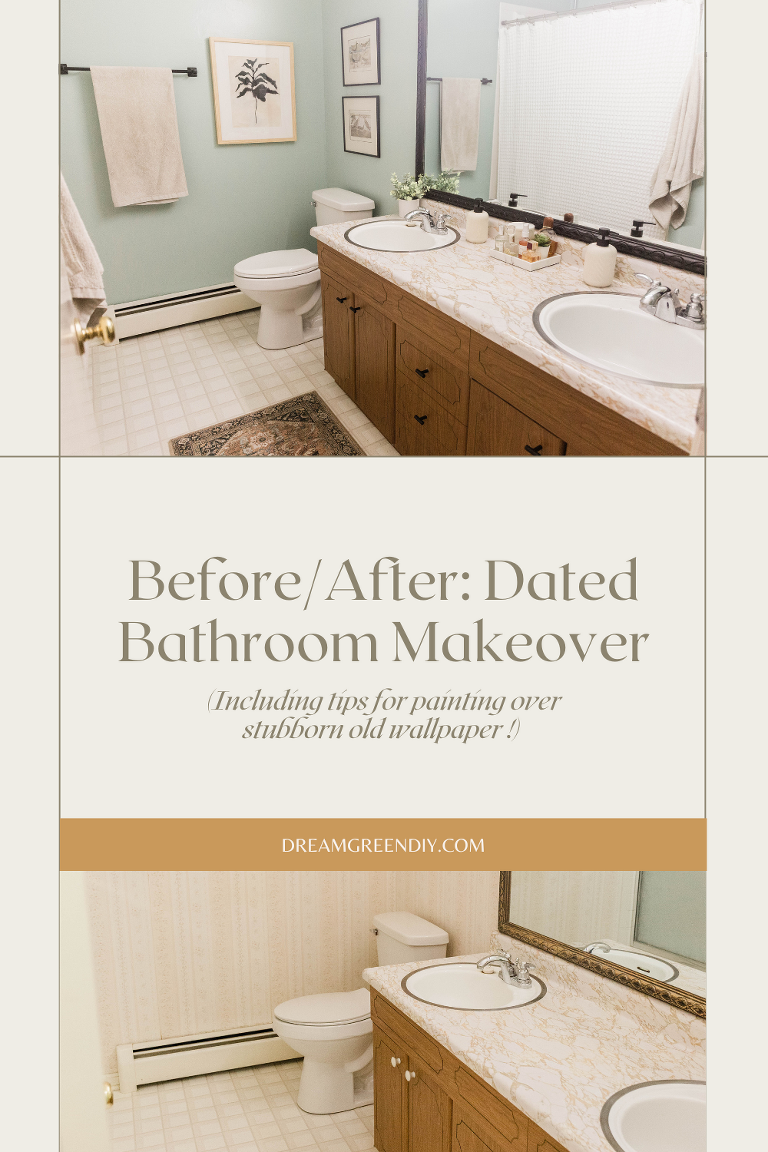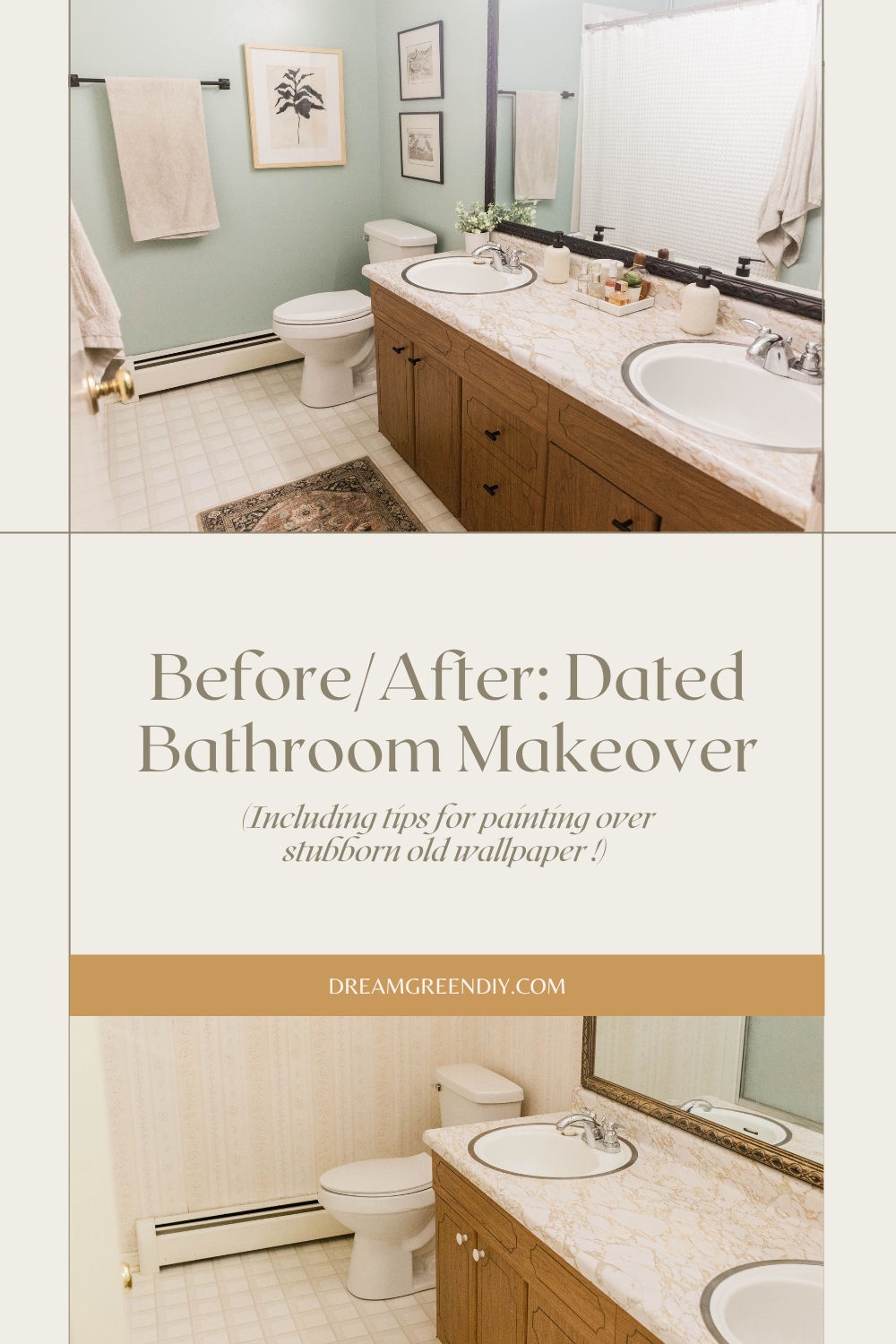 *I earn a small percentage from purchases made using the affiliate links above. Affiliate links are not sponsored. Rest assured that I never recommend products we wouldn't use or don't already love ourselves.