Without a doubt, one of the most frequently asked questions I get on Instagram is, "Where did you get that green couch?" I'm glad you guys love it so much! It's one of my favorite things in our home, too, and I never questioned whether or not we'd bring it with us to the new house. It's a keeper. If you want more information about our Article Burrard sectional, you can click here to read my review, but today, I wanted to talk specifically about styling and decorating around this oversized sofa.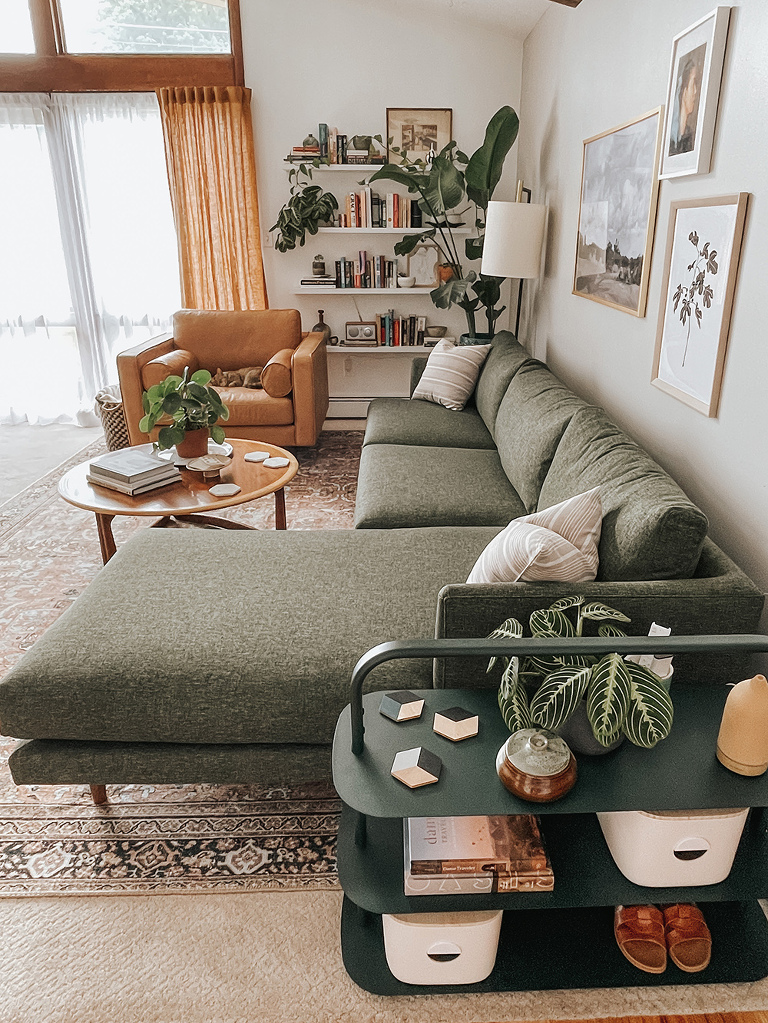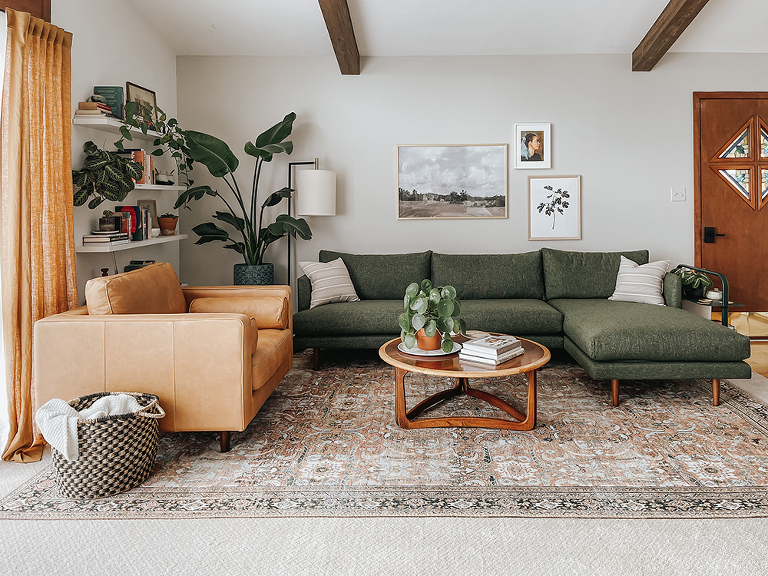 I'll be honest. I was a little anxious about ordering such a bold couch for our home, but this all took place about a year into the pandemic, and after being stuck at home so much during the quarantine era, I was craving color. I wanted to step outside the box, and this sofa was my way of doing just that. Turns out, though, that this couch is more versatile than I initially anticipated! You'd think that a rich evergreen sofa would be tough to design around in different ways over the years, but that just hasn't been the case.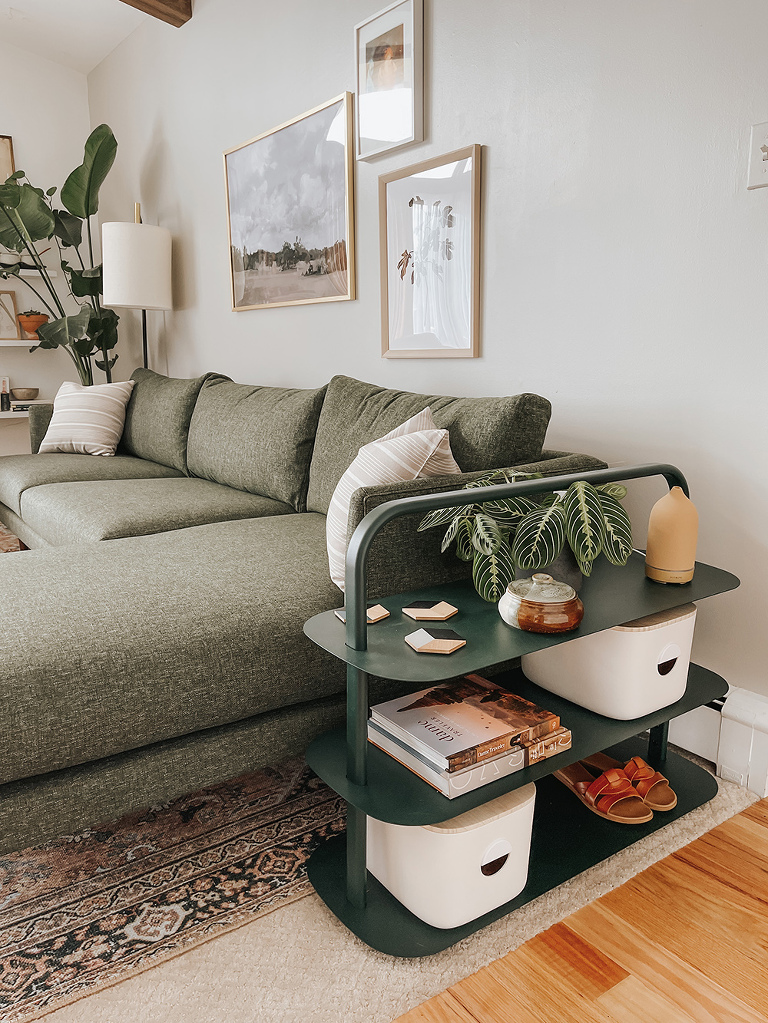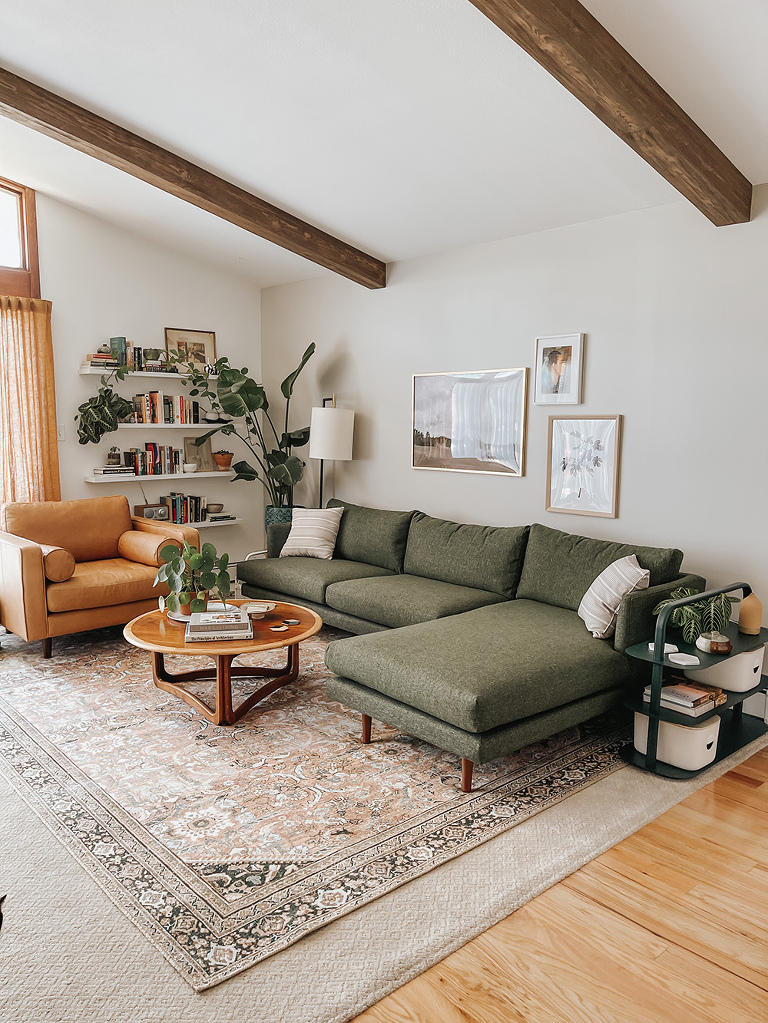 I thought I'd show you the same couch in two totally different homes, styled in two completely different ways. Pictured above, you'll see our Burrard sectional as it looked in our old house. We paired it with Article's leather Sven armchair because I will always love the warming combo of dark green with mustard. I tend to prefer a round coffee table with an L-shaped sectional because it generally allows for better flow, so we arranged our vintage Lane Furniture coffee table in the center of the setup. Then, I had just enough room off to the side of the couch to put our skinny entry shelf from Open Spaces to use as an end table.
I ultimately decided to keep the pillows minimal since there was a lot going on visually with our floating bookshelves off to the side, and balanced out the colorful book arrangement with a 3-piece gallery wall above the couch using Juniper Print Shop art. One of my favorite things about this setup is the Loloi rug. The colors in it perfectly tie together the caramel-colored chair and coffee table alongside the dark green in the sofa and side table. Of all the living room designs we ever incorporated into our old house, the one you see above is my all-time favorite. Now, let's take a look at the Burrard in our new house.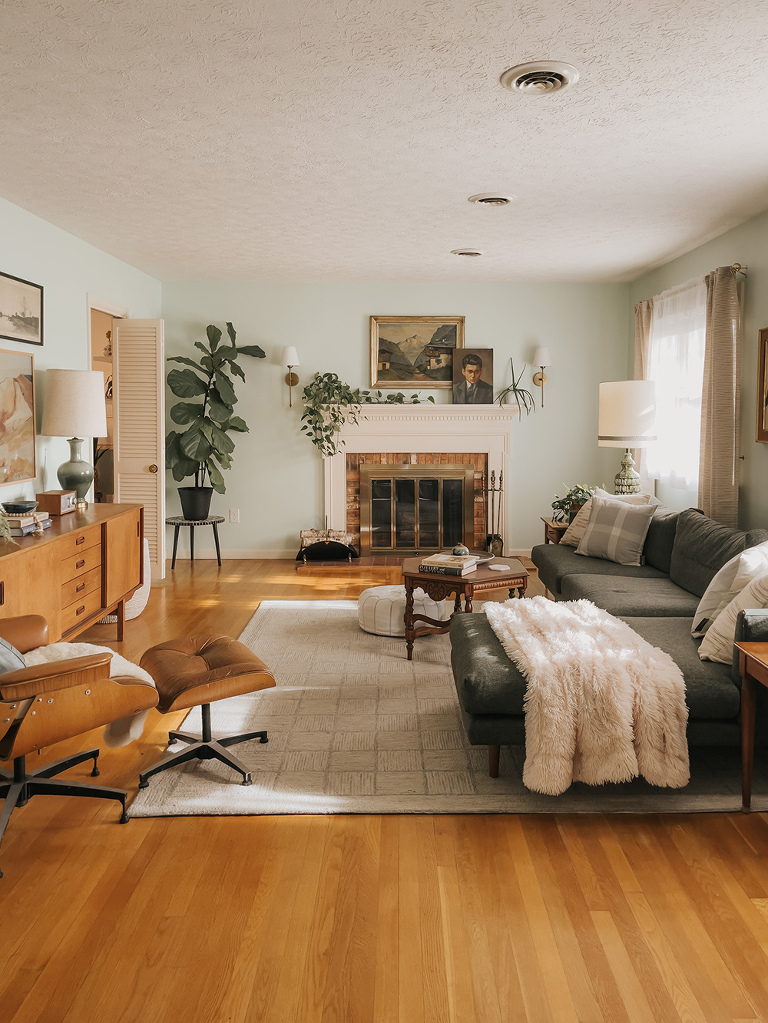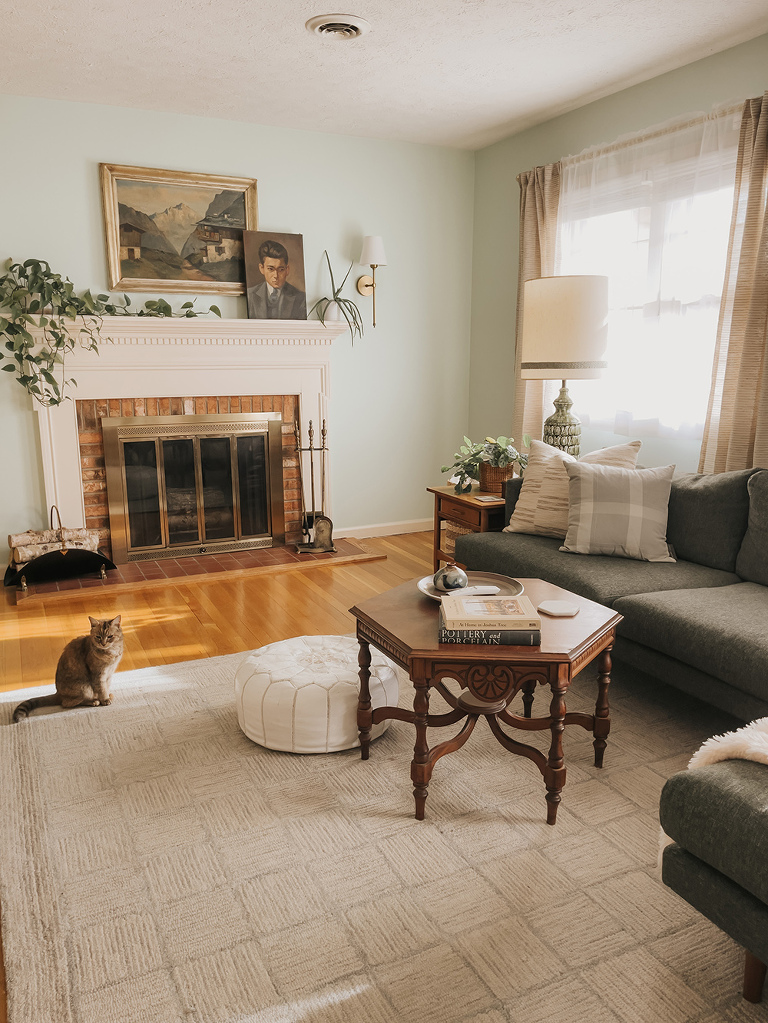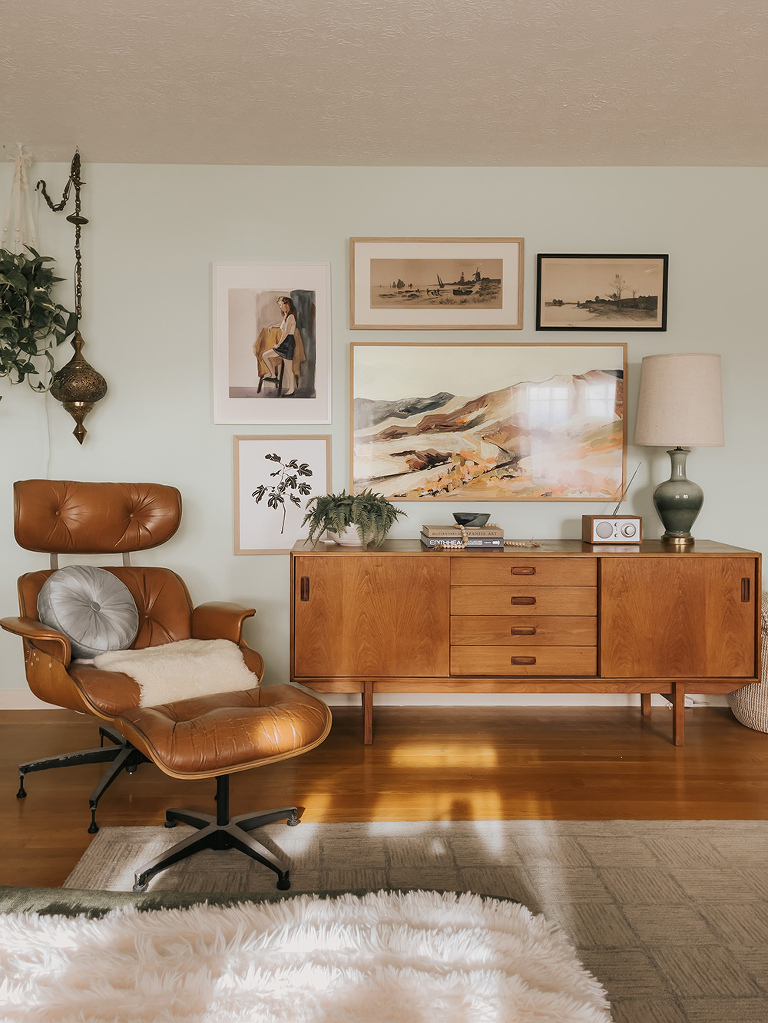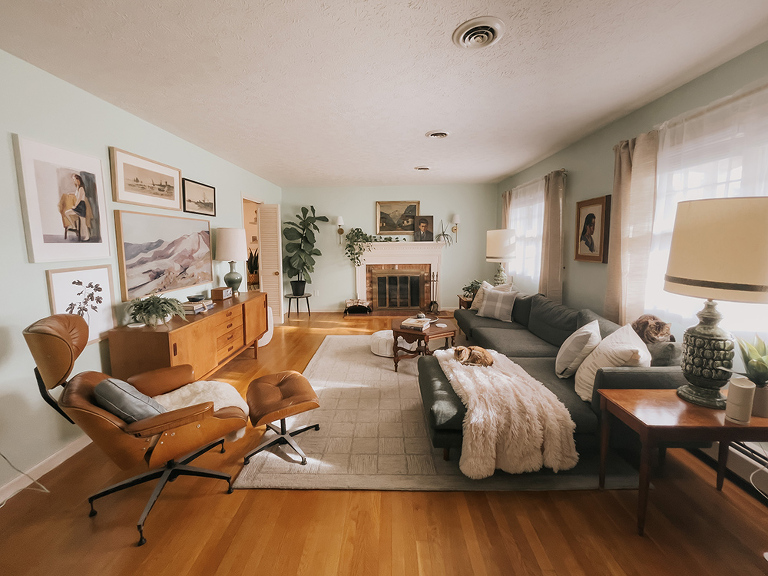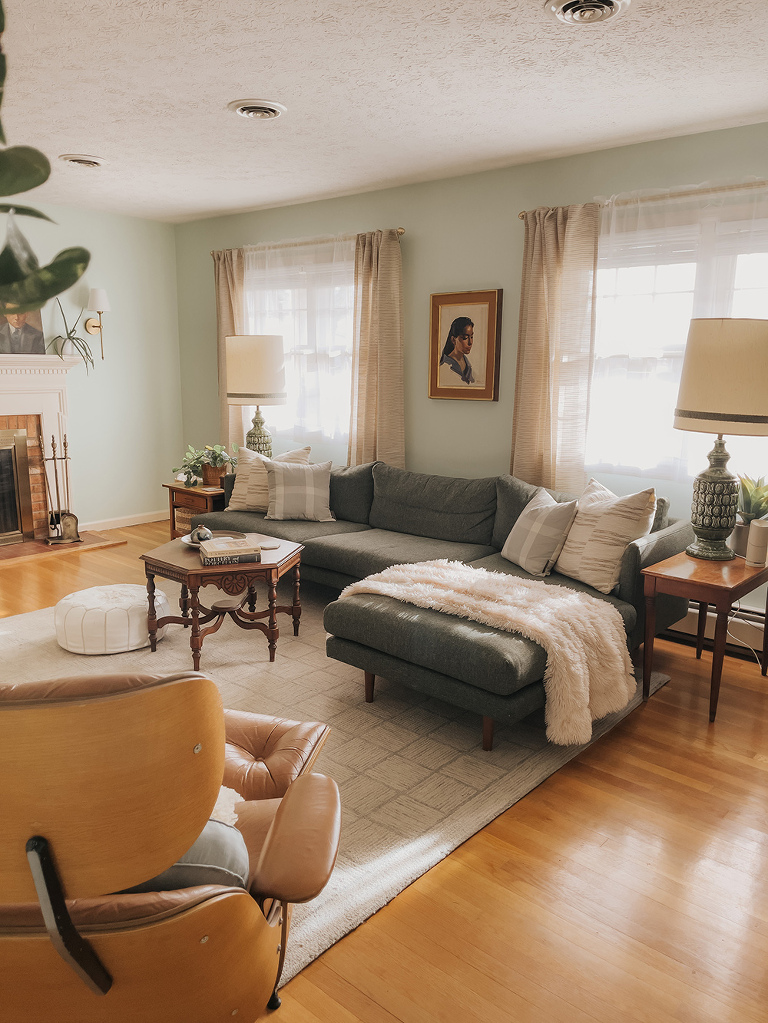 One thing you may pick up on almost immediately is the difference in scale between the living rooms in our old and new homes. The old living room had really tall ceilings, which made the smaller room feel larger, whereas our living room now is actually much bigger than our old one, but has shorter ceilings that give it a cozier vibe. We could technically go with a much larger area rug in this room, but for now, I really love the softer tones in this Loloi rug that we already had from our old bedroom and decided to lay down beneath our sectional.
For this particular space, I wanted to go a little more tone-on-tone. We had planned to repaint the green walls after moving in, but now actually really like them! In fact, we now call this space the green room because of the green couch, green painted walls, green-ish vintage art, antique green table lamps, etc. I love how much more subdued and relaxing this room feels in comparison to our old space. Despite having a really nice sunroom off the back of the house, I still find myself settling into the green room more often in the evenings. It just feels like a big hug!
Since we don't have quite as much going on in this room as we did at the old house, I went a little bolder with my throw pillow styling. I layered on four pillows (a pair of these neutral dashed pillows, and these plaid ones) to give the sofa more of a welcoming feel. You might have noticed that I went with another vintage circular coffee table to help make for easier flow around the chaise lounge section of the sofa. A small white pouf on the floor—done in the same Moroccan style as the coffee table—has been handy to pull out as needed for extra seating when my family visits.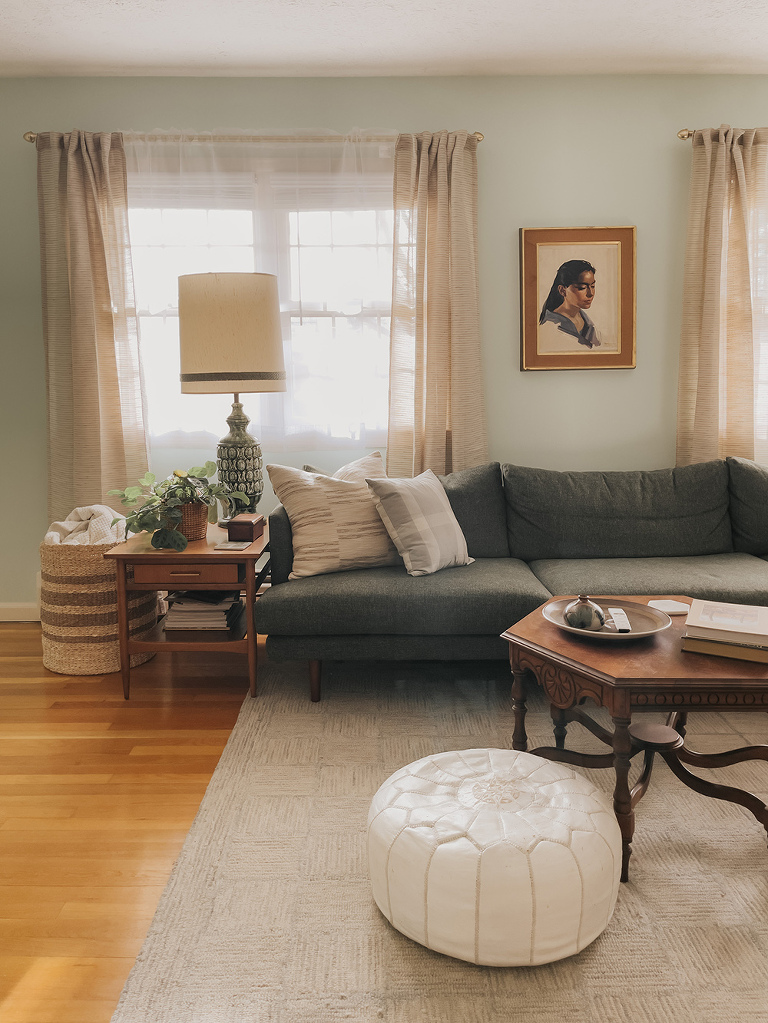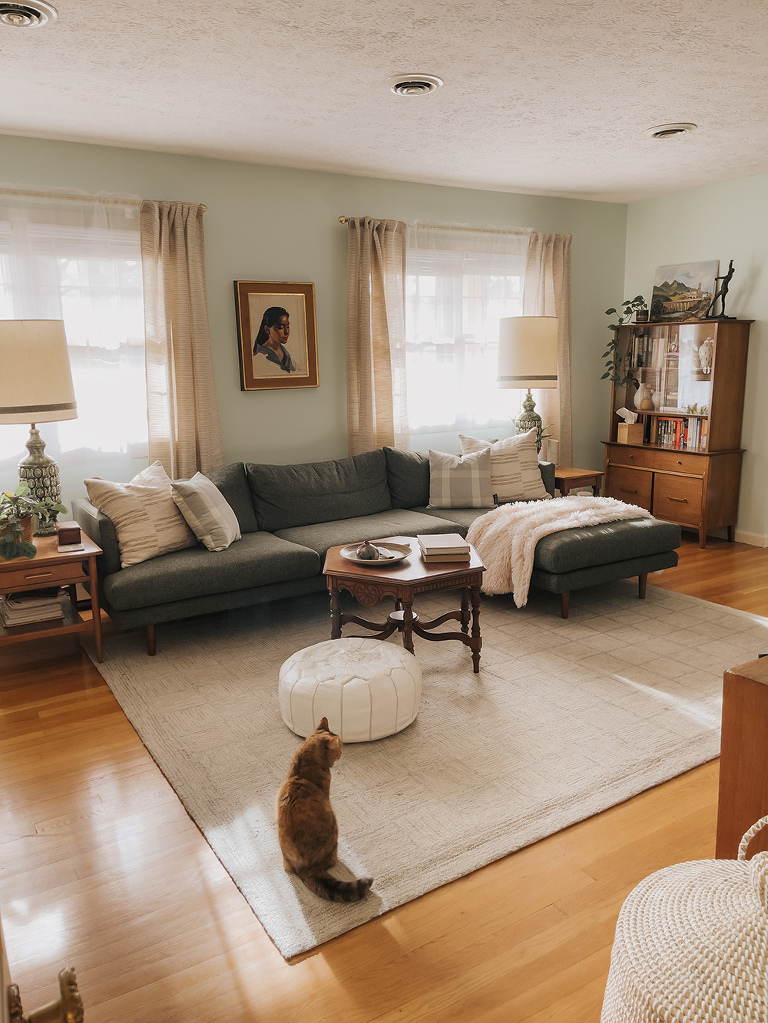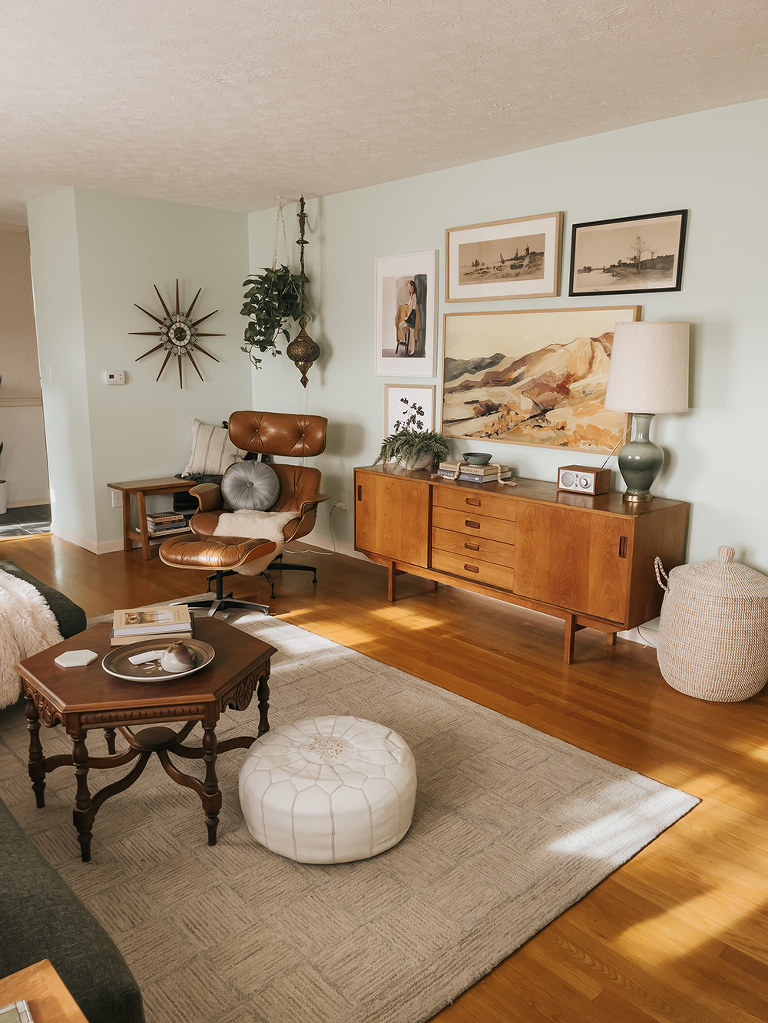 Isn't it so interesting to see how different one single sofa can look in totally different rooms? Our old house was extra modern and funky, and the design of that living room followed suit. Our new house, on the other hand, is a little more formal and parred back, so our living room gives off those vibes instead. I'd love to know which one is your favorite! Comment below and let me know.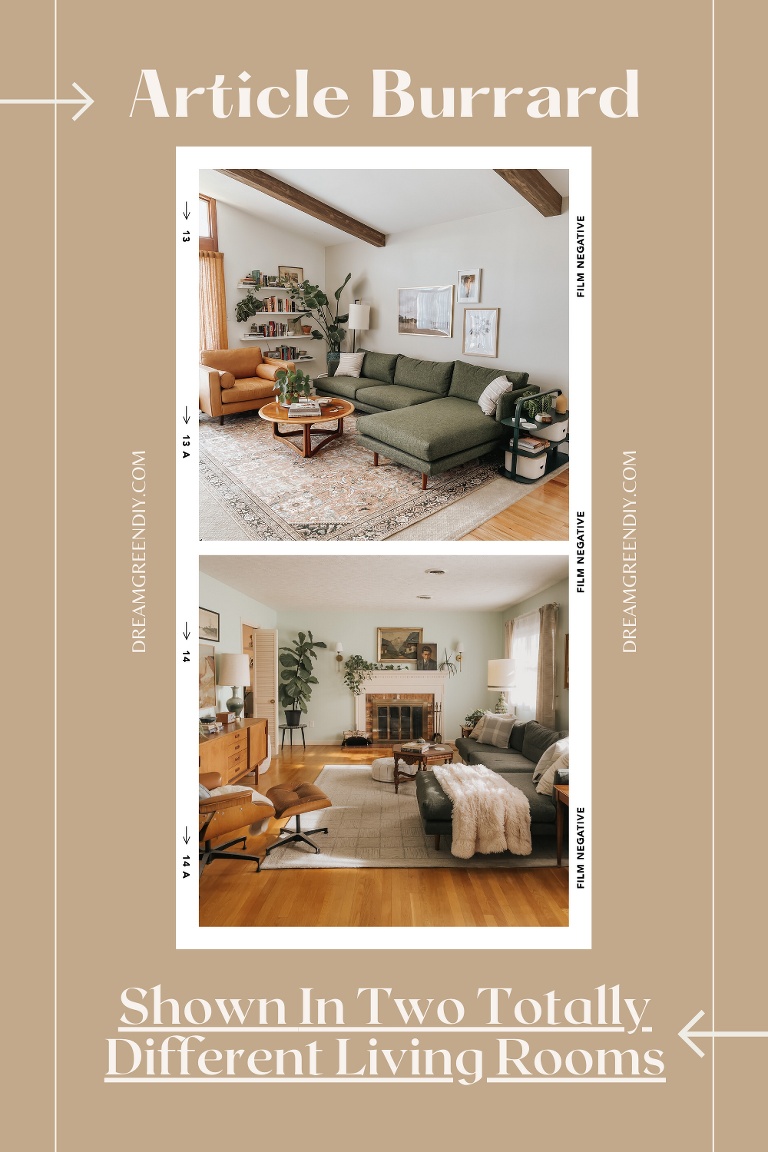 *I earn a small percentage from purchases made using the affiliate links above. Affiliate links are not sponsored. Rest assured that I never recommend products we wouldn't use or don't already love ourselves.