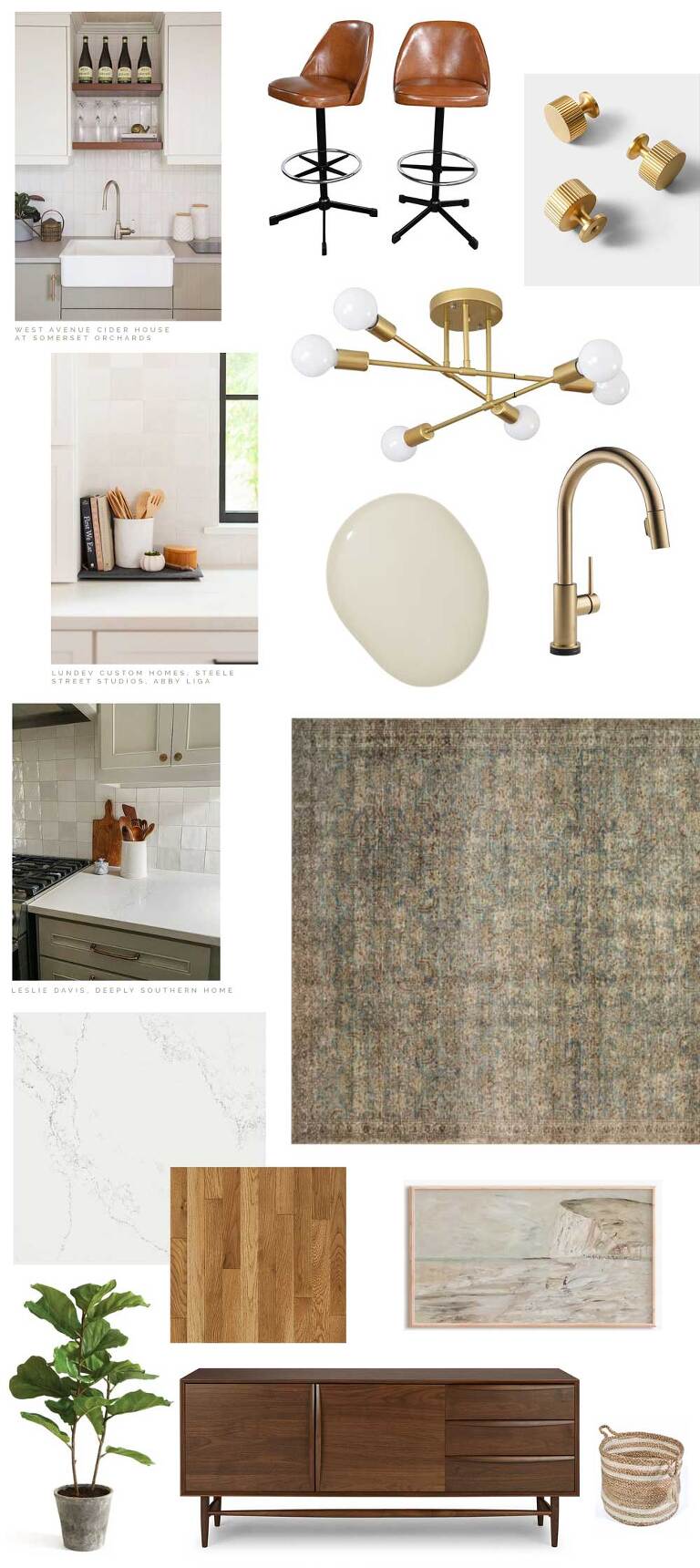 Today, I'm kicking off my breakdown of all the big design plans we came up with for our new home with the room that needs the most work: our kitchen. When we first toured the house, I was a little worried that the size of the kitchen was going to hold us back, but since living here for a couple of weeks now, it actually is juuuuuuust right. We haven't had any issues with the functionality of our new, more compact kitchen. That said, there are definitely more than a few design upgrades we'd like to make. I explain it all below. Oh, and if you want to see what our kitchen looks like now, click here to take the "before" tour.
New Home Mood Board: Kitchen
1. One thing this kitchen has that our last one didn't is a peninsula. When we replace the countertops in the new year, we plan to extend the back end of the peninsula out so we can use it for bar seating. The leather bar stools you see in the mood board above are almost identical to the vintage pair we recently snagged for just $35 from a local antique store.
2. We've already replaced all of the old white porcelain cabinet pulls with these brass knobs.
3. One of the worst things about our new kitchen (actually, it's definitely the worst) is lighting. The room is in the middle rear of the house, so it gets very little natural light. We plan to repeat a similar lighting setup to our old house. This multi-bulb fixture should make the room much brighter and easier to cook in.
4. When we replace the countertops, we also plan to replace the sink and faucet. They're both very dated and the two-basin sink isn't our jam (we prefer a single basin). We will be getting the same Touch20 faucet from Delta that we had at our old house because we loved it so much, and miss it.
5. I know some folks will disagree, but we plan to paint the wood cabinets. The current original stain was poorly applied and is way too dark/red for our taste, and the space itself, as I said, is really dark. The stain is also worn off in places all over the kitchen, so the cabinets and drawer faces need to be refinished anyway. I know a light, warm greige paint will do wonders for brighting and modernizing the room.
6. We plan to keep the existing white square tile backsplash. There's nothing wrong with it, and I really don't want to do another kitchen tiling project, so they're staying—at least for the next few years.
7. I think a new rug will help warm up the eat-in side of the kitchen. This one from Loloi has a gorgeous earth-toned pattern that I love, and it's super, super soft underfoot.
8. I've already mentioned that we plan to upgrade the countertops. We want to get a white quartz counter with gray veining. Nothing too busy since our kitchen is small, but I think it will help modernize the space so much. That will be happening in the first part of the new year.
9. The lower portion of the mood board represents our broad plans for the eat-in side of the kitchen. We had initially been thinking about putting a small bistro set in that space so we had another dining option, but now that we've lived in the house, we think it looks so nice without furniture cluttering up the center part of the space. So, instead, we put a console against the wall in that area (it acts as additional kitchen appliance storage), added a basket for shoes since the garage entry is right in that corner, and we still have room for plants, too. We also plan to hang a television in this part of the kitchen so we can sit at the bar and watch football or cooking shows while we prep meals. Such a luxury!
Let me know if you have any questions or if you have some ideas of your own. I can't wait to dive into this project, but I will say that we actually aren't as anxious to get it done as I thought we would be. As I said, the kitchen functions really well for us now, and we really don't want to rush any part of the renovation of this house. We'll get to it when we get to it, but I'm sure certain things will happen sooner than others (the lighting and counters are a priority for the start of 2023). Let me know your thoughts about our design plan in the comments, and feel free to click back here to retake the tour of our house before we moved in so you can come up with more of your own ideas for the spaces!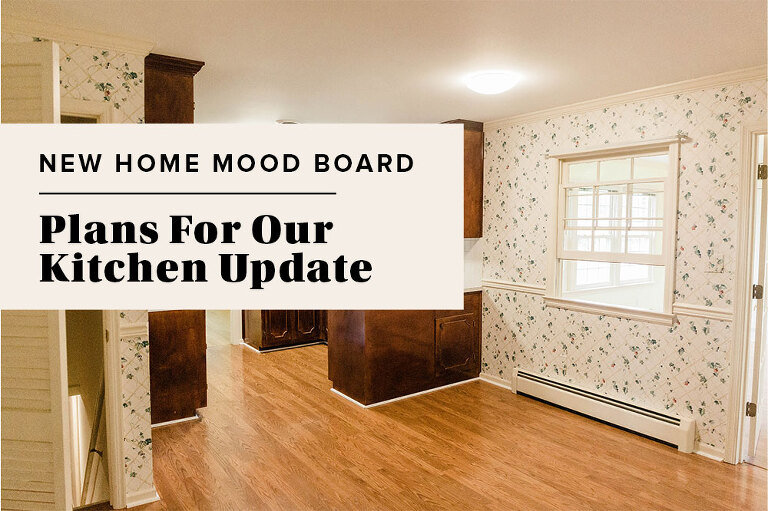 *I earn a small percentage from purchases made using the affiliate links above. Affiliate links are not sponsored. Rest assured that I never recommend products we wouldn't use or don't already love ourselves.