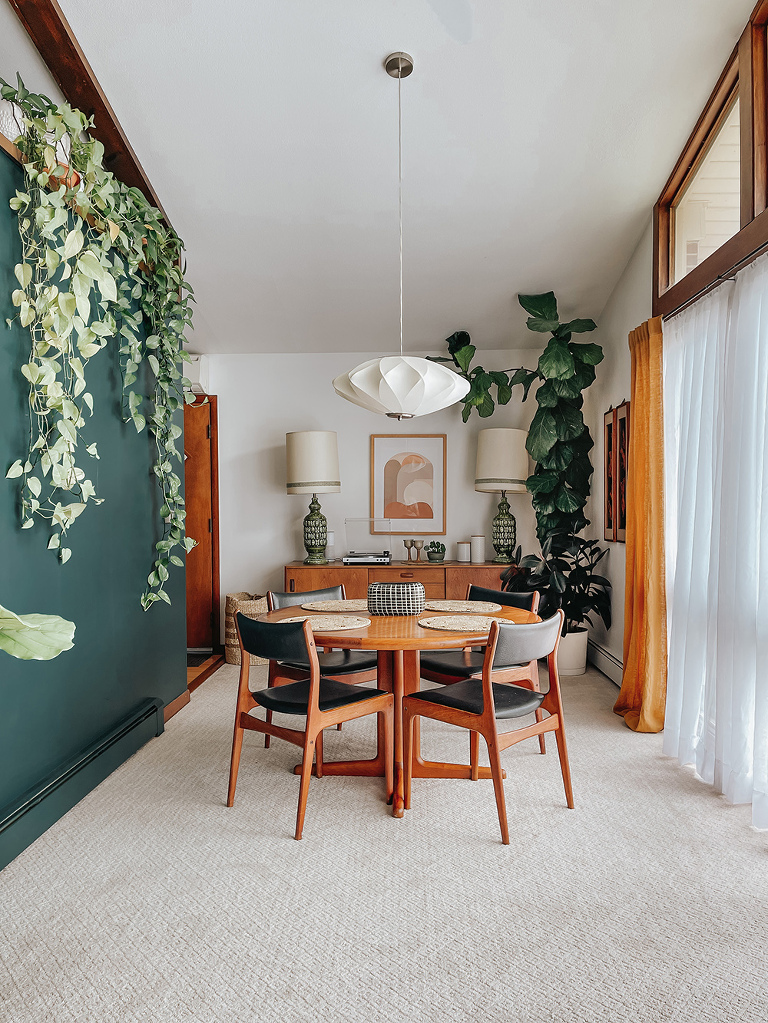 Of all the dozens and dozens of plant types I've adopted into our home, my favorite will always be the Fiddle Leaf Fig. Yes, it's incredibly trendy, but if you watch old movies from the 1960s and earlier, you're very likely to spot them in the background of homes in that era, too. Point being, they sort of straddle the line between trendy and classic. Don't rule them out just because they seem super "of the moment."
Anyway, I've been sharing our FLF trees online ever since I purchased my first live one from Ikea almost 10 years ago (the one you see pictured above that's growing toward the ceiling at our old house). I admit that I almost killed the poor little guy, but I managed to find a better spot for him in our townhouse just in the nick of time, and today he's thriving. If you've ever wondered how we managed to get our indoor trees to grow so aggressively, you're in luck! Today I'm sharing all of my best Fiddle Leaf Fig care tips, including my watering schedule, light situation, and fertilizing routine.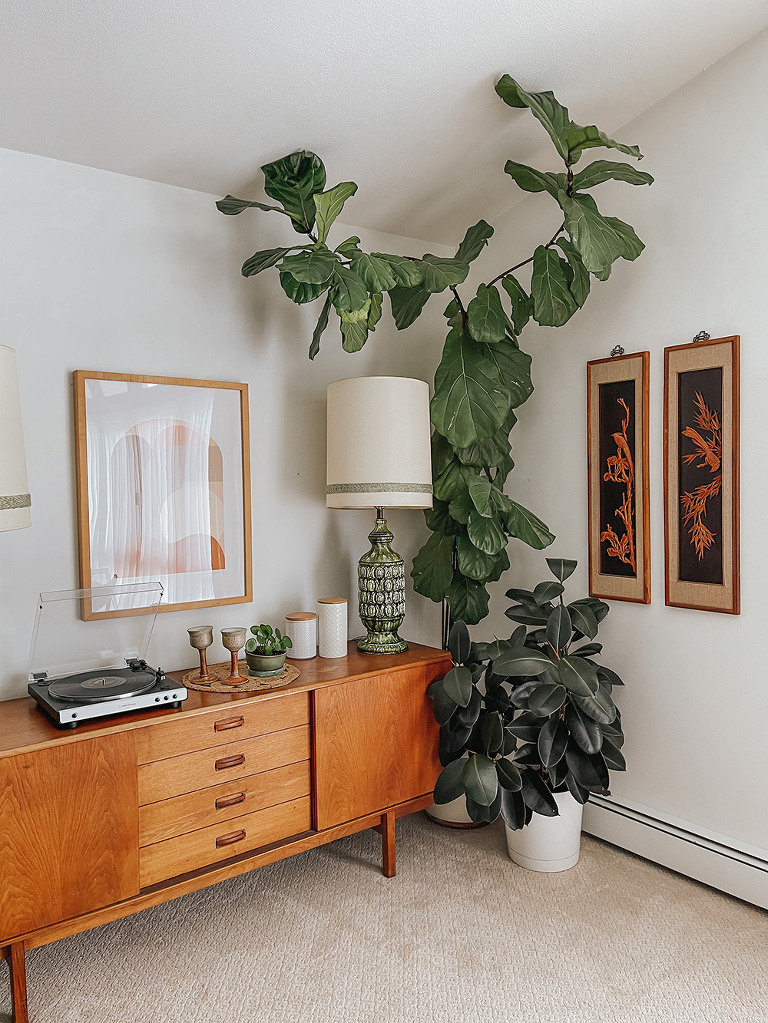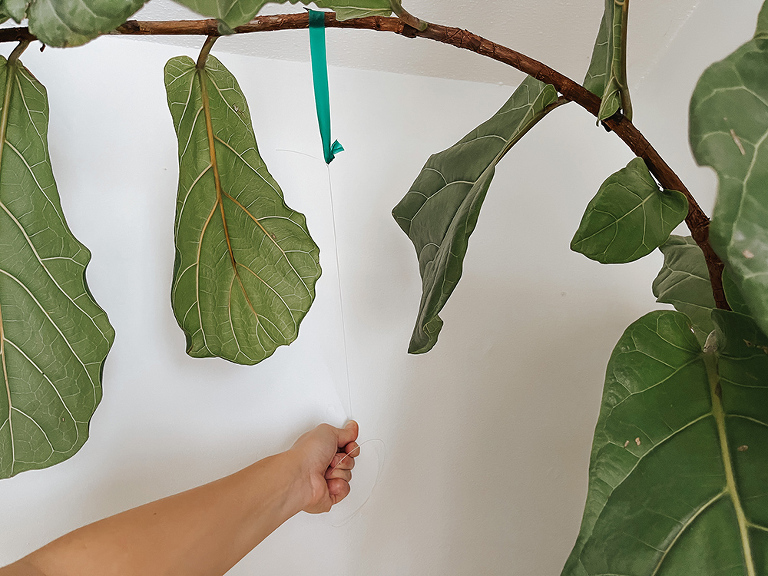 One thing you may be wondering seeing those photos of our oversized tree is how we manage to redirect the enormous branches. Well, they're actually even more enormous now than what you see in these photos (they've doubled in size), and I still use the same technique. I train the branches using a system of wall hooks/nails, clear fishing line, and stretchy fabric tape. You can read through my process step-by-step here. It's the only way to keep our Fiddle's branches from growing right up into the ceiling, where they would inevitably deform.
So that's tip number one once your tree outgrows your room's ceiling height: train the branches in a healthier horizontal direction. But, of course, to get your tree that tall, you need to make sure it starts off with a strong foundation. When I mentioned before that I almost killed our little Fiddle Leaf Fig tree, it was because I put it in a dark north-facing room that got very little natural sunlight. The moment I moved it to a brighter south-facing bedroom, it took off and grew like crazy. I lost almost all of his bottom leaves because of my mistake, but then I saw new growth and knew that bright light was the way to go. By the way, another tip is to make sure you remove all yellowing or browning leaves at the first sign of distress so you don't waste your tree's growing energy!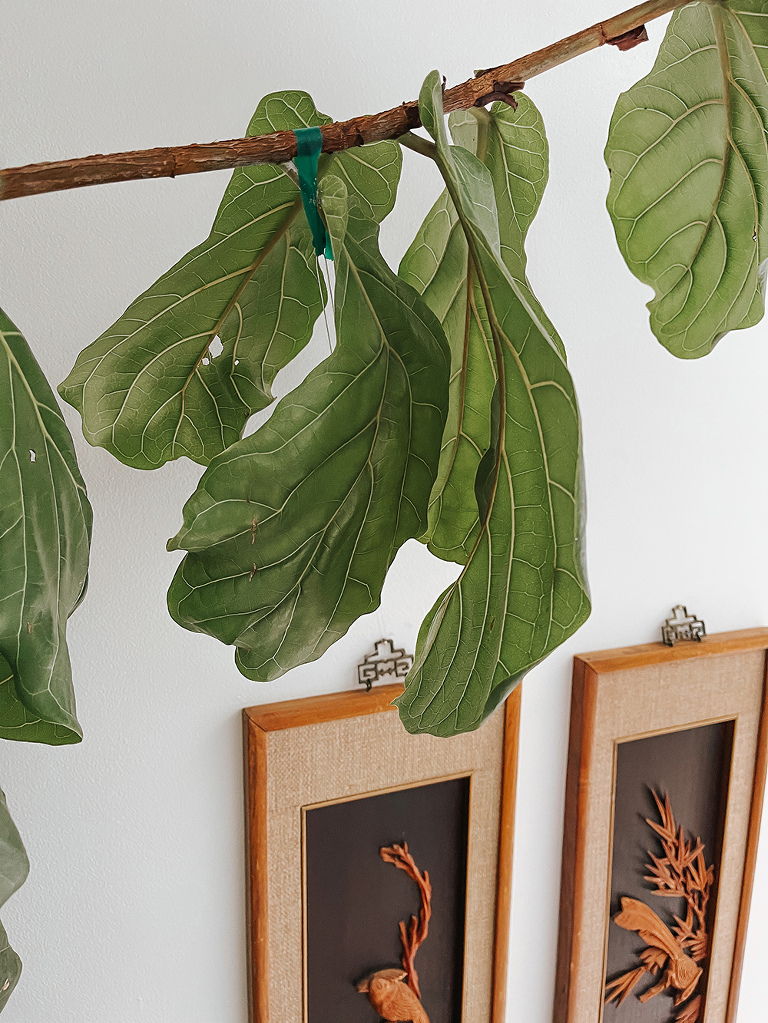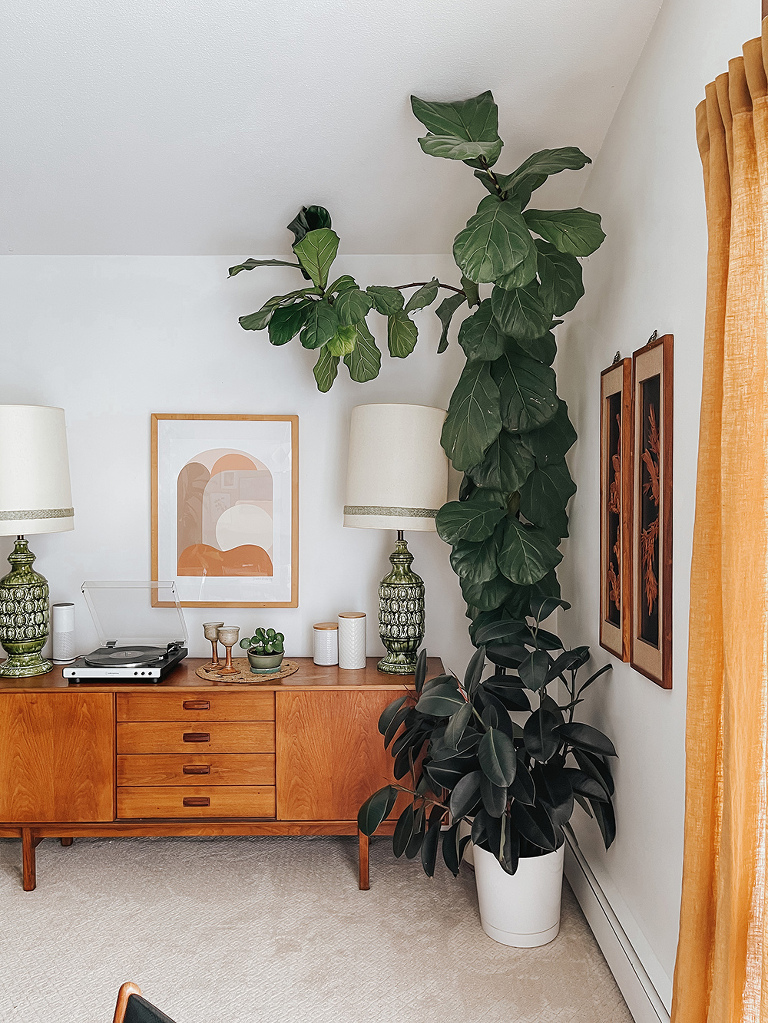 Now that I know how key light is for a Fiddle Leaf Fig, I always make sure to place them in the brightest rooms of our home. One other note about light is the fact that these tree's leaves actually get pretty dusty because of how large they are. In order to give the leaves the best hope of soaking up all that light, use a microfiber cloth or glove (I use these) to dust your leaves from time to time. I only do this a couple of times a year, but I think it does make a difference.
In terms of a watering schedule, I water our trees once a week without fail, and pretty liberally when I do. I give them roughly 6-8 cups of water each week, depending on the size of the plant (more for bigger plants, less for smaller ones). I also like to spritz down the tree with water using this continuous spray bottle. I'm not sure that it does too much for the tree, but I've heard it's an important step in the process, especially during the dryer months of the year. I figure it can't hurt!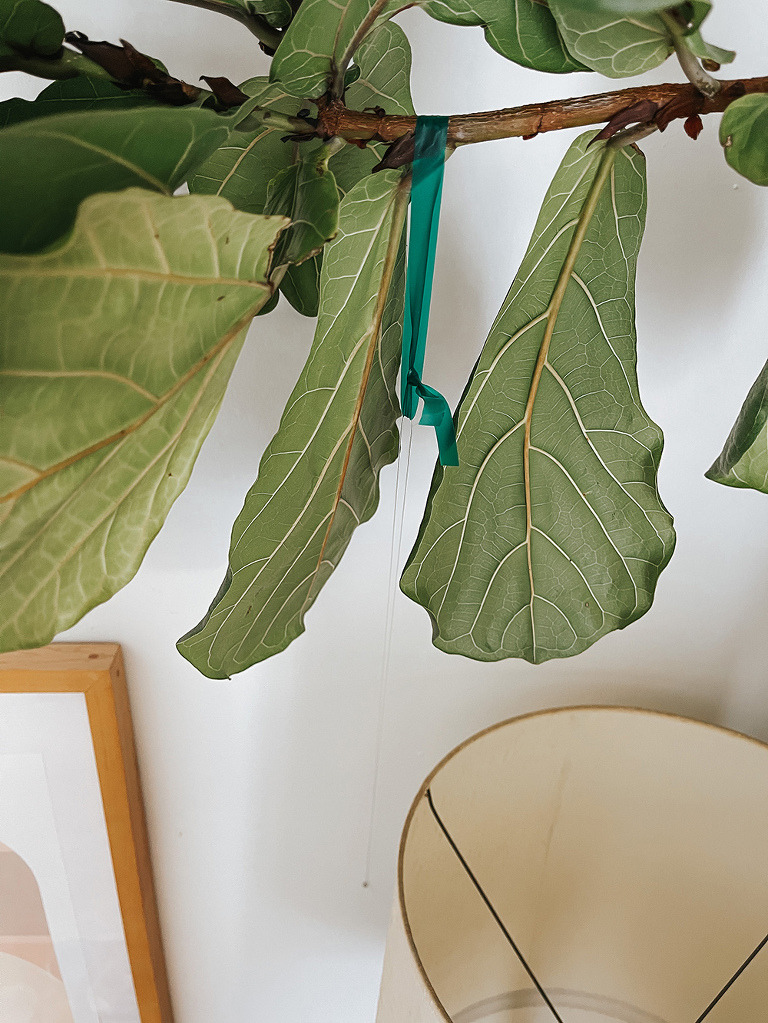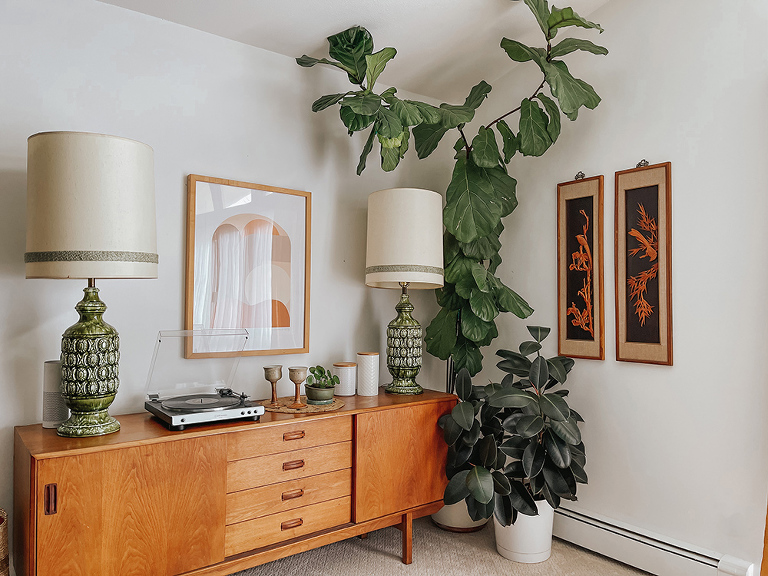 I'll let you in on a secret…I don't usually fertilize my plants. I have a little bottle of fertilizer pellets that my dad tells me to use. He's a fellow plant enthusiast and I'm sure he's right, but I only fertilize once every other year if I think of it, and I don't see much of a difference when I do. Honestly, I don't want my trees to get much bigger, so I'm actually okay stunting things just a tiny bit by not over fertilizing. To me, it's light and water that are key, and when it comes to Fiddle Leaf Figs, lots of bright light and juuuuuuuust the right amount of water are key to a healthy tree. You can experiment until you get it right. That's what I did, and look at the result!
Oh, and do your best to leave them in one spot. They don't like to be moved. Whenever I move ours (like when we moved to our new house this past November), they inevitably lose a leaf or two from the shock, but I try to hop right back into their normal routine once they're settled, and so far so good. If you'd like to learn more about propagating Fiddle Leaf Fig trees, click here to read this post that I wrote for Hunker. Most of my secondary trees came from the first, and they're surprisingly east to propagate!
If you have any questions or have more FLF plant care tips of your own to share, do tell in the comments. I'm sure more people are purists when it comes to fertilizing, so feel free to share your routine so others can gather ideas to try on their own plants.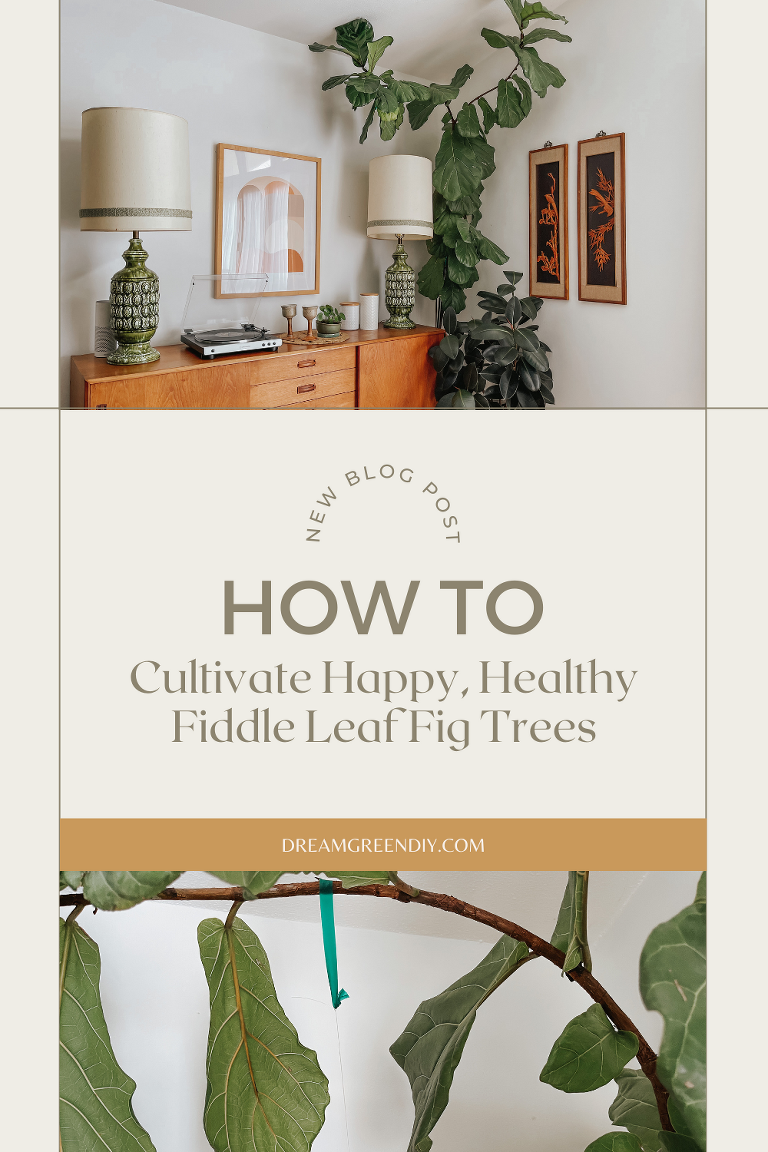 *I earn a small percentage from purchases made using the affiliate links above. Affiliate links are not sponsored. Rest assured that I never recommend products we wouldn't use or don't already love ourselves.