Ever since we moved back in November of last year, I've been on a bit of a buying binge. I'm hoping that trend will start to even out soon, but I will say that the excuse to make a handful of home purchases has been kind of thrilling, and I've also discovered quite a few gems that I can't wait to tell you about.
I don't know what it is about a new space, but there are just so many unexpected corners, walls, and ceilings to fill! I've also been "forced" to replace a lot of the old fixtures and things that we inherited from the previous homeowners of our 1960s ranch. Anyway, here are my top 12 home buys from 2022, almost all of which were ordered for our new home in the last two months of the year.
Top 12 Home Purchases From 2022:
1. Digital Art: My sister was the one who told me about this artist that she found on Instagram, and I've been obsessed with Laurie Anne's work ever since. I found out she offered digital art bundles made specifically for display on a Frame TV, so I immediately bought the mountains-themed art pack for our two televisions.
2. Dining Room Light: I wanted something modern but also semi-traditional for our new dining room, and this one fit the bill perfectly! The price tag was pretty great, too. Just be aware that installation does take some finessing, but it's nothing you can't handle—I promise.
3. Ceiling Fan: We inherited quite a few ugly ceiling fans with this house, and I knew I'd be replacing them over time. We've since hung this modern reversible fan five times over, and love it to bits.
4. Dining/Desk Chair: Now that I have two work spaces (my office and my art studio), I needed a second desk chair. I had such good luck with the upholstered dining chair that I bought from Target for my old office, that I purchased a second similar version for my studio. It's so comfortable and looks great, too.
5. Brass Cabinet Knobs: These cabinet and drawer pulls were one of the very first things I bought for our new kitchen, and I couldn't be happier with them. They're very heavy and have held up great with daily use these past few months.
6. Ceiling Medallion: One strange unexpected thing we came across with this house was the oversized electrical boxes in the ceilings. They're nine inches across in some cases! So, we had to purchase ceiling medallions to hide the cavity when putting up our new light fixtures. I love the vintage-inspired design of this one.
7. White Table Lamp: Our new home is much darker than our old house, so I've had to invest in some extra light fixtures to make up for it. This one is under $100, but feels very expensive. It's the perfect size, and I love the textured base.
8. Upholstered Bench: There was an awkward spot next to our garage door that I ultimately wanted to fill, and I eventually came up with the idea of a bench. I love the mid-century style of this one, and we really do use it all the time!
9. Throw Pillow: I probably didn't need to splurge on a throw pillow, but the neutral colors and pattern of this one spoke to me. Let's just say I treated myself to it in honor of the new house.
10. Touch-Activated Table Lamp: Oh, MAN, this is a cool lamp! It's super affordable, and is touch-activated, making it the perfect addition to our entryway. When our arms are full of shopping bags, it's really easy to tap the light with a pinky to turn it on. I also love the retro design, of course.
11. Handheld Mini Vacuum: What can I say? We use this vacuum all the time in our kitchen! It's fabulous for cleaning the counters and other little crumby spills when we don't want to drag out the big vacuum.
12. Side Table: I was on the hunt of a slim side table for my office, and this one turned out to be the perfect fit! The table is small and lightweight, so it's also very easy to move around as needed. Couldn't recommend it more.
A handful of bonus honorable mentions: these chairs that we ordered for our sunroom dining nook (a 2023 purchase, but still worth mentioning), our new main bedroom curtains, these sconces that we put up in the living room, and this white wireless printer. That last one might seem boring, but I spent months searching for the best wireless printer that would actually look good sitting out in the open. This one has been a life-changer. We can both print from our phones, and it wasn't too hard to set up either. Highly recommend that and everything else you see on this list! What were your best home buys from last year?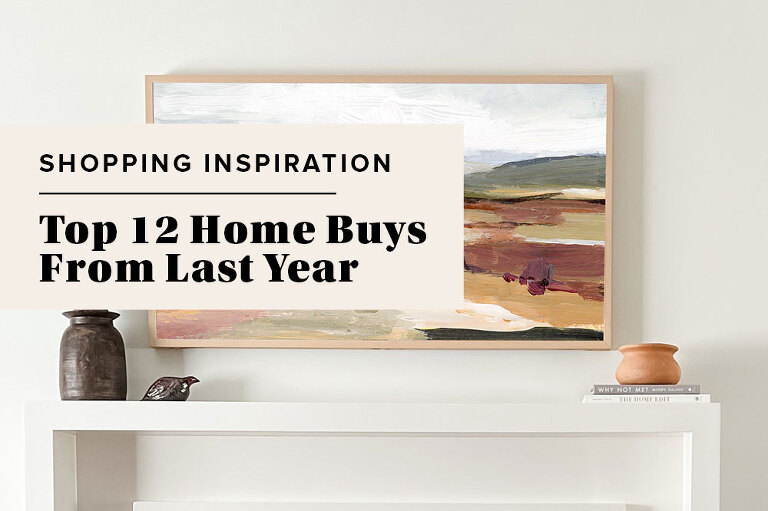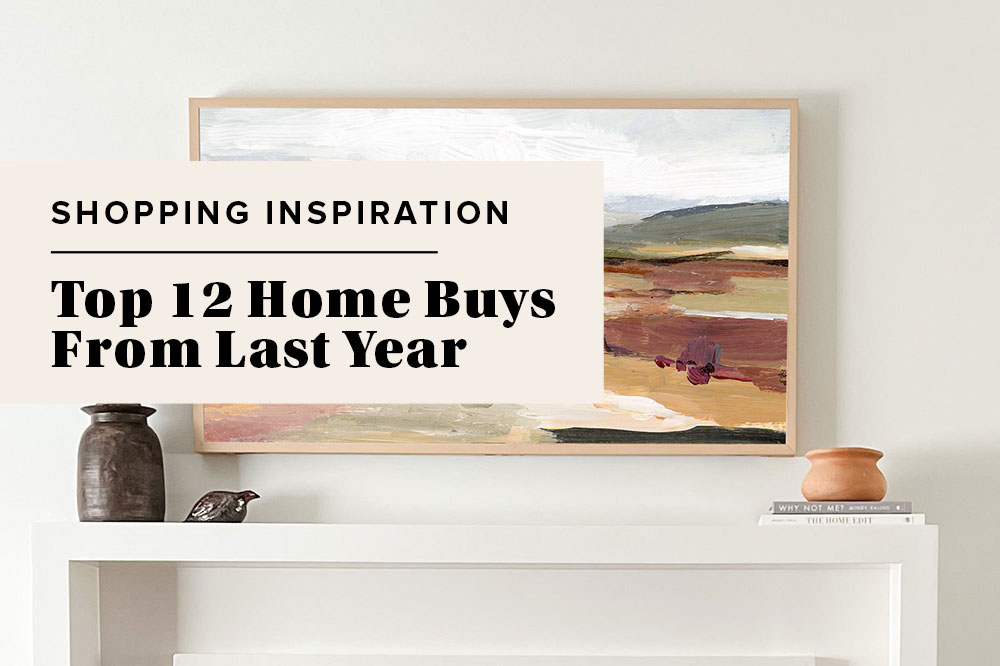 *I earn a small percentage from purchases made using the affiliate links above. Affiliate links are not sponsored. Rest assured that I never recommend products we wouldn't use or don't already love ourselves.