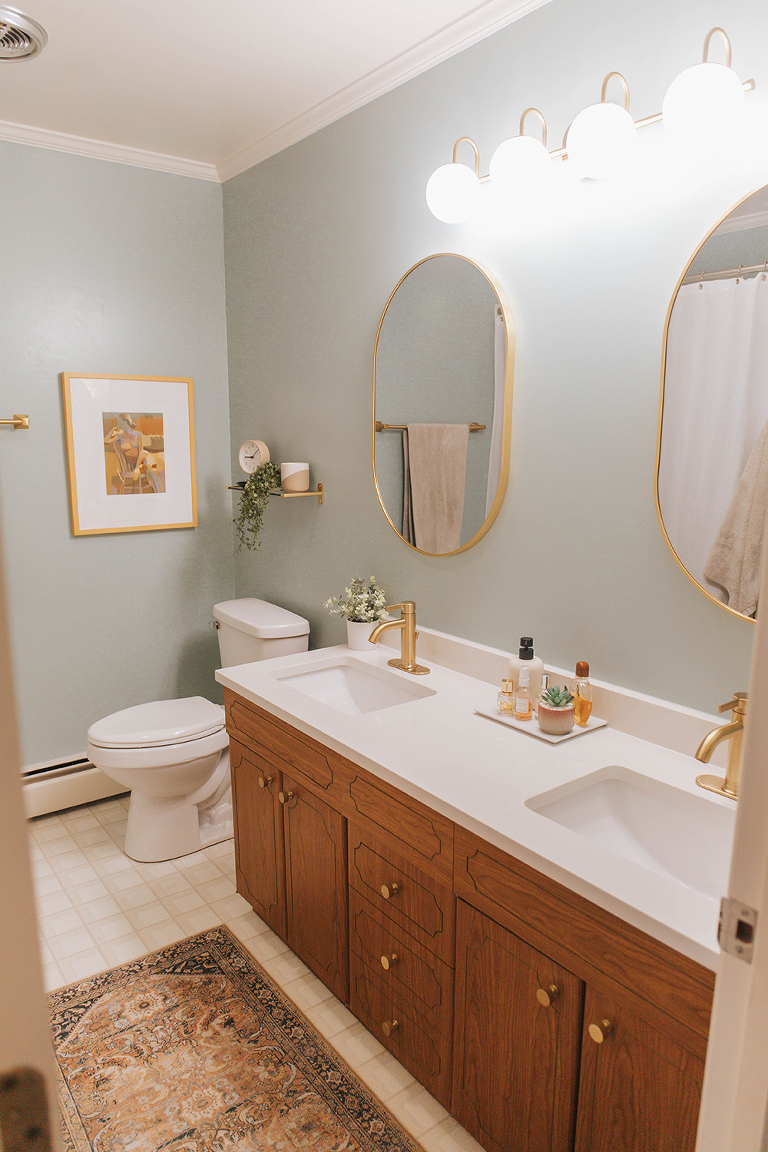 I know it won't end up taking the official prize for "hardest DIY room makeover" (that reward will ultimately go to our kitchen, I think), but our hall bathroom is currently in first place for the honor. It has taken every bit of the four months that we've lived in our new house for me to complete this transformation, but that just makes me appreciate it even more. Let's throw things back to how the room looked back when we first moved in.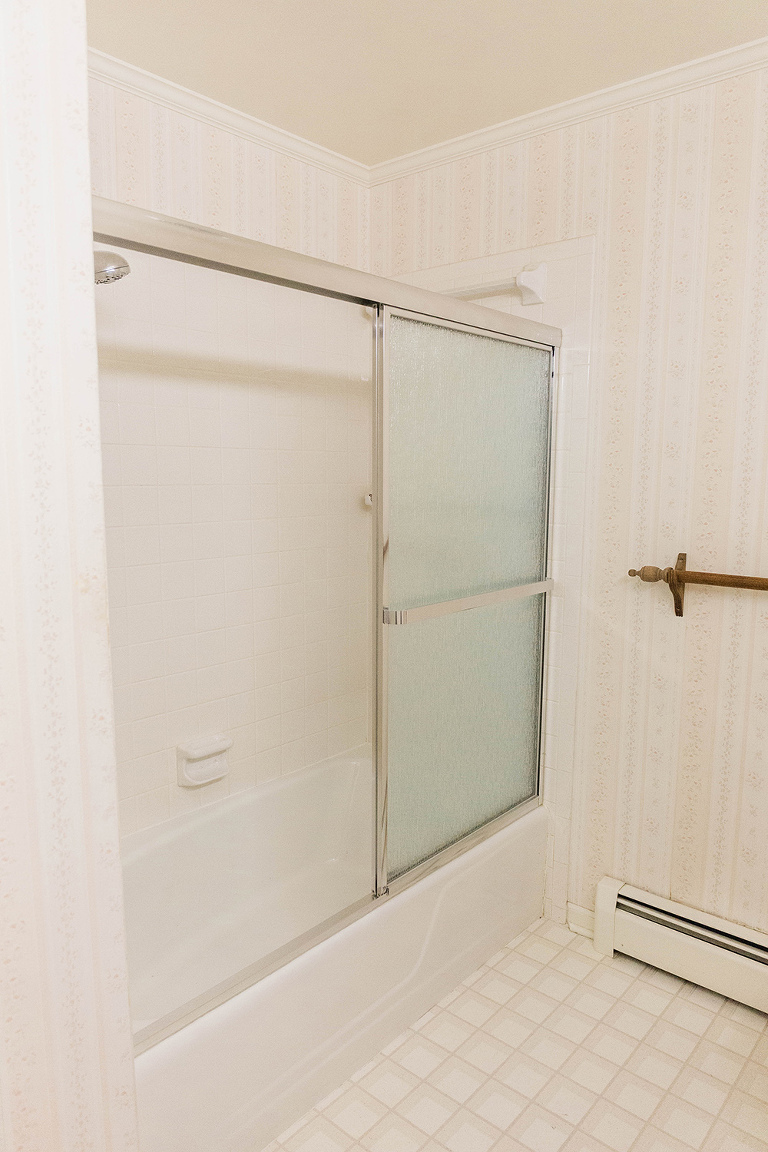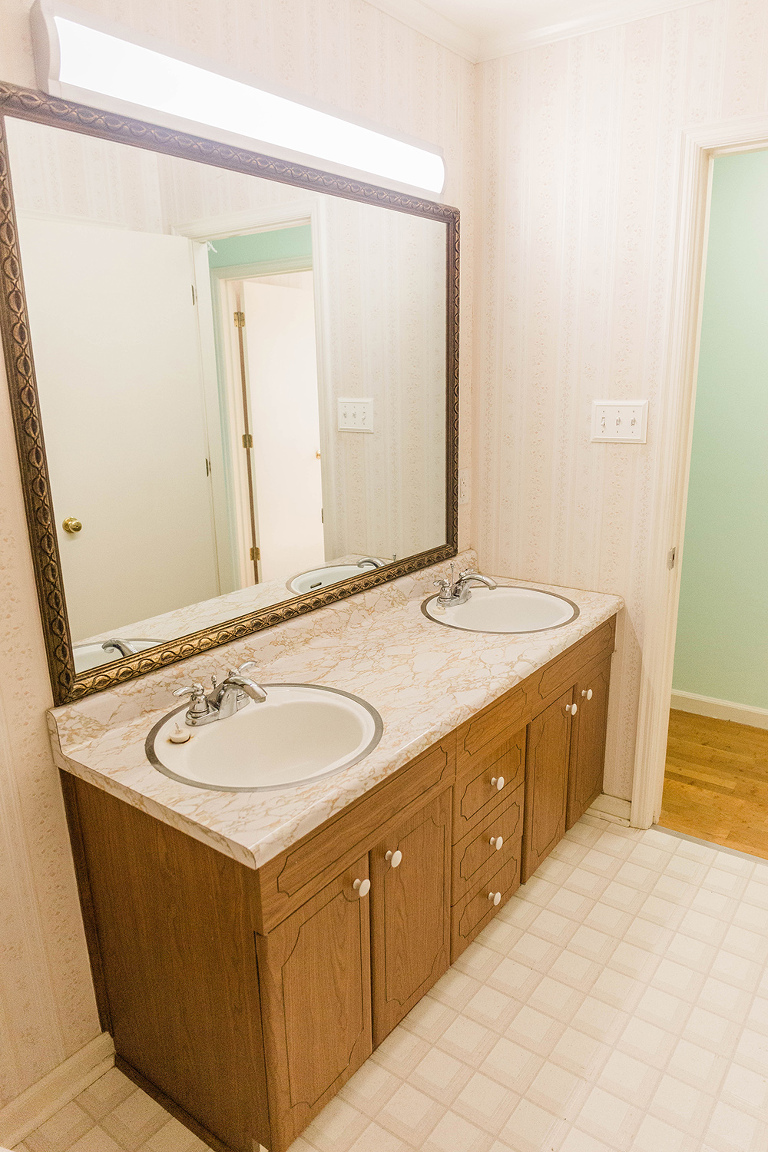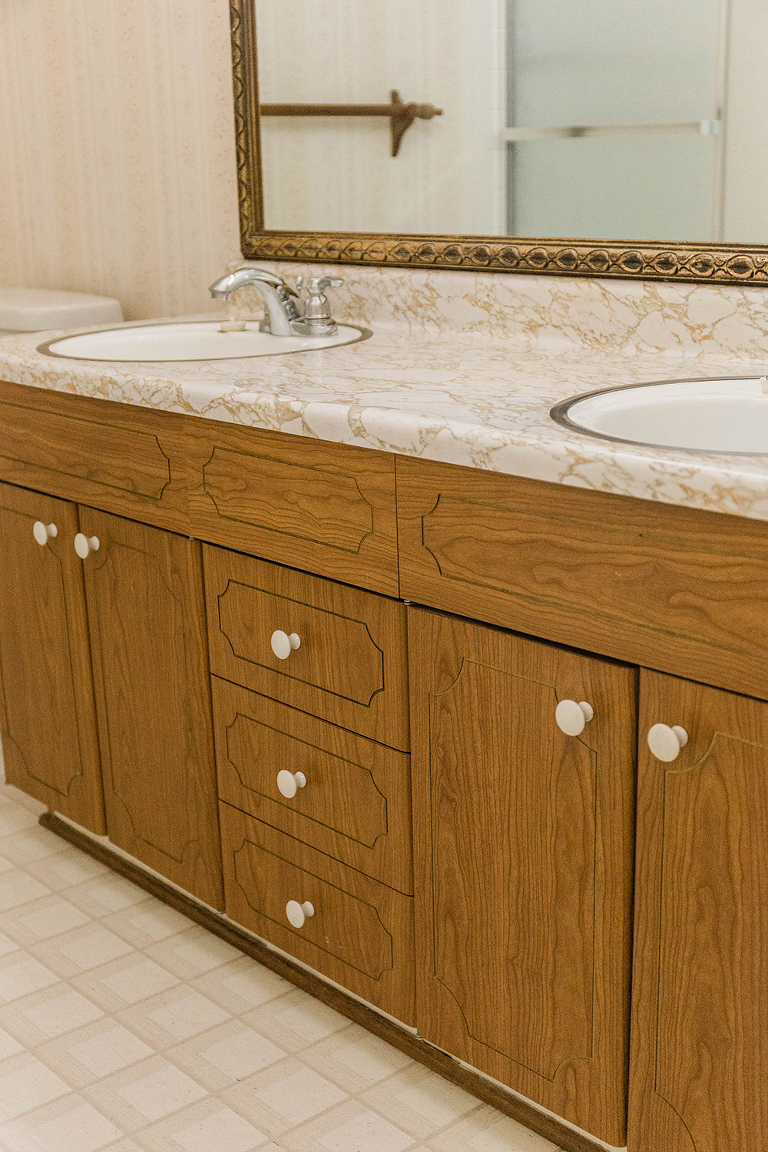 The room itself is fantastic. It's large, with plenty of room for John and me to get ready together in the morning, the vanity has two sinks (a joy we haven't had since we lived in our old townhouse), and I have never minded the more permanent fixtures, like the retro vanity, speckled white square shower tiles, and plaid-like patterned vinyl floor. Overall, the room had good bones. It just needed a facelift in certain areas in order to bring it up to date.
You may remember when we got the room to a decent halfway point. I spent weeks and weeks (with lots of generous help from my sweet family) getting the room up to snuff. We removed the dated wallpaper, painted it a fresh spa-inspired blue/green color, and brought in some pretty art and accessories (click here for more of the story on that first phase of this renovation). It was a great upgrade from where we started, but I knew we could get it looking even better if we dipped a little deeper into our house budget.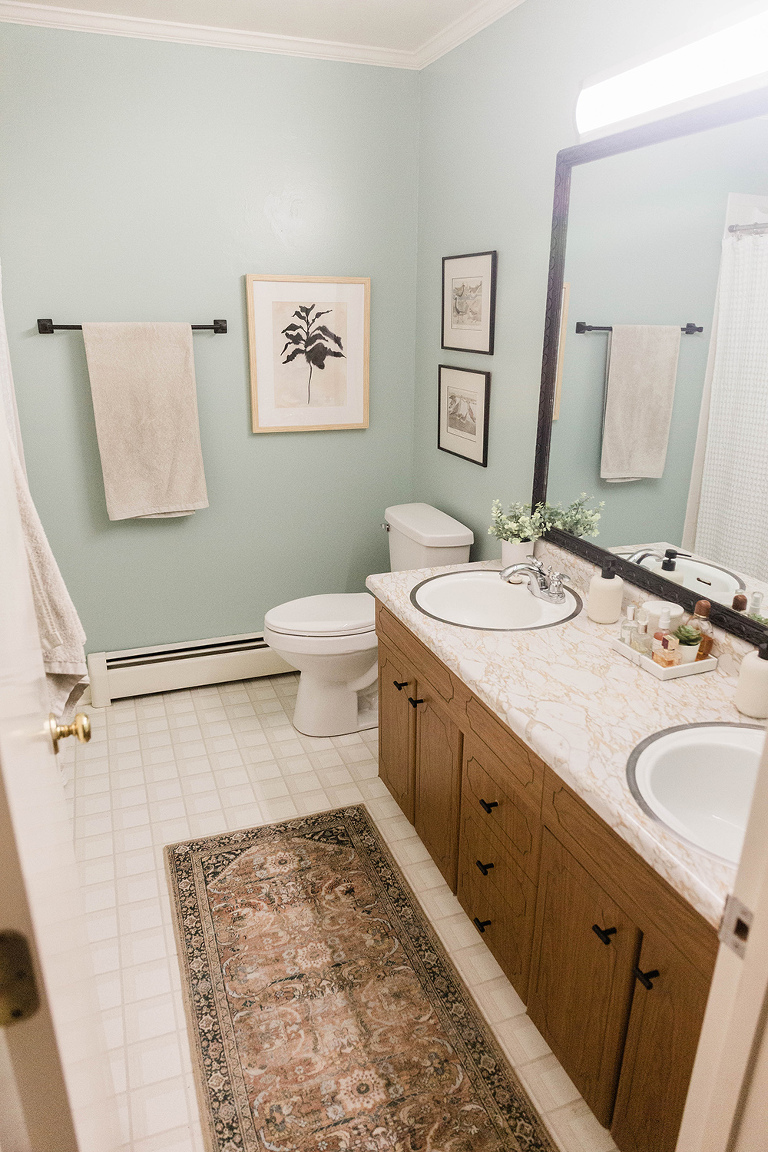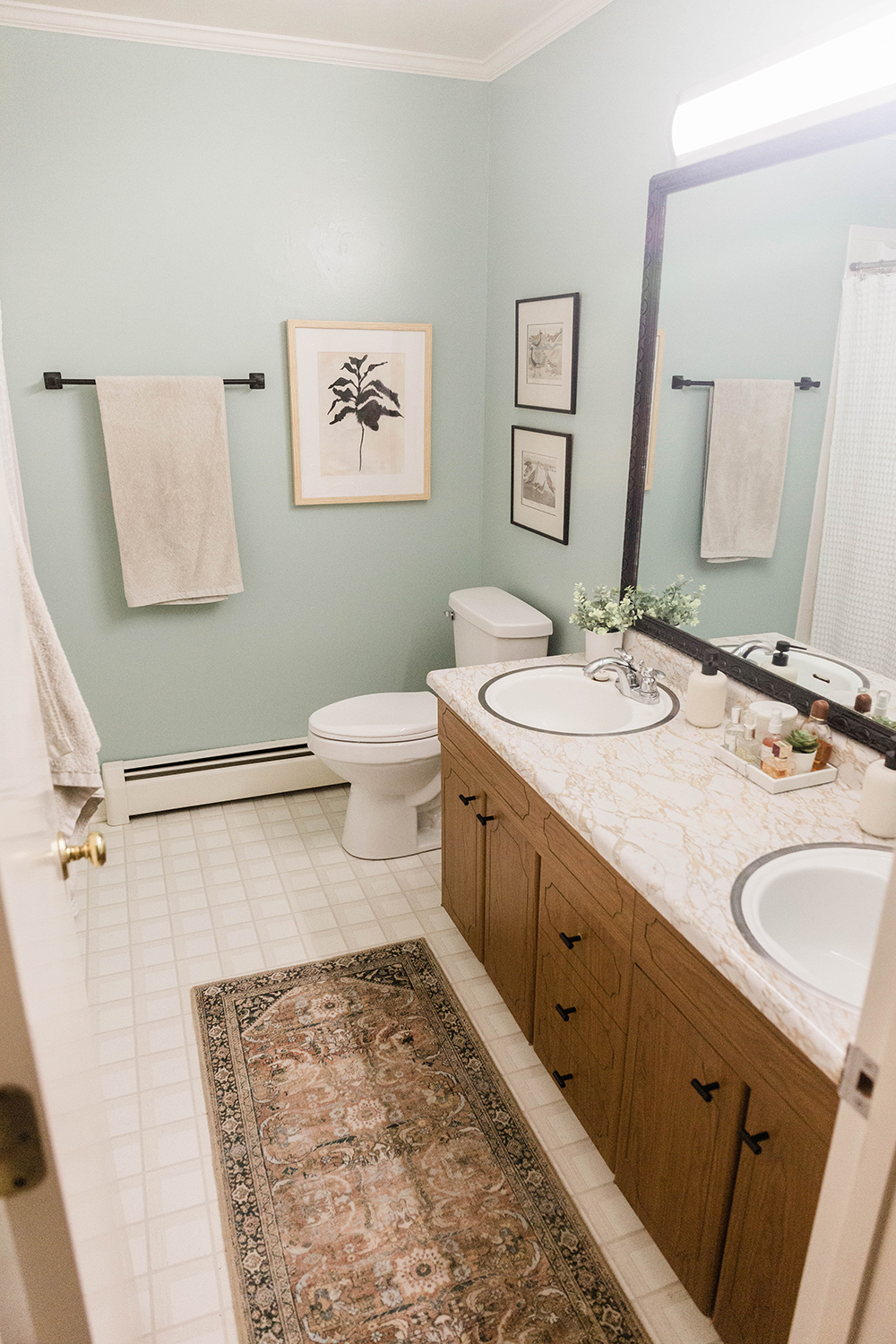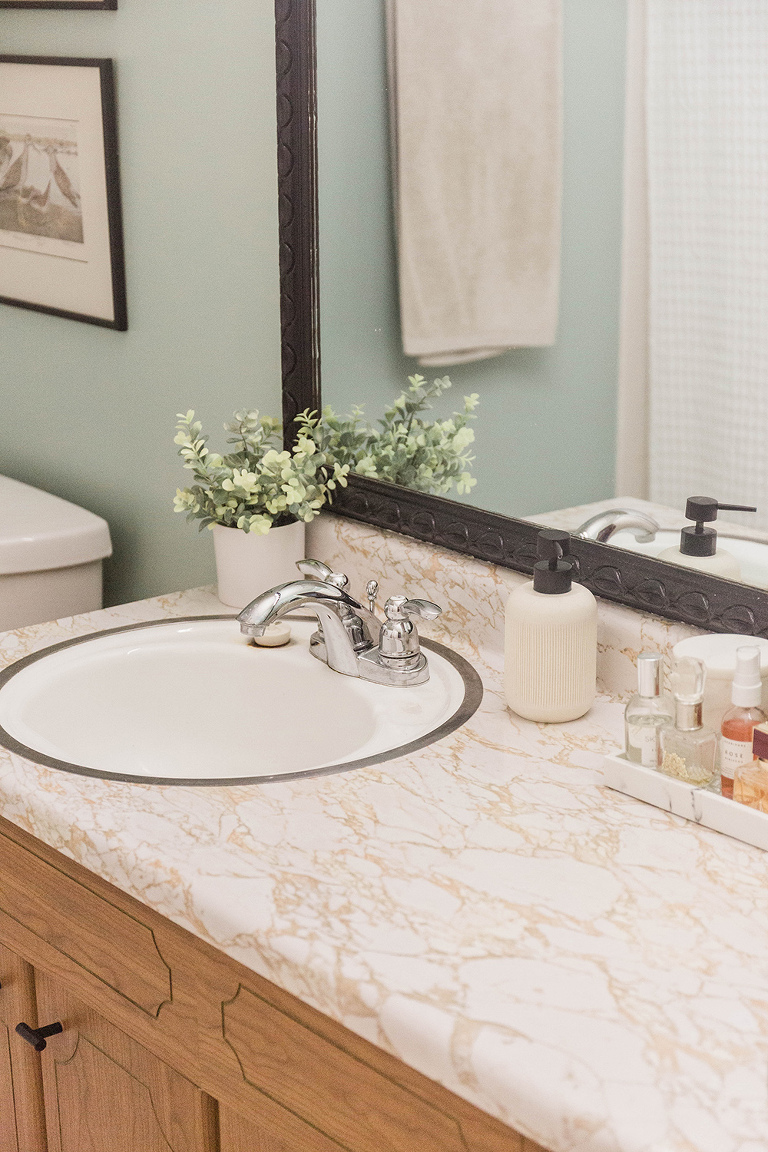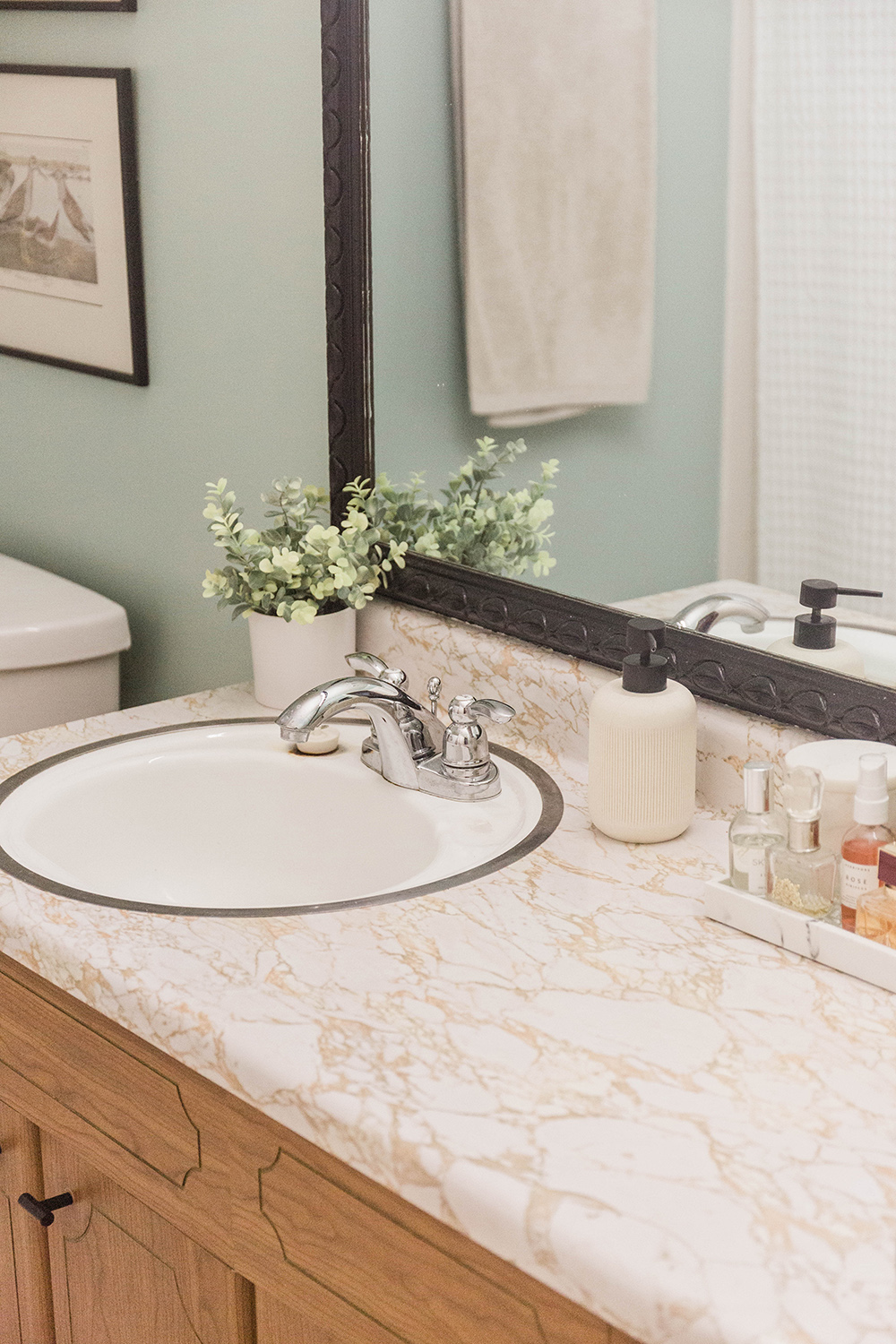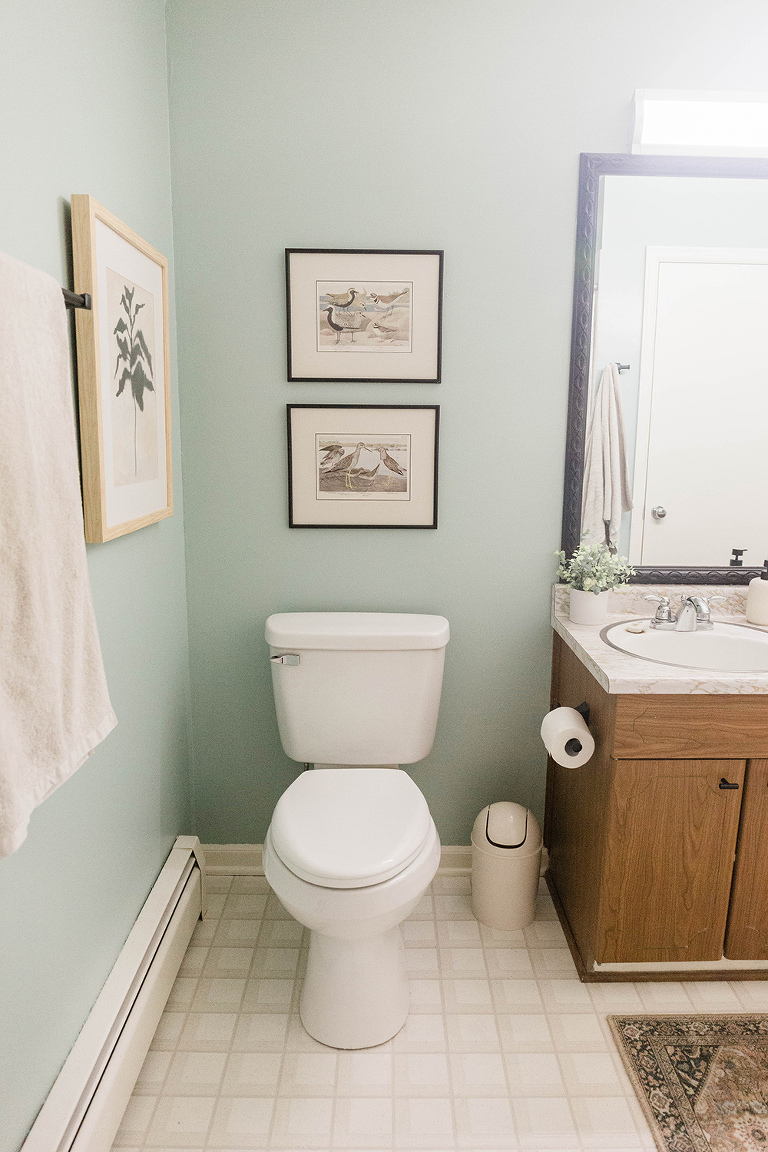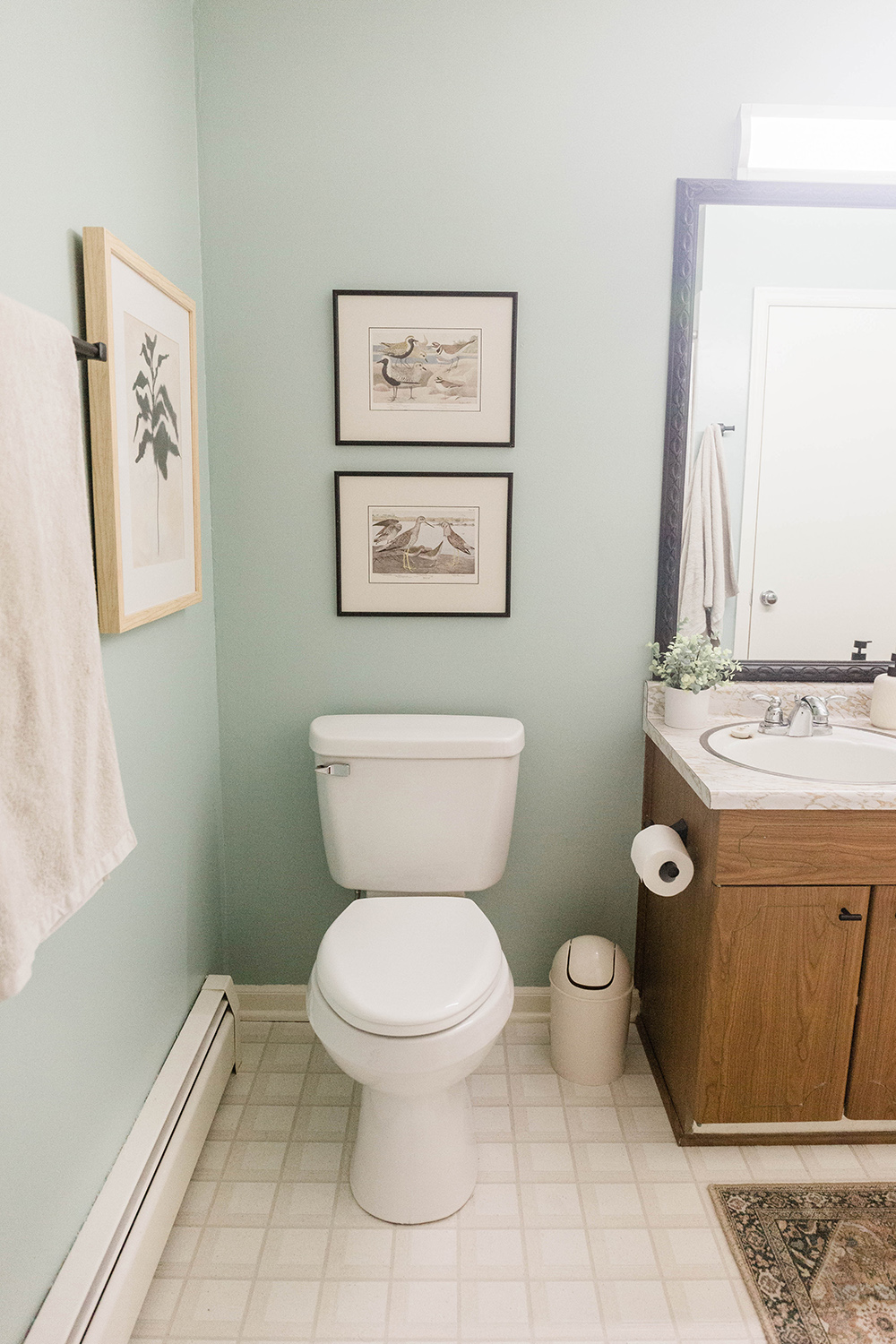 The main thing that ultimately needed to change was the countertop. I actually didn't mind the old faux gold marble formica counters, but the built-in sinks were completely shot. They were rusting out and had big holes in them, plus the faucets weren't our style at all, so they were going to need to be replaced anyway.
When we got a quote to have our kitchen counters replaced, we also asked to have our bathroom vanity countertop quoted. The team we hired gave us a pretty great deal on the bathroom counter since we would be able to use the remnant from our kitchen counter installation in the bathroom, and new sinks were able to be included, too. The quote was roughly $800 for the new quartz counters and rectangular sinks that we chose, and I purchased two gold sink faucets at about $80 each while on sale, for a total of about $1,000. As you'll see in the photo below, we decided to rip out the dated oversized bathroom mirror at the same time that we tore out the old countertop. Things were about to look very different in our hall bathroom!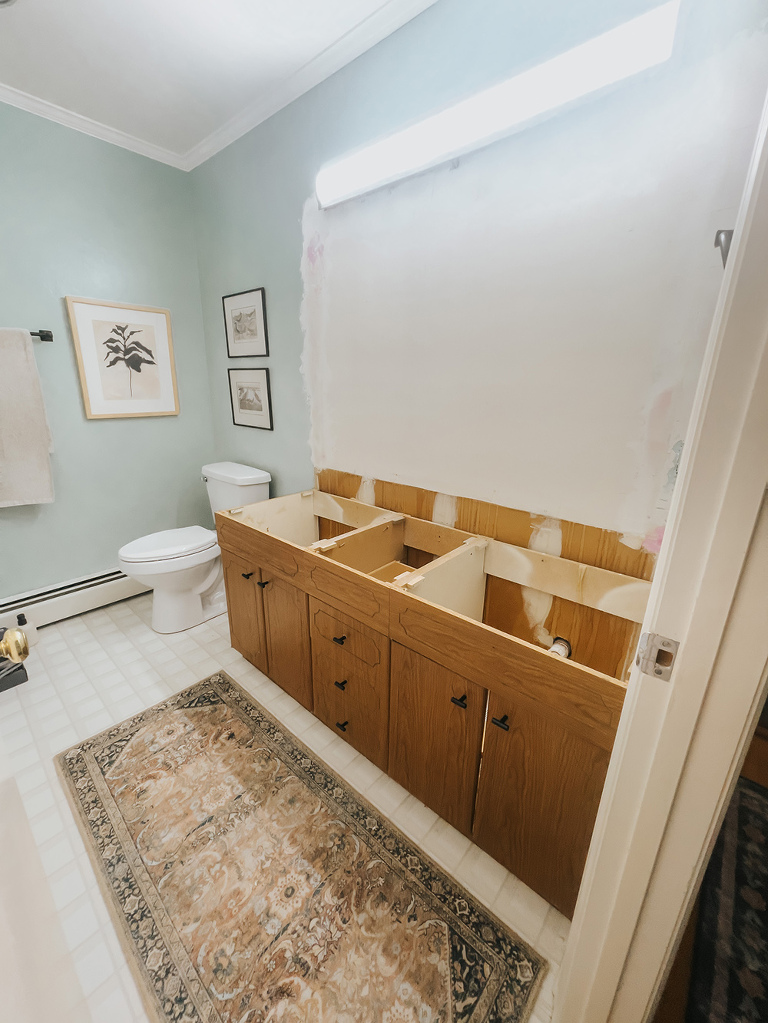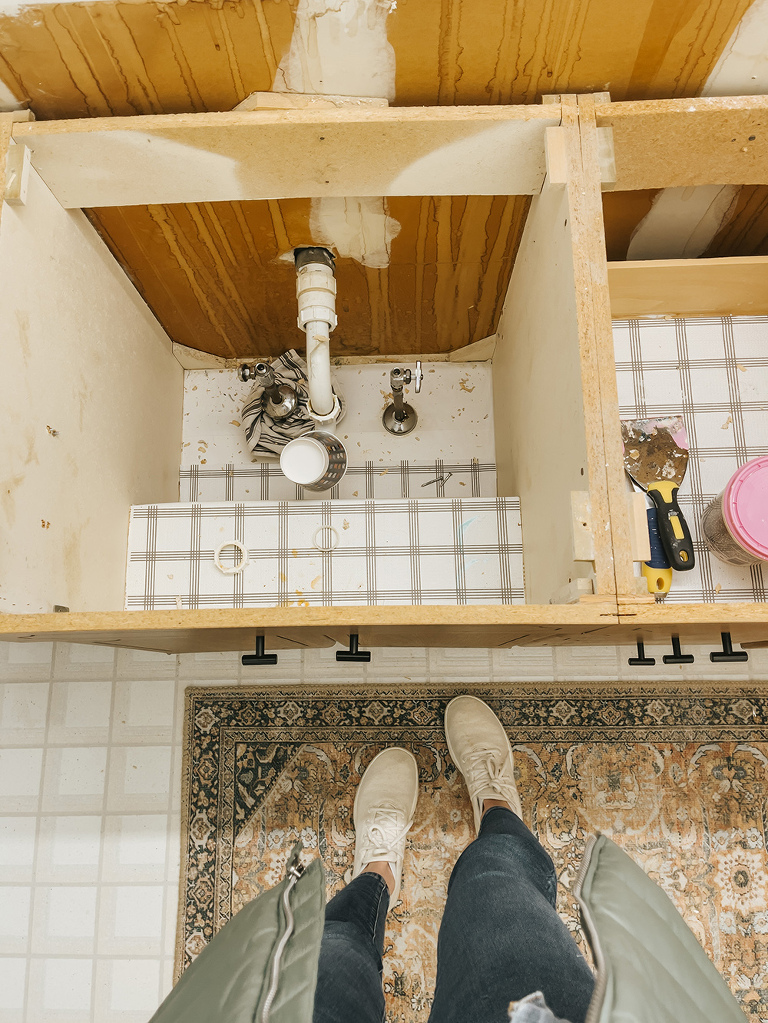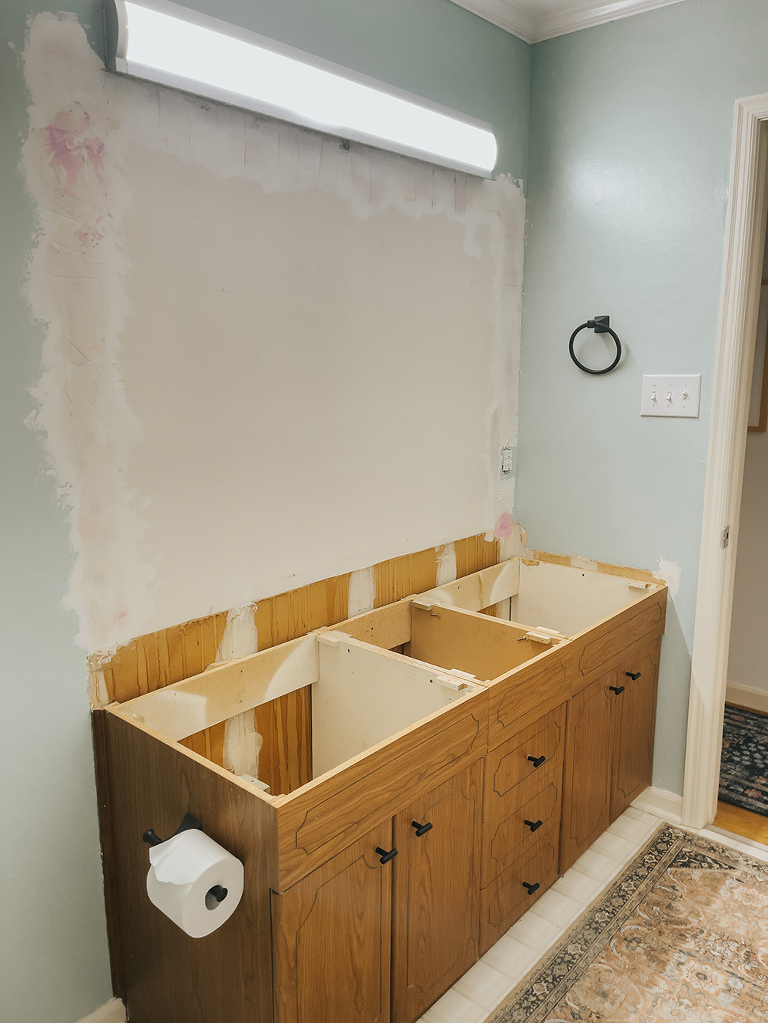 You may have seen the reveal of our new quartz kitchen counters last month. I love how that project turned out, but I actually think that I love the matching quartz that we put in the bathroom even more. I think it's because we went from white counters to white counters in the kitchen, so it wasn't as much of a visual update, whereas the new bathroom quartz is worlds away nicer than what we had in the space before. It's so crisp and clean, and the new rectangular sinks really helped modernize the room, too.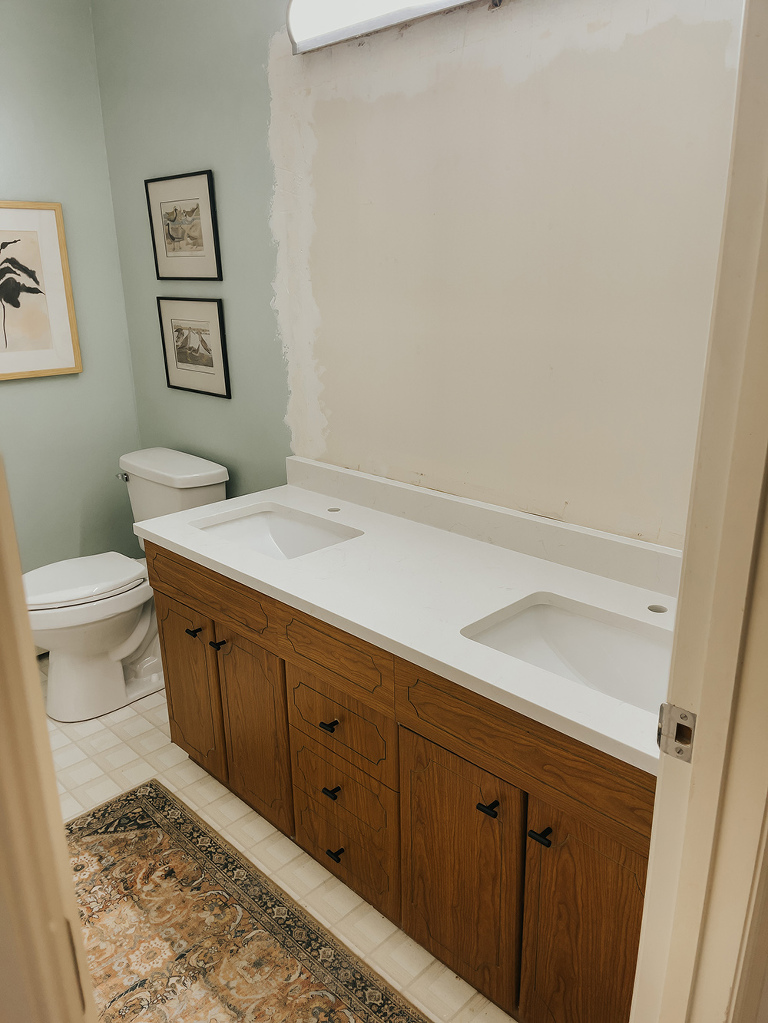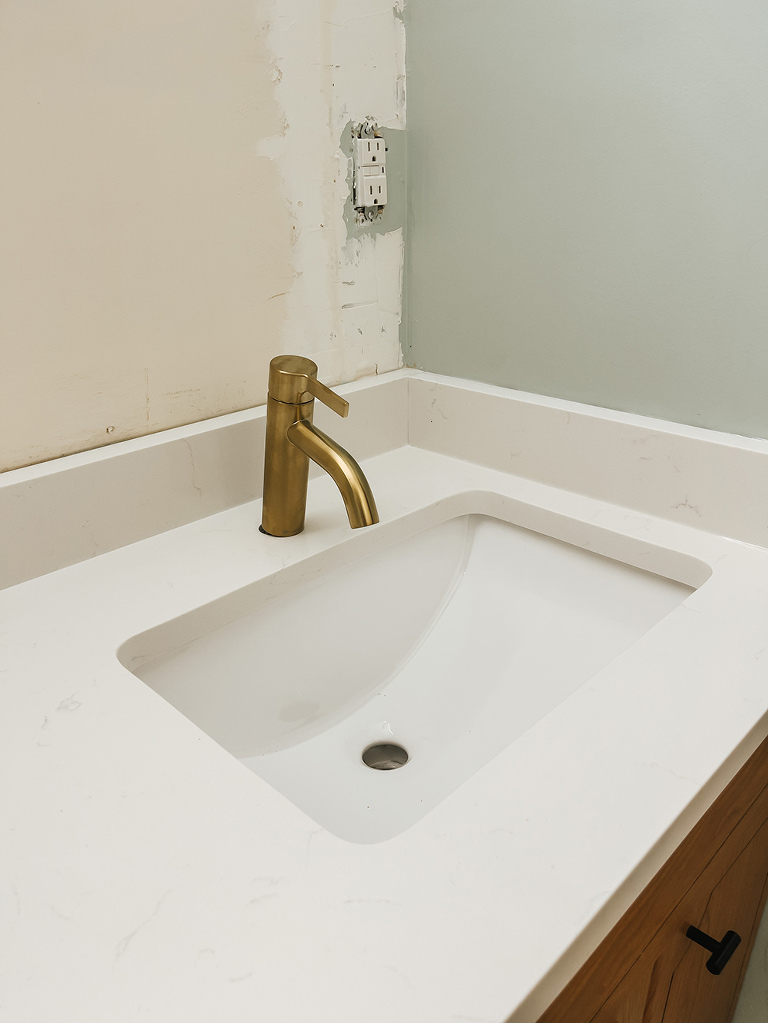 My dad helped us install the two new gold faucets in our bathroom, and I hung a couple of pill-shaped gold framed mirrors to finish the look. The only other things we needed to do before calling this project "finished" was replace the old dated light and repaint the wall. Of course, that was easier said than done. My dad helped with that update, too, and we ended up having to move the electrical to be able to center the light I chose over our updated vanity. I also discovered more wallpaper behind the old light, which would ultimately need to be dealt with before I could paint the rest of the raw drywall.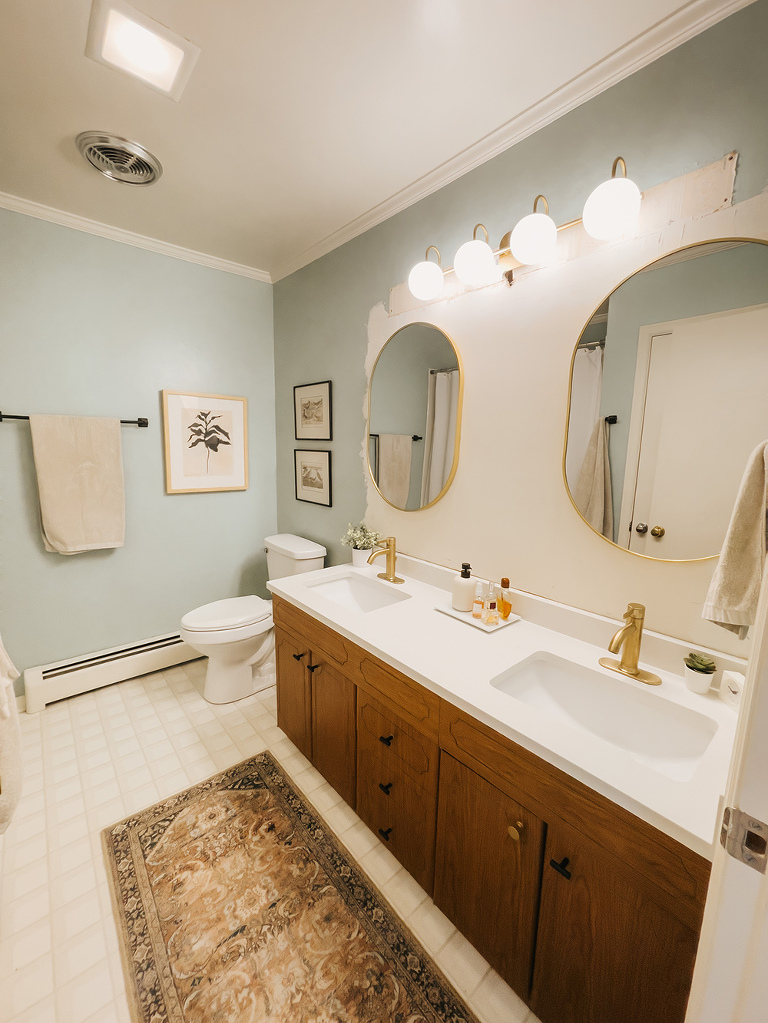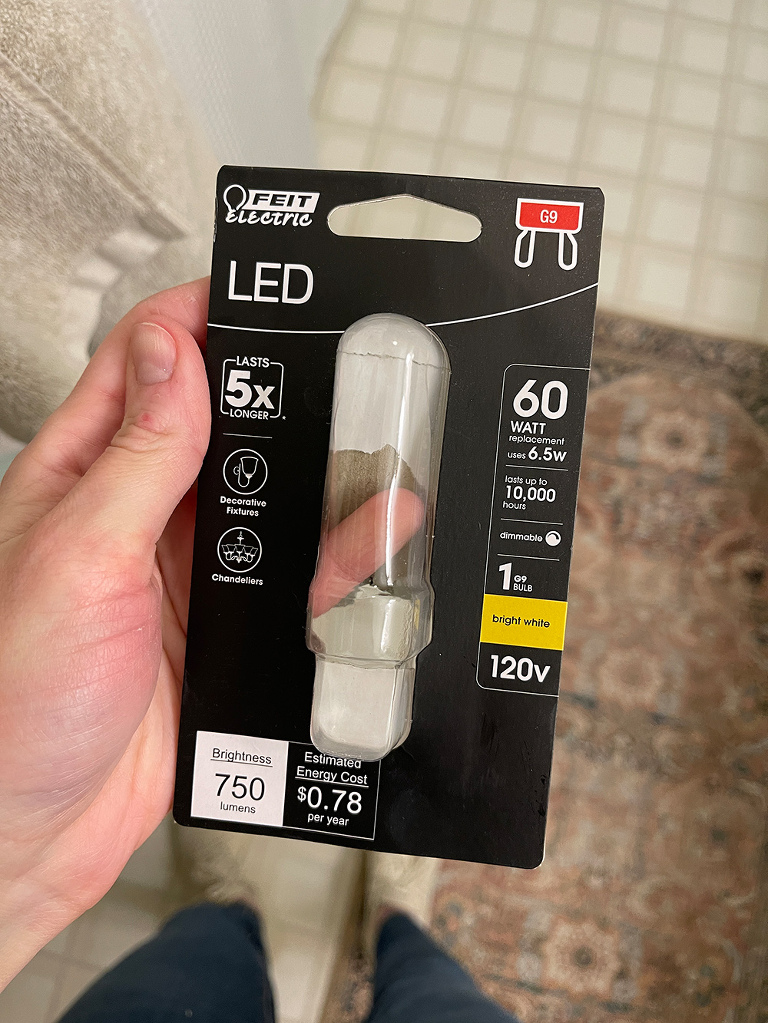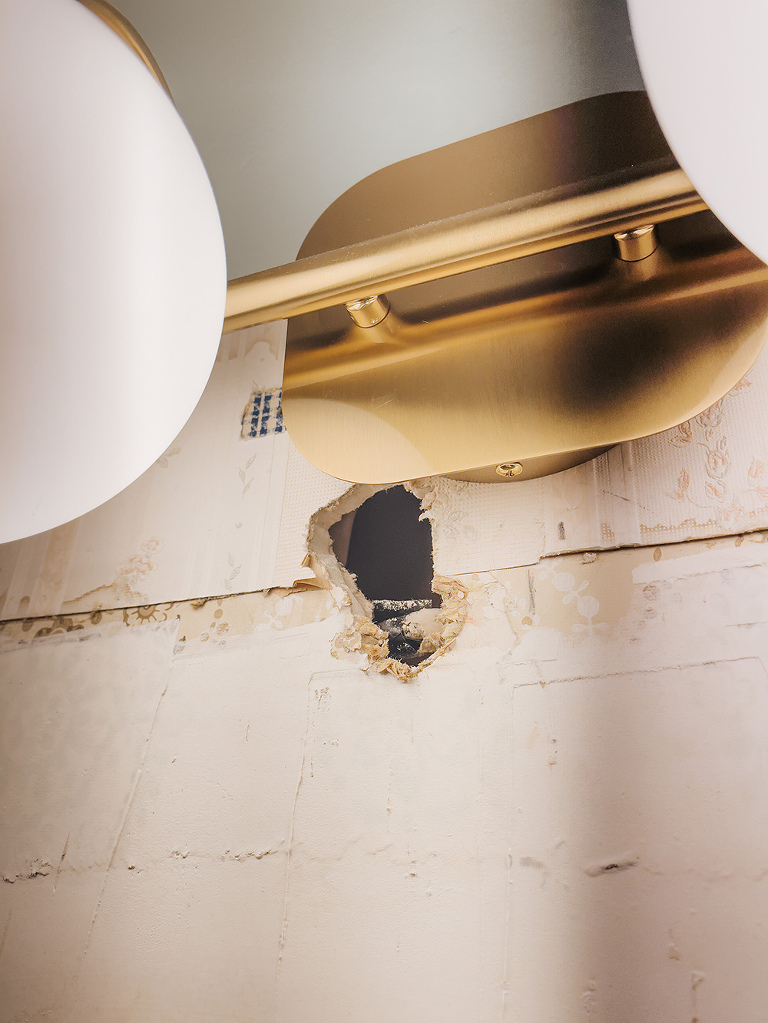 A couple of weeks after installing the new light, I was finally ready to make the final push on this room update. The reason it took so long for me to gather the energy to do this was because I knew I was going to need to take the new light down in order to be able to remove the rest of the old wallpaper (which meant I would be working in the dark, by the way), and also so I could access the hole we were forced to make in order to move electrical. One day last month, though, John and I got it done once and for all. We removed the light, scraped off the old wallpaper, spackled as needed to even out the wall, and I also patched the large hole in the wall using a simple patch kit from the hardware store.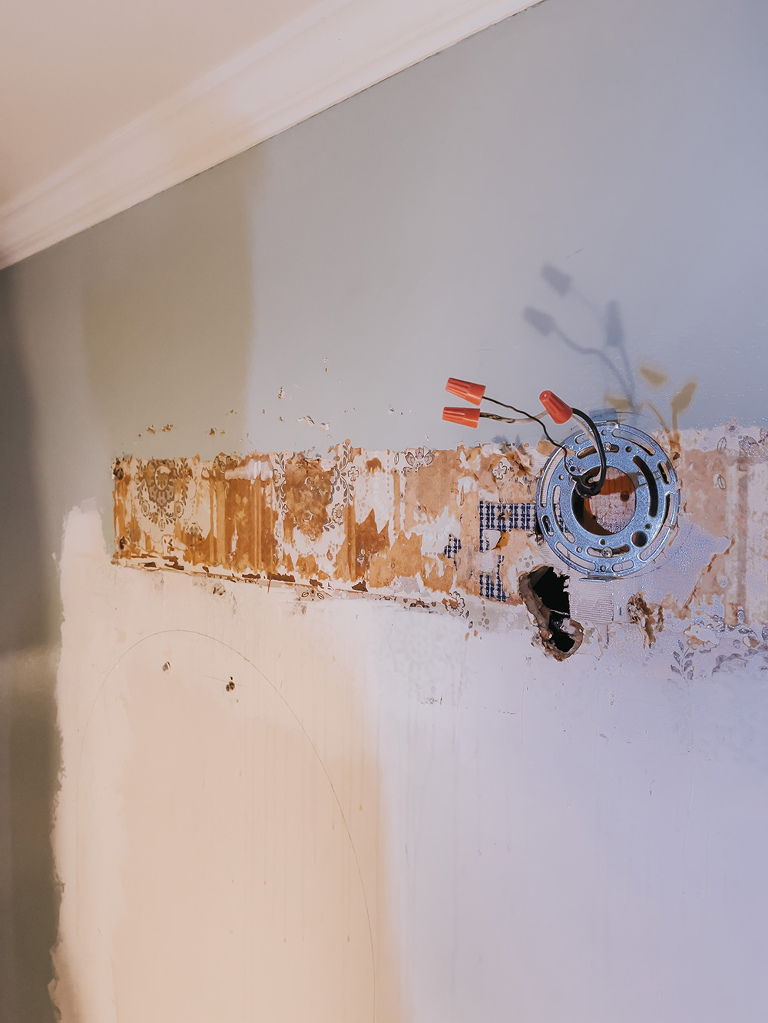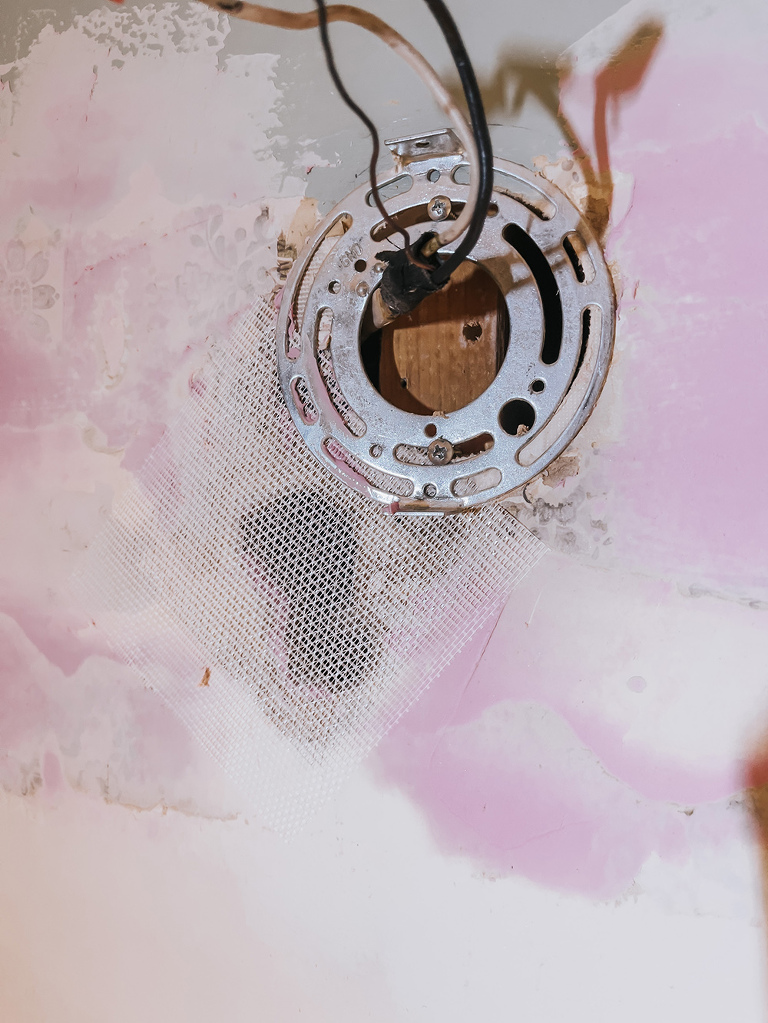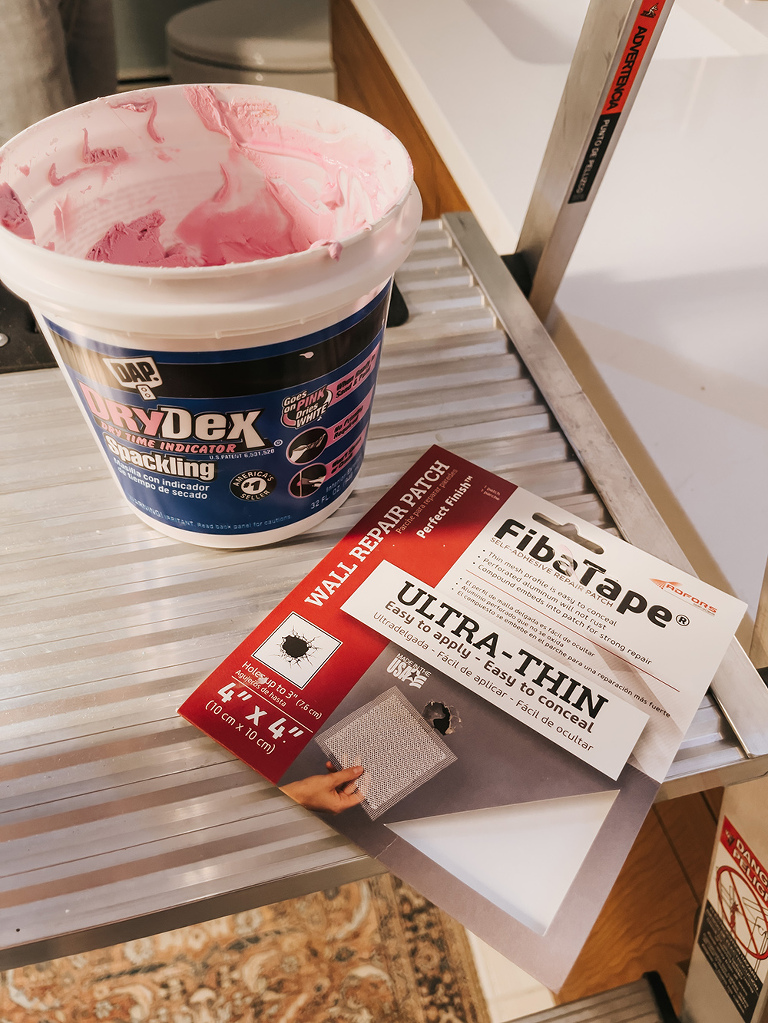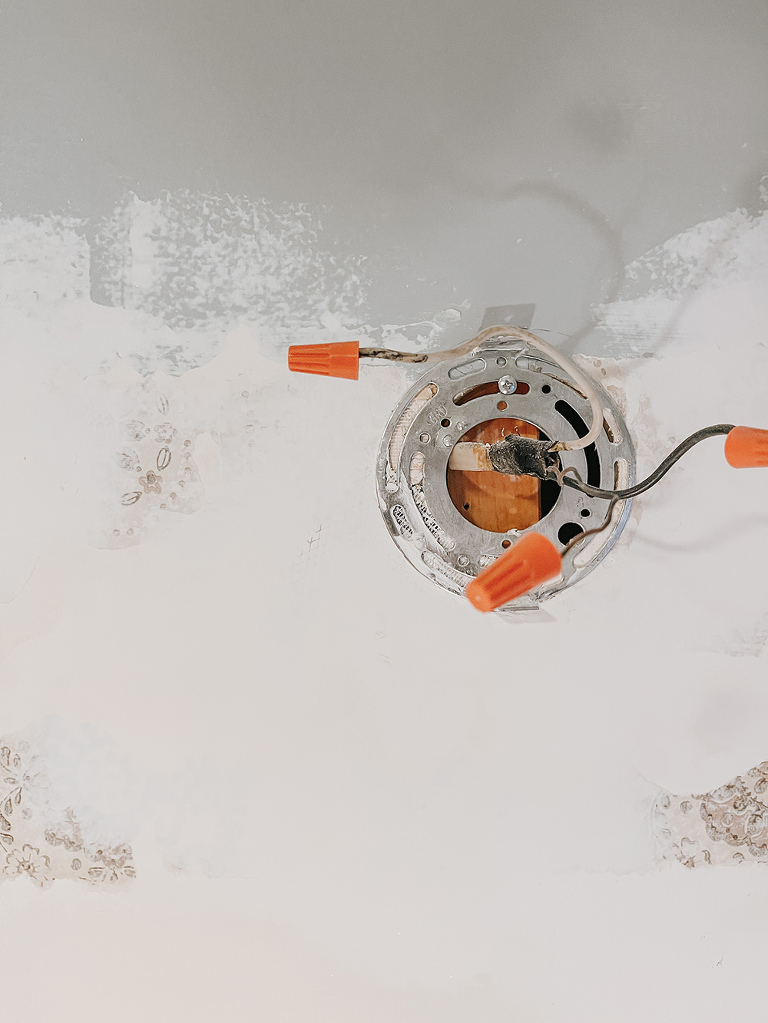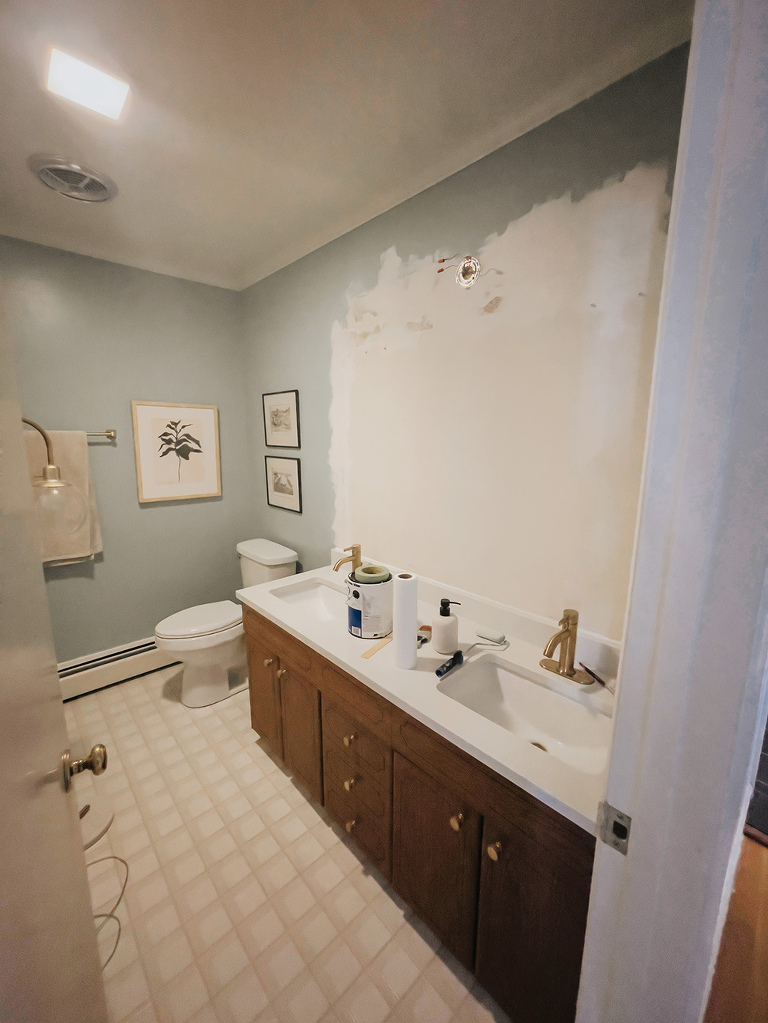 After the drywall patches were completely dry 24 hours later, I finally, finally got to paint those last bits of raw drywall, and then I rehung the new light. A couple of finishing touches—like a new shelf over the toilet and art that I already had in my collection in storage—helped complete the space so I could take photos and share with you all here today. We have been loving the space so much these past few weeks, and hope you love the results, too.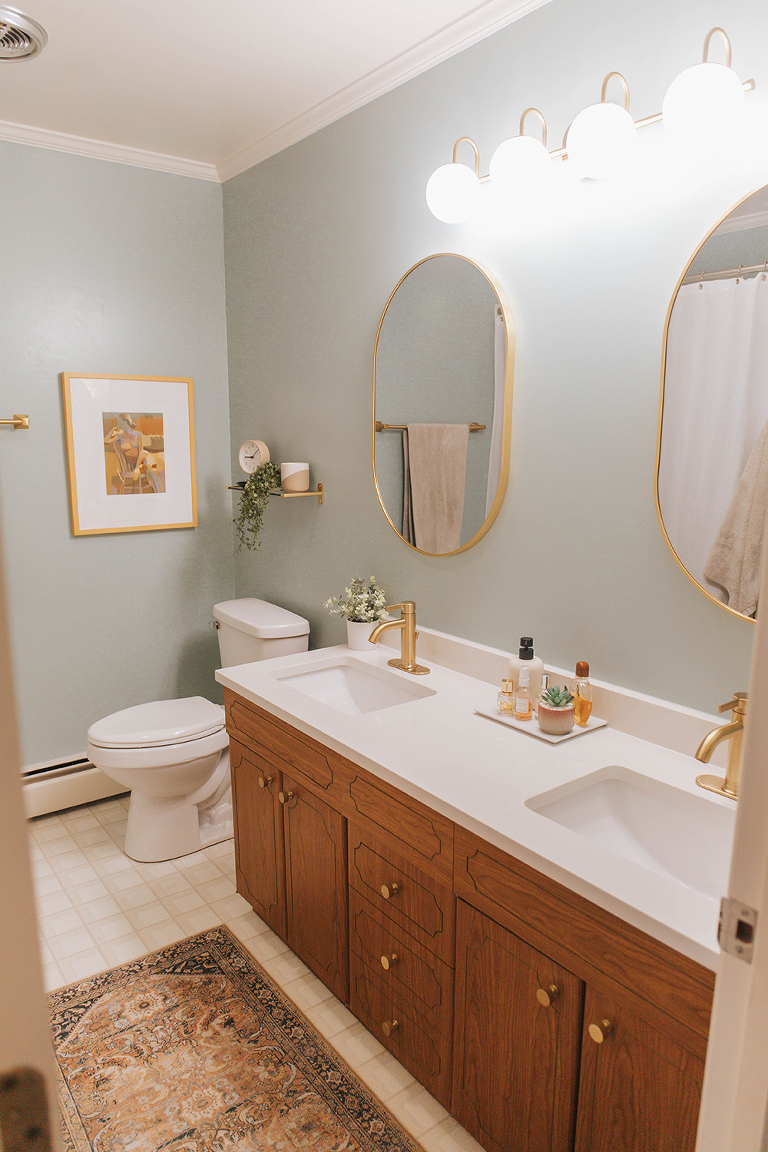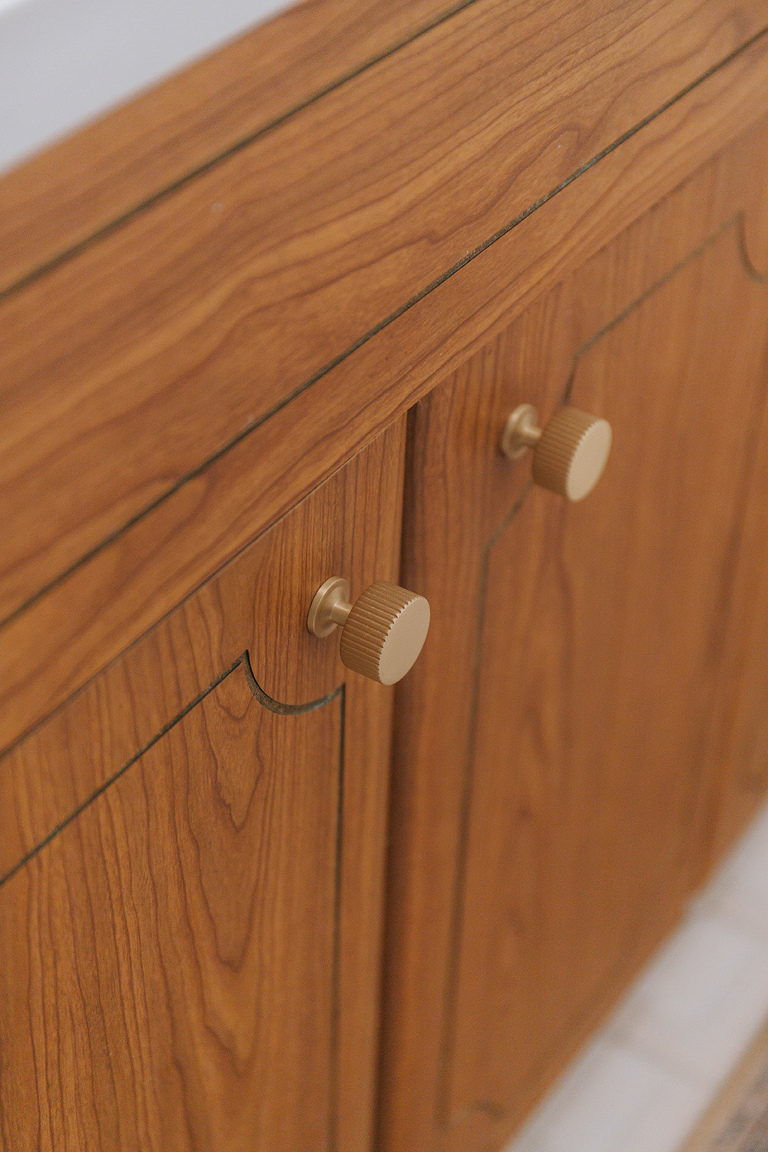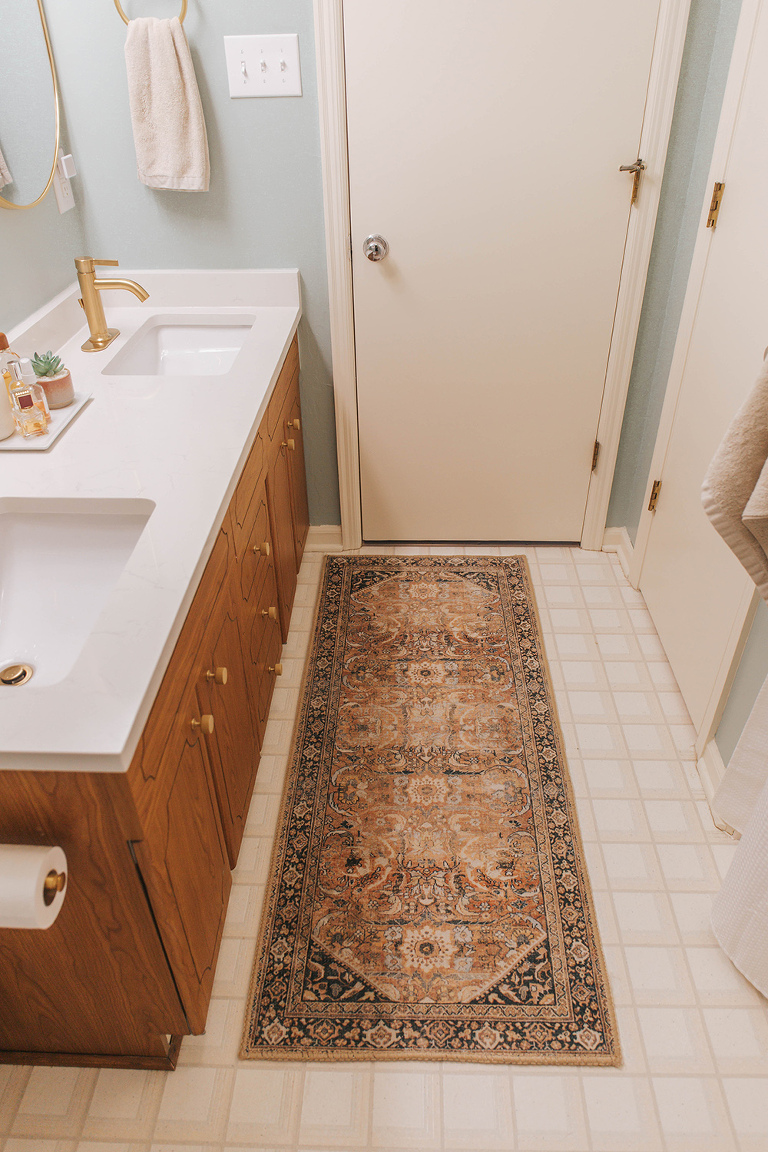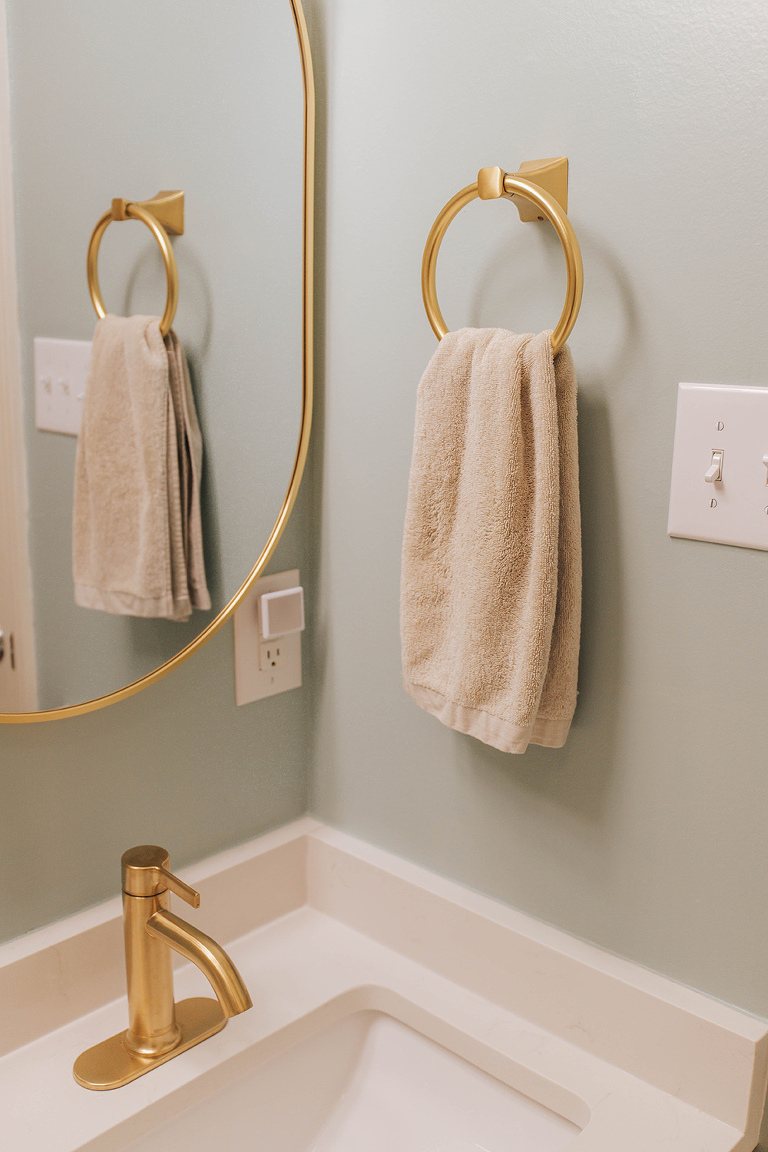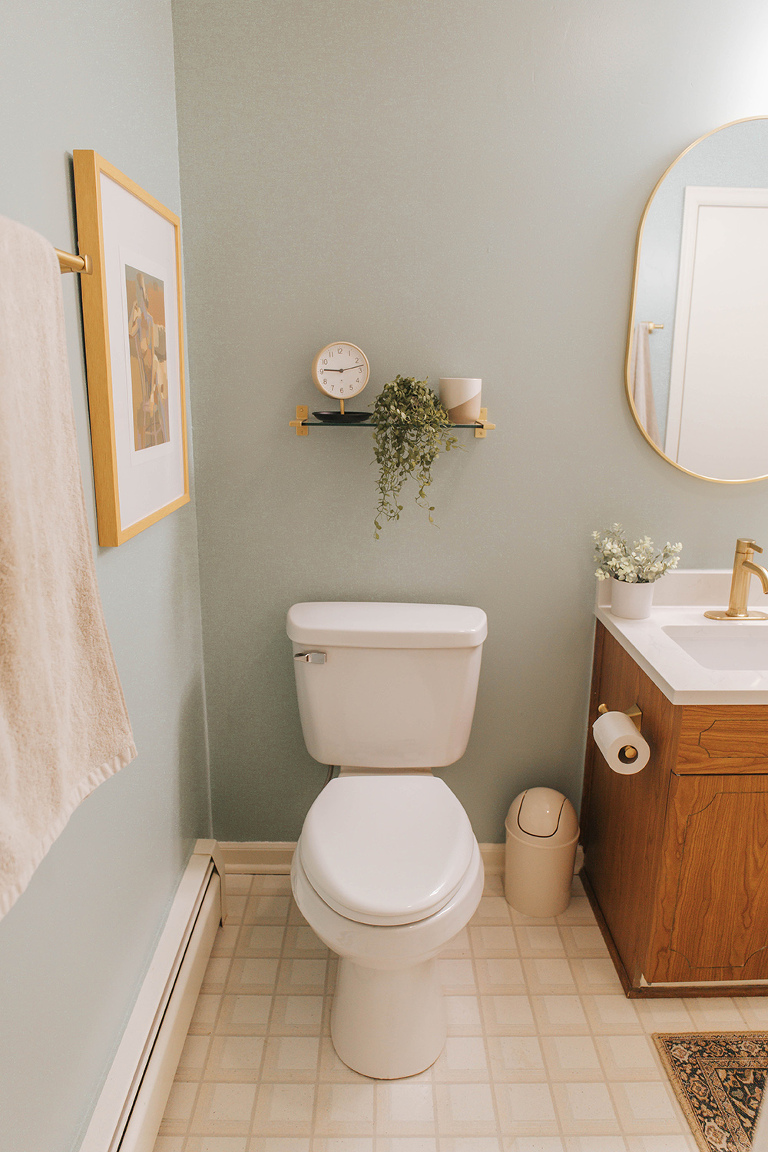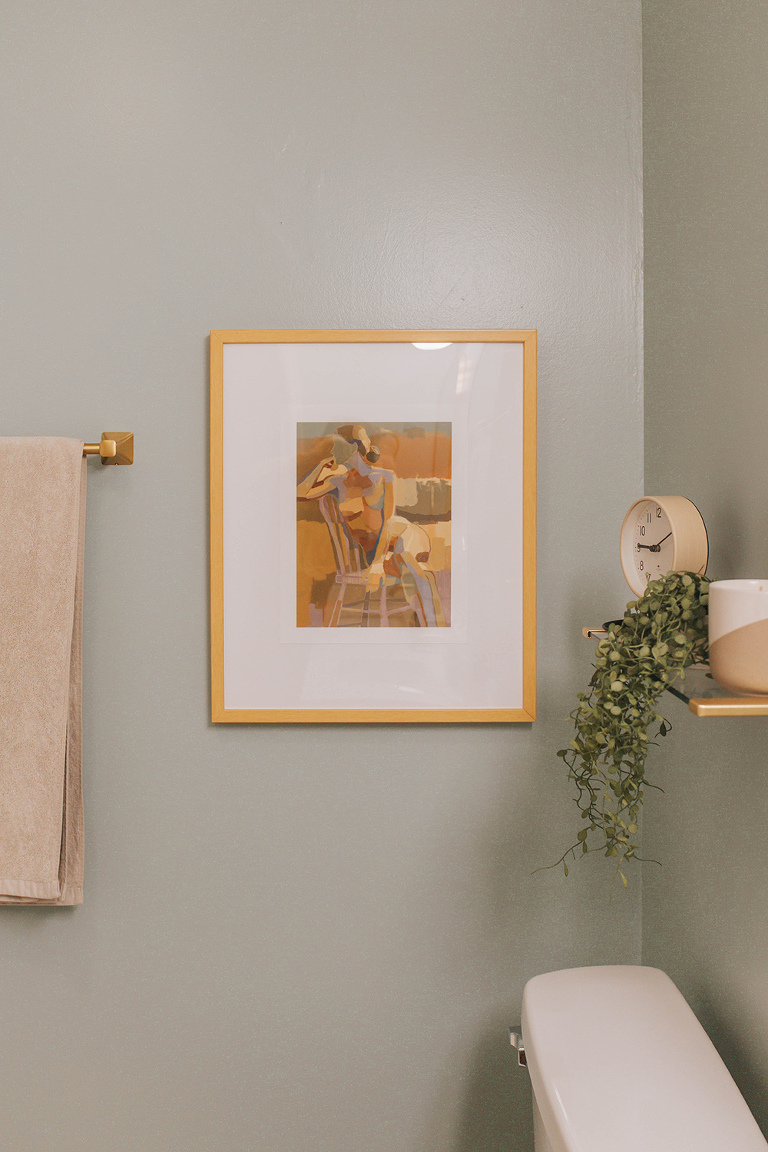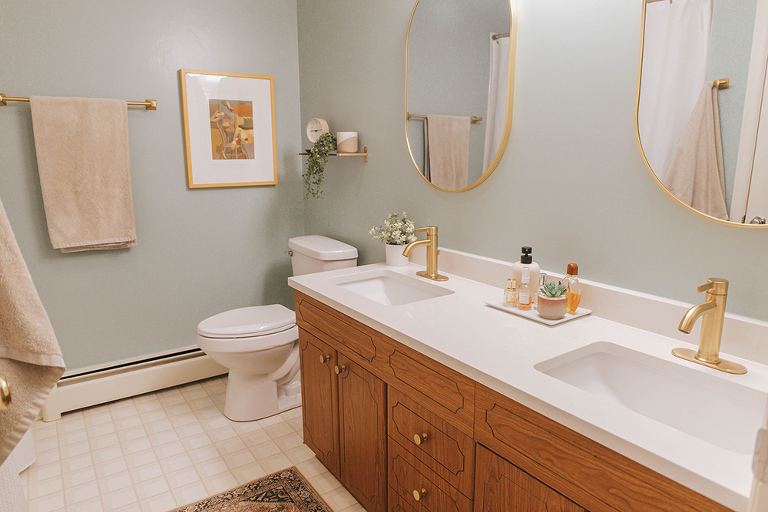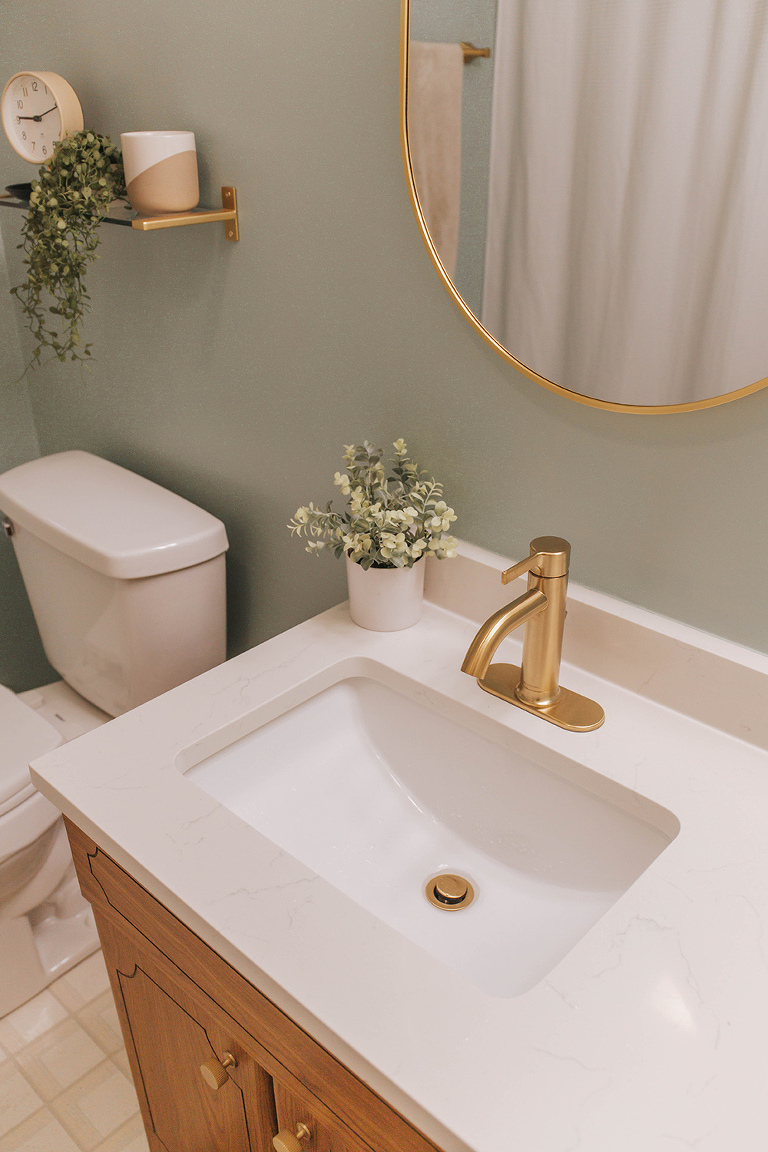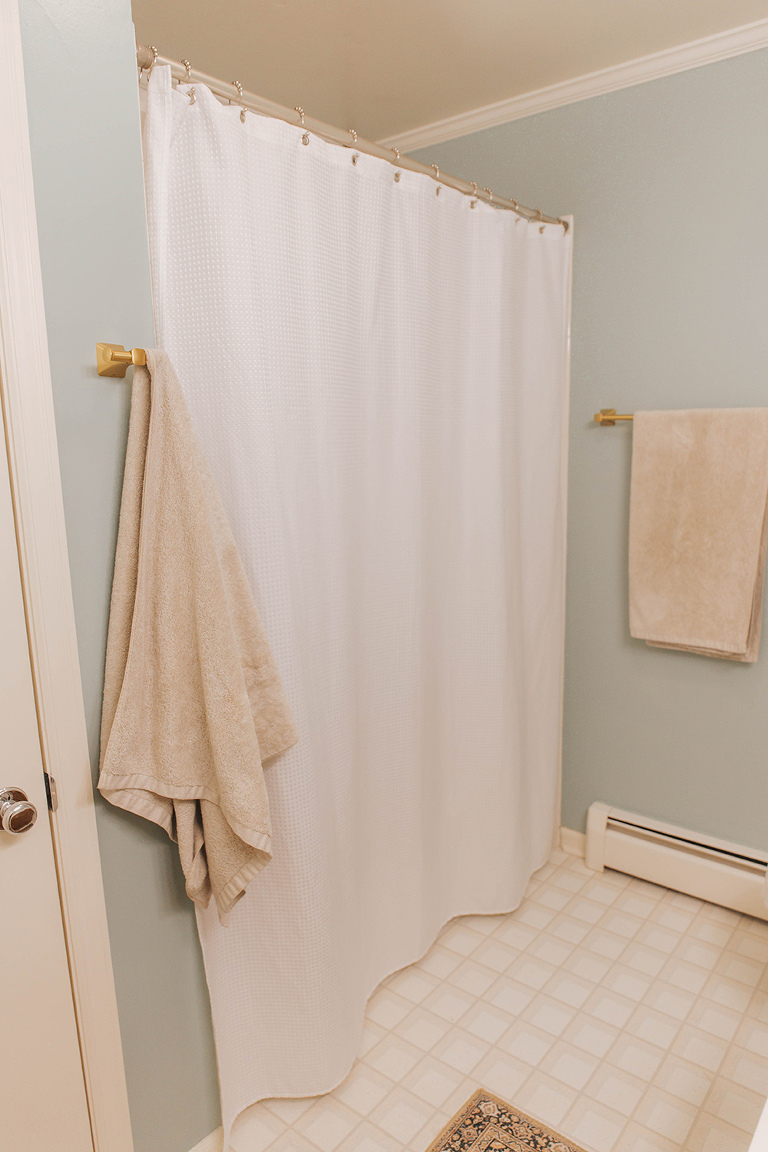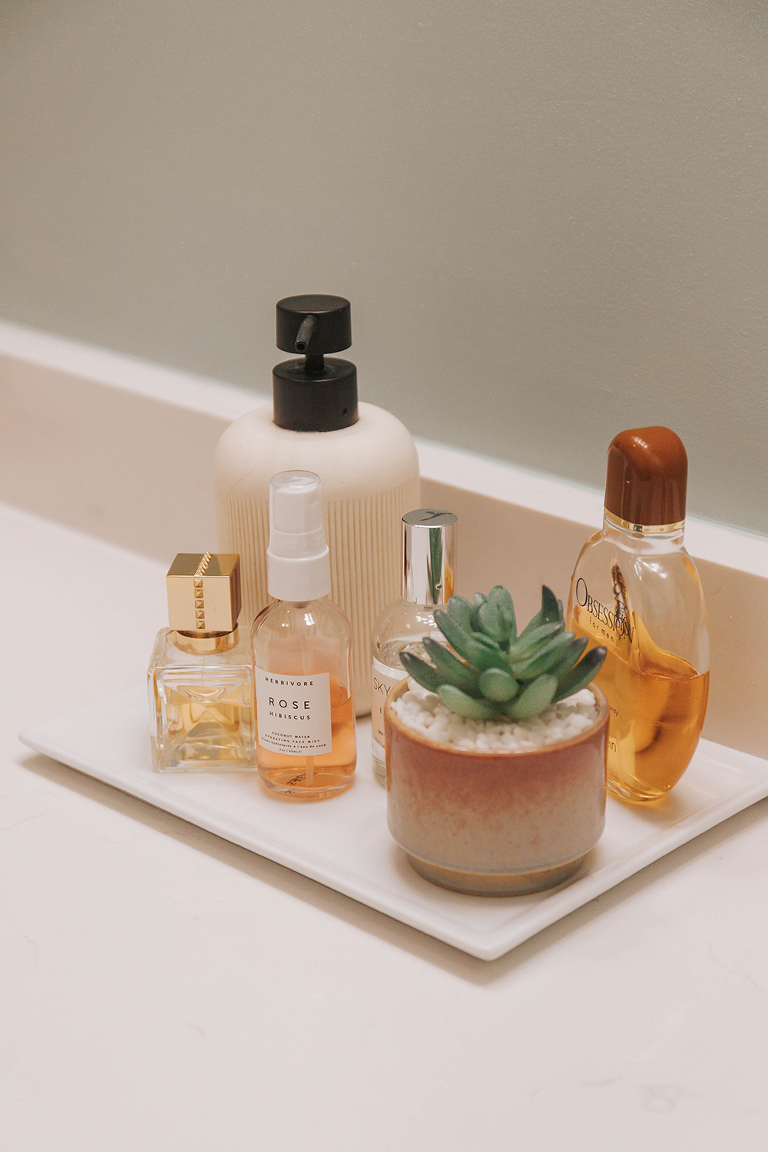 Resources: Paint color (similar), light fixture, G9 light bulbs, towel hooks/bars, art print, wall shelf, extra long shower curtain, curtain hooks, mirrors, vanity knobs, faucets, towels, clock, candle, rug, rug pad, trash can
I'm linking all of the resources that I'm able to above in case you want to try this look out in your own bathroom. The quartz counters and white sinks were installed by a local fabricator, so I don't have a link to those products, but I share more about the name and style of counters we chose in my kitchen reveal post here in case you want that information.
A few of my personal favorite accents? The gold bathroom towel hooks (I think they're sold out in gold, but may still be available in black), the paint color (this, too, is sold out/discontinued, but it's very similar to "Hazel" from Sherwin-Williams), and the new light fixture. Now that our hall bathroom is finished, we've actually made pretty good headway on our main bathroom redesign, and it uses lots of the same accents from our hall bath. I can't wait to show you that room makeover—stay tuned!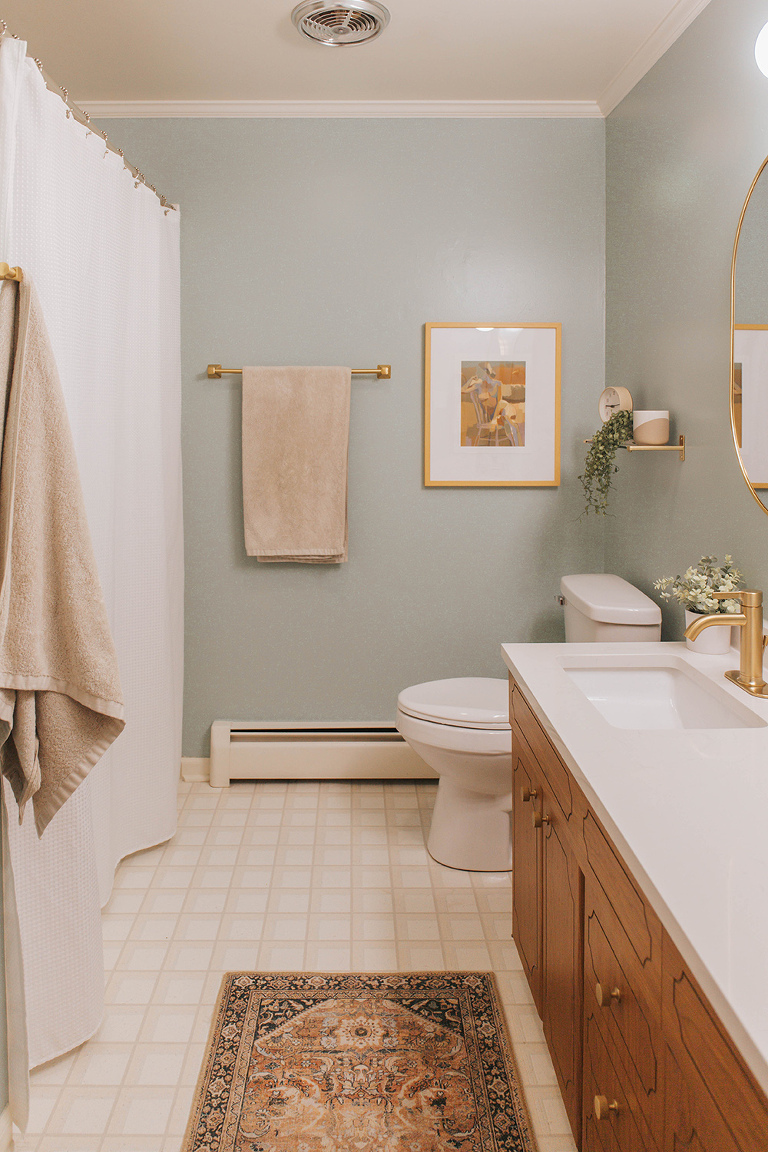 *I earn a small percentage from purchases made using the affiliate links above. Affiliate links are not sponsored. Rest assured that I never recommend products we wouldn't use or don't already love ourselves.