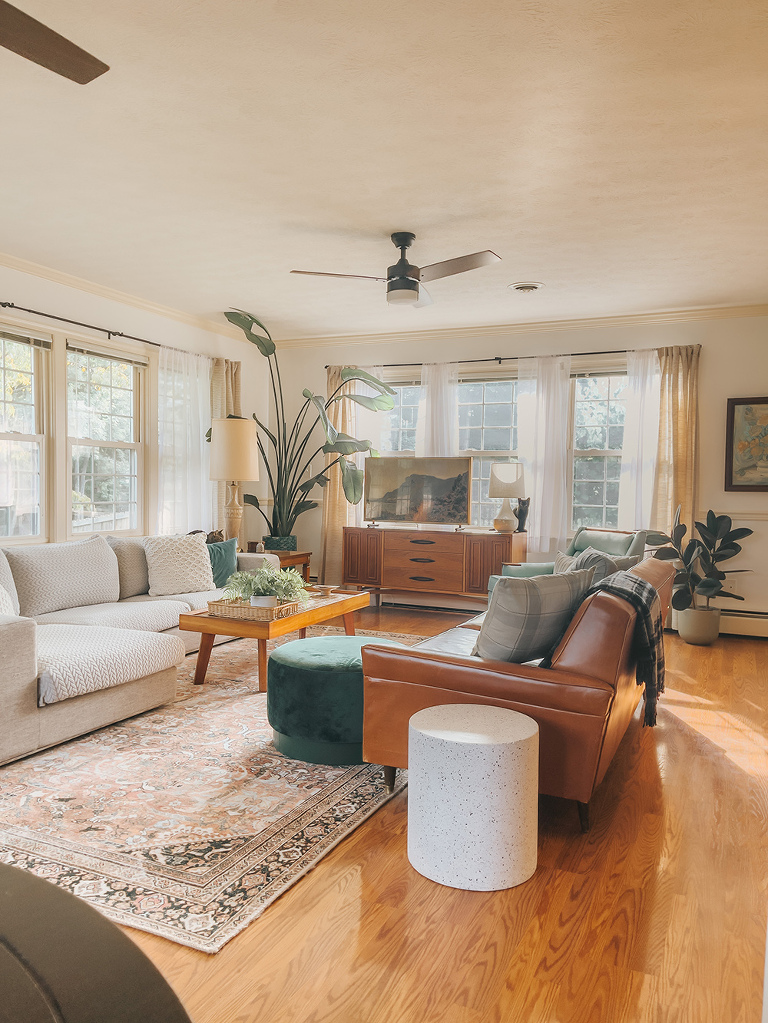 The other day, a sweet (local!) follower asked if I had any tips to share about how to keep a Bird of Paradise plant looking healthy and also how to make the branches grow straighter. So, I immediately added a topic on that very subject to my editorial calendar, and today's the day that I'm going to spill all the details! John gifted my Bird of Paradise (also known as "BoP") plant to me for my birthday, I think, five years ago, and it has quadrupled in size since then. Keep reading to learn how I managed to somehow not only keep it alive, but thriving.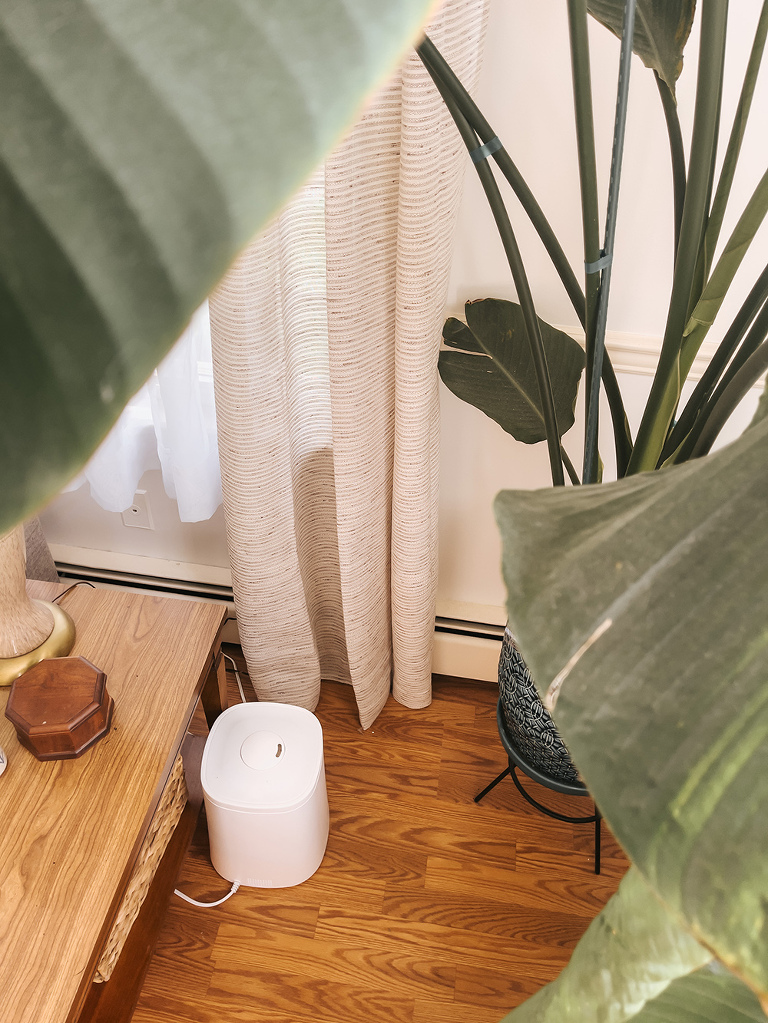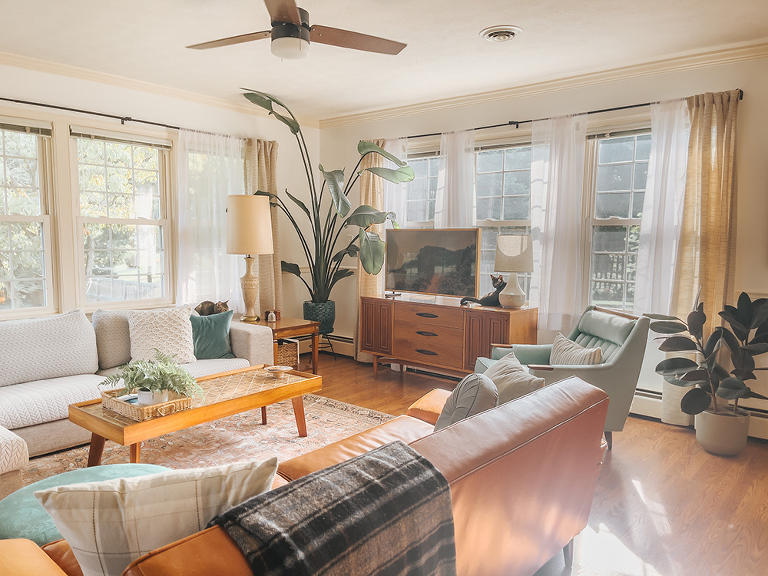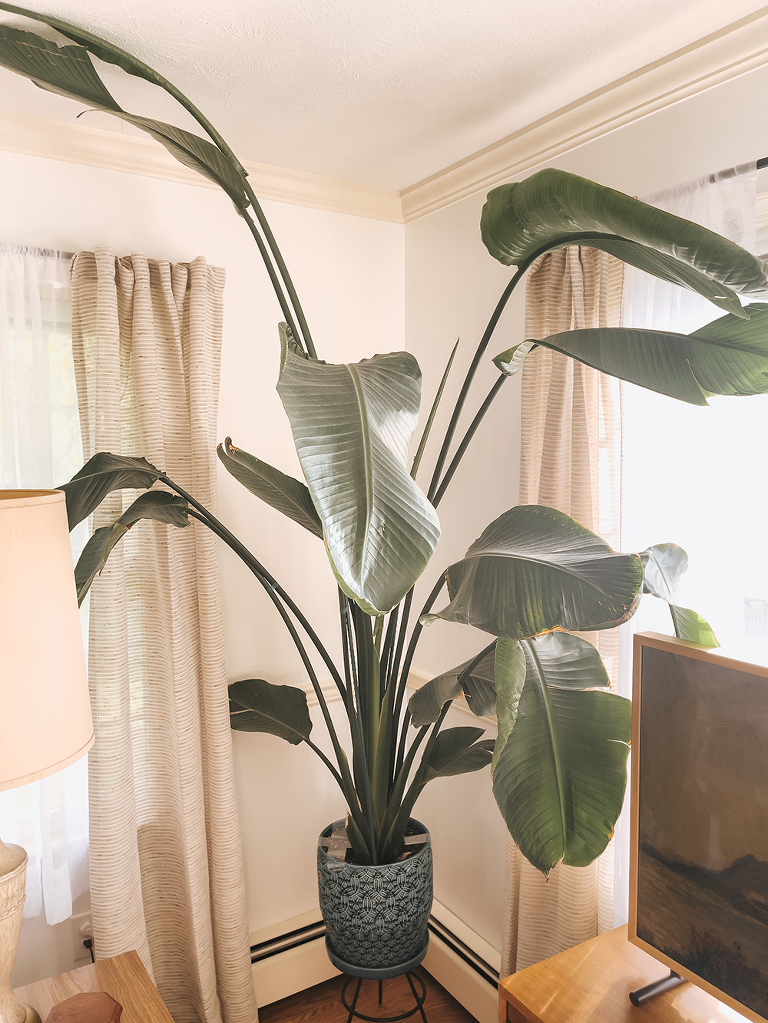 Bird of Paradise Plant Care Tips:
1. I think the main reason our Bird of Paradise has grown so much and so consistently in the last five years is sunlight. For the first four years of its life, we kept the plant in a south-facing room that was absolutely filled with daytime sunlight. When we moved to a new house a year ago, we made sure to pick a new spot for the plant that had similar lighting conditions as our old house.
2. Continuing that train of thought from Tip #1, I also wanted to mention that we moved our BoP from one part of the room to the other at our old house only once, which I think was important because these plants don't really like change. Find a spot for your plant and keep it there! The only other time we moved our plant was when we physically moved homes last November. It took a couple of months for our plant to start growing new leaves after the move, but it seems to be acclimating well to the new room and environment.
3. A consistent watering schedule also is key. I have a weekly watering routine where I go around and inspect our plants for pests, dust, and moisture level. I monitor the latter using this moisture meter. When the meter shows that our Bird of Paradise is on the drier side, I give it a good long drink of water from my watering can (roughly four cups of water each time).
4. Another water-related tip is humidity. You'll see a few photos above that we have a humidifier discreetly plugged in beside our BoP on the floor. During the drier months of the year, we periodically run the humidifier to give our plant some extra hydration. This type of tropical plant really thrives on humidity to mimic its natural growing environment, so don't skip this step.
5. In terms of how we get the branches to grow so straight, it's all about support. As soon as our plant started growing too high for itself to support on its own, I bought two gardening stakes to add into the pot. You can see them pictured in detail a couple photos below (please ignore the fact that I accidentally put the stakes into the pot upside down—they still work!). I loosely secured one of the central branches to the stake using floral tape, and that has helped the plant grow tall and strong. Note that, because my Bird of Paradise came with two plants growing in one nursery pot, I used two stakes—one for each individual plant. Oh, and if you want more tips on how to train your plant to grow in a certain shape or direction, you can get my tips here. That post is specifically talking about how to train a Fiddle Leaf Fig tree, but I think the concept would work just the same for a Bird of Paradise.
6. Dealing with pests is one other important thing to do. We just adopted a new kitten, and she was getting into the plants soon after we brought her home. To help deter that behavior, I wrapped packing tape sticky-side-up over the dirt, and that has kept her from getting into the pot. Bug-type pests can be dealt with using Neem Oil (I spray on the tops and bottoms of leaves once or twice a month) and giving the leaves a good wipe-down using rags or cleaning gloves, like these. Wiping the leaves also helps remove dust, which could block necessary sunlight and nutrients from getting to your plant through the leaves, so it's a great idea to stay on top of this task at least once a month.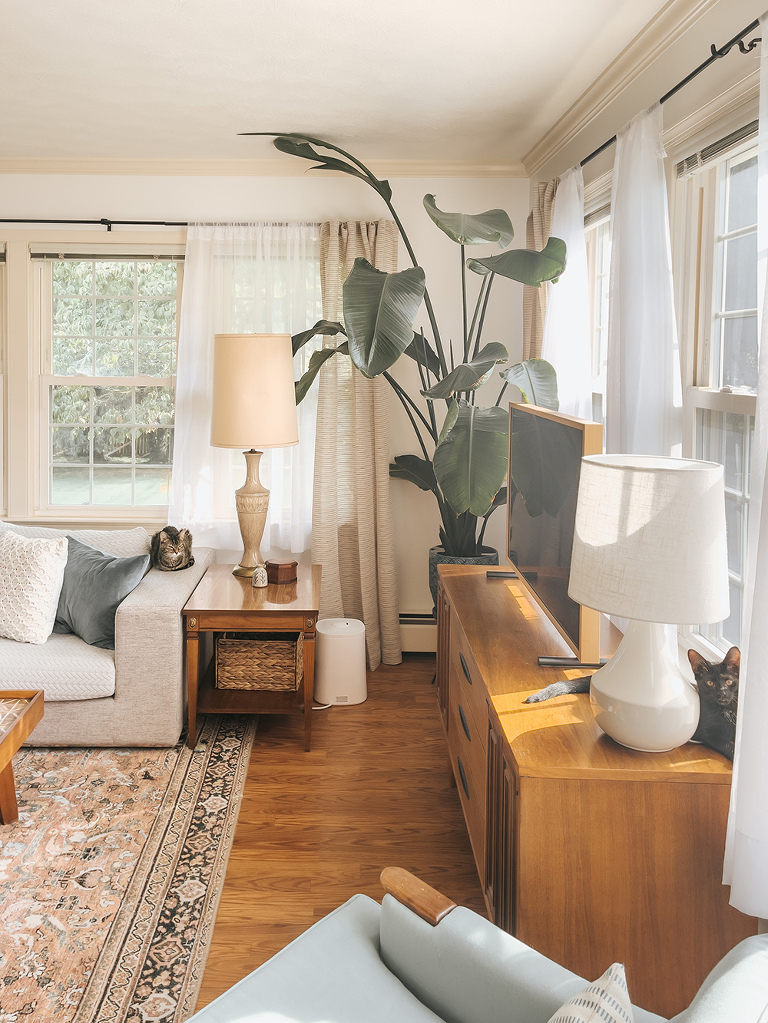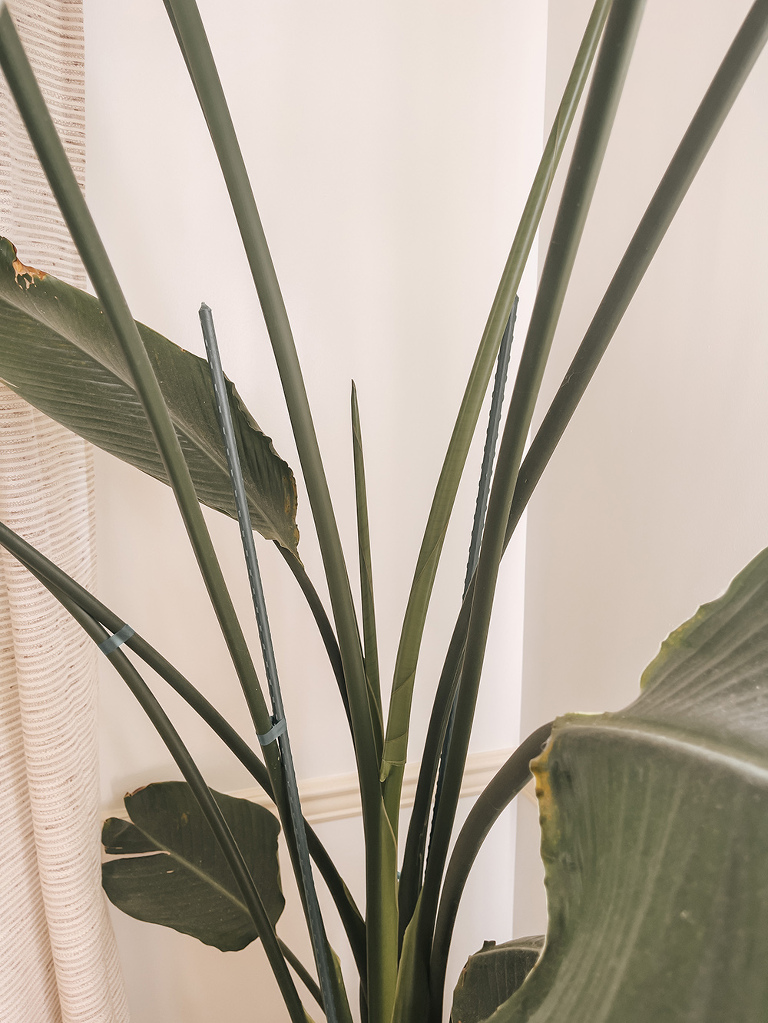 And there you have it. Nearly 800 words on how we keep our Bird of Paradise looking its best! I was so thrilled to notice the other day that each of the two BoP plants in our pot have new leaves coming up, so she'll be even taller than what you see pictured in today's post in just a few short weeks. Finally, I wanted to mention another quick piece of advice for my fellow pet owners. You eagle-eyed readers might have noticed that we had to cut a couple of those very first leaves off our plant? Well, that was to keep them out of reach from our cat, Luna, who really fixated on this plant at first. BoP plants are toxic if ingested, so make sure you keep them out of your pet's reach! Got Bird of Paradise tips of your own to share? Leave them in the comments below.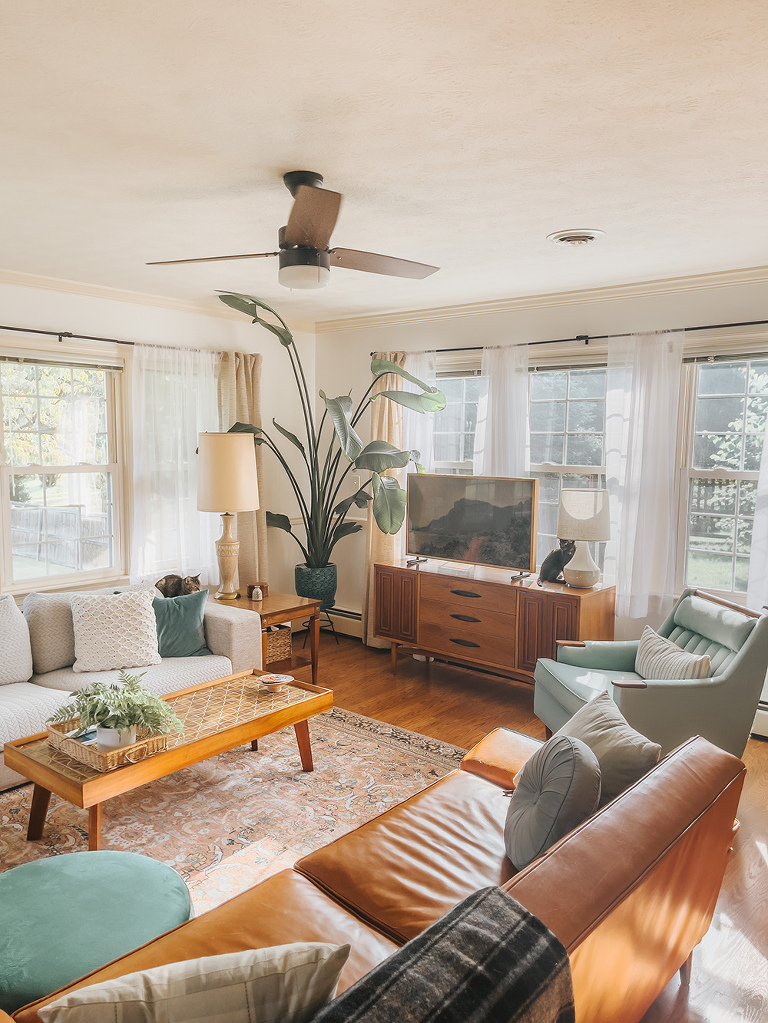 *I earn a small percentage from purchases made using the affiliate links above. Affiliate links are not sponsored. Rest assured that I never recommend products we wouldn't use or don't already love ourselves.