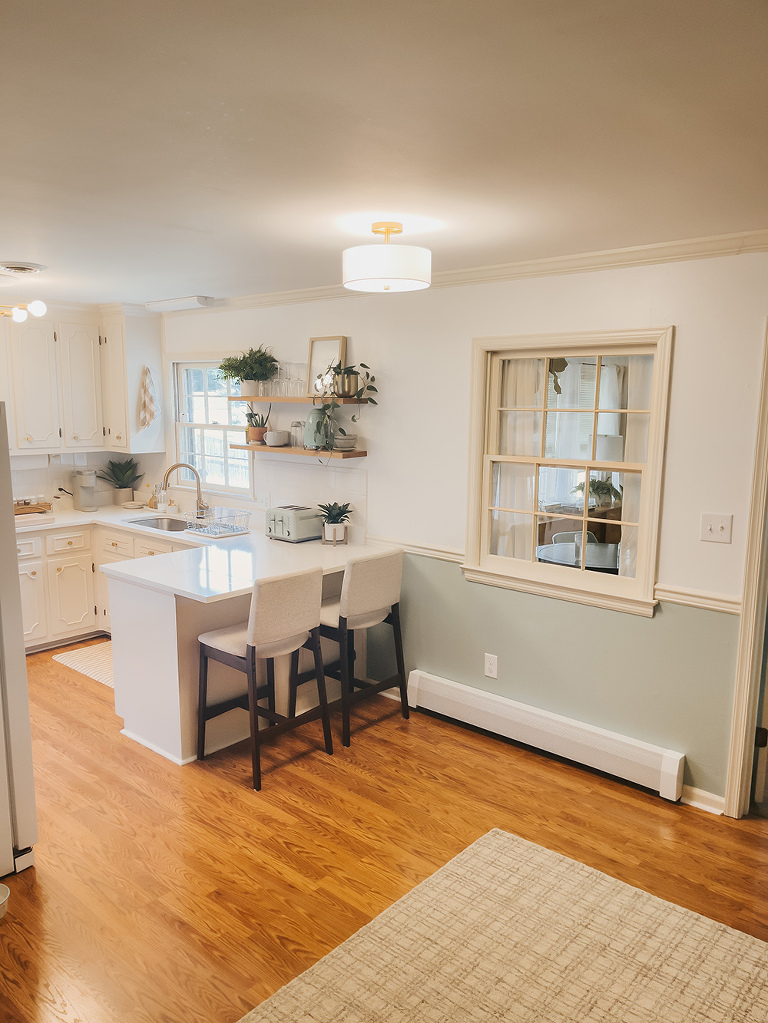 *Today's post was made possible by Baseboarders, and features gifted product for the purposes of a candid review. All opinions are my own.
Before John and I moved to Waynesboro, Virginia, back in 2015, we had never heard of baseboard heaters. Is it a regional thing? Of course, I know it's an era thing—baseboard heaters became popular during the 1950s and '60s—so it makes sense that our two mid-century homes have been outfitted with baseboard heaters.
I actually love baseboard heating. Our gas-powered system makes our home feel so warm and cozy during the cold months of the year, but living with them is certainly full of compromises from a design perspective. There's no beating around the bush: baseboard heaters are ugly. I've learned over the years how to decorate (and photograph) around these unsightly wall units, but generally I just have to ignore them as best I can. Until now, that is!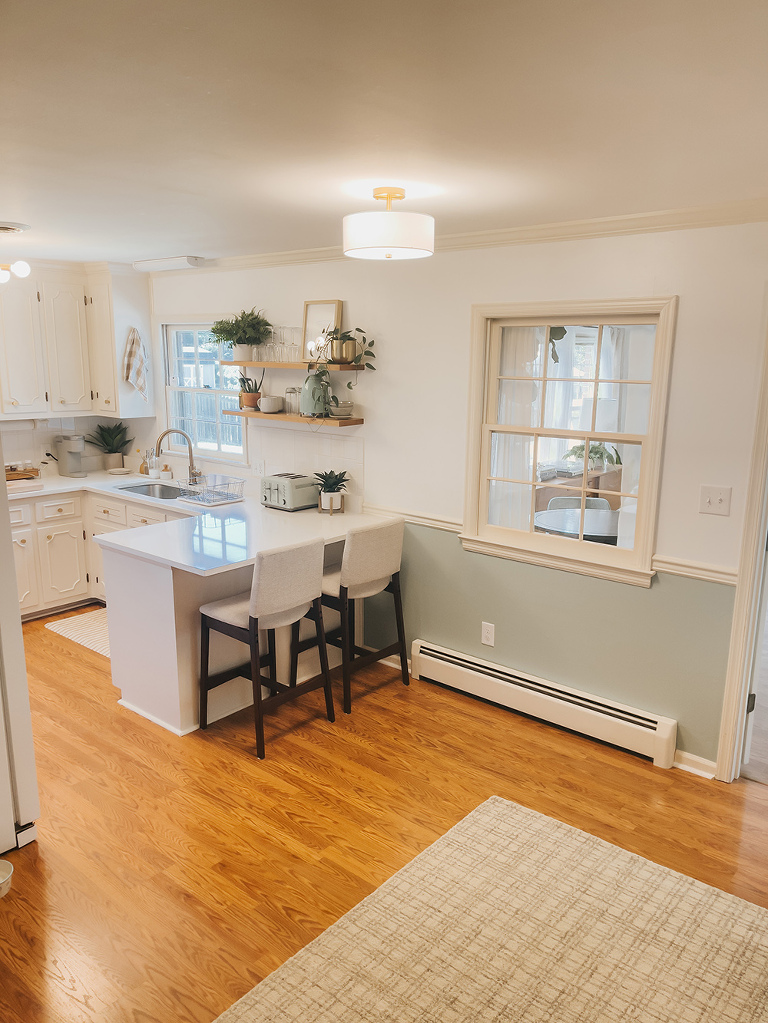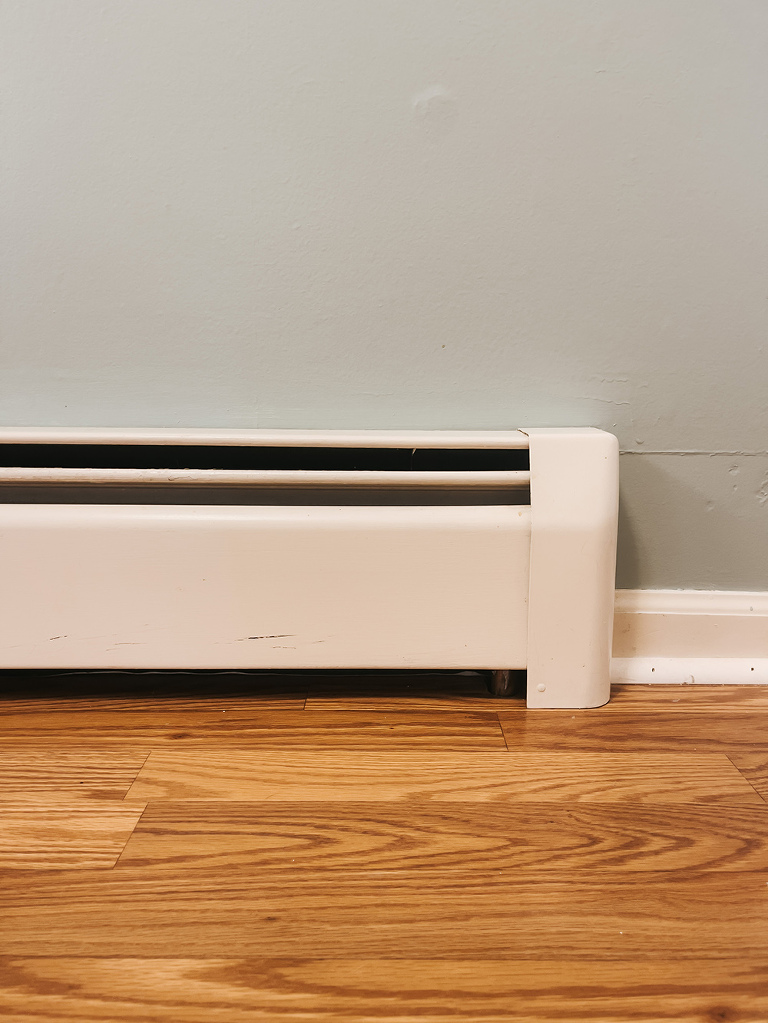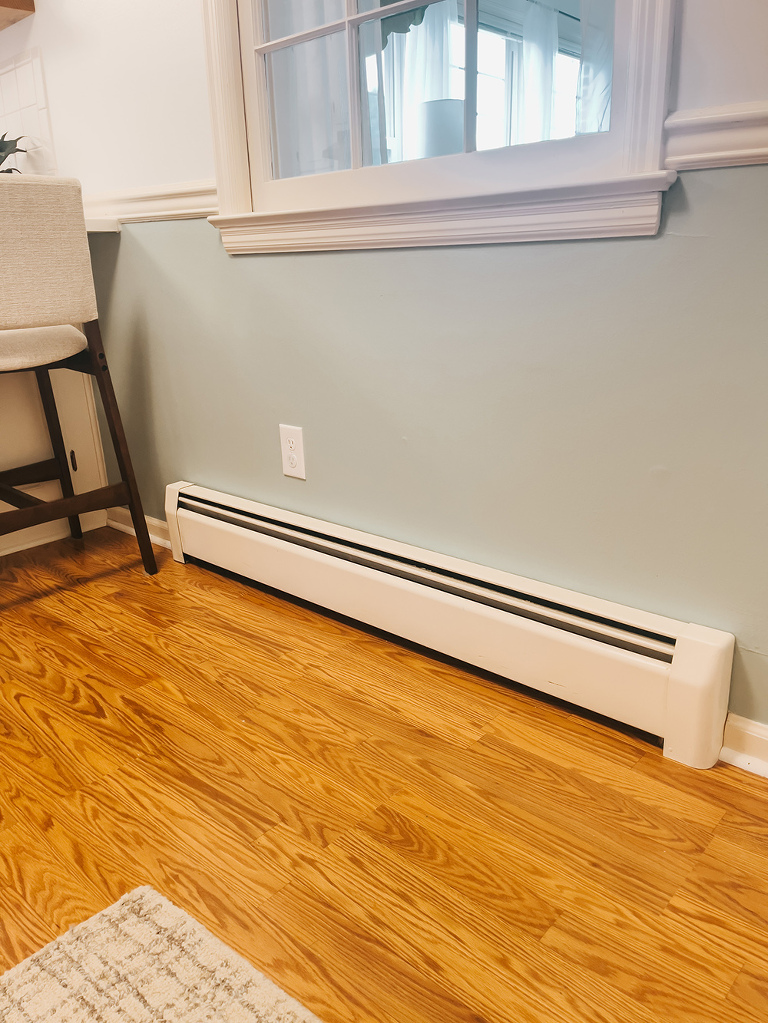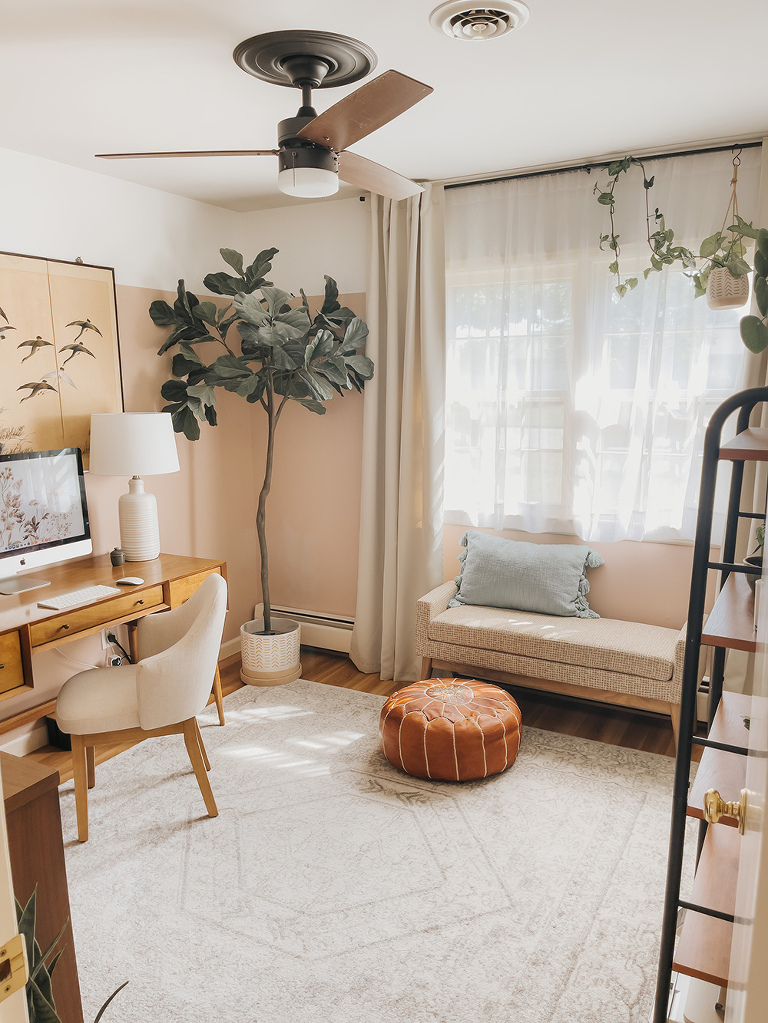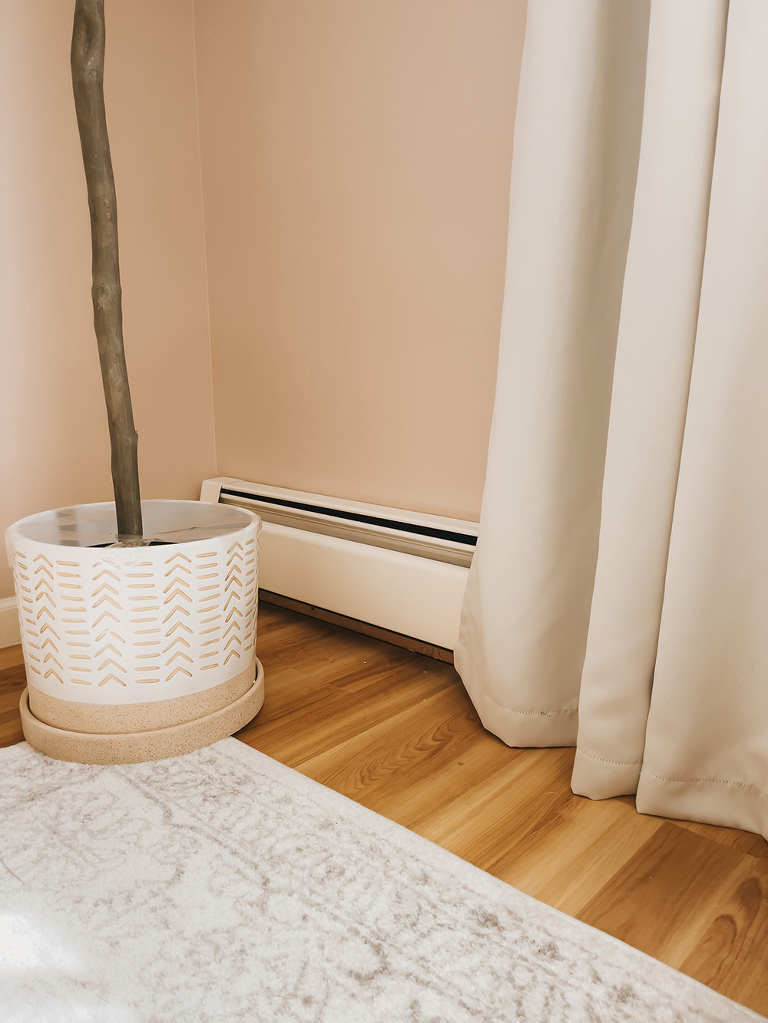 I was scrolling the Internet a couple of weeks ago, and happened to come across the brand Baseboarders. I found out that they manufacture sleek modern covers that easily install right over your existing baseboard heaters to make them look brand new in just a few minutes without any kind of demo or professional help. They're made of galvanized steel—from 22- to 24-gauge, depending on the style you choose—and are powder-coated to help prevent rust.
The before/afters on their website gave me so much hope that we could use these covers to update our own dated baseboard heaters, and I'm so excited to prove exactly that to you in today's post. After doing a bit more research on their website, I was able to confirm that, yes, they're very safe to use with an existing 1960s system. The single-piece panel construction allows for good airflow around the heating element, while keeping fingers (and paws!) away from the heater itself, making it safer for children and pets. It was a pretty easy choice to go for it after reading that.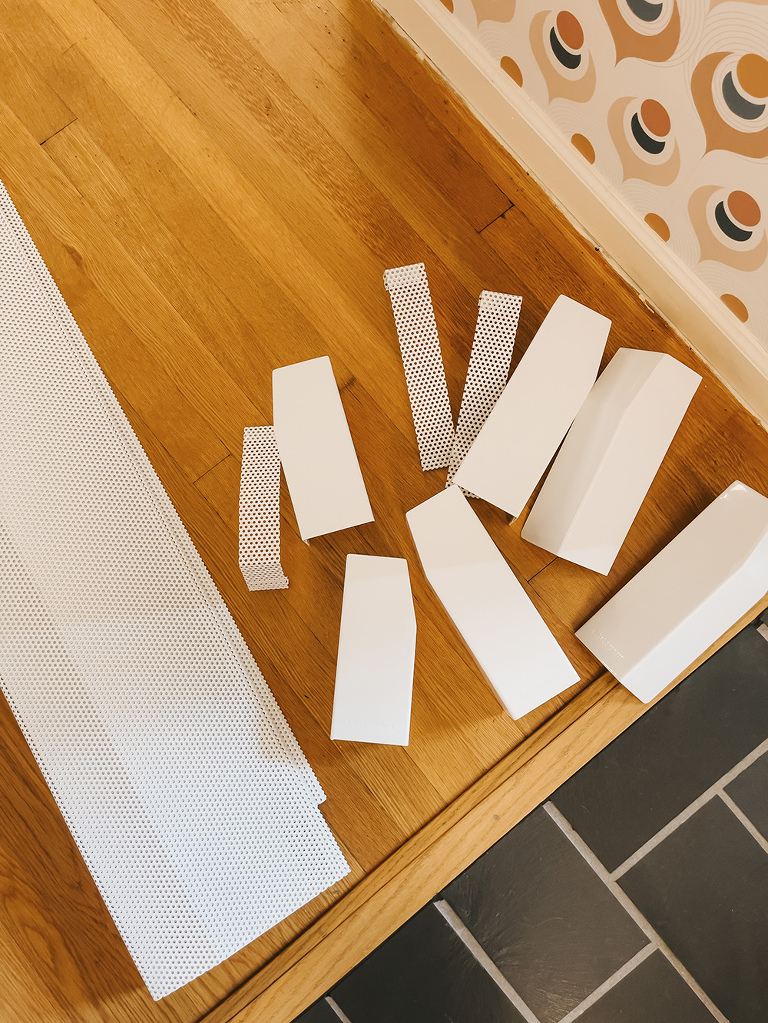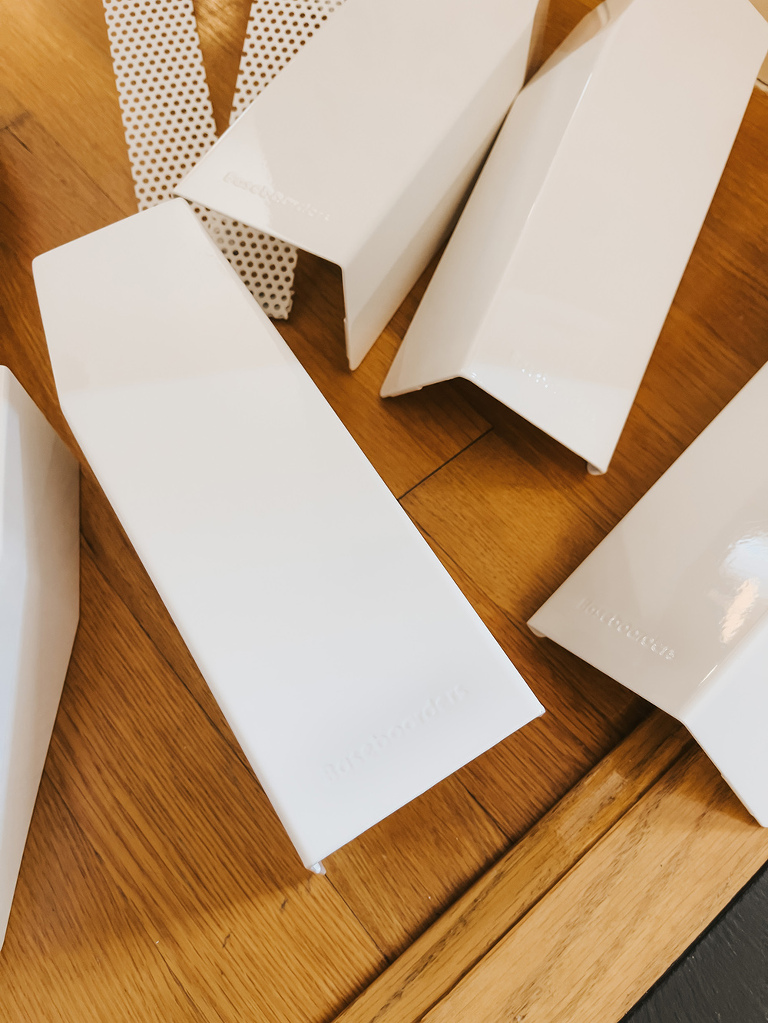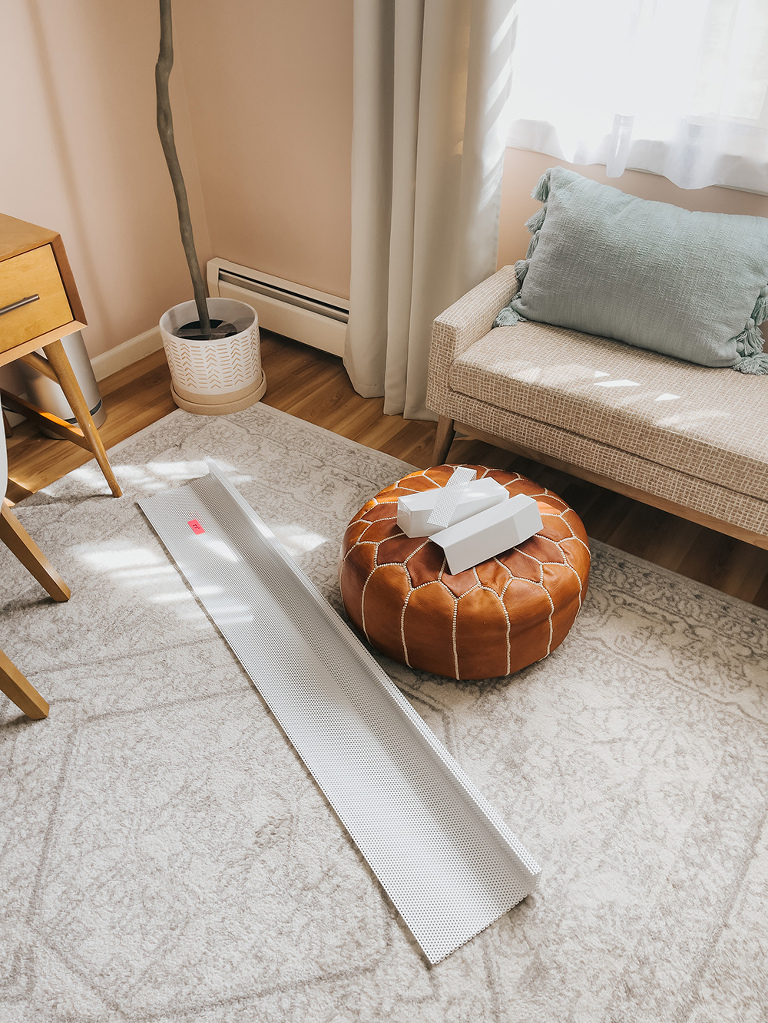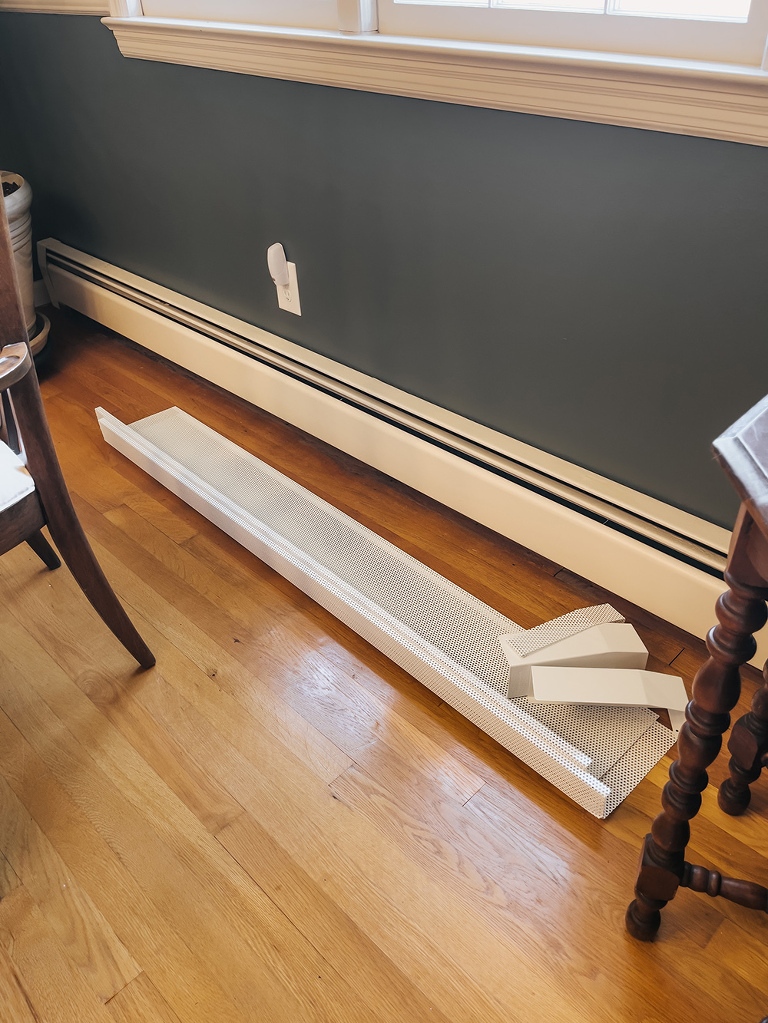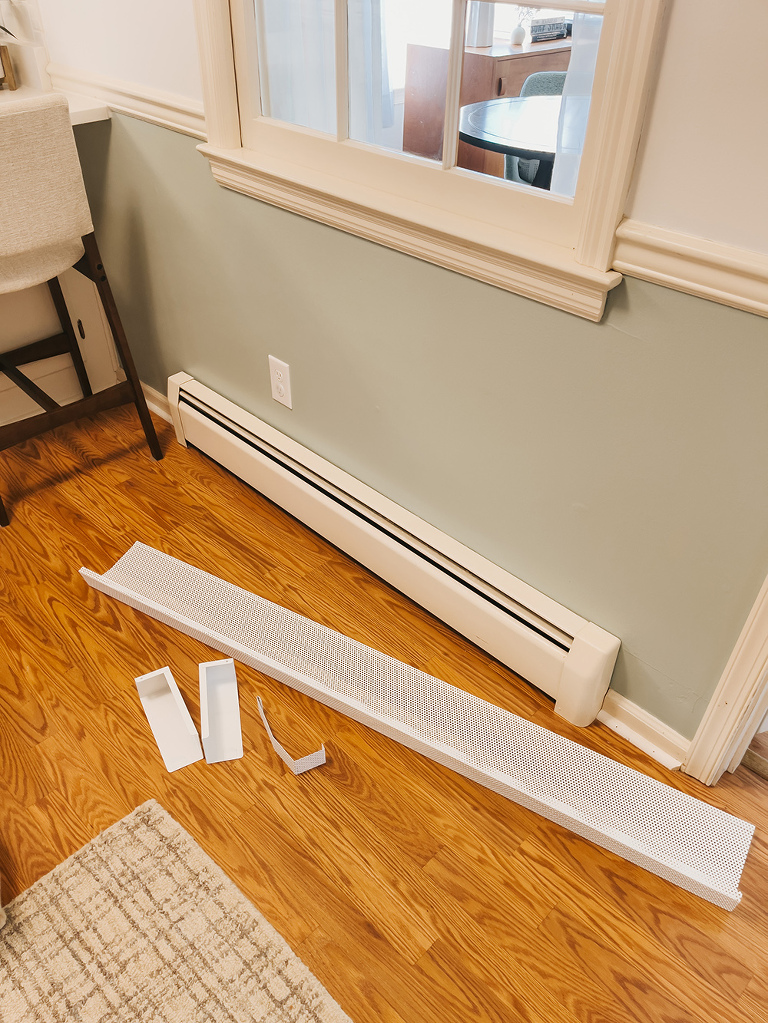 Since this was my first time installing anything like this in our home, I decided to start small. I chose three rooms and baseboard heaters to makeover: the ones in our nook seating area off the kitchen, our dining room, and my home office. I specifically chose rooms where the baseboard heaters were especially visible and unsightly to get the most "bang for my buck."
First, I removed the old baseboard heater covers, and measured the units exactly as directed on the Baseboarder's website. I measured the height from the floor, the height of the heater unit itself, and also the depth. It was really easy, and I had this task finished up in just a few minutes. Then I relayed those notes to the Baseboarders team, and they were able to set us up with the right covers for our home. A week later, the box of new covers arrived, and I got to work installing them.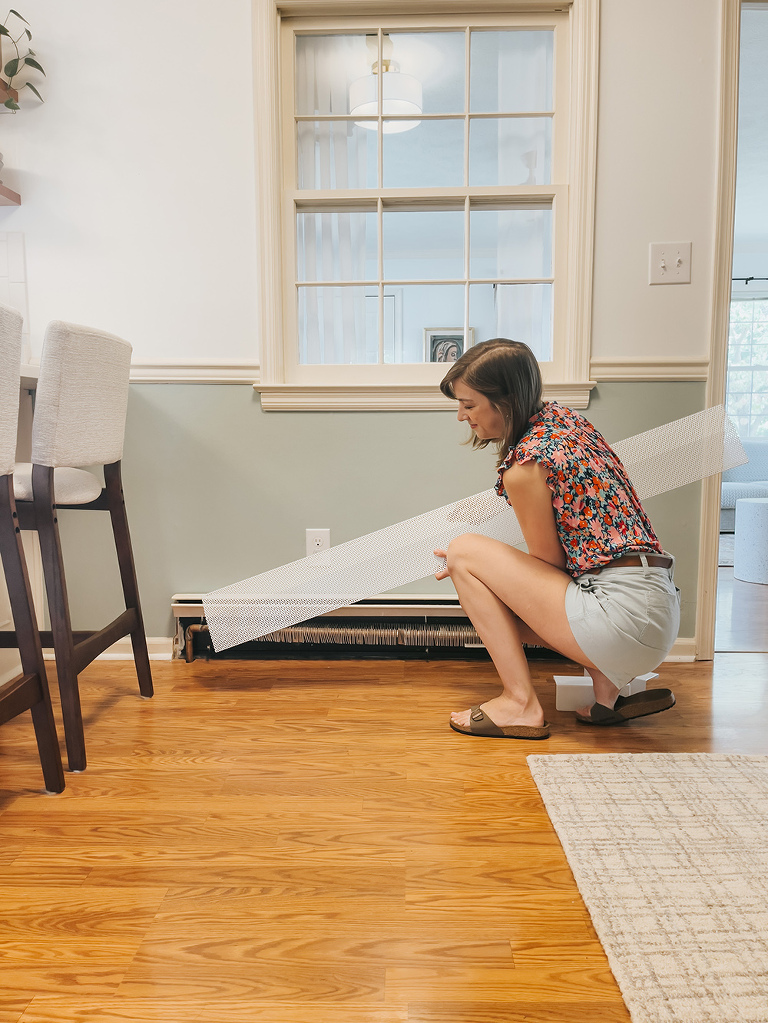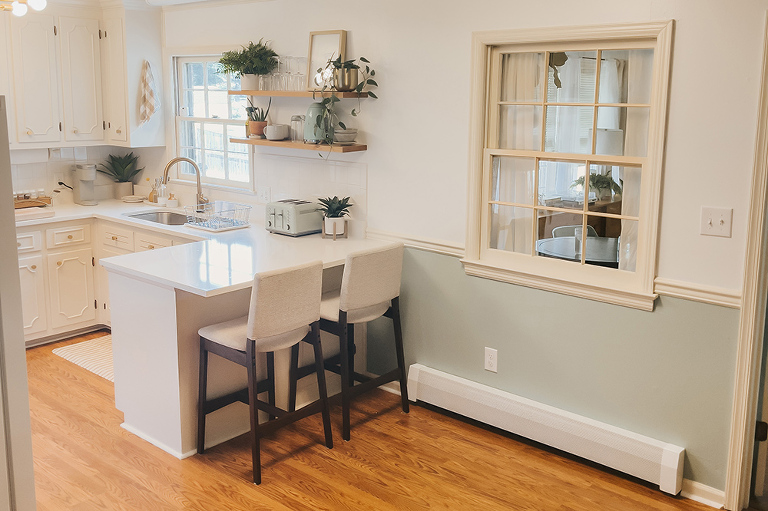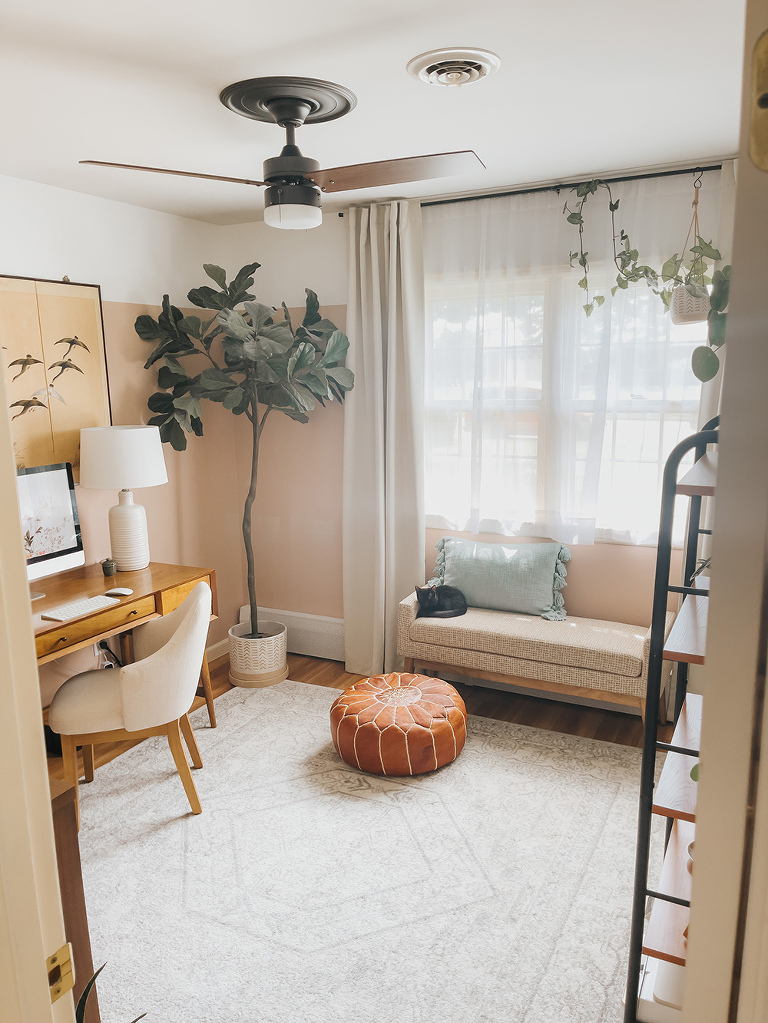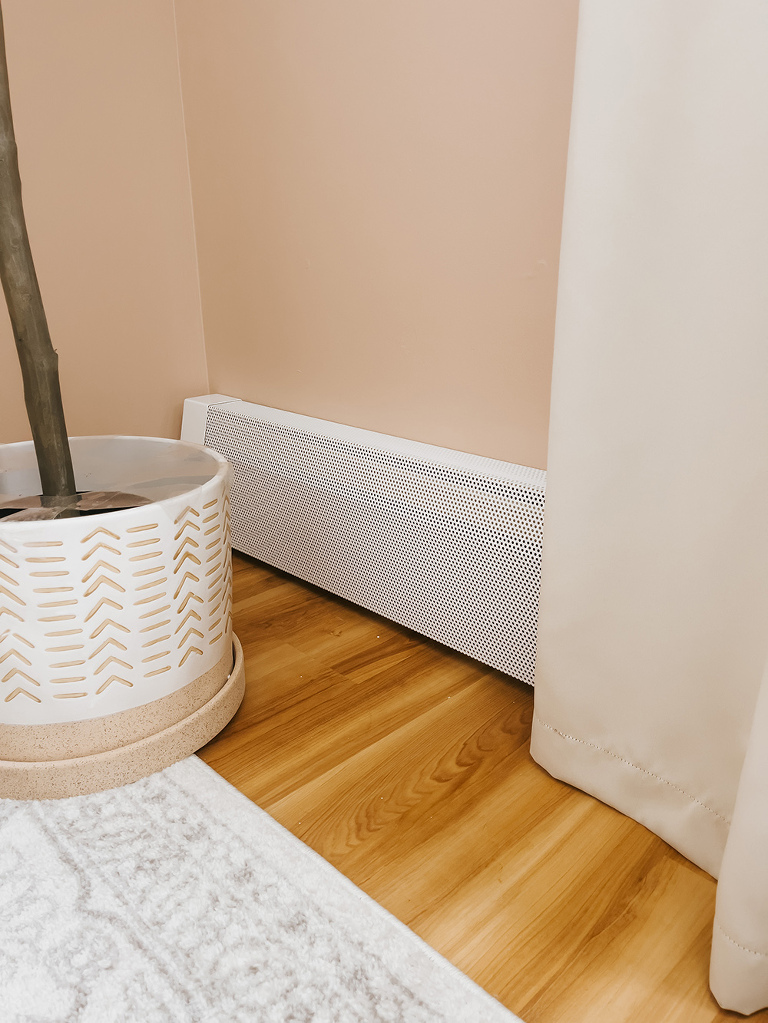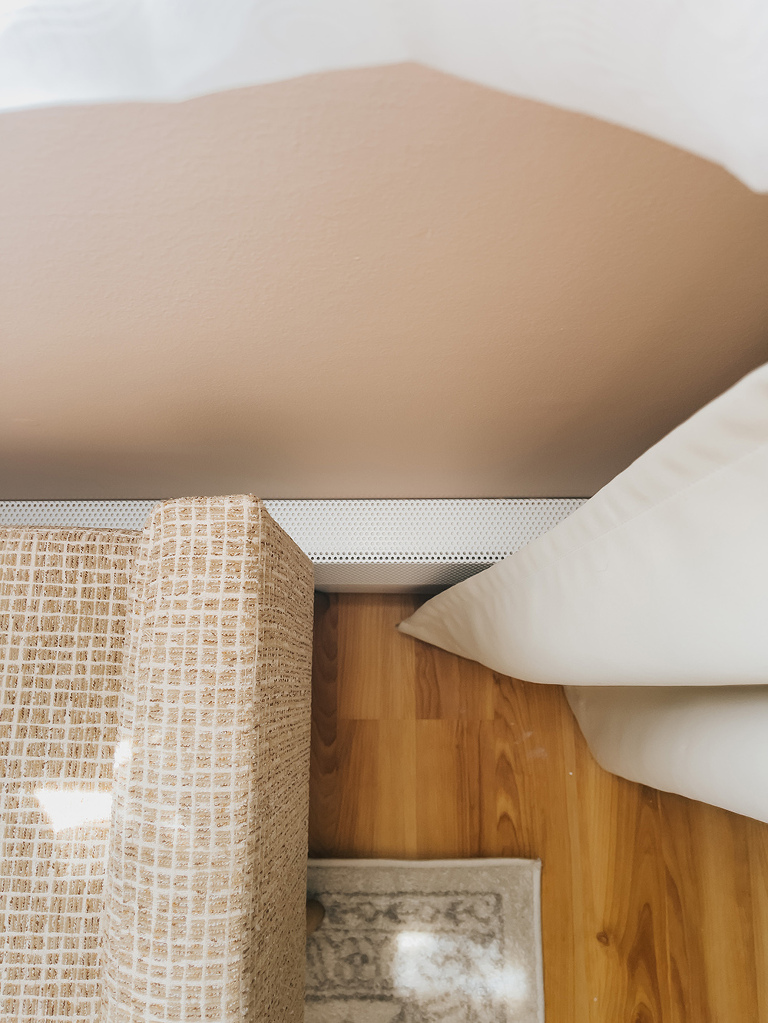 To be honest, I was a little nervous about installing the covers by myself since I had never done anything like that before, but it was SO EASY. I took off the existing baseboard heater end caps, removed the front panel, and then set those in storage in our basement in case we (or the next homeowners) decide to reuse or recycle them. Next, I unboxed our Baseboarders covers, slipped the new endcaps over the outer edges of the new Baseboarders front panels, and then lowered the entire assembly down over the existing bare baseboard heater unit.
Each Baseboarder assembly took about five minutes to install, and the finished result was awesome! The rooms we installed them in look so much more modern and fresh, and even though I was worried about how the bright white new units would look next to our off-white painted trim, I think the combo is really nice and clean looking.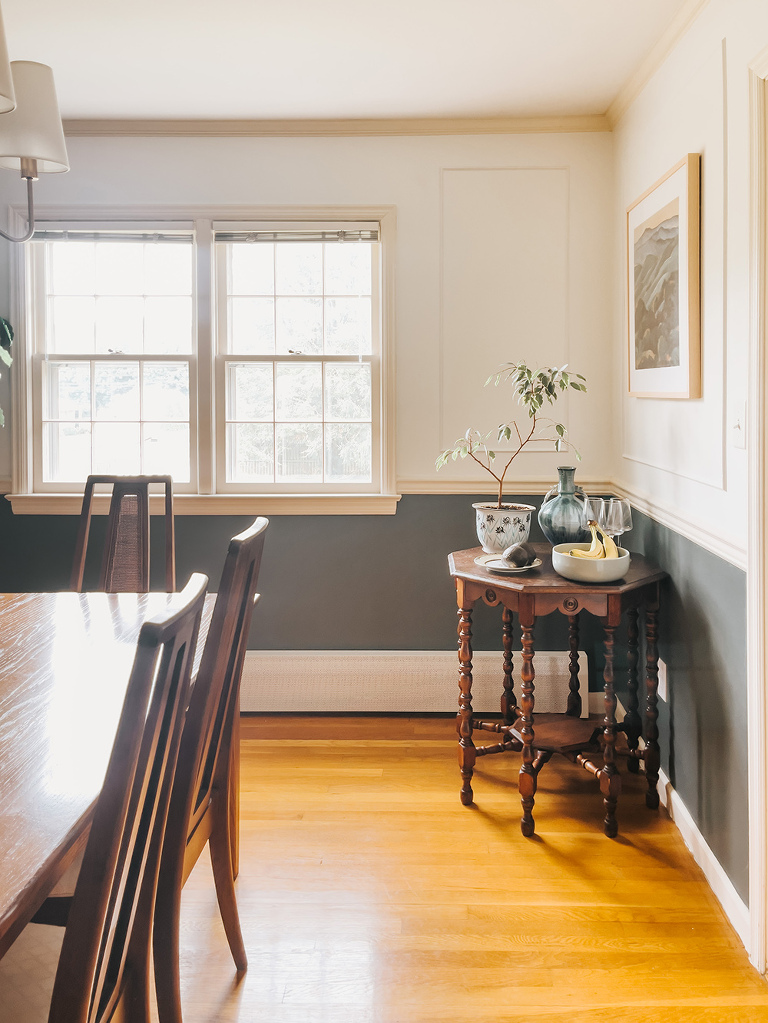 Click here to watch a short video, which does a great job of demonstrating the ease of installation, plus it gives a few more details about how the covers are physically made, too. I genuinely can't say enough good things, and have been telling everyone I know to get them! My parents are definitely considering upgrading their more visible baseboard heaters to these covers, and I have plans to continue replacing the rest of our own dated baseboard heaters with new covers later on this fall. I'll be sure to update the post if I run into any issues once they finally have some heat running through them in the wintertime, but I don't anticipate any problems at all. Leave a comment if you have a question, and either I or my Baseboarders rep will get back to you!