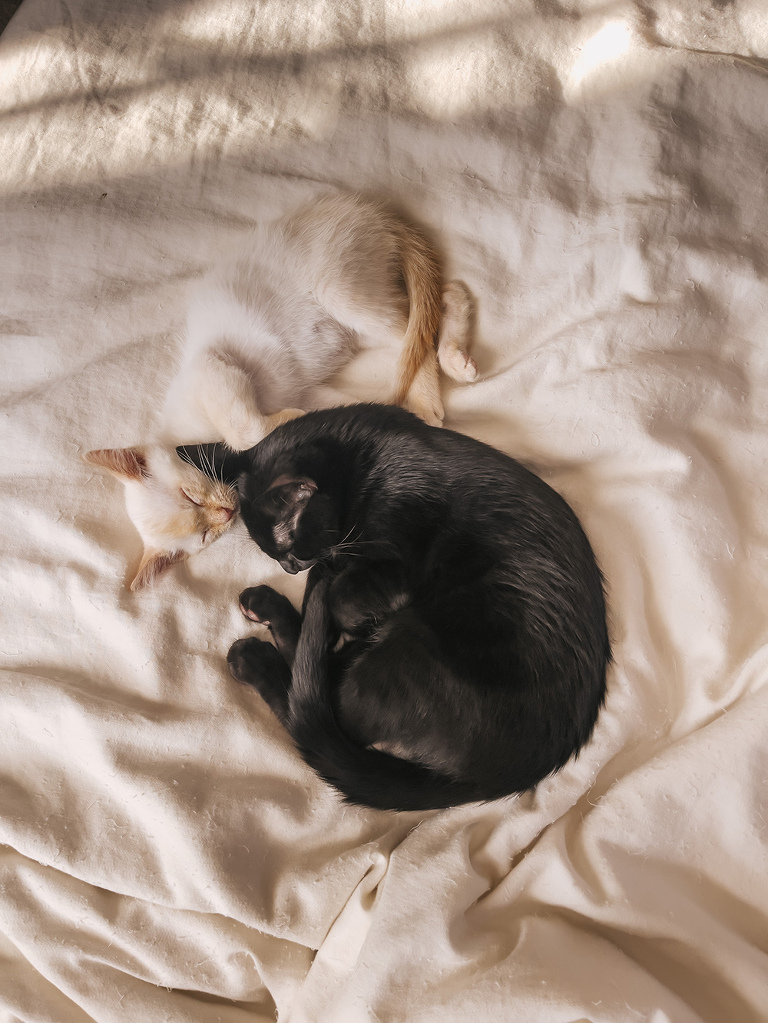 I've got big news to share today: John and I adopted a second rescue kitten! It's a bit of a long tale, so grab yourself a cup of coffee or tea, and settle in to learn all the details. This all started back in July. If you remember, we brought home our kitten, Marlo, after losing our older cat, Tonks, to Lymphoma. We've learned over the years that adopting after loss helps us heal, so it was practically instinctual for me to feel the urge to visit our local shelter after Tonks's passing.
You can read Marlo's adoption story this way in case you missed it, but I actually did my best to convince John at that time to let us adopt two kittens. I was reading up on kittens a lot in those days leading up to Marlo's adoption, and nearly every article I perused insisted that adopting two kittens was better than one. Having a playmate helps them adjust to their new home faster, and it also provides a distraction from biting or scratching humans—they just bite each other instead! Seemed like a win-win to me, but in the end we decided to adopt our single girl, Marlo. Again, full story this way so you can get a sense of our big picture.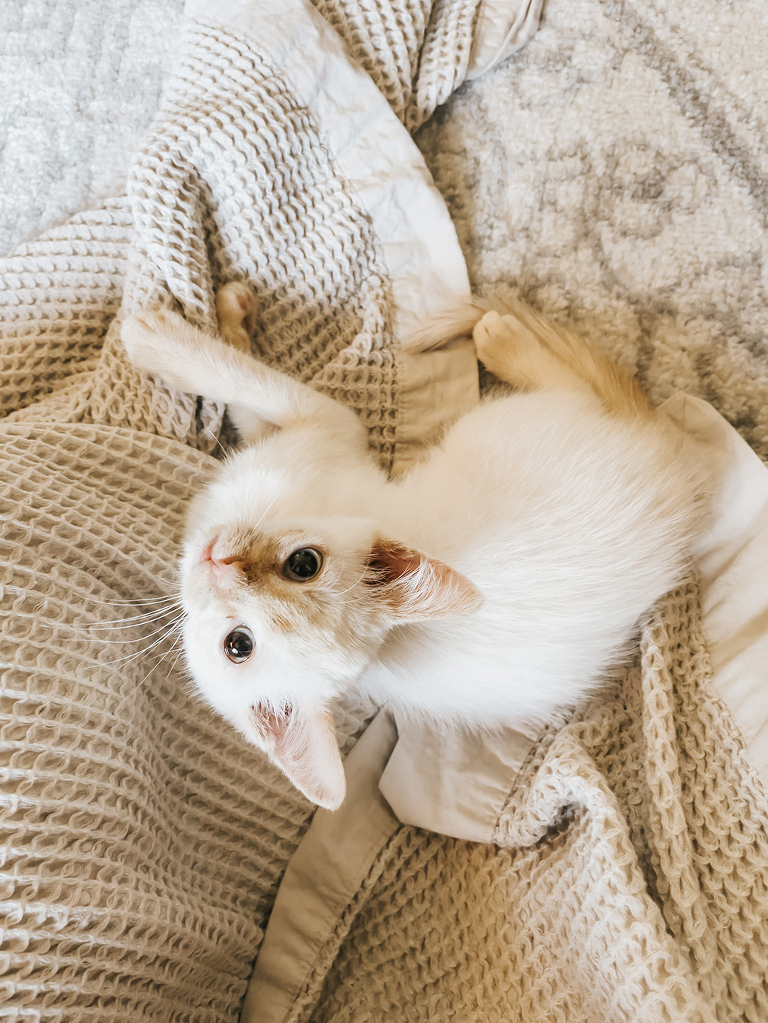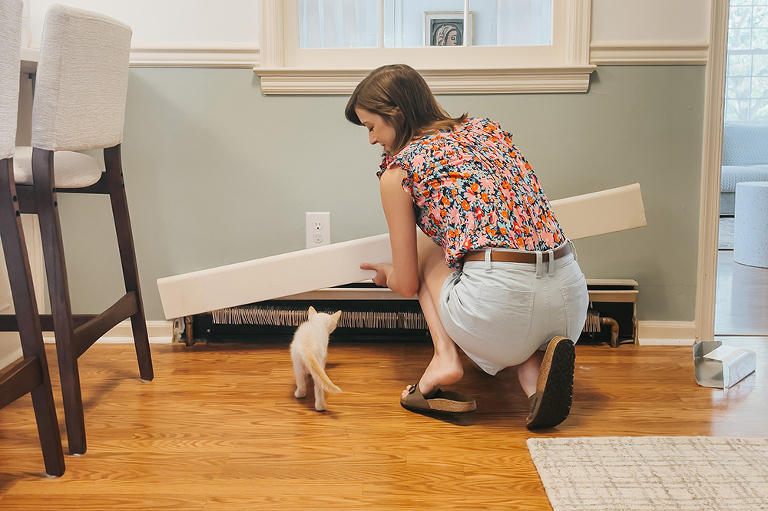 Right after bringing Marlo home, I called our vet to make an appointment for her first check-up. Shortly after getting that all set up, our vet called me personally to chat about Marlo. Our vet and I have gotten pretty close over the years as we've dealt with healthy and not-so-healthy fur babes, so she was excited to hear about our new addition. While on the phone with her, she tentatively asked the question, "Does Marlo want a friend…?" Turns out that our vet had performed an emergency medical intervention on a newborn Flame Point Siamese kitten who had a really bad abscess on his forehead, probably from a cat fight while living out in the country somewhere, she said. Our vet sent us pictures of the kitten, whom she had named Coconut Joe, and I immediately showed them to John.
The other simultaneous thing you need to grasp throughout this situation was the state of our other cat, Ginny. She was the last of our older pets at 15 years old, and had been dealing with kidney disease and hyperthyroidism for years. She was doing okay at that point, but definitely was starting to show her age. Ginny had been slowly losing weight ever since her diagnosis, and we knew that any additional years with her would be a blessing more than a guarantee. I asked John if he thought it would be worthwhile to go ahead and adopt this second kitten in need with the long-term outlook that we wouldn't adopt again after Ginny's eventual passing. In other words, this would be it for us for a while.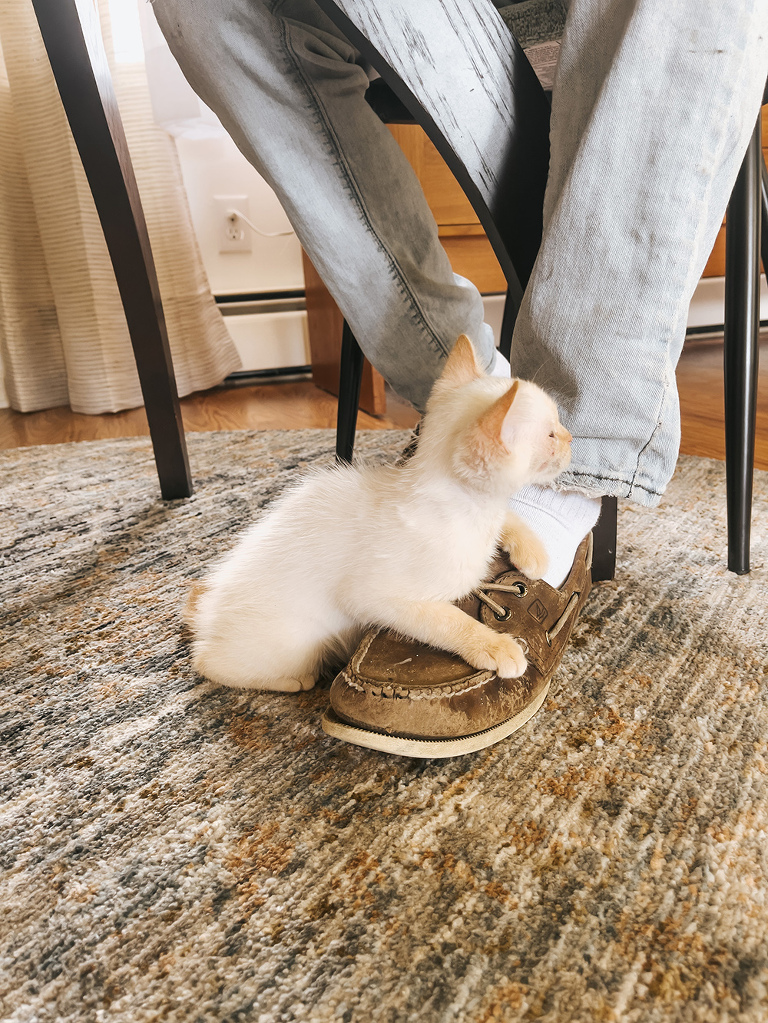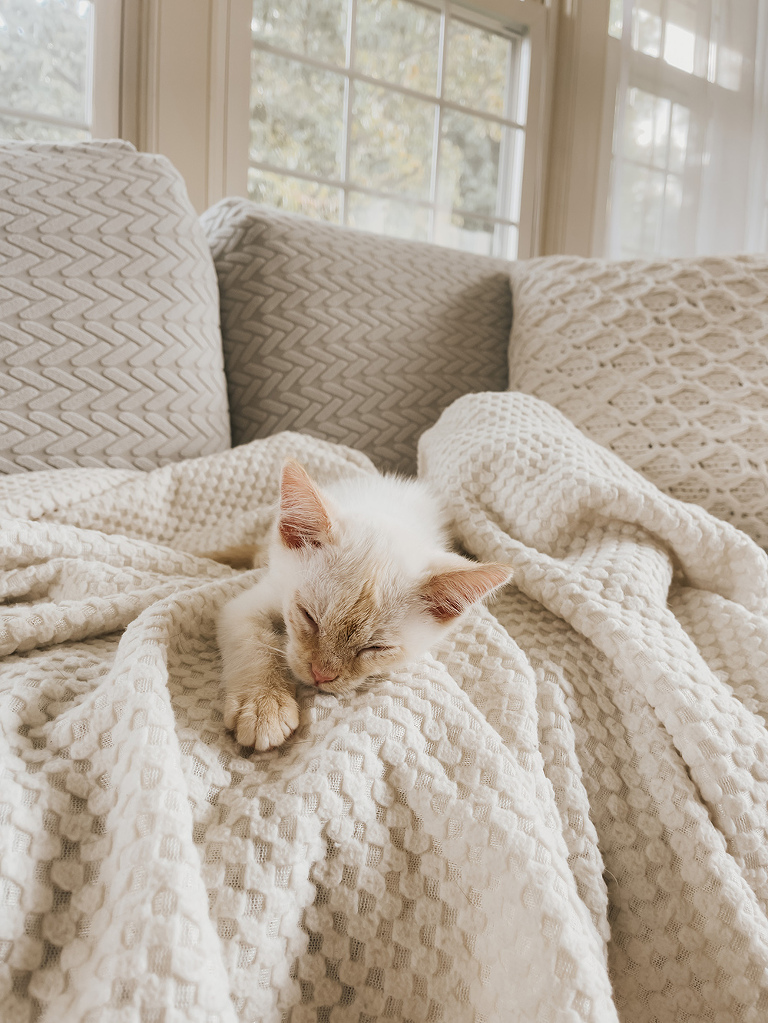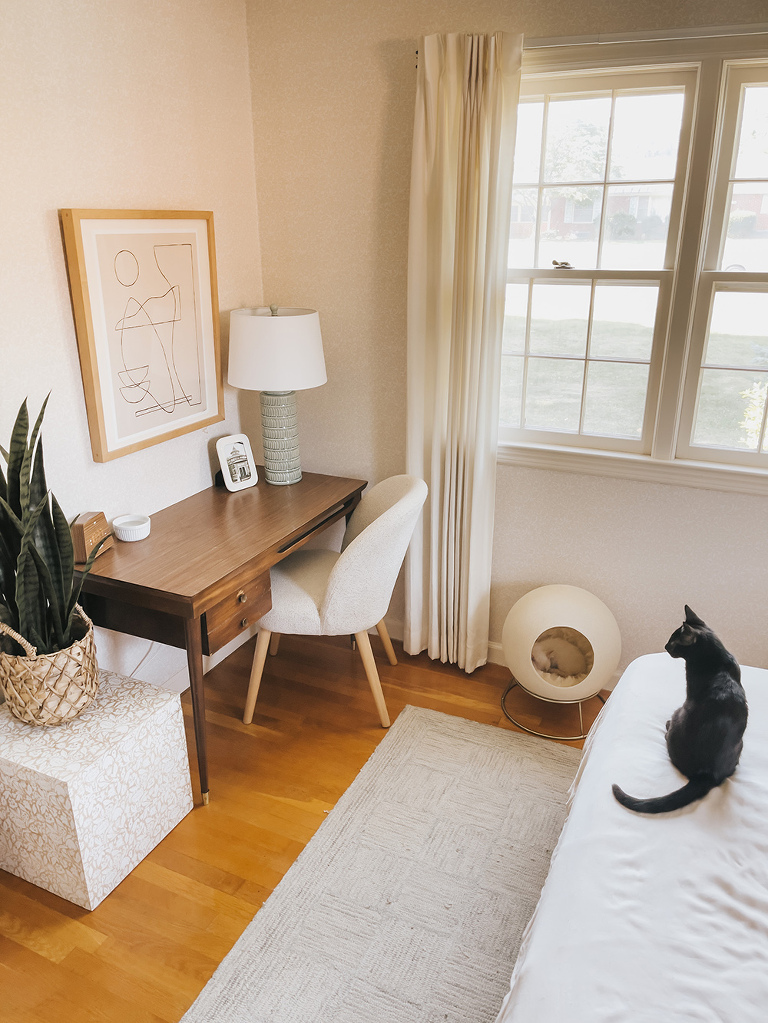 As you can probably guess from the photos in today's post, John and I decided to go for it! He and I are always asking ourselves what on earth we can do for our incredible vet, and generally we just don't know how we could ever repay her for all the care she gives our family. But when she mentioned this kitten who was in need of a loving home, I knew this was actually something we really could do for her. We said yes to Coconut Joe, and counted down the days until he joined our family in mid-August after healing fully with our vet in her own home.
This is when the story turns sad. I guess fate was gently nudging us in a very specific direction because Ginny's health started to unexpectedly plummet in early August. By the time Joe came home, it was clear that she was in pretty bad shape. She lost all of what remained of her weight, and the muscle loss resulted in her being super unsteady on her feet. She was still cuddly and oh-so-sweet with us and the kittens, but we knew that she was trying to tell us it was her time.
The photo below shows the kittens the morning that we said goodbye to Ginny. I remember coming upon them like this in a chair looking like a little heart and bursting into renewed tears. It was a really, really hard day, especially after losing Tonks just 45 days beforehand, not to mention all the stresses that come along with new kittens…But we got through it.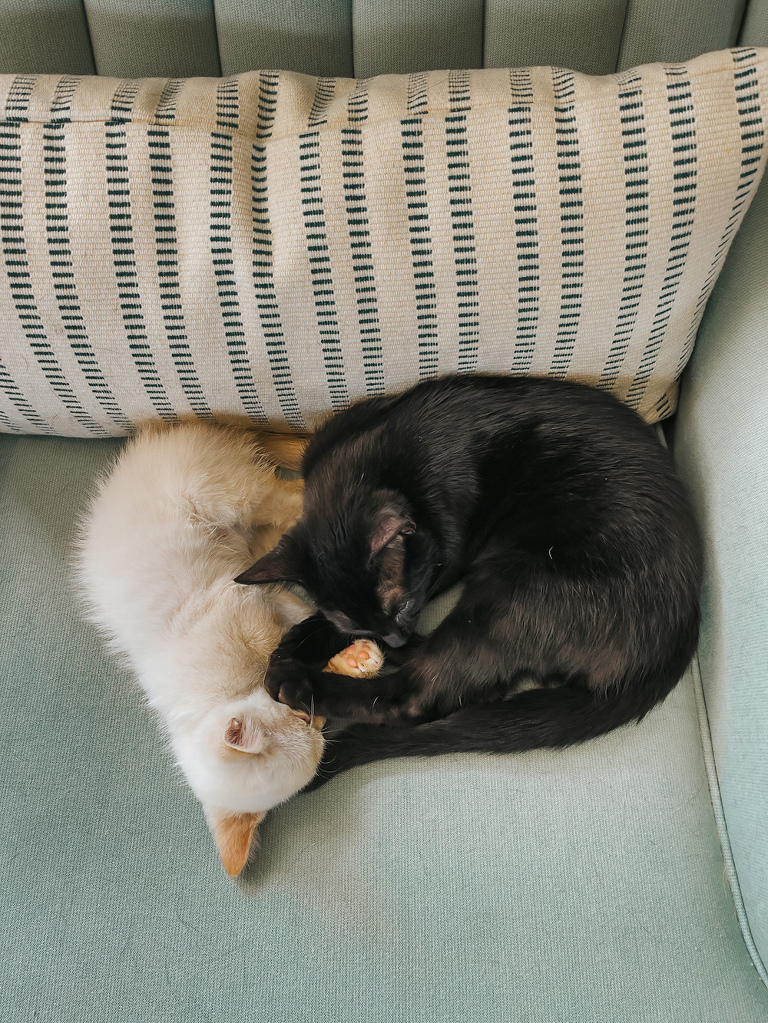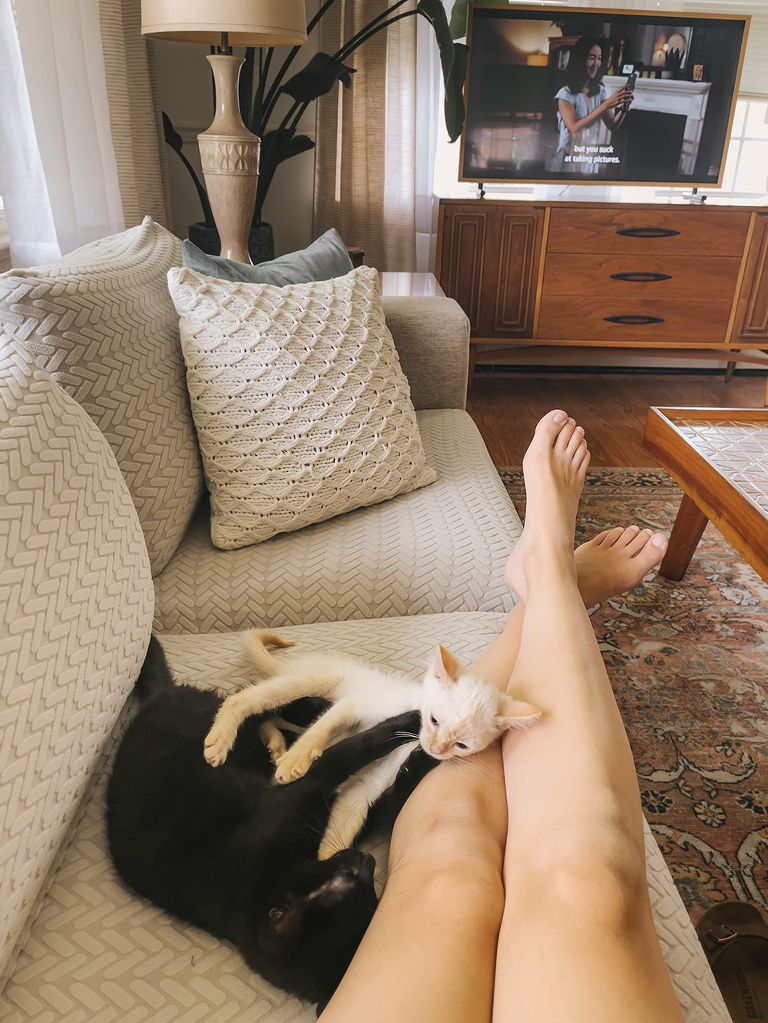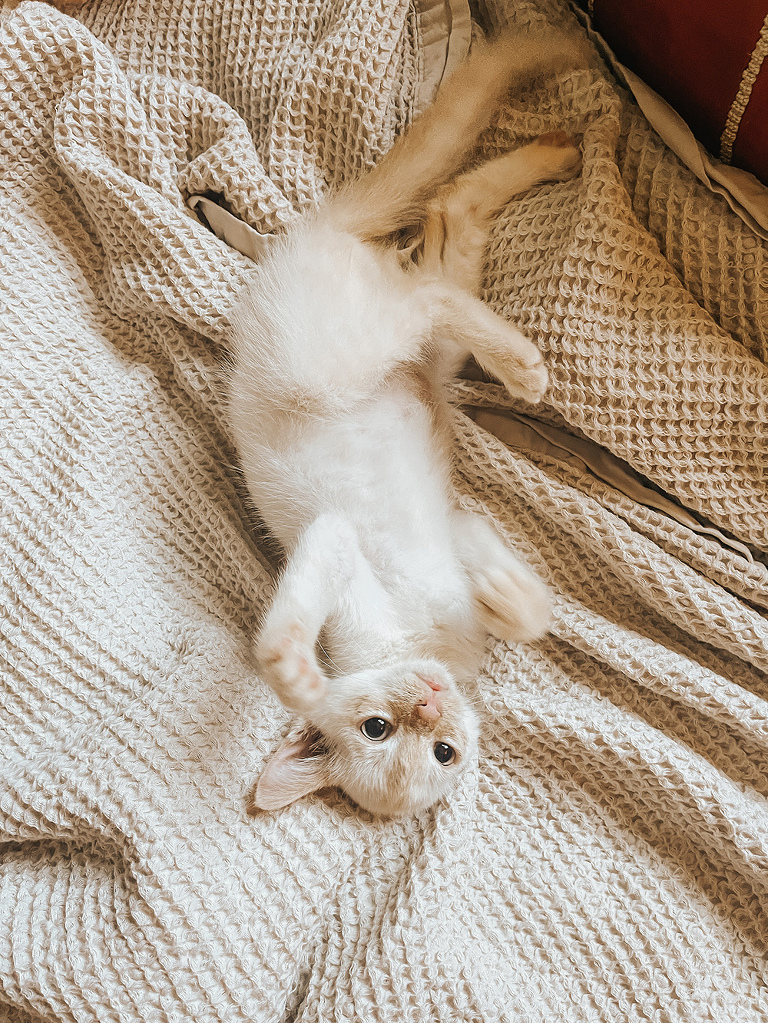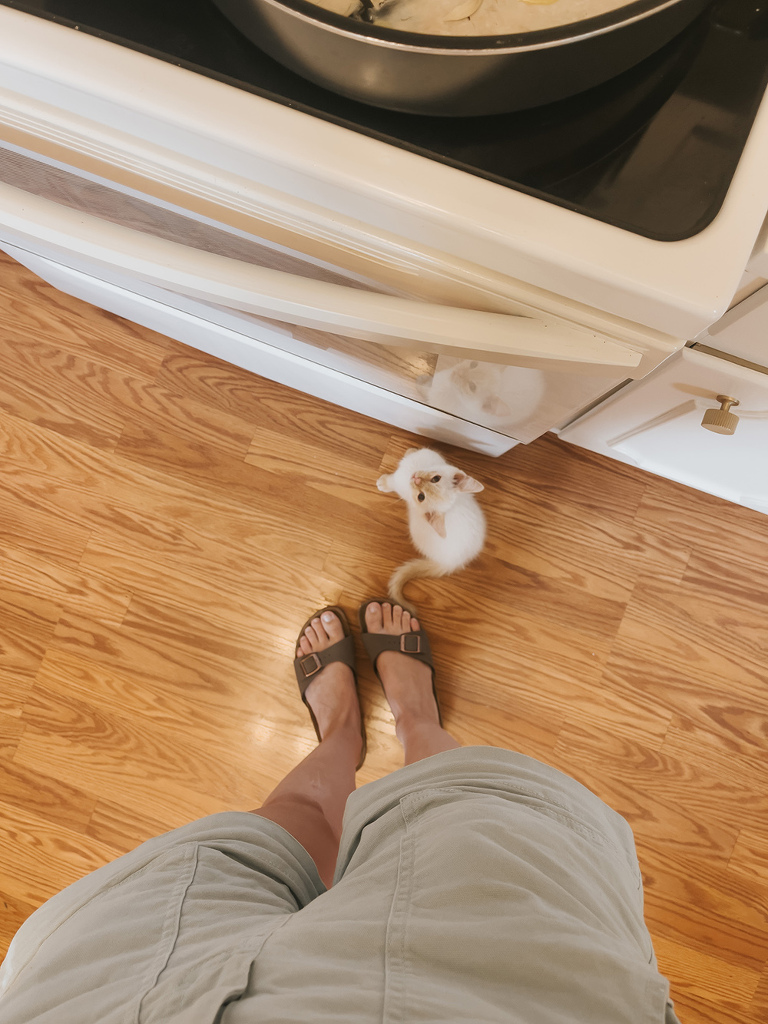 It has been a couple of weeks since Ginny's passing, and three weeks since Joe came home to us. Things finally feel like they're settling down a little bit, but I'll admit that it hasn't been the easiest transition. This summer kicked our butts, but we're so lucky to have these two beautiful kittens who love each other (and our dog, Chessie, too, of course!). I have plans to write a whole blog post about integrating new kittens into your home, so stay tuned for that in a little while if it's of interest to you. Until then, we miss you every day, Ginny, and we hope you're watching over your kittens. I'm so glad Marlo and Joe got to meet you before you left us. Sleep tight, sweet girl! And welcome home, Joe!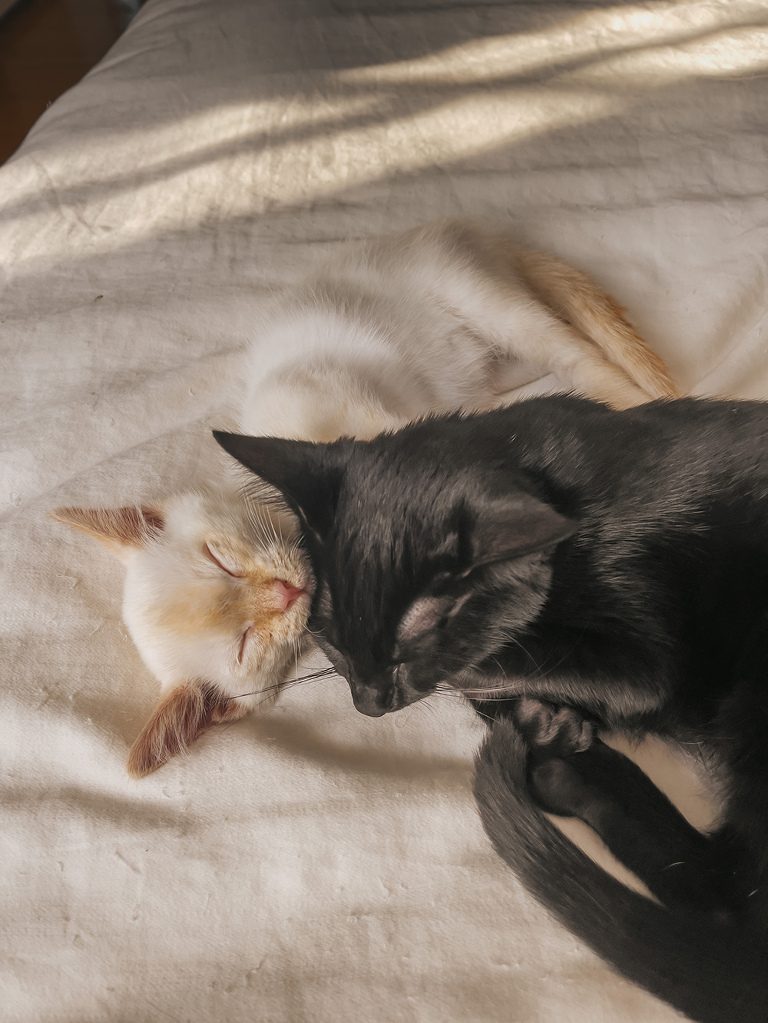 *I earn a small percentage from purchases made using the affiliate links above. Affiliate links are not sponsored. Rest assured that I never recommend products we wouldn't use or don't already love ourselves.