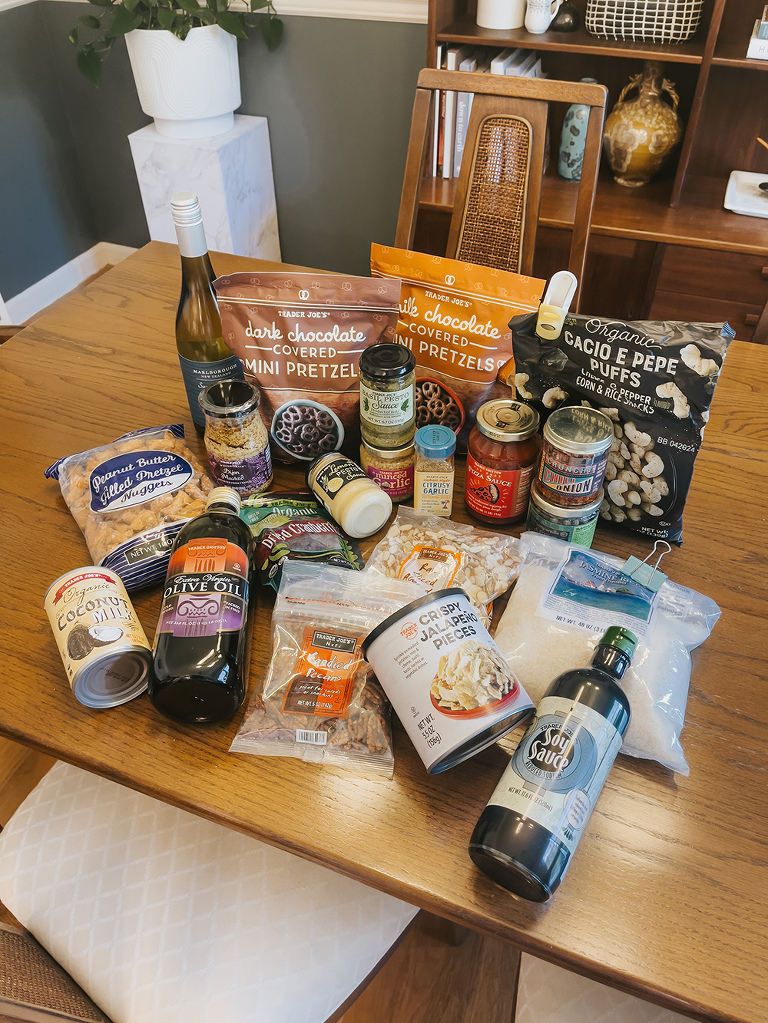 Like most folks, I'm pretty smitten with Trader Joe's. Maybe that's too big of an assumption (that everyone's a TJ's fan), but it seems like everyone I personally know has at least one or two specific items that they just can't live without from this grocery store. I don't think I could use Trader Joe's as my exclusive grocery shopping spot because I love things like fresh sliced deli meat and other specialty items that only larger grocery stores carry, but my mom and I definitely make a point of going to TJ's at least once a month to stock up on all of our favorites.
It's worth mentioning that it's a 35-minute drive to get to our nearest Trader Joe's, so we usually make a whole day of it, going grocery shopping, getting a nice lunch out, visiting our go-to antique stores in that area…You get the point! "Trader Joe's Day" is always such a blast, and I love doing a big stock-up of our favorite pantry staples. I also love seeing what everyone else's favorite TJ's picks are, so keep scrolling for details on all of my must-haves.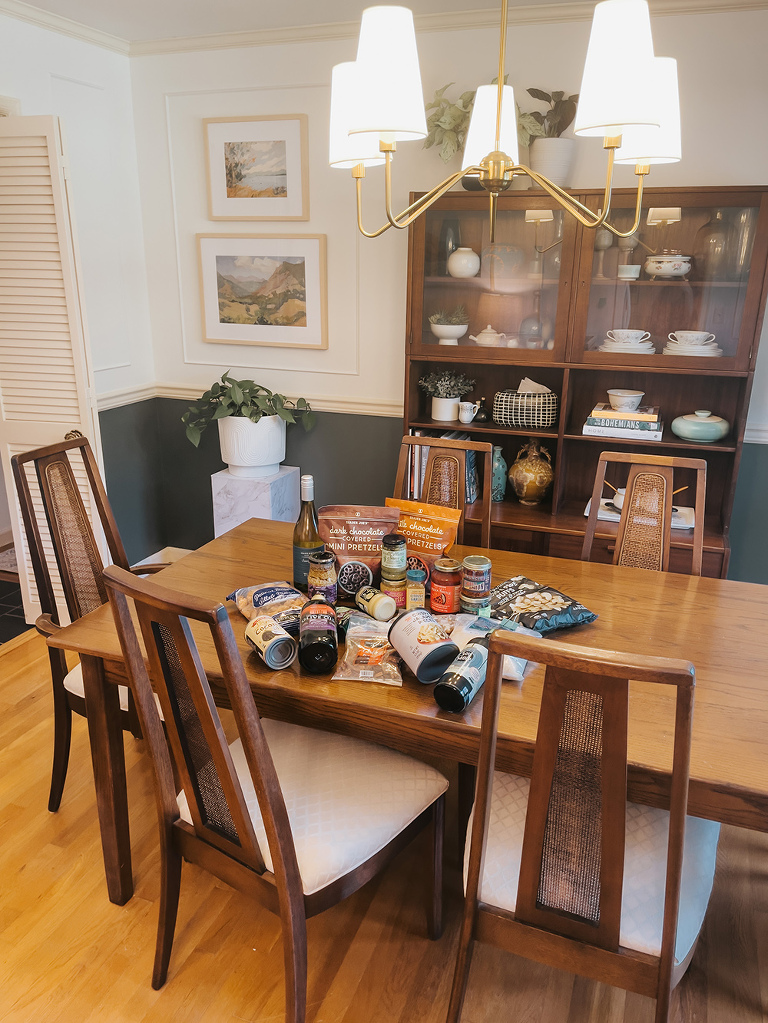 What I Always Buy From Trader Joe's:
1. Tuatea Marlborough New Zealand Sauvignon Blanc: This is the only grocery store wine I drink now—seriously! It's so light, refreshing, and flavorful, and at just $6.99 per bottle, I can stock up without blowing my grocery budget.
2. Milk & Dark Chocolate-Covered Mini Pretzels: We always keep a bag of these in our fridge. They're the perfect sweet and salty treat, and are even more delicious when chilled, in our opinion.
3. Cacio E Pepe Puffs: I bought these on a whim a month or two ago, and devoured them in record time. They're so tasty, with the perfect hint of zing from the black pepper. I could see this being a fun and unexpected addition to a cheese board.
4. Whole Grain Dijon Mustard: This mustard is such a nice upgrade from regular dijon because of the addition of whole mustard seeds. It gives any sandwich a delicious burst of texture. We also use it in homemade chicken salad.
5. Lemon Pesto Sauce and Basil Pesto Sauce: I love TJ's pesto of any kind. It's so fabulous mixed in with pasta, or used to add punchiness to an English muffin with an egg on top. Just make sure you use it fast because I've found that it does go bad quicker than other grocery store pestos.
6. Cuban Style Citrusy Garlic Seasoning Blend: I. Love. This. Seasoning. I put it on practically any savory dish I eat. From turkey sandwiches and chicken salad, to pastas, eggs, and potatoes. I'm obsessed with that zesty citrus flavor.
7. Crunchy Chili Onion: John and I just started using this to add heat to our meals since our favorite sambal oelek seems to have disappeared from all of our available grocery store shelves. It's really delicious and gives our entrees exactly the right pop of spiciness every time.
8. Peanut Butter Filled Pretzel Nuggets: Hands down, this has been my favorite go-to snack for years and years. I grab just three of these little pretzels when I feel that afternoon cranky hunger coming on, and it helps satisfy me until dinner.
9. Jasmine Rice: We use this for every single rice bowl or curry base we make! Here's our go-to recipe for coconut rice, which is how we always do it. Combine it with TJ's Organic Coconut Milk to stay on brand, if you want to.
10. Candied Pecans: I love adding these to at-home cheese boards. Sometimes you just need a little something sweet with all that bread and cheese, ya know?
11. Crispy Jalapeño Pieces: We loooooooove these as a spicy taco topper. The added crunch is a nice bonus, too.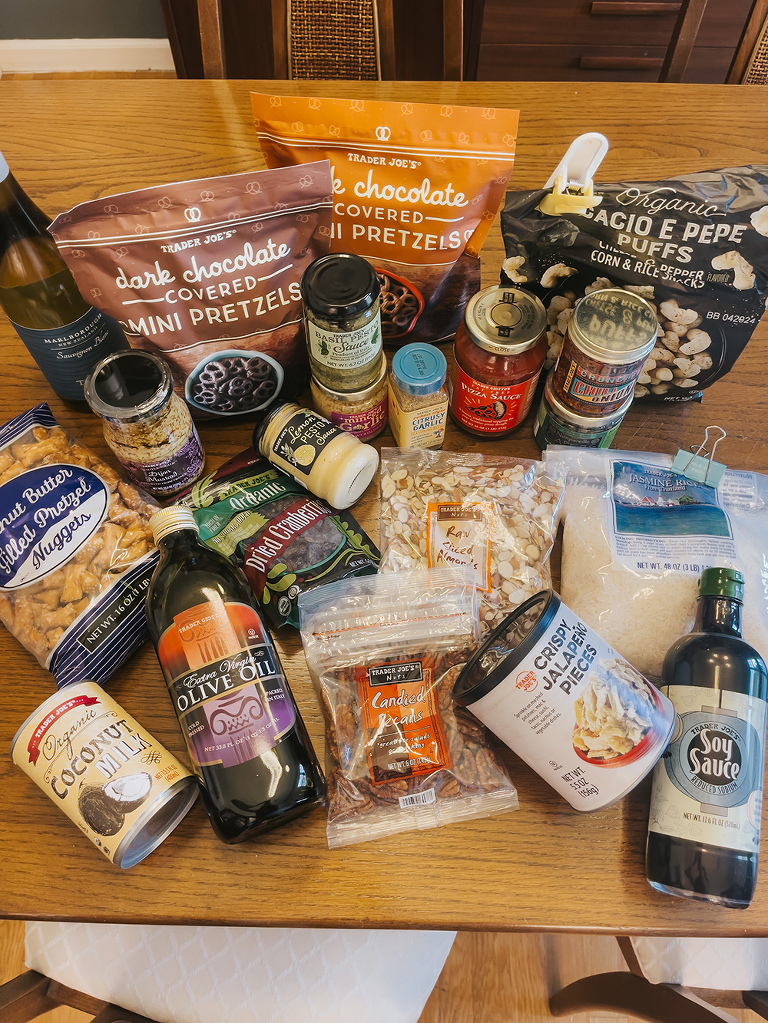 I didn't call out things like pizza sauce, capers, dried cranberries, sliced almonds, olive oil, soy sauce, etc. because those particular pantry staples don't really need an explanation, but I do love getting them specifically from Trader Joe's. They're often organic, which is pretty important to us, and the price is definitely better than what we'll find at our local "big box" grocery stores in town. Did I leave off your favorite TJ's pick(s)? Let me know in the comments what you always stock up on when shopping at Trader Joe's.