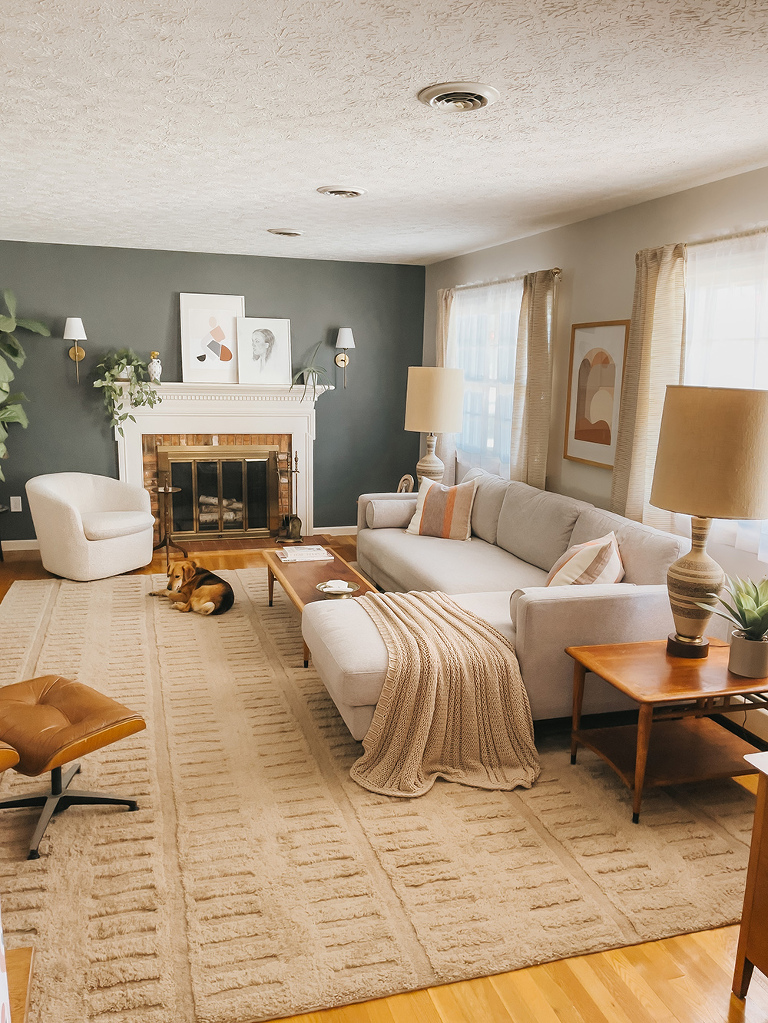 *This post was made possible by the generous support of Simpli Home, and features gifted product. All opinions are my own.
As much as it pains me to admit this, you really need to live in a new space before you can make firm design choices. I'm a very impatient person, so having to wait to pull the trigger on things like paint color, furniture, and lighting is kind of excruciating. But jumping the gun before you know how a room functions usually results in several false starts that will leave a person scrambling—or worse, wasting money. I know this from experience.
Take our living room, for example. I thought the old green sectional from our old house would be dreamy in our new home's living room, but it turns out that the covered porch and giant maple tree out front block so much of the natural light, that this room stays dark pretty much all day every day. The dark green sectional sucked up all of the scant amount of light we did get, making the room look even darker.
One year later, I was finally willing to give in and we got a new lighter colored sofa to help solve some of our brightness issues. We chose the brand new Morrison Sectional from Simpli Home for our space, and absolutely adore it. The light gray woven-blend fabric instantly brightened our living room, and I can't get enough of the clean mid-century-inspired lines of this couch.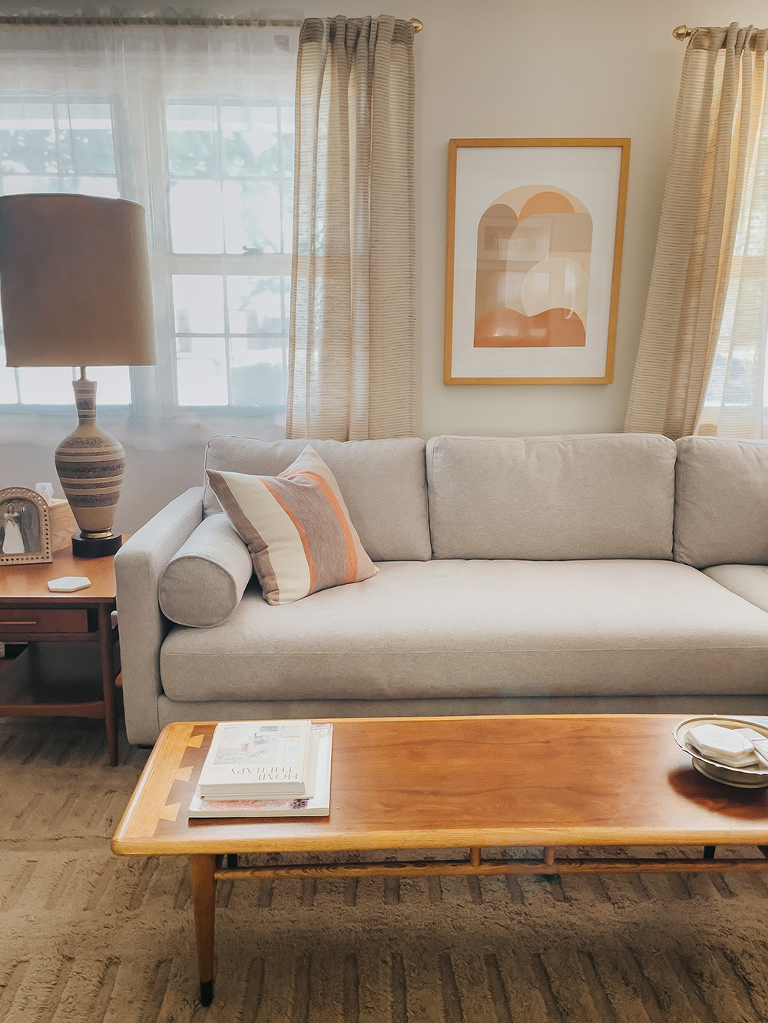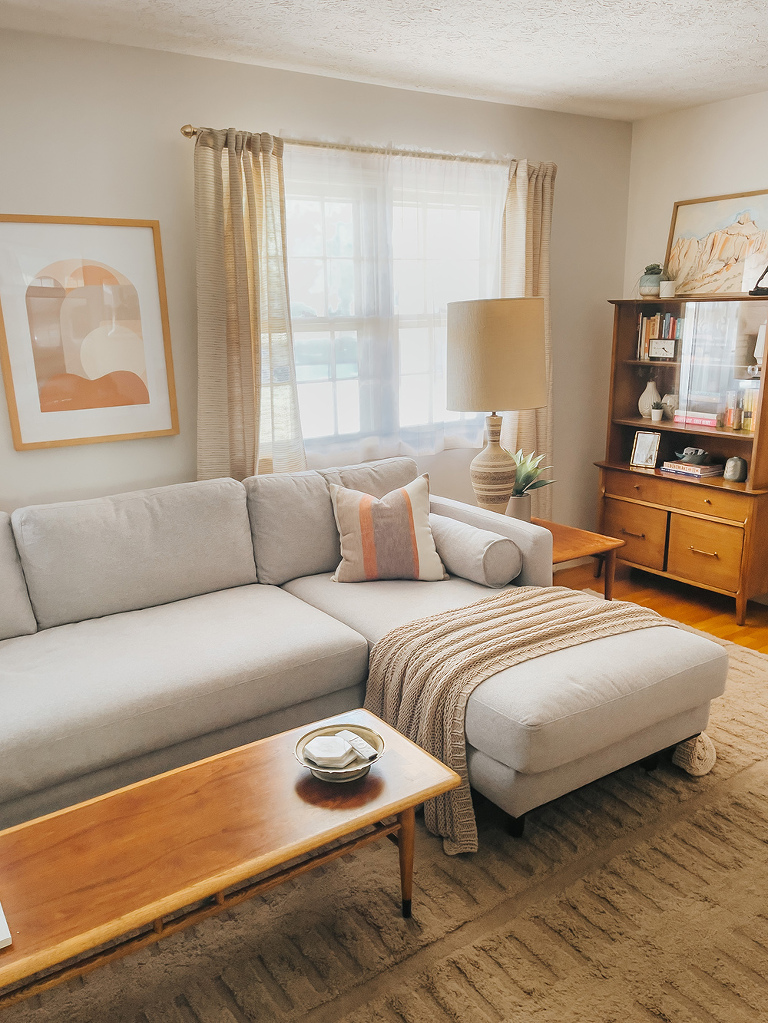 Simpli Home actually just launched this line of upholstered sofas, and gave me a chance to be one of the first families to test them out. First of all, what an honor! And, second, I can safely say that we're smitten. There are so many things to love about this couch. The price point is pretty awesome—it's not easy to find a well-made couch for under $1,600—but I also really appreciate the eco-friendly polyester-blend fabric. It meets both the Global Recycled Standard and OEKO-TEX® STANDARD 100, and is made with 56 percent recycled polyester without any harmful chemicals.
The cushions are plush-yet-supportive and hold their shape well. We've had the couch now for about a month, and haven't had any problems with overly slouchy cushions that need constant fluffing. It's the perfect combination of firm and soft, and I've even noticed that the spot I use most often (the chaise) seems to be a little softer now than the other side of the couch. In other words, it gently softens over time with use, which I love. I also really adore the long single bench seat cushion beside the chaise. It helps this couch look a little more contemporary and clean, and makes it more comfortable for lots of people to sit on, too—no need to worry about someone having to sit overtop of a cushion "crack"!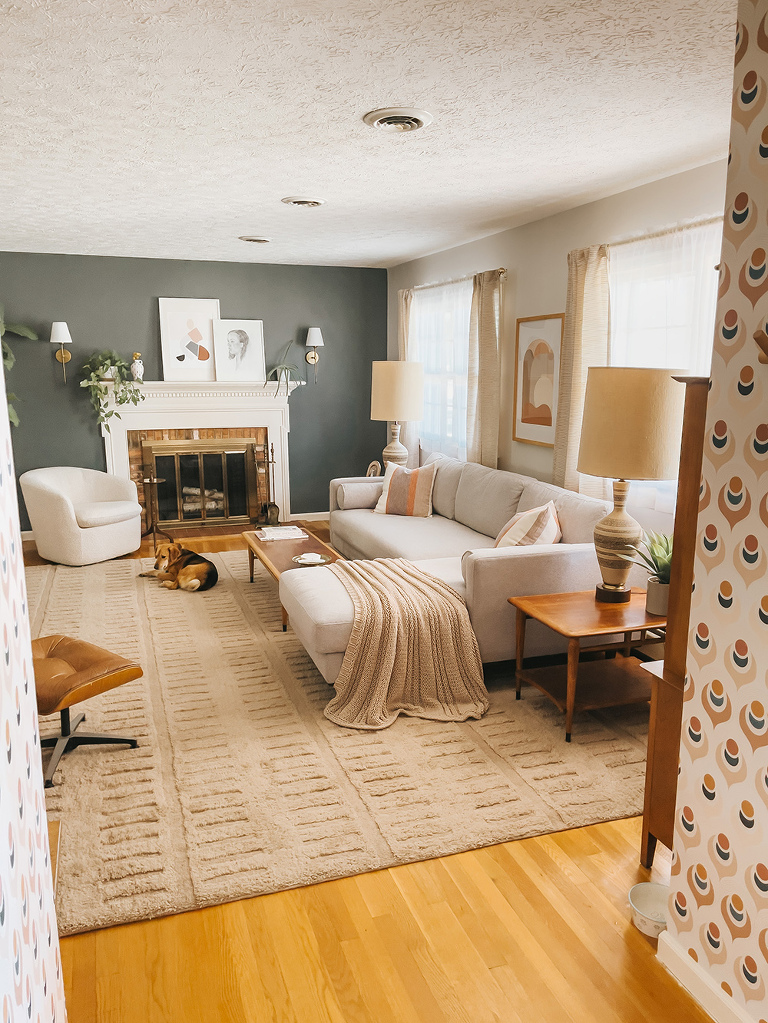 Long story short, we love our new sectional sofa. As I mentioned, I wanted something lighter in color to brighten our dark living room, and this couch upgrade worked like a charm. The crisp gray tone of this couch is a really nice complement to our mod aesthetic, and works well in a darker space without much natural light. I couldn't recommend it more if you're in a similar situation. By the way, this couch also comes in leather, plus lots of other silhouettes and sizes that don't include the chaise. I just wanted to mention that in case your room won't work well with a sectional sofa. Comment if you have any questions!
Pssst…You can watch us assemble and arrange the new sofa here over on my Instagram! Oh, and don't forget to use my code "CARRIE5" to score 5% off your own sofa purchase.