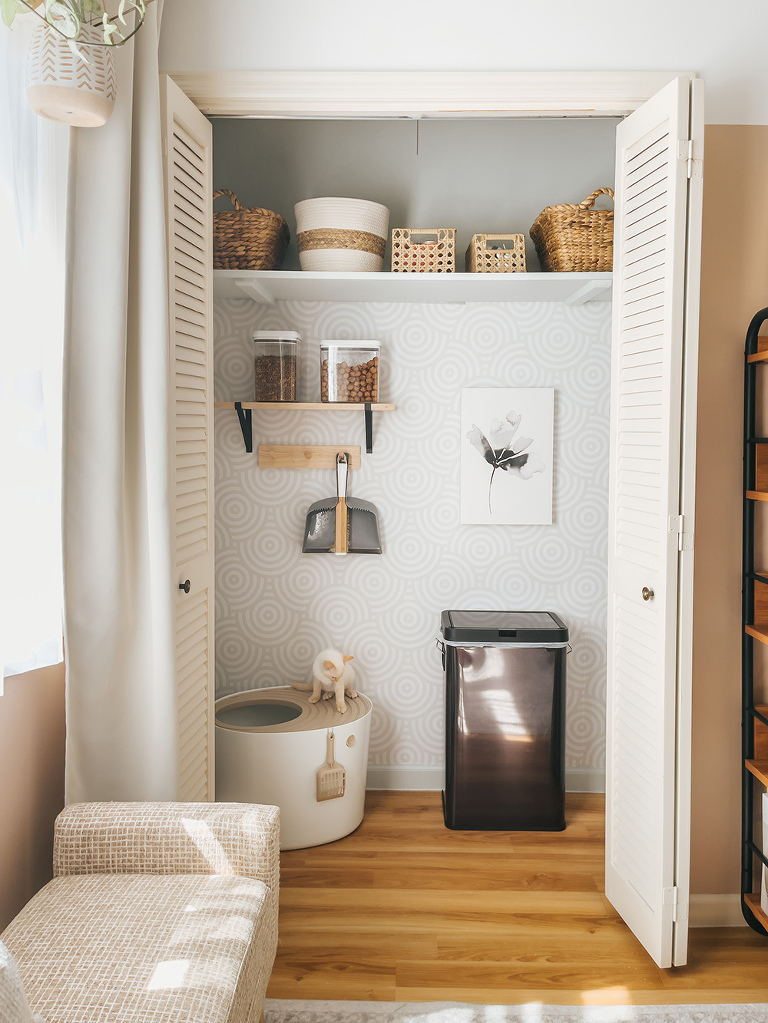 *This post was made possible by the generous support of Fancy Walls and features gifted product. All opinions are my own.
Call me crazy, but I'm back with yet another pet closet makeover! If you're just tuning in, my husband John and I adopted two rescue kittens over the summer—one special needs flame point siamese boy named Joe, and a rambunctious black female we named Marlo. They have been a handful, to say the absolute least, but also the joy of our lives this past month or two. As two child-free adults, our pets are our world, so we would clearly do anything for them, as you'll see in today's post.
Here's the thing. Parents of human children take time and money to decorate their kids' rooms and bathrooms, so I think we're just living those same instincts by turning two of our underused extra bedroom closets into stylish litter box cubbies for our kittens! I feel the need to make this statement because I have been getting some unexpected flack from people on the Internet about turning a "precious closet" into an overly stylized litter box room. I get it, it's a little silly! The thing is that we were really lucky to find a home with a massive unfinished basement that we can use to store all of our extras in. There's, frankly, no need for us to have these two closets act as anything other than litter zones, so that's what we chose to do!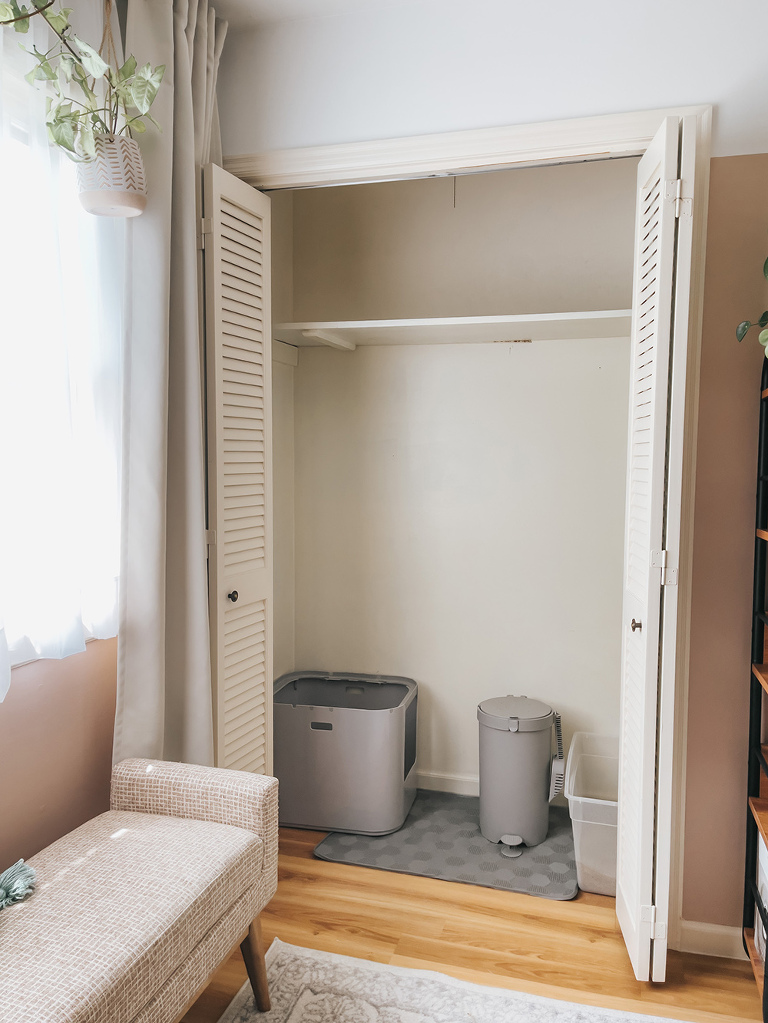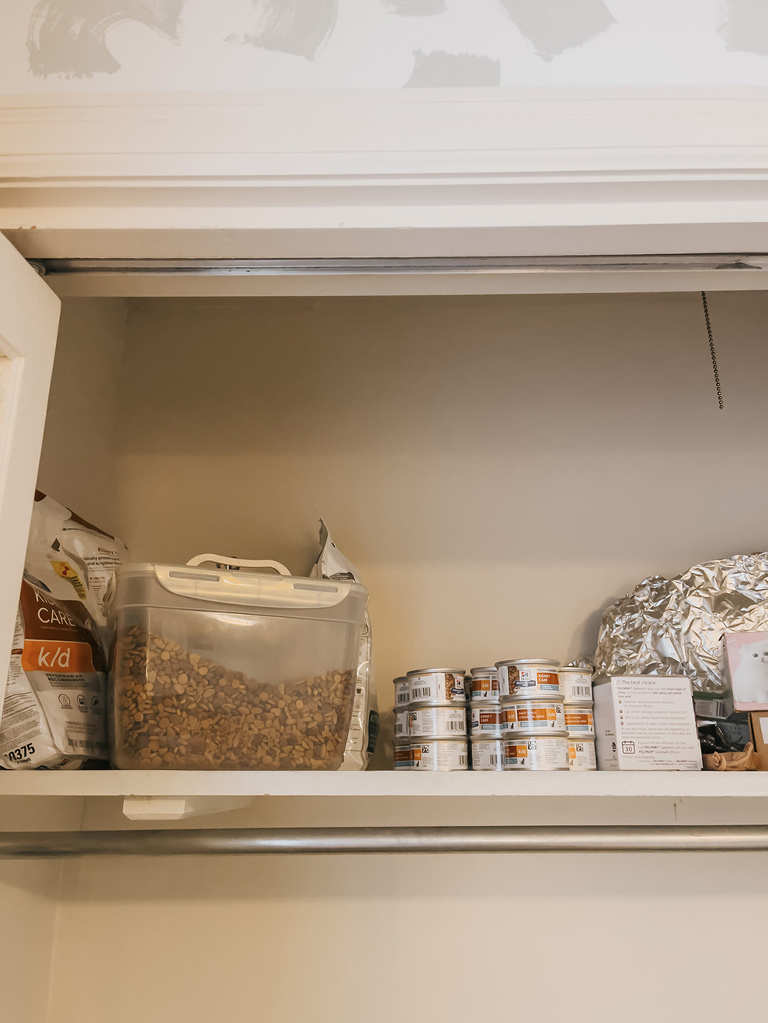 You can see the first litter closet we created in our guest room here using paint and stylish organization accessories, and today I wanted to talk through how we've made over my home office closet into a second litter haven for the kittens. This time I decided to take things one step further by using wallpaper. I've been a big fan of Fancy Walls peel-and-stick wallpaper ever since using it last year in our old home's dining room. Their wallpaper products are easy to work with, and have such major impact on the design of the rooms we put them in. I knew this litter closet would be no different.
The other cool thing about Fancy Walls wallpaper is that you can contact their team to print their products in custom colors. I had already painted our litter closet in "Sea Salt" from Sherwin-Williams, so I wanted to color-match our new "Retro Circles" wallpaper to match that for a cohesive look from top to bottom (I didn't plan to wallpaper above the existing shelf, so the new wallpaper needed to match the paint). Fancy Walls was able to do that for me, and sent a sample so I could confirm. It looked fabulous, so I went ahead and ordered the entire run of wallpaper to cover our closet.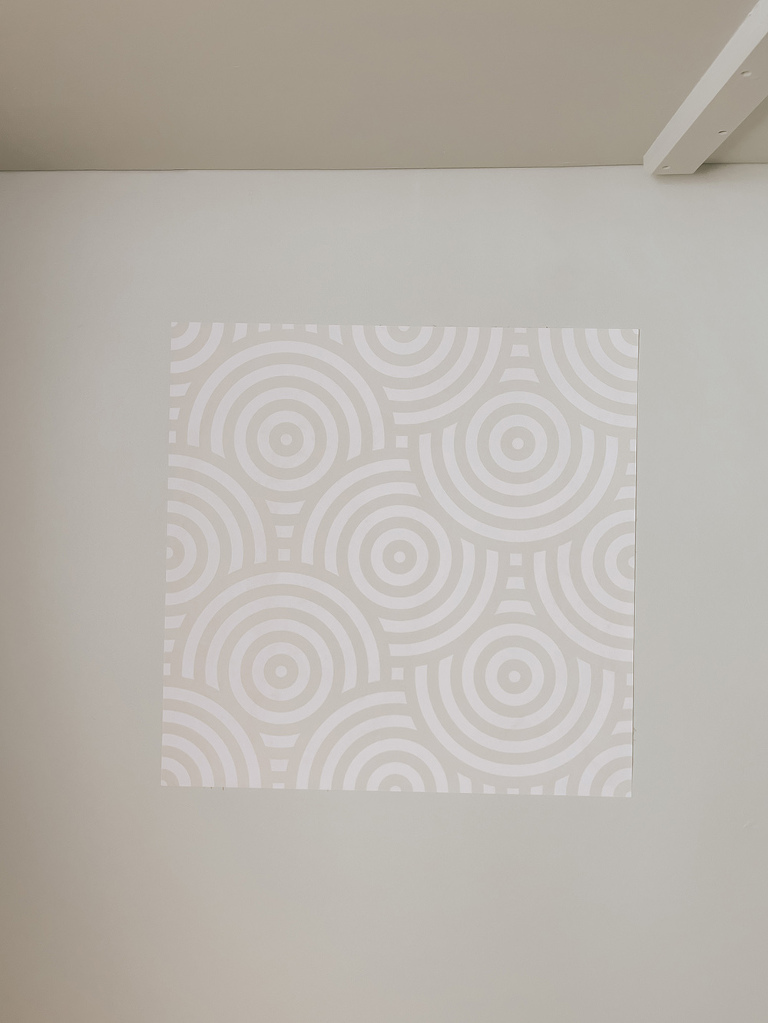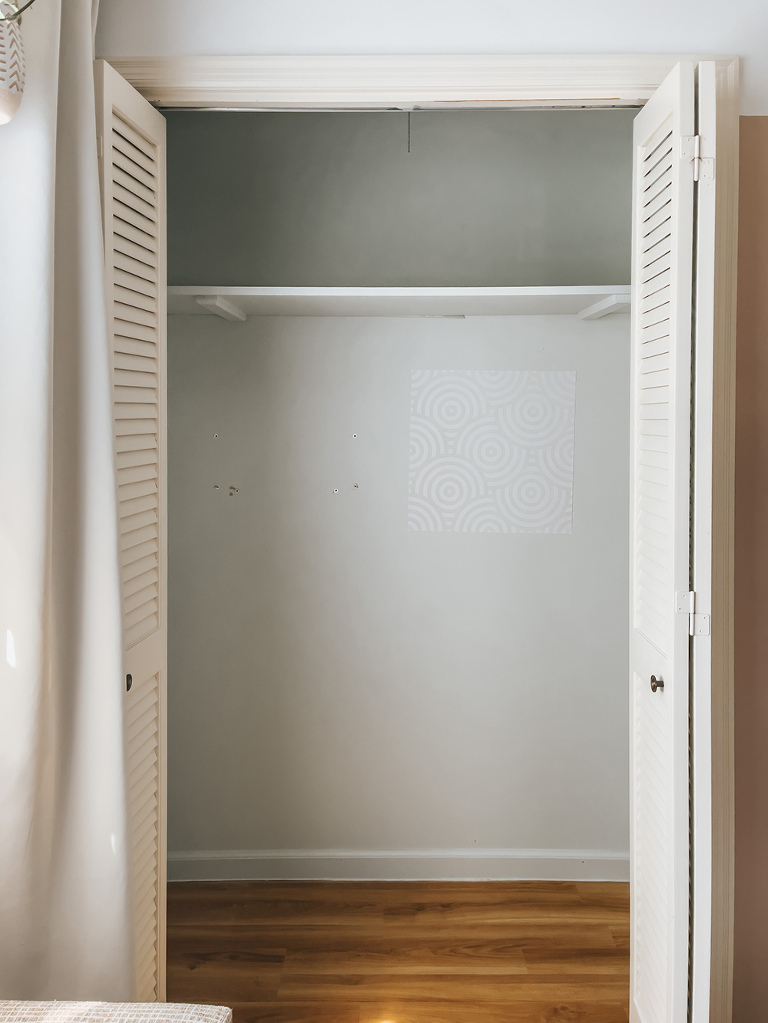 I didn't take any photos of installation because I was by myself, and filming it to post later on to Instagram, but the process was really straightforward, as always. I start by measuring the height of the space I'm working in, add a few inches to that measurement, and then mark and cut the first wallpaper sheet to size. Then, I peel off the entire backer paper layer from the cut wallpaper sheet, and press the wallpaper against the wall, making sure it's level vertically. I use a wallpaper smoothing tool to press it firmly in place and to get out all air bubbles, then I use a straightedge and razor blade to cut off any excess wallpaper at the top and bottom.
After that, I grab my next wallpaper sheet, line it up with the pattern I've already stuck to the wall, and make a tiny, barely visible mark where the wallpaper sheet meets the top of the wall. There's usually a bit of pattern that needs to be cut off the top in order to make it line up with the first panel's pattern, so I add a few extra inches to that tiny, barely visible mark just to be safe when actually laying it down on the wall, and cut off the resulting excess. Finally, I remeasure the height of the wall to be sure it matches the first panel (you never know with old homes whose walls are rarely plumb), make a mark on the panel, and cut it to size. I follow the same steps of installing it on the wall, and then repeat everything across the entire space from there.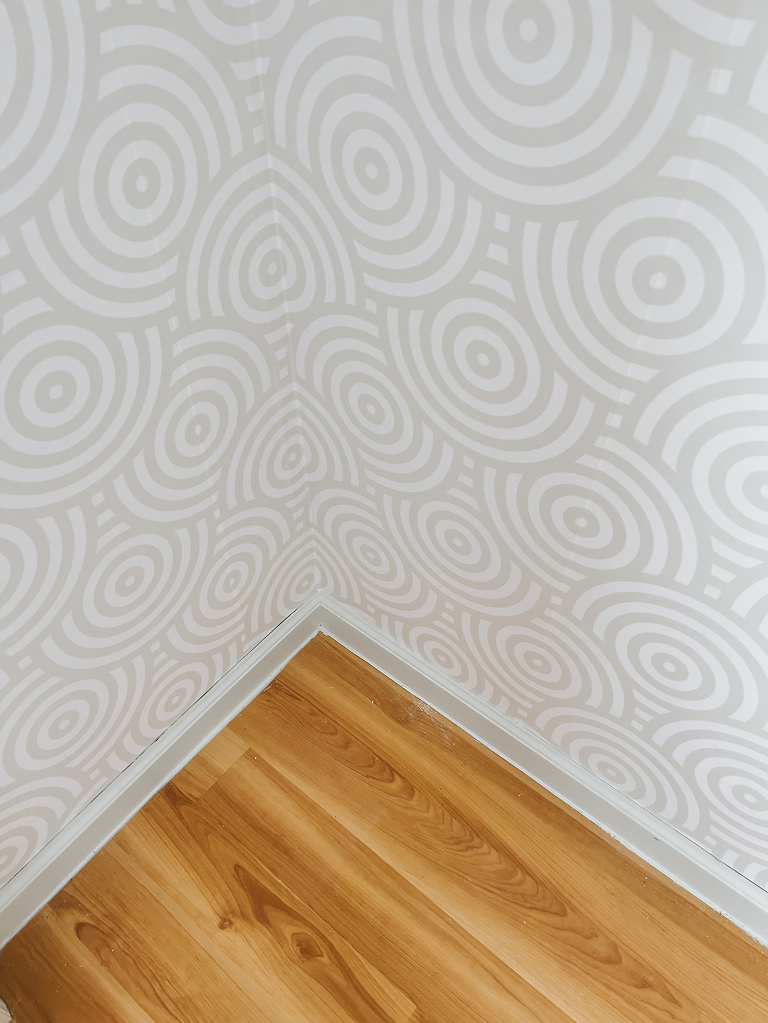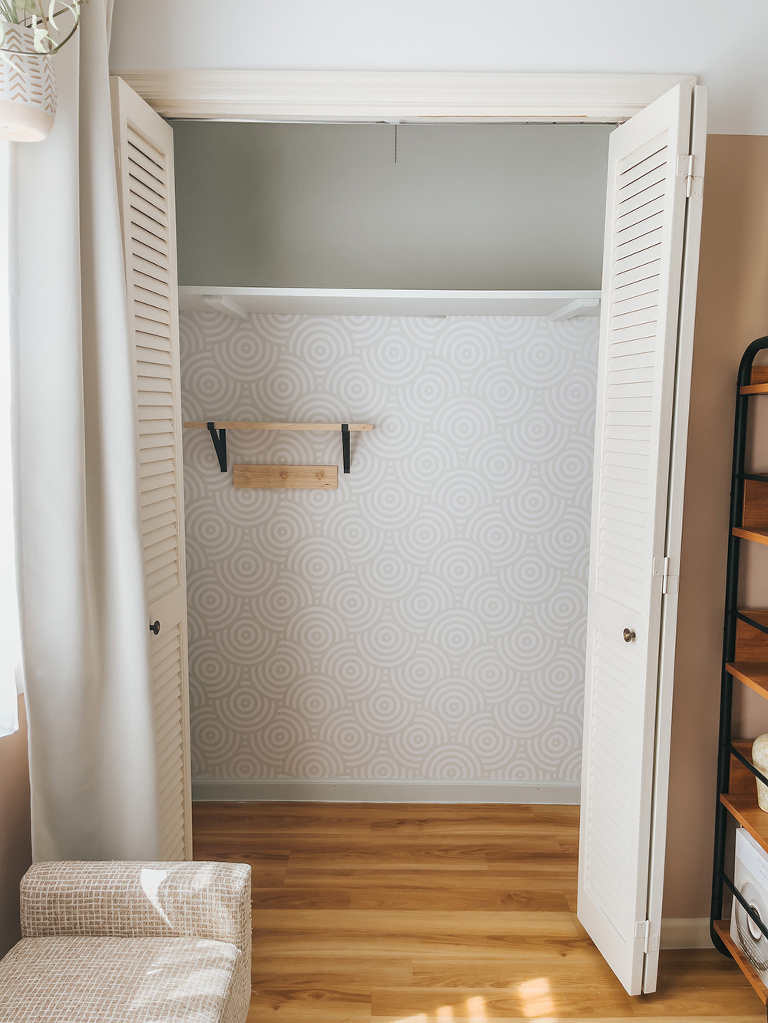 The process can definitely get a little tricky around things like shelf braces, outlets, and other random wall accents, but just take your time with it and do your best. My finished wallpaper jobs are never perfect, but the beauty of a bold, eye-catching pattern is that it draws so much "big picture" attention when viewed inside a room, that you rarely notice any tiny mistakes or mis-aligned seams. Don't let wallpapering ruin your life!
My parents always joke that it's a miracle they're still married after they wallpapered a powder room together back in the '90s, and my sister has a half-finished wallpaper feature wall in her home office that has been left that way for months and months because she got so frustrated with it. My family members are pure perfectionists (I didn't inherit that gene), and I must admit that I'm not sure DIY wallpapering is really for those types of folks. Just try to be a little spontaneous with it! Don't let yourself get so hyper-focused on the details. Just stick that paper up as best you can, and I promise the results will be worth it. Keep scrolling to see how our freshly wallpapered kitty litter closet turned out.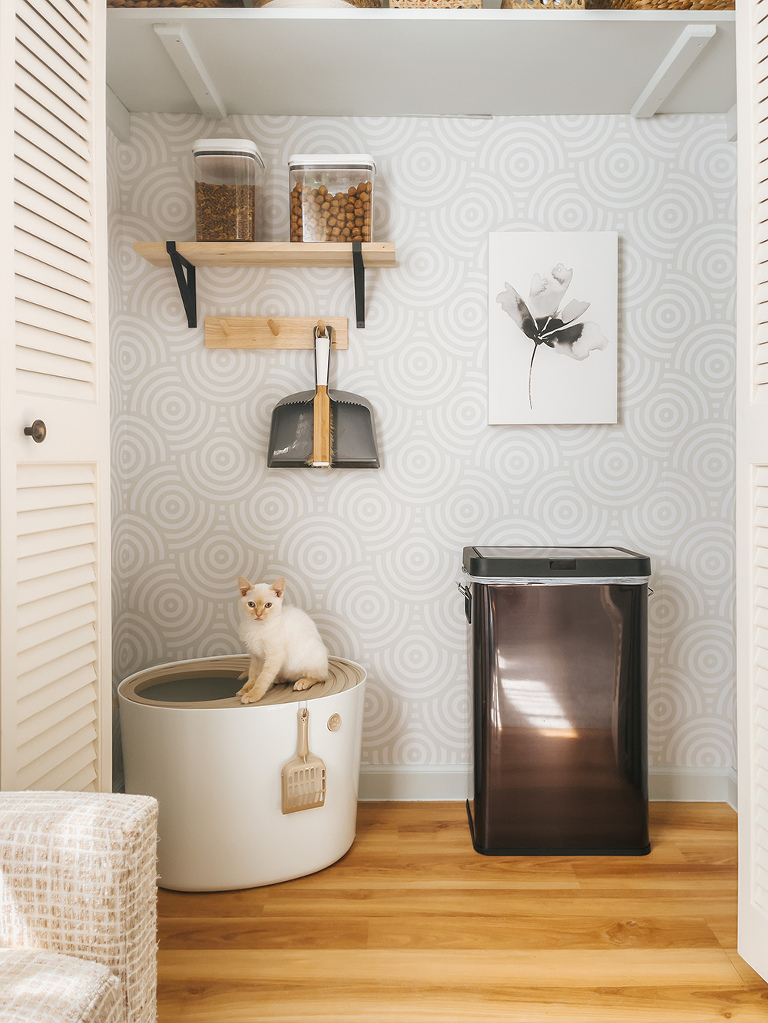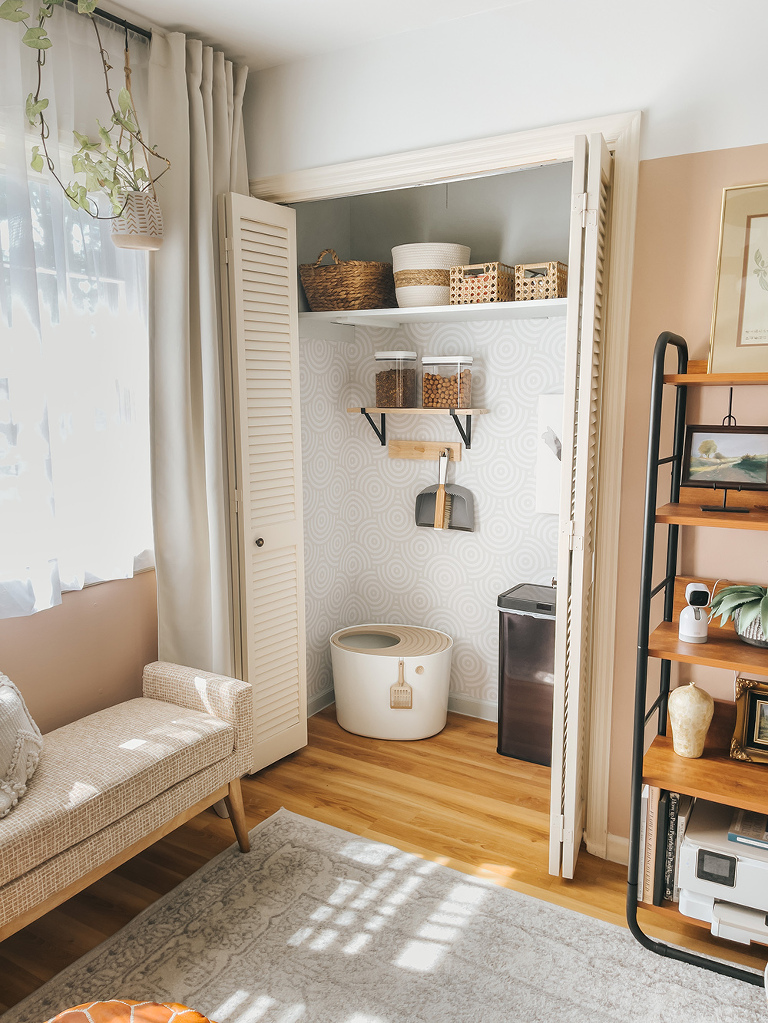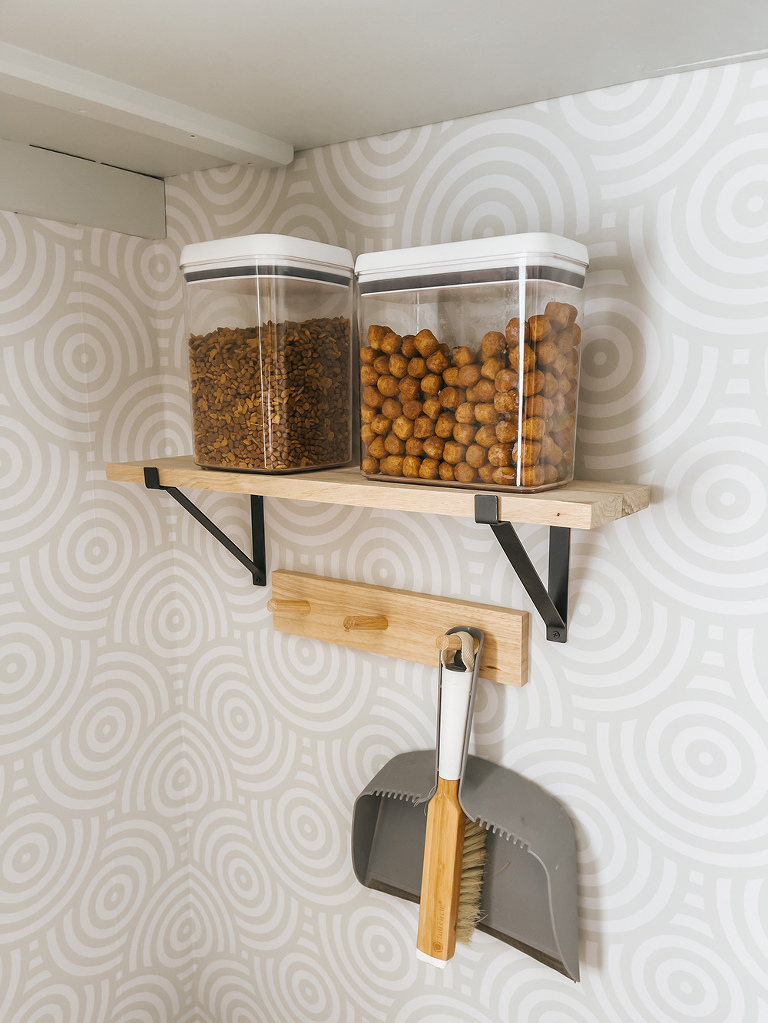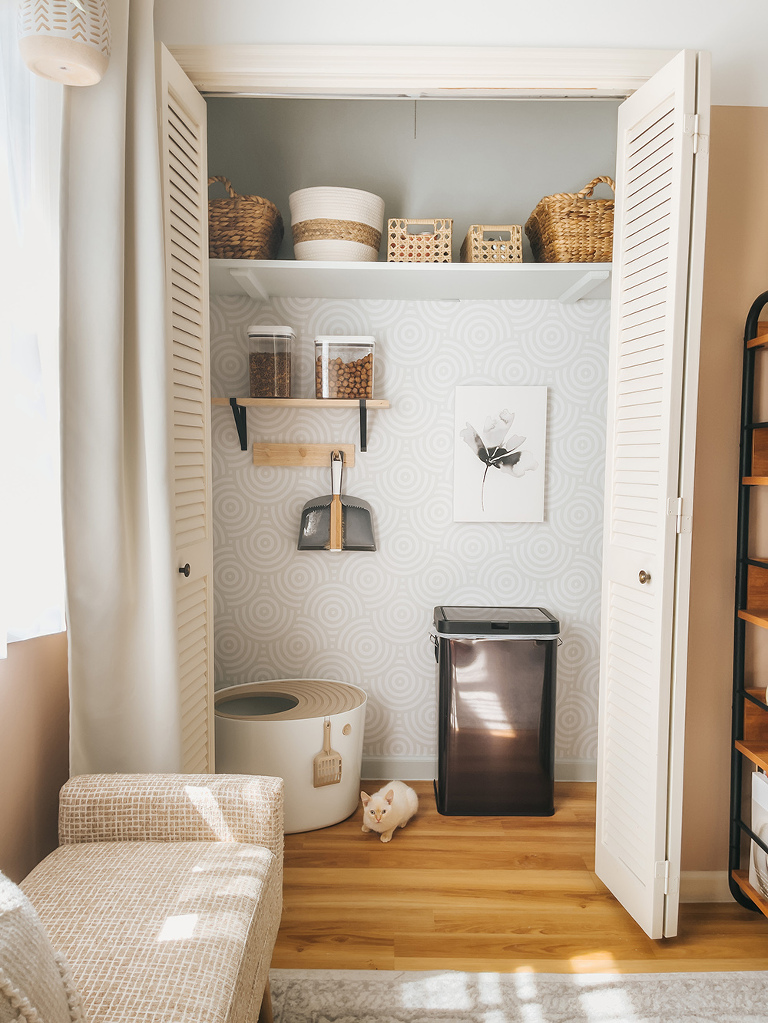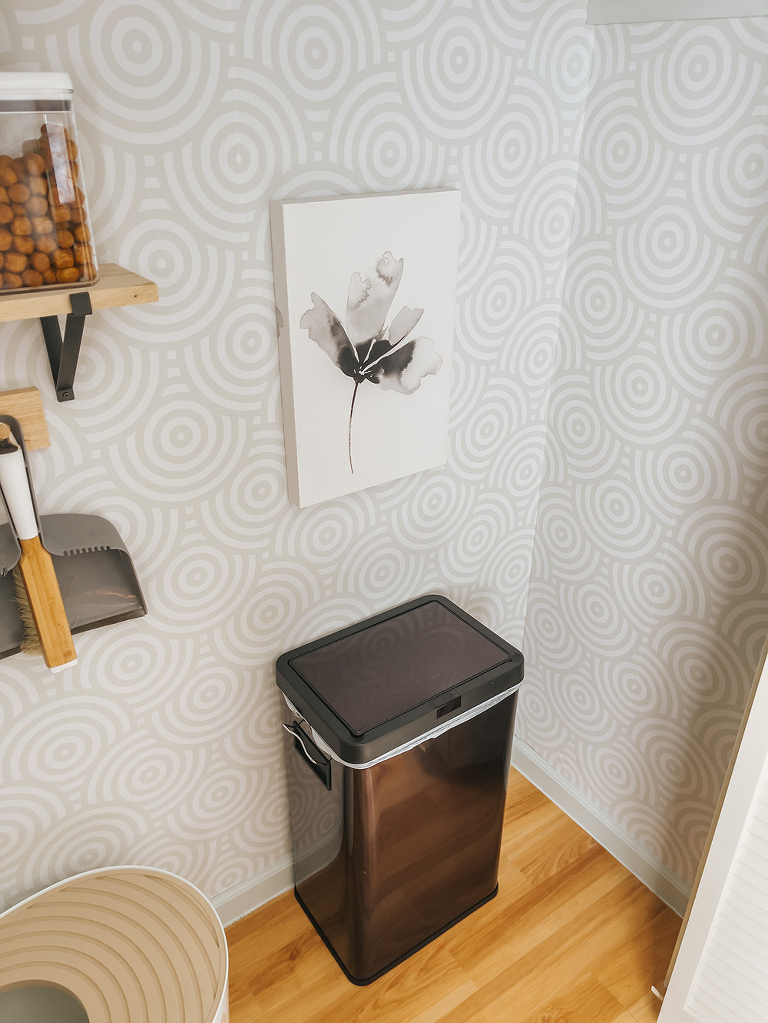 Resources: Wallpaper (custom color-matched to "Sea Salt"), large baskets, smaller baskets, motion-sensor trash can, litter box, hook rack, wall shelf, air-tight containers, canvas art, paint color, dust pan set
There's just something so special about that cool retro-inspired wallpaper, right?! It makes an underused closet feel so much more energizing, and the great thing is that this idea works for any purpose you decide to throw at your closet. Maybe you want to turn one into a little reading nook for your child, or even a home office if a closet is the only place you can fit one. Give your multi-purpose closet a sense of style and personality with wallpaper.
I also love the idea of using wallpaper to make a more traditional clothing closet look polished and considered. If you happen to have dated doors on your regular clothing closet that you can't afford to replace, just take them down, purge your clothing until it's a manageably neat and tidy collection, and then add wallpaper to make the open air look feel more intentional. The possibilities are endless…How would you make this wallpapered closet idea work for your needs? Let me know in the comments!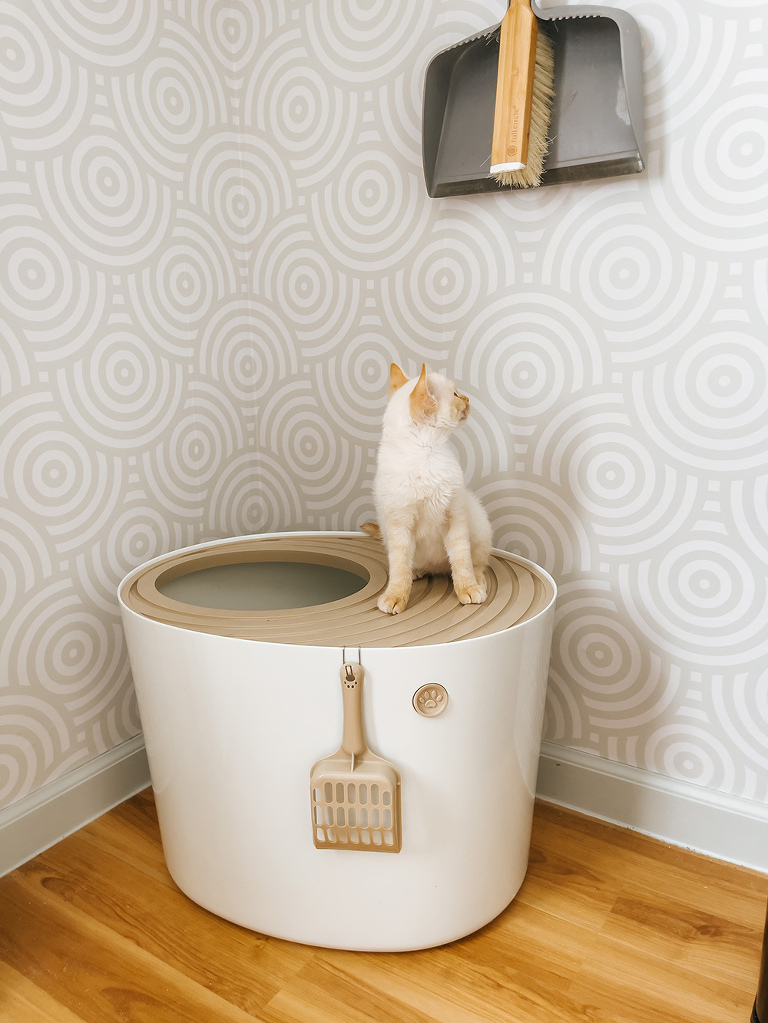 *I earn a small percentage from purchases made using the affiliate links above. Affiliate links are not sponsored. Rest assured that I never recommend products we wouldn't use or don't already love ourselves.