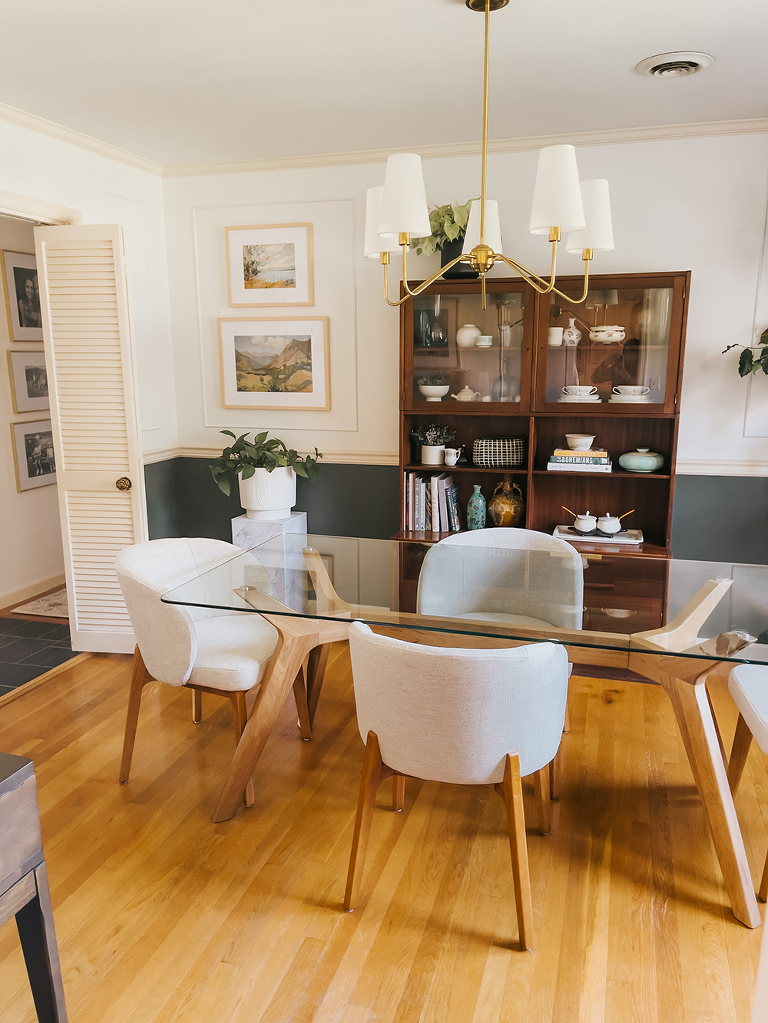 *This post was made possible by the generous support of Article, and features gifted product for testing purposes. All opinions are my own.
Remember when I teased an update for our dining room late last month? Well, I'm back with the reveal today, and I'm so excited to share all of the details! If you read the introduction post here, then you know we absolutely adored our previous vintage dining set. The lines were so quintessentially mid-century (our favorite era of design), and we loved that we were making good use of a beautiful secondhand set. The one big problem? It was just too oversized for our small dining room. See it pictured below.
Truth be told, the oversized, ultra-tall scale of the old furniture probably would have worked if our dining room was tucked off to the side of our home's layout with just one door in and out. Unfortunately for us and our current floor plan, the main path to get to our bedrooms and bathrooms on the far side of the house is through one door that leads into the dining room and out another dining room door. In other words, we walked through the dining room dozens and dozens of times a day, which meant that we were constantly dodging the high backs of our old mid-century dining chairs. Something needed to change.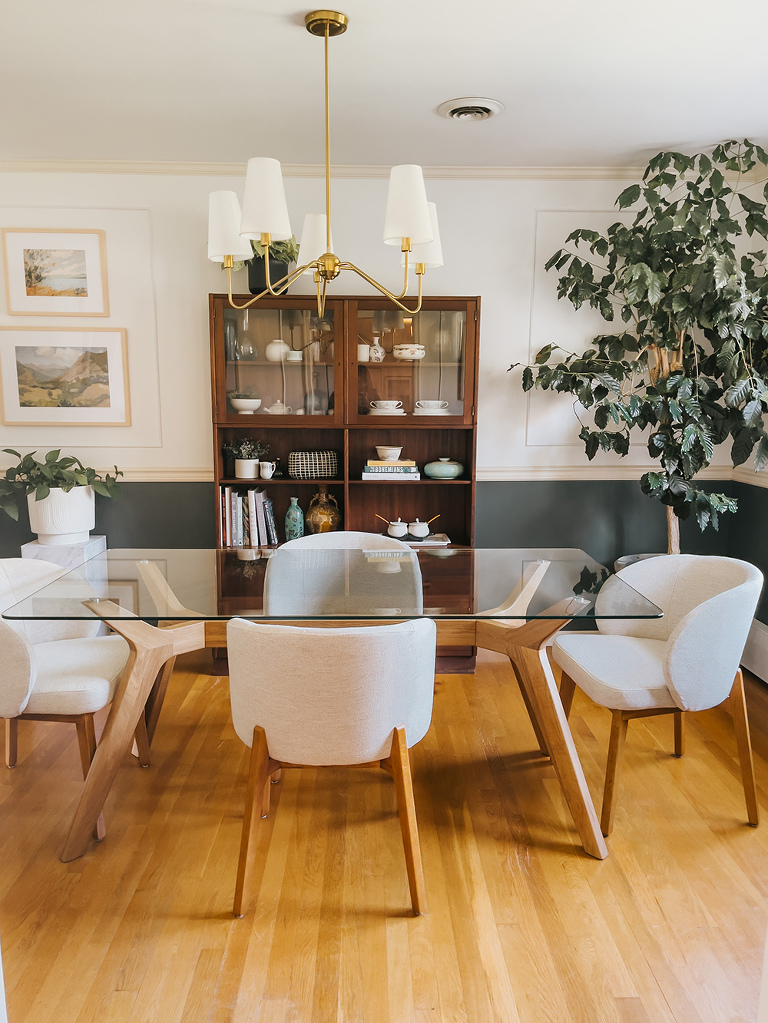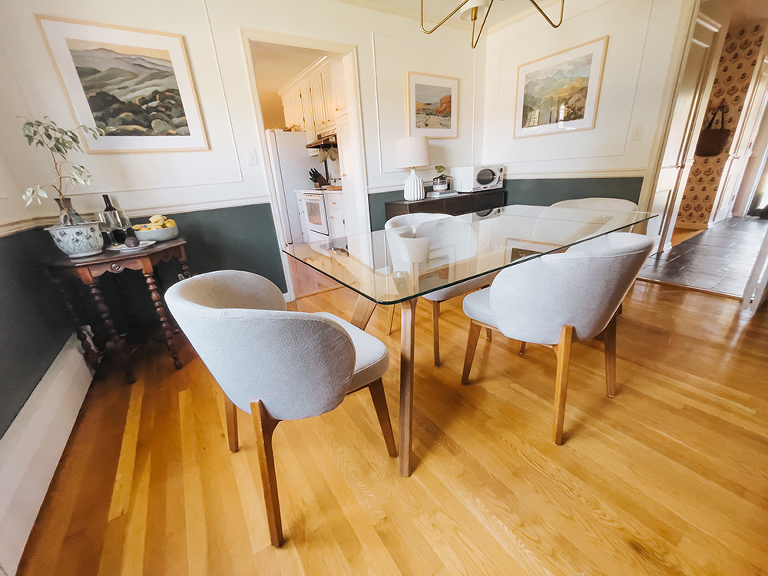 Catch up here if you missed my mood board and want more explanation for this dining room update, but the main goal was to find a new dining set with chairs that had much lower backs on them to make for easier flow to the back bedrooms. I was also anxious to find something in a much lighter wood tone, too. The old vintage set was stained a rich, deep shade of brown, which, I think made the small dining room look even smaller than it really is. I wanted to replace the set with something in a light oak color that matched all of the framed art that we have in the room, and I was also open to looking for a glass table that would all but disappear into the room, helping to make it look lighter and more spacious overall.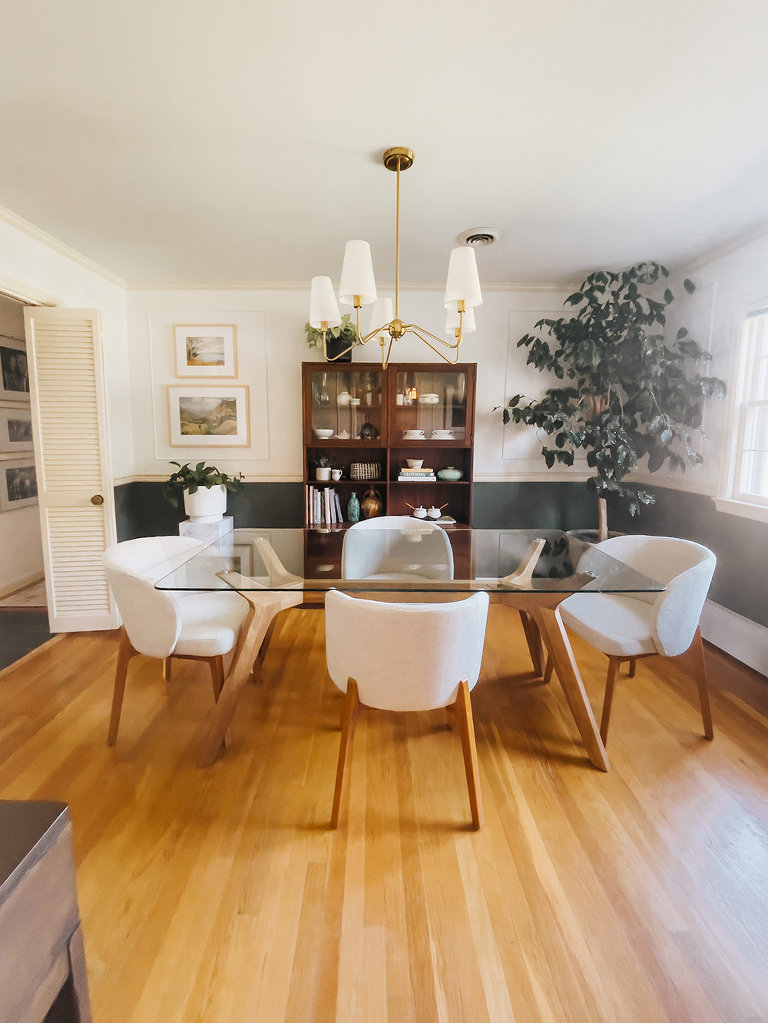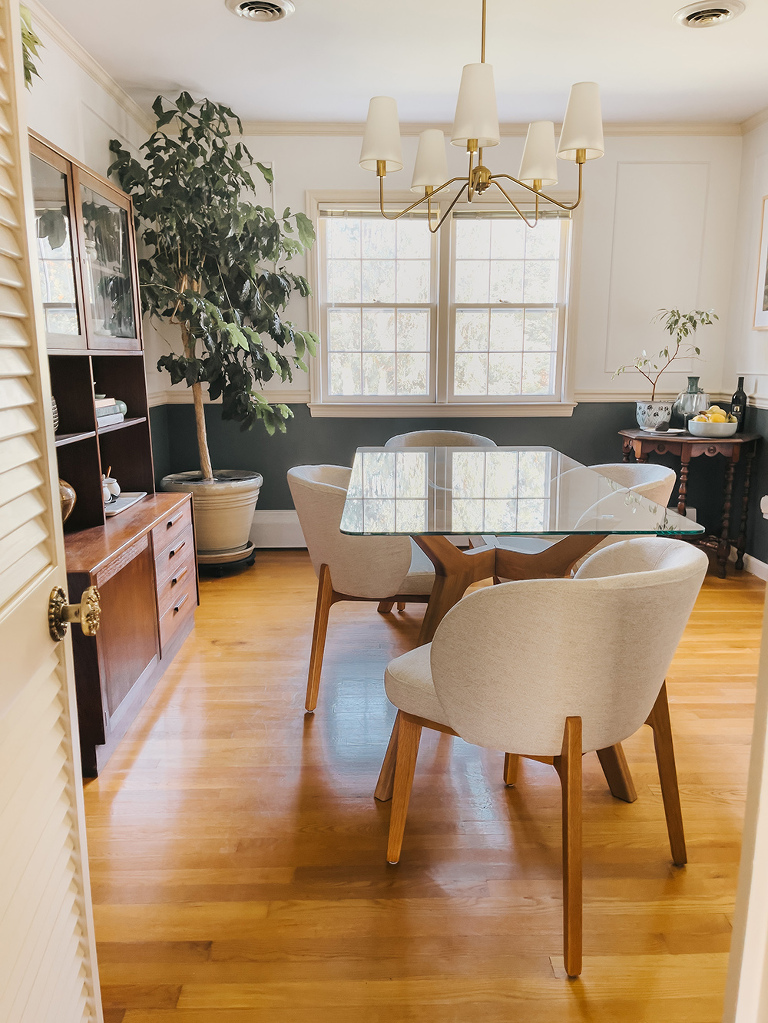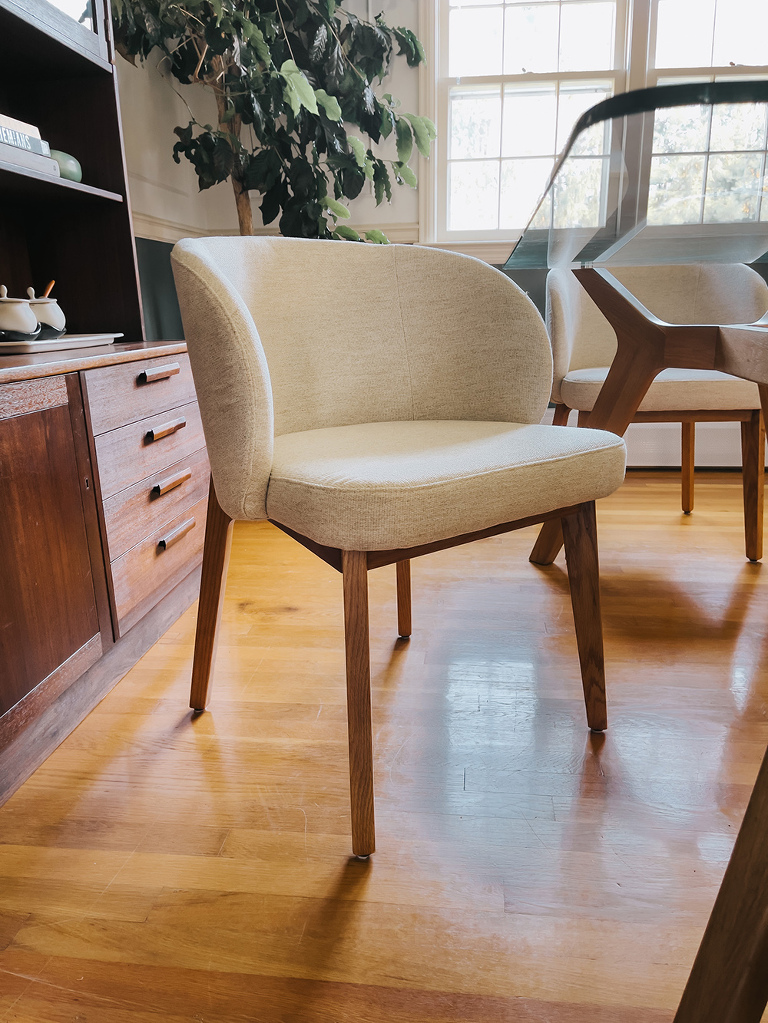 The answer to all of these problems? The Emmer Oak Wood & Glass Dining Table and a set of four Alta Oak Wood Dining Armchairs, both from Article. I've been a regular Article shopper for years and years now, and have never been disappointed (click back here and scroll to the end of the post for links to all of my Article reviews from the past in case you're curious). I know it's not easy to shop for furniture online without being able to see, touch, and sit in the items in person, but Article furniture is really solidly built, and I love making good use of the reviews section of their website, too. Those help me shop so much more confidently, which is why I always make sure to write super thorough reviews for you guys here. I want you to go into your own Article ordering process without any doubts.
A quick aside about ordering from Article—I've always had a pleasant experience! There are several tiers that you can opt in on, like curbside delivery or white glove service. We went with the latter this time, and it was well worth the upgrade. Our delivery team unboxed the chairs and table, hauled away the trash to recycle, and even assembled the table for us. I didn't have to do anything but sit back and offer glasses of water to the guys as needed. I was relived to see that the chairs didn't require any assembly so that our delivery team only had to assemble the table base and attach the glass tabletop. The chairs are good to go straight out of the box. There are so many Article products that come that way, which I appreciate from a consumer standpoint, but I also believe that fully pre-assembled furniture equals a higher quality product in the end.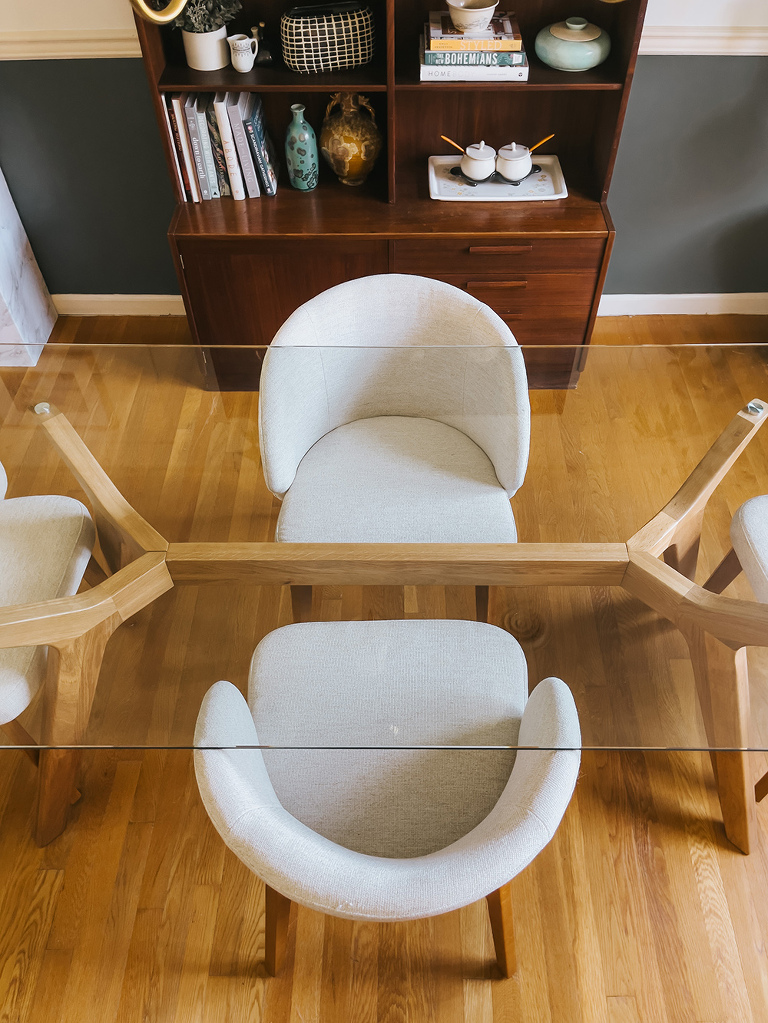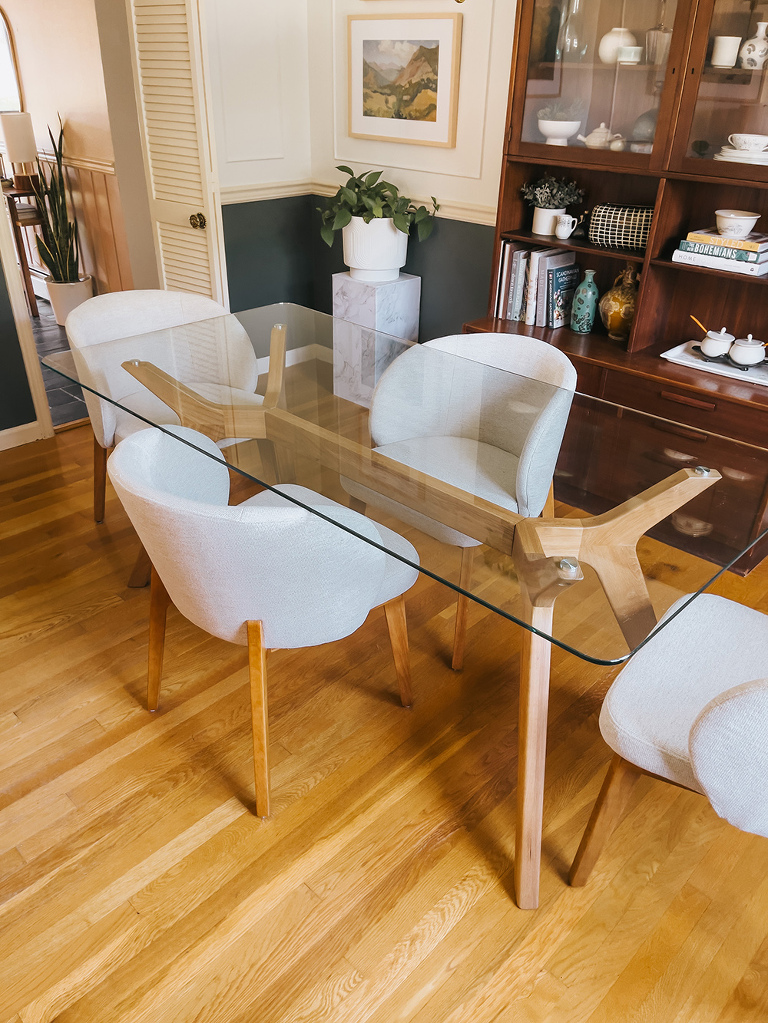 Anyway, we absolutely love our new Emmer table and Alta chairs. The glass table is actually almost the same dimensions as our old vintage table, but the light wood frame, gently rounded edges, and glass tabletop all combine to give this table a weightless look that feels much better suited for the room. And our new Alta chairs are the perfect height. No more dodging them on the way to the bedrooms and bathrooms!
Functionally, the new set is so much more practical for us (and comfortable to eat at, too, I should mention), but I'm also just so excited about the way the room actually looks now. The light oak table and chair frames are a nearly perfect match to the frames in our art collection, and the light ivory upholstery on the chairs also nicely complements our painted kitchen cabinets in the room just off this dining space. This update makes the entire left half of our house look so much more cohesive and intentional. That was actually a happy surprise—I didn't plan it.
Since I know some of you will be wondering, I wanted to address the upkeep of having a glass table. You do have to keep in mind that glass needs to be wiped down pretty much every day to get rid of smudges, but we used to wipe our old wood table after dinner ever night anyway, so this hasn't required a change in our routine. We bought a streak-free glass cleaner, and keep that plus a microfiber towel in the dining room hutch that you see there in the back of the room. We reuse the towel throughout the week, and refresh it in the washing machine every weekend. It also helps that we use placemats during every meal. We keep those tucked in the hutch drawers and pull them out to set our plates/bowls on at every meal to keep the table as clean as possible. All in all, the upkeep hasn't been troublesome at all.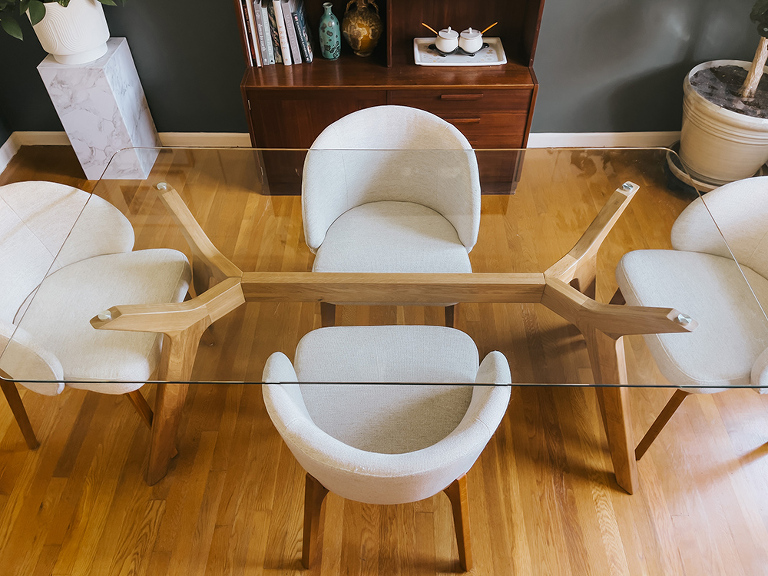 What do you think of the new look? Like I said, we loved our old vintage furniture so much, but sometimes a room just needs a modern set to function best for everyday lives. We had so many specific needs on our wish list, and this new dining set checks all the boxes. It feels good to finally be done with this room. Let me know your thoughts about the new design in the comments, and also feel free to ask any questions about the set in case you need more information on comfort and the ordering process. I'm an open book, as always.