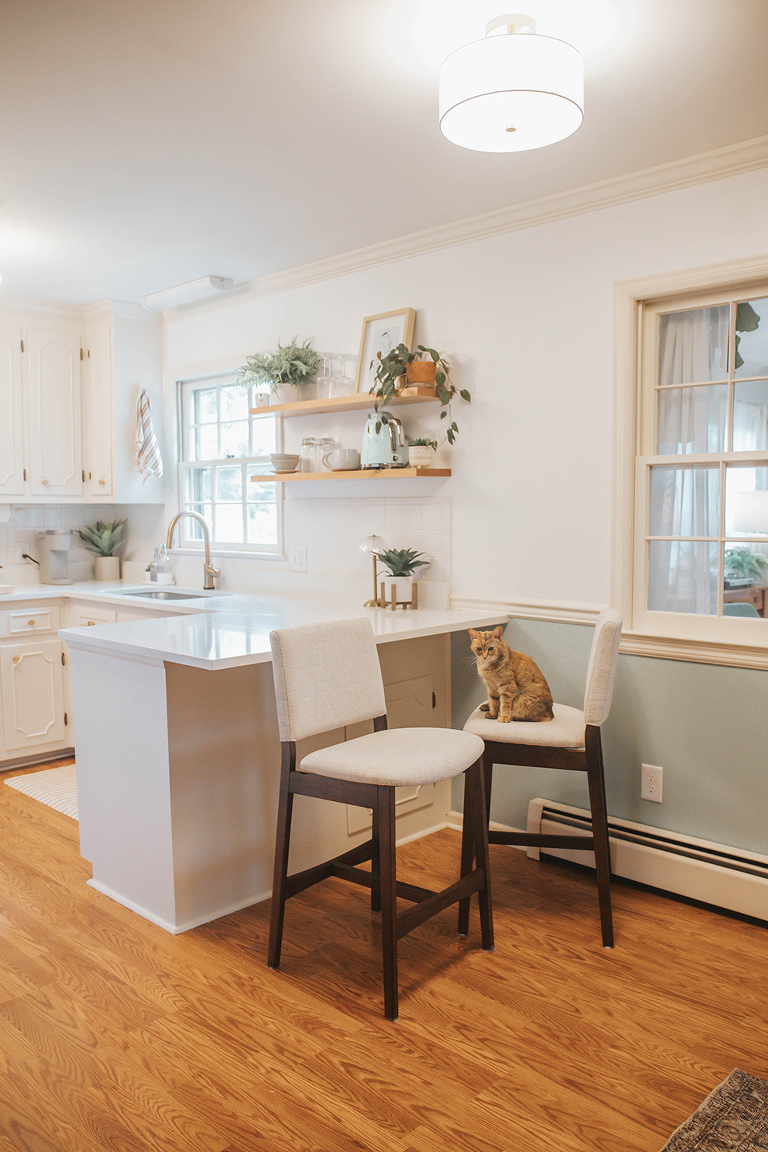 *This story was made possible by the generous support of Clare Paint, and features gifted product for testing purposes. All opinions are my own.
Today's the day! I have been waiting seven months for this moment, and I couldn't possibly be more excited that we made it. Our kitchen makeover is finally finished! When we first toured our new-to-us 1960s ranch home, it was immediately clear that the kitchen needed a whole lot of work. The size was great, the solid wood original cabinets worked like a dream, and we even loved the charming trim detail on the fronts of the cabinet doors. The cabinet finish, though, left quite a bit to be desired.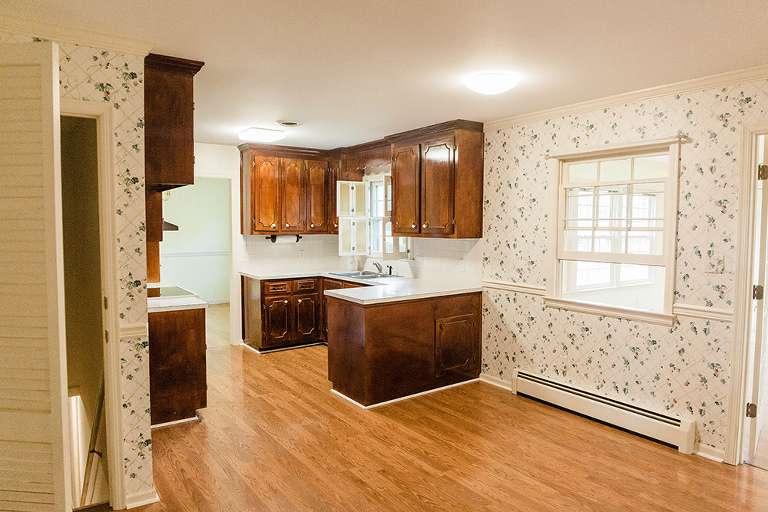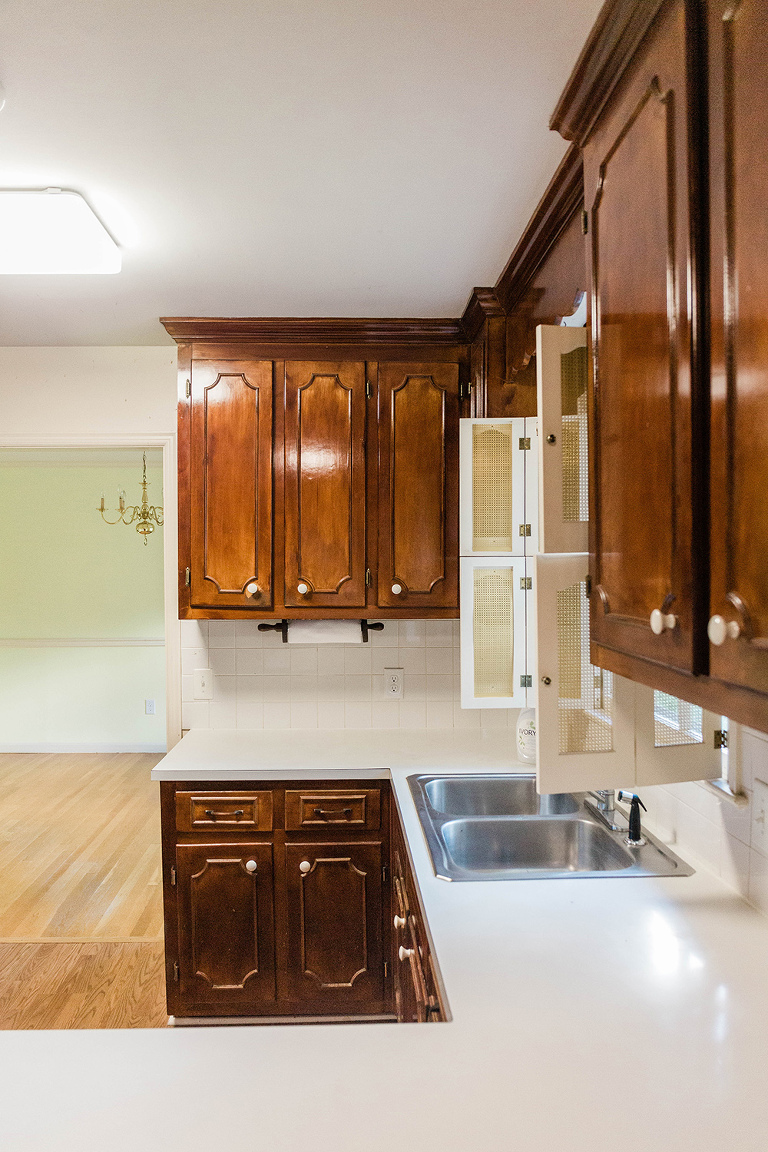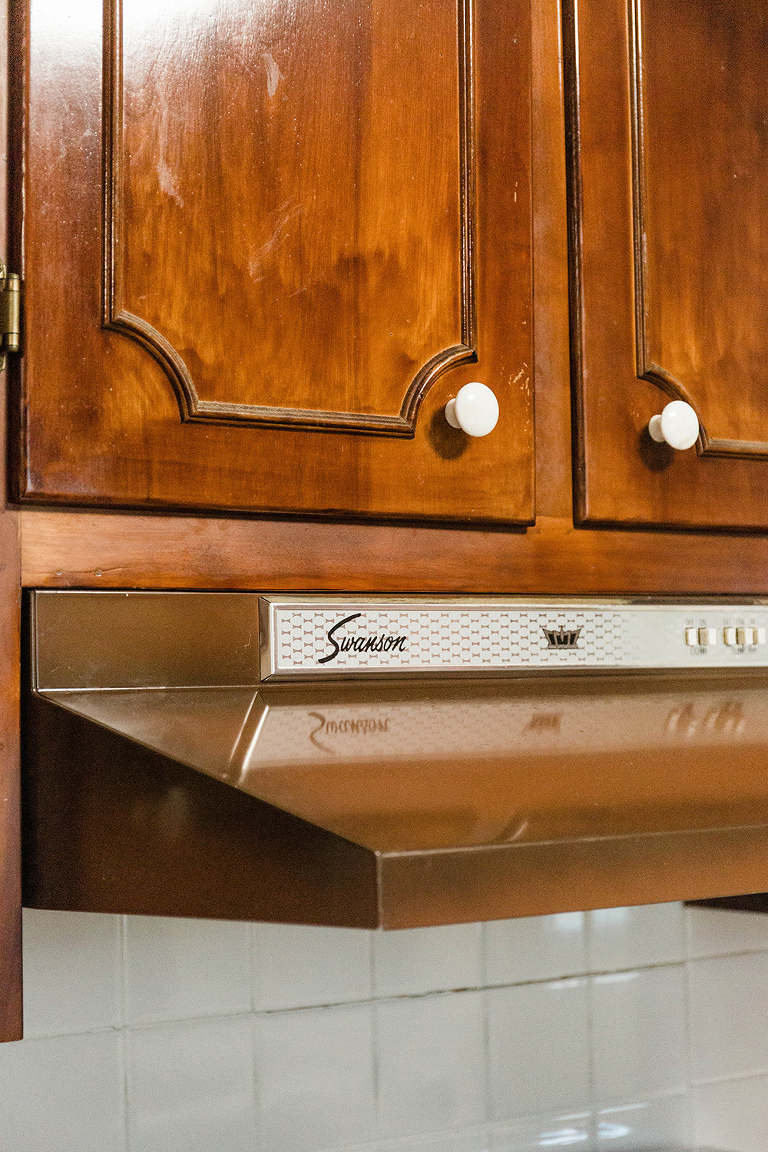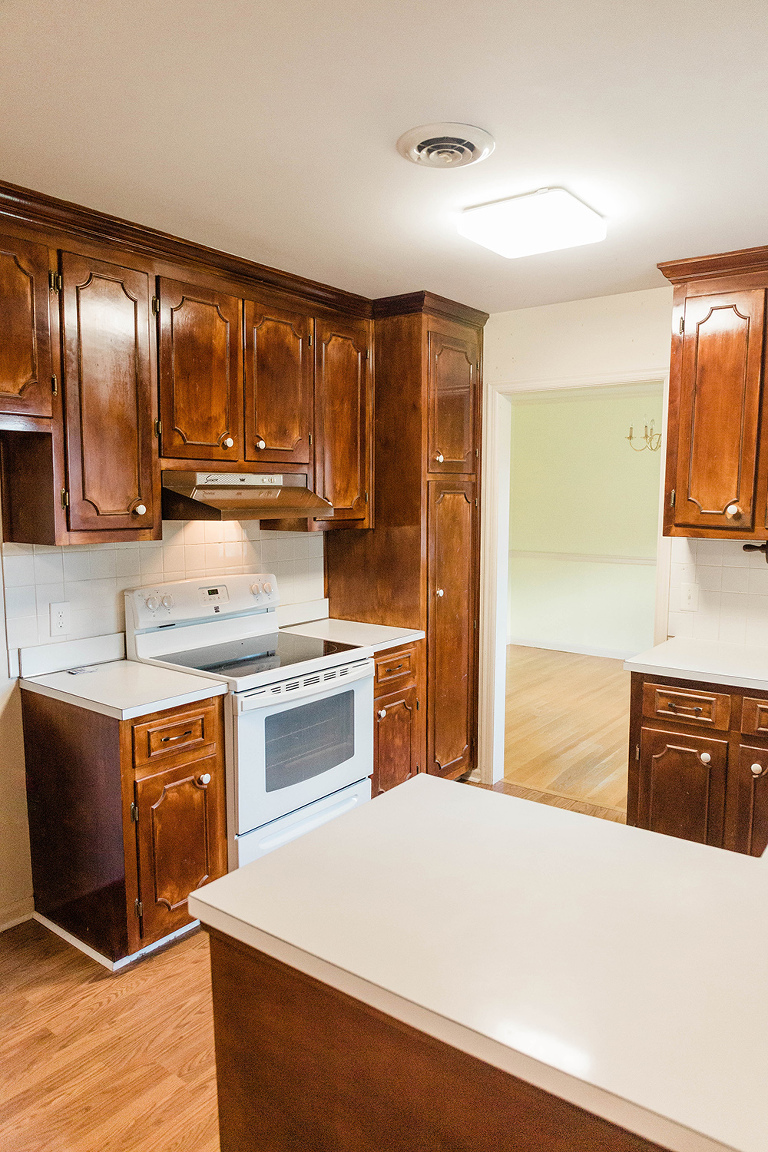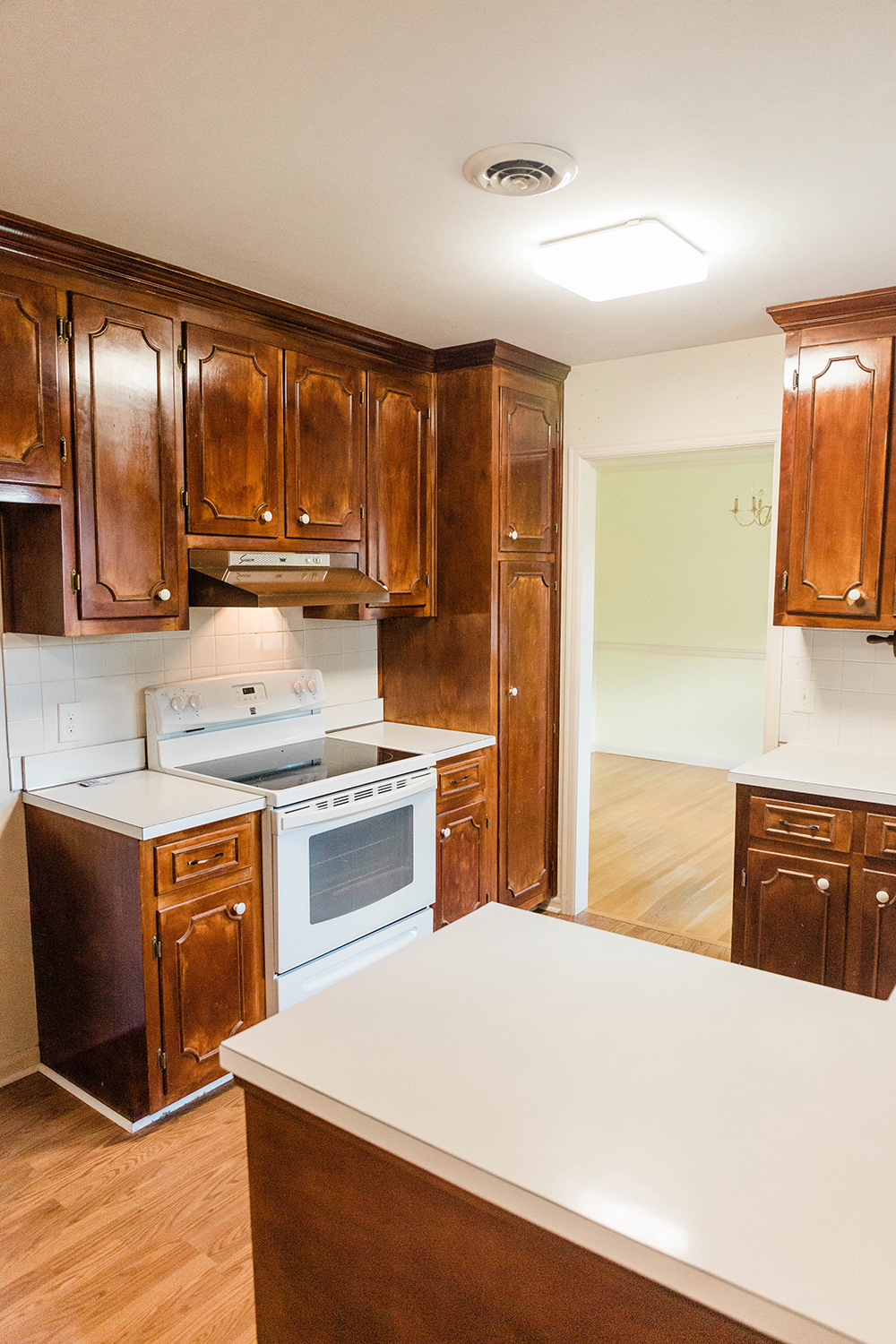 It may be a little hard to tell in photos, but in person, the glaring issues with the stain on the cabinets were impossible to ignore. The stain had been applied in a way that left huge uneven streaks across most of the doors, and the finish was rubbed off in the most-used areas of the doors and drawers. It was a sticky, greasy mess, too, but cleaning alone wouldn't solve the many problems.
I know some people will be offended that we ultimately painted wooden cabinets, and I'm usually a big proponent of not painting mid-century furniture or cabinetry. That said, I'm also not a purist, and when some piece of wood clearly needs work, I don't mind pivoting to paint. It's all personal preference, and in this case, I know paint was the right answer for us.
I should mention that it wasn't just the state of the wood that led us to using paint. Our kitchen is also very, very dark, even on the brightest days of the week, so I knew a lighter color would do wonders for brightening the room. As you may remember if you read my introductory post for this space right after we moved in, I had always planned on going light, but not a "true" white. I was hoping for some kind of light neutral beige that would coordinate well with our original 1960s cream-painted trim.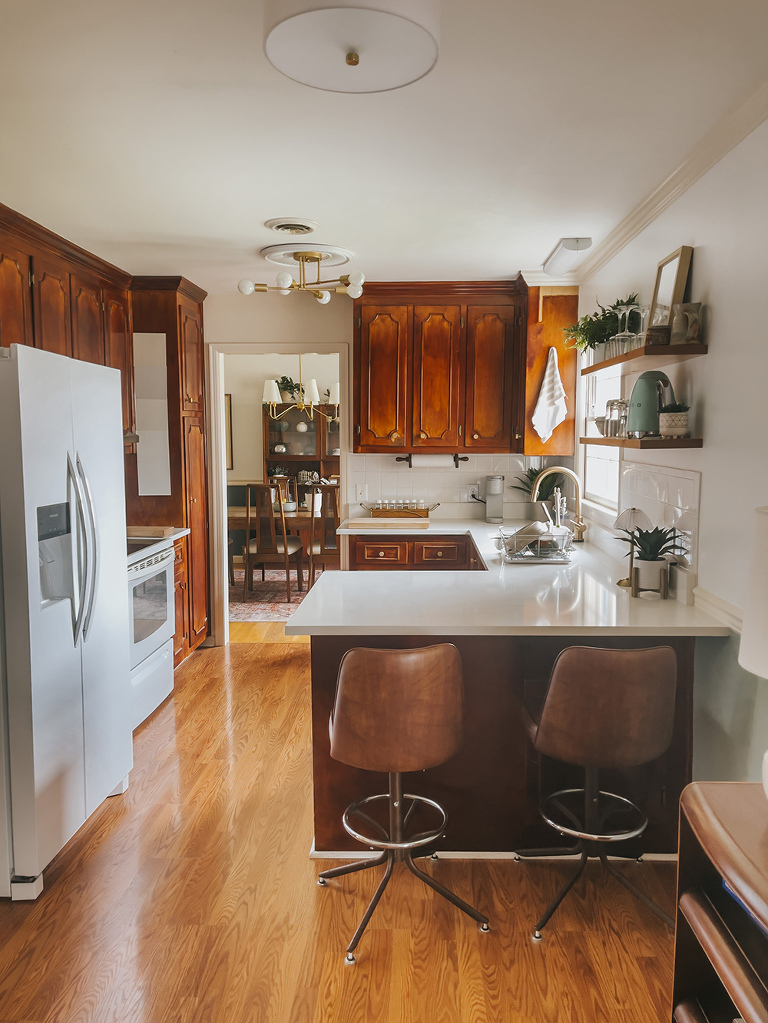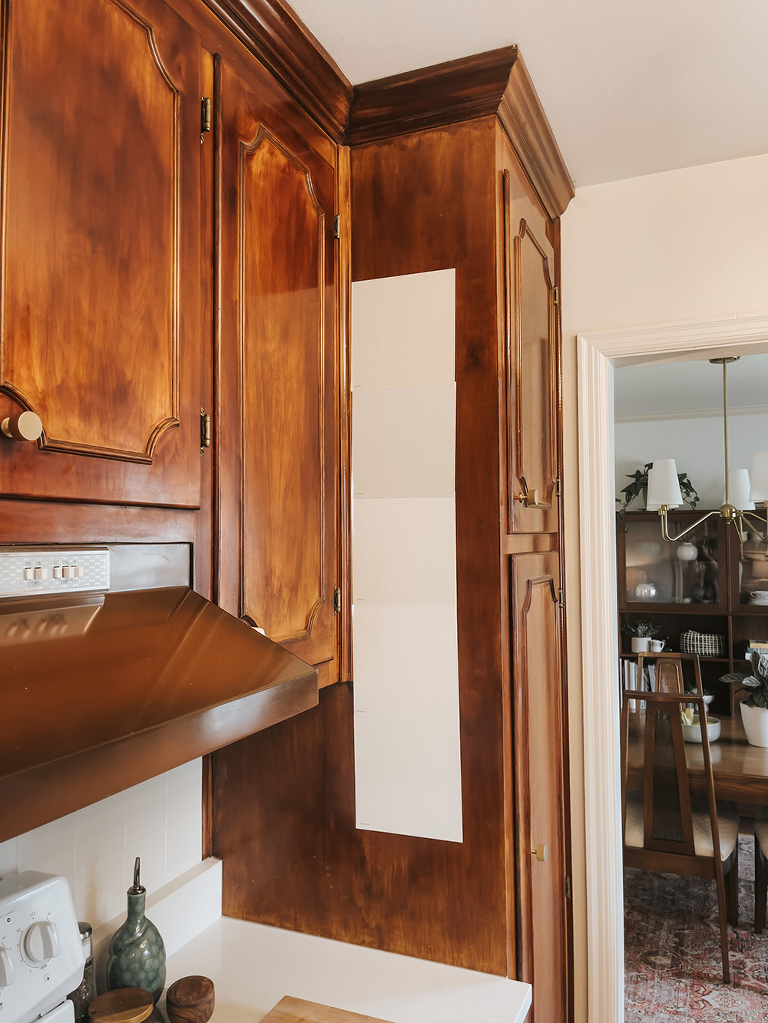 Those photos above show the state of the kitchen this year. We had removed a kitchen cabinet to let more window light in, and hung new floating shelves, and we had also added a few other decorative things to help make the room look a little more modern (like new overhead lighting). Another thing we did earlier this year was order peel-and-stick paint swatches from Clare Paint.
This is actually my first time working with Clare Paint, but I had heard awesome things about it from fellow pros in the DIY interior design niche online, so I was anxious to try it out. I love that you can order oversized swatches of their paint so you can be confident with your choice before you make the investment.
I have tried choosing paint using those teeny tiny 2-inch square paint chips from run-of-the-mill paint supply stores, and have made mistake after mistake because I wasn't able to get a really good sense of the color. Clare's extra large swatches are true to the paint color they represent, and can be peeled back and moved all over your house so you can look at the color in different lighting situations. How handy! In the end, after looking at the swatches in all sorts of lighting situations, we decided on Clare's zero VOC "No Filter" topcoat paint in semi-gloss finish for our kitchen cabinets. It's the perfect creamy white with just a hint of cool undertone to help neutralize warm overhead lighting (which we generally have to keep on all the time since this room gets so little natural light).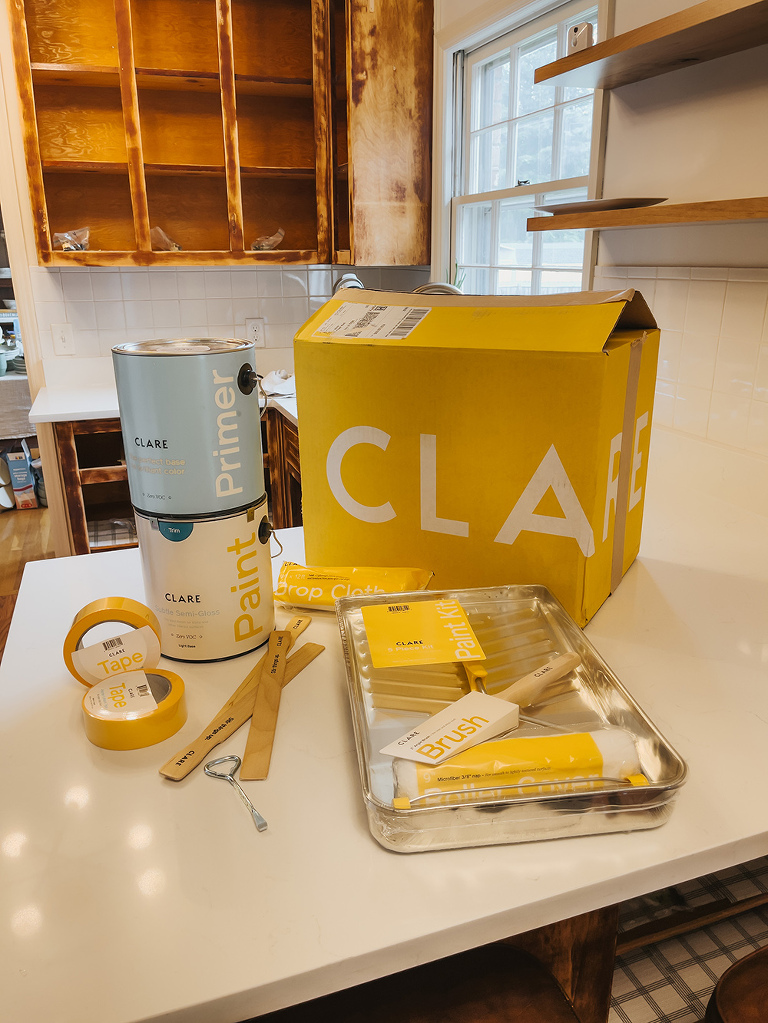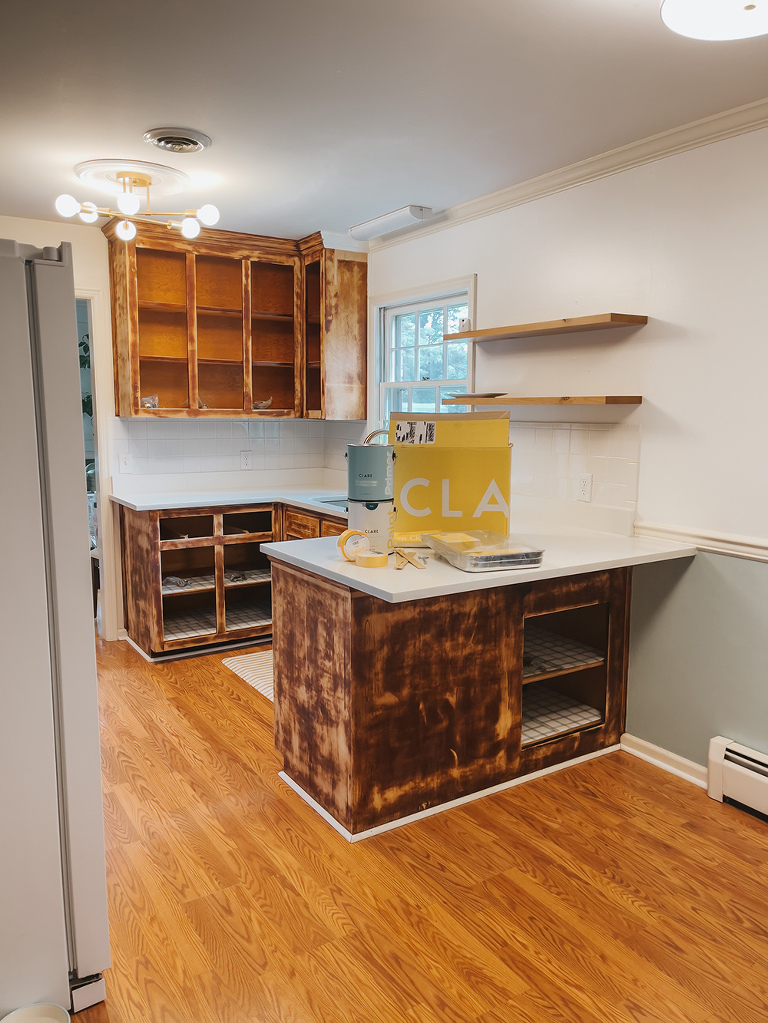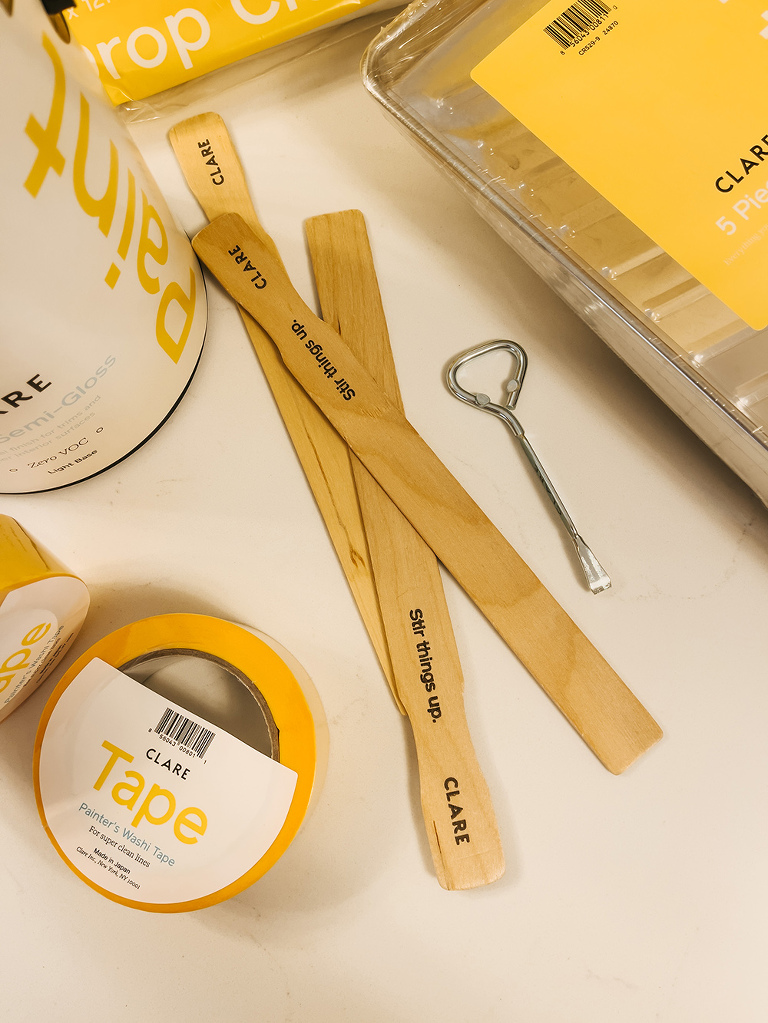 My super sweet parents offered to help John and me pull off this makeover, so the four of us came up with one week that worked for everybody's schedules, and got our plan in place. First, we labeled all of the doors and drawers with a number (1, 2, 3, and so on, up to about 25). We made labels using torn pieces of painter's tape, and put matching labels on both the door and the inside of the cabinet for each door in the kitchen. Same thing for the drawers. I also labeled baggies for the individual piles of hardware for each door (knob, screws, and hinges), and set those in their respectively numbered cabinet boxes so that we could keep track of them.
Next, we took the doors and drawers down to our basement where we could lay them all out in rows. This is when we moved the sticky labels on the doors off of the wood and down onto the floor. Since we planned to paint both the front and back of each door, we couldn't keep the labels on the doors themselves, so we put the labels on the floor beside each door to keep them in line for putting back up later.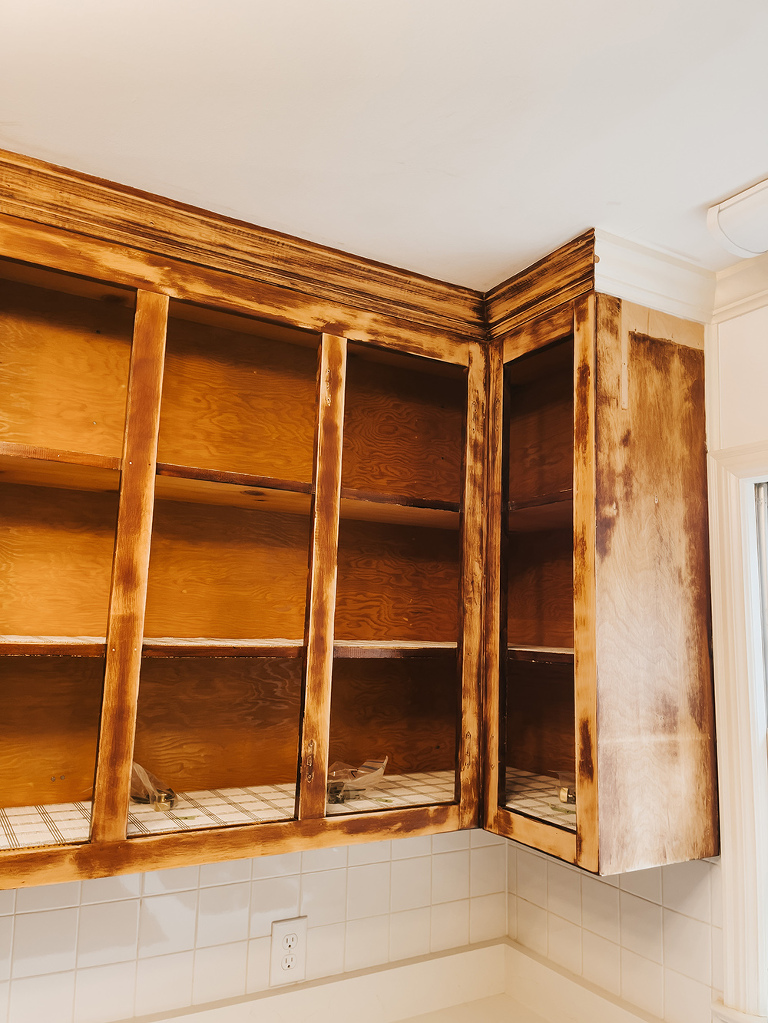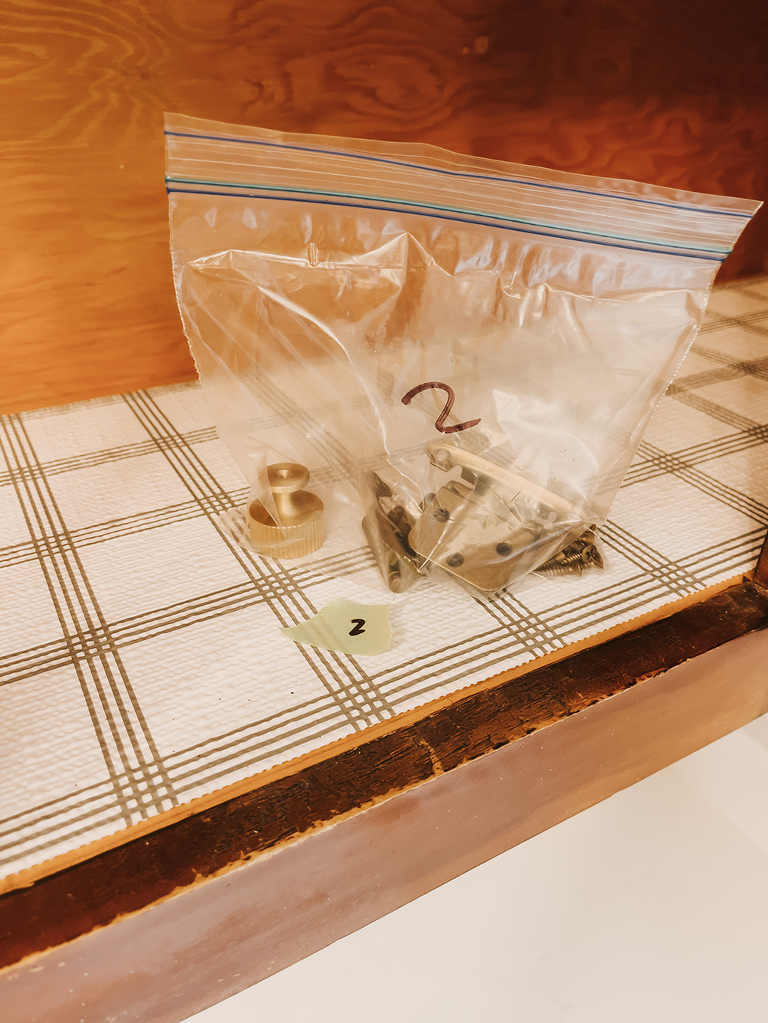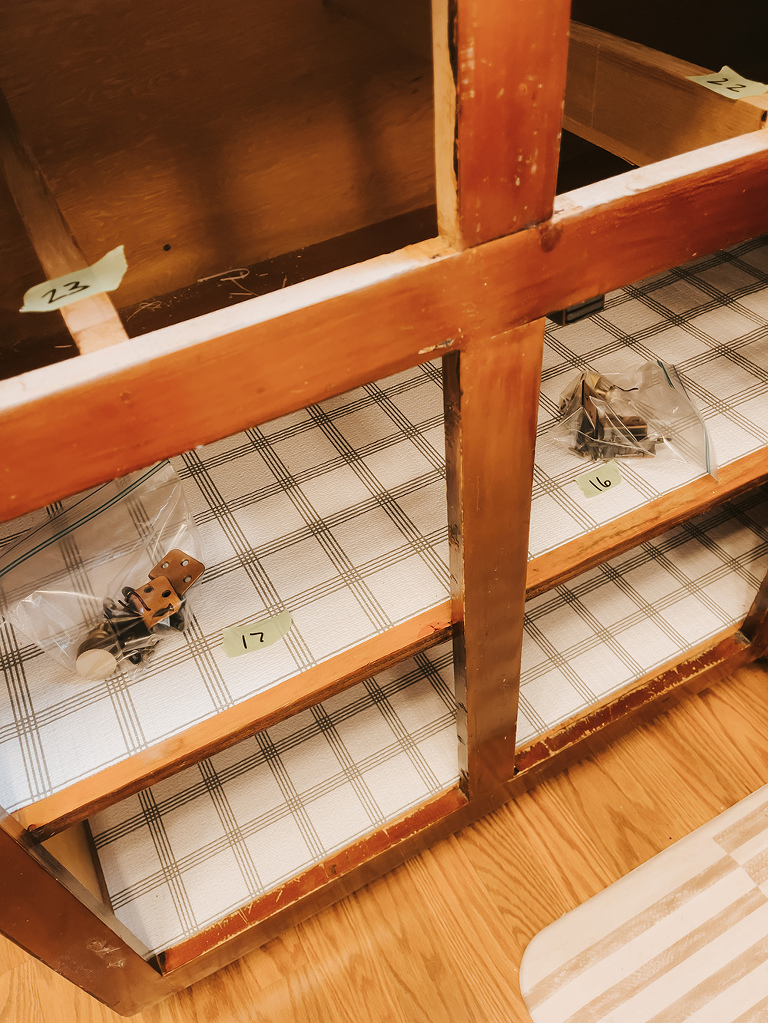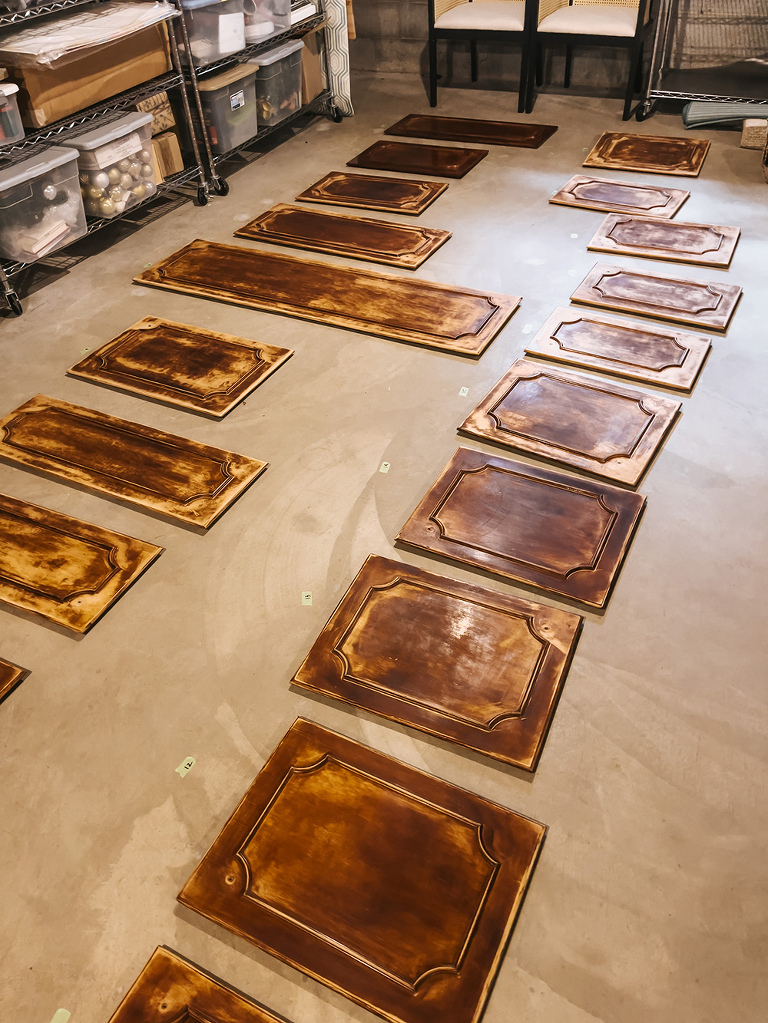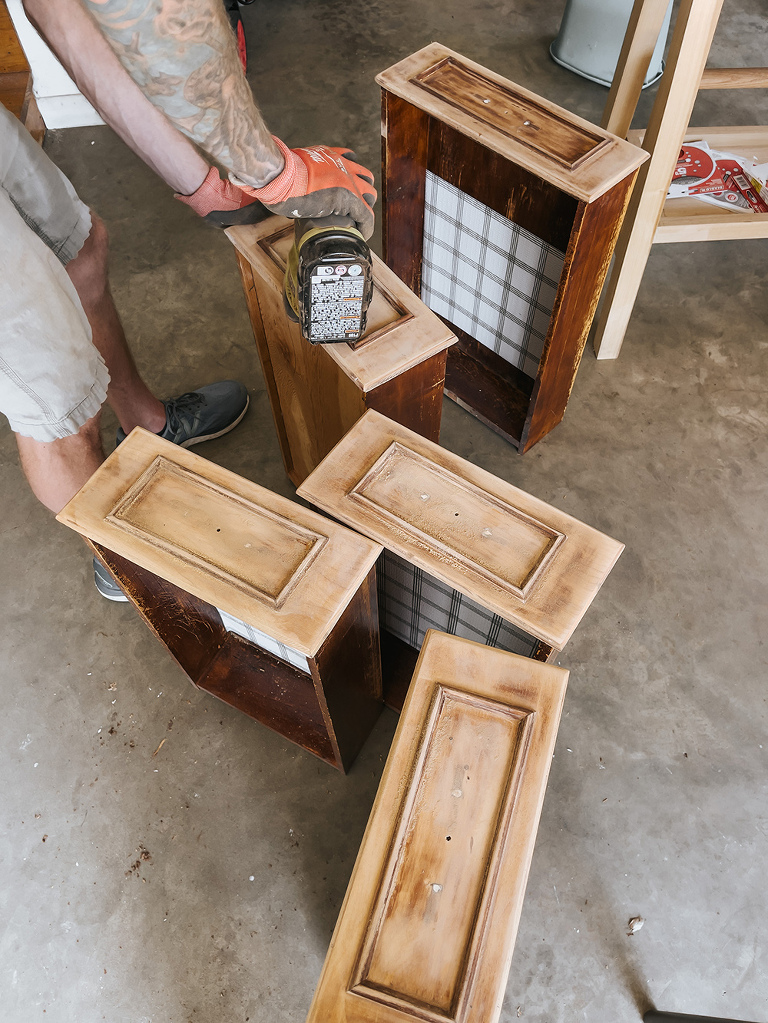 When we sanded the individual doors, we took them up to the garage one or two at a time so that we didn't get the numbers mixed up. We would grab a door, remembering which number it was, then set it on the work table in our garage to be sanded. We kept a permanent marker and more painter's tape handy so we could notate the number of the door we were working on, then cross out the number when it was finished and had been brought back down to the basement. Yes, we could have saved a step by taking the sticky label with us from the floor with the door, but I had nightmares of the sticky label losing its stickiness and, ultimately, getting lost. Those labels were vital to our system, so they stayed put on the floor and we made new temporary labels upstairs while sanding.
I hope this all makes sense! I know it's a little bit of a complicated, possibly overzealous system, but it made reassembling the kitchen a snap. We had absolutely no problem keeping track of the doors and drawers because we were so organized about it. Note that the drawers could keep their numbered labels in place the whole time since we weren't painting the insides of the drawers. Skipping that step with the drawers was nice.
Anyway, we started the entire process by cleaning everything we planned to paint really well, and then we used a chisel to remove all of the worst patches of sticky grease and grime. Then, we sanded the doors (both sides) and drawers using electric hand sanders outfitted with 120-grit sandpaper. We did the same to the cabinet boxes, too. After sanding, we wiped everything down with a wet microfiber towel (no need to mess with tack cloth—we found water worked just as well). We let the doors and drawers dry overnight, and then we finally were able to move on to primer.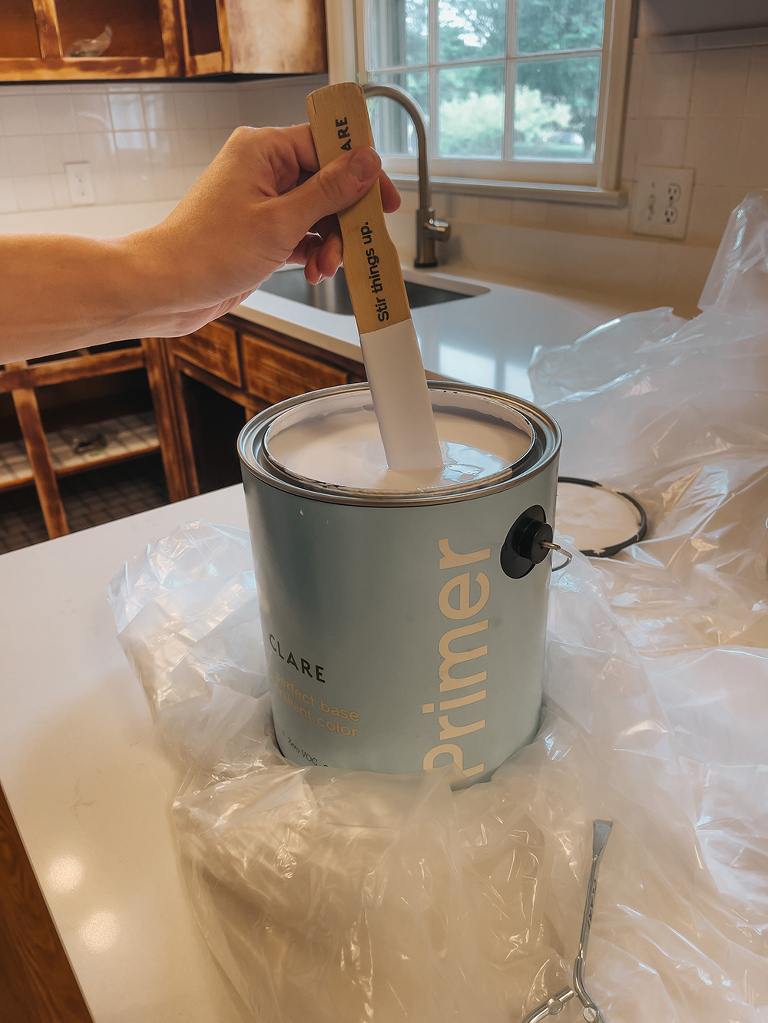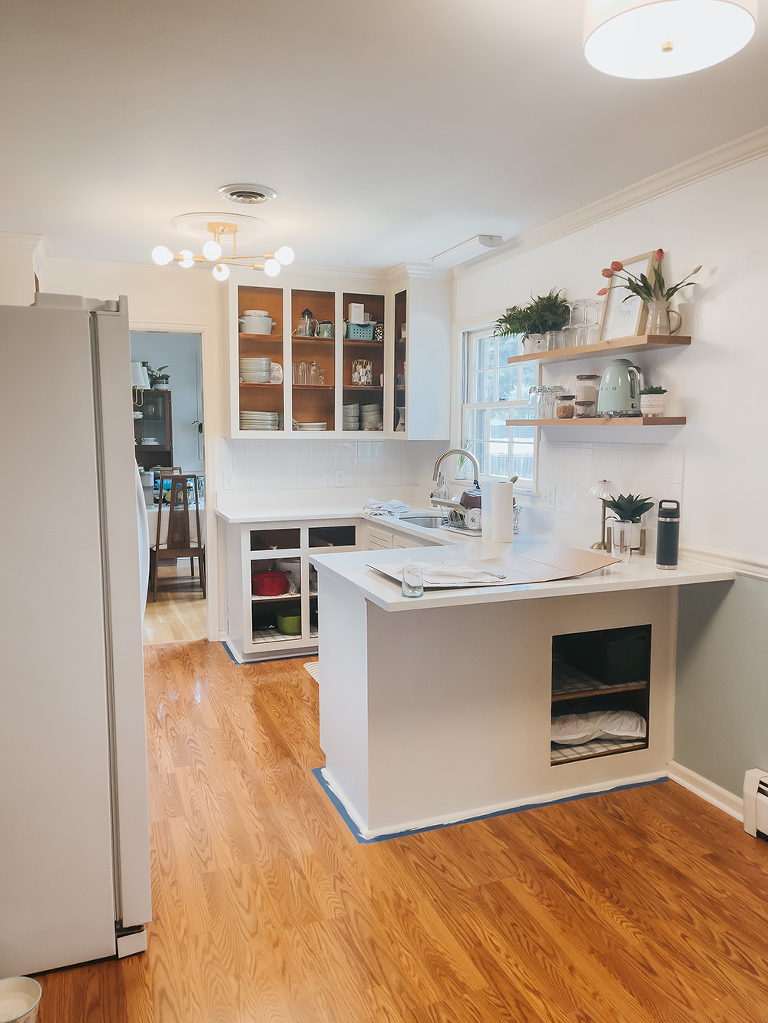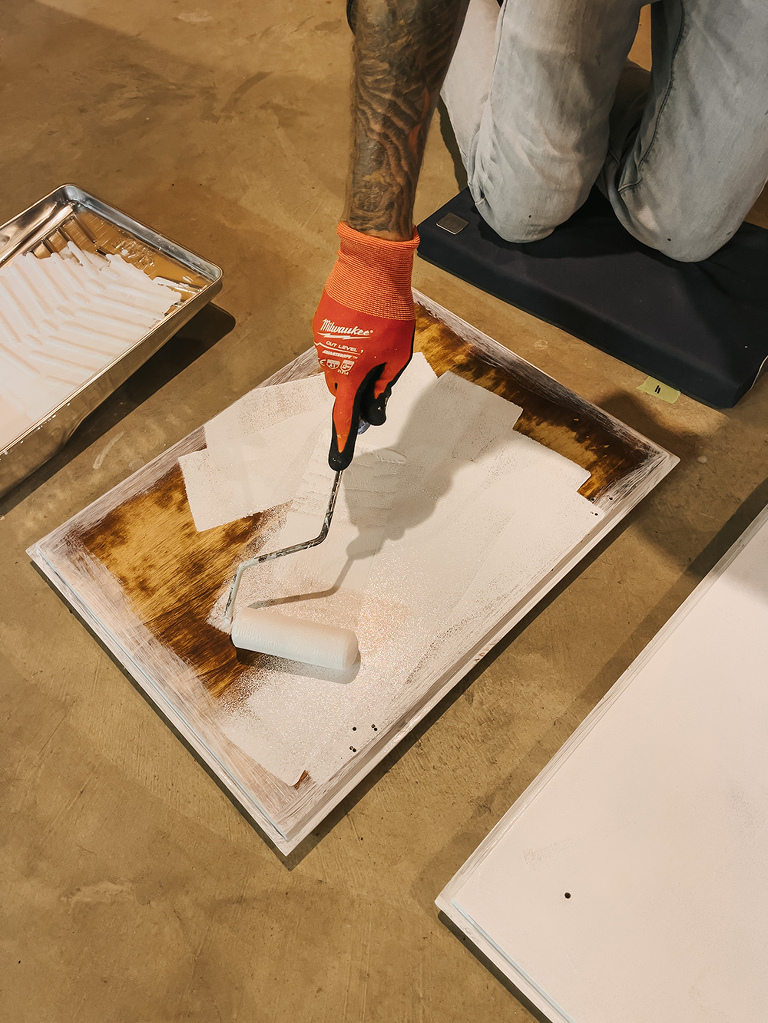 We used Clare's zero VOC primer paint and it went on really nicely. I thought it was going to take another 8-hour day to paint on that one coat of primer (we spent two full days sanding, by the way…), but it ended up taking only about four hours! We opted for a brush and small foam roller to paint on both the primer and topcoat paint, and that system worked like a charm. The primer and paint both seemed to self-level really well, and there are hardly any brush strokes to speak of. If you do happen to spot any, I figure it just adds to the charm of our retro kitchen, so it doesn't bother me one bit.
We did one coat of primer, let it dry overnight, and then came back the next day to do the first topcoat of the paint. These little painter's tripods were really handy for keeping the cabinet doors elevated on our work surface and the basement floor as they dried. We were able to paint both sides of the doors in one day because the tips of the tripods are so minuscule that they didn't leave behind any marks, even when we flipped the still-slightly-tacky painted doors to work on the other side. A gardening kneeling pad was also helpful when kneeling down to work on more painting as needed.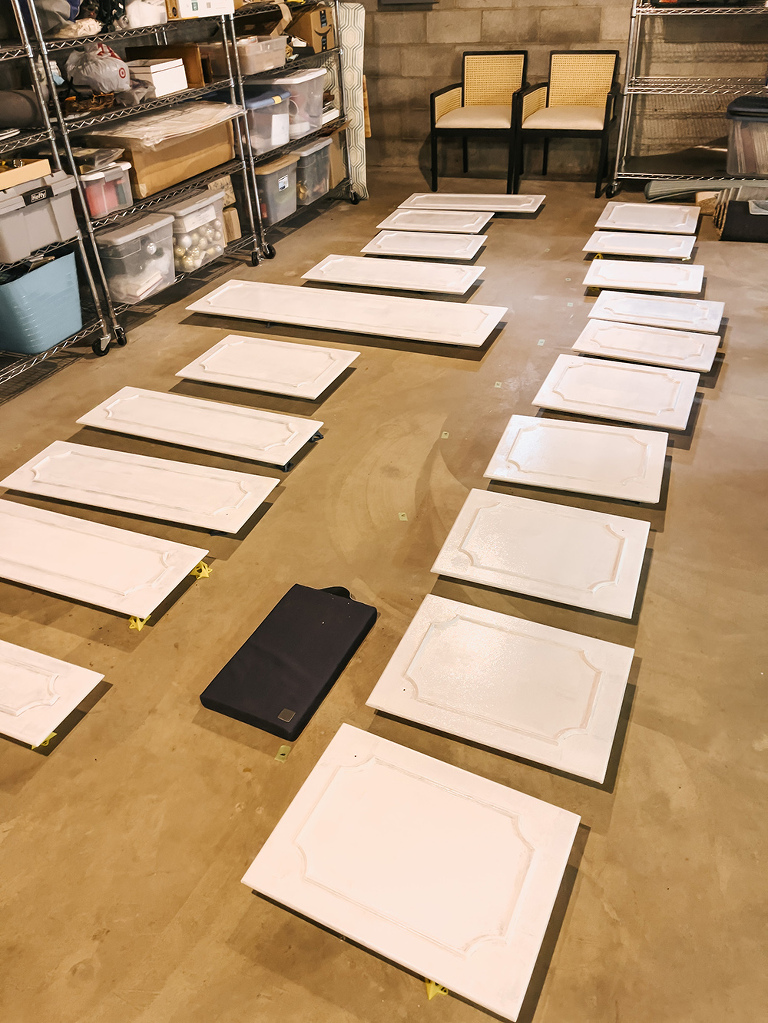 Another quick tip: wear gloves when painting so you don't have to waste tons of water washing your hands after you finish up painting. And wrap any brushes/rollers that you plan to use again in plastic grocery bags, then store them in the fridge. No sense in washing brushes you know you'll be using again the next day with the same color of paint! We ended up doing two coats of "No Filter" topcoat paint, and reusing brushes/rollers saved a ton of time and water.
I let everything dry for two days before rehanging the doors and putting the drawers back in their boxes because I wanted to be extra sure that the paint was dry. That seemed to be the right amount of time because we don't have any sticking. Adding little silicone bumpers to the corners of the doors and drawers helps keep a little space between painted surfaces and also eliminates the fear of sticking.
Having the hardware all bagged up and numbered individually was a huge timesaver when I went back to hang the doors. We were able to knock out that task in under an hour, and had hardly any troubleshooting to do. Stepping back to take in the finished kitchen felt like an absolute dream. It was done and it was everything I had hoped it would be and more.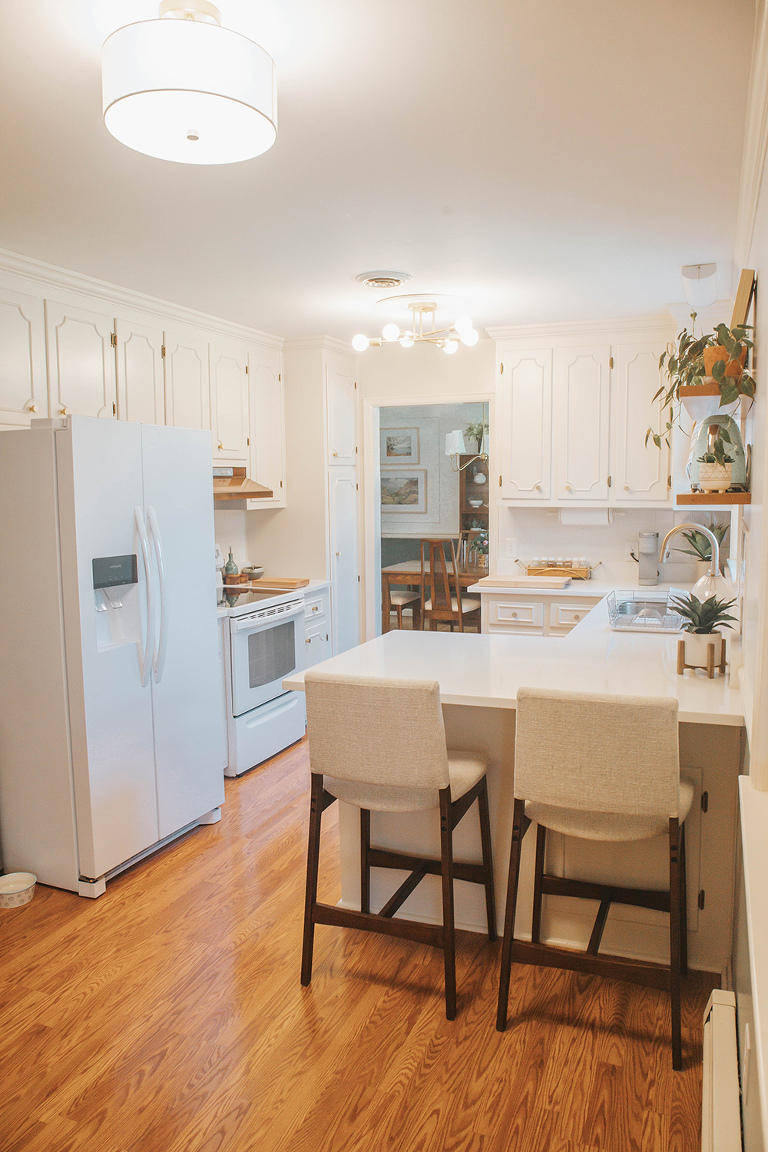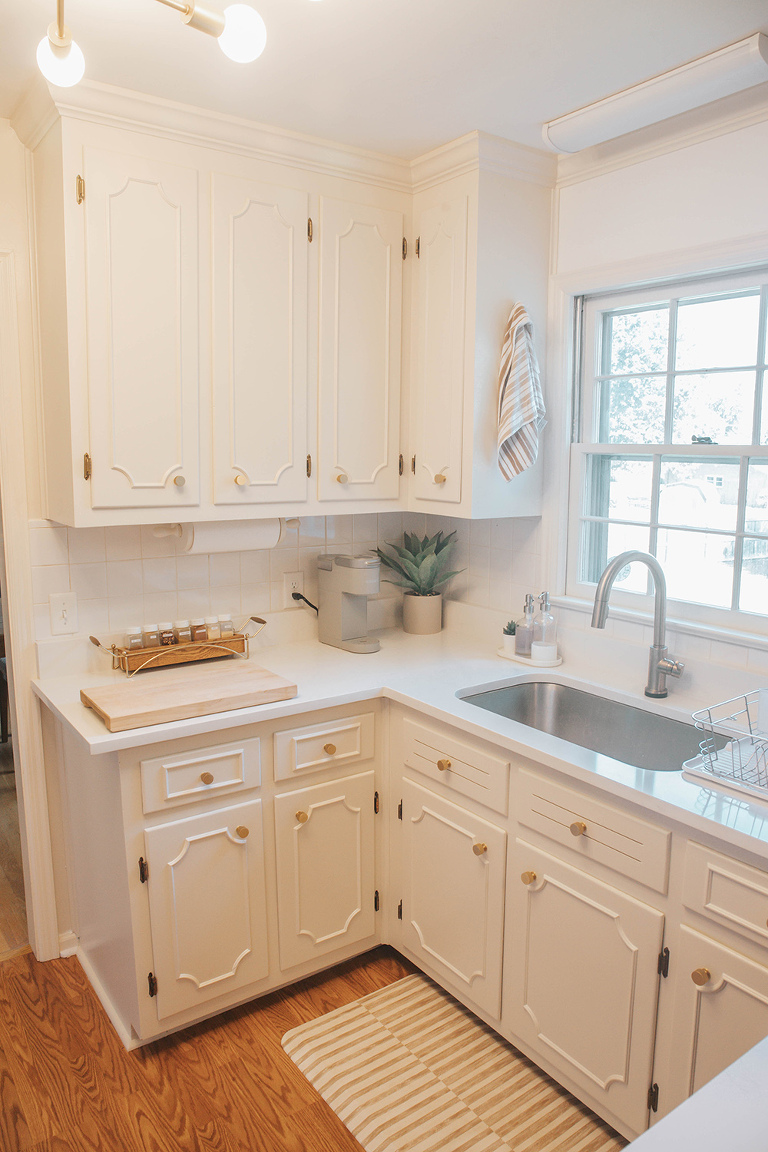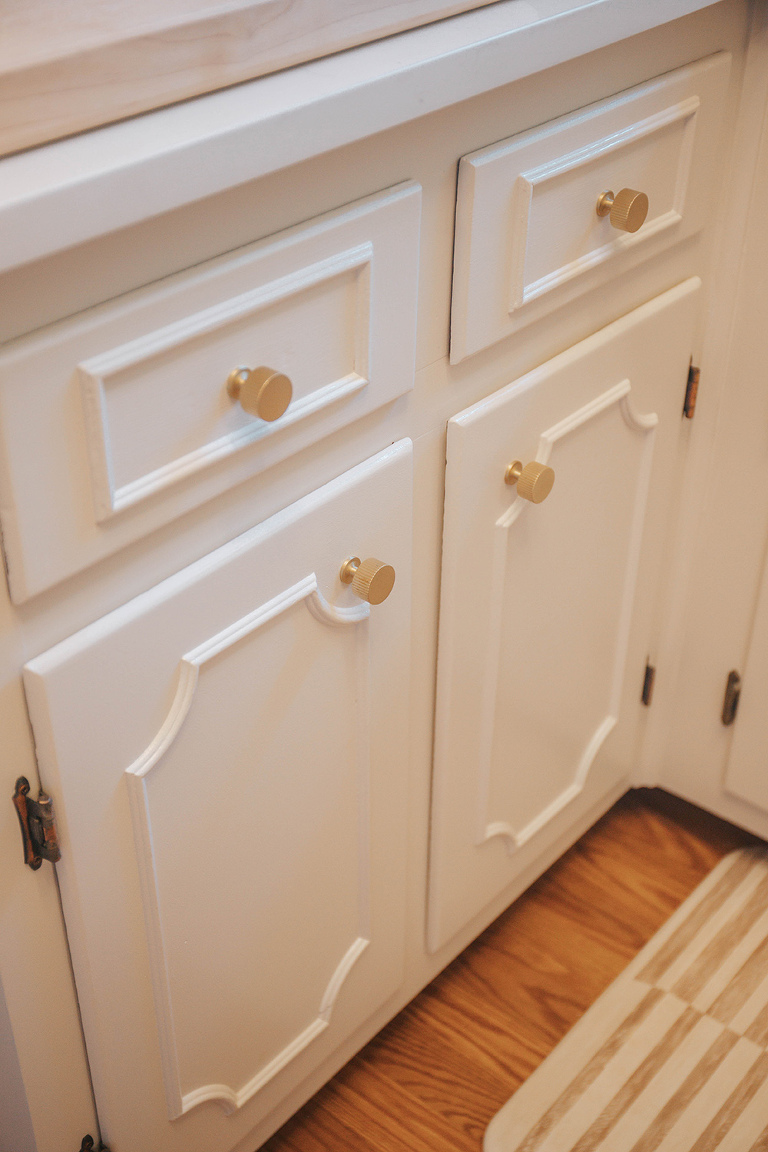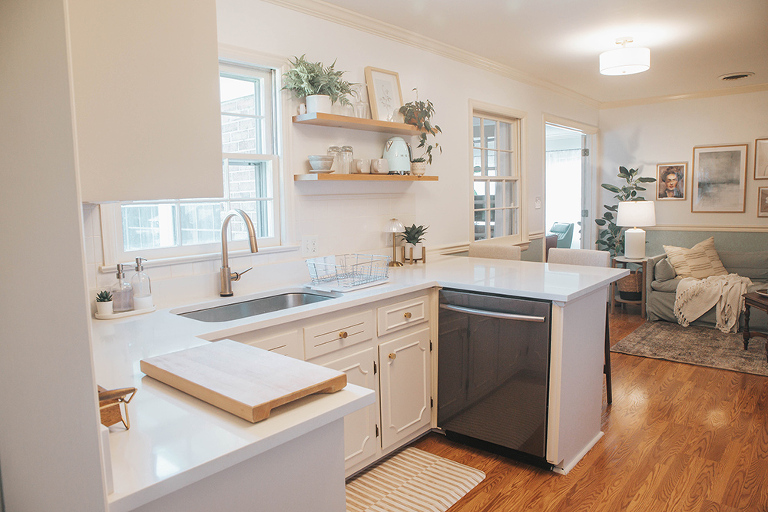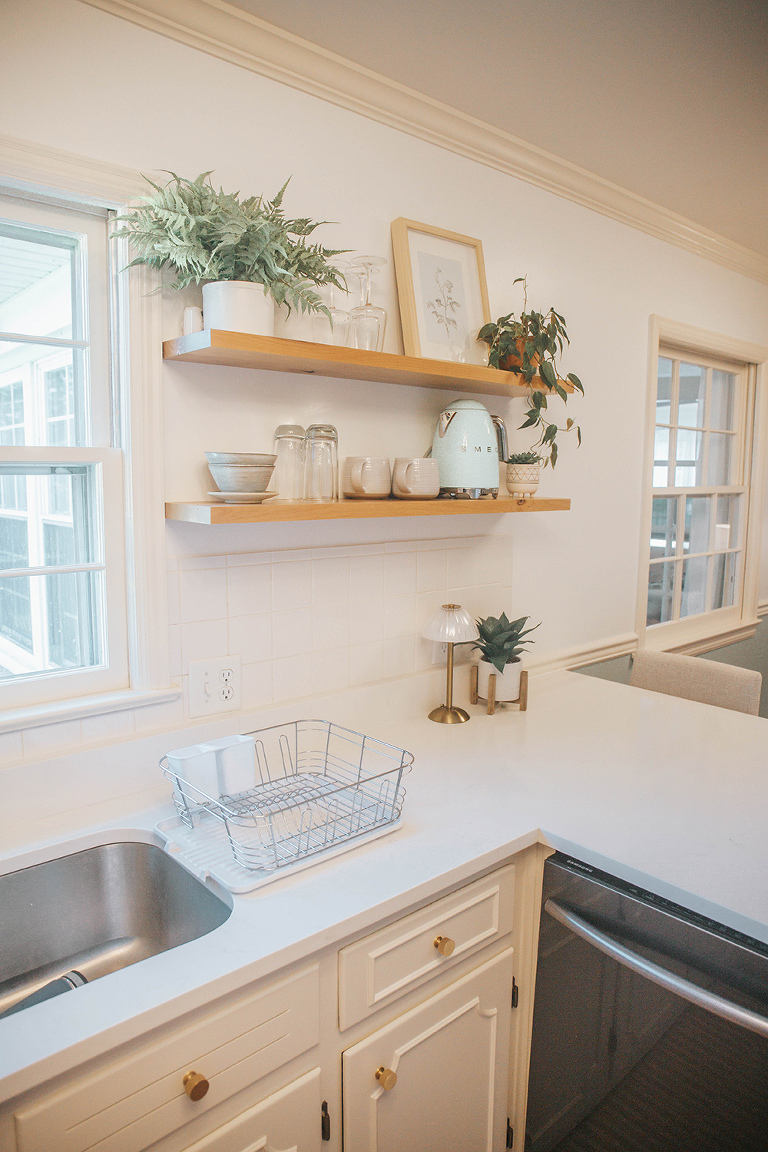 I love how the new "No Filter" paint helps brighten this once-dark and dreary space, and I also really appreciate how the new lighter color makes those European style trim details really pop. Before, they were lost under the uneven stain treatment, but now they are such a cool feature in our mid-century kitchen. The before/after photos below blow my mind to scroll through. I hope they make you appreciate the power of paint, too.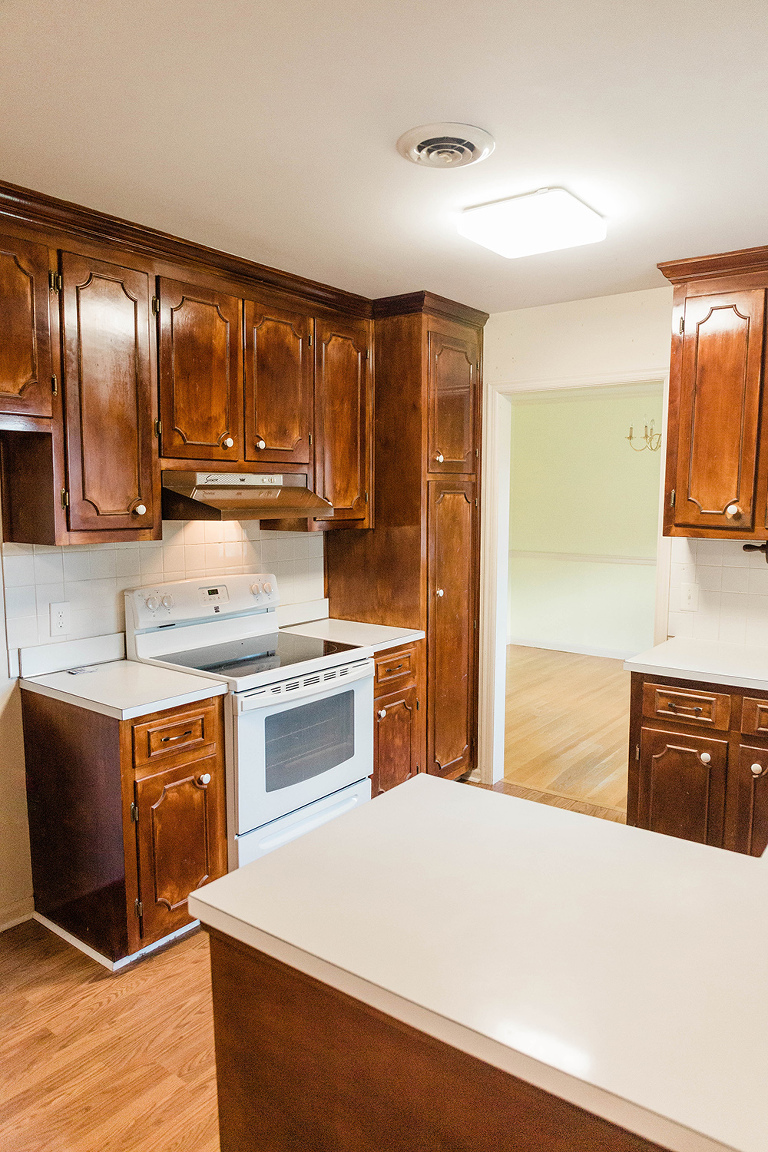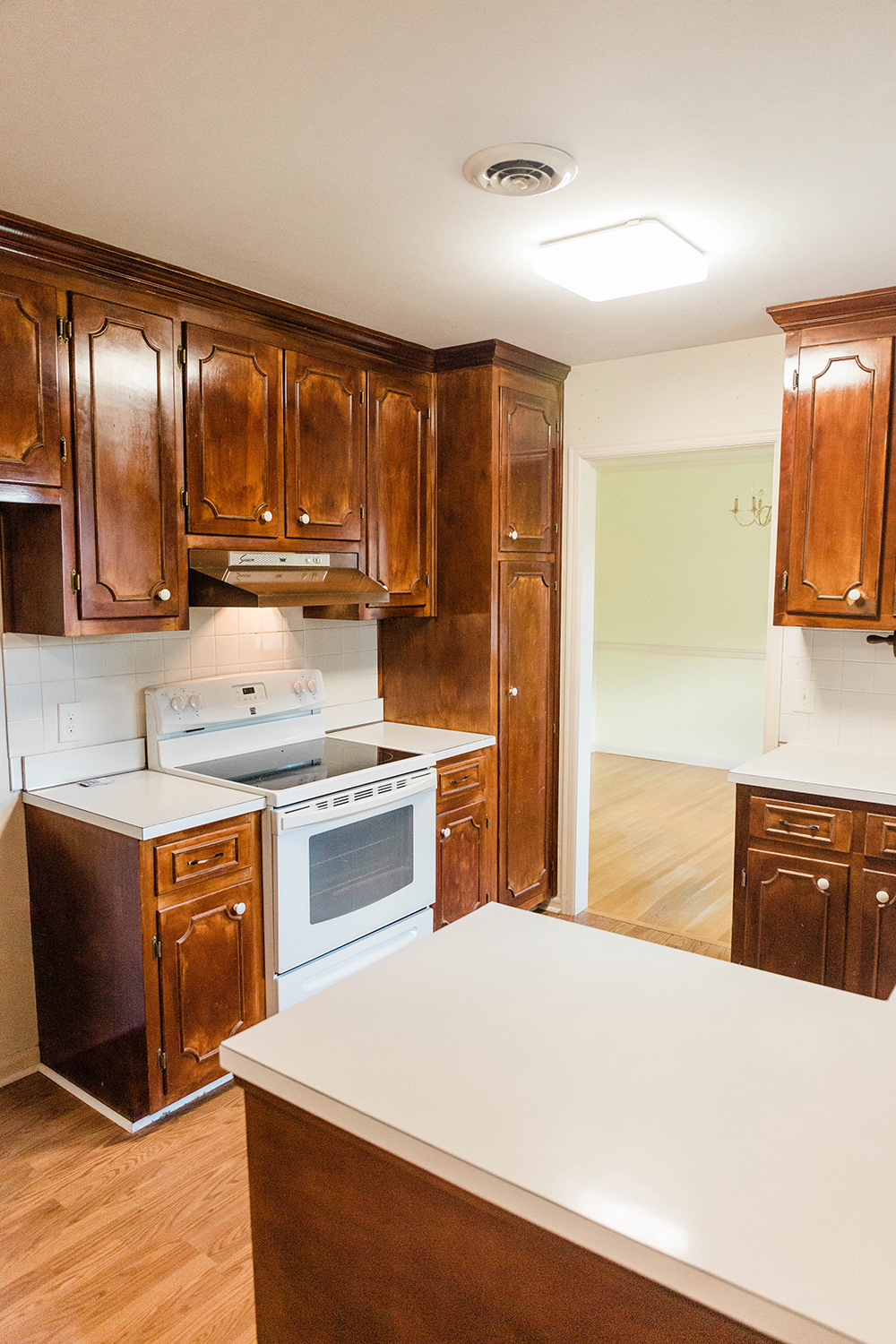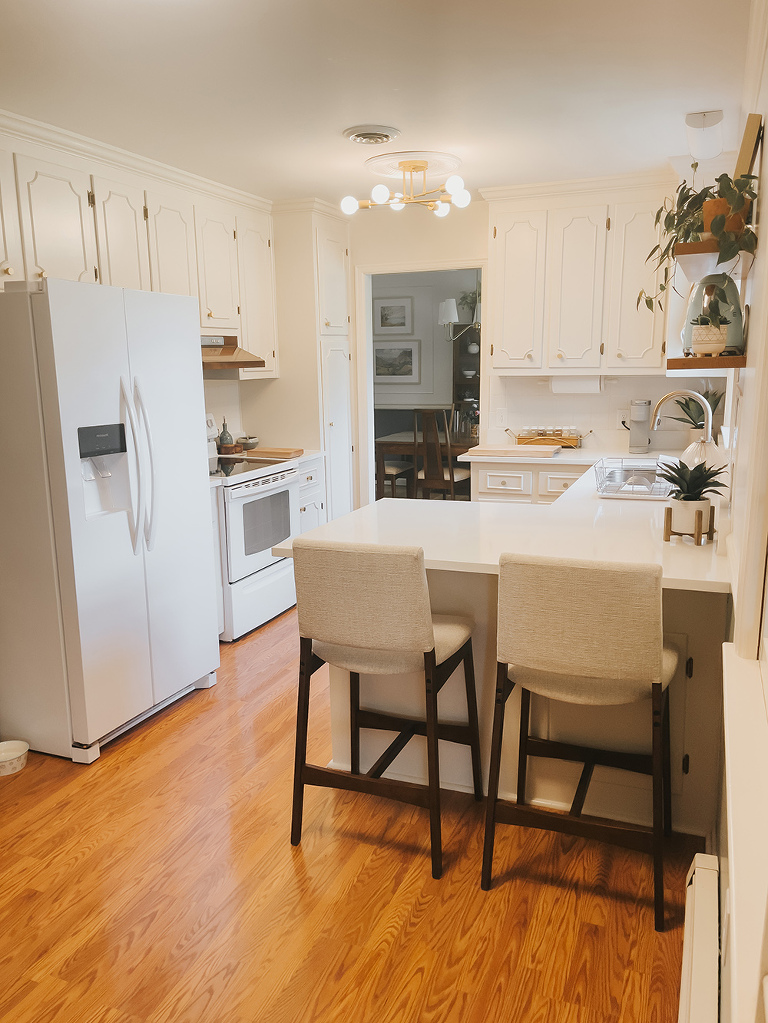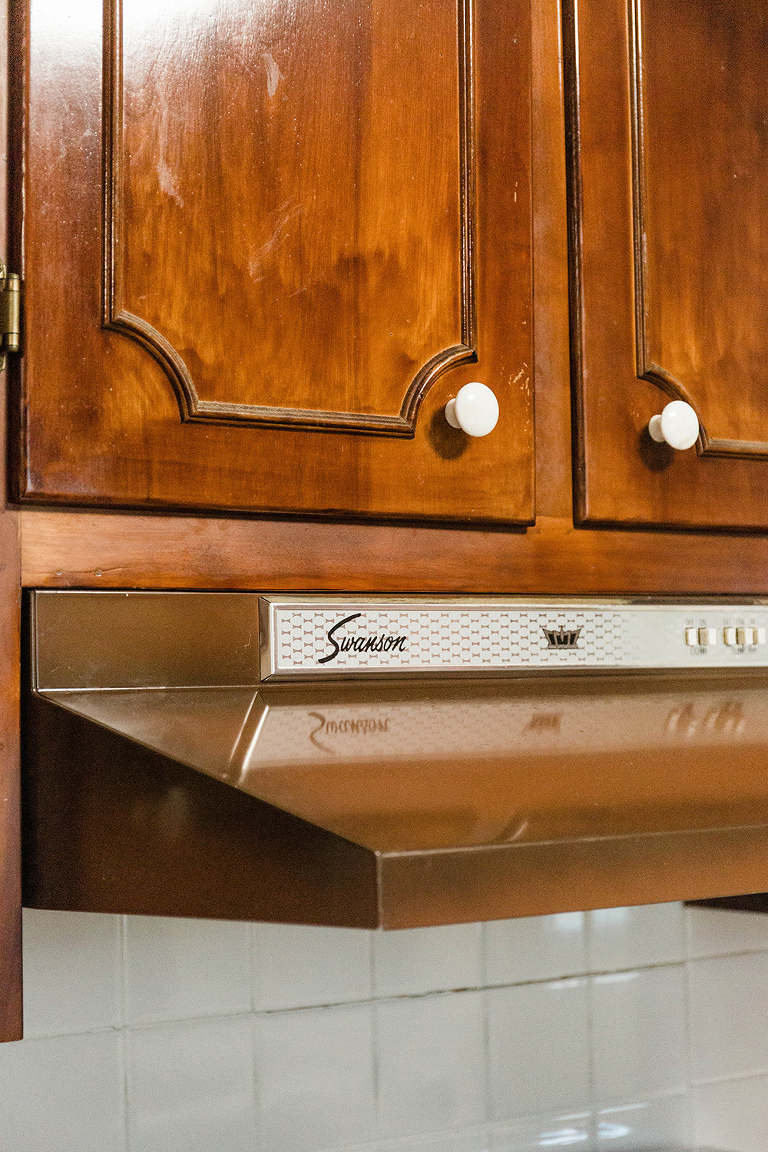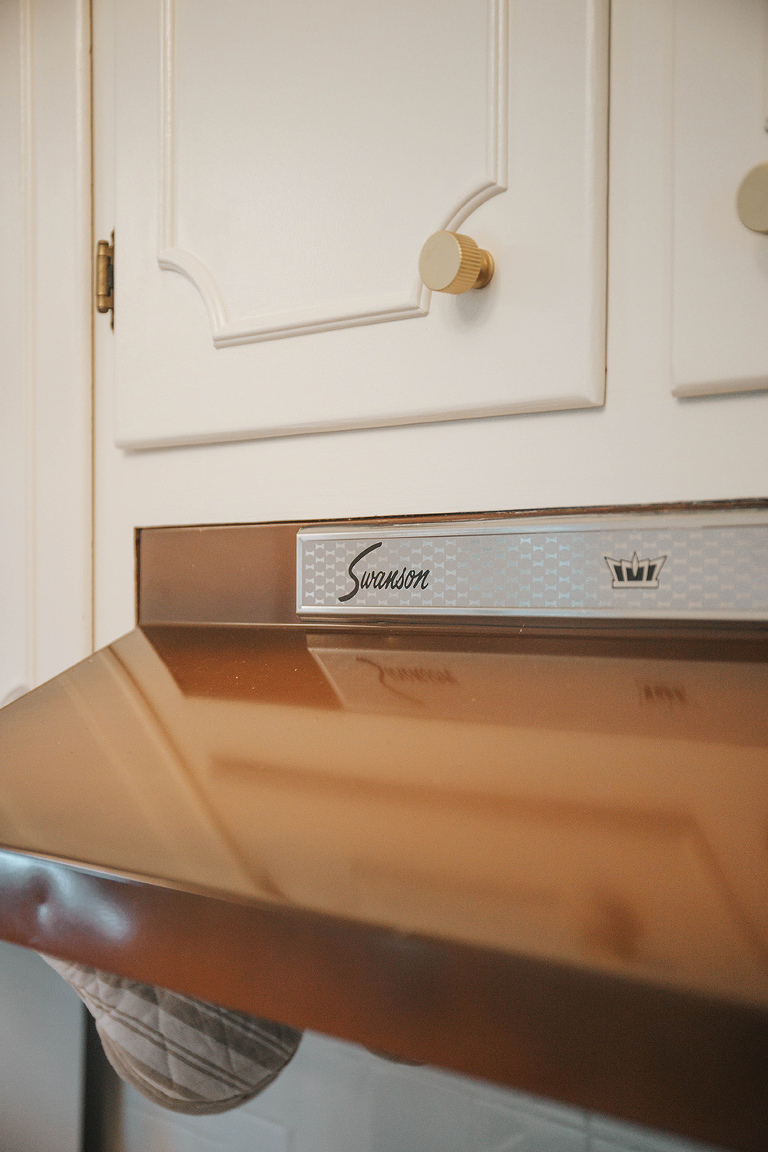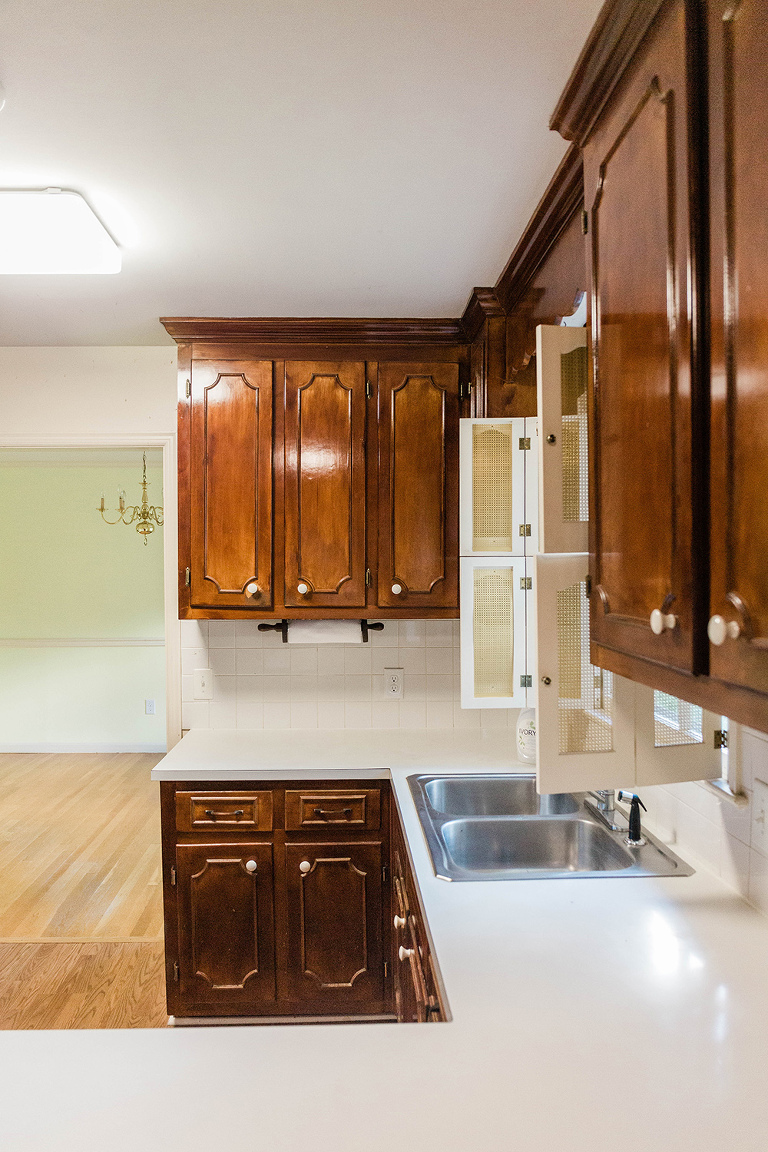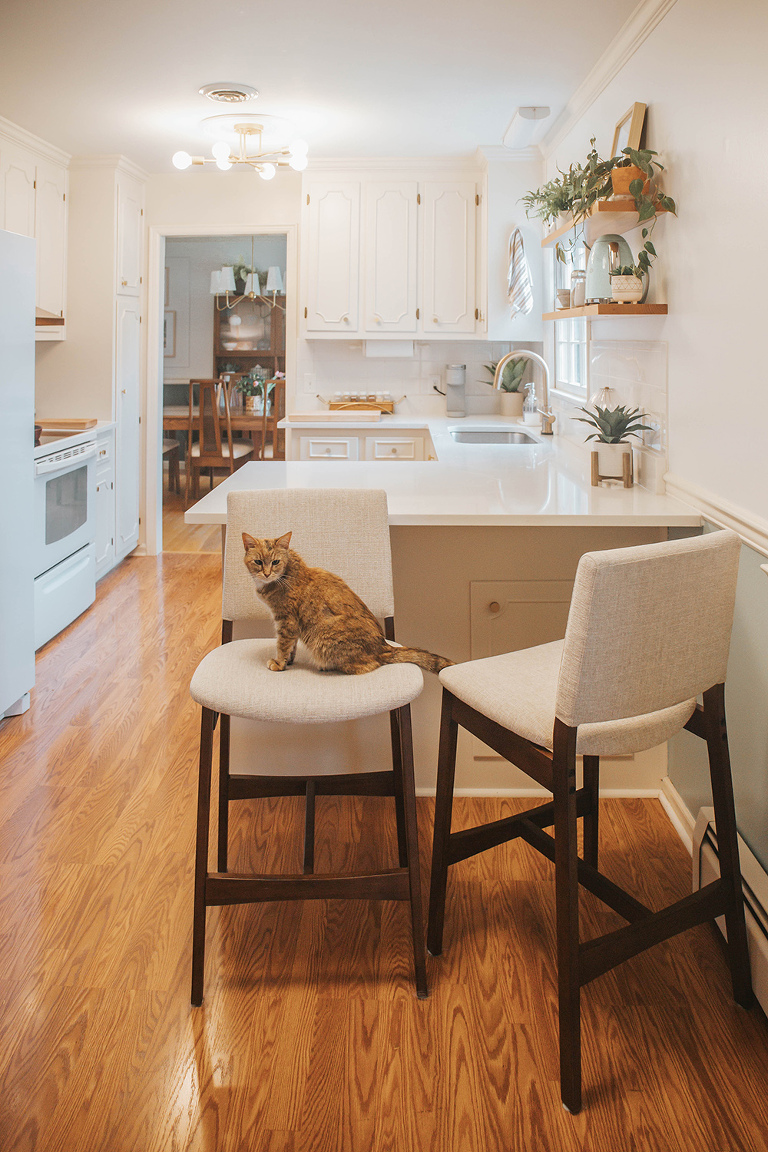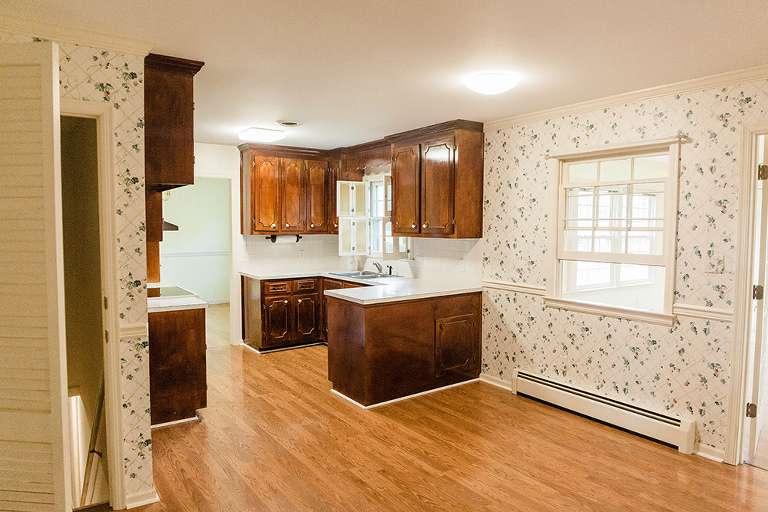 Whether you agree with our decision to paint or not, I think you must still be impressed by the difference a few coats of paint can make. This dark dated space now feels so fresh and airy. I never used to be able to work in the kitchen without having the overhead light on, but now I can actually leave it off on brighter days because the natural light from the window is magnified tenfold by the new light paint color. I'm so glad this project is over, but I would do it again in a heartbeat. No regrets! Let me know what you think in the comments below, and tell me which Clare Paint color you'd like to try in your own home. I've got my eye on "Rain Check" next…