Knowing that I would be playing host to the two lovely camera-wielding ladies pictured below (left: Mallory Benedict, right: Liz Cook) I was in full on clean-and-style-the-house mode each evening leading up to the weekend. Although I was pretty happy with the majority of the house at the conclusion of this mad dash, I was slightly concerned with the pillow situation in our living room. A couple of weeks ago, I shared my latest pillow acquisition – namely a fabulous new yellow and white number by Caitlin Wilson Textiles. I adored the design but felt like the couch looked a bit lop sided with two pillows on one side and only one on the other.
So to remedy the situation, I began to play around with a handful of options. The first was to add a brand new pillow, this time a budget find from Target. In my head, I imagined that the blue color of the new pillow would help to solidify the yellow/teal color scheme of the room as a whole.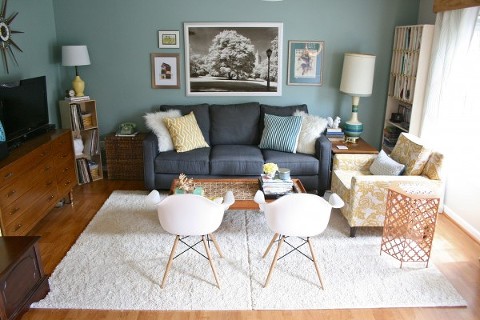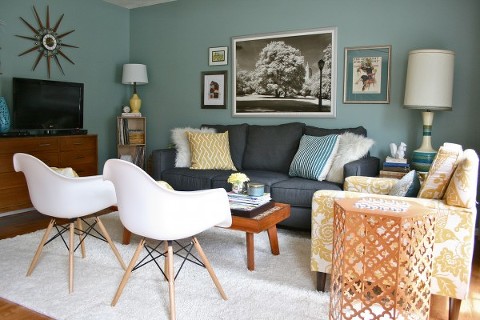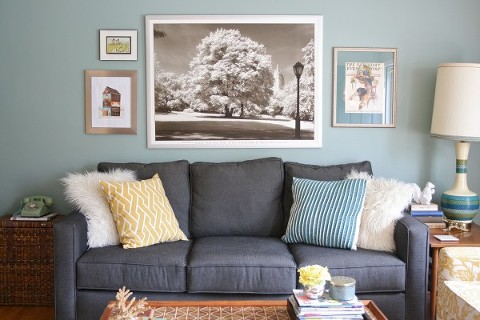 But ultimately, I just thought it looked busy. There seemed to be too much pattern, not enough cohesion and it just felt plain wrong. So back to the store the new pillow went. Next, I tried a slightly random thought – maybe I could copy a pillow styling trick meant for the bedroom and relegate my 3 pillows to the middle of the couch to create a sense of symmetry.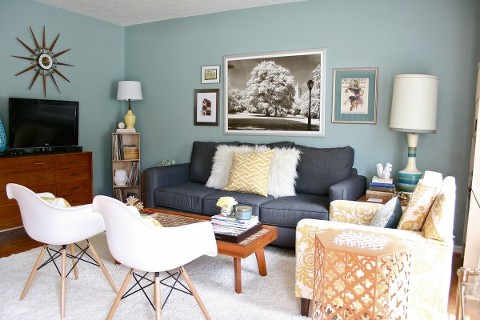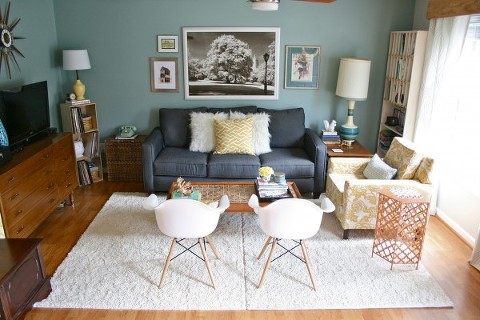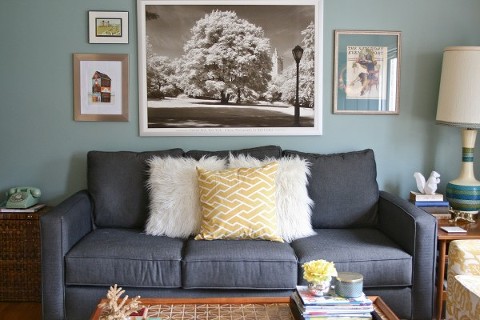 Although it doesn't actually look too bad in these photos it also hit the chopping block, if only for the real life comfort factor of dodging a mid-couch pile of pillows. Too bad…Next thought? Steal a totally different shaped pillow (kidney) from the accent chair adjacent to the sofa in the hopes that it would balance out the look without overpowering it.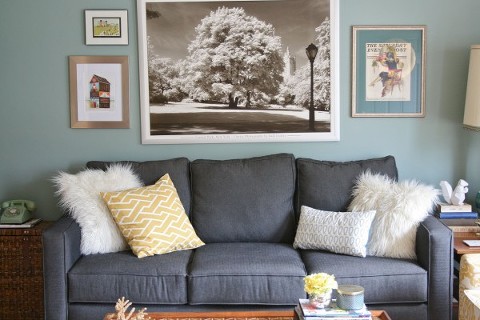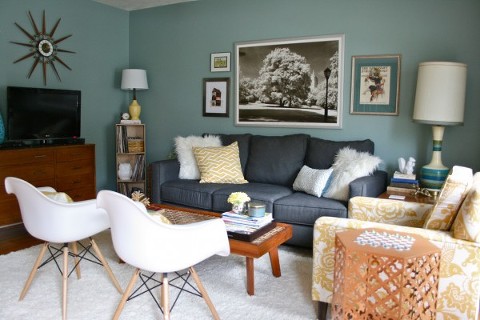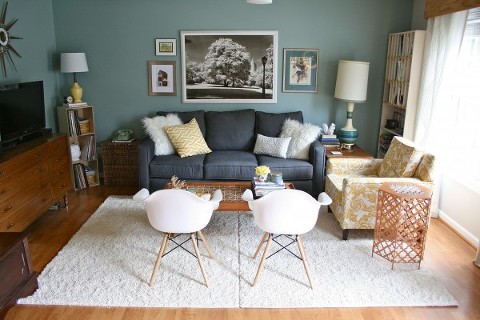 This option got nixed too though. It also felt wrong, and was just TOO asymmetrical for my taste. Plus, the yellow chair looked a little lonely after I stole its accessory. So what did I end up doing? Well, after allllllll that, I eventually decided that the yellow and white Caitlin Wilson pillow was actually perfectly fine on its own. I think I needed to play around with things in order to satisfy my curiosity, but it ultimately proved that it was just right all along.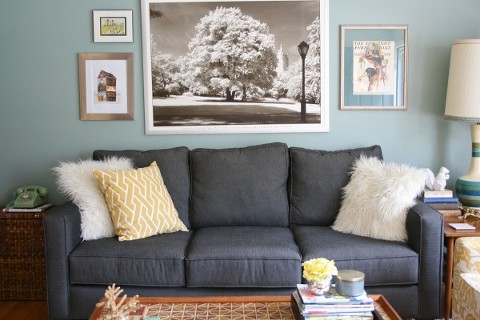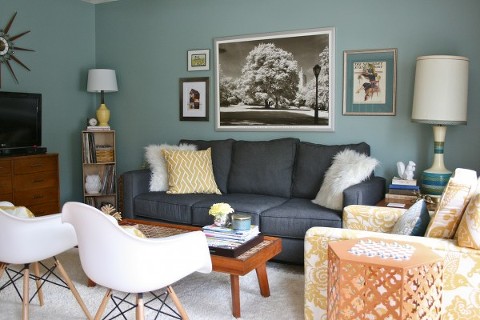 While the logical thing to do would be to add a match to the CW pillow, this particular design has been discontinued. Not to mention it cost $60, which is definitely out of my price range when doubled. The other concern I had was that it would be an overload of yellow.
Am I over thinking things, or are you guys right there with me? At any rate, for now we shall simply appreciate the simple configuration.
But before I sign off for the day, I wanted to see if anyone caught on to yet another living room change…Notice anything new about the rug? Well after viewing this video by Emily Henderson on how to buy the right size rug for your space, it occurred to me that ours was grossly small.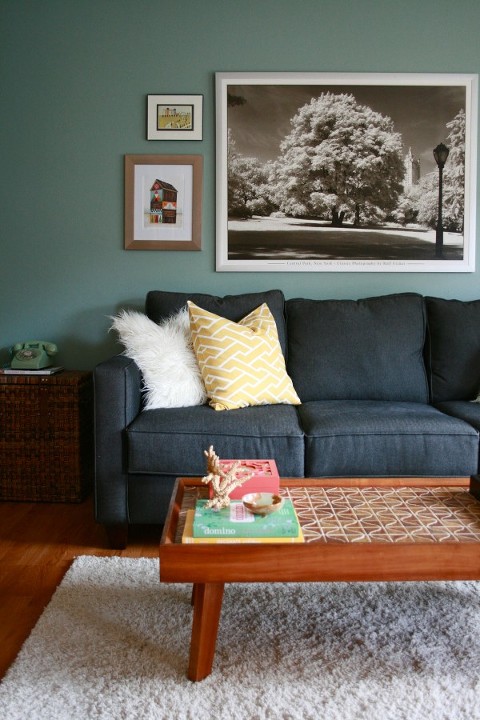 But since I didn't have the budget – at least not at the moment – to upgrade to this gorgeous 9×12 dream rug, I decided to try something else. I bought a duplicate to our existing white shag rug and laid them side by side to create the ILLUSION of a bigger rug for a fraction of the price. I ended up spending a combined $154 for my 10×14 rug, and now our furniture actually sits ON the rug rather than awkwardly off it.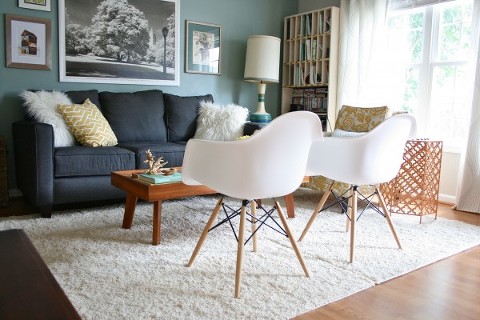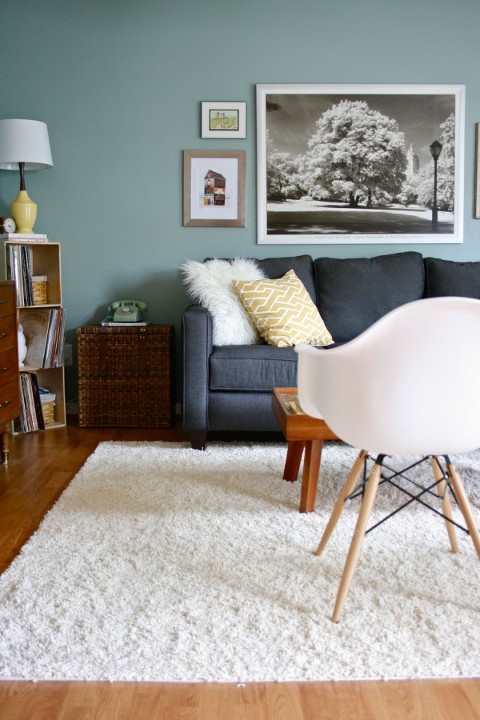 Sure there's a seam, but it's actually hardly noticeable in person. I think the camera sort of enhances the shadows between the two making it pretty obvious, but I never see it when I walk by. Anyway, for a savings of over $1,100 between the designer oversized shag, I'm okay with a barely there seam.
Feel free to sound off with thoughts in the comments section! You know I love getting your fresh perspective.