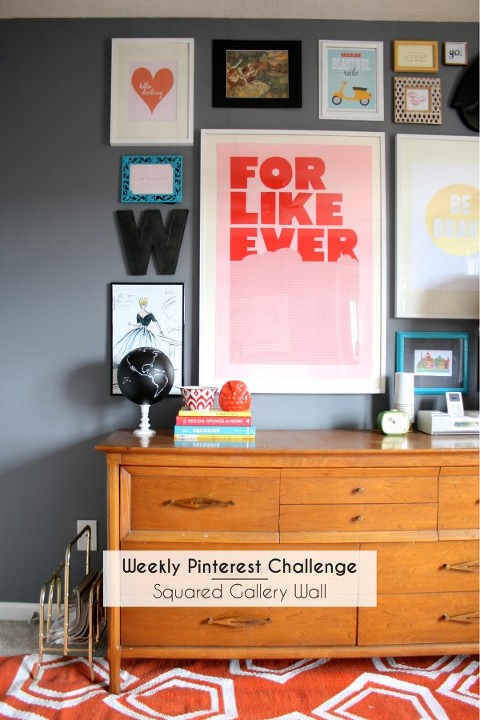 So let me take you back to the very beginning on this one…
As you may have seen via Instagram, we recently acquired a brand new (to us) dresser. Did we need a new dresser? Not in the literal sense of the word, but we definitely needed this dresser. It came to us by way of my mother-in-law, whose sister was getting rid of a bunch of excess furniture in her basement. Knowing that I'm a dresser fiend, she emailed me photos of two dressers that were up for grabs and I immediately pounced on the larger of the two – a big beautiful mid-century piece just begging to be added to our inventory. Despite her assurances that there was no guarantee of its condition since it had lived in a damp basement for years, I asked begged John to go pick it up for me. Being the incredible human being that he is, he agreed to do it.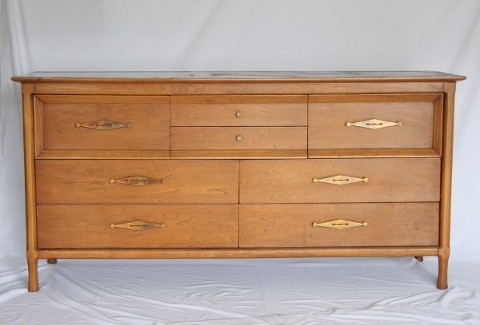 We totally lucked out. Like hit-the-jackpot lucked out. The piece was free thanks to being "family" and seems to be in pretty great condition considering where it came from. I still need to give it a good hard cleaning, but all of the drawers fit and I haven't noticed any warping so far.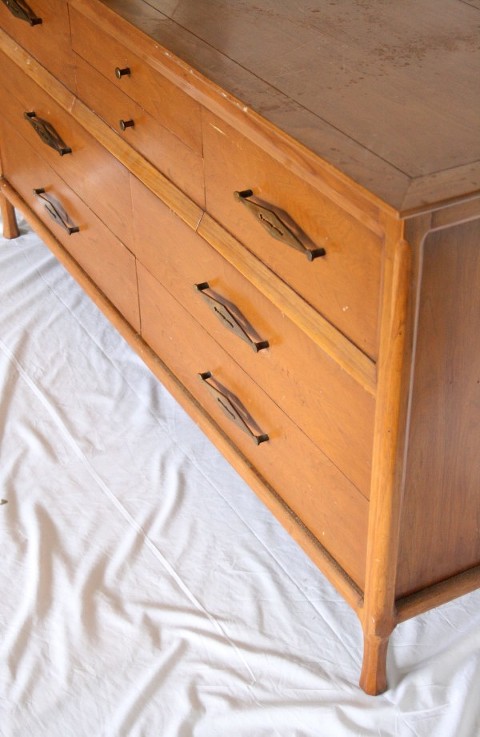 My favorite part has to be the drawer partitions. Several of the smaller top drawers are cordoned off with custom wooden slats, making it a dream for organization-obsessed homeowners, such as ourselves. I'm grumbling on the inside (and apparently here too) because John is the winning "owner" of the storage square footage within this baby.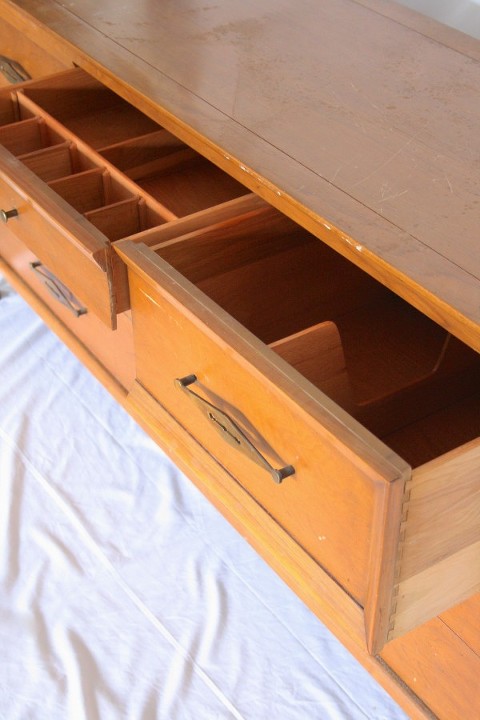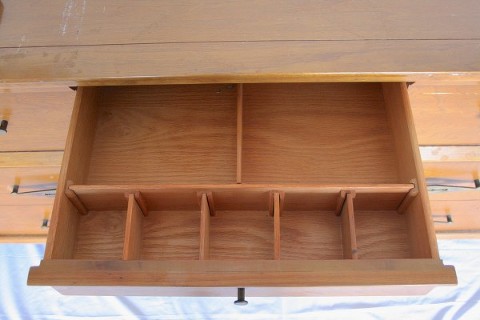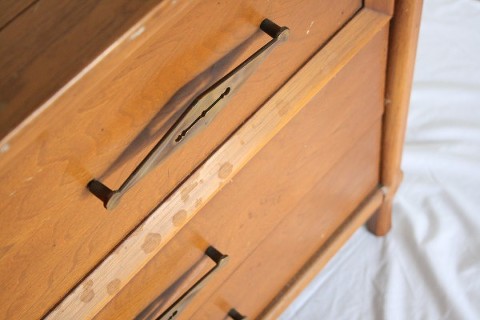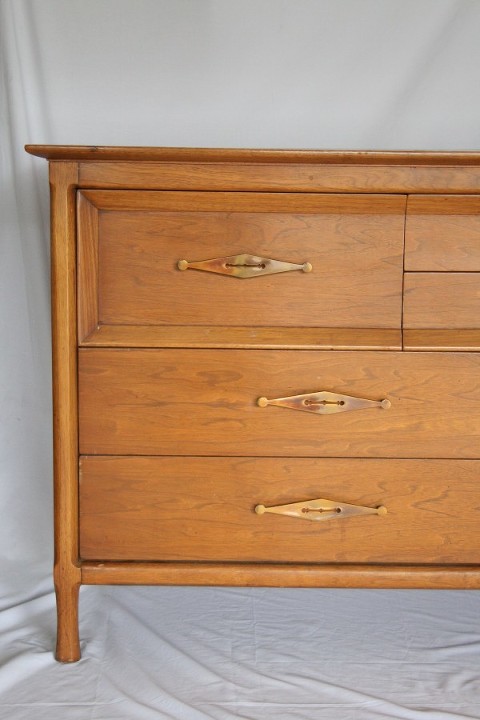 So the all important question – Where did it end up? Well, after playing an energizing game of musical dressers, we decided to put it in the master bedroom, relegating the "Better Homes and Gardens" dresser to our walk in closet (you can get a peek of its new set up here). But since this new look lacked a mirror, we were in need of new art.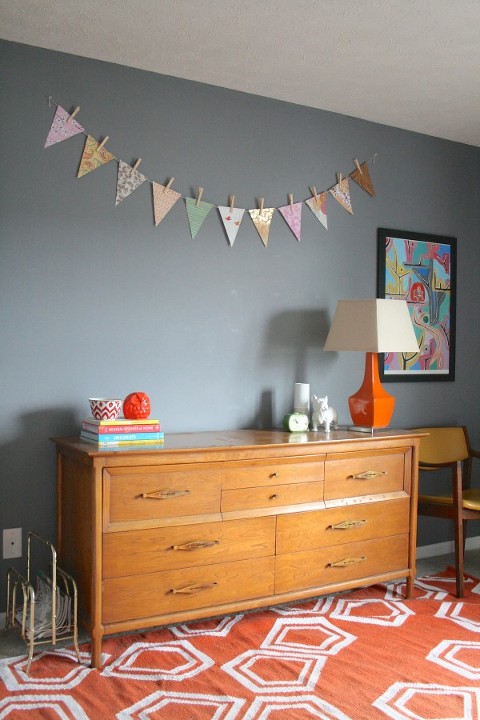 Enter today's "Weekly Pinterest Challenge" inspiration. After perusing a recent house tour on Glitter Guide, I was incredibly taken by a gallery wall set up my Sarah Sherman Samuel, of Smitten Studio. I loved the fact that she took the artwork all the way to the top of the wall, plus the tight squared off configuration seemed a bit innovative – not an easy feat when faced with such a trendy styling trick.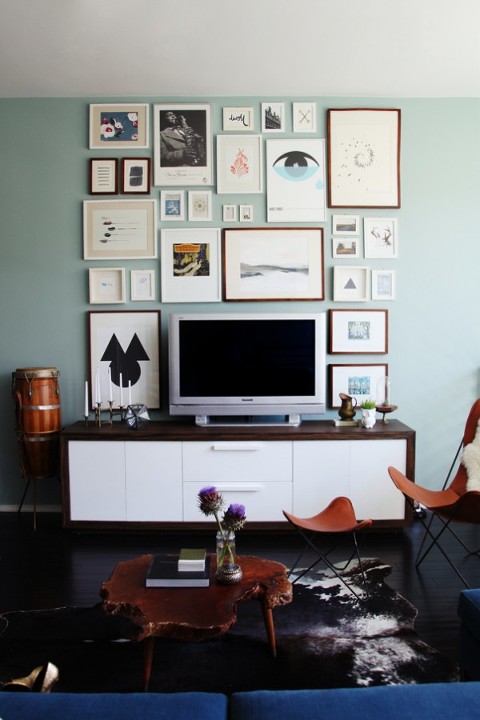 Source: The Glitter Guide
Although I debated several options for our room, I just couldn't get Sarah's gallery wall out of my head. My argument against it was that it was way too trendy to do, not to mention we already had upwards of five said art arrangements in our home. But in the end, I convinced myself that art is easily rehung if our tastes change down the road, plus this update would be free because I could use what we already had.
And so I went for it.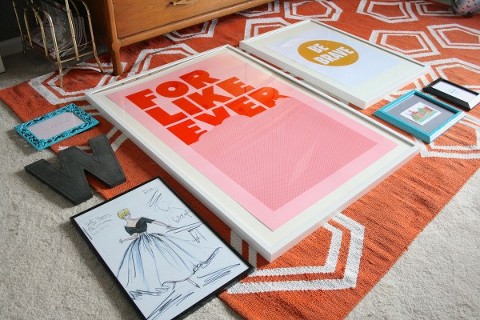 First, I laid my available frames on the ground in a rough configuration and then worked to fill the frames with a cohesive collection of art. Again, I used anything that we had on hand, even choosing a complimentary postcard that came with a Birchbox earlier this year.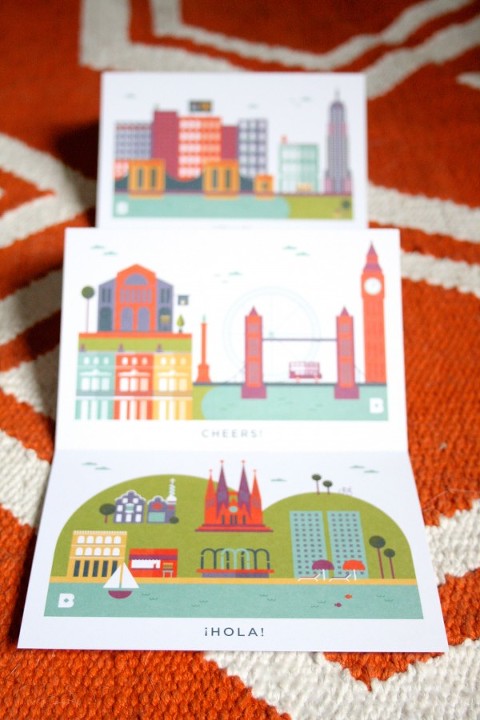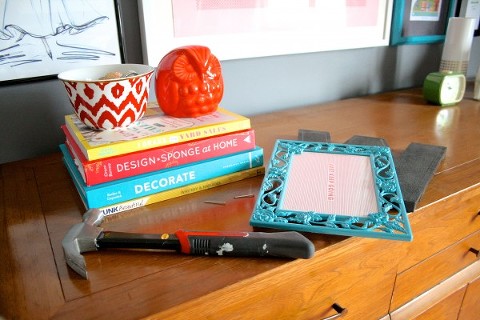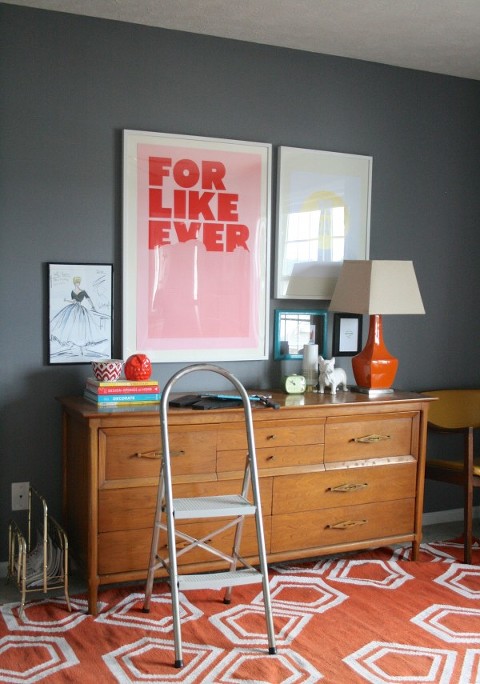 Two days later, with about 40 minutes of total hands on time spent on the project, I stepped back and called it done. It's definitely a motley crew of artwork, ranging from some of my biggest splurges (the "For Like Ever" print) down to a free DIY lip collage that I made in five minutes by kissing a sheet of white paper with three of my favorite lipsticks. It's all very random, very eclectic, but ultimately, very us. John even gave it the thumbs up, dubbing it "Urban Outfitters" esque.
I'll take it.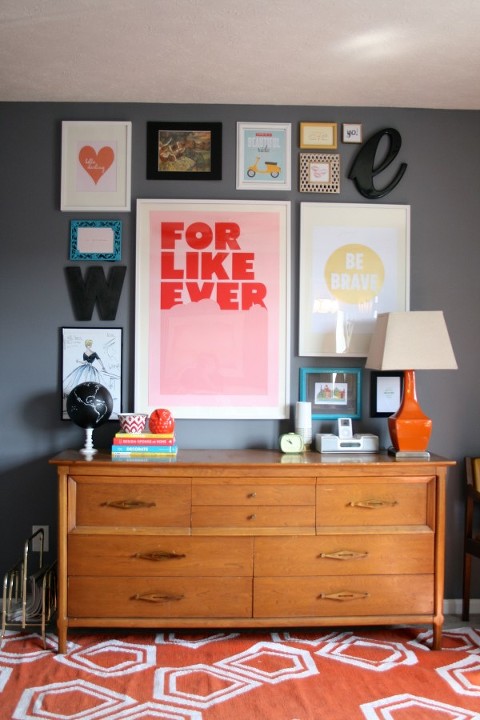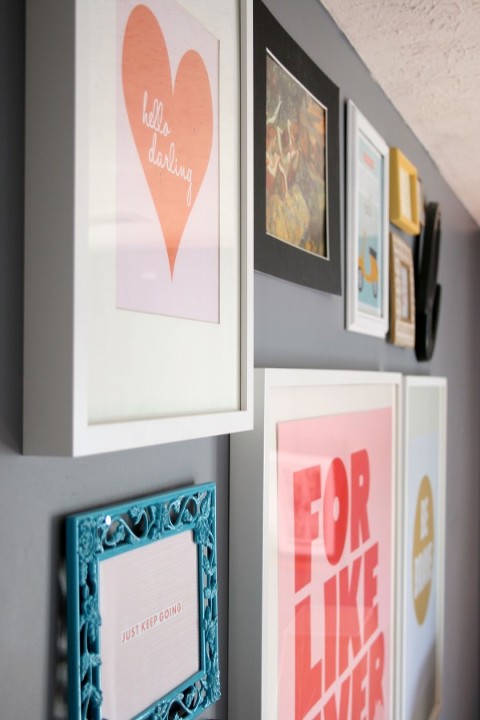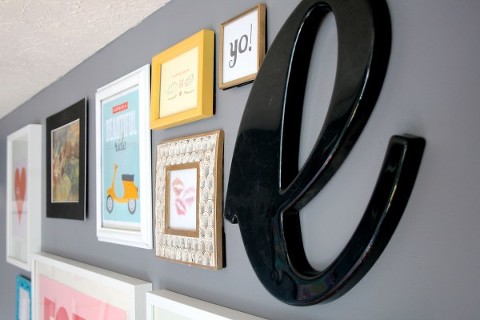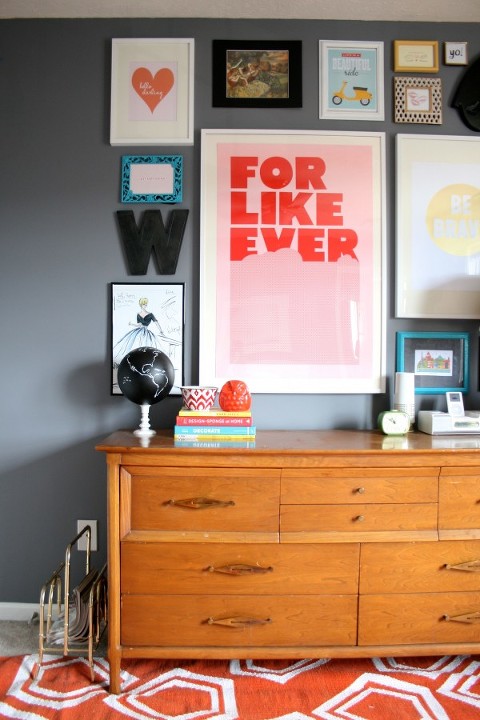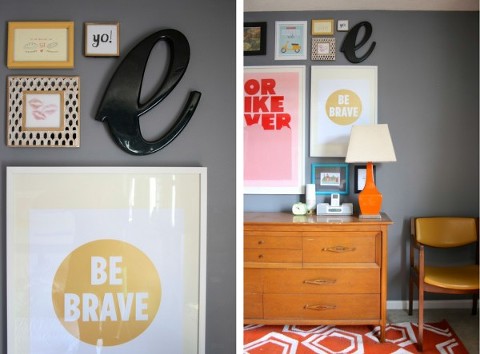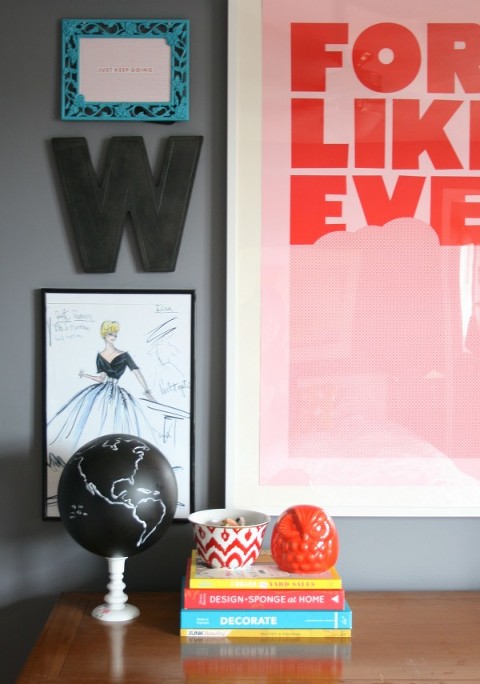 (For details on that dodgeball-turned-DIY-chalkboard-globe, click through here.)
What are your favorite ways to hang art? Do you splurge on custom paintings? Or are you like me and go with what you have? Sound off in the comments!