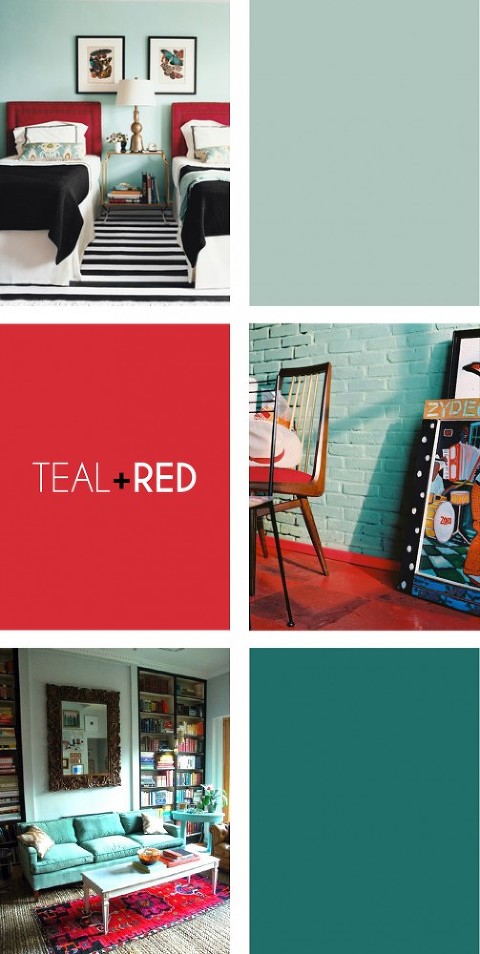 Today, I'm going to attempt to distract you from the fact that I've been a bit silent on the DIY front. By way of a cryptic update, my attention is currently focused on several soon-to-be-announced projects and collaborations (including this one), but it's all starting to even out – I should be back to normal soon. That, and I also discovered (just last night!) the incredible, nay LIFE CHANGING, possibilities held within the Dollar Tree. John and I went there to add a couple of accessories to our respective Halloween costumes, but I left $15 poorer with an armload of DIY project materials instead. I am not ashamed to say that I will likely become a regular 'Tree' shopper.
But I digress. While I sort through my projects behind the scenes, big and small, I wanted to occupy your brains with a color combination that, in the past, I wouldn't have been immediately inclined to use. Red and I aren't exactly friends…I wear it in my wardrobe constantly, but in terms of home decor, it just isn't a good fit. I prefer cooler colors – gray, mint, teal – with just a splash of something warm in the yellow and orange families. You'll hardly find a drop of red anywhere.
But then I was introduced to red and teal…Distinctly retro and undeniably rich, this saturated pair has me considering a pop of red here and there. Have you guys used this combo before? I'm all ears…
P.S. Items are going fast in my flash sale! Locals, let me know if you want your name on one of the pieces we have up for grabs.