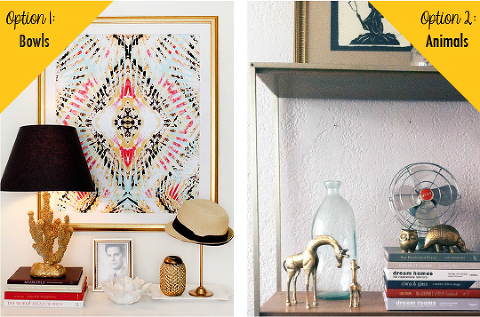 Tchotchkes are literally a dime a dozen at our house, and I'm on a steadfast quest this year to master the art of styling. So it's no surprise that bowls and little gold animals are pretty much always on my radar. Grouped on consoles, shelves and tabletops, there's no denying their appeal – at least in my eyes…Do you have a favorite, though?
OPTION 1:
Bowls are so simple. You can get them virtually anywhere for very little money, and they serve as both decor and function – my favorite combination in the world…And I especially love when you stumble upon a really gorgeous sculpted silhouette, like the ivory, flower shaped dish above. Gotta. Have.
OPTION 2:
While bowls are definitely the easier of the two to pull off, I can't even try to mask my obsession with animals. When too much time goes between happenstance discoveries at the thrift store, I've begun resorting to a can of gold spray paint and package of plastic toy animals. It's a problem, folks, but I can't stop. In my mind, every single surface can benefit from a member of the brass species – whether owl, giraffe or armadillo. Gotta. Have. Them. ALL.
But how about you?
[poll id="19″]
P.S. There's still time to enter your name in the drawing for the Lamps Plus Ripley lamp!! I can't wait to see how the winner styles their prize…Enter here!